Discover the top activities and attractions with our comprehensive guide about the best things to do in Dubai in the United Arab Emirates! From soaring skyscrapers and luxurious shopping malls to cultural landmarks and exhilarating outdoor adventures, find out what makes Dubai one of the most popular destinations in the world!
Are you ready to experience the glitz and glamour of Dubai? Look no further because we've got you covered!
Dubai is a city that has always been synonymous with extravagance, opulence, and larger-than-life experiences.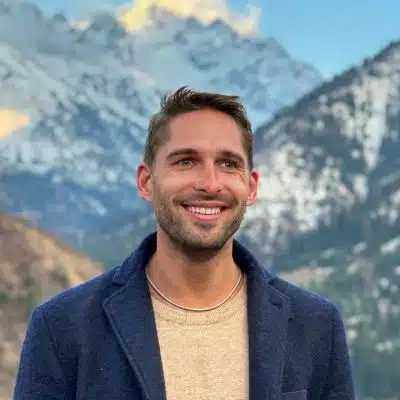 From the world's tallest building to man-made islands shaped like palm trees, this city knows how to push boundaries and capture the world's attention!
But beyond the glitz and glamor, Dubai is a fascinating destination that offers many unique and diverse experiences waiting to be discovered.
In this guide, we'll take you on a journey to explore the best things to do in Dubai and help you uncover hidden gems!
You'll get the chance to experience the thrill of a lifetime while dune bashing in the desert, indulge in a luxurious spa treatment, or explore the city's rich history and culture through its museums and landmarks.
Whether you're a foodie, adventure seeker, or culture enthusiast, Dubai has something to offer for everyone!
So fasten your seatbelt and prepare to embark on a one-of-a-kind journey through the dazzling city of Dubai.
1. Dubai Mall & Lake Burj Dubai below the Burj Khalifa
The Dubai Mall was the first stop on my sightseeing tour.
I think you can spend already three days only exploring the mall and its surrounding. It is enormous, based on the total area, even the largest one in the world.
Inside the mall is the world's largest aquarium, an ice rink, more than 1.200 shops, an indoor theme park, and much more.
2. Observation Deck Burj Khalifa
Prepare to be amazed as you ascend the Burj Khalifa, the world's tallest building, at an incredible 828 meters!
The journey to the observation deck on the 148th floor is an adventure, with high-speed elevators whisking you upwards in seconds.
Once you reach the top, you'll be rewarded with breathtaking panoramic views of Dubai's skyline, desert, and ocean.
Time your visit around sunset for an unforgettable experience as the city transforms day to night.
Visits to At the Top, Burj Khalifa, are unforgettable experiences of building brilliance and the triumph of human endeavor!
Handy hint: It is cheaper to reserve the Burj Khalif Observation Deck tickets in advance. You can collect them at the Prepaid Ticket Counter by Dubai Mall.
Click here for tour prices or to make a booking.
3. Sunbath at Sunset Beach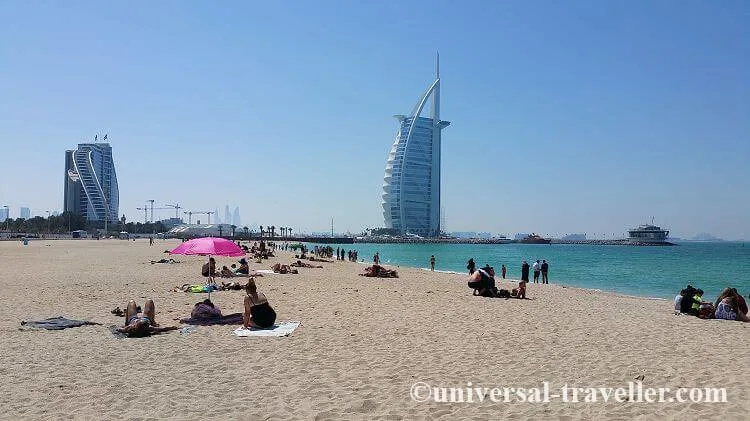 Sunset Beach is next to the famous world's most luxurious hotel Burj Al Arab – probably one of the city's most photographed landmarks.
Sunset Beach is one of Dubai's most beautiful beaches and a great place if you want to escape city life or need time to process all the new impressions.
Tip: The Burj Al Arab and all its facilities are only for guests staying at the hotel.
Suppose you still want to experience the world's most luxurious hotel. In that case, you can visit the Sky View Bar or experience Burj Al Arab's signature Culinary Flight dining experience at your choice of lunch or dinner.
Click here for more information about the Dining experience at Burj Al Arab and/ or to make a booking.
4. Places to visit in Dubai – Dubai Marina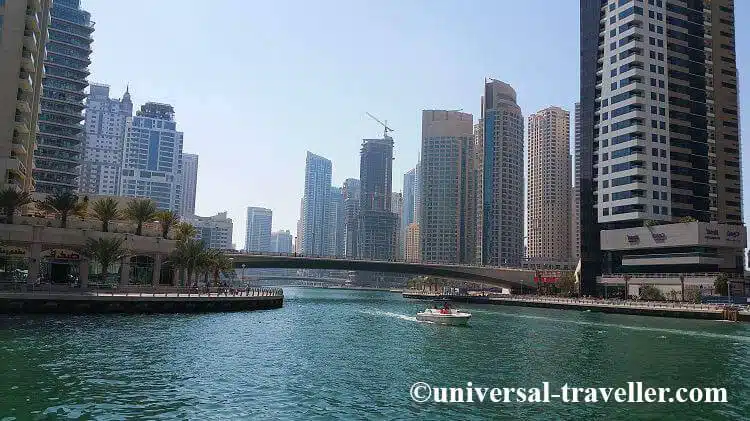 The Dubai Marina is a luxurious and upscale waterfront neighborhood in Dubai that you can't miss on your trip to Dubai!
Developed along a 3-kilometer stretch of artificial canal, this impressive district is known for its stunning skyscrapers, modern architecture, and breathtaking views of the city's skyline.
Stroll along the promenade, dine at world-class restaurants, or take a traditional dhow cruise to experience the true essence of this vibrant destination!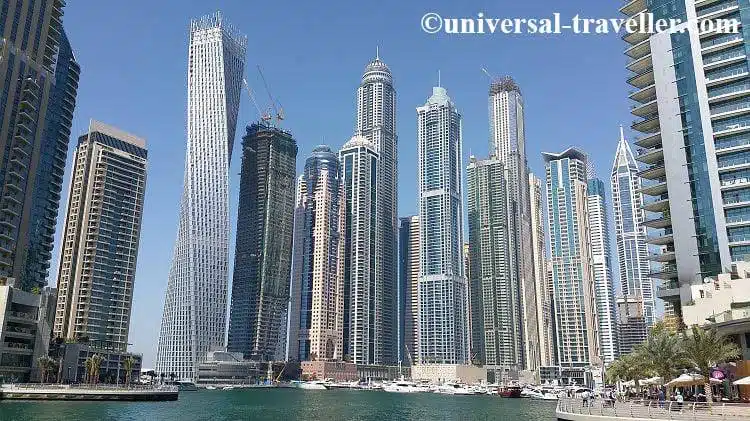 5. A taste of old Dubai – Abra water taxis across the Creek
You should not miss a tour with the Abra water taxis across the Creek.
The crossing takes about 4 minutes and costs 1 AED (about $0.3). Alternatively, you can visit the old souks (markets).
6. Wander Through the Souks (markets)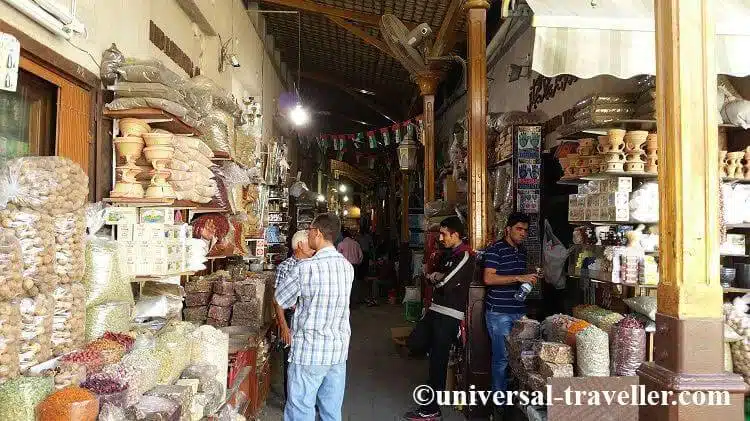 If you want to get a taste of the local life, step into the enchanting world of Dubai's traditional souks, where the city's rich history and vibrant culture come alive through bustling marketplaces, colorful displays, and an enticing array of fragrances and flavors!
The Gold Souk is a must-visit for jewelry enthusiasts, while the Spice Souk offers a sensory experience with its vibrant colors and tantalizing aromas.
Haggling for the best prices is part of the fun, so don't be afraid to negotiate!
6. Cruise along the Dubai Creek
Join a dinner cruise along Dubai Creek and enjoy dance demonstrations, a 5-star buffet, and an amazing view of Dubai from the water.
7. Dubai Fountain – Water & Light Show at Burj Khalifa Lake
Witness the captivating magic of the Dubai Fountain Show, a mesmerizing blend of water, music, and light!
Set in the heart of downtown Dubai, the world's most extensive choreographed fountain system will leave you spellbound as it performs to an incredible soundtrack, with water jets reaching up to 150 meters high.
8. Mall of Emirates
Shop till you drop at the Mall of the Emirates, an extravagant shopping destination that offers an unparalleled experience!
Home to over 630 international brands, this impressive mall has something for everyone, from luxury fashion houses to popular high-street labels.
But it's not just about shopping – the Mall of the Emirates also boasts a fantastic selection of dining options, entertainment venues, and family attractions.
So don't miss the chance to visit this world-class shopping and entertainment hub during your stay in Dubai!
9. Ski Dubai
The Mall of Emirates hosts the first snow park in the Middle East and the largest one in the world.
Experience the thrill of winter sports in the heart of the desert at Ski Dubai, an indoor ski resort that defies the region's hot climate!
With a 400-meter-long slope, a snow park, and even a colony of friendly penguins, this innovative facility offers various activities for all ages and skill levels.
Whether you're an experienced skier or a first-timer, Ski Dubai guarantees an unforgettable adventure filled with excitement and snow-filled fun!
9. Al Fahidi Historical Neighbourhood
Visit Al Fahidi to get to know old Dubai.
Other interesting places are the Heritage House, the Al-Ahmadiya School, the Heritage & Diving Village, the house of Sheik Saeed Al-Maktoum, and the Dubai Museum in the old fortress Bur Dubai.
10. Visit Palm Jumeirah
The beaches on the artificial island of Palm Jumeirah are the most beautiful ones in Dubai.
If you are not staying at one of the luxury hotels in Palm Jumeirah, you can buy a day pass with access to the hotel facilities and the beach.
11. Aquaventure Waterpark
Aquaventure Waterpark on Atlantis The Palm offers thrill-seeking rides and over 700 meters of beach.
You have probably seen photos of people sliding through a water tunnel while sharks and stingrays swim above.
Another great water park in Dubai is
Wild Wadi
Waterpark
which is located next to Burj Al Arab Hotel.
12. Jumeirah Mosque
The Jumeirah Mosque is one of the cultural things to see in Dubai.
The mosque's construction started in 1976 and is nowadays said to be the most photographed mosque in the city.
13. Dubai Frame
Marvel at the architectural wonder of the Dubai Frame, a 150-meter-tall structure perfectly capturing the essence of Dubai's past, present, and future.
As you walk through the Sky Deck, you'll be treated to contrasting views of old and new Dubai, with the city's traditional neighborhoods on one side and its modern skyline on the other.
The immersive museum on the ground floor showcases Dubai's fascinating history and impressive development, making the Dubai Frame a must-visit attraction for understanding the city's unique story.
Day Trip to Abu Dhabi
And finally, if you want to expand your UAE adventure, we recommend going on a day trip to Abu Dhabi, the nation's capital, just a 90-minute drive from Dubai!
Wondering how to get there? Check out our detailed guide on How to get from Dubai to Abu Dhabi!
This thriving metropolis boasts unique attractions, such as the stunning Sheikh Zayed Grand Mosque, a masterpiece of Islamic architecture that accommodates up to 40,000 worshippers.
The Louvre Abu Dhabi is another must-visit, housing a diverse collection of art from around the world. Finally, embrace the exhilarating speed at Ferrari World, an amusement park dedicated to the iconic car brand.
A day trip to Abu Dhabi promises a fascinating mix of culture, art, and excitement that will leave you with lasting memories.
The list of things to do in this bustling capital is endless. So, we made the best picks for you!
Read our detailed guide to The Best Things to do in Abu Dhabi here!
13. More Dubai Tours
Go on a Red Dune Jeep Safari through the Arabian desert with BBQ, Sandboarding & Camel Ride.
Click here for tour prices and/ or to make a booking.
Make a day trip to Abu Dhabi
Dubai and Abu Dhabi are only 140 km apart.
Click here for tour prices and/ or to make a booking.
15. Dubai Helicopter Tour
Are you looking for crazy things to do in Dubai?
Board a luxury helicopter and fly over Atlantis The Palm, Burj Al Arab and fly along the Persian Gulf coast.
Click here for tour prices and/ or to make a booking.
The tickets include the bus ride and the entrance to many sights.
You can choose between 24-hour, 48-hour, and seven days tickets.
Click here for tour prices or to make a booking.
Frequently Asked Questions about Dubai
Best VPN for Travel: ExpressVPN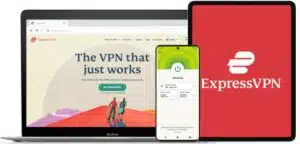 Heading abroad? Use ExpressVPN to access your social media accounts, unblock your favorite entertainment sites, and stay connected with friends and family. And get cheaper flights, of course.
Pros
✅ Next-gen, high-speed servers in 94 countries
✅ Works on iOS, Android, Windows, Mac, Linux, browsers, and more
✅ 256-bit AES encryption protects your data, even on hotel Wi-Fi
✅ Unblocks Netflix and other streaming sites
Cons
❎ No dedicated IPs
Get 3 extra months free of ExpressVPN when signing up for a 1-year plan. That's a 49% saving and a monthly cost of just $6.67! You also get a 30-day money-back guarantee.
Where is Dubai located?
Dubai is the largest city in the United Arab Emirates and is located on the southeast coast of the Persian Gulf. The UAE borders Oman and Saudi Arabia.
Is Dubai a country?
No, Dubai is not a country. It is an emirate/ state.
So what country is Dubai City in, then?
Dubai is one of the states of the United Arab Emirates.
Okay, and how many Emirates make up the United Arab Emirates?
The United Arab Emirates consists of seven Emirates. The 7 UAE states are Abu Dhabi, Dubai, Sharjah, Ajman, Fujairah, Ras al Khaimah, and umm al quwain.
What does Emirates mean?
The word emirates come from emir and -ate. It means "rule or territory of an emir" (Source: Dictionary).
And what is the capital of UAE?
Abu Dhabi is the capital of the United Arab Emirates.
What continent is UAE in?
The United Arab Emirates is in the Middle East and belongs to the Asian continent.
What language is spoken in Dubai?
The official language of The United Arab Emirates and Dubai is Arabic.
Most people in Dubai, however, speak English.
Due to the many ex-pats in the city, you will also find many people speaking Hindi, Urdu, Bengali, Tamil, Tagalog, Persian, Chinese, or Malayalam.
How to get around in Dubai?
The cheapest way to get around in Dubai is by metro. A day ticket costs about $6.50; you can get it almost everywhere.
However, to some places like Sunset Beach, you must take a cab, which is quite expensive in Dubai.
Some useful vocabularies
Hello – As-salám aléikum
Good evening – Masá al-chéir
Goodbye – Ma'a-s-saláma
You're welcome – Áfwan
Please – Min fádlak
Thank you – shókran
Yes – Na'ám
No – La
I don't understand – Ma'fahémt
This article is now available as a mobile app. Go to GPSmyCity to download the app for GPS-assisted travel directions to the attractions featured in this article.