Discover the best things to do in Abu Dhabi, the capital city of the United Arab Emirates, with our comprehensive guide! Whether you're a culture buff, an adventure seeker, or just looking for a relaxing getaway, there's something for everyone in Abu Dhabi. Read on to plan your perfect trip!
Abu Dhabi is a city that combines tradition with modernity and offers a unique experience for travelers from around the world.
From stunning architectural wonders like the Sheikh Zayed Grand Mosque and the Louvre Abu Dhabi to indulging in the city's vibrant food and cultural scene, there's something for everyone in this incredible city.
Best VPN for Travel: ExpressVPN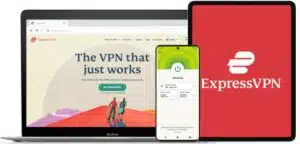 Heading abroad? Use ExpressVPN to access your social media accounts, unblock your favorite entertainment sites, and stay connected with friends and family. And get cheaper flights, of course.
Pros
✅ Next-gen, high-speed servers in 94 countries
✅ Works on iOS, Android, Windows, Mac, Linux, browsers, and more
✅ 256-bit AES encryption protects your data, even on hotel Wi-Fi
✅ Unblocks Netflix and other streaming sites
Cons
❎ No dedicated IPs
Get 3 extra months free of ExpressVPN when signing up for a 1-year plan. That's a 49% saving and a monthly cost of just $6.67! You also get a 30-day money-back guarantee.
So get ready to discover the unique sights, sounds, and experiences that make Abu Dhabi an unforgettable destination!
What to do in Abu Dhabi, UAE
1. Explore the Magnificent Sheikh Zayed Grand Mosque
If you're planning a trip to Abu Dhabi, one of the first things you absolutely must do is explore the magnificent Sheikh Zayed Grand Mosque. This incredible landmark is an architectural masterpiece that simply cannot be missed!
From the moment you step inside the mosque's grand courtyard, you'll be awestruck by the sheer scale and beauty of this stunning building.
The gleaming white marble walls, intricate tilework, and exquisite calligraphy create a truly breathtaking sight.
As you make your way through the mosque's many halls and prayer rooms, you'll have the opportunity to learn about Islam's rich history and culture and admire some of the most intricate and beautiful artwork you've ever seen.
Whether you're a devout Muslim or simply an architecture enthusiast, the Sheikh Zayed Grand Mosque is an absolute must-visit in Abu Dhabi.
You can plan your visit today by booking a guided tour and prepare to be amazed by this incredible landmark's sheer beauty and grandeur!
2. Visit Qasr Al Hosn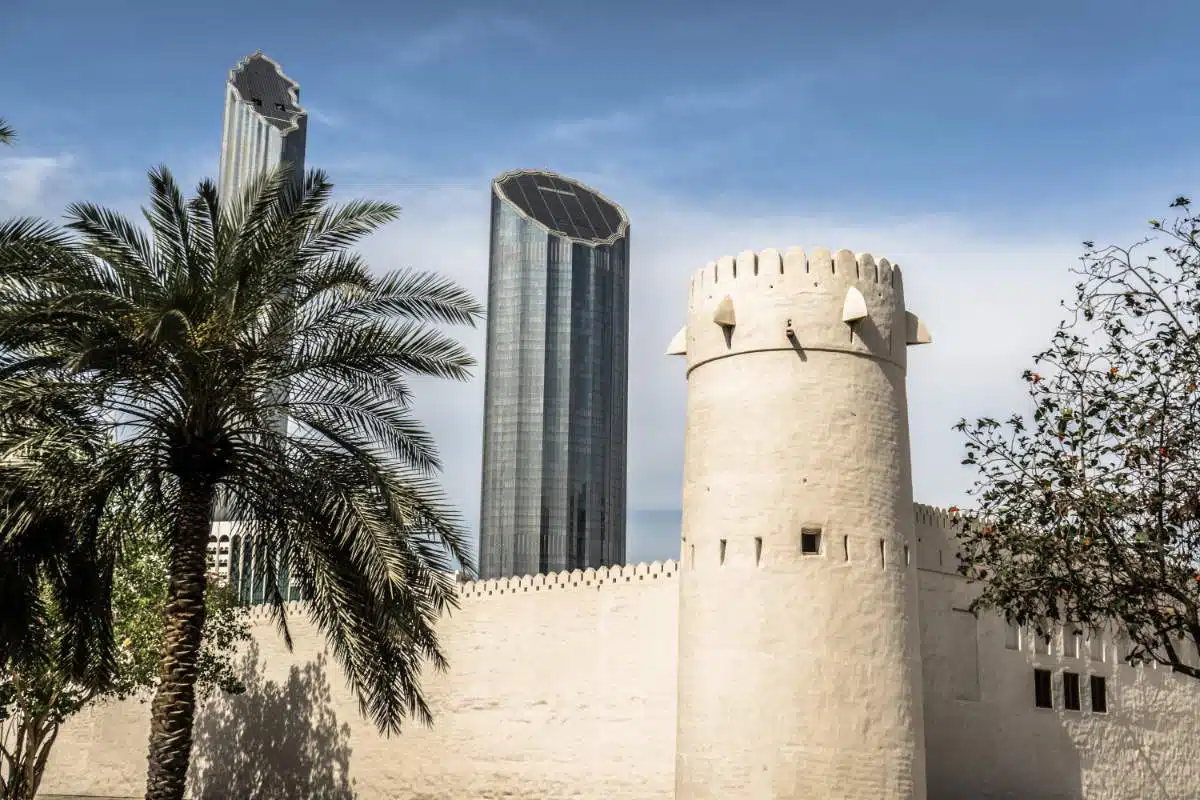 Abu Dhabi is a city that's bursting with fascinating sights and experiences. And if you're interested in history and culture, then Qasr Al Hosn is definitely the place for you!
Trust me; this is one of those places you won't want to miss.
This impressive fortress has been around for centuries and has played many different roles throughout its lifetime. The palace was constructed in 1793 as the ruler's home and the capital's administrative center.
The newly restored Al-Hosn Fort is also known as the Old Fort or the White Fort, Abu Dhabi's oldest building!
As you explore the site, you'll get to soak up the amazing atmosphere and learn about the unique heritage of Abu Dhabi and the UAE.
Exhibits and guided tours will take you through the fortress, showing you everything from traditional crafts to modern art.
And, of course, there's the stunning architecture of the fortress itself, which has been lovingly restored and preserved over the years.
So go ahead and add Qasr Al Hosn to your list of must-see attractions in Abu Dhabi – I promise you won't regret it!
3. Experience the Global Tapestry of Art and Culture at Louvre Abu Dhabi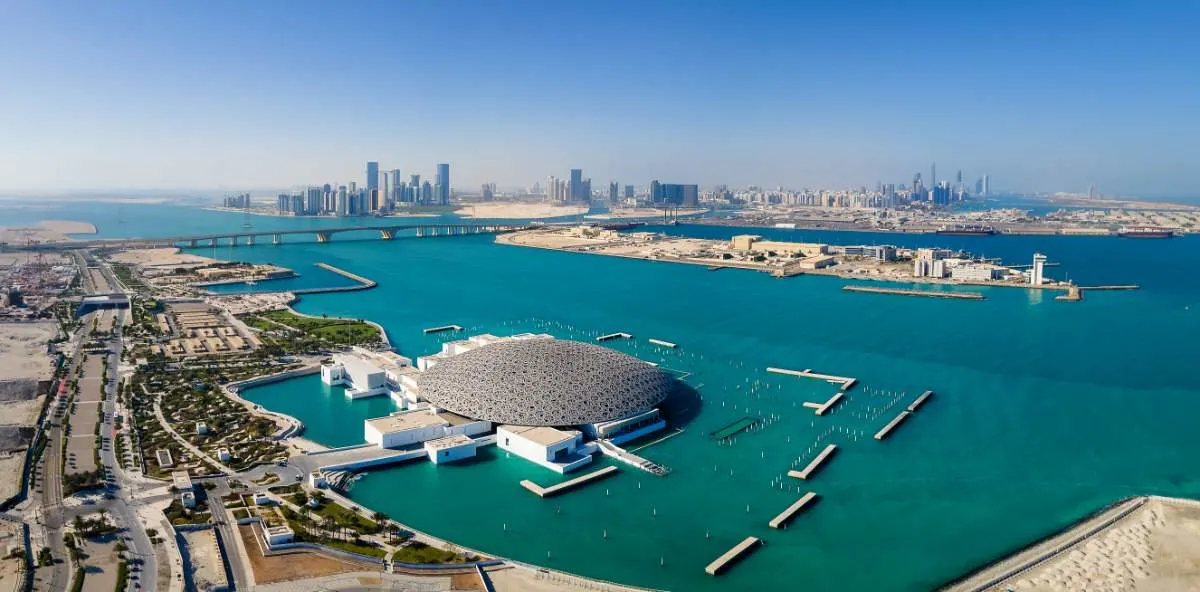 Are you a lover of art and culture? Then you absolutely have to visit the Louvre Abu Dhabi.
The museum opened its doors to the public in 2017 and is the first branch of the famous Louvre museum outside of France.
The museum is located on Saadiyat Island, a cultural district in Abu Dhabi, and is designed to showcase the beauty and diversity of global art and culture.
When visiting the Louvre Abu Dhabi, you can experience a unique blend of ancient and modern art, with works from various civilizations, regions, and periods.
The museum's collection includes masterpieces from renowned artists such as Leonardo da Vinci, Vincent van Gogh, and Claude Monet, as well as artifacts and artworks from ancient Egypt, Greece, and Rome.
The Louvre Abu Dhabi's collection is also home to many Islamic art and artifacts, including calligraphy, manuscripts, ceramics, and metalwork.
But it's not just the collection that will leave you speechless – the museum's architecture is also simply stunning!
The iconic dome-shaped structure, designed by the acclaimed French architect Jean Nouvel, comprises 7,850 unique metal stars, creating a mesmerizing play of light and shadow.
So, whether you're an art lover or simply looking for a culturally enriching experience, the Louvre Abu Dhabi will leave a lasting impression.
4. Go Shopping at Yas Mall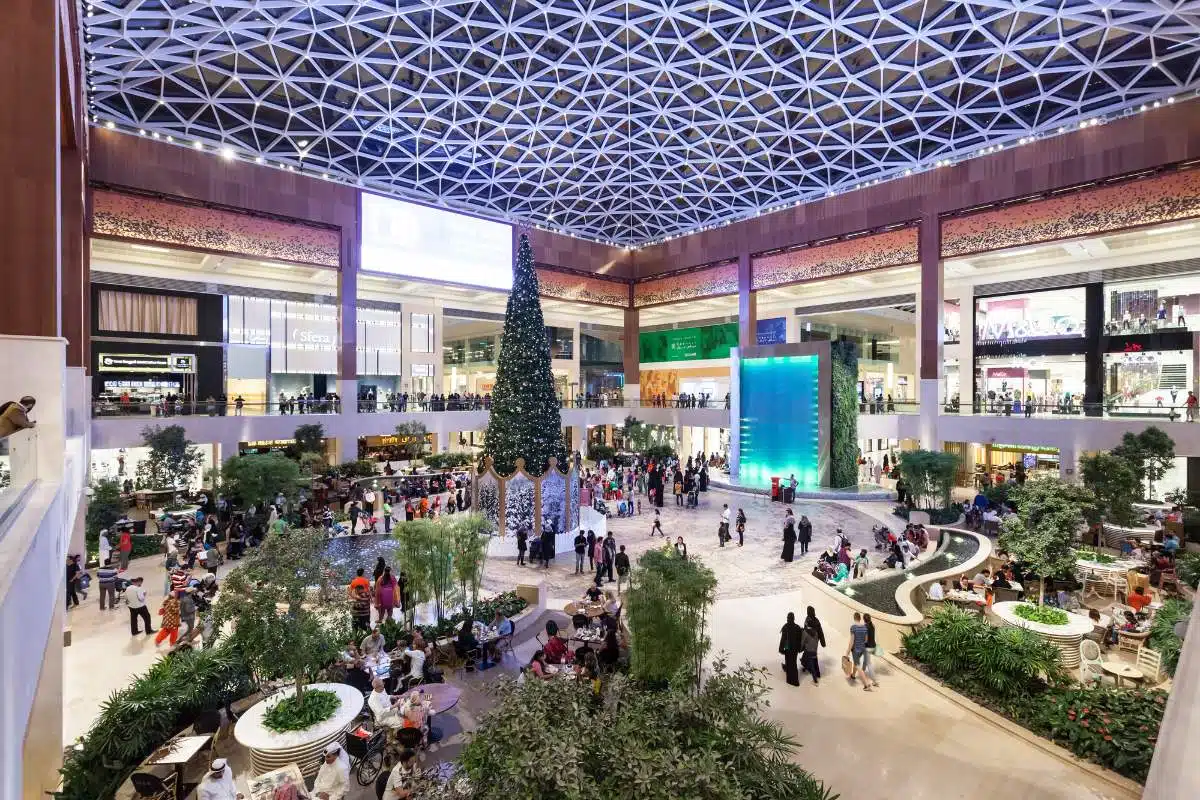 Are you a shopaholic? Do you enjoy nothing more than a day spent browsing the latest fashions and indulging in some retail therapy?
If you happen to find yourself in Abu Dhabi, Yas Mall is the place to be! With over 400 stores, restaurants, and entertainment options, it's one of the UAE's biggest and most popular shopping destinations.
No matter what you're looking for, you will find it at Yas Mall. From high-end designer brands to well-known high-street retailers, the mall has everything you could possibly need.
Plus, with a mix of international and local stores, you'll have the chance to discover new and exciting brands you won't find anywhere else.
Yas Mall has a wide range of dining options to suit all tastes and budgets. So whether you're in the mood for fast food or gourmet cuisine, you'll find everything from popular chains to unique local eateries.
And after a long day of shopping, why not catch a movie at the mall's 20-screen cinema or visit the indoor amusement park for fun and games?
But the fun doesn't stop there – Yas Mall is also known for hosting various exciting events and promotions throughout the year.
From fashion shows and live music performances to seasonal festivals and celebrations, there's always something going on to keep you entertained.
So if you're looking for a day of shopping, dining, and entertainment, head to Yas Mall! You won't be disappointed!
5. Get a Tour of Ferrari World Abu Dhabi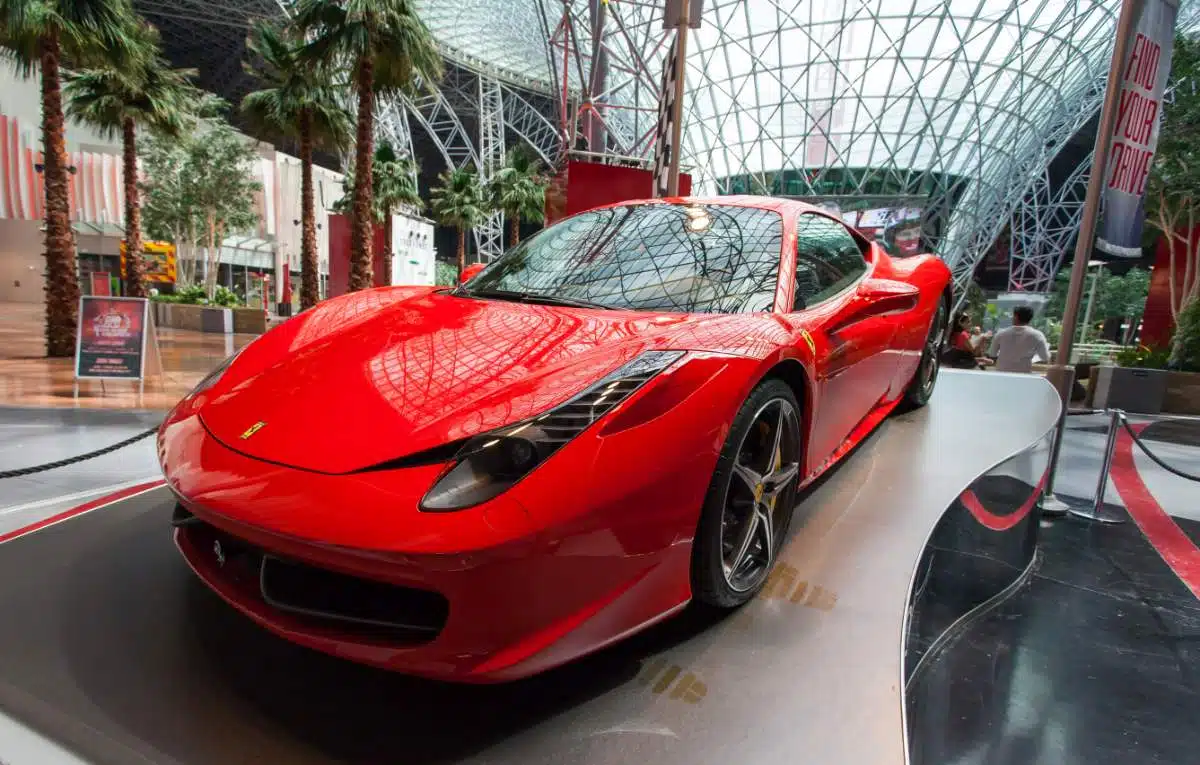 Ferrari World Abu Dhabi is an unquestionably must-visit location if you enjoy speed, luxury, and excitement! This exhilarating theme park gives guests an immersive experience unlike any other and is entirely devoted to the iconic Ferrari brand!
The park offers a fantastic selection of amusement rides, family-friendly attractions, and recreational pursuits, from the breath-taking Formula Rossa roller coaster—the fastest in the world, hitting speeds of up to 240 km/hr—to interactive exhibits that offer a behind-the-scenes look at Ferrari's history and culture.
Additionally, Ferrari World Abu Dhabi is home to an extensive collection of vintage and modern Ferrari automobiles, including some of the most recognizable designs in the history of racing!
Ferrari World Abu Dhabi is a must-visit destination for auto enthusiasts and thrill hunters!
Get set to experience the thrill and luxury of Abu Dhabi while satisfying your need for speed and immersing yourself in the Ferrari world!
6. Explore Warner Bros World
Are you a fan of superheroes, cartoons, and all things Warner Bros? Then you must definitely visit Warner Bros. World in Abu Dhabi!
Six immersive lands, each honoring a distinct well-known franchise, are available to explore at Warner Bros. World. Everyone will find something here, whether they prefer Looney Cartoons or Batman's Gotham City!
You can take a trip on many exhilarating rides and enjoy interactive activities, shows, and attractions all day long!
Additionally, Warner Bros. World is the ideal vacation spot for families with young children.
So, put on your superhero cape, and get ready for the time of your life!
7. Mangrove National Park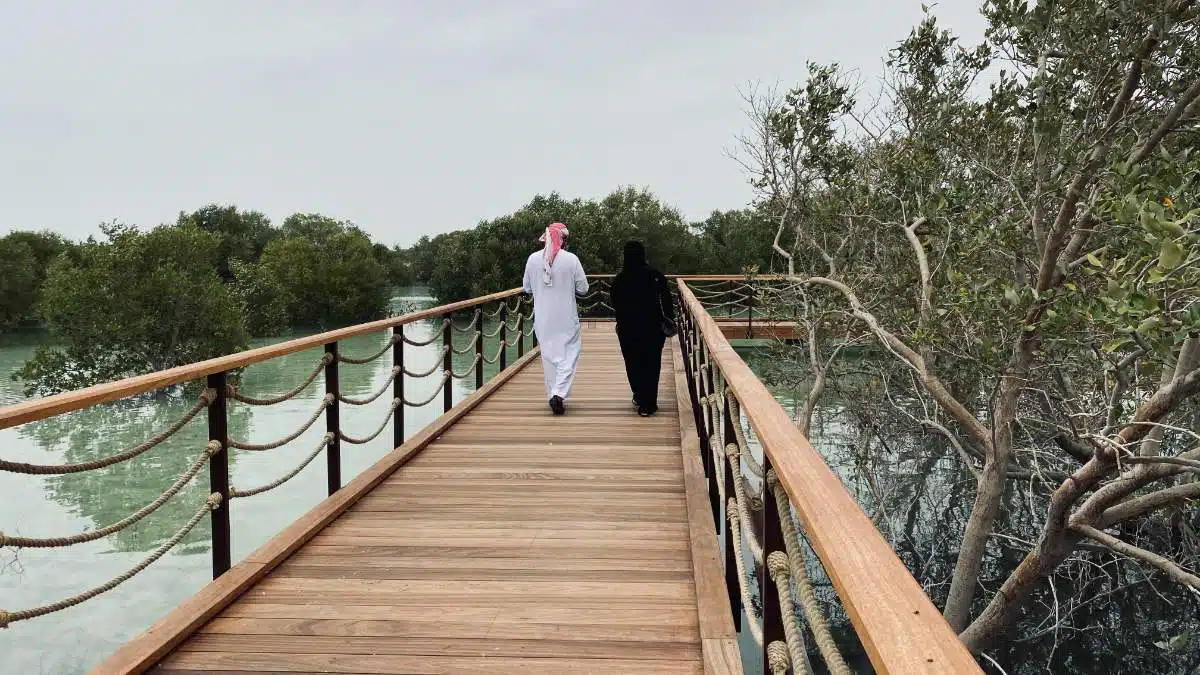 A trip to the Mangrove National Park is a must-do if you're looking for an experience in Abu Dhabi far removed from the city's bustle. Believe us when we say that this nature reserve is a real gem just begging to be discovered.
The Mangrove National Park is a protected region that is home to a variety of wildlife. When traveling through the canals, the mangroves themselves are a striking sight, towering over you.
Now, let's talk about the fun stuff – one of the best ways to experience the park is by taking a kayak tour, which allows you to get up close and personal with the mangroves and the creatures that call them home!
If you prefer hiking, you can also choose a guided nature stroll where you'll discover the mangroves' ecology and the value of protecting it.
However, there's still more! There is even a nighttime kayaking experience that allows you to explore the mangroves under the stars for those who are feeling particularly daring and want to step things up a level.
It's an unforgettable magical event that you shouldn't pass up!
8. Relax on the Sandy Beaches of Saadiyat Island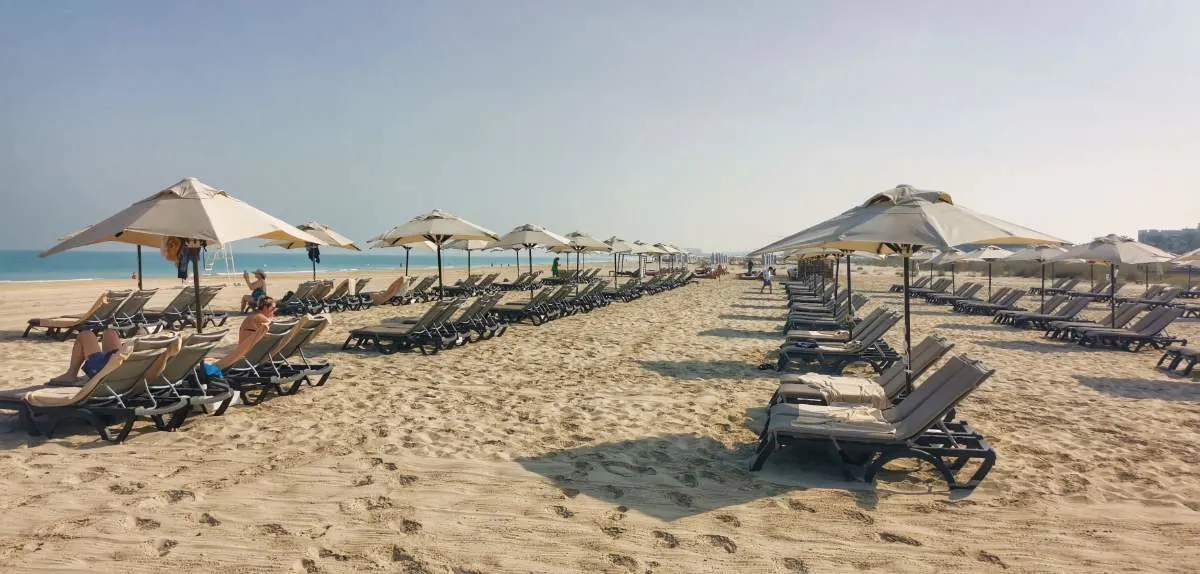 The stunning sandy shores on Saadiyat Island deserve a visit if you want a tranquil getaway in Abu Dhabi. It's the ideal place to unwind, enjoy the sunshine, and cool off in the clear waters.
With so many beaches, you'll be overwhelmed with options! Saadiyat Public Beach is a popular destination with many aquatic sports and beach activities.
But if you prefer a more relaxed beach experience, we recommend you check out some of the island's opulent villas' private beaches!
However, there's still more! You can always check out Saadiyat Island's other attractions to get away from the beach. The Saadiyat Island Cultural District is a must-visit because of its breathtaking buildings and galleries.
Visit Abu Dhabi's breathtaking beaches on Saadiyat Island to give yourself a little slice of heaven!
9. Discovering Desert Wonders: Day Trip to The Dunes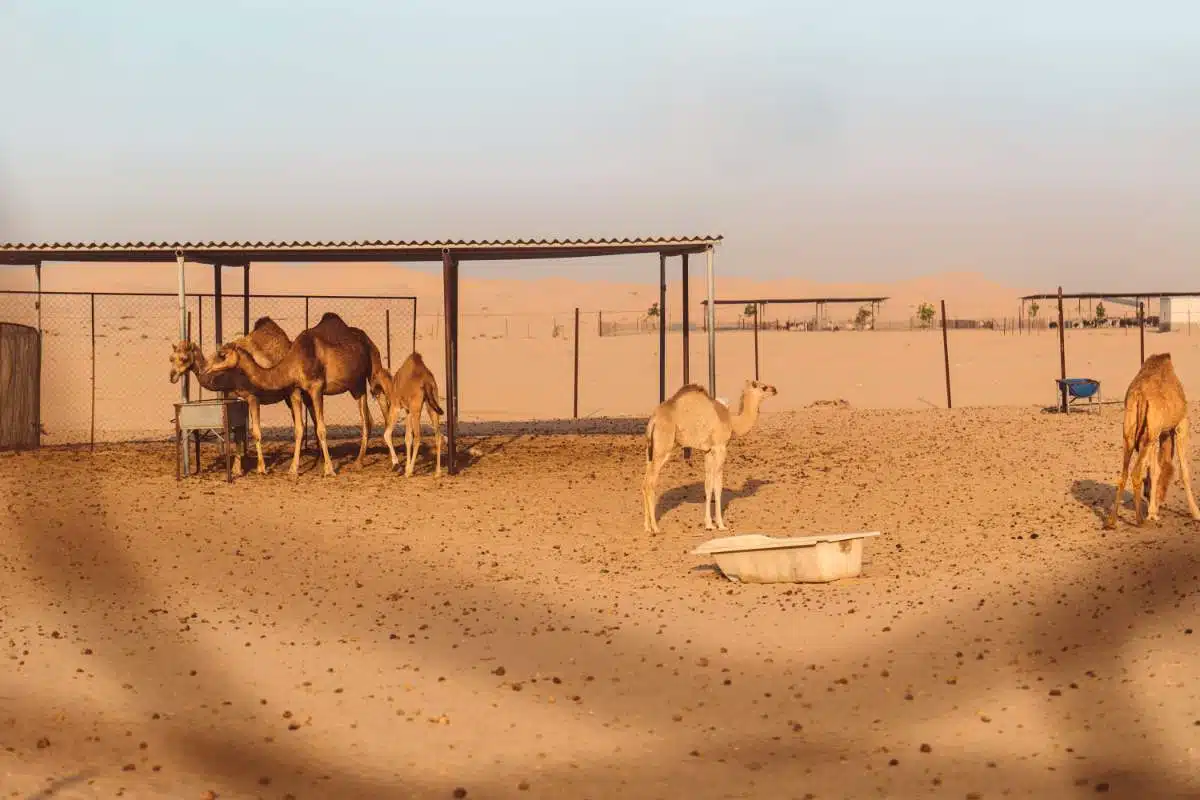 When visiting Abu Dhabi, we guarantee you won't be able to leave without venturing to the dessert first!
Located just a short distance from Abu Dhabi, the desert dunes offer a unique and unforgettable experience! You'll get to witness the breathtaking beauty of the sand dunes that stretch as far as the eye can see and the serene silence of the desert landscape.
One of the best ways to explore the dunes is by taking a guided tour. Many tour companies offer different packages, depending on your preference and budget.
A day trip to the desert dunes is an absolute must-do activity when in Abu Dhabi and a chance to experience the natural beauty of the UAE!
So, grab your camera, put on your sunscreen, and prepare for an unforgettable adventure in the desert!
Our Hotel Recommendation for Abu Dhabi
1. Rixos Marina Abu Dhabi
If you're planning a trip to Abu Dhabi, I've got a recommendation for you that you simply can't miss. It's the Rixos Marina Abu Dhabi!
The hotel's stunning modern design and opulent atmosphere will welcome you as soon as you enter the lobby. It's the kind of location where you'll feel pampered.
The roomy accommodations are equally remarkable, with stunning décor and breathtaking marina views.
That's not all, though. The hotel offers excellent facilities. You won't lack anything during your stay thanks to the excellent on-site dining choices and the incredibly attentive staff that will care for your every need. The spa, sauna, and pool are all excellent options for unwinding.
Additionally, the hotel's setting couldn't be better. You'll be a short distance from some of Abu Dhabi's top sites because it is located right in the marina's center!
So, trust me when I say this is the spot to be if you want to have a luxurious and memorable stay in Abu Dhabi.
2. Rixos Premium Saadiyat Island
We've got another recommendation for your stay in Abu Dhabi that won't disappoint. Let me introduce you to the Rixos Premium Saadiyat Island Hotel!
This hotel is special, located in a prime spot on Saadiyat Island that offers breathtaking views of the Arabian Gulf. And when I say breathtaking, I mean it – you'll be blown away by the beauty of the surroundings.
But the Rixos Premium Saadiyat Island Hotel is more than just a pretty view. This five-star hotel has exceptional amenities that will make your stay unforgettable.
And don't even get me started on the dining options – there are so many fantastic choices that you'll be spoilt for choice.
Oh, and did I mention the private beachfront location? That's right – you'll have exclusive access to a stunning beach reserved just for hotel guests.
Trust me, once you experience the Rixos Premium Saadiyat Island Hotel, you won't want to stay anywhere else in Abu Dhabi!
Frequently Asked Questions about Abu Dhabi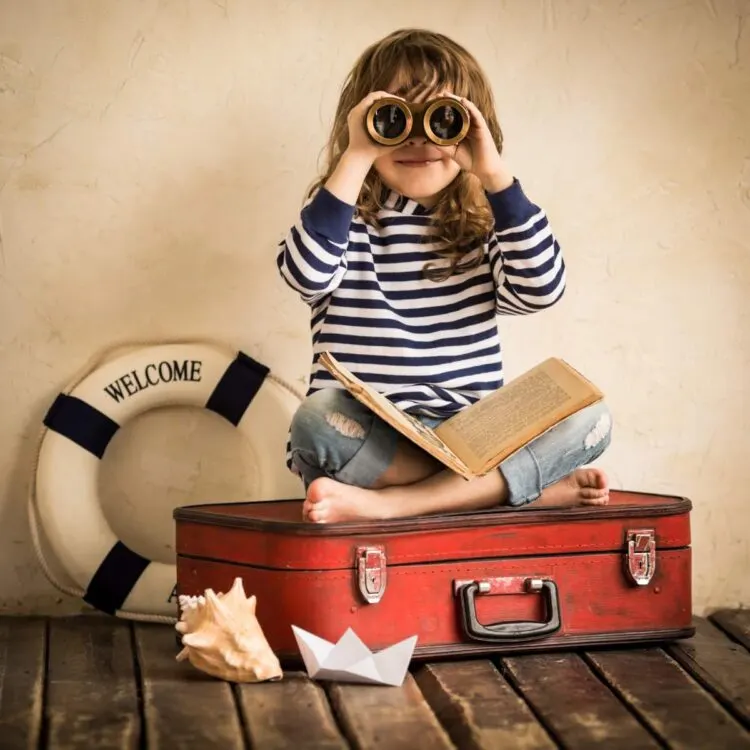 Protect your trip: With all our travel experience, we highly recommend you hit the road with travel insurance. SafetyWing offers flexible & reliable Digital Nomads Travel Medical Insurance at just a third of the price of similar competitor plans.
What is the best time of year to visit Abu Dhabi?
The best months to explore Abu Dhabi are November through April because of the mild and pleasant weather. But it's essential to remember that this is also the busiest travel period, so prepare for larger crowds and more expensive travel.
How much does it cost to enter the Louvre Abu Dhabi?
Tickets to the Louvre Abu Dhabi are priced at AED 63 or USD 17 for adults, AED 31,5 or USD 9 for young people (ages 13 to 22), and AED 65 or USD 9 for seniors. The exhibit offers free admission to children under the age of 13.
What can I do on Yas Island?
Ferrari World Abu Dhabi, Yas Waterworld, Warner Bros. World Abu Dhabi, and the Yas Marina Circuit are a few of the best attractions on Yas Island.
How do I get around Abu Dhabi?
Abu Dhabi has an efficient public transportation system, including buses and taxis. However, many tourists rent a car or take a guided tour to make the most of their time in the city.
What is the local cuisine like in Abu Dhabi?
Abu Dhabi offers diverse culinary experiences, with influences from Middle Eastern, Asian, and European cuisines. Some popular local dishes include shawarma, hummus, falafel, and machboos.
Some helpful vocabulary for your trip to Abu Dhabi
Hello – As-salám aléikum
Good evening – Masá al-chéir
Goodbye – Ma'a-s-saláma
You're welcome – Áfwan
Please – Min fádlak
Thank you – shókran
Yes – Na'ám
No – La
I don't understand – Ma'fahémt
Disclaimer: I was a guest at Rixos Marina Abu Dhabi and Rixos Premium Saadiyat Island. My opinions, as always, are solely my own.