Budapest is, without doubt, one of Europe's most beautiful cities – and the tenth largest. Check out the best things to do in Budapest.
It is the capital city of Hungary and a combination of the cities Buda and Pest, divided by the Danube River.
Tip: Get the Budapest City Card for free entrance and discounts for museums and guided tours, as well as unlimited free use of public transportation. The Budapest Hop-On Hop-Off Bus is a great way to get an overview of the city and to choose places where you would like to spend more time during your stay.
Best VPN for Travel: ExpressVPN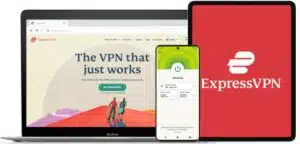 Heading abroad? Use ExpressVPN to access your social media accounts, unblock your favorite entertainment sites, and stay connected with friends and family. And get cheaper flights, of course.
Pros
✅ Next-gen, high-speed servers in 94 countries
✅ Works on iOS, Android, Windows, Mac, Linux, browsers, and more
✅ 256-bit AES encryption protects your data, even on hotel Wi-Fi
✅ Unblocks Netflix and other streaming sites
Cons
❎ No dedicated IPs
Get 3 extra months free of ExpressVPN when signing up for a 1-year plan. That's a 49% saving and a monthly cost of just $6.67! You also get a 30-day money-back guarantee.
Check out the best things to do in Budapest, Hungary:
1. Dining with Locals in Budapest
Recommended by Toccara & Sam from Forget Someday Travel Blog
One of the best ways to experience local culture when traveling to a new destination is to dine with locals.
We had this opportunity during a visit to Budapest, and we now look for similar opportunities whenever we travel, as it was so enriching.
Not only do you get to see how local residents live, but you also get to dine on truly authentic cuisine and have fascinating conversations about local traditions and customs.
We met with Peter and his family in Budapest, who were all extremely welcoming and delightful to talk with. Peter is a wine enthusiast who has a passion for cooking, so we did not doubt that the meal would be divine.
Our meal started with homemade pálinka, a type of fruit brandy. For starters, we enjoyed 2 varieties of duck liver pâté, served alongside fresh bread picked up from the local market.
Next, we enjoyed a peach cream soup served with chunks of goat cheese and flavored with mint and chili pepper flakes. It was an intriguing combination of flavors.
The soup was followed up with a cucumber salad and the main course – chicken paprika served over noodles, a truly authentic Hungarian entree.
Our meal was accompanied by Indian Summer, a red wine from the Eger region of Hungary, along with a refreshing white Furmint wine from the Somlo region.
As it that weren't enough, we finished off our dining experience with a traditional Hungarian dessert – Somlói Galuska (Somló sponge cake – sponge dumplings with chocolate sauce, rum, and whipped cream) and sweet wine – Tokaji Aszu, known as "the wine of kings and the king of wines."
What really made this experience special was that we dined on their outdoor terrace overlooking the Danube River.
4 hours of delicious food, fascinating conversation, and beautiful views… we can't recommend this experience enough.
We booked our dining with locals experience in Budapest through BonAppeTour.
2. Castle Hill
Rashmi and Chalukya from GOBeyondBounds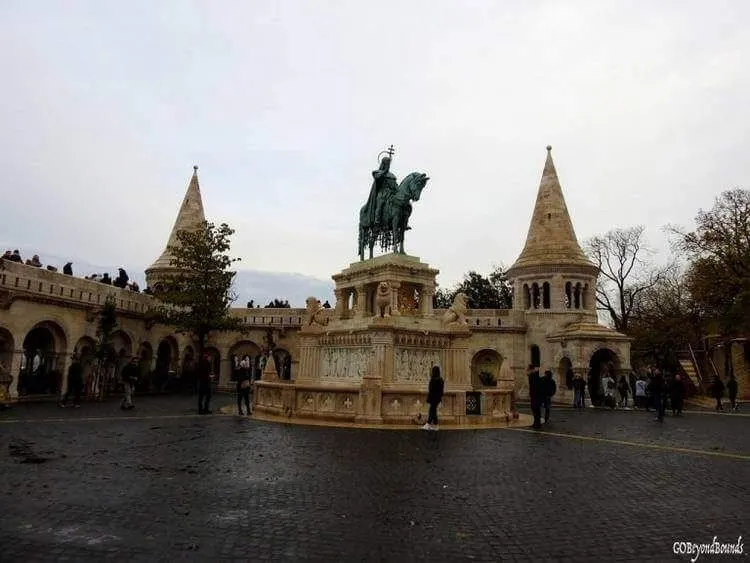 One of the major landmarks in Budapest is Castle Hill.
The Castle Hill is home to some of the top Budapest attractions like Buda Castle, Matthias Church, and the Fisherman's Bastion.
Matthias Church and the Fisherman's Bastion is located in the Trinity Square, which is dominated by the Trinity column, a large plague column built to commemorate the end of the plague in the early 18th-century.
The major highlight of the square, the Matthias Church, is a magnificent Roman Catholic church built in late Gothic style. The most striking feature of the church is its roof decorated with colorful Zsolnay ceramic tiles.
The church has a breathtaking interior adorned with numerous sculptures, frescoes, arches, beautiful pews, and stained glass windows.
Right next to the Matthias Church is the Fisherman's Bastion. The structure built in the Neo-Gothic style features turrets and offers incredible views of the Pest Side with Parliament and the Danube River.
There is a restaurant housed in the Bastion where you can enjoy the views over a cup of coffee.
In front of the Fishermen's Bastion, there is an equestrian statue of Hungary's first King, St Stephen, which has a remarkable artwork on a pedestal illustrating the events from the life of the King.
3. Dinner Walk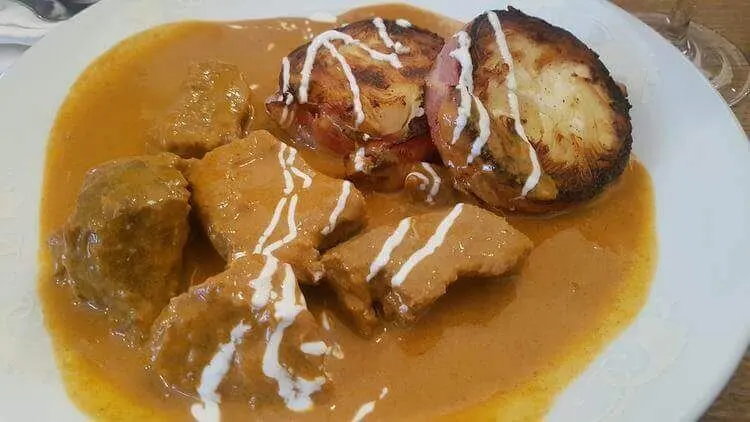 The Dinner Walk with Taste Hungary combines a classical sightseeing tour with typical Hungarian food and drinks.
Your food guide will answer all your questions about Hungarian cuisine, wine culture, life in Budapest, and of course, the bar scene. The tour includes a stop at Szimpla Kert, Budapest's most famous ruin bar, where you will try Pálinka.
I know that you always wanted to try Testicles, right?
Well, I tried it during the tour, and the sauce was actually the best part of the dish. It's an experience, and luckily you can choose between a wide range of local dishes.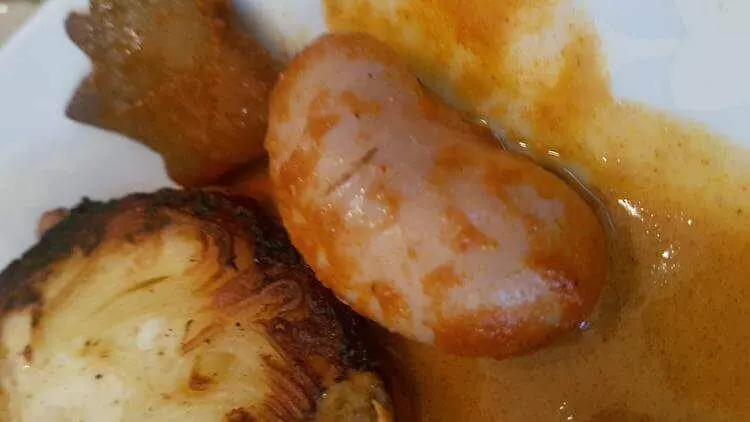 4. Gelarto Rosa
Recommended by Charlotte from The Millennial Runaway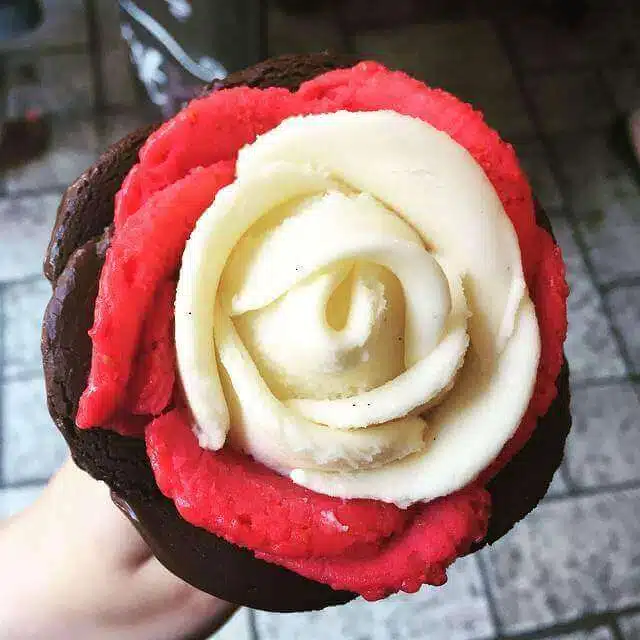 Hidden away beside St Stephen's Basilica is where you'll find the artisanal ice cream store, Gelarto Rosa.
Handmade at the Szent István Square site, using traditional Italian techniques and organic ingredients, make this ice cream treats a delight to your taste buds.
Artistically shaped like a rose using a special spatula to preserve the creamy texture, the flavors are plentiful and exotic.
You'll always find Vanilla, Chocolate, Lavender White Chocolate, Mango, Raspberry, Basil, Lemon, and Pistachio on the menu. With walnut, wassabi hazelnut, pumpkin, and brown bread whiskey-making seasonal appearance.
You can mix and match to whatever you desire, with flavors suited to vegan, lactose intolerant, and diabetic diets.
5. Budapest's #1 Restaurant
Ranked as the number one restaurant in Budapest on Trip Advisor, you really can't leave Budapest without visiting the award-winning Comme Chez Soi.
The menu offers a fantastic variety of dishes from starters and salads, pasta, soups, seafood, meat dishes, and pizza.
And with the most expensive item on the menu being less than £20, you'll have a hard time deciding what to order – but the Breaded Veal Fillet comes highly recommended.
From French Cognac to prosecco to alcohol-free beer, you'll be forgiven for leaving a little merrier than when you arrived, with drink prices average around £3.
And just when you think you can't consume any more, out comes the limoncello. And if you're brave enough – a shot of the palinka.
And if you think the low prices mean smaller portions, you'd be quite mistaken. On the contrary, Roberto and his team can't give you enough food!
Not only are the portion sizes enormous, but expect complimentary drinks and appetizers. And don't forget your box of chocolate on the way out!
Giving you the best in Hungarian hospitality, the team truly excels as restaurateurs providing exceptional service, delicious food, and a beautiful atmosphere.
6. Wine, Cheese, & Charcuterie Tasting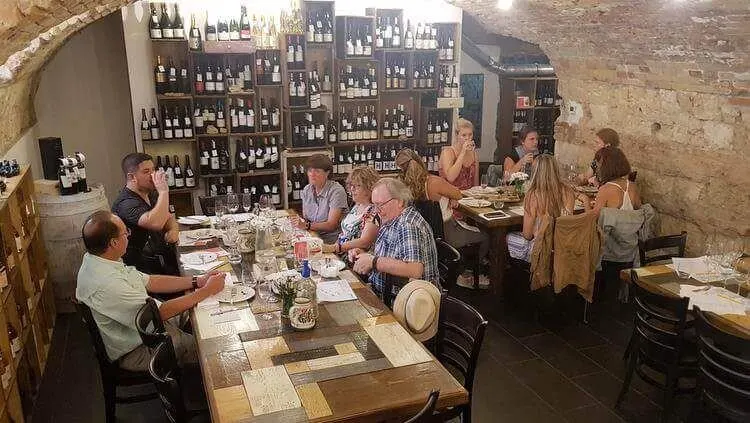 Another tour that I highly recommend when you are interested in Hungarian Wine, food, and history is the Wine, Cheese, & Charcuterie Tasting with Taste Hungary.
Every afternoon at 3 PM, the tasting takes place at Tasting Table Wine Shop in Budapest and takes around 2 hours.
Our guide gave us an introduction to Hungarian history and information about Hungary's nine wine regions.
The best part was, of course, the actual wine tasting. We tried five different wines; one sparkling wine, one white wine, two red wines, and one dessert wine.
My favorite wine was the Rhapsody Bikavér, a red wine from 2014 produced in the Eger wine region. Did you know? The meaning of the wine's name is "Bull's Blood."
7. Budapest Monument Park
Recommended by Mark from Wyld Family Travel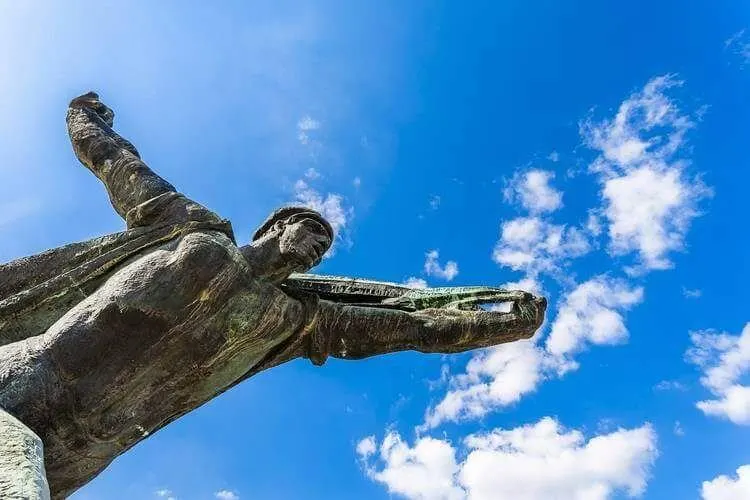 The Budapest Monument Park lies on the outskirts of the city. A tram ride from Budapest Market and then a short bus will drop at the entrance to the park.
The Monument Park is a memorial to the communist past of Budapest and Hungary. While most countries destroyed their communist past, Hungary decided to keep most of the soviet era propaganda statues.
They bought them all together in one place, the Monument Park just outside of Budapest.
It would have been easy for these statues of Lenin, Marx, Engels (all Soviet communists), as well as Hungarian Communist leaders such as Béla Kun, Endre Ságvári, and Árpád Szakasits, to be lost to the world when the dictatorship fell.
The people of Hungary and their government should be congratulated for keeping these monuments for future generations to see and experience. Historically and culturally, the Budapest statue park is well worth a visit.
8. Thermal Beer Spa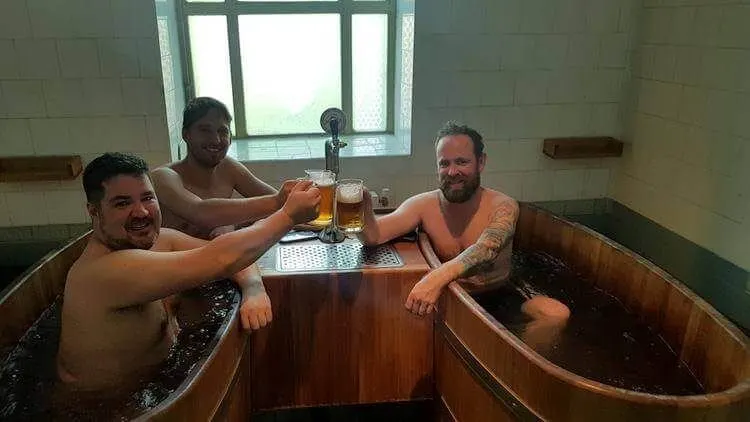 I am a big beer fan, as you might know. Trying local beers is always one of the first things I do at a new destination. But did you know that you can also take a bath in beer?
Crazyyy!
Thermal Beer Spa Budapest fills tubs with fresh thermal water and adds hops, malt, and yeast.
And best of all, it's super healthy.
The malt and yeast consist of many vitamins that are good for your hair & nails, and skin. The hops help you to relax.
Before you ask … during the 45 minutes session, you can drink unlimited beer from the taps in between the tubs.
If you ask me, definitely a must-do in Budapest!
9. Central Market Hall
Recommended by Kate from Our Escape Clause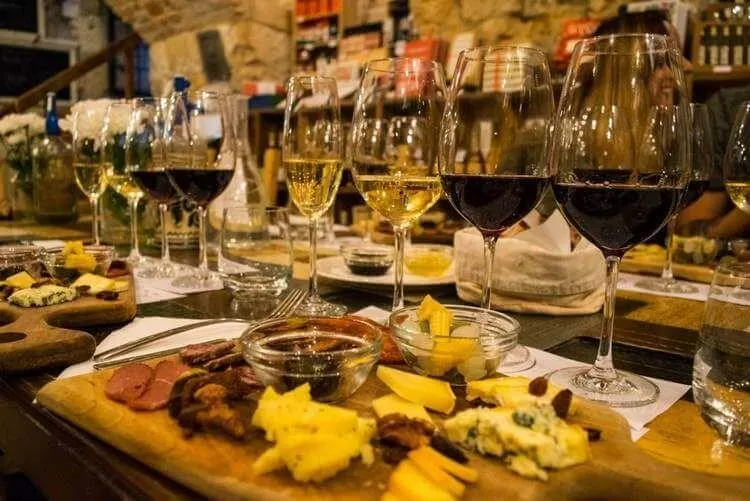 Budapest's Central Market Hall (also called the Great Market Hall) is one of the best things to do in Budapest for any food lover visiting Budapest.
Made up of two floors, the ground level boasts an impressive market of cheeses, meats, fruits, vegetables, wine, bread, and spices… including, of course, enormous amounts of paprika.
If you're hoping to stock up on paprika while in Budapest (and you definitely should be), be sure to stop by a few stalls and take some time to figure out which Hungarian paprika is right for you!
Though prices aren't always the best as the market is popular with tourists, Central Market Hall is also an enjoyable place to do a little bit of grocery shopping if you're staying in an apartment. At the same time, in the city–we picked up some beautiful produce there during our last visit to Budapest.
Central Market Hall's second level is very different from the first floor: home to oodles of restaurants providing traditional Hungarian foods and tons of souvenir stands; this is a great place to shop for some traditional Hungarian lace and painted eggs along with your lunch.
Don't leave Central Market Hall without trying at least a few Hungarian specialties, including langos (fried bread topped with sour cream and shredded cheese… sounds weird, I know, but trust me: it is absolutely delicious and not to be missed).
10. Normafa excursion
Recommended by Gábor from Surfing the Planet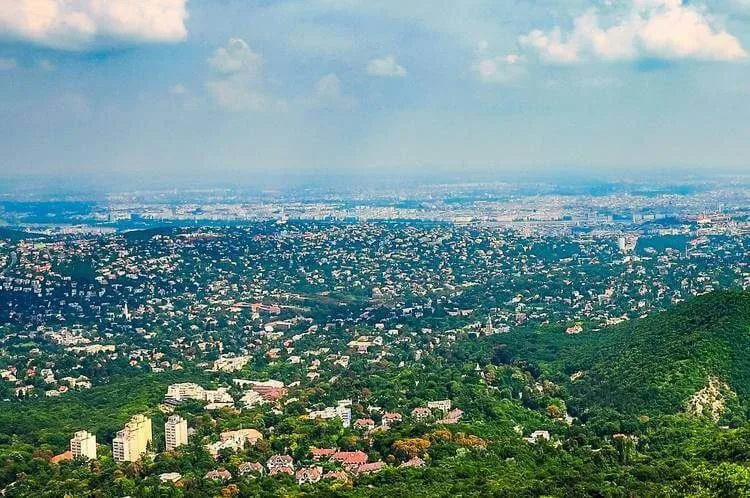 Budapest is one of the principal cultural destinations in Europe and is also famous for its enviable landscape.
Apart from exploring the highlights of Budapest, you can also find many natural sights very close to the city center.
The Danube River divides Budapest into the flat Pest and mountainous Buda, and the views from different points of these hills are simply breathtaking.
The views from Buda Castle or Gellért Hill are well known for most travelers, but there are some other great excursions without leaving the borders of Budapest.
One of these less touristic places of Budapest, mostly frequented by local people, is Normafa, with picturesque hiking trails and great locations to do picnics.
Usually, you will find locals who jog or walk their dog here, and the charming walk to János Hill is a great excursion for those who love nature and are attracted to great views.
At the end of the walk, you will arrive at the Elisabeth Lookout (Erzsébet-kilátó), which offers ample views of the city.
Normafa is easily accessible by public transport from the city center.
You will have to take bus Nr. 21 at Szél Kalmán Square (metro stop), and you will have to get off at the final stop. The trail starts very close to the bus stop.
11. Budapest at night
Recommended by Bilyana from Owl Over The World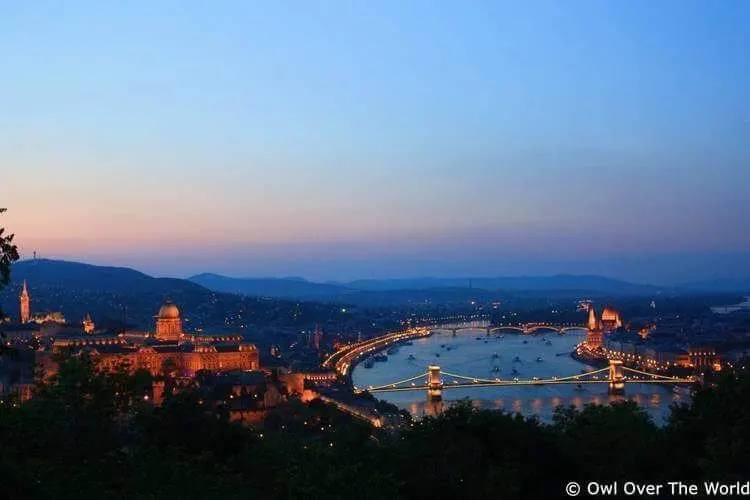 Budapest is undoubtedly one of the most beautiful and charming capital cities in all of Europe and one of the best cities to visit in Hungary.
If you ask me, Budapest is also a very romantic city, more romantic even than Paris. You can notice this during the day but also during the night.
Budapest at night is another experience and pleasure for the eyes. When you're visiting Budapest, you cannot miss a night walk around the city or find a place where you can admire the beautiful view.
Where to go for a great view?
My recommendation would be to go to Gellert Hill. The view from there is wonderful also during the day.
Sitting there, watching Budapest at night, is absolutely one of the best things that you can do in Budapest.
Gellert Hill is overlooking the Danube River, which separates Buda and Pest.
The Hill itself is situated on the Buda side, and there is a Citadel on the top. A large portion of the hill is parkland. The area is part of the UNESCO World Heritage Site as part of "The Banks of the Danube".
Are you looking for a romantic way to explore Budapest at night? What about a Candlelight Dinner Cruise with live music? Click here for more information and/ or to make a booking.
12. Veli Bej Baths
Recommended by Nina from Where in the world is Nina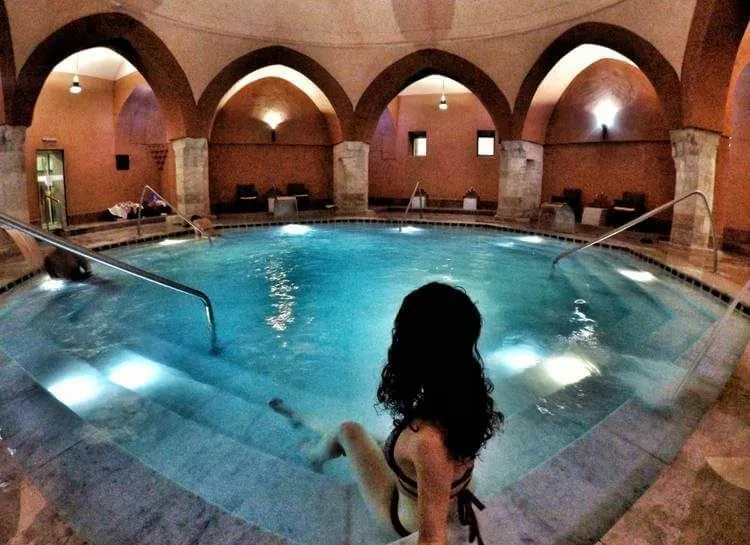 While everyone else flocks to Szechenyi baths to swim around with 1,000 others, I decided to check out some of the lesser-visited baths.
And I'm super happy I did!
Located in a dingy and weird hospital, Veli Bej is a bit of an underground (literally) treasure in Budapest. Its ornate Turkish decor is gorgeous, and the baths themselves are perfect for relaxing.
Dip into the freezing pool, the warm, and then the uber-hot one, relax and repeat!
13. Art Nouveau Architecture
Recommended by Kami from Kami and the rest of the world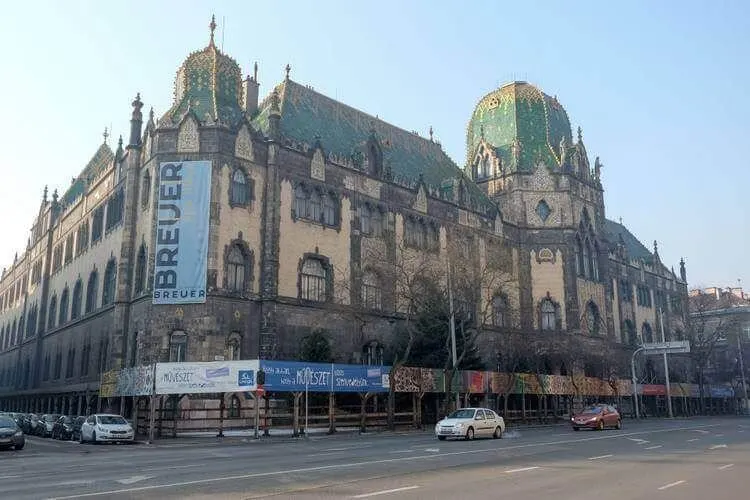 Among all the spectacular buildings you will find in Budapest, one particular style is very present, and that's art nouveau.
When the center of the Hungarian capital, especially the Pest side, was developing rapidly, at the turn of the 19th and 20th century, art nouveau was at the peak of its popularity.
That's why you can see so many of those buildings around, and they are among the best examples of this style in general.
Art nouveau in Budapest was based on the Hungarian decorative design, Transylvanian traditions, or even the Far East style.
When you visit Budapest, you can go art nouveau hunting, trying to find the most beautiful buildings in the city.
The most popular ones are Gresham Palace hotel (designed by Zsigmond Quittner, Laszlo, and Jozsef Vago, built in 1907) located directly in front of the Chain Bridge and Gellért Baths (designed by Artúr Sebestyén, Izidor Sterk, and Ármin Hegedűs, built in 1909-1918) located next to the Liberty Bridge.
But for me, the most impressive is the Museum Of Applied Arts and Postal Savings Bank.
If you'd like to learn more about this beautiful style in architecture, you can visit the House of Hungarian Art Nouveau that is home to a museum and even a cafe in the art nouveau style!
Tip: Explore the Art Nouveau treasures of Budapest on a tailor-made walking tour.
14. Margaret Island
Recommended by Alex from Swedish Nomad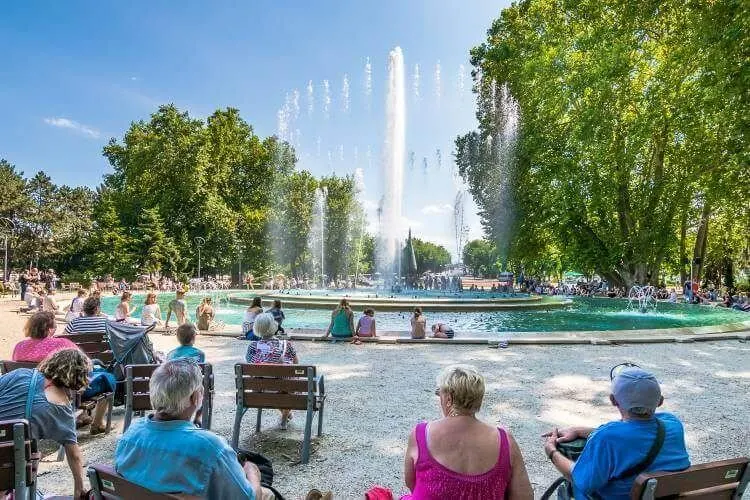 Margaret Island, also known as Margitsziget in Hungarian, is the lush island in the middle of the Danube river in Central Budapest.
It's a popular recreation area filled with gardens and greenery. From a historical perspective, there are several medieval points of interest.
In the 12th century, the Knights of St. John settled on Margaret Island, and today you can, for instance, see the Franciscan church dating back to the 13th century.
One of the most popular attractions today is the Music fountain with daily shows. The water is synchronized to the various songs.
In addition to the Music Fountain, there's also a popular bathhouse and a beach where you can go for a swim.
Nowadays, Margitsziget is also home to the increasingly popular festival – Sziget Festival, where top DJ:s and artists from all over the world is coming to perform. The festival goes on for a week, normally at the beginning of August.
To get to Margaret Island, you can either walk over the bridges, take the tram or join a guided tour.
15. Memento Park
Recommended by Elaine and Dave from Show Them The Globe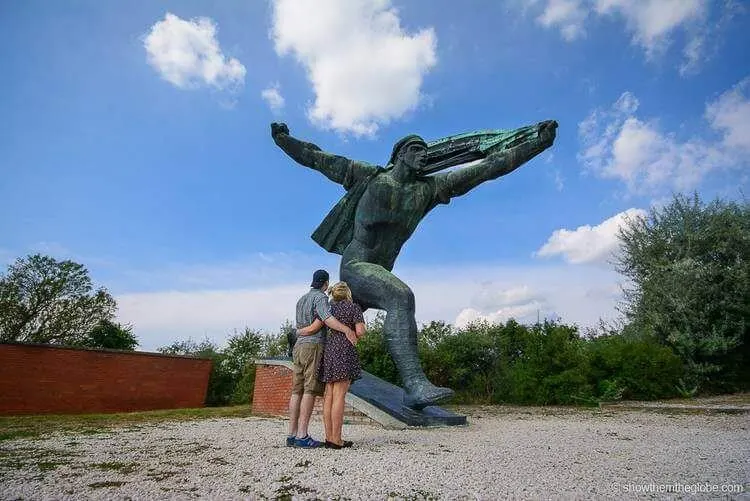 Memento Park is an open-air public museum in Budapest where, after the fall of communism in Hungary, huge communist statues from the era were put on display.
The propaganda statutes were once displayed in prominent places throughout Hungary to remind its residents of the greatness of the Soviet System.
From the replica of Stalin's boots at the entrance to the enormous Republic of Councils Monument, it's fascinating to realize that some statues are as recent as the 1980s.
Over 40 statues are on display in Memento Park, which celebrated its opening on June 29, 1993, the second anniversary of the withdrawal of the Soviet troops from Hungarian territory.
When trying to decide how to dispose of the giant statues, Memento Park came about: rather than discard the statues. They were moved to Memento Park to signify one of the darkest points in Hungarian history.
When visiting, we'd recommend picking up a guidebook at the entrance as there is very little information within the park.
Also, make sure to watch some of the instructional videos, such as how to plant bugs and search houses, which are on display.
Memento Park is located a little outside Budapest city center. We rented scooters to make the 20-minute journey to the park, but there is also a direct bus from the city once or twice daily, depending on the season.
16. Visit Széchenyi Thermal Bath
Recommended by Natalie from Love and Road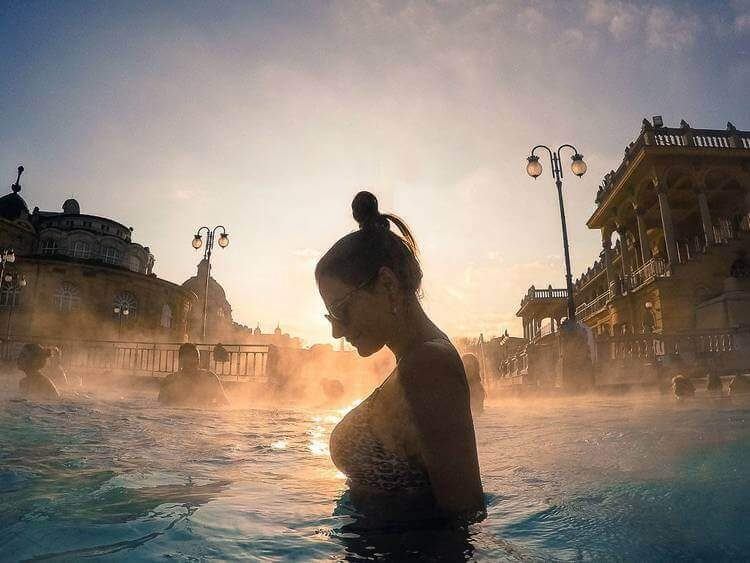 One of the top things to do in Budapest is to visit a thermal bath, and if you can only visit one, my recommendation is to go to Széchenyi Thermal Bath.
It is the first thermal bath opened on the Pest side of the city and is still one of the largest spa complexes in Europe. The place is huge; it has 21 swimming pools (indoor and outdoor), saunas, and spa treatments.
Even if you are not a big fan of thermal baths, a visit to Széchenyi is a must. The building is stunning; it looks like a palace from the outside, but outdoor pools will leave you speechless.
The bath is packed with locals and tourists enjoying the pools and a cold Hungarian beer during summer. During the freezing months, mostly locals go swimming or play chess.
We went to Széchenyi Bath in winter, and despite the cold outside the pool, it was an amazing experience and one of the highlights of our 3 days in Budapest.
Széchenyi Thermal Bath is open daily for men and women, from 6 am to 10 pm. The entrance fee ranges from 4,900 Ft to 5,700 Ft during the week and from 5,100 Ft to 5,900 Ft on weekends.
The prices vary according to the time of day and choosing a locker or a private cabin. All the tickets give you access to indoor and outdoor pools.
The Visitor Ticket is perfect for those who don't want to get wet; it's only 2,000 Ft, and the visits are scheduled for 10 am, 12:30 am, and 3 pm every day; the tour is in English or Hungarian.
Click here to purchase your ticket to Skip the line at Budapest's world-famous thermal spring spa, Széchenyi Bath.
17. Szabo Ervin Library
Recommended by Marie from Our Travels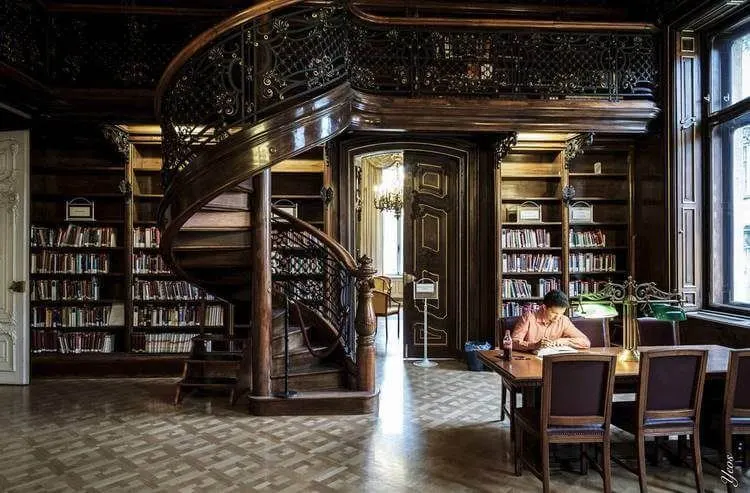 Dubbed as the Heart of Europe and as one of Paris of the East, Budapest ranks on many of Europe's "lists of bests."
It has both that old-world charm and modern era feel that highlights the best of both worlds.
There are several World Heritage sites Budapest is known for. Still, one of the best spots I enjoy visiting is the Szabo Ervin Library, a municipal library housed at the beautiful 19th-century neo-baroque Wenckheim Palace (which is more than 110 years old).
The library has been expanded to 13,000 m² through years of renovation and houses Budapest's largest public book collection.
Resembling a vast maze of reading rooms, the Central library is worth looking for.
Warmly lit and with dark wood walls, the two rooms, once the dining room and smoking room, are so picturesque and Instagram-worthy that you'll be inspired to read (and probably study again).
The staircase at the former smoking room leading to the mezzanine, the chandelier, and the leather seats make for a perfect old European atmosphere.
There's also a cafeteria where you can chat with students, a little second-hand bookstall, and a lovely courtyard as well. Suffice to say; you would never know how incredible a library could be until you see the Szabo Ervin.
18. St. Stephen's Basilica
Recommended by Sophie from The Wanderful Me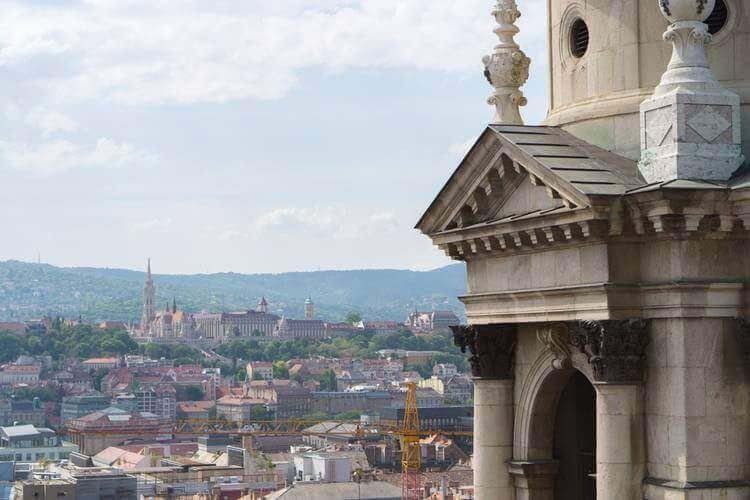 What may be one of the most beautiful churches in the world, the St. Stephen's Basilica has an exterior and interior that draws "awes" from each visitor.
Built between 1851 and 1905, its neo-Renaissance architecture – which took 2 different architects to design and complete – shows off a magnificent 300-foot dome and two bell towers.
Although the exterior is impressive, the interior is where St. Stephens's Basilica really shines.
Adorned with breathtaking decorations, captivating art, and stained glass windows, there's no other place like it in Budapest.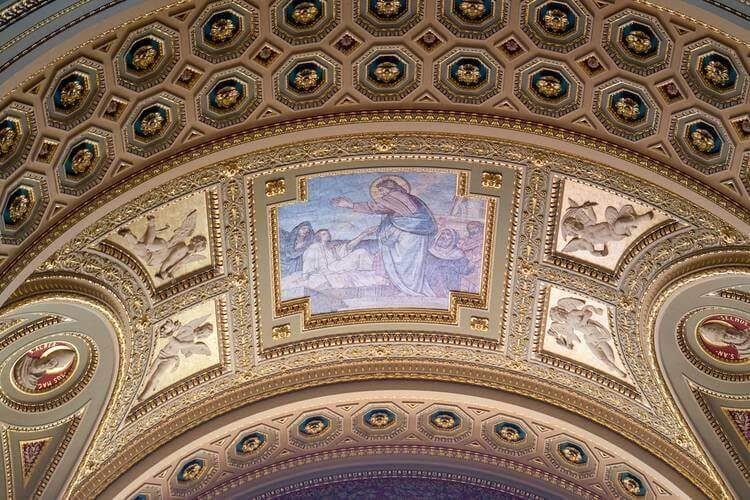 And when you're done admiring the interior, climb the stairs or ride the elevator to the top of the basilica and take in a gorgeous aerial view of Budapest!
You won't be disappointed.
Tip: While many believe there's an entrance fee, St. Stephen's Basilica is actually free (unless you want to go to the top, then it will cost you HUF 500). The church does ask for a small donation, but it's not necessary to enter the basilica.
19. Walking tours in Budapest
Recommended by Nisha and Vasu from Lemonicks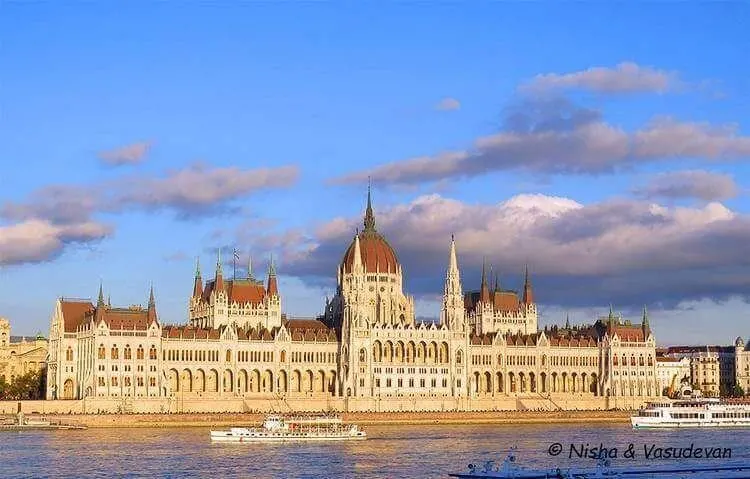 Almost without fail, the first thing we do in a new city is to do a walking tour of about 2 or 3 hours of the old town to get the hang of the place.
It helps in knowing the city a bit more in terms of routes, things to explore in detail, and the culture in general.
However, when we visited Budapest, we found that just one walking tour would not be enough. There were areas which were culturally different and also a bit far from the main old town.
In fact, we suggest 3 different walking tours for Budapest on both sides of the Danube. In terms of time, it would be half-day for each of them, considering two hours each.
Of course, if you are going to do self-guided tours, you could do it all in the span of a single day ending in the evening too.
The first walking tour is on Buda, the hilly side of Budapest (Buda-Pest is a twin city divided by the Danube).
Start the walk from the top of the hill where you could see the viewing galleries of Fisherman's Bastion, which gives unhindered views of Pest and the spectacular Parliament building.
Work your way down visiting the Mathias Church, the labyrinth, the great magician Houdini's museum, the castle, and end at the Zero-LioMetre stone on the banks of Danube.
The Second walking tour that we recommend is the old town of Pest, starting at St Stephens Basilica and then moving on via Liberty Square Garden and see a Nazi bunker too and then on to the other end via US embassy, Statue of Zronald Reagan, and of Imre Nagy which seems to point at the famous Hungarian Parliament, then to the Shoes memorial on the banks of Danube.
The third walk is also in the Pest city among the narrow streets of what was the Jewish district where you will see synagogues, the House of Terror, a model of the "Iron Curtain."
We recommend this for the late afternoon so that you can end at many of the Ruins bars in the region for your daily dose of libations.
Budapest Walking Tours:
20. Chain Bridge
Recommended by Nate from Travel Lemming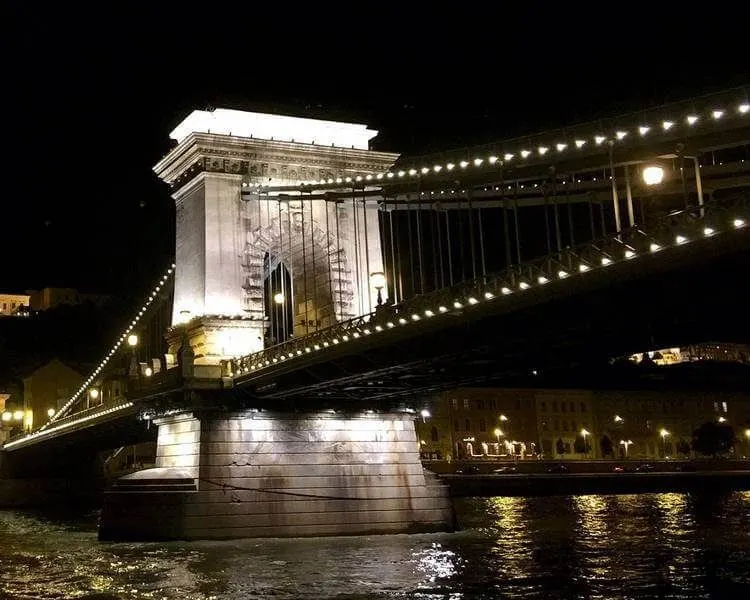 One of the most iconic symbols in a city filled with them, the Chain Bridge should be on every list of the best things to do in Budapest.
In fact, you'll probably want to visit this incredible site at least twice: once to take it in via sunlight and another time by night to appreciate the splendor of the bridge all lit up.
The bridge connects the Buda and Pest sides of the city. Designed and built in the U.K. during the 1850s, the bridge was shipped in sections to Hungary for assembly.
It was partially destroyed by bombing during the Second World War, but the two iconic towers survived, and the remainder of the bridge was rebuilt following the conflict.
The Chain Bridge offers a wide pedestrian passageway blocked off from traffic which, although it can get a bit crowded during peak times, makes for an excellent stroll that takes in views of the city.
For a more relaxed way to enjoy the Chain Bridge, head to the Pontoon bar, located at the end of the bridge on the Pest side.
There you can grab a chair on the deck and a drink to sip. Just be sure to come early for sunset, as seats fill up quickly!
21. Buda Castle
Recommended by Staphanie from History Fangirl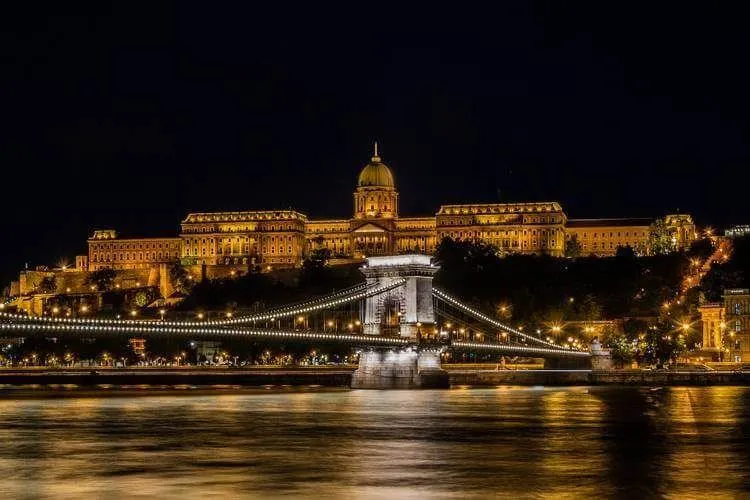 One of my favorite things to do in Europe is to explore and take pictures of beautiful castles.
For castle lovers, Buda Castle is a dream come true.
It is located in a part of the city's UNESCO World Heritage site, it contains a world-class art museum, and it's stunningly beautiful.
Plus, unlike so many of Europe's castles, it's actually positioned in such a way that it's easy to take photographs of since you can see it from across the river.
I spent hours wandering through the museum, whose collection includes some of the most important works of Hungarian art from the last few centuries. Afterward, I spent my time exploring the rest of the Buda castle quarter.
To get to the castle, you can walk up the hill or take the funicular. Make sure to give yourself time to enjoy the views from the castle grounds of Pest on the other side.
You can also take a walking tour of the castle and the neighborhood's history and sites.
Even if you choose not to visit the castle itself, no trip to Budapest is complete without appreciating how stunning the castle is when lit up at night over the river with the chain bridge lit up in front.
22. Riverride Budapest Tour
Recommended by Harsh from Wanderers Hub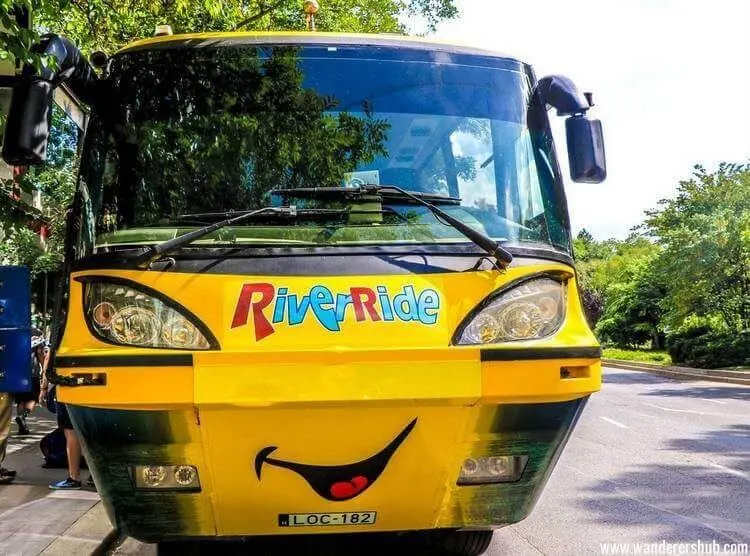 While strolling on the bank of the River Danube, we came across a boat that was floating on the water.
It didn't take us more than a minute to sign up for the Riverride Bus tour in Budapest. This river ride tour allows you to see the capital of Hungary from the land as well as water.
Take the window seat and get set for a 2 hours journey that starts on the land and takes you dramatically into the Danube River.
The tour starts at the Széchenyi market square near the Chain Bridge, passes by various city attractions, including the Opera House and Terror House, before finally splashing into the Danube.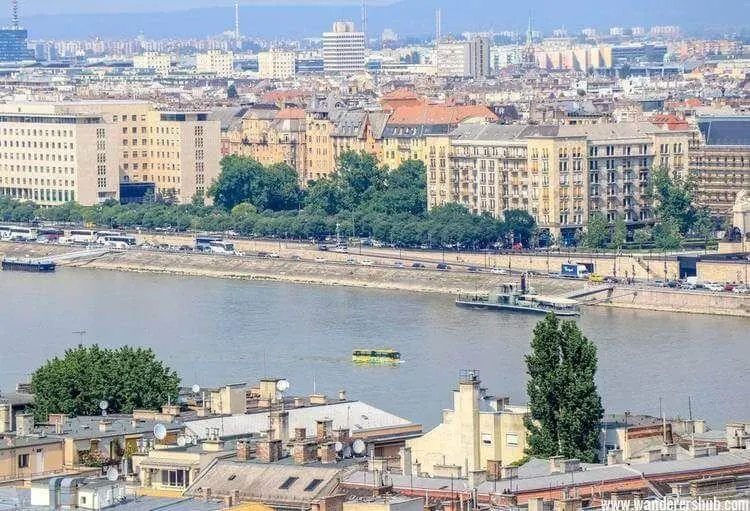 Once it enters the river, the bus offers a majestic sight with a gorgeous lineup of riverside attractions. Once the water journey is over, you climb back to the river shore and make way through the hustle and bustle of the city.
It's an adventure worth experiencing when in Budapest. Riverside bus tour runs almost every day, and it's best to book in advance as the tour almost runs full.
All you need to do is take a seat on this amphibious bus and get ready for an adventure of a lifetime.
Click here for more information and/ or to make a booking.
23. The Budapest Makery
Recommended by Michael from The Round The World Guys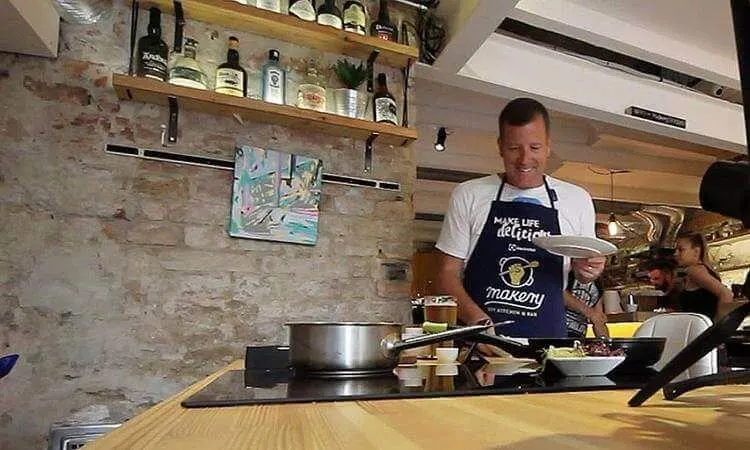 There are hundreds of places to eat in Budapest, but none is as unique as the Budapest Makery.
Located in the city's Jewish Section, the Budapest Makery bills itself as the world's first "do it yourself" restaurant.
You order from the menu, and then they bring you all the ingredients, a tablet computer with instructions on video, all the cookware you need, and you make everything yourself.
And the food is delicious.
I made a unique pancake soup as an appetizer and then goat cheese balls with beetroot as the main course. If I had any questions, there was always someone there to assist.
While I did it alone and had fun, Budapest Makery is truly made for couples and groups.
If you're a couple, it'll be a good test of your relationship. If you're a group, it'll just be a great laugh!
While there, I imagined what a blast I'd be having if I were there with several friends or at an office team-building event. A lot of the fun here would be in the mistakes you might make.
It would be such a great experience.
Bring your appetite, though – they don't skimp on portion sizes. And bring a great sense of humor as well.
Check out the Budapest Makery next time you're looking for unique things to do in Budapest.
24.

Danube Cruise
Recommended by Allison from Sofia Adventures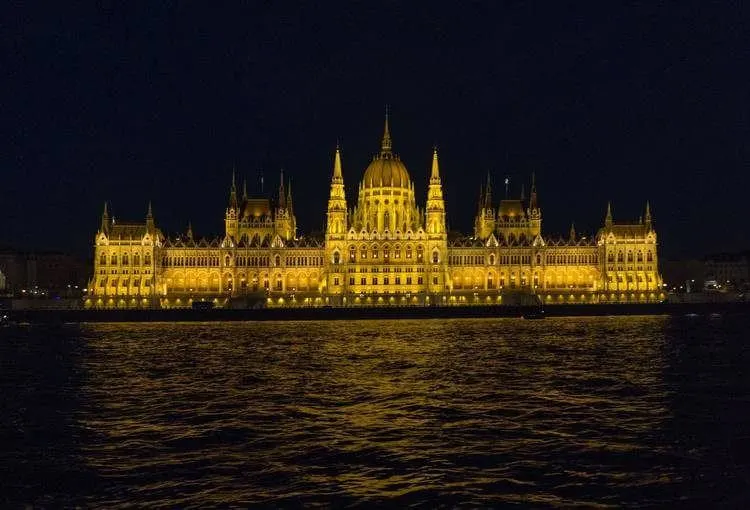 One of the most exciting things to do in Budapest is to take a cruise down the Danube.
The Danube separates the Buda side of the city, where many touristy attractions like Buda Castle and Fisherman's Bastion are from the trendy Pest section.
As you go up and down the Danube on a cruise, you'll see a lot of the buildings that make Budapest so unique.
For example, you'll pass the Gellert Baths, Buda Castle, the Chain Bridge, the Central Market, and my personal favorite – the famous Budapest Parliament building.
Many tours will include one alcoholic beverage of your choice and have audio guides in several languages so you can learn about the sights you are seeing while you pass them by on your boat.
I recommend trying to time your tour with the sunset so that the sun will be setting around when you set out on the cruise.
Because most cruises end at the Budapest Parliament building before taking you back to the dock where you began the boat ride, you'll see that all lit up for the night at the end of the tour and get beautiful golden hour lighting for the rest of the Danube river cruise.
Click here for more information about the Budapest Daytime Sightseeing Cruise or the Budapest Night Cruise on the Danube.
25. Visit the ruin bars
Recommended by Clemens from Travellers Archive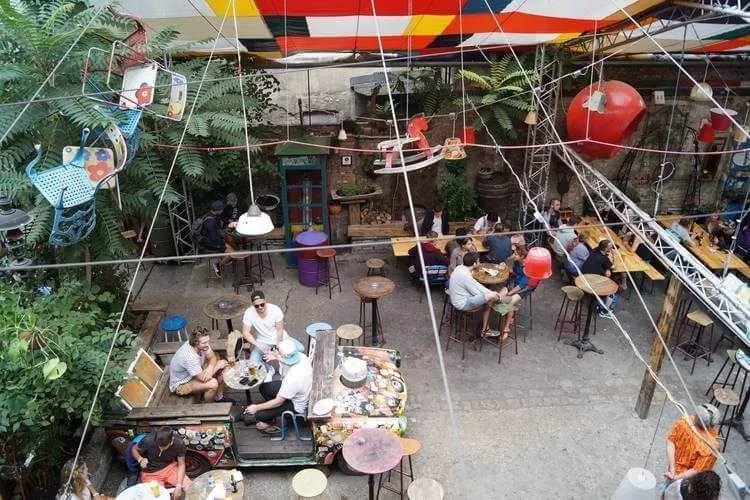 Budapest is an architectural gem. It hosts hidden courts, broken facades and has a unique feel between broken and super hip.
One of the best things to do in Budapest to feel like you're in the heart of the city is to visit a ruin bar. These bars are built in Budapest's old District VII neighborhood, which is the old Jewish quarter.
Mostly, they are found in abandoned buildings, in stores, or various lots. The pioneer of them all was Szimpla Kert, the dedicated spot to start your ruin bar tour in Budapest.
As district VII has not really been the place to be after World War II, it was full of empty buildings that needed some life. Hence, it was the perfect place to start the underground bar development.
Beware, mostly you'll miss the bars from the outside as they look like normal homes and never really have a proper sign. A great way to find the coolest bars and meet new friends is to join a Budapest bar crawl.
However, once you walk in, you'll find yourself in the middle of a hipster mecca with alternative decoration, cheap drinks, and the perfect atmosphere.
Every ruin bar in Budapest is special, but they all follow the same motto: if a place is empty, why not put an awesome bar inside?
26. Gellert Spa and Bath
Recommended by Bertaut & Alexis from World Travel Adventurers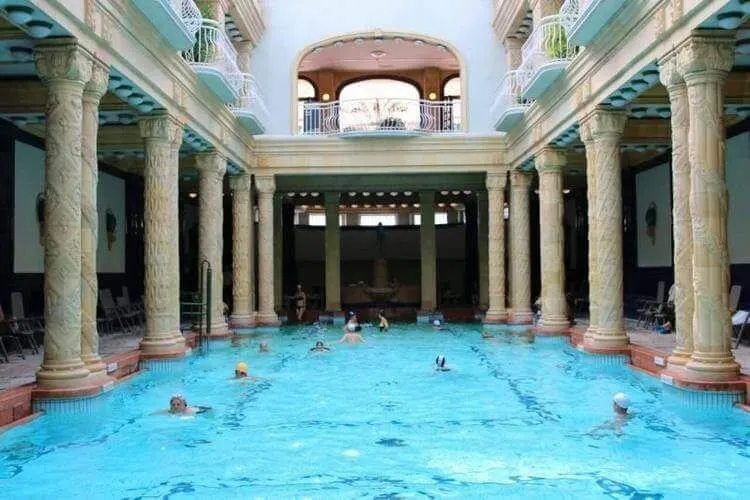 Gellert Spa and Bath is a must-visit in Budapest, known as Spa City, thanks to its 118 natural thermal springs.
This world-famous thermal bath is located in Gellert Hotel on the Buda side of the city. It has been open since 1918 and is famous for its beautiful Art-Nouveau main hall.
Its "miraculous" springs, favored by the Turks, have been drawing people since the 15th century. This little slice of heaven will leave you feeling completely relaxed after a day of soaking and swimming.
Gellert Bath includes 12 thermal baths of varying temperatures, saunas, a wave pool, an effervescent pool, and a children's pool. Some baths are indoors while others are outdoors, so we recommend giving yourself plenty of time to experience them all.
Make sure to bring your camera, too, because the beauty of this thermal bath will blow you away. Gorgeous blue tiles, colorful mosaics, and intricately carved columns adorn this serene thermal spa.
Cold healing waters flow from the mouths of sculptures, making for the prettiest drinking fountains we've ever seen.
You can easily spend an entire day here, alternating between the hot baths and cold plunges to improve circulation and feel invigorated. Splurge on a spa treatment or pamper yourself with a massage at reasonable prices.
Tickets start at 21 Euros for all-day access.
27. Budapest National Opera House
Recommended by Noel from Travel Photo Discovery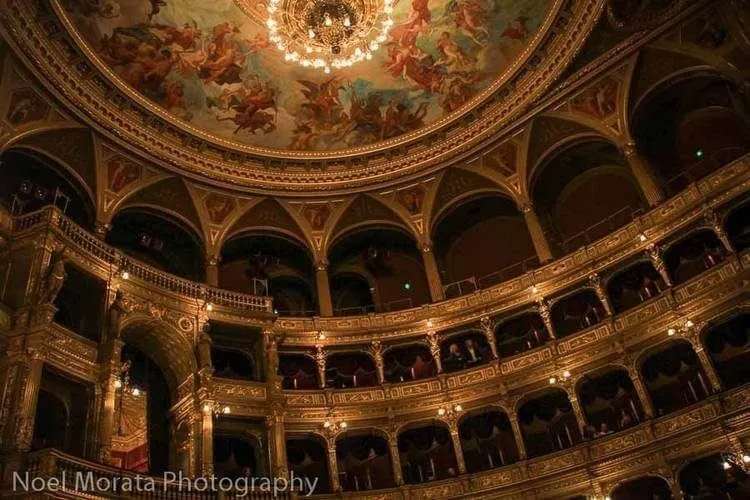 If you love culture and music, then a night out to see the opera or a cultural performance at the Budapest National Opera House is a must!
This stunning architectural gem is beautiful inside and out, and at night, the interiors and grand hallway just sparkle.
You'll enjoy a small splurge since opera prices, and other performances are a fraction of what you'll pay in Western Europe and American Opera houses, so definitely put this on your must-do agenda when visiting Budapest.
28. Day trip to Eger
Recommended by Christine from Christine Abroad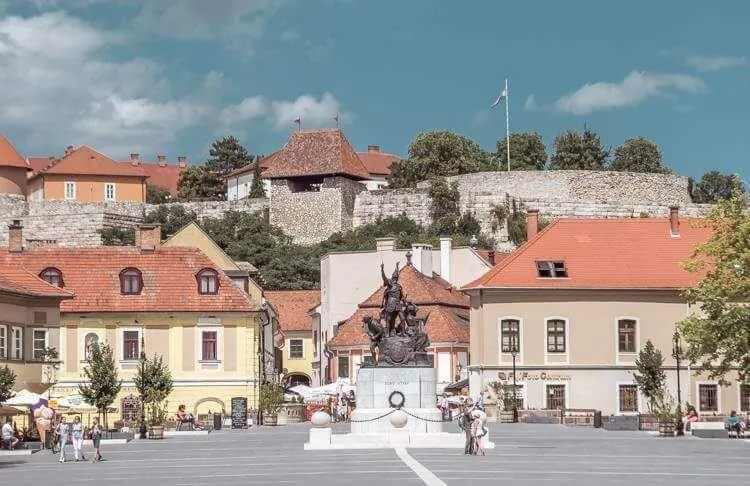 If you want to get away from the big-city pulse of Budapest a day, I can highly recommend you to go on a day trip to Eger.
About 2-3 hours away from central Budapest, you will find the beautiful and cozy town of Eger.
Eger is famous for its wine tasting, beautiful medieval castle, picturesque churches, and central Plaza. The locals and tourists sit and relax during the afternoons with a coffee or a glass of local wine.
There is much for you to explore in Eger. Even though it's not a big city, there is a network of thermal baths and 17 baroque churches for you to check out!
In addition to all the beautiful attractions in the city, it's just nice to stroll around in the old town, have a look in local shops, stop for delicious ice cream, and just enjoy the calm atmosphere of Eger.
How to get there: You can get to Eger from Budapest by train and bus. You can catch both from Budapest-Keleti, which is the biggest train station in Budapest. It takes around 2-3 hours to get there, and you can buy tickets directly at the train station.
Alternatively, you can book a full-day tour from Budapest to Eger.
Where to stay in Budapest
1. Hilton Budapest
Recommended by Bertaut & Alexis from World Travel Adventurers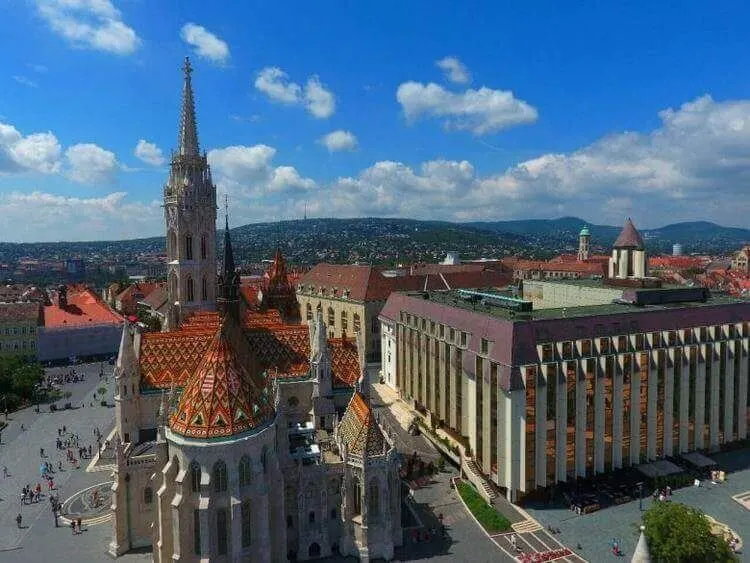 Hilton Budapest is in the historic Royal Castle District on the Buda side of the city. It is a 5-star hotel located in a beautiful UNESCO World Heritage Site.
The hotel is located in the most romantic area of Budapest, right next to Fisherman's Bastion and Matthias Church, with amazing views of the city from above. The hotel makes for a great base to explore the city since it is within walking distance from the major attractions and is just a few minutes walk from a public bus stop.
Many of the luxurious rooms offer jaw-dropping views of the Danube River and Parliament. The hotel is constructed around the remains of a 13th-century monastery and has artfully incorporated the remains into its elegant decor and architecture.
We especially loved this hotel is the Executive Lounge, which had a complimentary breakfast buffet, snacks and drinks all day, and a happy hour every evening with complimentary appetizers, wine, beer, and cocktails. We enjoyed the famous Hungarian palinka during happy hour every night.
Hilton Diamond members have access to this lounge, or guests can book an Executive Room to have access, which we recommend doing if you don't have elite status with Hilton.
The hotel also has an excellent restaurant with dreamy views of Fisherman's Bastion with an impressive breakfast buffet. There is also a well-equipped exercise room, sauna, and spa where you can get a relaxing massage after a long day of exploring Budapest.
Click here for more photos, information, and/ or to make a booking.
More Budapest Internet Resources:
This article is now available as a mobile app. Go to GPSmyCity to download the app for GPS-assisted travel directions to the attractions featured in this article.
Was this post helpful? If so, be sure to pin it to refer to later!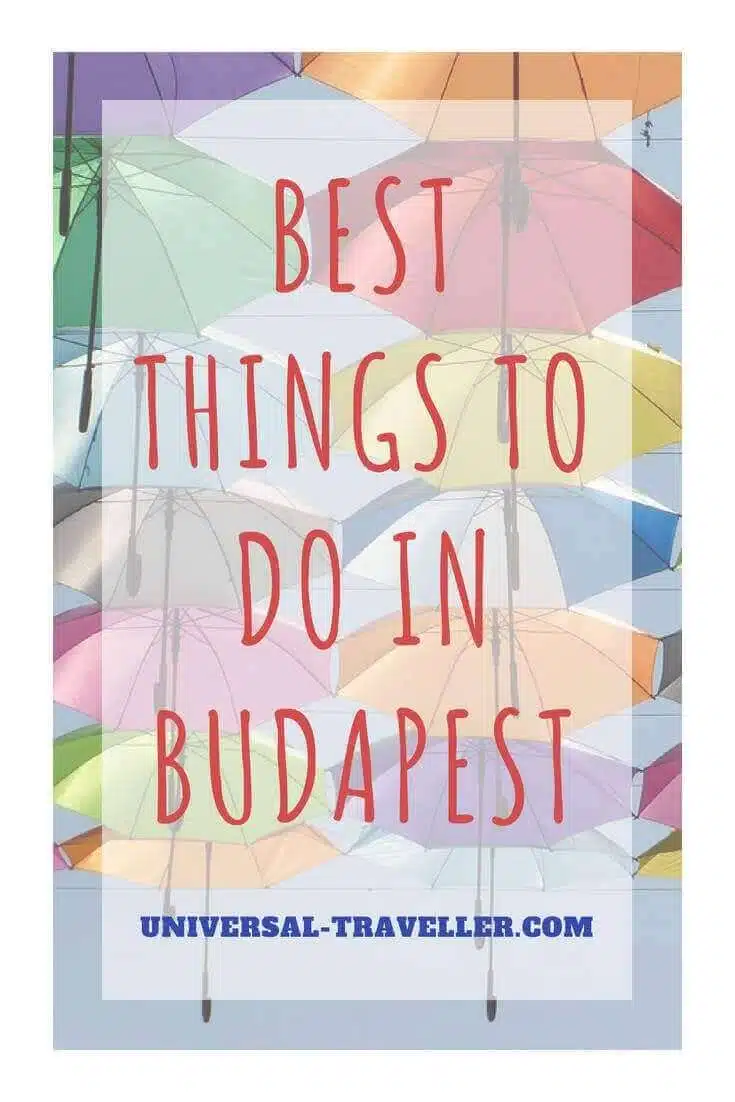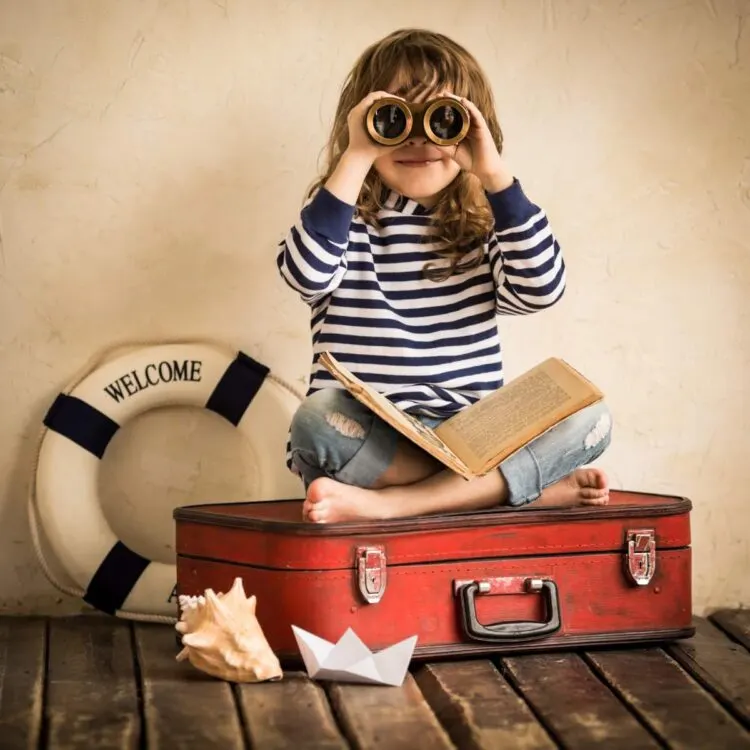 Protect your trip: With all our travel experience, we highly recommend you hit the road with travel insurance. SafetyWing offers flexible & reliable Digital Nomads Travel Medical Insurance at just a third of the price of similar competitor plans.