In many ways, Amsterdam is the perfect city for travelers:
It's small enough that you can see many of the main attractions in a short amount of time, welcoming enough that you don't have to worry about rude locals or safety, and easy to get around on foot, by bike, or via the city's exceptional public transit system.
With picturesque canals and those colorful houses with a characteristic tilt, the UNESCO World Heritage-protected streets are sure to draw you in.
Best VPN for Travel: ExpressVPN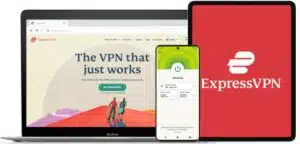 Heading abroad? Use ExpressVPN to access your social media accounts, unblock your favorite entertainment sites, and stay connected with friends and family. And get cheaper flights, of course.
Pros
✅ Next-gen, high-speed servers in 94 countries
✅ Works on iOS, Android, Windows, Mac, Linux, browsers, and more
✅ 256-bit AES encryption protects your data, even on hotel Wi-Fi
✅ Unblocks Netflix and other streaming sites
Cons
❎ No dedicated IPs
Get 3 extra months free of ExpressVPN when signing up for a 1-year plan. That's a 49% saving and a monthly cost of just $6.67! You also get a 30-day money-back guarantee.
But don't let the city's old patina fool you into thinking that's all the city has to offer: there are also plenty of events and attractions to entertain 21st-century visitors.
Here are just some of our favorite activities to do in Amsterdam in this vibrant, must-visit city, including both tourist favorites and a few off-the-beaten-path gems.
Tip: Get the i amsterdam card and save money
With the i Amsterdam city card, you get free entrance to many of the top attractions and museums, including the Van Gogh Museum and the Rijksmuseum.
You can also enjoy a free canal cruise, and you get a discount for many other attractions like the popular Heineken Experience and Madame Tussauds.
Another benefit is the free, unlimited use of Amsterdam's public transport.
Click here for more information about what is included and prices.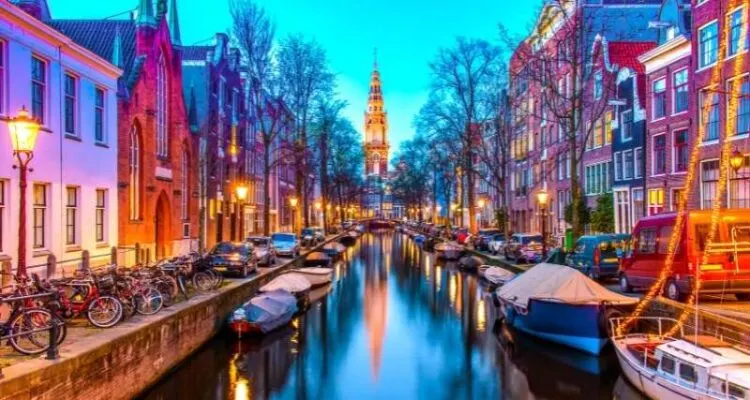 1. Swing High at A'DAM Lookout
High above the river IJ (pronounced like the ay in the word May), A'DAM Lookout offers a unique viewpoint 22 stories up and just across the water from the central station.
There's a bar, restaurant, hotel, and nightclub, all with spectacular vistas. And for the very brave, A'DAM is also home to the highest swing in Europe, appropriately named, Over the Edge.
Definitely, a must-do in Amsterdam.
Yes, upon the open roof of the tower, you can enjoy 360° views of the city by (literally) swinging over the edge on a massive swing!
Go on a clear day, or watch the sunset for unforgettable views.
Click here for tour prices and/ or to make a booking.
2. Catch Amsterdam's Bike Mania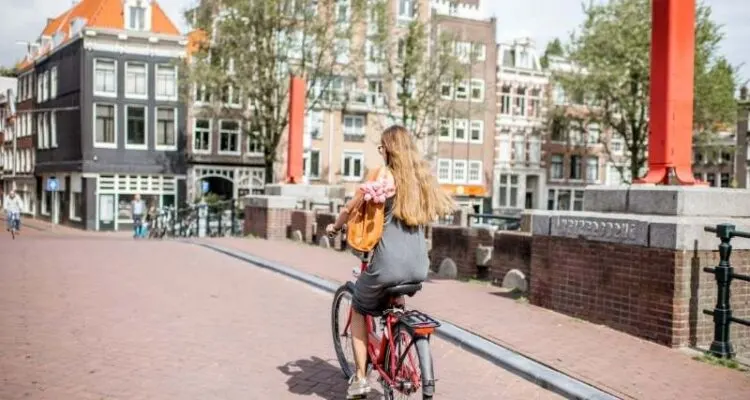 In Amsterdam, cycling is the way to get around town.
Cheap, eco-friendly, and fun, the Dutch have fully embraced cycling and have built an extensive network of cycle paths to support the habit.
If you want to give Amsterdam's favorite transportation method a go, bikes are easy to hire across the city, and the city is blessedly flat, with the biggest inclines on bridges over canals.
If you're not a confident cyclist, Amsterdam might be a bit of a shock to the system; cyclists can be impatient with wobbly ways and hesitating cyclists.
The trick is to follow the rules assertively – and use that bell!
Explore Amsterdam like a local … on a bike during a 3 hours bike tour.
Click here for tour prices and/ or to make a booking.
3. Cruise Amsterdam's Gorgeous Waterways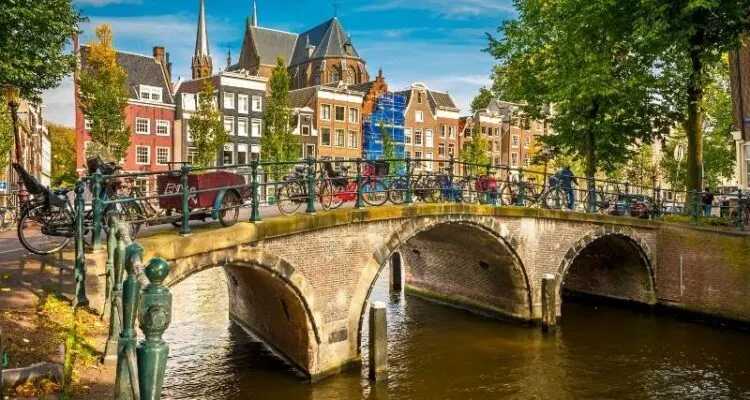 Water and canals form an integral part of the Netherlands' culture and history; in the past, the canals were bustling places of commerce and used for defensive purposes.
These days, the canals are best suited to lazy afternoons and sightseeing, and taking a canal cruise is one of the most popular things for visitors to do in Amsterdam.
Tours mostly take about an hour, and you can step aboard at several different wharfs across the city to visit more Amsterdam sights.
Enjoy the picturesque canal belt area while relaxing on a boat – a much more tranquil way to gain insight into this historic city than from the bike lane!
Click here for tour prices and/ or to make a booking.
4. Eat Something Lekker at Albert Cuyp Market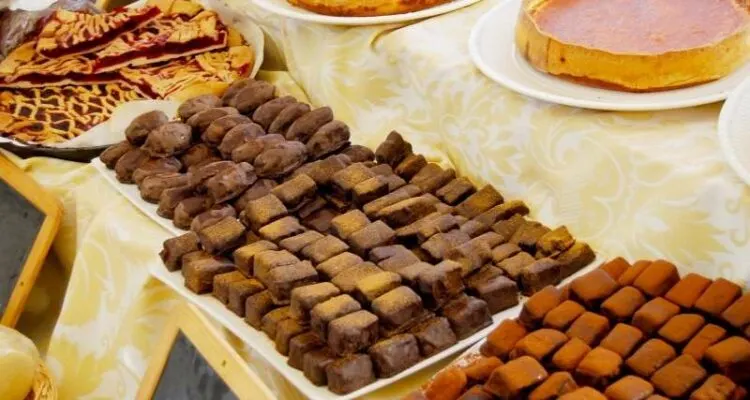 The best place to pick up lekker Dutch delicacies, a local colloquialism that means delicious food, is Albert Cuyp Market, a hundred-year-old market open six days per week (closed only on Sundays).
Here you can enjoy raw herring with chopped onion and pickles or hot battered fish, called kibbeling, served with dipping sauce.
If you have a sweet tooth, go for caramel stroopwafels, sticky syrupy waffles, or poffertjes, small, steaming hot puffs of sweet pancakes topped with melting butter and powdered sugar.
Or what about a Private Food Tour with a local?
During the 2.5-hour walking tour, you can taste authentic food and learn more about the Dutch food culture and traditions.
Click here for tour prices and/ or to make a booking.
5. Marvel at the Rijksmuseum's Masterpieces
The jewel in the crown when it comes to Dutch museums, Amsterdam's Rijksmuseum is home to the nation's most prestigious and priceless art and cultural collections, with pieces on display from the middle ages onwards.
Here you will find Rembrandt and Vermeer paintings, along with some of the most prized masterpieces of painting and sculpture from Europe and Asia.
Family-friendly, refined, and with a Michelin-starred restaurant, the Rijksmuseum is well worth a visit.
And don't forget to grab a selfie at the I Am Amsterdam sign outside the Rijksmuseum on the way in or after your visit!
Tip: Buy your ticket online and skip the line.
Click here for tour prices and/ or to make a booking.
6. See Where Anne's Famous Diary Was Written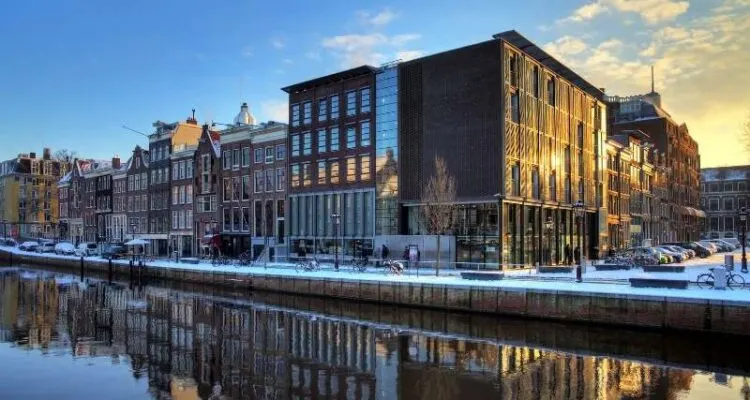 The Anne Frank House seeks to preserve the memory and experience of Anne, her family, and the many victims of the Nazi occupation.
The house where the Frank family lived in hiding has been preserved, with displays made of their possessions, including Anne's original diaries and exhibitions relating to life during the Second World War.
A poignant experience, be sure to check the website for tickets as entry is strictly controlled.
Tip: Do you want to learn more about those dark days and see the city through the eyes of Anne Frank?
Take a 2 hours history walking tour through Amsterdam.
Click here for tour prices and/ or to make a booking.
7. Discover Amsterdam's Oldest Buildings
For a bit of insight into Amsterdam's rich history, check out some of the oldest buildings in the city.
Oude Kerk, the fourteenth-century Old Church, is Amsterdam's oldest building and shouldn't be missed on your Amsterdam itinerary.
Sitting right in the heart of the red-light district, it now hosts contemporary art and music projects.
The Begijnhof is another good option; it's a 14th-century courtyard that used to house nuns and remained an island of tranquillity in the center of medieval Amsterdam.
For something more modern, the oldest cinema in Amsterdam (aptly named, The Movies) is on Haarlemmerdijk.
Finally, the Stadsarchief (City Archives) has a wonderful collection of documents and materials recording the city's development over the years: a perfect spot for history buffs to while away a few hours!
8. Trawl for Treasures at Amsterdam's Markets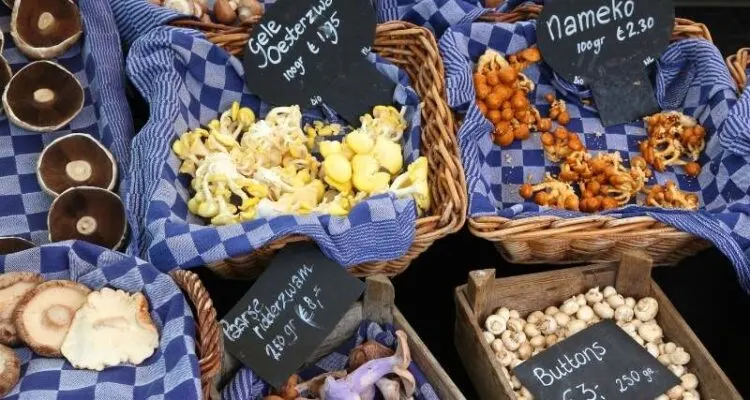 Throughout the week, Amsterdam has several great markets worth exploring to buy your Amsterdam souvenirs.
You can buy flowers and bulbs all week long at Bloemenmarkt (flower market), where you'll find most of the stalls floating on the canal.
For organic food, try the farmer's market on Nieuwmarkt on Saturdays or at Haarlemmerplein on Wednesdays.
Noordermarkt also has great food on Saturdays and Mondays and antiques, textiles, clothes, books, cut flowers, and jewelry.
The ultimate flea market is Ijhallen in Amsterdam Noord. The largest in Europe, it is mostly open the second weekend of the month.
Read also: The Best Amsterdam Restaurants, Bars, and Markets.
9. Toast Under a Windmill
The Netherlands is famous for its picturesque windmills.
And while there are several old windmills discretely scattered across Amsterdam, there's only one connected to a pub and brewery.
Brouwerij 't IJ has been making beer in this converted bathhouse with an adjacent windmill in east Amsterdam since 1985.
They serve a solid collection of regular beers, as well as seasonal and one-off specials.
Their main brewery is not far away, but the beer served in the pub is made on-premises.
You can also take a short tour of the brewery. Open 2 pm to 8 pm, seven days a week.
10. Festival Hop
Amsterdam hosts more than 300 festivals a year, including major European and international festivals.
There's the Chocoa chocolate festival, the Spirit of Amsterdam (celebrating whiskey), a craft beer festival, and numerous food and restaurant festivals for foodies.
For music lovers, seemingly every genre puts on events: experimental sound and music at Sonic Acts, Irish folk at St. Patrick's festival, Happy Bach Day, JazzFest Amsterdam, Amsterdam Dance Event, Amsterdam Roots Festival, Awakenings (techno), and even Guilty Pleasure, for all those 80s, 90s and 00s hits you pretend not to love.
Then there are literary, film, theatre, and performance festivals on top of all that and festivals specifically for children.
If you visit around Christmas, the Amsterdam Lights Festival sees modern light installations installed throughout the city's central canals and can be visited on foot or via boat tours.
The iamsterdam.nl website has a handy calendar so you can time your trip with your favorite festival.
11. Other Amsterdam Tours
If you are still wondering what to see in Amsterdam, here are a few additional tours to check out:
Heineken Experience Tour – Visit the old brewery in the heart of Amsterdam and learn everything about the famous Heineken beer… including beer tasting!
Click here to check prices and/or to make a booking.
Enjoy a cocktail at Amsterdam's Ice Bar

– Do you fancy a drink from glasses made of ice? Even better, in a bar sculpted from 35 tons of natural ice?
Click here to check prices and/or to make a booking.
Amsterdam Red Light District – Join a 2-hour tour to Amsterdam's famous Red Light District and visit places like the Condomerie & Warmoestraat and get a free short at Belushi's Bar.
Click here to check prices and/or to make a booking.
Perpetually on the hunt for cheap flights, cold beers, and awesome terraces, Katie has been traveling the world since she was 16 when she somehow persuaded her parents to let her move abroad to learn the ways of hygge in Denmark. Picking up a Canadian husband and a Taiwanese street cat along the way, she's now based in Budapest, where she spends her time blogging at wandertooth.com and creating Travel Between the Lines Adult Coloring Books with her husband, Geoff.
Was this post helpful? If so, be sure to pin it to refer to later!