All the best, Seattle day trips are right at your fingertips. Discover how you can maximize the time that you have as you visit Seattle, WA.
If you have an upcoming trip to Seattle and have ample time to spend outside of the city, it's a call to be extra crafty with your itinerary.
While Seattle itself is a full-packed tourist destination, it pays to see what lies beyond its borders.
The area around Seattle has many interesting spots that you can visit, and it is up to your preferences to dictate which ones are worth your short while.
Read also: BEST THINGS TO DO IN SEATTLE.
Fancy seeing something out of the box?
Why not join a tour that takes you to a full-functioning airplane assembly line? I
f you're the type who would rather spend their day outdoors, Seattle's surrounding areas are teeming with green scenery and blue waters.
Hike various waterfalls, chase an Orca whale – there are truly so many things to see in so little time!
Whichever day trip you end up taking, one thing is for sure: your tour from Seattle, WA, is going to feel so fulfilling yet too short.
At least you have a good and valid reason to go back, right?
Best Seattle Day Trips
1. Join a Boeing Factory Tour
Recommended by Chrysoula from Travel Passionate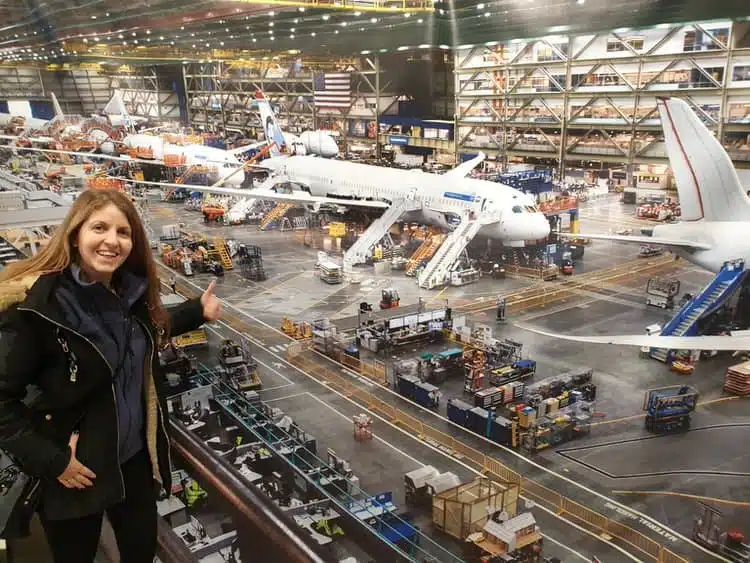 If you're visiting Seattle and fancy taking a day trip out to see something a little different from your usual tourist attractions, head over to the Boeing Assembly Plant, the world's largest building (by volume) and the place where the huge airlines that fly us around the globe are produced.
This mammoth building offers regular tours that give travelers insight into the history of aviation, the work that creates these world-class planes, and the future of flight.
The Future of Flight Aviation Center is both a museum and a working factory. The interactive exhibits and experienced guides offer a wealth of information in a fun and entertaining way.
The tour offers anecdotes and historical tales of William Boeing and his team and lets you witness 737, 747, 777, and 787 Dreamliner jets in production.
The tour out to the Boeing Factory starts with a pick-up from your central Seattle hotel, followed by a short 25-minute drive to the Future of Flight Aviation Center.
Your driver will offer information and tips along the way, and then you will be accompanied around the factory by a knowledgeable aviation guide.
Alternatively, if you don't want to book a guided tour from Seattle, you can drive yourself to the factory and join the tour there.
Many of us don't even really stop to think about how planes are produced when we're jetting around the world, but this tour allows you to see where the magic happens and the work that goes into creating these intricate works of engineering.
A trip to the Boeing Factory is unique, insightful, and a real must for lovers of aviation and all things flight.
2. Seattle Day Trips – San Juan Islands
Recommended by Dan from Honeymoon Always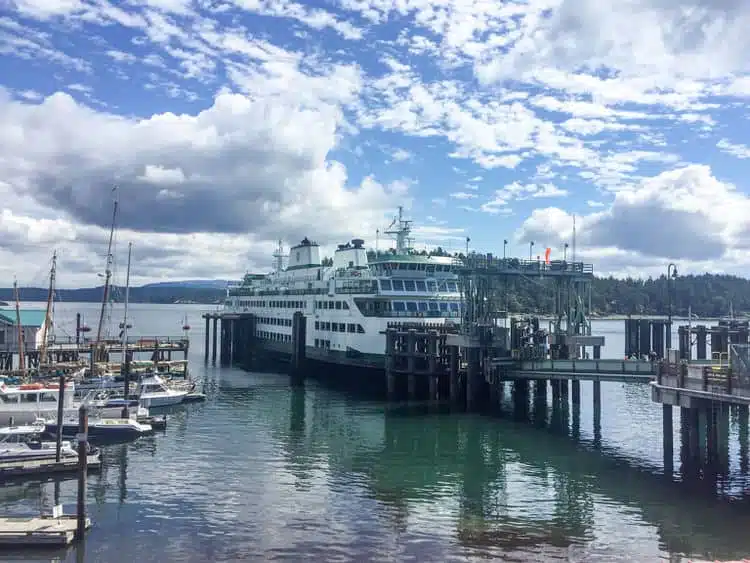 The San Juan Islands are an hour and a half drive from Seattle, followed by a one-hour ferry ride.
The San Juan Islands are an archipelago on the Pacific Northwest coast known for its rural landscapes and diverse wildlife.
The scenic ferry ride is a means of transportation and an enjoyable ride and provides indoor and outdoor seating.
The center of the islands is Friday Harbor, where you can explore the small town's shops, restaurants, Whale Museum, and the Cattle Point Lighthouse.
The main attraction for many is the wildlife. You can take a whale-watching boat cruise from the harbor, or if you prefer more adventure, go on a Zodiac whale watching tour.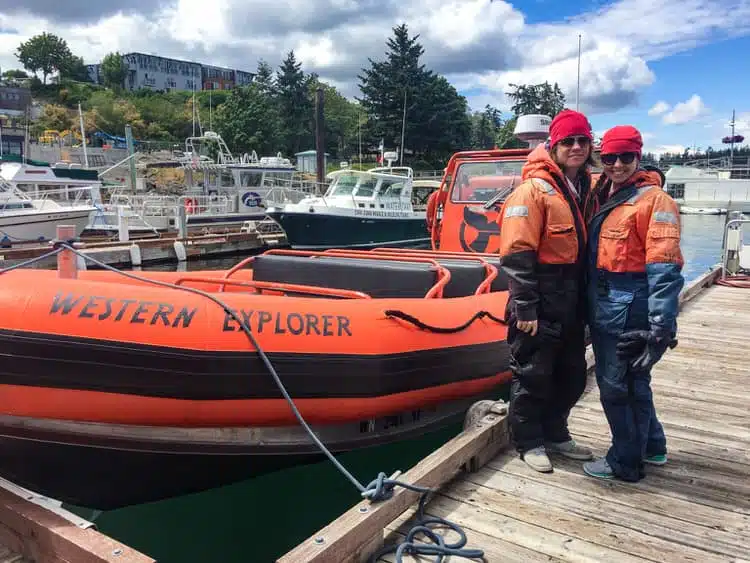 The Zodiac boat is similar to what the coast guard uses and is small, closer to the water, and much faster than other ships used for whale watching cruises.
During the excursion, you can expect to see some marine mammals. Orcas are usually the main draw, but Humpback Whales and Minke whales are often spotted.
Occasionally there are even Gray Whales and White-Sided Dolphins. The Islands also make for a perfect place to go sea kayaking.
Before you get on the ferry back, grab something to eat at one of the restaurants in the harbor, San Juan Bistro is a great option, and grab an ice cream cone from the Friday Harbor Ice Cream Co.
3. Road trip to Olympic National Park
Recommended by Katie Diederichs from Two Wandering Soles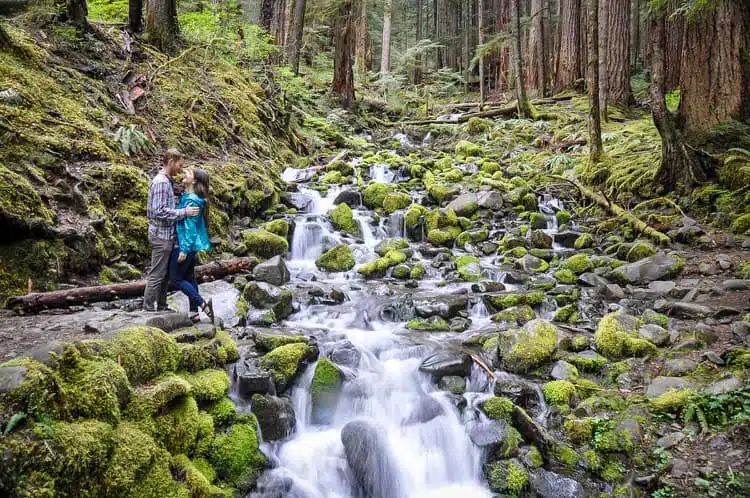 Just a short drive from Seattle lies one of the most unique parks in the United States: Olympic National Park.
Situated due west of Seattle across the Puget Sound, the Olympic Peninsula has an incredibly diverse landscape.
With rugged beaches, snowcapped mountains, temperate rainforests, and many waterfalls, the Olympic Peninsula truly have it all.
With limited time, here are some of the best things to do in Olympic National Park:
Walk through the Hoh Rainforest on trails suitable for all levels and abilities.
See Sol Duc Falls in all its majesty.
Visit Hurricane Ridge and do some hiking. There are many different trails to choose from depending on how much time you have.
Walk along rugged driftwood-strewn beaches like Second Beach, Third Beach and Ruby Beach. Bonus: If you are feeling extra adventurous and have longer than just a day, camping on one of the OP's beaches will surely be a highlight of your trip!
It is possible to explore the Olympic Peninsula as a day trip; however, if you have the time, we'd highly recommend spending at least one night on the peninsula so you can explore this area even more.
There are lots of great spots to camp, as well as cute lodges and cabin-style Airbnbs to choose from. There are endless adventures to be had in the OP, so come prepared to have an epic time!
4. Northern Cascades National Park
Recommended by Jessica from Uprooted Traveler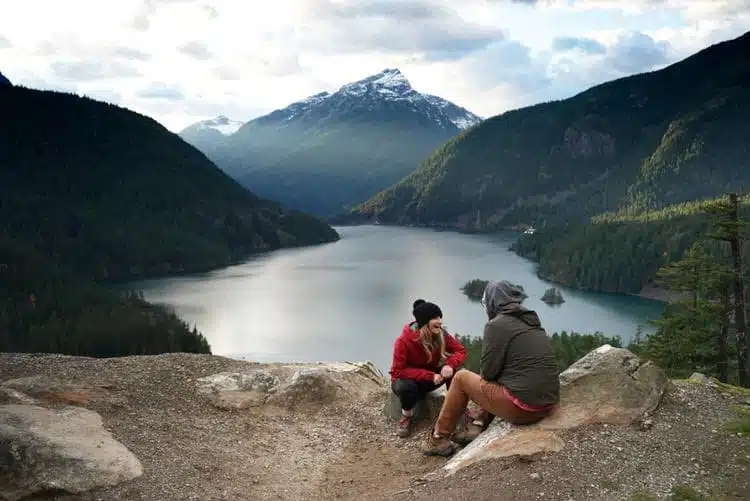 One of Seattle's greatest benefits is the fact that three stunning national parks and the gorgeous surrounding forestland lay within a mere three-hour drive from its city limits.
Although far less visited than its sisters, Mount Rainier or Olympic National Park, Northern Cascades National Park is a hidden gem of alpine lakes and some 300 glaciers tucked amongst jagged mountain peaks, just two and a half hours north of Seattle.
Perhaps one of the most stunning aspects of the Northern Cascades is Diablo Lake, a reservoir of glittering turquoise blue tucked amongst towering mountains.
If you're interested in hiking, Diablo Lake Trail, a moderate 7.6 mile out and back trail, snakes up the Sourdough Mountains, providing stunning vistas of the lake and crisscrosses impressive waterfalls and dense rainforest.
Better yet, while much of the Northern Cascades National Park is inaccessible until the early summer months, the Diablo Lake Trail may be accessed starting in early spring (and you'll have the whole trail to yourself in those earlier months!).
If hiking isn't quite your thing, you could instead choose to go swimming, canoeing, or simply soaking up the glorious sights of the Northern Cascades from the campground near the Thunder Knob Trailhead at the base of the lake.
Regardless of your choice of adventure, Diablo Lake is one of many must-not-miss day trips in the greater Seattle area.
5. Visit the Tidal Pools at Ruby Beach
Recommended by Chris from Called to Wander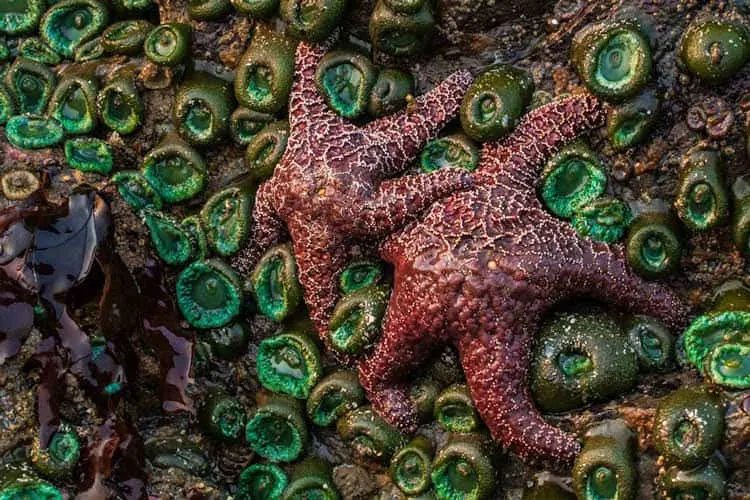 One of the best Seattle Day Trips is the circular drive to visit Ruby Beach on the Pacific Coast.
Nestled into the western side of Olympic National Park, Ruby Beach offers the unique opportunity to explore the tidal pools formed at low tide. Inside these pools are numerous marine creatures.
From brightly colored starfish and anemones to the oddly shaped nudibranchs and sea cucumbers. You may even see octopuses in some of the tidal pools.
Be sure to watch the tidal schedule as you will want to visit during low tide. More dramatic low tides that occur around full and new moons will offer even more opportunities to explore.
If you can time your arrival with low tide in the morning, you will have fewer crowds. Hike a short trail from the parking lot through a tall forest and reach a beach full of driftwood.
Walk across a pebbly beach toward the large rock outcrops near the water's edge until the pebbles turn to sand. Lose your shoes and wade through the shallow tidal pools as you search out the colorful creatures.
Reaching Ruby Beach from Seattle is a great trip in itself. You can take a circular route that will no doubt be a full day's drive.
Begin with the ferry ride to Bainbridge Island and connect with US-101. Follow this northwest through quaint towns and villages and stop at any along the way.
We found Purple Haze Lavender Farm was a great place to stretch our legs while picking lavender and cooling off with lavender ice cream and lemonade during our trip.
For your return trip, you could take the more direct southern route back to Seattle, which cuts inland into Olympic National Forest, before reconnecting with I-5 to return to Seattle.
6. Waterfall Hikes from Seattle
Recommended by Nina from Oregon is for Adventure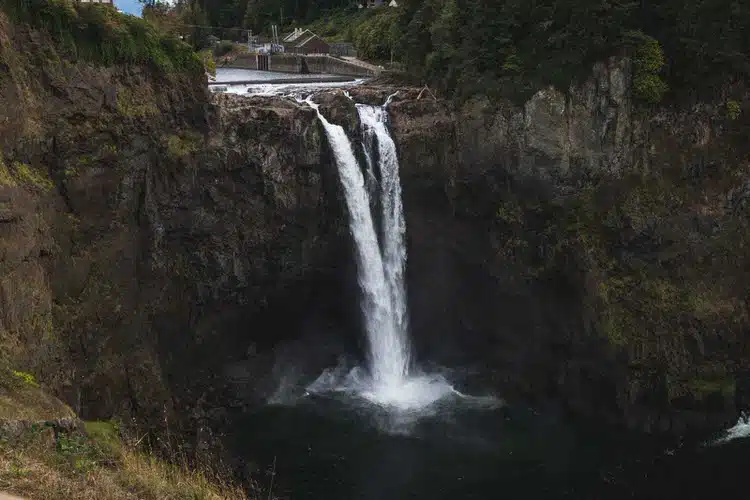 Seattle is quite the happening city, but if you're craving some greenery, dirt trails, and a bit of solitude from the bustle, you don't need to go far.
Luckily Seattle is close to wonderful opportunities to get outdoors. I loved these three short waterfall day hikes on my Washington road trip.
When you combined them, it makes for one of the best Seattle Day Trips outside the city. Franklin Falls is the furthest but is only an hour from the center, so I'd start here and work my way back towards Seattle.
1. Snoqualmie Falls – 1.3 miles – Quite an easy hike, or should I say stroll.
This impressive waterfall tumbles down 270 feet and is an iconic spot well known in the state. A trickier path leads you down to the bottom of the trail, but it's pretty steep and is sometimes closed.
2. Twin Falls – 3.6 miles – This will be the longest hike and the most enjoyable.
You'll be strolling along the Snoqualmie River most of the time, and you may even break a little sweat. There are a few switchbacks up a hill, and then on the other side, you'll get a glimpse of the falls from afar.
You may have to hunt down the spot to get closer to the falls as there are some fallen trees and random paths that may or may not be the right way!
It makes it a fun little adventure.
Franklin Falls – 2 miles – I'd probably say this one is my favorite of the three only because you can get so close to it.
Franklin Falls plunges straight down off a cliff and into a small pool of water. You can get within a few feet from the powerful falls.
Take care on the last leg of the walk, as the rocks are often slippery.
7. Point Defiance
Recommended by Rachel from The RX for Travel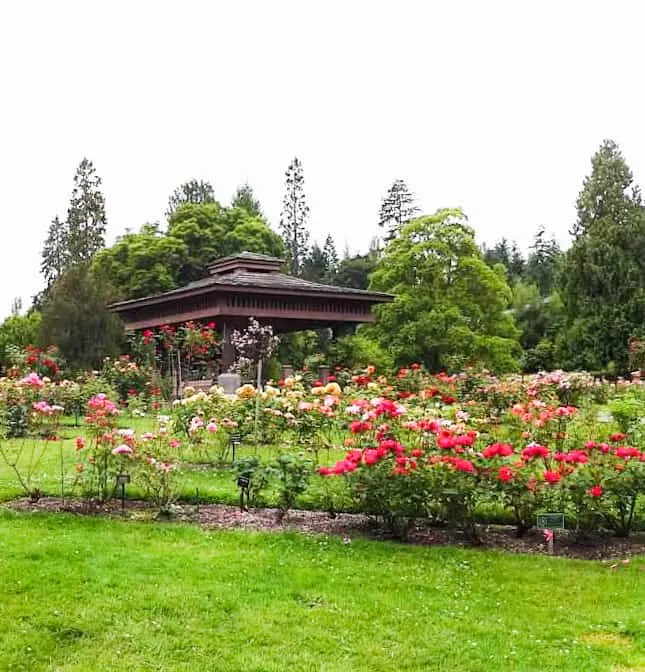 Point Defiance is the northernmost tip of Tacoma, surrounded by the beautiful Puget Sound. In just this one area, there is so much to see and do.
There is the Point Defiance Park, Zoo, Aquarium, Rose Garden, Native Plant Garden, the Fort Nisqually Living History Museum, and many other gardens, trails, parks, and beachfront.
Five Mile Drive takes you past all that Point Defiance has to offer, including the Mountaineer Tree at over 450 years old. It takes you through this wooded peninsula and offers panoramic scenic stops along the way.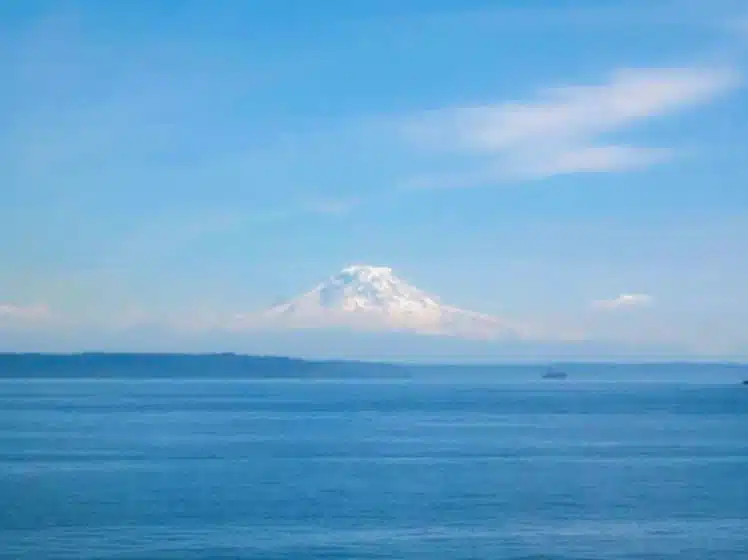 While the easiest way to get from Seattle to Point Defiance is probably driving directly there by car, it is definitely not the most scenic way nor the most interesting.
The most scenic way would be to take the ferry (along with your car) across Puget Sound to Bremerton, then drive south.
The Seattle-Bremerton ferry was a Double Jeopardy movie flashback and was just the most beautiful boat ride.
As you pull away from the Seattle docks, the entire city skyline becomes your backdrop, along with the magnificent Mount Rainier.
Depending on the time of year you go, the ferry itself is an excursion too. Be on the lookout to see what marine wildlife awaits.
8. Deception State National Park
Recommended by Nicky from Above us only Skies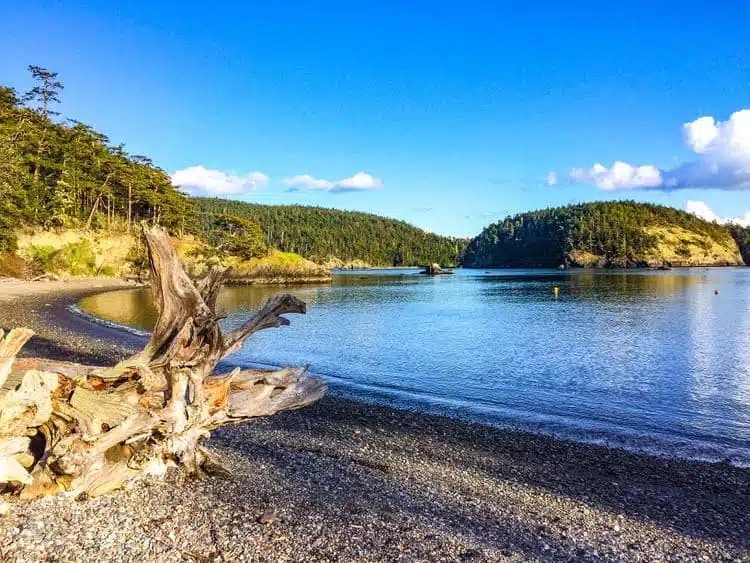 Located just a couple of hours drive north from Seattle is Deception Pass State Park, the most visited State Park in Washington State and near the sleepy town of Anacortes, gateway to the San Juan Islands.
A trip here will take you away from the city and immerse you in the stunning rugged coastline of the Pacific Northwest.
With its hidden coves, freshwater lakes, and abundant wildlife, Deception Pass State Park spreads over 3,800 acres.
It is a marine and camping park actually located on two islands — Fidalgo to the north and Whidbey to the south.
Deception Pass bridge famously connects the two islands, and driving over it affords you magnificent views of the Cascade Mountains.
There are abundant hiking trails to suit people of all abilities. Or maybe you'd prefer to go horse riding or rent a bike.
Take a picnic to the tide pools at Fidalgo beach and watch the bald eagles soaring above you. Or take a kayak trip and get up close to the porpoises and seals playing in the emerald green water.
If you're there at the right time of year, you may even spot an Orca Whale!
If you're arriving by car, you will need to buy a Washington State Discover Pass, which is $10 for the day or $30 for the year.
But considering it gives you access to millions of acres of state recreational land in Washington, including this magnificent Park, we'd say it's well worth it.
9. Whidbey Island
Recommended by Marcie from Marcie in Mommyland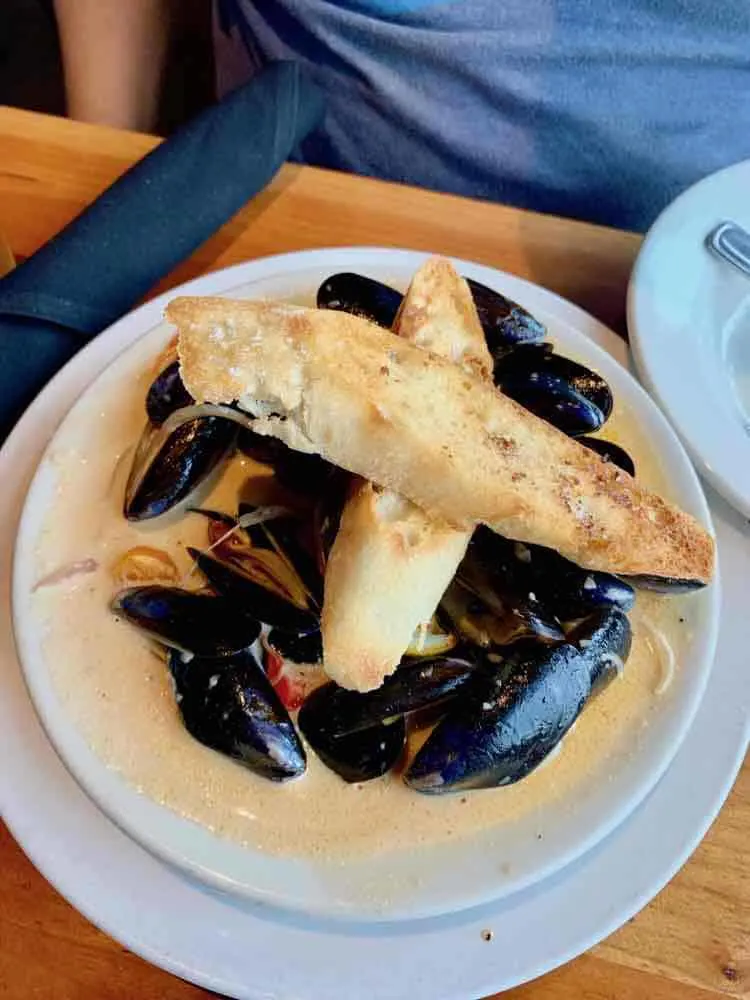 As someone who has lived in Seattle her entire life, one of our favorite Seattle Day Trips is Whidbey Island. You can get there by driving through Deception Pass, or you can take the Mukilteo Ferry.
This sleepy island is most famous for Fort Casey, an abandoned military base where people of all ages have fun exploring the eerie tunnels (especially with flashlights at night.)
There's also Fort Casey State Park, which is a popular Washington camping spot.
One of the best outdoor activities on Whidbey Island is Deception Pass. Not only are there great hiking trails, but it's a great spot to go fishing. And you'll definitely want to check out the Deception Pass Bridge, an iconic photo spot.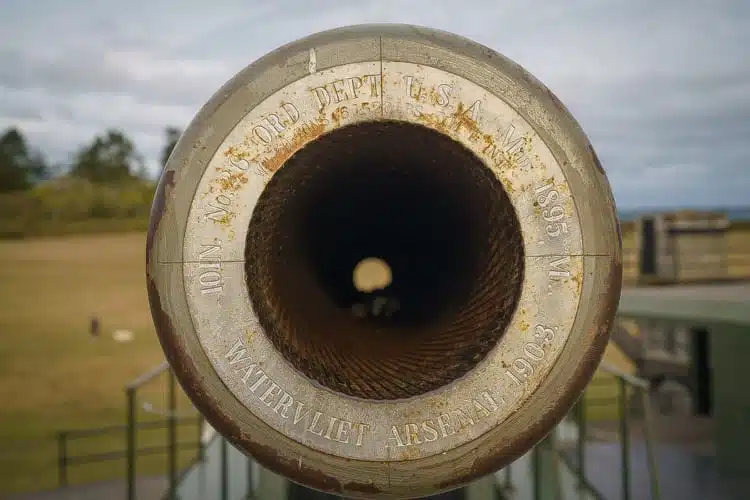 If you like shellfish, Whidbey Island is home to the famous Penn Cove mussels. They are plump and juicy, and you can find them on most restaurant menus for breakfast, lunch, and dinner.
One of our favorite things to do on Whidbey Island is walking around the little shops in Coupeville. They have an indie bookstore, a super cool toy shop, and a store that sells all kinds of Dutch food and gift items.
If you'd like to make a weekend out of it, Whidbey Island has many boutique hotels, like the recently renovated Captain Whidbey Inn and the historical Fort Casey Inn. There are also plenty of quaint Airbnb options.
10. National Park Mount Rainier
Recommended by Amy from Oceans to Alpines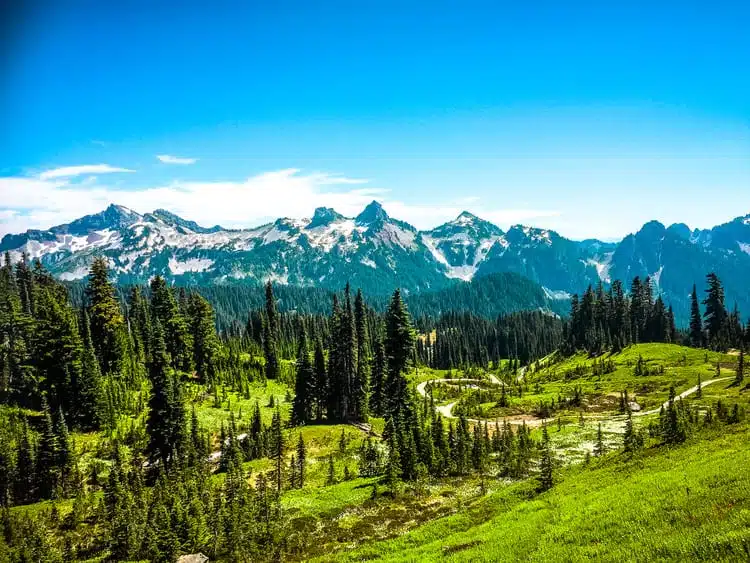 If you are tired of the bustling city, then one of the best Seattle Day Trips is to the nearby national park, Mount Rainier.
A visit to this active volcano is a visit to a true natural icon of Washington (there's even a local beer named after it!). Mount Rainier is located roughly two hours south of Seattle.
The best way to explore is by personal vehicle; however, there are tours out of Seattle that will give you a guided tour of the park as well. The best way to explore the park is by taking a hike.
Mount Rainier offers a variety of hikes for all levels of hikers – ranging from earning a workout or casually strolling through wildflowers. The most popular "hike" is strolling around the top at what is correctly named Paradise.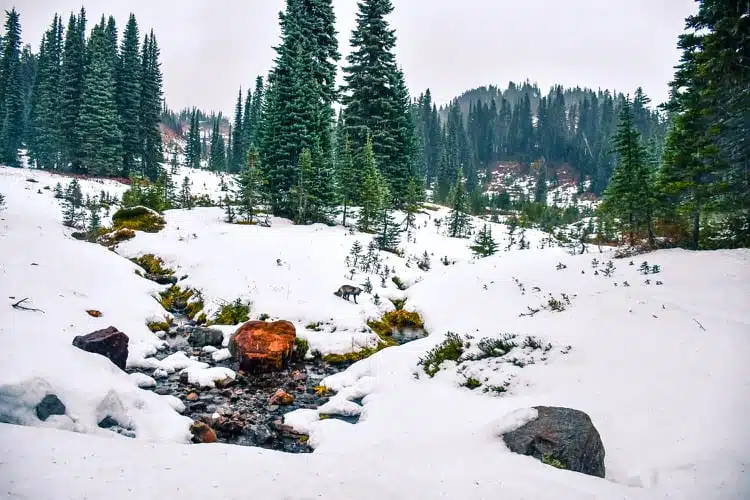 This route earns its popularity because the trails weave through trees, small streams, and at certain parts of the year, fields of wildflowers.
Views from paradise go out across the mountain range and offer beautiful views of green with the contrast of the white tip of Mount Rainier in the background.
A second great stop at Mount Rainier is visiting Reflection Lakes. As the name describes, these lakes offer a beautiful photo opportunity of capturing Mount Rainier in the reflection of the lake.

This is a great area to enjoy a picnic to finish up a day trip to Mount Rainier.
Ultimately, Mount Rainier National Park is one of the best day trips from Seattle because of the opportunity to witness some of the great outdoors that Seattle, and Washington, are famous for having in the Pacific Northwest.
You will never run out of places to travel to in the US. Here is our list of the BEST PLACES TO VISIT IN USA.
Is Las Vegas on your travel itinerary? Here are 95 FREE AND CHEAP THINGS TO DO IN LAS VEGAS.
Do you need more inspiration? We also put together lists of the best things to do in NEW YORK, BOSTON, SEATTLE, and LOS ANGELES.
Best VPN for Travel: ExpressVPN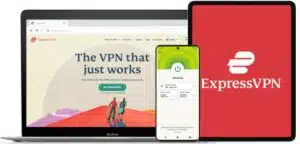 Heading abroad? Use ExpressVPN to access your social media accounts, unblock your favorite entertainment sites, and stay connected with friends and family. And get cheaper flights, of course.
Pros
✅ Next-gen, high-speed servers in 94 countries
✅ Works on iOS, Android, Windows, Mac, Linux, browsers, and more
✅ 256-bit AES encryption protects your data, even on hotel Wi-Fi
✅ Unblocks Netflix and other streaming sites
Cons
❎ No dedicated IPs
Get 3 extra months free of ExpressVPN when signing up for a 1-year plan. That's a 49% saving and a monthly cost of just $6.67! You also get a 30-day money-back guarantee.