Reykjavik is a city steeped in history and Icelandic culture.
Located on the island's western side, it sits over the very spot that historical Norseman first set foot on the island 1100 years ago.
While the Icelandic capital has some great things to do and see (here are the best things to do in Reykjavik), Reykjavik can also act as a great home base for those visiting Iceland.
Best VPN for Travel: ExpressVPN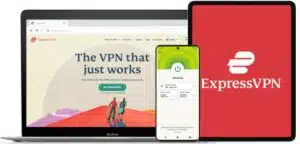 Heading abroad? Use ExpressVPN to access your social media accounts, unblock your favorite entertainment sites, and stay connected with friends and family. And get cheaper flights, of course.
Pros
✅ Next-gen, high-speed servers in 94 countries
✅ Works on iOS, Android, Windows, Mac, Linux, browsers, and more
✅ 256-bit AES encryption protects your data, even on hotel Wi-Fi
✅ Unblocks Netflix and other streaming sites
Cons
❎ No dedicated IPs
Get 3 extra months free of ExpressVPN when signing up for a 1-year plan. That's a 49% saving and a monthly cost of just $6.67! You also get a 30-day money-back guarantee.
The city isn't centrally located, but there are still some excellent day trip spots within reach.
From an ice cave to glacier ascents, check out this list of the best day trips and excursions from Reykjavik.
1. Into Ice & Lava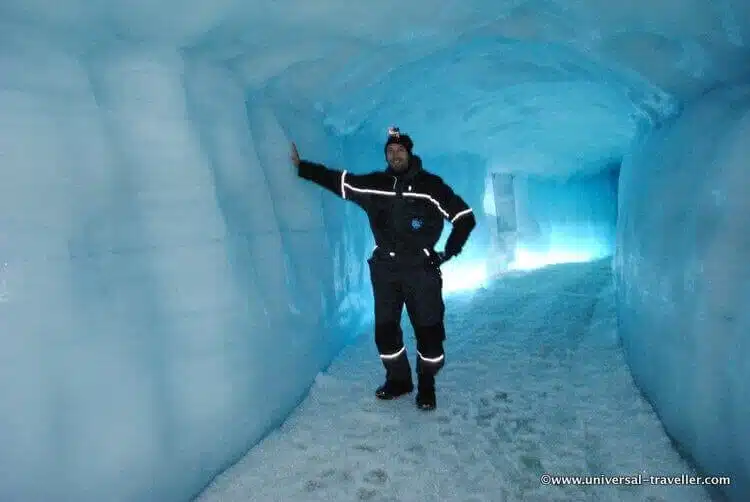 Into Ice & Lava is one of the tours that I really wanted to do in Iceland.
It is organized by Reykjavik Sightseeing, a relatively new company that I highly recommend booking with.
The guides are entertaining and have great knowledge about the places included in the tour and Iceland. Their busses are up-to-date with working WiFi & USB chargers, and most tours include audio guides available in 10 languages.
The first highlight of the tour is a visit to the man-made ice cave at Langjökull Glacier.
Once we arrived at the basecamp, we stepped aboard a modified Monster Truck to drive to the cave entrance.
Man. Look at these wheels!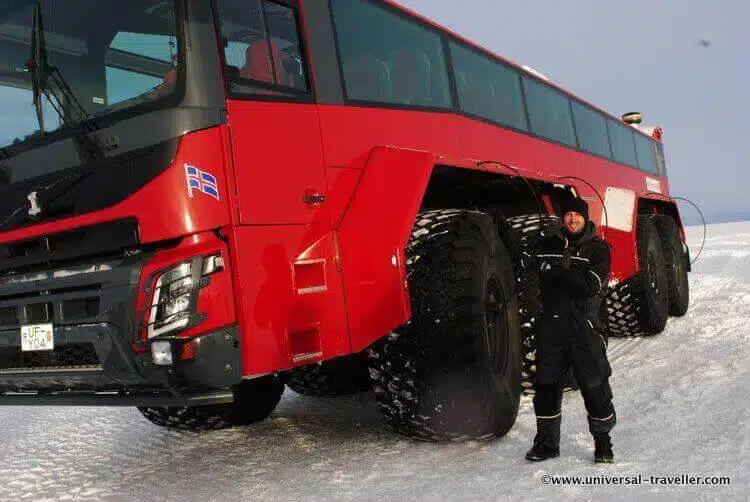 We spent around one hour inside the cave and learned a lot about glaciers and global warming.
It is definitely an unforgettable experience.
Check out some of my photos: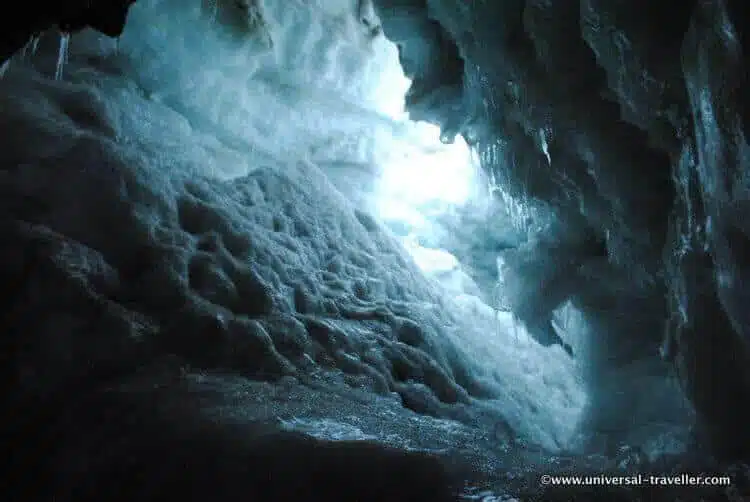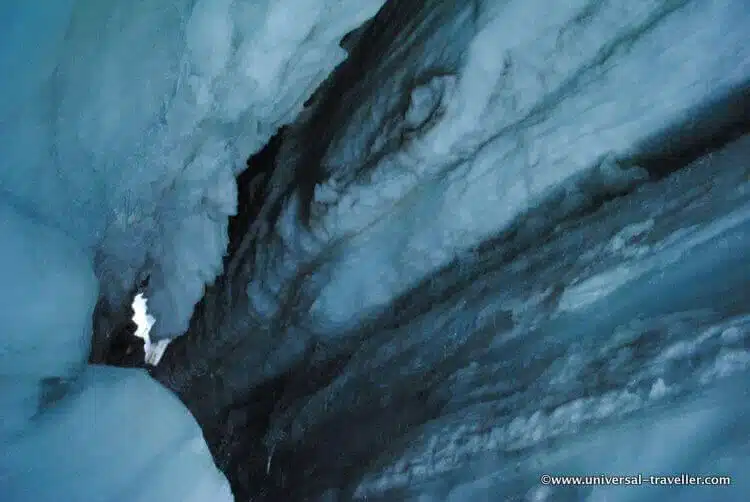 Did you know?
The preparation for the project took more than 4 years, and the excavation was around 14 months.
Four to six people were working on the excavation every single day. In total, 5.500 m3 of ice were excavated from the glacier to built the tunnel with a length of 500 meters.
Inside the tunnel, you are standing below 25 meters of ice with around 200 meters of solid ice still beneath you.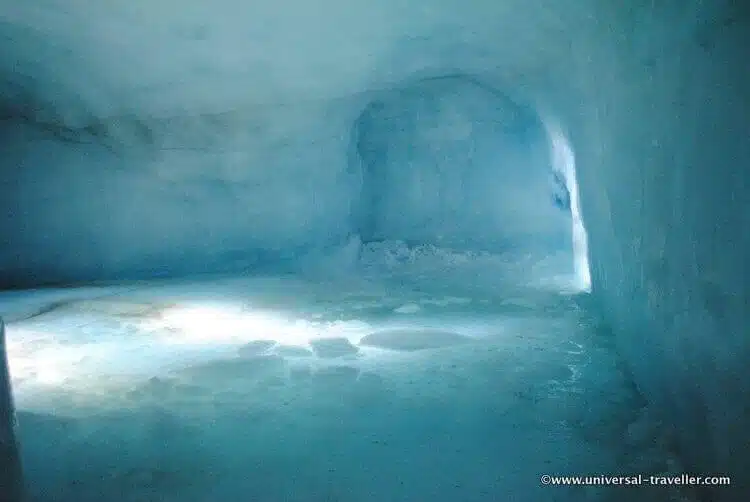 After the ice cave tour, we visited the Víðgelmir lava cave.
Our guide explained to us everything about the cave-like lava stalactites & stalagmites and the amazing colors.
The tour is easily accessible thanks to a wooden walkway with railings. The whole cave is lightened, and every participant gets a headlamp.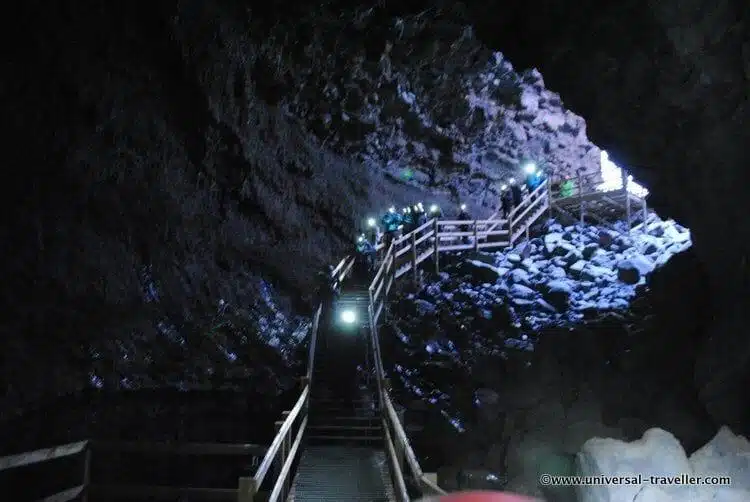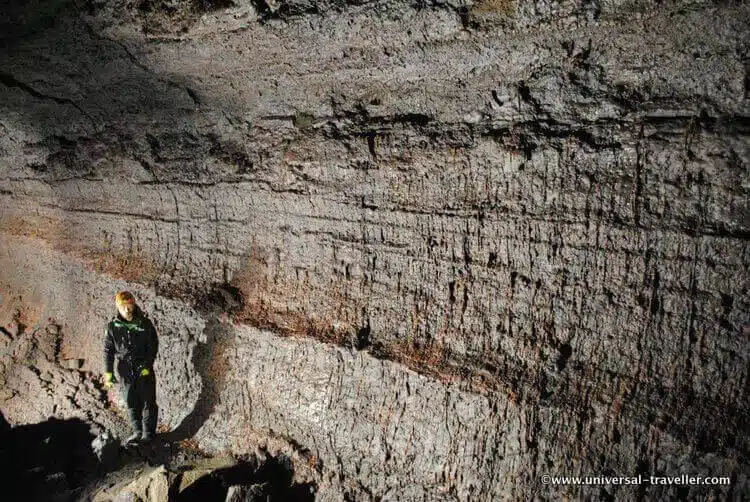 Useful information
Duration: 10 to 11 hours
Pick Up time: Around 07:45AM
Included in the tour:
Free pick up and drop off at your hotel or nearest drop off point
1 Hour guided tour of the Ice Cave and all necessary safety equipment
Caving equipment
Transfer in a specially modified glacier truck on the glacier
Entrance Fee to the sights
Free Wi-fi and usb charger in the bus
Audio guide in 10 languages
Click here for more information about the tour, to check prices, and/ or to make a booking.
2. Sólheimajökull Ice Climbing & Glacier Walk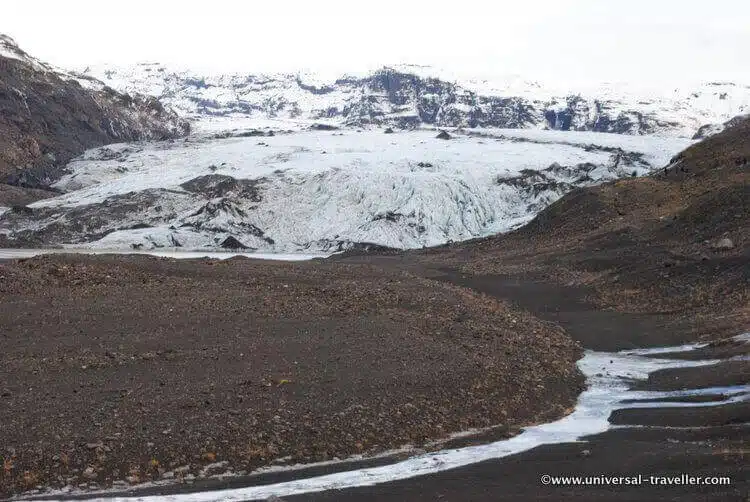 One of my greatest adventures ever was the Glacier Walk and Ice Climbing with Troll Expeditions.
I consider my climb up Solheimajökull Glacier to be one of the coolest things I've ever done in Iceland.
The glacier's ice is 1500 meters tall at its thickest point and is actually formed over a volcano, Katla.
There's no need to worry, though. While the volcano is active, there hasn't been a major eruption in almost 100 years.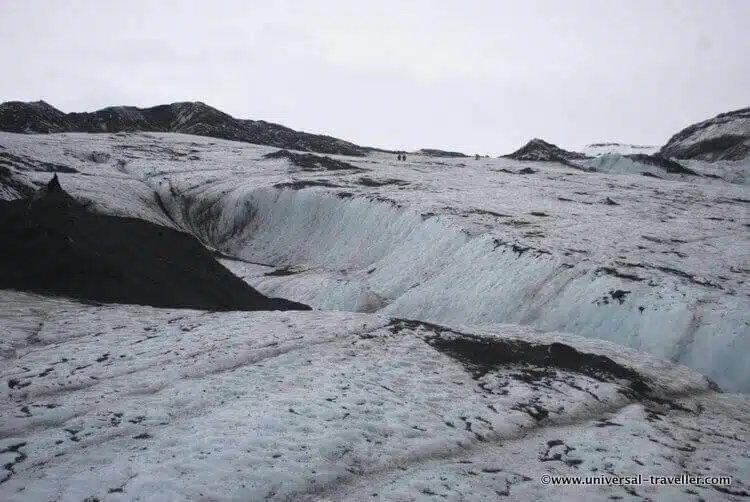 When I arrived, Troll Expeditions provided all the equipment I needed for the climb — climbing boots, axes, crampons, and a harness.
Once we'd been fitted, our guide gave everyone a quick class on using the gear and what to do when up against the glacier.
Our climb lasted about 3 hours, and every second of it was exhilarating. Solheimajökull's cracks and crevices are constantly shifting as the glacier freezes and thaws.
Our guide actually had to scout out and climb a brand new path up the ice, and apparently, that's not too uncommon.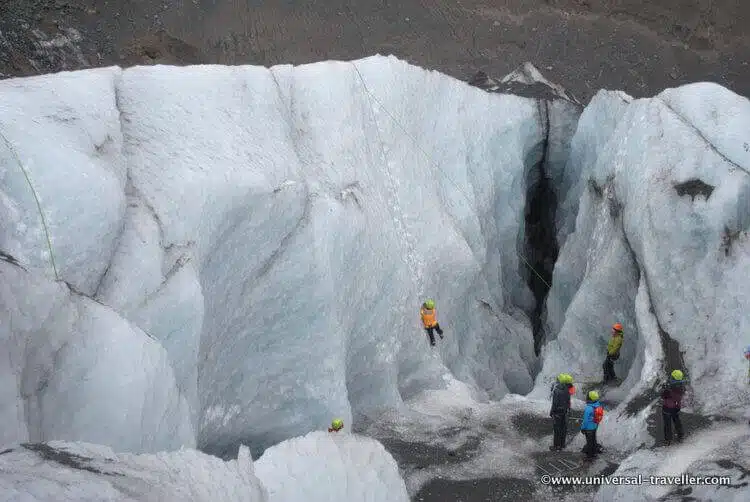 Useful information
Duration: 4 hours
Departure from Meeting Point: At 12 or 1 PM, depending on the season
Included in the tour:
Experienced glacier guide
Safety gear (Harness, Ice Axe, Carabiners, Crampons)
Glacier boots
The transportation to the meeting point at the parking lot at Sólheimajökull is not included.
The easiest way to get there is by rental car. The distance from Reykjavik is 160km.
Please depart rather a bit earlier as the weather in Iceland can change quickly, and you may need longer to get there.
3. Golden Circle Afternoon Tour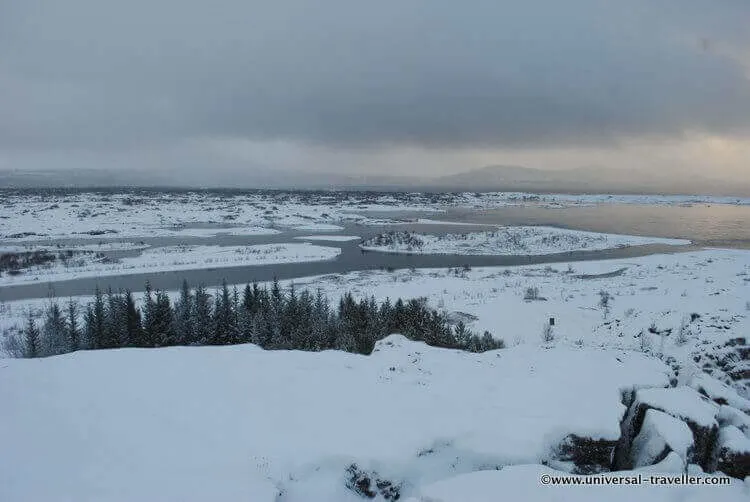 Another really cool tour that I did during my time in Iceland is the Golden Circle Afternoon Tour, also organized by Reykjavik Sightseeing.
As the name already says, that tour departs a bit later at around 11.30 am. Ideal if you plan to do a Northern Lights Tours the day before, which usually finishes quite late at around 2 am.
The first stop of the tour is the famous Þingvellir National Park.
This is where the tectonic plates of Eurasia and North America drift apart around 2 cm per year. It is, in addition, the founding place of the oldest existing parliament in the world and home to Öxarárfoss waterfall.
The ultimate adventure in the national park is a dry suit dive at Silfra. It is actually a crack between the North American and Eurasian continents.
The tour's second stop is the breathtaking Strokkur Geyser Iceland, which erupts every 5 to 10 minutes.
It is easy to believe that this is one of the most famous natural attractions of Iceland.
Geysers are rare on planet earth as they require a combinaton of heat, water, and fortuitous plumbing.
Other major Geysers are located in Yellowstone National Park in the United States, Valles of Geysers in Russia, El Tatio in Chile, and Taupo Volcanic Zone in New Zealand.
The last stop of the Golden Circle Tour Iceland is the Gulfoss Waterfall, another Must-See place.
I was really impressed by the power and energy at this place. Gulfoss actually consists of two waterfalls. The upper one has a height of 11 meters, and the lower one is 20 meters high.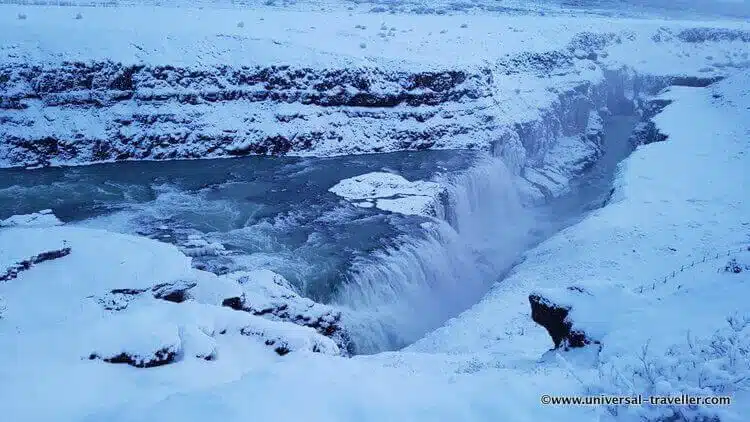 Did you know?
In 1907 an English man wanted to use the power of Gulfoss to generate electricity.
The local farmer Tómas Tómasson declined the offer saying "I will not sell my friend".
Later on Gulfoss waterfall was leased to foreign investors.
The farmer's daughter Sigríour Tómassdóttir however, who has been often called Iceland's first environmentalist, fought against the construction of a power plant and achieved that the rental contract was canceled in 1929 due to non-receipt of payment.
Useful information
Duration: 7.5 hours
Pick Up time: Between 11.30AM to 12PM
Included in the tour:
Free pick up and drop off at your hotel or nearest drop off point
Local tour guide
Entrance Fee to the sights
Free Wi-fi and usb charger in the bus
Audio guide in 10 languages
4. Northern Lights Deluxe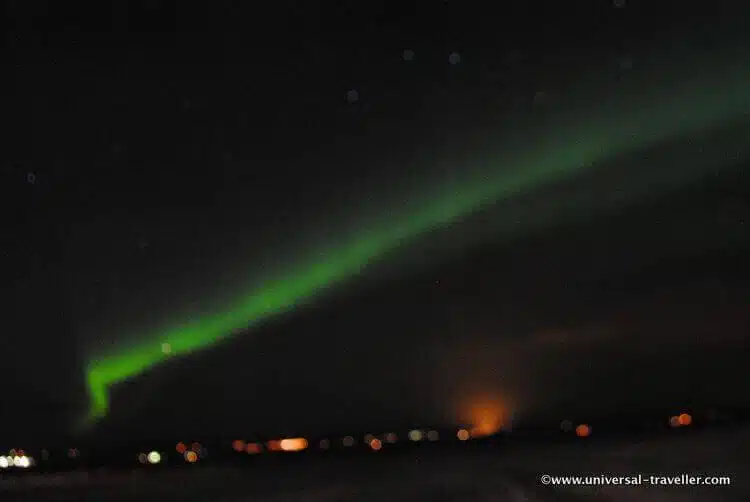 Probably everyone who travels to Iceland wants to see the Northern Lights.
It was on my bucket list for so many years and one of the main reasons I decided to visit Iceland.
Following this, there are lots of companies offering all kinds of Northern Lights Tours. I chose Sterna Travel Iceland because they limit their group size to 18 people and only use minibusses.
In this way, it is possible to stop at places where the big busses cannot park.
As our guide said, going on a Northern Lights Tour is like hunting. You never know when and where you will see them.
For that reason, it is essential that you can stop quickly when you finally spot a Northern Light.
Read here more about when's the best time to see the Northern Lights.
Useful information
Duration: 3 to 5 hours
Pick-up time:
Included in the tour:
Minibus max 18 persons
Free pick up and drop off at your hotel or nearest drop off point
English speaking guide
Twisted doughnuts and hot cocoa
Blankets
5. South Coast and Glacier Snowmobile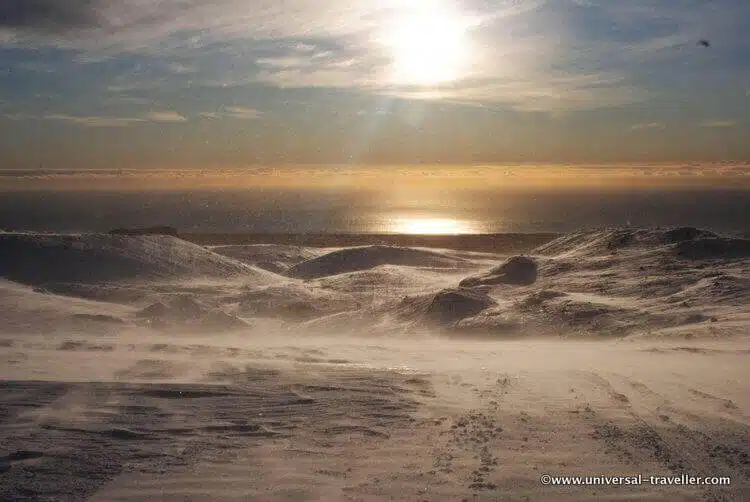 South Coast and Glacier Snowmobile is a tour organized by Sterna Travel. It starts between 8 and 8:30 in the morning and takes around 9.5 to 10 hours.
The first stop is Skógafoss waterfall, one of the most beautiful sites in Iceland.
The falls themselves are breathtaking — the water drops some 60 meters between two bright green cliff sides.
But cross your fingers that you take this tour on a sunny day, because when the sunlight hits the falls, a stunning single (and sometimes double) band rainbow emerges.
The waterfall also has an intriguing cultural history. According to legend, the first Norseman to settle in the area hid a treasure chest behind the falls.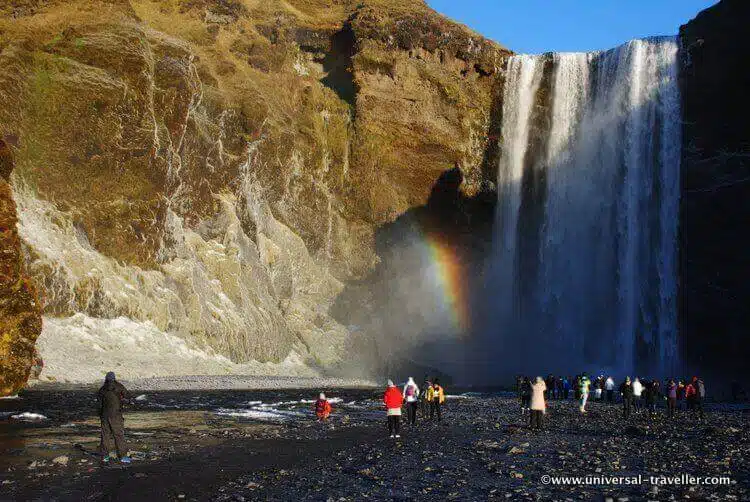 The highlight of the tour is, without doubt, a snowmobile drives up to the peak of the Mýrdalsjökull glacier.
Once the tour arrived at the staging point for the snowmobile ride, we were handed our equipment and given some brief safety guidelines for our ride up the glacier.
The ride itself took about an hour. The views from atop the glacier were captivating, and there were plenty of great photo opportunities.
Snow-capped mountains lined the horizon, and the ice stretched out for miles.
It felt a little like we were exploring some foreign and desolate planet.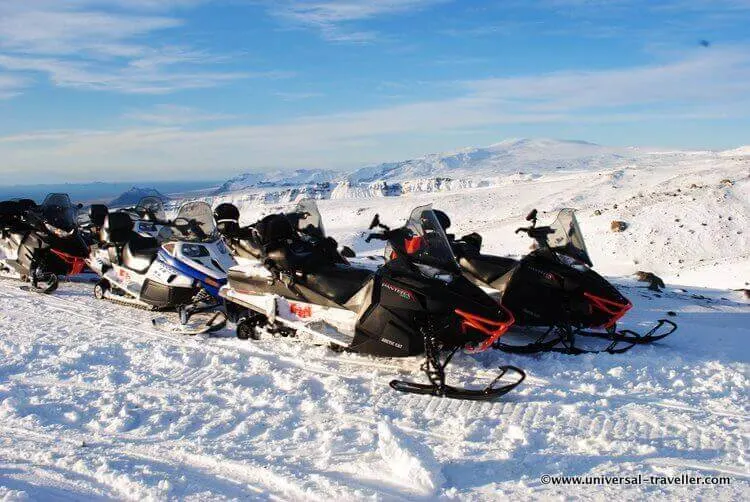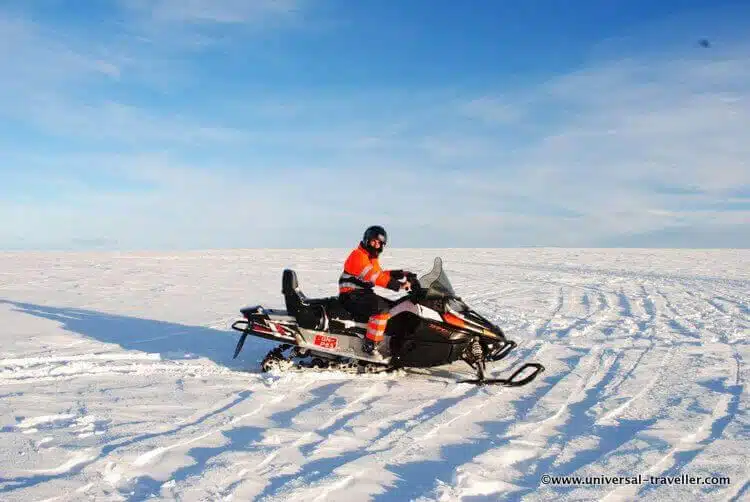 Useful information
Duration: 9.5 to 10 hours hours
Pick Up time: Between 08:00 and 08:30 AM
Included in the tour:
Free pick up and drop off at your hotel or nearest drop off point
Equipment for Snowmobile Tour: Warm overall, helmet and gloves
English speaking guide
6. Indoor Ice Cave Reykjavik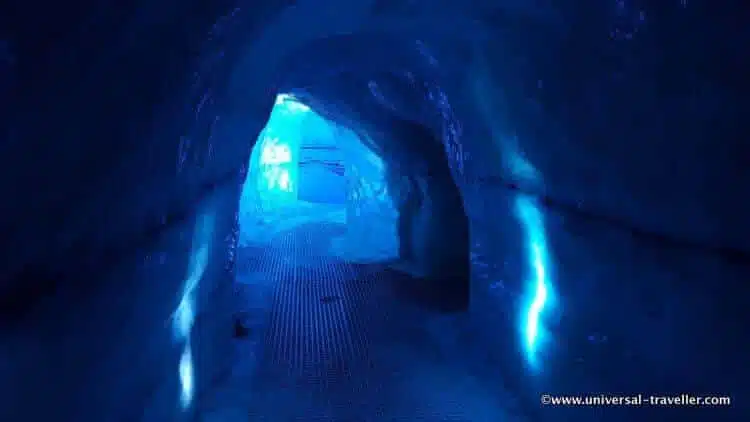 Did you know Reykjavik is home to the first man-made indoor ice cave?
This may be the closest any of us ever get to visiting Hoth. The ice cave was constructed from snow within the Perlan museum, a landmark in Reykjavik built from several massive retired hot water tanks.
The cave stretches and winds for some 100 meters.
The realistic ice cave acts as a great learning opportunity.
I learned about the causes and phenomena that form Iceland's glaciers and their crevices and ash layers. The museum also contains information on the disappearance of glaciers and climate change.
The temperature inside the cave is quite chilly -10°.
But don't worry, you can rent a warm vest for the tour.
After you've experienced the cave, you can also take advantage of some of the Perlan's other cool features, including a planetarium and observation deck with great views of the city.
Where to stay in Reykjavik
1. CenterHotel Miðgarður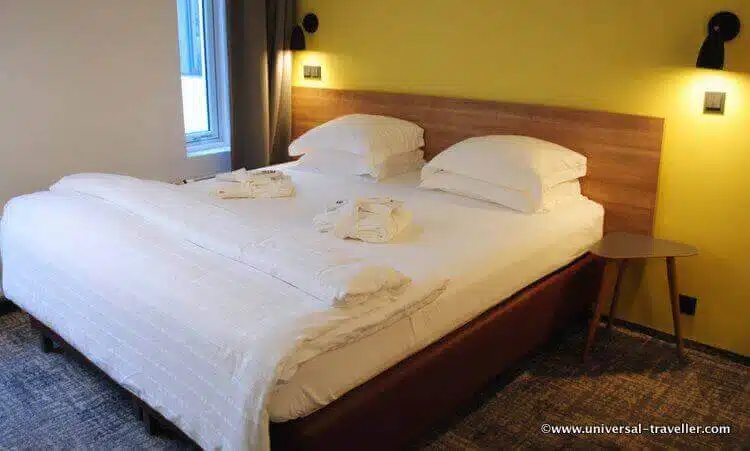 As my time in Iceland drew to an end, I decided to stay in the country a bit longer and made a move to CenterHotel Miðgarður.
This hotel is in a great location within Reykjavik — just a few blocks from the coast, but still central enough to reach all of the best the city has to offer.
The hotel is just minutes away on foot from the city's museum of art or Hallgrímskirkja church. The rest of the city is made quite accessible by the bus stop just outside the hotel's doors.
CenterHotel Miðgarður has some exceptional amenities.
During my stay there, I frequently used the spa and an indoor/outdoor hot tub. And, though the rooms weren't expansive, they were well designed and stylishly furnished.
Their in-house restaurant, Jorgenson Kitchen and Bar, is also highly rated.
The staff was friendly and kind, and their service never left a thing to be desired.
They're more than happy to help guests set up and arrange day tours or recommend things to do in either Reykjavik or all of Iceland.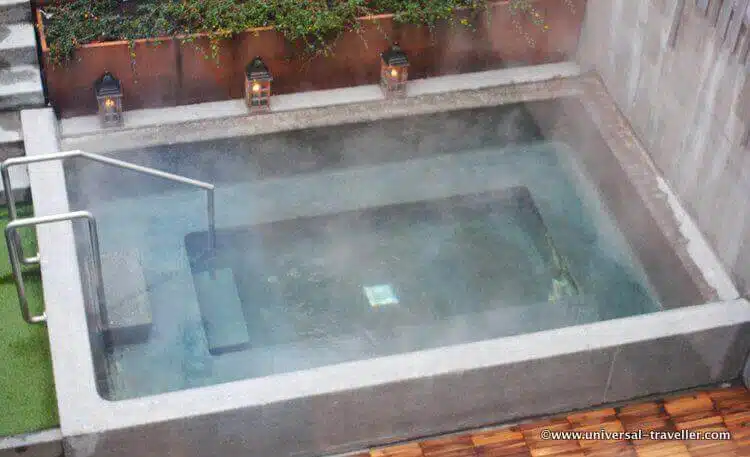 For more information, photos, and prices, check booking.com and agoda.
Was this post helpful? If so, be sure to pin it to refer to later!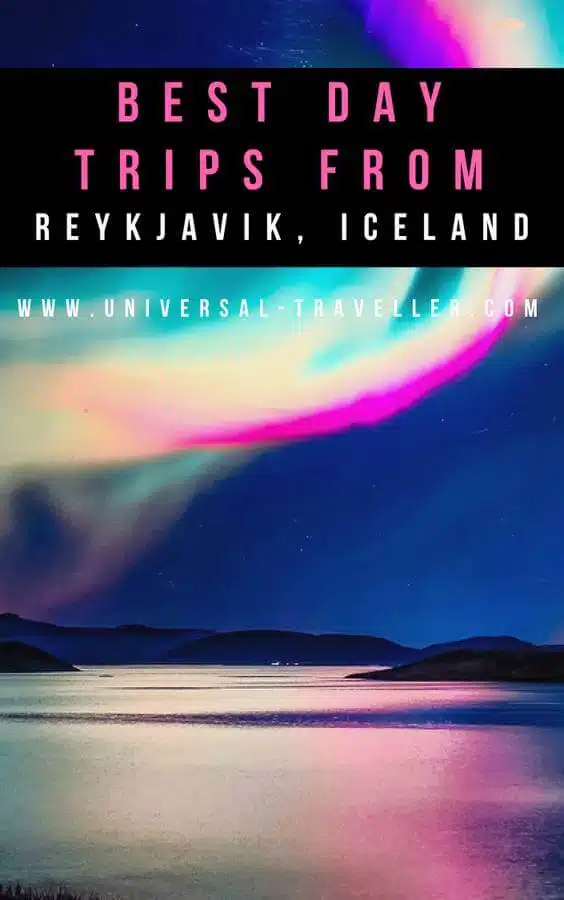 Disclaimer: I was invited by Troll Expeditions, Sterna Travel Iceland, Reykjavik Sightseeing, Perlan museum, and CenterHotel Miðgarður. My opinions, as always, are solely my own.