Zagori, Greece Hiking Adventure: Greece is famous for cosmopolitan islands, blue waters, and sandy beaches, but many of the country's best places remain unknown and are well hidden deeper within the mainland.
Zagori, in the prefecture of Epirus, is certainly one of these.
Interesting Greece fact: This magical region is the most isolated area in Greece, contributing greatly to its magnetism.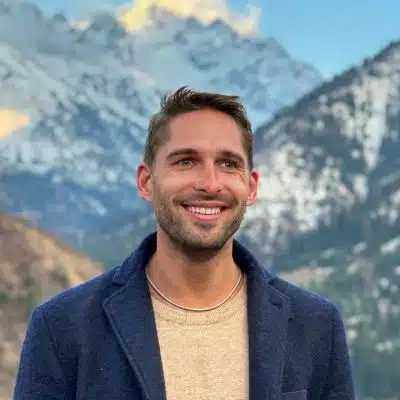 It is indicative that until '74, the residents of Vradeto—the highest Zagorisian village—to get to the nearest road, had to walk for almost an hour.
And I mean 1974; mankind had already set its foot on the moon five years ago!

Its forty-six villages are scattered behind mountains, next to deep gorges and inside virgin forests more often seen in Central Europe than in a Mediterranean country.
Read also: Best Trips for your Adventure Vacations.
An old road network connecting the villages, where drivers often have to dodge idle shepherd dogs laying on the middle of the tarmac, but the only way to really explore Zagori is by hiking it.
An extensive trail network had been the only access to Zagori from the outside world for centuries.
The locals used it to trade their products and shepherds to move their flocks up and down the highlands of Mt. Tymfi.
A real adventure in Zagori will take at least a week and more than 100km of walking through dense forests, high alpine peaks with crystal mountain lakes, and abysmally deep gorges.
While hiking, someone will also have the chance to admire one of the most beautiful and iconic architectural elements on Epirus—the traditional arched stone bridges, many times connected with legends and folktales.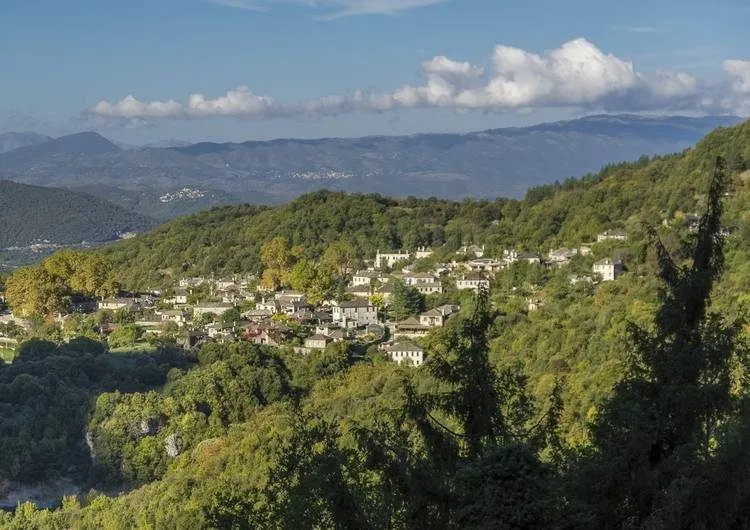 Epirus is also the rainiest region in Greece, which is one of the reasons multiple rivers and streams cross the terrain. To overcome this, local master builders constructed more than 160 stone bridges between the 18th and 19th centuries.
These arched bridges are considered masterpieces and relics of traditional craftsmanship and engineering. Today only 60 are still standing.
A proper adventure in Zagori will ideally start at Monodentri, the entrance of Vikos gorge—the deepest gorge in relation to its width in the world.
This amazing ecosystem is one of Greece's most famous trails for a good reason.
River Voidomatis on the gorge's bottom is the lifeline of central Zagori. It supports the incredibly diverse flora and fauna of the region, which belongs to the greater national park of North Pindus.
It's always humbling to walk Vikos while being surrounded by its mighty cliffs.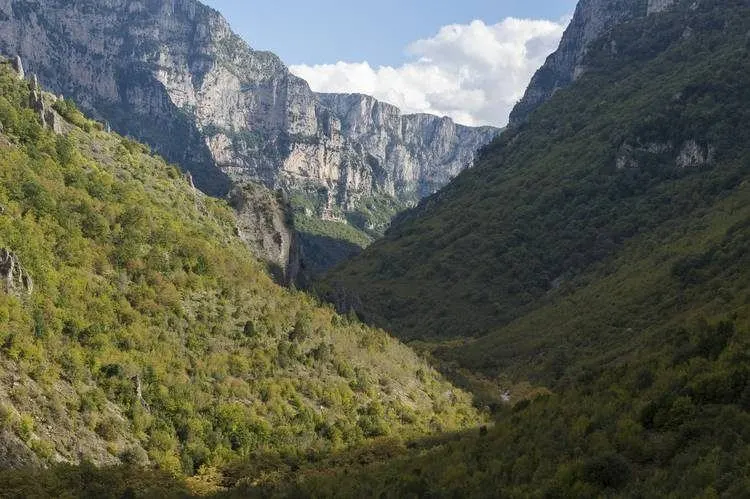 At the end of the gorge, there are two choices: keep hiking along Voidomatis and explore the villages to the north first or immediately start climbing to Mikro Papingo—the gate to Mt. Tymfi and its alpine highlands.
Either way, a hiking trip in Zagori is not complete without hiking the grasslands of Tymfi and, of course visiting the Dragon lake—a mesmerizing tarn created by a glacier, just an hour's hike from Astraka's refuge and definitely one of the most beautiful landscapes of Greece.
The trails sooner or later lead back to the lowlands and the villages of the south—Kipi with the biggest number of stone bridges, among them the iconic Kalogeriko with its three arches.
Vradeto with its famous skala (paved trail made for locals to climb an almost vertical cliff) and the nearby viewpoint of Beloi also deserve a visit before heading to the west, through several other villages and finishing in Monodentri.
This is the best way to meet Zagori but not the only one. Rafting, cross country skiing in the winter, cycling. Everything is possible in this isolated paradise and one of the few pristine natural habitats left in Europe.
Its small villages are enchanting, and the seductive beauty of the place has the ability to imprint on the mind of every traveler lucky enough to have stepped on its ground.
Written by Chris from Trip & Trail
About the Author
More info
Best VPN for Travel: ExpressVPN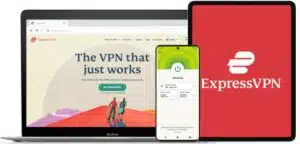 Heading abroad? Use ExpressVPN to access your social media accounts, unblock your favorite entertainment sites, and stay connected with friends and family. And get cheaper flights, of course.
Pros
✅ Next-gen, high-speed servers in 94 countries
✅ Works on iOS, Android, Windows, Mac, Linux, browsers, and more
✅ 256-bit AES encryption protects your data, even on hotel Wi-Fi
✅ Unblocks Netflix and other streaming sites
Cons
❎ No dedicated IPs
Get 3 extra months free of ExpressVPN when signing up for a 1-year plan. That's a 49% saving and a monthly cost of just $6.67! You also get a 30-day money-back guarantee.