This guide will delve into all the top things there are to do in San Pancho, Mexico. From earthy taquerias with fiery habanero salsa to intrepid coastal hikes for the budding adventurers among us, there are all sorts to get stuck into. Ready? Let's go…
Written by Rich from The Surf Atlas
Shh! San Pancho's something special, and it hasn't yet hit the big time.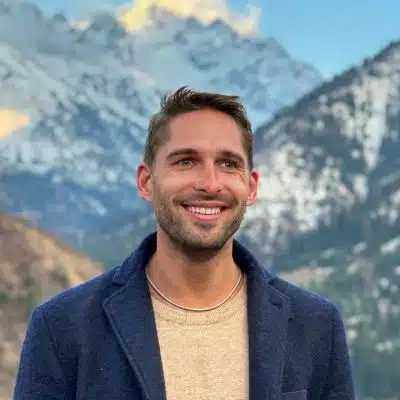 While the crowds keep going to the bustling city of Puerto Vallarta and wave-washed Sayulita to the south, this speck on the Mexican Pacific remains a little off the usual tourist trail.
It's an enthralling and characterful town that makes its home on the lovely Riviera Nayarit – a 192-mile stretch of beaches, inlets, and palm-fringed shoreline that goes north from the Bahia de Banderas.
You'll find cobbled streets and sun-splashed plazas, set to the sounds of sizzling tacos and mellifluous mariachi, along with one seriously stunning beachfront where the sunsets are out of this world.
1. Long days and sunsets on Playa San Pancho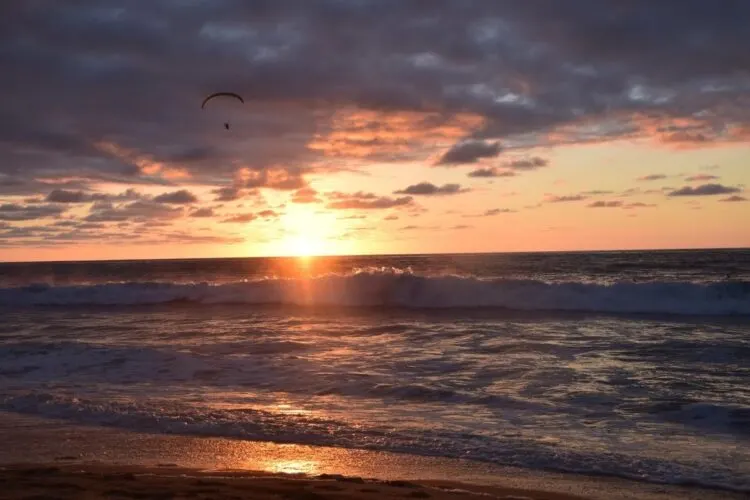 Playa San Pancho is the jewel in the crown of the town. Over a mile long as it runs from a palm-speckled headland in the south to a group of deluxe villas at its northern end, the sand is wide and powdery and usually dotted with sunbathers and strollers.
The busiest part of the bay is right by the entrance to the town itself. That's where Avenue Tercer Mundo dashes straight into the palm trees in a hit of margarita bars and Cerveza outlets. Stay there if you want to eat and drink, or indulge in a spot of people watching.
The most beautiful part of Playa San Pancho is to the south, though. There, the cliffs quickly loom up behind the sand, and there's a little coast lagoon that herons often stalk.
Head there and grab a spot before 6 pm to get front-row seats over the sunsets, which glow pink and red across the horizon every night. Talk about romantic!
2. Go surfing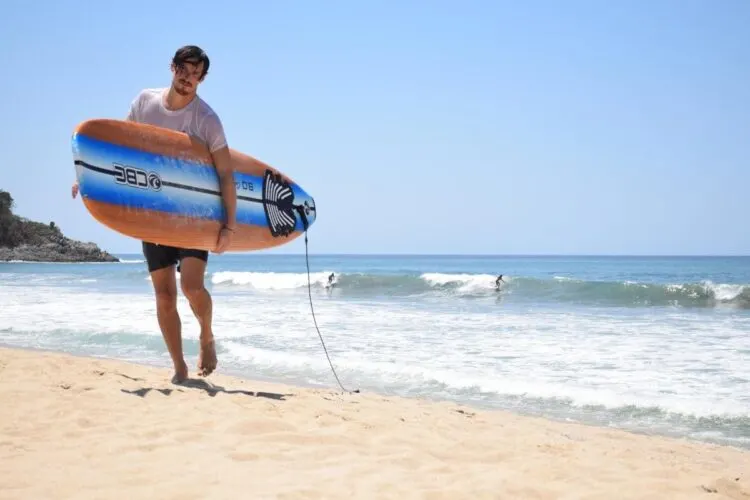 This corner of Nayarit and Jalisco states is home to some of the very best surfing in Mexico. The main reason for that is the town of Sayulita.
It's a mere 15 minutes drive in a taxi (shouldn't cost more than 150 MXN) to the south, where it opens onto a long beachfront that has perfect beginner waves. There are now loads of accomplished surf schools in the area, too, so you can bag some bargain tuition if it's your first time paddling out.
It's also possible to surf in San Pancho itself. However, the beach here has pretty steep and heavy waves that crash over a mixture of rock and reef, so they're better suited to intermediates or expert riders.
Alternatively, you could drop into one of the local surf shops and ask about a guided surf tour. They often go as far south as Punta Mita, which has breaks for all levels.
3. Trek up to Playa de Barro
The area to the north of San Pancho offers a fantastically raw glimpse of this part of the Mexican Pacific.
It's far less developed than the areas around Sayulita, with vast beaches bashed by waves and a backing of primeval woodland that's just waiting for the more intrepid travelers to pass its way.
It's important to start as early as you can if you want to make it all the way to Playa de Barro. The walk takes a few hours each way. It can also get pretty challenging as the midday heat sets in too.
So, pack plenty of H2O and head out on the road that wiggles past the big golf course on the north side of town. Soon, you'll be clambering up hills dotted with luxurious coast villas that have views across the Pacific Ocean.
About 2 miles out of town, even they give way to the jungles. That's where you join a narrower path that hops a gurgling stream and passes through a few very dense pockets of forest.
Finally, the whole thing opens onto a Robinson Crusoe sort of beach, which has a small natural mud spa on its south end and some beautiful rock pools to explore.
4. Eat at Taquería Los Arbolitos
No trip to Mexico could be complete without at least a sampling of the local cuisine. In diminutive San Pancho that comes courtesy of the Taquería Los Arbolitos.
Of course, there are others in town, but we cannot stay away from this family-owned kitchen and its taste-bud-tingling salsa selection.
The menu has all sorts of curious taco fillings. Vegetarians are particularly well catered to. They can choose cactus (yep – cactus!) tacos or soya mash, and then top the lot off with smoky refried beans and a fiery onion-habanero medley.
It's uber-cheap, and the setting – right on the cobbled roadside of San Pancho's center – is one of the best in the town.
5. Hike to 'Secret Beach'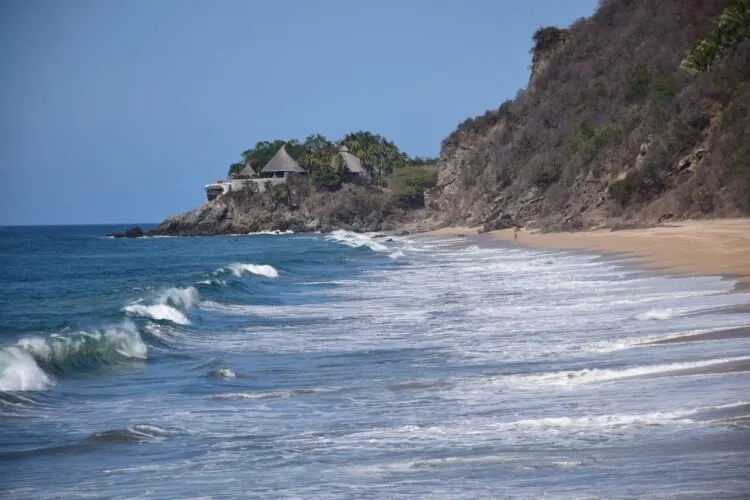 Its official name is Playa Malpaso, but the locals all call it Secret Beach. Why? Well…because it's not too easy to find, that's why!
You'll need to hit the jungle trails that weave through the palm groves to the south of San Pancho itself. The walk is nowhere near the same challenge as the route to Playa de Barro (see above), but it does peak and trough through some pretty gnarly coast forest…
It starts at the end of Playa San Pancho, where it skirts some fenced-off villas before veering suddenly into the woods. There, monkeys howl overhead, and the calls of tropical birds echo between the vine-strewn palm trees.
The greenery is punctuated by blooming orchids and colorful banyans, while occasional glimpses of the Sierra Madre and the shoreline are on offer whenever the vegetation drops.
It's a fun walk, which eventually leads you to an open stretch of sand a couple of hundred meters from end to end.
You'll emerge from between a clutch of pine trees to find a bay that's rarely got more than a handful of sunbathers. It's the place to go if you're looking for real seclusion on the Riviera Nayarit!
Frequently Asked Questions about San Pancho Mexico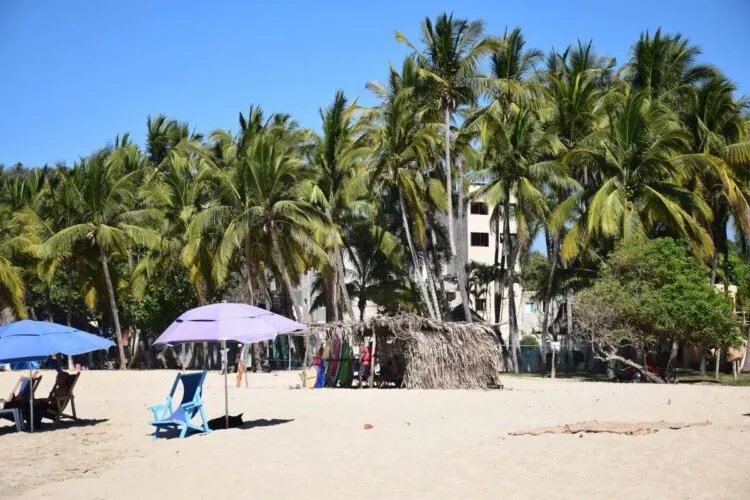 Best VPN for Travel: ExpressVPN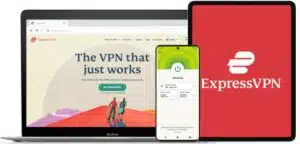 Heading abroad? Use ExpressVPN to access your social media accounts, unblock your favorite entertainment sites, and stay connected with friends and family. And get cheaper flights, of course.
Pros
✅ Next-gen, high-speed servers in 94 countries
✅ Works on iOS, Android, Windows, Mac, Linux, browsers, and more
✅ 256-bit AES encryption protects your data, even on hotel Wi-Fi
✅ Unblocks Netflix and other streaming sites
Cons
❎ No dedicated IPs
Get 3 extra months free of ExpressVPN when signing up for a 1-year plan. That's a 49% saving and a monthly cost of just $6.67! You also get a 30-day money-back guarantee.
Is San Pancho, Mexico, worth visiting?
It most certainly is. San Pancho offers a slightly slower pace of life than the big resort city of Puerto Vallarta and even Sayulita just down the coast. It's authentically Mexican, with coconut sellers and mariachi bands filling its cobbled streets. Basically, it's a fantastic option if you're keen to feel that charming Mexicana vibe on your trip to the Pacific.
Is San Pancho good for surfing?
Yep, San Pancho beach is one of the best surf spots on the Riviera Nayarit. It's suited to intermediate riders because it's quite a heavy break that rolls over underwater rocks. If that's not you, don't worry. It's easy to organize surf trips from here to nearby Sayulita (arguably the most famous surf town in Mexico) or Punta Mita (home to various breaks that suit all levels).
Is San Pancho good for families?
The relaxed pace of life in San Pancho means that it's a good option for travelers with kids in tow. There are many boutique hotels in the center and restaurants that cater to all tastes, from Italiano pizzas to spicy Mexican food. You'll also find that the beach here is way less busy than its compadres to the south and in Puerto Vallarta.
When is the best time to visit San Pancho?
The months from January to April are generally the best of the year in San Pancho. You get steady sun and pleasant daytime temperatures then, with less rain and calmer seas. It will be cheaper in the summer months, but also far hotter and more chance of downpours. Christmas is generally very pricy and busy with snowbirds escaping the cold of North America.