Many travelers are no longer content with seeing the standard tourist sites; they want to get among them and seek adventure travel to explore the world.
Adventure travel doesn't necessarily mean sky diving in a foreign country or setting out on a multi-day trek alone through the wilderness. Adventure travel generally refers to any sort of travel that is somewhat off the standard tourist route.
We recently asked travel bloggers to tell us about their great world adventures. We have had such a wonderful response and heard about adventures across the globe.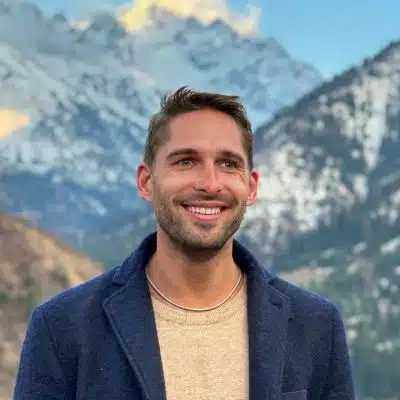 There were adventures in Papua New Guinea, Jordan, Australia, New Zealand, and even the Amazon jungle. Bloggers told us about their adventures on the back of camels in the desert, microlight flights over the ocean, visiting volcanoes, and helicopter rides to spectacular glaciers.
Some adventures involved couples quitting their jobs for long-term travel and even adventures with young children.
Whatever your comfort level for adventure travel, there is bound to be something to inspire you for your next trip.
1. W

e quit our jobs and set out on a 15 months adventure across the world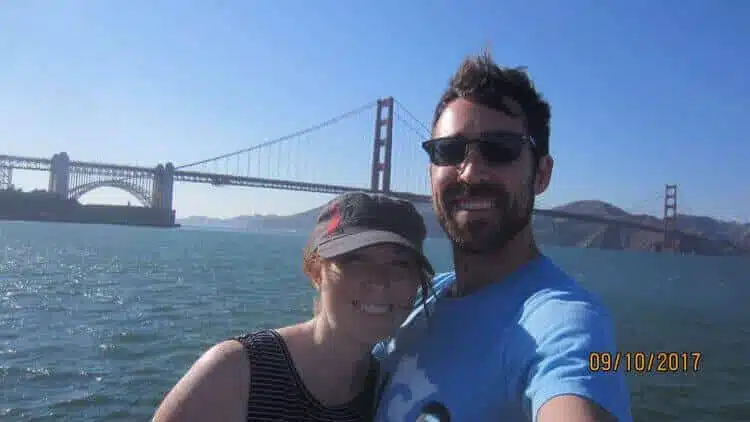 When we first decided to quit our jobs and travel full time, my wife and I had been married for two years with no debt, children, house, or other permanent responsibilities that would prevent us from doing whatever we wanted in life.
Work was going fine, but neither of us wanted just "fine" – more and more, we felt the need to check things off our bucket list. We didn't want to leave any "what ifs" on the table. So, we made a plan to divert saved money to a travel fund and planned out our next great adventure.
When the time came to tell our respective bosses we were leaving to travel; it wasn't too hard. It was certainly much easier than telling our parents. And in the end, they understood we had to do our own thing and live life on our terms.
We've never met anyone who told us saving a bunch of money and traveling the world was a bad idea. Everyone we've told has been incredibly supportive.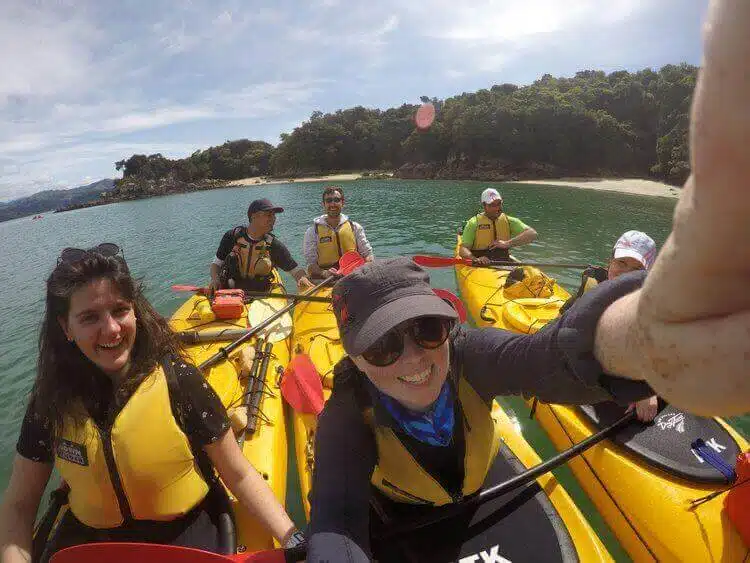 Fast forward two months to our departure date, and our grand journey was beginning. We first flew out to Portland to see some friends before driving south on the Pacific Coast Highway to Los Angeles.
All along the way, we saw beautiful sights and had great laughs and conversations with good friends.
Before long, we were in the terminal at LAX getting ready to start the first leg of our international journey. This is when the gravity of the situation really kicked in. The prior two weeks had felt like a vacation, but now we were experiencing a more realistic departure.
No longer did we have to be at work at 7, request time off, or sit in meetings. We were left to our own devices. No one tells us what to do, and our success and failure are now in our own hands.
We're living in New Zealand, soon to head to Australia, then southeast Asia, then…who knows? It's not all fun and games – we work more now than we ever did before – but we're enjoying the adventure of life together, on our own terms.
Scott & Hayley from International Hotdish
2. Cruise to Papua New Guinea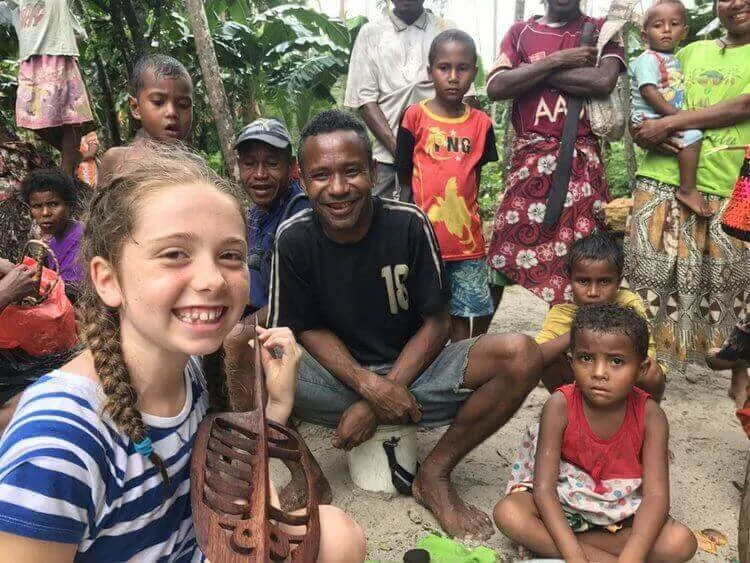 I have always been fascinated with tribal culture and devoured National Geographic magazines and anthropology textbooks, where Papua New Guinea (PNG) featured often.
When I found a P&O Cruise itinerary that visited remote islands of PNG, I knew it would be an amazing trip. Since we are usually independent travelers, I wasn't sure how we would like the cruise part. I knew PNG would be fantastic, but I was surprised by how much we enjoyed the cruise experience as well.
The highlight of the trip was visiting remote islands untouched by modern life. Since so few ships visit, most of the islanders come out to greet the cruise ship.
There are unofficial guides to show you the villages, people selling intricate woodcarvings, and school children in traditional attire singing. We have traveled to many remote parts of the world, but nowhere have we experienced a place with so little outside contact.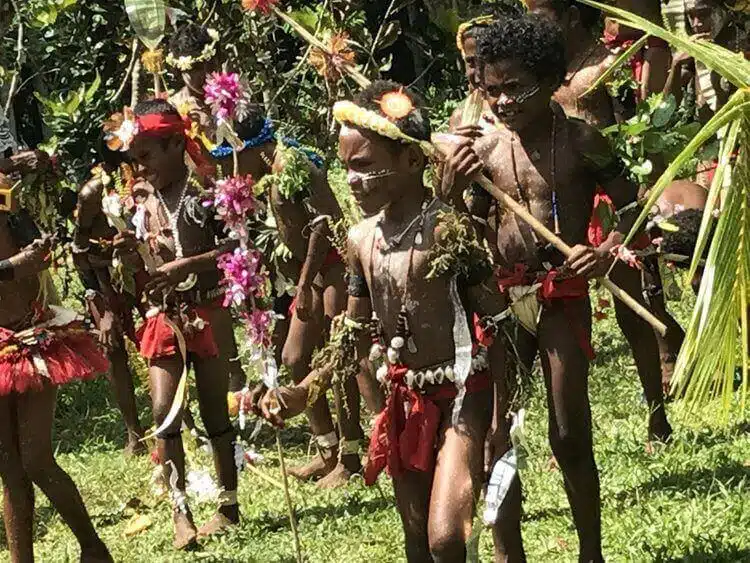 We learned about their traditional way of life, the challenges they face, and their desire for more tourists to visit to provide economic activity. It was magical to watch our children give out simple gifts like pencils and even their own shoes.
The island children were so excited about these small gifts, and our kids learned a powerful lesson about giving.
The other highlight of our cruise to Papua New Guinea was the opportunity to experience the pristine underwater world. The coral was some of the healthiest we have seen with incredibly diverse marine life.
Snorkeling just off the beaches, we were able to experience some of the healthiest and richest marine biodiversity in the world.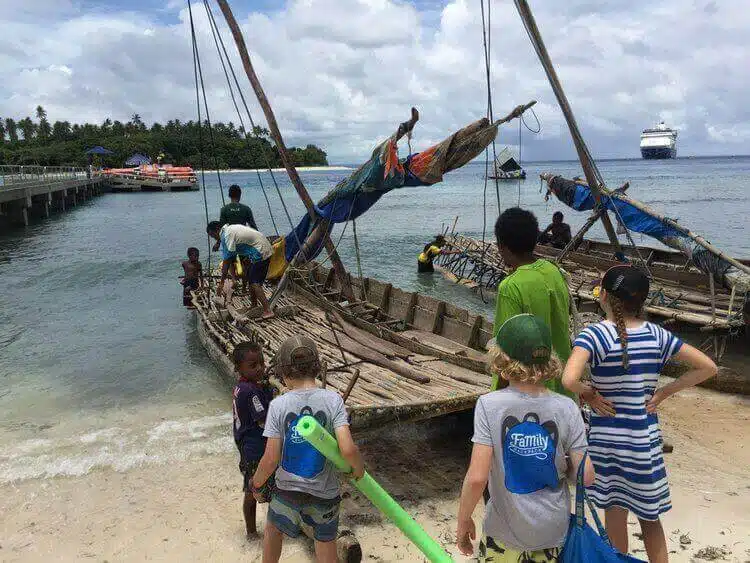 Visiting Papua New Guinea was a surreal experience and an opportunity to visit a country I never thought I would get to visit. Our cruise was a small taste of this fascinating country, and I hope we can return someday to spend more time there.
Dawn from 5 lost together
3. Sleeping in a yurt under the desert sky of Jordan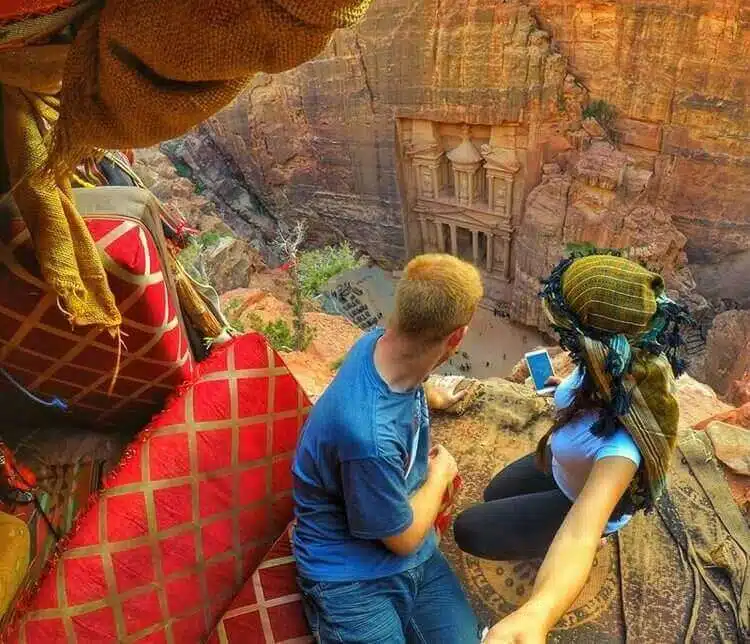 Three days in Jordan: Visiting the ruins of Gerasa in Jerash, trekking for hours through the "Lost City" of Petra, sleeping in a yurt under the desert sky, and drinking tea with the locals after caravaning on camelback through the Wadi Rum Desert. This was our greatest adventure of 2017.
Seeing one of the Man-Made World Wonders, Petra in Wadi Musa, had always seemed like a distant dream. One that was nice to fantasize about as I scrolled through the Instagram posts by otherworldly travelers. Suddenly, we found ourselves in the middle of it.
Even as we were meandering through the narrow opening of the rock cliffs that lead to the famous Treasury, the reality of actually being physically there had not yet hit us.
We started our drive through Jordan at the Israel border. Our first stop was the ruins at Jerash. I had never planned on visiting these ruins, so it was a pleasant surprise to find ourselves consumed by the grandness of these remains as they attempted to show us a glimpse of their ancient history.
The drive to Wadi Musa brought the night along with it. As we stepped out of the car, we were immediately humbled by the numerous sparkling stars in the desert night sky.
Falling asleep in a yurt for the first time as we listened to the howling of the wind outside, understanding the natural dangers that we were safe from, gave us the realization of the hostility that this landscape possesses.
We woke to a full day of exploring Petra ahead of us. Although requiring a great deal of hiking, we managed to make it to several of the "must-see" spots, including the viewpoint of the Treasury from up above as well as The Monastery, Royal Tombs, The Theatre, Street of Facades, Colonnaded Street, and High Place of Sacrifice.
Yet, an entire day was still not enough to explore everything. But our time was up, and the following day, we were off to Wadi Rum.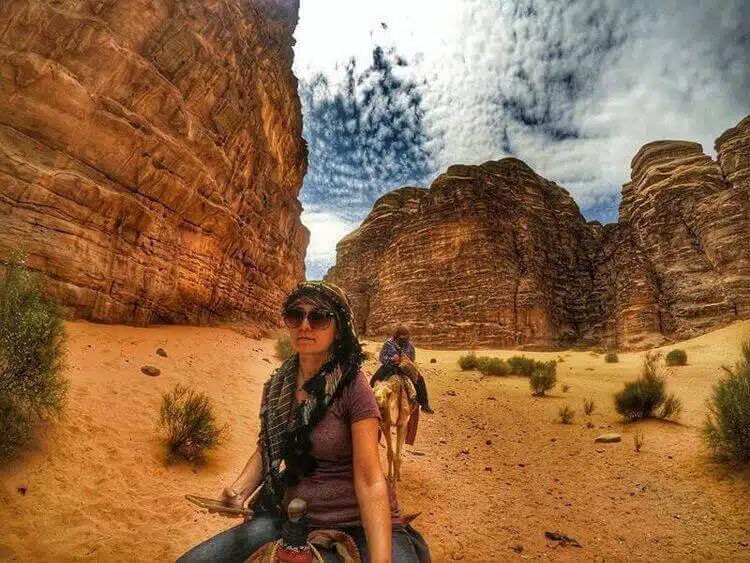 Once again, as we rode on camels through just a fraction of this vast desert, the tenacity of the ancient people here became more and more evident.
Alas, it was time to relax with a cup of tea and spend a moment in reflection amidst this martian landscape. This, our time in the country of Jordan, is the unforgettable tale of our greatest adventure so far.
Taiss from Together To Wherever
4. Microlight Flight over Ningaloo Reef in Western Australia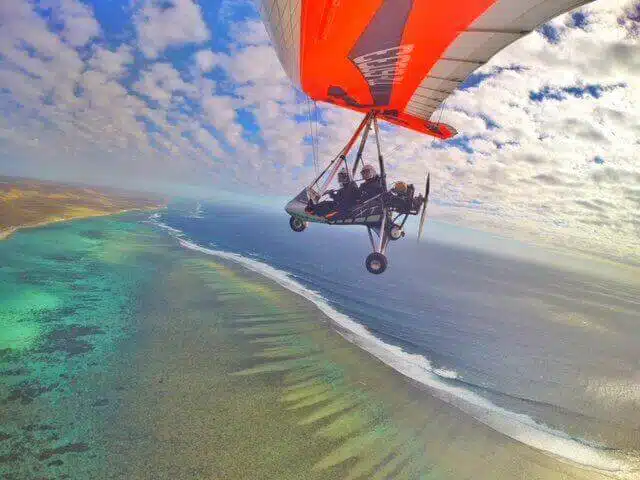 In the winter of 2017, I moved to Exmouth, Western Australia. Choosing just one adventure as my favorite is difficult, because I spent my sunny, warm winter on beaches voted the most beautiful in the world, scuba diving through the colorful Ningaloo Reef, swimming with manta rays and whale sharks, and freediving to the sounds of humpback whales.
One adventure stood out among the rest, though.
It's a bird, it's a plane, it's a… microlight?
A microlight is a lightweight aircraft that's powered by a propeller with wings like a hang glider. Bird's Eye View in Exmouth offers trial introductory flights, so instead of just sitting back and enjoying the ride, you actually get to learn how to fly this unique aircraft.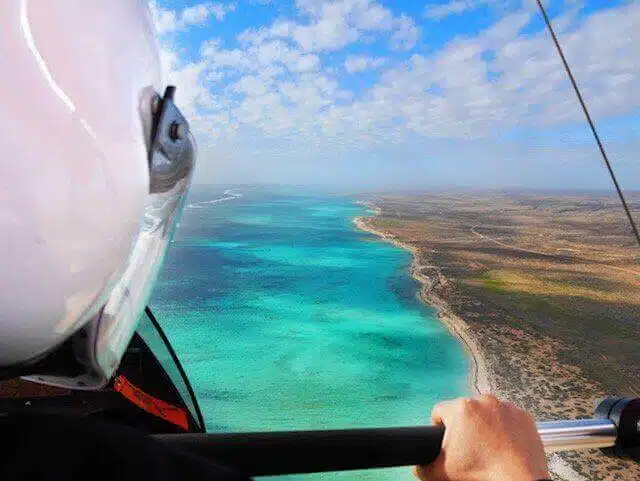 My instructor and I donned our helmets with communication devices, strapped ourselves in and took off down the runway. We ascended quickly and soon, we were flying over the Northwest Cape and the World Heritage listed Ningaloo Reef.
As the distance between our microlight and the ground increased, I looked out over the land and was overcome with the thought that we were basically flying a motorcycle with wings. And it was amazing!
Flying over Ningaloo Reef, we looked down and spotted humpback whales, manta rays and sharks in the water. How tiny the whales looked was a great indicator of just how high we had flown.
I loved looking down at the changes in the water and the drop-off into the deep blue. Seeing manta rays and humpbacks in the area where I'd been swimming the day before made me realize just how little I am in comparison to the ocean.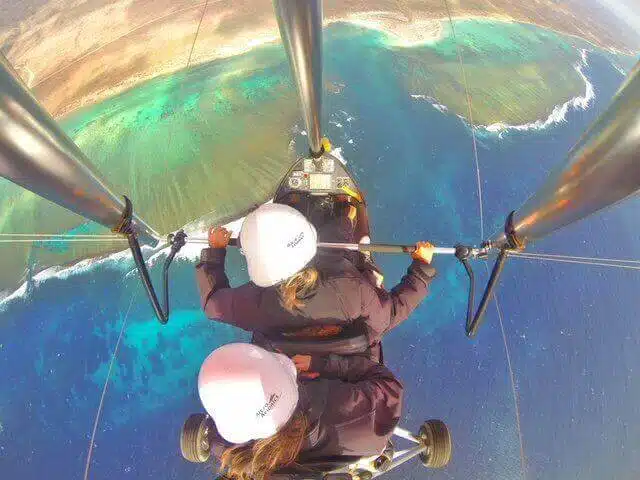 As we flew around to Exmouth Gulf, my instructor let me take the controls, and I guided us as we flew past the yacht club and found more humpback whales.
Flying a microlight allows you to get closer to the water and see more wildlife than a typical airplane, and no enclosures mean 360° views.
The 90-minute flight ended all too soon, and as the wheels hit the ground, I began planning for my next microlight flight. It's an experience I want to relive over and over again.
Brittany from The Sweet Wanderlust
5. Helicopter Ride in New Zealand
Anyone who has visited New Zealand will tell you it is one of the most beautiful places on earth. Crystalline lakes reflect the sky like a polished mirror, and lush green rainforests shimmer with dew, fur seals cavort on pristine shores, and soaring, snow-capped mountains pierce the sky.
All these sights can be experienced within short distances of each other on scenic route 6. New Zealand's South Island is truly an outdoor paradise.
It was my road trip on route 6 on New Zealand's South Island that took me to one of the most exhilarating adventures I've ever experienced, a helicopter ride and landing on one of New Zealand's majestic glaciers.
Going south on route 6 from Greymouth on the western coast of South Island, you will come to the small towns of Franz Joseph and Fox Glacier, New Zealand equivalents of the wild, wild west.
The surrounding area forms part of the Te Wahipounamu World Heritage park hosting glaciers descending from the Southern Alps.
Both towns of Franz Joseph and Fox Glacier offer helicopter rides. I was initially hesitant to try it but felt this was a once-in-a-lifetime opportunity. I hung around the helicopter pad, watching the people that got off as they gushed about the beauty of the glacier.
Finally, I committed. I took one of these exhilarating rides over the mountain peaks landing and hiking on a glacier, and saw some of the most spectacular scenes I've ever experienced with bird's eye views of the glaciers stretching out over the mountains.
I felt my heart pound like never before when the helicopter soared off a cliff over a bottomless precipice. That'll give you about a month's worth of cardio workouts.
It was just as amazing as I thought it would be. After the trip, I couldn't imagine why I ever hesitated.
Talek from Travels With Talek
6. Exploring the Amazon Rainforest in Ecuador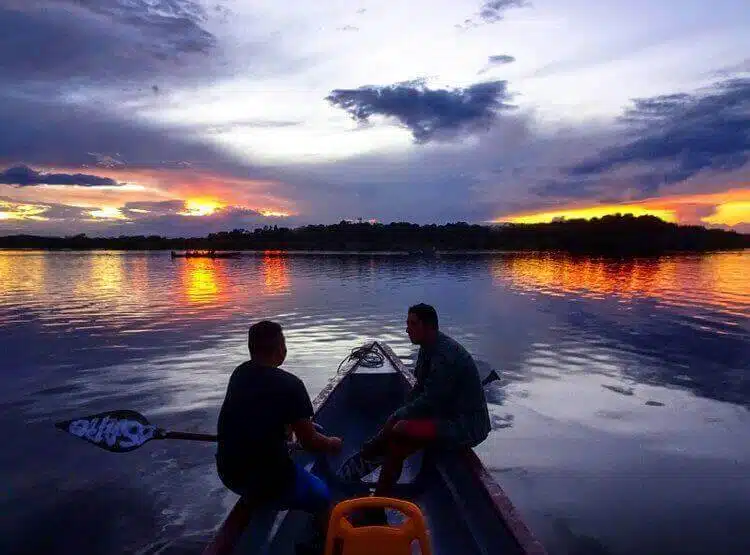 A trip into the Amazon rainforest as part of my 8-months long journey through Latin America and certainly my biggest adventure in 2017 and a highlight of my trip.
I decided to visit the Amazon in Ecuador rather than in any neighboring country due to the fair pricing and the ease of getting there compared to other destinations.
After a long journey in a night bus coming from Quito, followed by a few hours in a van, I and some other travelers got into boats. We were transported far into the Amazon rainforest in the Cuyabeno Wildlife Reserve.
That's where we got the first glimpse of the dense jungle, spotting several species of monkeys and sloths high up in the trees. After a few hours on the boat, we arrived at our jungle lodge – our new home for the next days, far away from civilization.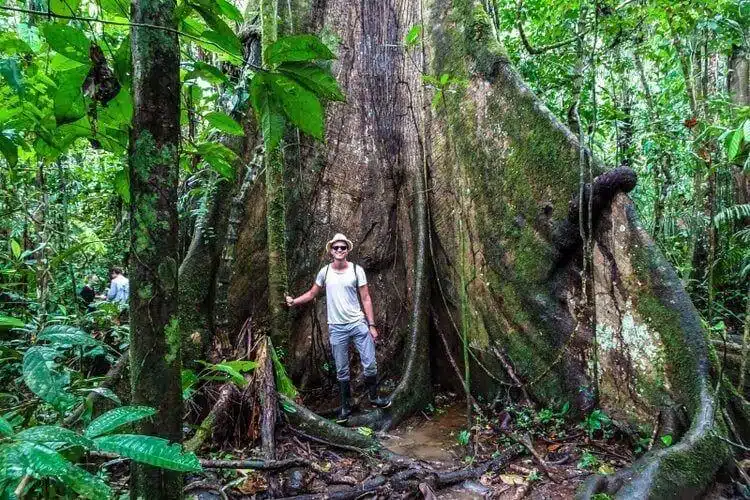 My days in the Amazon rainforest were full of adventures and activities. We explored the rainforest further by boat – spotting caimans and fishing piranha – but also by foot.
The scariest part was definitely a night walk, with huge spiders, snakes, and insects right next to us every few meters. But even in our lodge, we once discovered a huge tarantula on the ceiling right above our dinner table, and a big anaconda was seen in the swamp just a few meters behind our rooms.
Needless to say that I didn't sleep that well and that I had to do a full inspection of my room every night before going to bed. That's what life in the jungle feels like!
The highlight of my visit to the Amazon rainforest was a sunset swim in a bigger lake, which is part of the huge river system spanning all across the Amazon.
According to our guides, piranhas, snakes, and caimans stay at the shore and don't make it to the middle of the lake, and we were allowed to jump in!
Swimming in the Amazon rainforest, far away from any civilization, electricity, and mobile connection, while the sun is slowly setting behind the trees – does it get any better?
Patrick from German Backpacker
7. Getting a coveted permit to The Wave in Arizona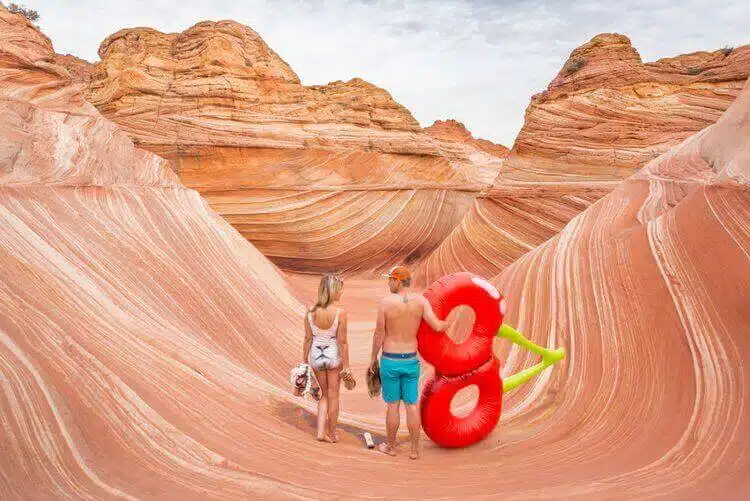 We had many great adventures, but our most memorable was scoring a permit to visit a rock formation called "The Wave," located in a protected area in northern Arizona called Coyote Buttes North.
Only 20 people are allowed access to the area each day to protect and preserve the amazing landscape. The entire Coyote Buttes North area is a wonderland of swirling orange and white sandstone, but in the small area referred to as The Wave, the swirl of rock is so perfect that it resembles an ocean wave.
You can enter an online lottery to attempt to win one of the coveted permits four months in advance or show up to the BLM office for the daily in-person drawing. 10 permits per day are reserved for the online lottery and 10 for the in-person lottery.
It took us 6 frustrating attempts at the in-person lottery before our lucky number was finally drawn. Competition is fierce! One person tried for the in-person lottery 38 days in a row before getting a permit. Another tried 17 days in a row before giving up, never actually getting an opportunity to visit.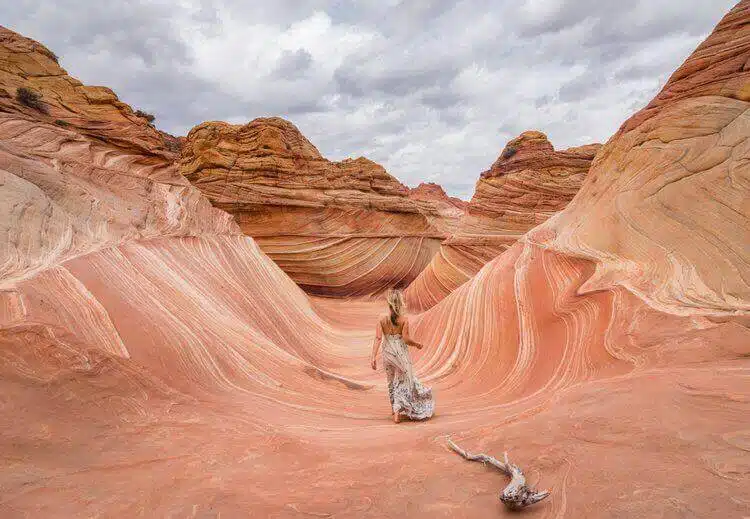 The nearest town is Kanab, Utah, which is about 50 miles away. To arrive at The Wave, you'll need to drive about 30 minutes down a dirt road and then hike 3 miles over rough, rocky terrain.
The trail is very poorly marked, so GPS is recommended (the ranger station will provide a detailed map and GPS coordinates). If you start your hike before sunrise, you'll probably get a little lost, but you'll have the area all to yourself for a few hours before the other 19 people begin to arrive.
And don't try to sneak in – a BLM ranger does the trek daily, and a day rarely goes by that they don't catch someone hiking without a permit. The fine is steep!
Val from Wandering Wheatleys
8. A Singaporean Grad-Tripping in South America
Hey guys! I'm Owen, and I'm from Singapore! I only had ONE adventure in 2017, and it's the greatest in my life: Two months after I graduated from University, I flew on a one-way ticket to Brazil in February 2017, and currently (Nov 2017), I have made it to Colombia, my 9th country.
In these 9 months, I have hung out with shamans deep in the Amazon jungle, climbed up volcanoes in Ecuador, trekked to Machu Picchu, toured the Uyuni Salt Flats, stargazed on Easter Island, injured myself in Patagonia, went to the End of the World in Ushuaia, snorkeled with sea lions in Argentina, partied in the carnival in Brazil and so much more!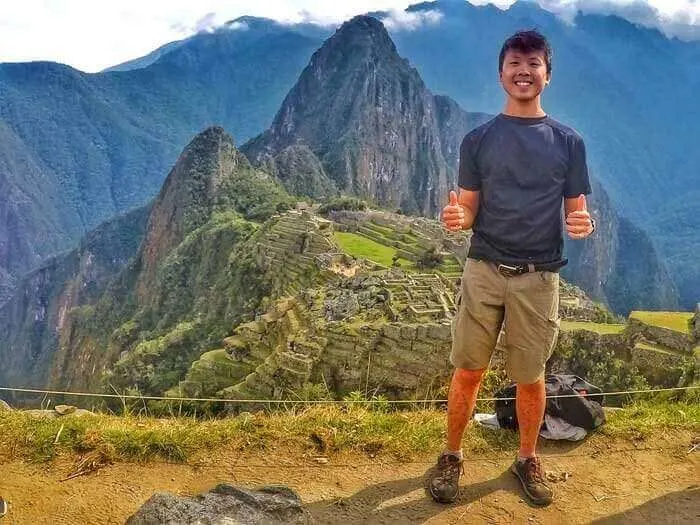 My goal is to visit all 13 countries on the continent. It's not an easy one, given the situations in some countries, but I will figure it out.
Many people think that I'm crazy to fly to the other side of the world without knowing anyone or knowing the language, but I am having the time of my life and learning so much in the process!
To prepare for this trip, I took Spanish courses, learned self-defense, saved up, and started an online business that supplies passive income that allows me to do this continuously. In fact, I took a hiatus from travel to make this dream a reality.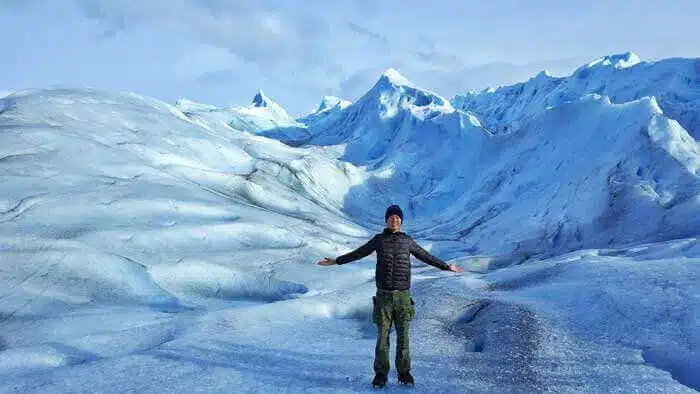 So, if this Asian guy from a tiny country can do it, can anyone! Dreams don't work unless you do!
Owen from My Turn To Travel
9. Diving for my very first time in the Maldives
I live in Sardinia, grew up by the sea, and absolutely love swimming. During my travels, I always try to combine a good mixture of sightseeing and culture, adventure, and a beach break if I have a chance.
If the place allows, I go snorkel: I love observing marine life and can spend hours floating in the sea, staring at fish and corals.
Diving though?
It had never crossed my mind. It's always felt like a rather intimidating thing, not to mention a bit dangerous. And I get seasick, which means that sitting on a boat, in the rough (or not so rough) sea, waiting to go in the water is almost guarantee of puking my intestines out.
Besides, whatever I can see while snorkeling should be enough to quench my thirst for discovery, right?
Well, I thought so. And I did not listen to my ex, a keen diver. Or any of my friends who do it all the time. At least, not until I went to the Maldives and realized that there was a dive center at the resort where I stayed and that diving would start from the shore, and I would not have to experience seasickness. So I gave it a try and decided to do a discovery dive.
The instructor briefed me on a few tricks (how to breathe, how to get rid of water in my mask, how to pop my ears) and warned me that the more I got agitated, the faster I'd breathe, the sooner the air in the tanks would finish, and we'd have to go up.
He added that, in optimal conditions, we had enough air to last for around 45 minutes.
The minute I got underwater and saw sharks and the widest variety of fish I have ever seen, I realized I have been missing out a lot. That was the only regret I had: not having done this sooner!
I truly enjoyed it and was completely at ease – so much so that I spent 41 minutes underwater, reaching a depth of 12 meters.
Needless to say, I am now planning to get certified!
Claudia from My Adventures Across The World
10. Sunrise at Bromo Volcano in Java, Indonesia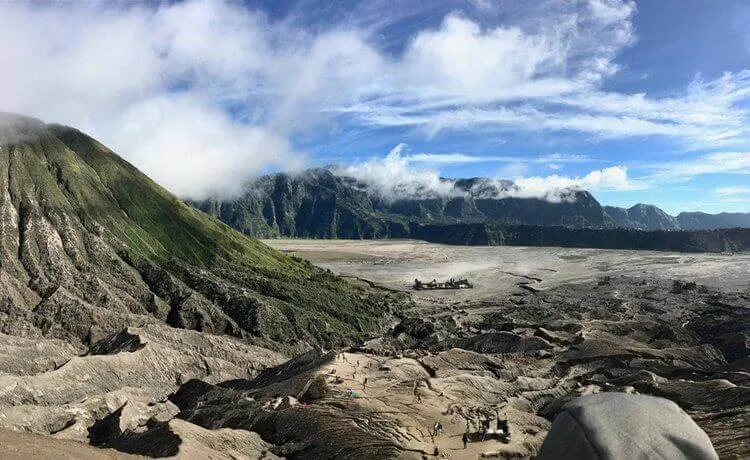 It's 3 am and the village of Probolinggo on the Indonesian island Java is still asleep. Only the sound of the old 4WD cars that maneuver their way up the steep roads disturbs the silence.
Our car is already waiting in front of our very simple homestay. The driver is still sleeping, and so are we, but what can you expect in the middle of the night. Soon later, we sit in the car.
It's an old, bright red jeep that will take us up the mountains to watch the sunrise.
Probollinggo is located in the very East of Java and is famous for its volcanic landscape. It's right here, where the volcano Bromo is located – and this is where we are heading to right now.
It takes around 30 minutes and a couple of bump-holes to reach the peak. To watch the sunrise coming up over the volcanoes, you should not stand on the volcano but at the designated sunrise spot, located a little away from volcanoes.
The car is parked, and quickly we make our way up to the peak. Many people are standing here already, and while we have a little stop-over at one of the many tea spots, we soon find the perfect location and simply wait for the sun to rise.
It's dark, the sky seems to be cloudy, and the sunrise is nowhere near appearing. We wait. 20 minutes, 30 minutes, 40 minutes – and then it begins. Quickly the sky turns a little red, a little orange, and then bright yellow as the sun comes up behind the volcano.
This is beautiful! But this is not yet the end of our adventure.
As soon as the sunrise is over, we make our way back to the car and head to the actual volcano, downhill and right into something that seems to be a desert. Old and skinny horses make their way through the sandy grounds, but we decide to walk – to walk straight into the crater of the Bromo volcano.
The road is heavy, and so are the steep steps that get us to the crater, but the view is absolutely worth it. The sun is shining, the sky is blue, and the smoke coming out of the volcano adds a natural feel of adventure to it.
Absolutely stunning and something that will stick in our minds forever!
Anne & Clemens from Travellers Archive
11. Travelling Around Europe for 10 Months with a Dog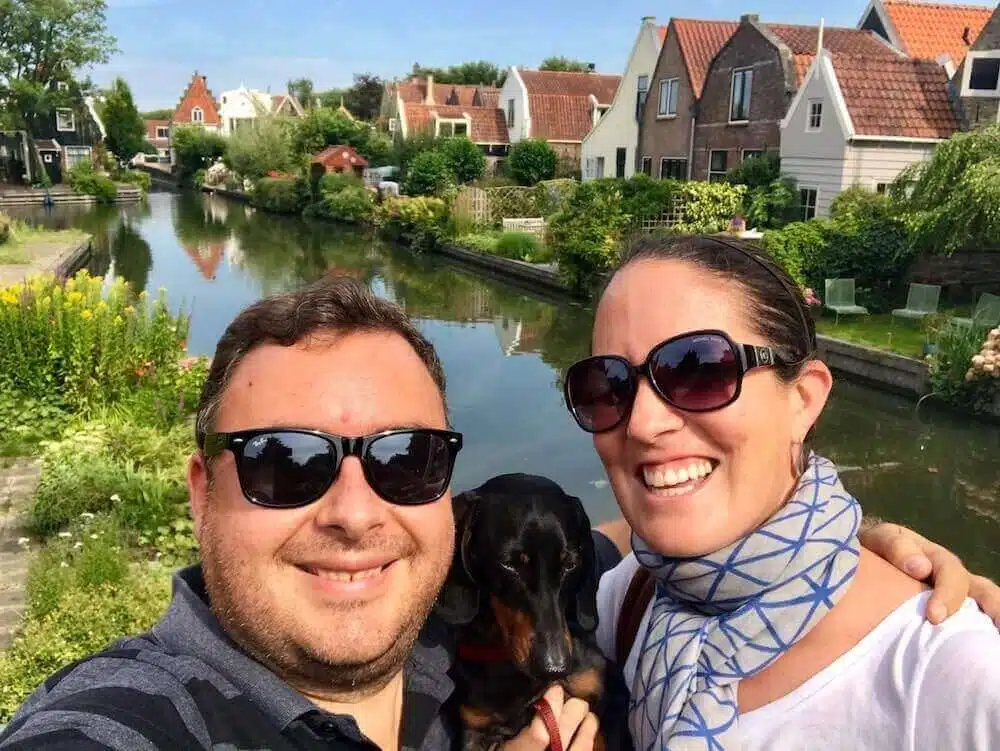 When thinking about adventure, the obvious ones that spring to mind generally take part in a grueling physical activity or venturing to dangerous and less-visited parts of the globe.
But not all adventures have to be of this kind: some adventures are more about challenging your comfort zone and exceeding your own expectations.
After getting a dog 5 years ago (when I was in a "settling down" phase), I never tried or expected to travel with him. My home country of Australia is not the most dog-friendly place, particularly for traveling, and heading overseas with him was out of the question, given the long flights and quarantine to get back in.
Fast-forward to 2016 when my husband and I decided to head off traveling long-term, and he headed to my parents for the duration of our 6-month jaunt to South-East Asia.
Back in Australia for Christmas, we started to plan our next and even longer trip to South America. There was just one problem: we were out of luck in any of our family agreeing to look after our dog.
And we were adamant that we wouldn't give him away. So there was only one solution: he was coming with us.
Given we had little experience traveling with a dog and South America didn't seem the most dog-friendly continent, we changed tack and decided to head to Europe, the most dog-friendly destination possible.
It would mean some changes to our traveling style and limitations ranging from hotels and Airbnbs that don't allow dogs to no cheap Ryanair or EasyJet flights. Not to mention dogs not being allowed in most museums, art galleries, and cathedrals, of which there are more than a few in Europe.
But despite the extra hassle, we've now spent the last 10 months traveling through 19 countries in Europe with our little man, and we wouldn't change the experience. If you had asked me this a year ago, I would have said it wasn't possible. But if you really want to make something work, there's always a way to make it possible!
Shandos from Travelnuity
12. Swimming with humpback whales in Tonga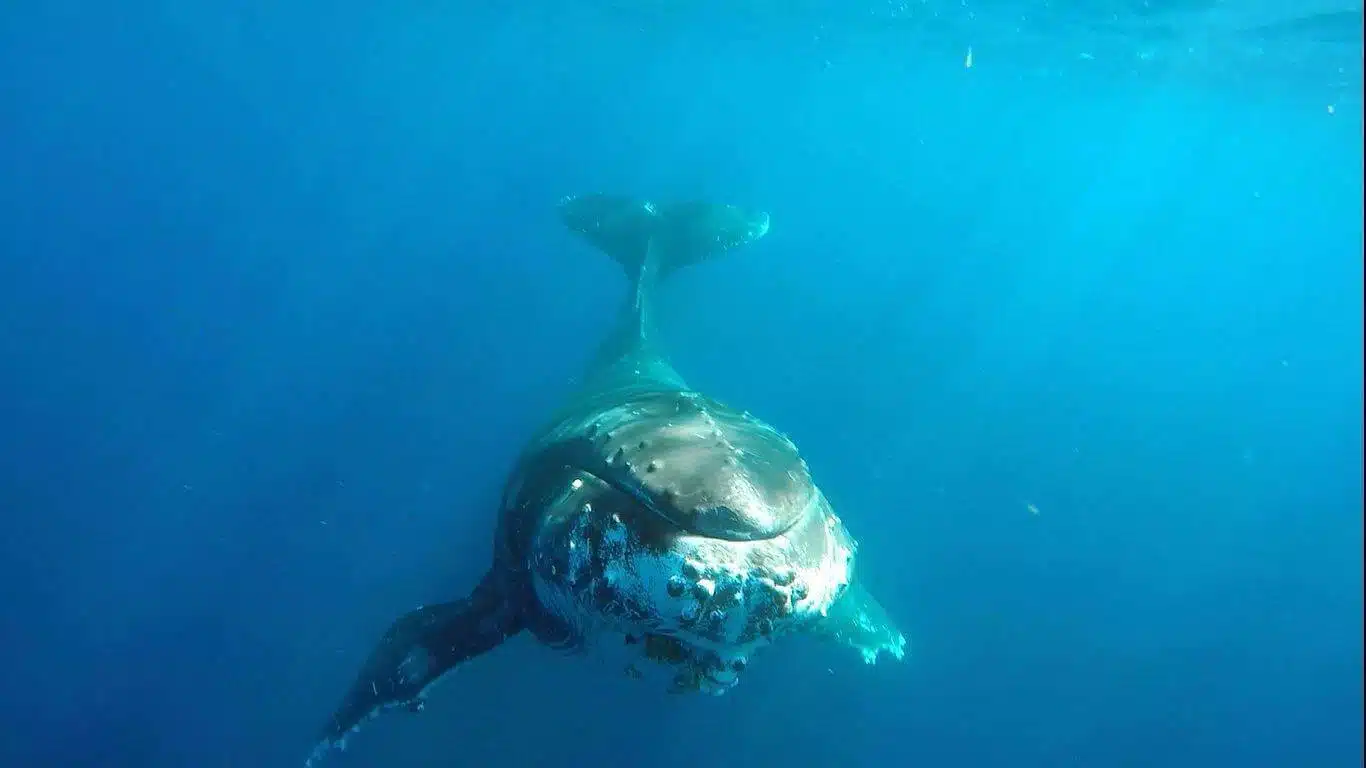 One of the best trips I've ever taken was to fly to Tonga to go swimming with humpback whales. It is one of the few places in the world where it is legal for you to get in the water with a wild humpback whale.
You are not allowed to touch the whales, and you must stay at least four meters away from the whales but getting in the water with a 36,000 kg whale is an absolutely amazing experience.
Tonga is just starting to get attention as a place to go because you can swim with humpback whales in the clear waters around the islands (there are strict regulations around this to keep the animals safe).
I flew to the island of Ha'apai, Tonga, which has a real laid-back feeling, beautiful palm trees, and a reef right outside our accommodation. I spent a week swimming with the whales as they come to Tonga for the shallow waters to birth their calves.
That's right; this is not a whale-watching excursion. You can actually get in the water with the whales and swim with them. That's when you realize just how big they are, and I kept saying in my mind, I can't believe I'm doing this!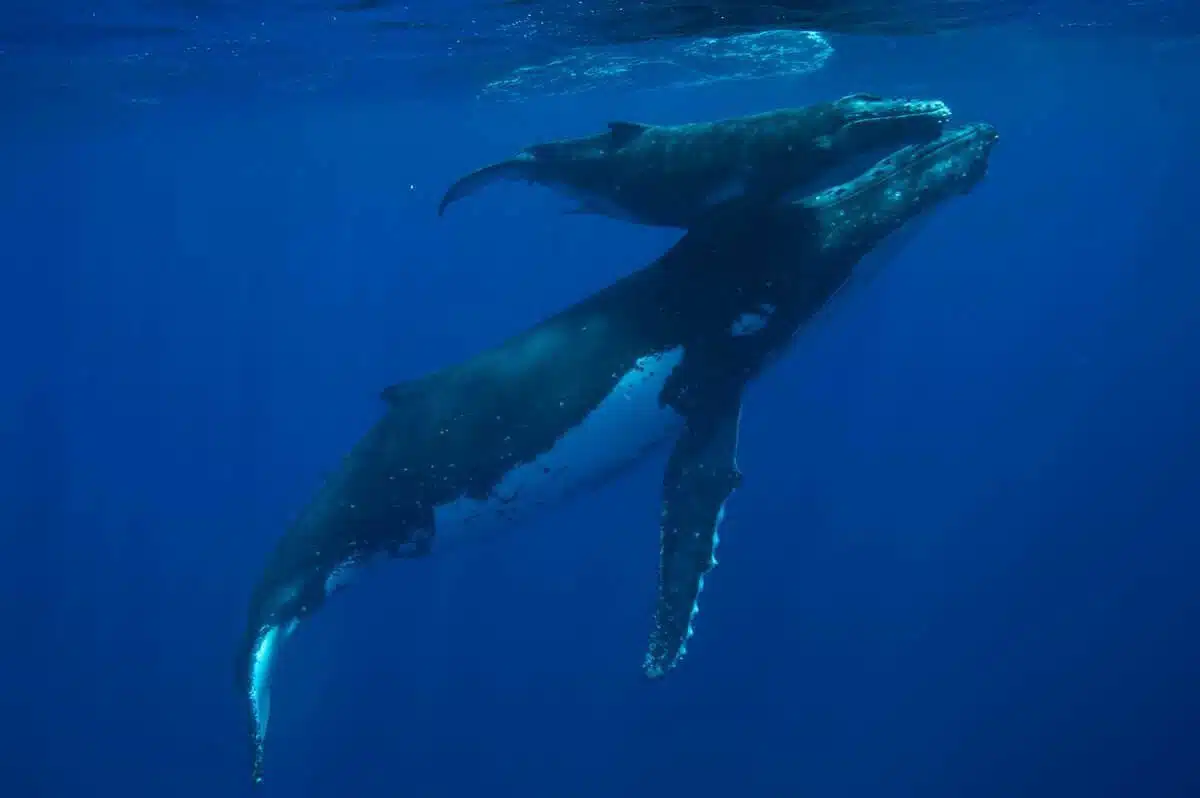 One of my favorite experiences from the week was a two-hour 'hang' with a mother and calf. You often see the baby whales first as they have to come up for air more often than their mothers.
The mother was just chilling at the bottom of the seafloor while the calf would come up to the top for a breath and then come check us out before returning to its mother.
It is almost like a 'beam me up' moment as the calf goes up and down as they can only hold their breath for 5-10 minutes while the mother can hold their breath for 30-40 minutes—definitely, a must-do experience.
Nicole from Travelgal Nicole
13. Tanzania Safari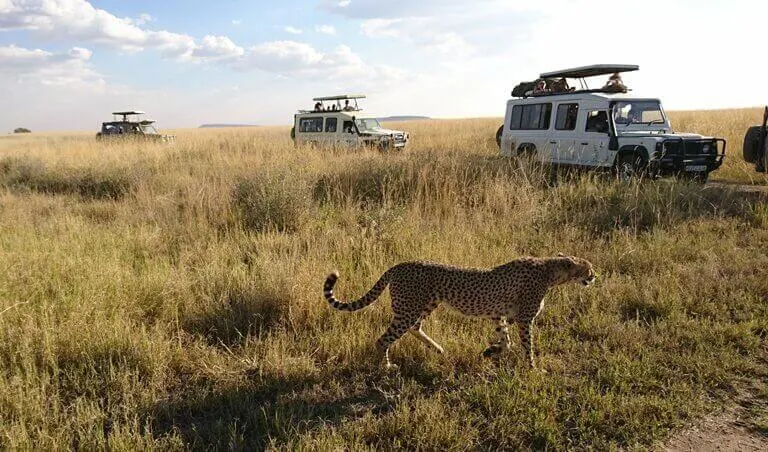 My greatest adventure of 2017 was a Tanzanian Safari. I experienced Arusha National Park, Lake Manyara, The Serengeti, and the Ngorongoro Crater during my six-day journey.
Each location was unique, with amazing views and diverse wildlife. I arrived in Africa nervous and uncertain, and I left with so many unforgettable experiences that I was truly sad to leave.
The day after arriving in Moshi, Tanzania, I took a day tour to Arusha National Park. What surprised me about this place was how lush and mountainous it was.
We drove past meadows filled with giraffes and zebra, followed dirt tracks through troops of monkeys, walked through rolling hills to a beautiful waterfall, and stopped for a short break by a lake filled with storks.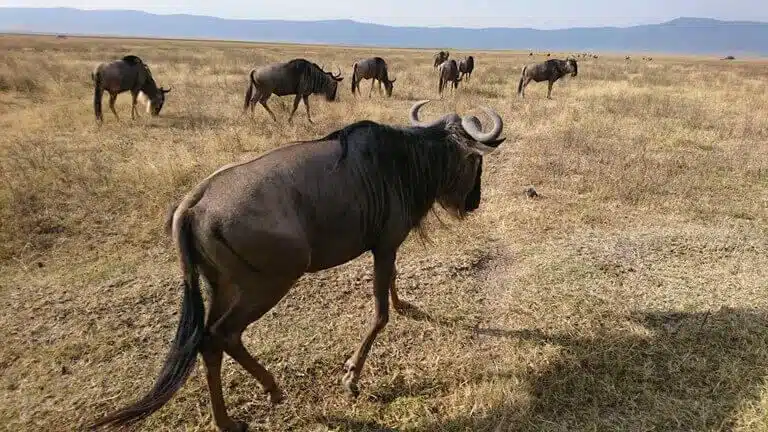 The next day I headed out on a five-day safari with a small tour group. Our first park was Lake Manyara – a dream destination for me as I have always wanted to see the flamingos.
What I found there was so much more. We watched elephants wander through the scrubland, saw giraffes, zebras, and wildebeest frolic on the shore of the lake, and gazed upon a truly beautiful marshland.
On the second day, we headed down the incredibly long washboard road to the Serengeti. After a short time in the park, we were so lucky to see three cheetahs cross directly in front of us!
Over the next two days, we would see lions lounging under acacia trees, gigantic herds of elephants wandering across the endless plains, a leopard stalking through the tall grass, and a seemingly endless array of giraffes, antelope, zebras, and wildebeest.
On the second day in the Serengeti, our driver took us out to a pool teeming with more hippos than I could count. We stayed in a tented camp for our two nights here, and on our first night, we heard lions roaring right outside our tent.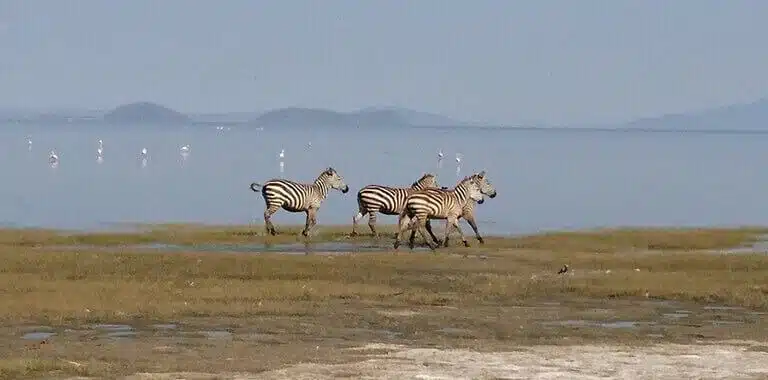 On the fifth day, we headed down the steep, four-wheel drive-only road into the vast caldera that is the Ngorongoro Crater. Unlike the Serengeti, where animals were spread out over vast distances, the animals of the Ngorongoro Crater were visible one after the other.
Amazingly, our driver even succeeded in his determination to find us a rare rhino!
At the end of my trip, I felt revitalized and so incredibly grateful. Being able to witness the beauty of nature up close was an unforgettable experience, and I can't wait to go back!
Mary from Lifelong Adventures
14. Zip Lining in Hawaii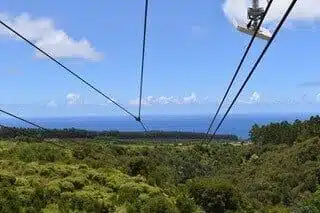 Our three-week trip to the Hawaiian Islands was filled with beautiful, unique, and exhilarating experiences. The Big Island of Hawaii was our first island to visit.
Helicopter rides, nighttime volcano watching, submarine diving, and jeep road trips were just a few of the new adventures on our itinerary.
Zip Lining was a little out of my comfort zone, but I was all in to give it a try.
Our day started with a ride over from the Fairmont Orchid to Hilo with our tour KapohoKine Adventures. We had a stop at their waiver sign-in center and to get weighed (not too excited about this part).
The ride up the mountain was scenic; however, be prepared for a very bumpy trail! Since my husband booked the tour, I did not ask many questions. No worries, I was filled in on everything at the extensive orientation.
It was here I discovered we were doing an 8 station, almost two miles long (the longest on the Big Island) and 160 feet in the air Zipline.
You receive all safety precautions, walking up onto the platforms, your harness, and the braking systems. I was very relieved to find out they are the only dual-track zip line to be right alongside my husband.
They alleviate some fears until it's your turn to step up on the platform and then the box. Did I mention I'm 54, and I am a little scared of heights?
The "box"; for some reason having to step up on a 2'x2' box and wait for the "go sign" was the most uncomfortable part for me.
So here we go, the first station is to give you a little taste, and it was fun! I was actually excited to move on to the next station. Each Zipline trip was amazing!
The feeling of flying through the air is incredible! The views were stunning in this tropical paradise, with the Pacific Ocean as a brilliant blue backdrop as you fly towards it.
Soon we were about to go over the rainfalls. At this station, I decided I just have to video, or I will regret it! Proud of myself that I could manage to let go of my "hold on for dear life grip."
Exhilarating is the best word to describe Ziplining in Hawaii. If you have plans to make sure you don't skip this activity that the whole family can do and really enjoy.
Sherrie from Travel by a sherrie affair
15. Exploring Muskoka, Ontario, Canada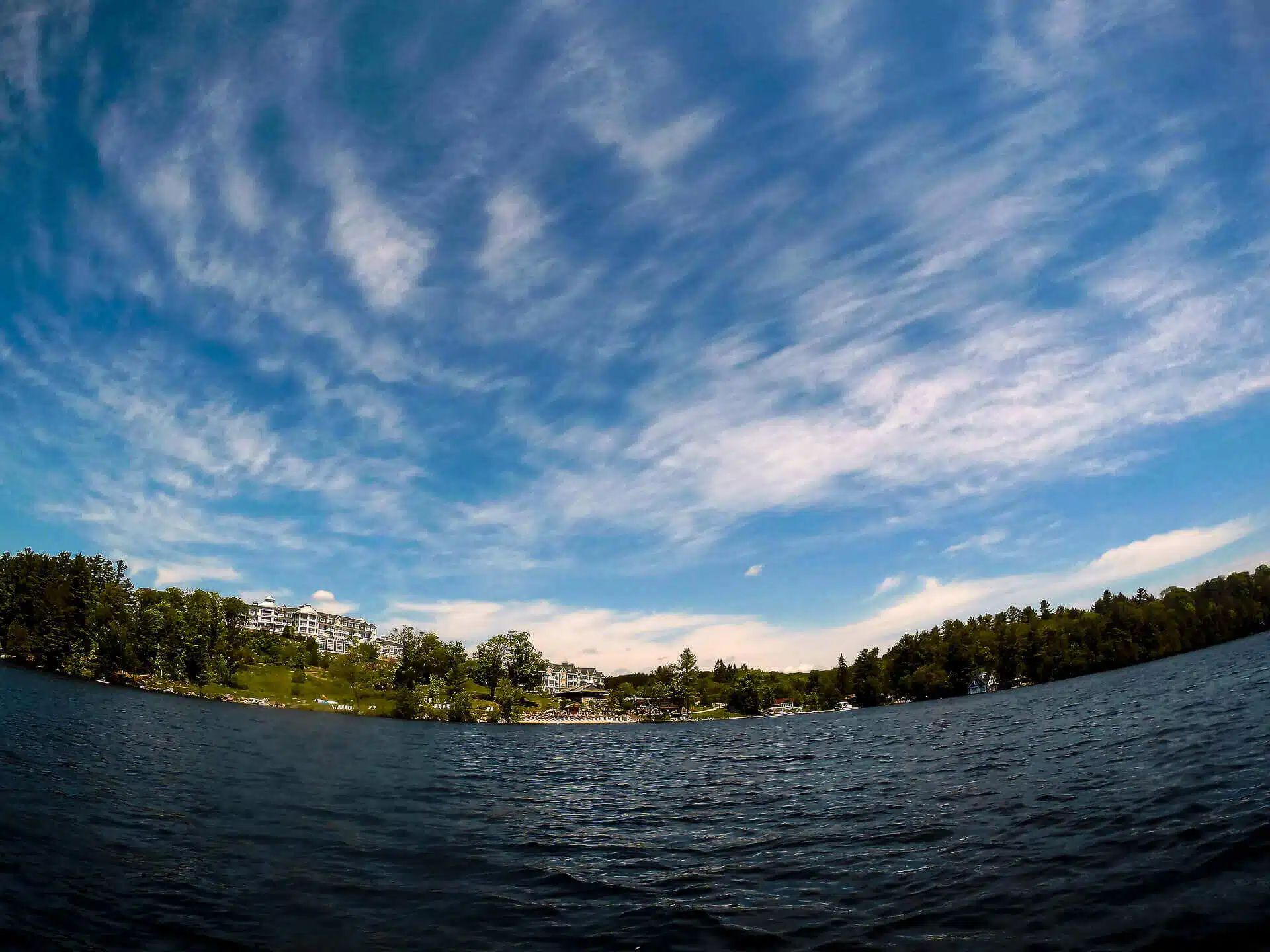 I visited Canada last summer, it's my first time there, and I'm really looking forward to seeing its breathtaking natural wonders. The perfect opportunity came when I joined my sister and her friends on their trip to Muskoka.
Muskoka, often referred to as the "cottage country' by the people of Toronto, is known for its stunning landscapes and the various recreational activities you can do there.
It is about 2 hours from Toronto; that's why many Torontonians have cottages there for their weekend getaways.
But for this trip, we just decided to book a lakeside hotel, the JW Marriot, The Rosseau Muskoka Resort, and Spa. It is a fantastic hotel with an incredible view of Lake Rosseau.
Aside from the pool, spa, and other hotel amenities, this is the perfect place for us because of its convenient location. It provides us easy access to explore the area. We rented their kayaks and canoes to paddle around the lake and toured the small islands while getting a good upper body workout and soaking up the sun.
I learned that Canadians love the sun, so they try to get more of it as possible when they can. We were also able to rent a bike to explore the surrounding areas of the hotel. They provided us with an easy-to-follow route map.
It's so cool to bike on their trail lined with colorful trees. We even got a chance to see some wildlife. We saw a deer crossing the road!
Another thing that we did while in Muskoka is visit a cranberry farm and winery. We had no idea how cranberries were grown and harvested before visiting this lovely place. We also did a short hike on their summer trail, which includes a self-guided eco-tour.
Overall, it is a pretty epic trip for me. It's my first time not only in Canada but also in North America. This side of the world left a great impression that I would definitely come back and explore some more.
Mark from Staycation Philippines
16. Diving with Manta Rays in Komodo National Park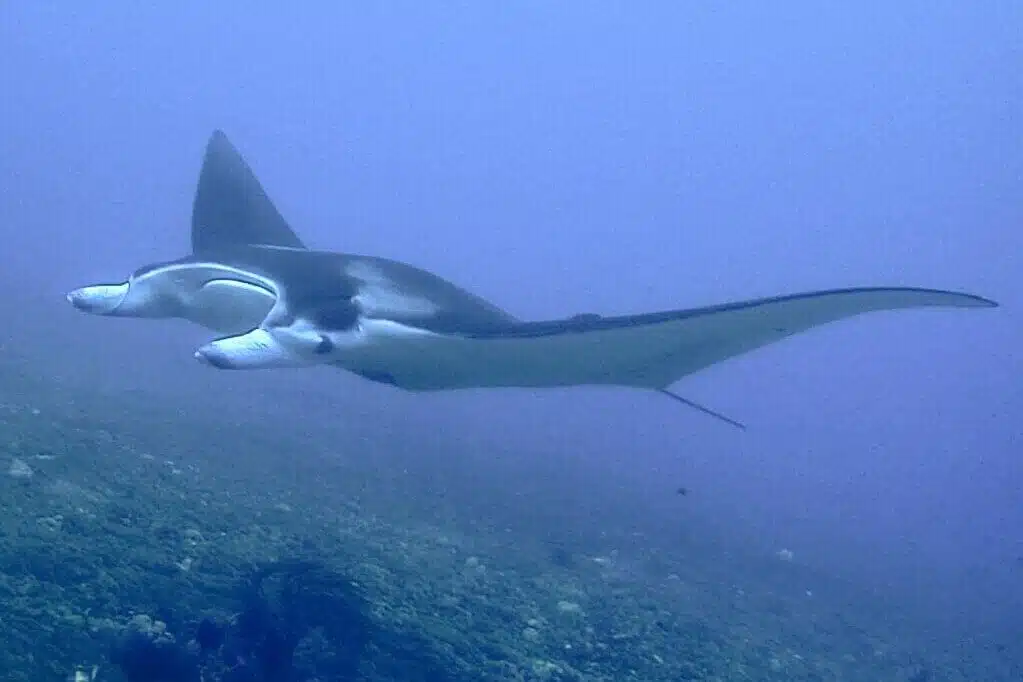 When I visited Komodo National Park, I knew I wanted to dive, but I didn't expect that the underwater world there would be the most beautiful thing I had ever set my eyes on.
I knew currents were strong in this part of the world and that it would be challenging, so I scouted Labuan Bajo on the island of Flores for a diving company that made me feel extremely comfortable and reassured about diving with them. I chose a small diving shop run by an Italian lady.
On my reconnaissance, I found that everyone was really passionate about the manta rays in the area. This made me extremely excited, but a bit nervous too – especially when I found out that manta rays were about 4.5 meters wide.
I had never seen a creature of such magnitude underwater.
The weather on the day of the dives was not looking great, so there was a chance that I may not be able to dive, and if it all went ahead, that the visibility wouldn't be that great.
So between the diving shop's 'sightings cannot be guaranteed' spiel (understandably) and the conditions, my expectations for the day were very low.
To my surprise, the first dive confirmed that underwater visibility was fantastic. The dive site was a spectacular garden of corals and an abundant population of turtles, but there was no manta rays insight.
The second dive was just as breathtaking as the second one, colorful and full of life as if you were inside an aquarium. It wasn't until the third dive that the real magic happened. The dive started over a sandbank with hardly any corals.
We spotted lots of small creatures such as flamboyant cuttlefish, harlequin crabs, and nudibranchs. Suddenly, this big majestic creature looking like a cross between an underwater bird and a bat, started approaching us.
Gliding through the water, batting its 'wings' it looked like it was flying. We had to stay still to avoid disturbing it, which was really hard with all the excitement. After the first manta ray, another came, and another, and another… I counted seven in total! And what a sight they were!
That was the day I fell in love with such wonderful creatures.
Needless to say, I went back the next day for more, and I can't wait to do it all over again next year.
Teresa from Brogan Abroad
17. Visiting the Elephant Valley Project in Cambodia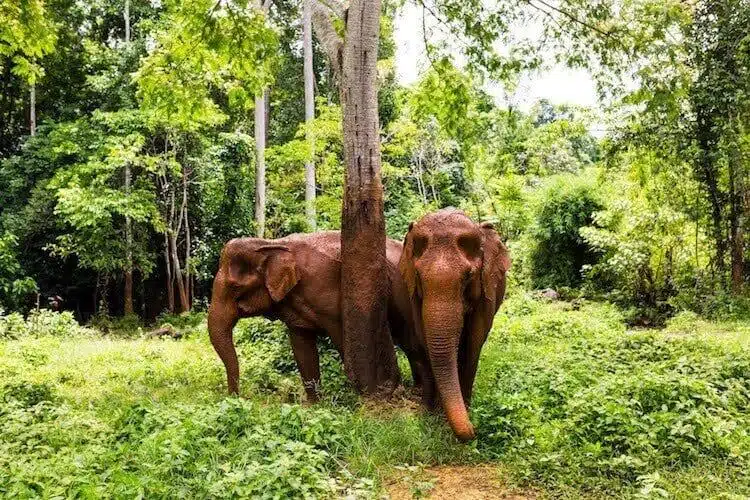 As eco-tourism is becoming more widespread, travel companies are slowly following more ethical and sustainable practices.
That's why I was intrigued by the Elephant Valley Project (EVP) based in Mondulkiri in what is known as the Wild East of mostly unexplored Cambodia.
They tout their services as completely sustainable and geared toward rehabilitating once captured and harshly treated elephants. After seeing the poor elephants used as vessels to carry overweight foreign families around Angkor Wat, my heart sank.
So trekking in the jungles of Mondulkiri to see elephants frolicking in the wild did seem like a refreshing adventure. While there were some comments on how the EVP gained their land where the elephants could roam, the treatment of the animals seemed up to scratch, and I decided to check it out.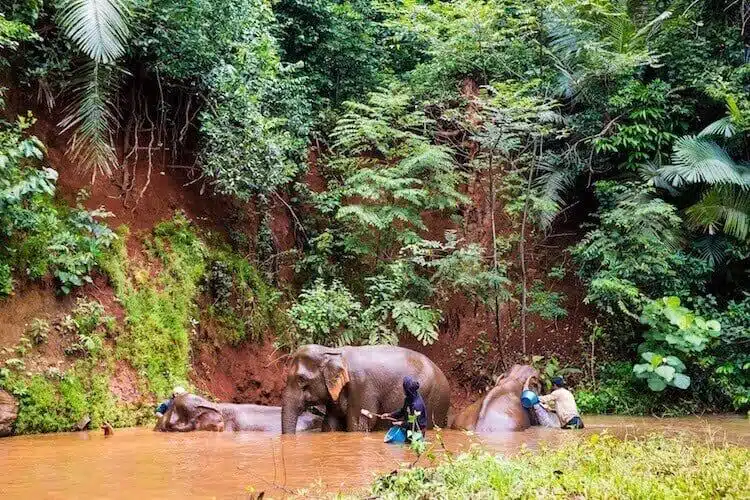 Arriving at the offices was a treat as it also acts as a coffee shop. After a short briefing, around 20 of us (some volunteering, some paying for the excursion) were packed in a bus and headed toward the jungle. There were three guides with the group, including foreign and local, and they were extremely knowledgeable on both the area and elephants in general.
We hiked down the hill in what seemed like an oven of rainforest and ended up at the stream. We waited for about 10 minutes until we finally heard a rumbling in the bushes and the distinctive sound of the mahouts shouting their calls to their assigned elephants.
They descended the hill across from us, just in time for their morning bath. These elephants are all rescues, and the EVP teaches them to be elephants again. For example, most of them don't know that they need to wash themselves every day to get rid of excess mud. So the mahouts teach them.
It was a magical sight to behold.
The ellies move around freely and cannot be ridden or washed (other than by the mahouts), so the group followed them as they moved around the jungle.
We heard their distinct trumpetings and grunts and learned that there was a hierarchy in the newly formed group with a matriarch, guardian, and so on. We took a break at the EVP stay, where most of us fell asleep among the lush greenery after a buffet lunch.
We then joined the ellies one last time before hiking back up to the bus. Overall, the trek was arduous due to the heat, but seeing the elephants in the wild, just being happy elephants, warmed my heart and gave me faith in people's respect for nature.
Callan from Singapore N Beyond
Best VPN for Travel: ExpressVPN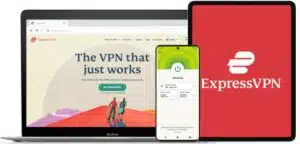 Heading abroad? Use ExpressVPN to access your social media accounts, unblock your favorite entertainment sites, and stay connected with friends and family. And get cheaper flights, of course.
Pros
✅ Next-gen, high-speed servers in 94 countries
✅ Works on iOS, Android, Windows, Mac, Linux, browsers, and more
✅ 256-bit AES encryption protects your data, even on hotel Wi-Fi
✅ Unblocks Netflix and other streaming sites
Cons
❎ No dedicated IPs
Get 3 extra months free of ExpressVPN when signing up for a 1-year plan. That's a 49% saving and a monthly cost of just $6.67! You also get a 30-day money-back guarantee.