The ultimate list of best places to visit in Hampi and best time to visit Hampi. Check out this 2-day itinerary to plan your trip to Hampi, India.
Hampi, a small village in the south Indian state of Karnataka, is every traveler's dream destination. And that is because of two reasons.
Hampi's boulder-strewn landscape interspersed by the River Tungabhadra makes it extremely photogenic.
Additionally, existing ruins from Hampi's days of being the capital of mighty Vijayanagara Kingdom make it the perfect getaway for history lovers.
Dotted all over with hundreds of boulders and numerous Hindu temples from the 14th century, Hampi is often referred to as "poetry in stone".
We were keen to visit this UNESCO heritage site on our recent trip to Karnataka and set aside two days to do so.
To be honest, 2 days felt a little too short to explore this once prosperous city. But we could do a lot with a little planning.
And here's how our 2-day itinerary of Hampi panned out.
Day 1
Morning: Virupaksha Temple and Hampi Bazaar
We decided to start our day with a trip to the Virupaksha temple which, along with the Hampi Bazaar, forms the heart of the city.
The Virupaksha temple was built in the 7th century but got its current form in between 14th-15th centuries. Today, it is a living temple and worship to Hindu God Shiva is offered here every day.
The temple is unique because of several reasons. The walls and ceilings of the temple are covered with vibrant and some excellently preserved murals.
An elephant lives within the temple premises. And there is a spot deep inside the temple where you can see an inverted shadow of the entrance gateway!
No doubt, this is a popular spot in Hampi – for locals and tourists alike. As you walk toward the temple, you can also check out the Hampi Bazaar on both sides.
Old pavilions supported by pillars stand in stark contrast to the smaller, more modern shops that have come up right by the side. It is fascinating to imagine that this used to be a thriving marketplace 600 years ago.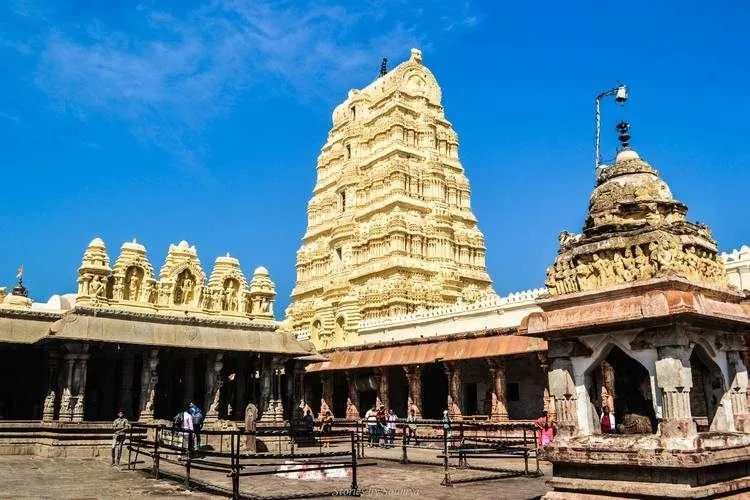 Hemakuta Group of Temples
After getting done at the Virupaksha Temple, we headed right up to the Hemakuta Group of Temples on the hills behind Virupaksha.
The Hemakuta temples are a cluster of smaller but unique temples on the Hampi trail. Unique because their architecture is very different from the Dravidian architectural style used in other temples of the region.
These temples are quite similar to the Jain temples of northern India. Strange connection!
Dotted with more than 35 shrines, the Hemakuta hills present an impressive sight. We spent more than an hour here exploring many of them.
Insider Tip: You will find many boulders and pillared mandapas (assembly halls) on the Hemakuta hill if you are looking for that perfect Instagram shot.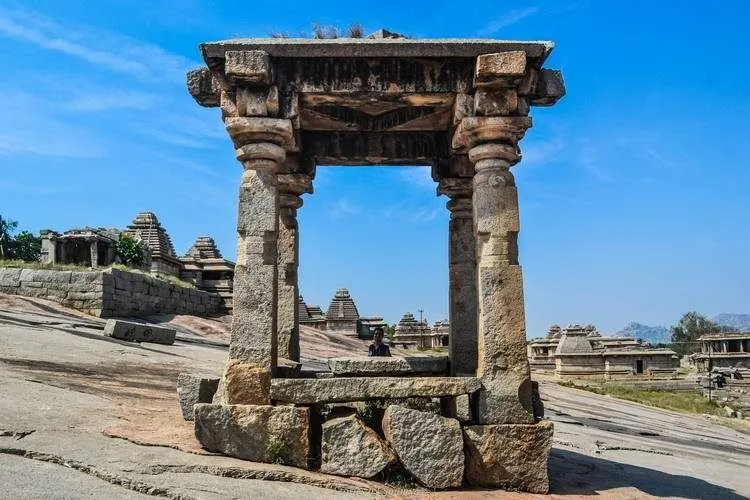 The Ganeshas of Hampi
When you are in Hampi, you must pay a visit to the Ganeshas (Hindu God of Wisdom) of Hampi.
They are the Sasivekalu and Kadalekalu Ganeshas. These are giant monolithic idols that draw tourists from near and far.
Sasivekalu Ganesha is located right behind the Hemakuta temples. So, you can easily walk to it.
Kadalekalu is a few minutes away by tuk-tuk or bicyle.
Lunch
By the time we were done with the Ganeshas, we were hungry and decided to stop for lunch.
The best restaurant in Hampi, without a doubt, is Mango Tree which is located right behind the old Hampi Bazaar.
The restaurant has a decent variety of dishes with some continental options on the menu as well.
I highly recommend having one of their fresh fruit juices. They are delicious and provide much-needed rehydration.
Afternoon: Krishna Temple
Once done with our lunch and after lounging around a bit on the comfortable mats of Mango Tree, we decided to head out to the exquisitely carved Krishna Temple, one of the most sacred shrines of Hampi.
The Krishna Temple was built by King Krishnadevaraya of the Vijayanagara empire to commemorate his victory over the eastern state of Odisha.
This place does not see many tourists. And there are high chances that you may find the place entirely to yourself.
Look up to find many stories carved on the walls of the temple. Towers and columns are adorned with numerous carvings of warriors, elephants, horses, and beautiful damsels.
This place is a photographer's dream come true. We marveled at the architecture of the Krishna Temple and clicked a number of pictures until we decided to move on to the most adventurous part of our trip – a coracle ride.
Coracle ride on the Tungabhadra
Have you heard of a coracle?
These are round boats that were used to ferry people in the olden days. At Hampi, you get an exclusive opportunity to ride a coracle on the river Tungabhadra.
30 and 60-minute rides are available. During the ride, you will see many temples carved into the boulders of Hampi.
There are stairs at some places that you can climb up to see the temples up close. The highlight of the ride is getting under a boulder and feeling the cool underneath.
It was nature's AC – our guide told us! A helmsperson will ferry you to the end and back.
And at the end, he will give you a spin if you want one (please say no if spinning causes dizziness). That spin was one of my most memorable ones.
The coracle ride is located right beside the Kodanda Rama Temple behind the Hampi Bazaar. They are open between 6 am – 6 pm every day.
Insider Tip: I recommend taking a coracle ride early in the morning or at dusk to avoid the heat.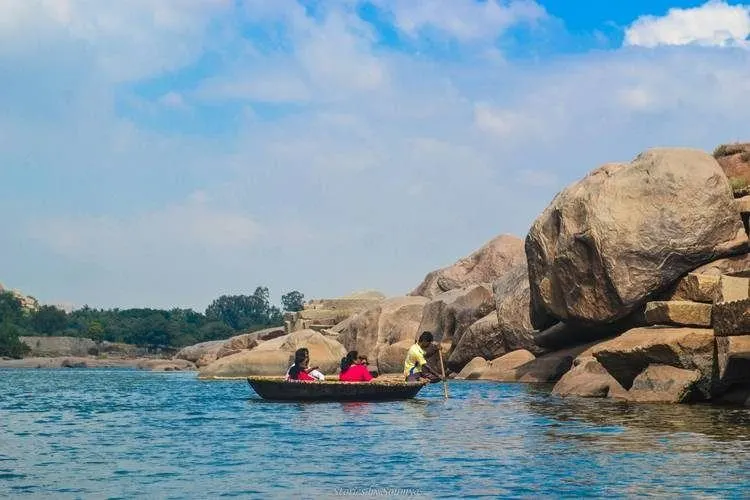 This was how our first day at Hampi looked like. After a hectic but exciting day of exploring 14th century temples and appreciating the bouldered-terrain of Hampi, we went back to our hotel to get some sleep.
We could only look forward to the next day.
Day 2
Morning: Vijaya Vittala Temple and its Musical Pillars
I was really excited when I woke up the next morning. Today we were going to visit the Vijaya Vittala temple which is one of the most iconic remnants of the Vijayanagara empire.
Worship is no longer offered here. However, the temple is adequately preserved and possesses beautiful carvings, 56 pillars that create music, and an ornately-decorated stone chariot.
It is believed that the chariot was inspired by the sun temple of Konark, another UNESCO heritage site in eastern India.
Look carefully under the hood to see remains of colorful murals from 700 years ago. The musical pillars were all put to action during special occasions of the state in the ancient times.
I could only imagine the symphony all of them created together. You can go for a stroll on the dusty track behind the temple to spot pillared mandapas of various sizes.
Make sure you visit what remains of the King's balance. The king was once weighed in gold here, after which the gold was donated to the poor.
The walk transported me to a different era altogether.
Insider Tip: Getting a local tour guide is highly recommended to view the chariot murals and listen to the musical pillars.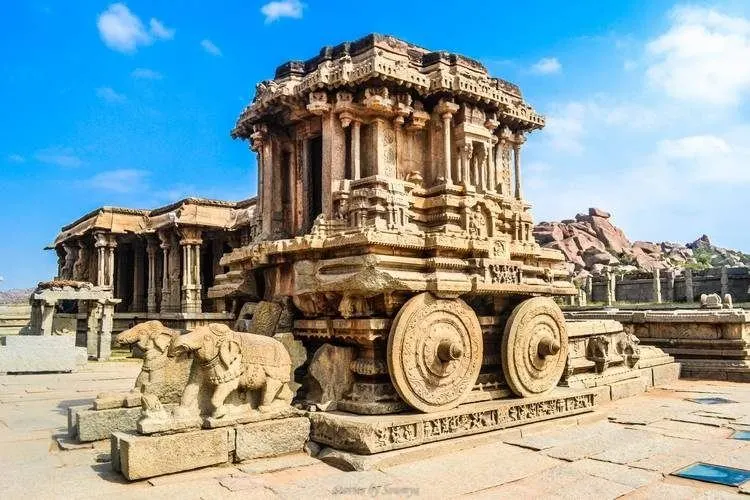 Late Morning and Afternoon: Underground Shiva Temple
Once done at the Vittala temple, I suggest you have an early lunch and head south to the underground Shiva temple, a curious addition to the Hampi group.
I say curious because the temple was built many meters below the ground level and gets filled up with water every rainy season.
No one knows the real reason for the temple being constructed so. It is speculated that it was used for private ceremonies of the royal family that were not supposed to be seen by public.
Quite intriguing, isn't it?
After visiting this interesting shrine, we headed straight to Hampi's royal enclosure.
It is often believed that Hampi is all about beautiful temples.
However, that is not quite true.
Equally precious are Hampi's royal monuments – palaces, public quarters, pavilions, and stables. I propose you reserve a minimum of half a day to check out Hampi's royal ensemble.
The Royal Enclosure
Hampi's royal enclosure was the seat of power of the Vijayanagara kingdom. It was here where many important decisions were made.
The architectural style, unlike those of the temples, is not distinctly Dravidian. Islamic influences can be seen all over.
At the royal enclosure, you can see the Mahanavami Dibba – a raised platform that was used for celebrations and festivals, an aqueduct, a step-well, and even an underground chamber that the king used for hiding from his enemies.
Queen's Bath
Right outside the entrance of the royal enclosure is the Queen's bath, a massive bathing place for the women of the royal family.
The exterior may not seem impressive but once you enter the bath, you will realize the effort that was put into carving the interior.
Adorned with arches and beautiful balconies with jaali windows on them, the Queen's bath is a visible representation of Indo-Islamic architecture.
If you are keen, you can also spot fresco remains underneath these arches.
Lotus Mahal
Once done with the royal enclosure, you can walk to the Zenana enclosure (women-only area), only 10 minutes away.
There are a few monuments within the Zenana enclosure that need special mention. One of them is the Lotus Mahal.
The royal women used the Lotus Mahal for socializing. It is called so because its arches and domes give it the shape of a half-opened lotus bud.
The structure of Lotus Mahal makes it very Instagrammable. There aren't many tourists around. So, it's easy to get a moment alone with the monument.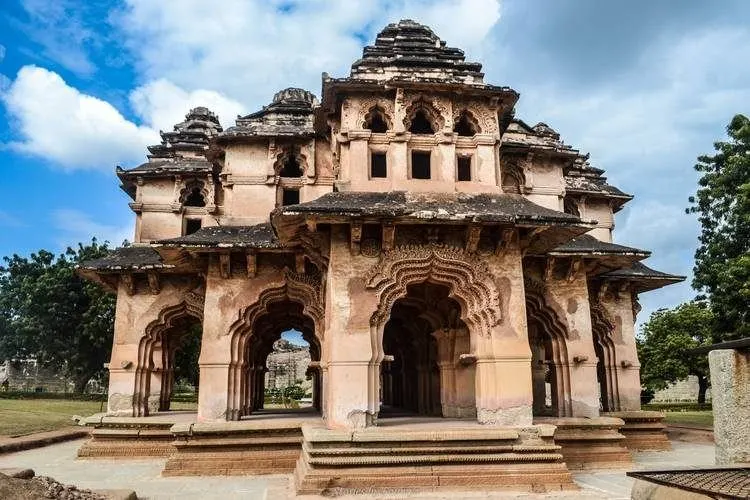 Elephant Stables
After clicking some amazing pictures with the Lotus Mahal, we walked a few meters to check out the Royal Elephant Stables.
The stables are considered to be one of the greatest examples of Indo-Islamic architecture. This makes them an important stop on every tourist's itinerary.
These are no ordinary stables. Rather an impressive structure befitting the royal animals.
The monument suffered little damage over time and hence, it is available in its full glory. Each of the stables has a tall dome and an arched walkway.
Some of the domes are interconnected. And many have small resting places for mahouts.
You can also catch a glimpse of stairs that lead up to the roof somewhere in the middle of the structure. The Elephant Stables was our last stop on our 2-day itinerary of Hampi.
After a satisfied day of exploring the royal remains of the Vijayanagara kingdom we went back to some fresh fruit juice at Mango Tree.
While sipping on my juice and checking on my pictures, I realized what an interesting tour it had been. We had done so much. Yet, there was so much left!
I definitely, have to come back again.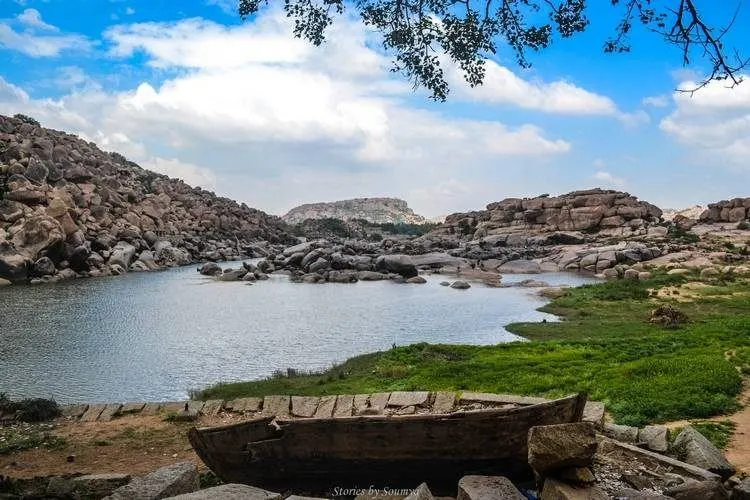 Best time to visit Hampi
Hampi is located in the tropical belt and experiences really hot summers. Plus, most of the ruins are out in the open.
Rocky terrain and lack of trees can make the heat unbearable even in the shoulder season.
Therefore, it is ideal to visit Hampi in the winter months of December and January so that you can make the most of your days here.
November and February are also doable. But make sure you carry lots of water, sunscreen, and a hat when you set out to explore.
Where to stay during your trip to Hampi?
There are two main areas in Hampi that you can stay in.
One is near the Hampi Bazaar, where you will find several guest houses and homestays – mostly budget options. Meat and alcohol are not served in this area.
Another is on the opposite bank of Tungabhadra, also called the Hippie Island. You can find meat and alcohol here.
If you are looking for family-friendly accommodation, it is a good idea to check out hotels in nearby towns such as Hospet and Kamalapur.
In these places, you will find decent hotels suiting every budget. Convenience stores are abundant, and so are eateries.
How to get to Hampi?
You can get to Hampi by road, rail, or air. The closest railway station is at Hospet, 13 km away. You can take a taxi or tuk-tuk from the station.
The nearest domestic airport is in Bellary, 60 km away from Hampi. Once again, you can take a taxi from the airport to reach Hampi. A lot of tourists also drive in from Bangalore for weekend trips.
Tip: Book a 2-Day Sightseeing Tour to Hampi from Goa.
About Soumya
Soumya is a passionate traveler who loves to explore the history and culture of every place she visits. An ardent lover of ruins and archaeological sites, Soumya's childhood dream was to visit the Chariot Temple of Hampi one day. She is so glad she could make it there. Soumya chronicles her experiences on her travel blog, Stories by Soumya.
Follow her on Facebook, Twitter, and Pinterest.
Best VPN for Travel: ExpressVPN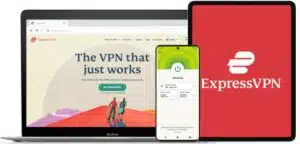 Heading abroad? Use ExpressVPN to access your social media accounts, unblock your favorite entertainment sites, and stay connected with friends and family. And get cheaper flights, of course.
Pros
✅ Next-gen, high-speed servers in 94 countries
✅ Works on iOS, Android, Windows, Mac, Linux, browsers, and more
✅ 256-bit AES encryption protects your data, even on hotel Wi-Fi
✅ Unblocks Netflix and other streaming sites
Cons
❎ No dedicated IPs
Get 3 extra months free of ExpressVPN when signing up for a 1-year plan. That's a 49% saving and a monthly cost of just $6.67! You also get a 30-day money-back guarantee.