Over the years, Malaga Province has become a hip place for resort tourism, and most travelers come for the beaches, tapas, and cheap drinks. But the Andalusian province is an incredible playground for outdoor enthusiasts and hides a myriad of fun activities.
Written by Linn from Andalucia Hiking
With a coastline protected by endless mountains hiding deep ravines, intriguing caves, lush rivers, pristine waterfalls, and turquoise lakes, only your imagination can stop you when it comes to outdoor pursuits.
Best VPN for Travel: ExpressVPN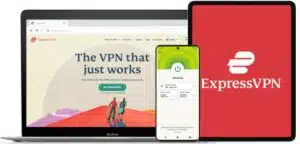 Heading abroad? Use ExpressVPN to access your social media accounts, unblock your favorite entertainment sites, and stay connected with friends and family. And get cheaper flights, of course.
Pros
✅ Next-gen, high-speed servers in 94 countries
✅ Works on iOS, Android, Windows, Mac, Linux, browsers, and more
✅ 256-bit AES encryption protects your data, even on hotel Wi-Fi
✅ Unblocks Netflix and other streaming sites
Cons
❎ No dedicated IPs
Get 3 extra months free of ExpressVPN when signing up for a 1-year plan. That's a 49% saving and a monthly cost of just $6.67! You also get a 30-day money-back guarantee.
So let's dive into some of the best outdoor activities in Malaga Province.
Read also:
Top outdoor activities in Malaga Province
1. Hiking in Costa del Sol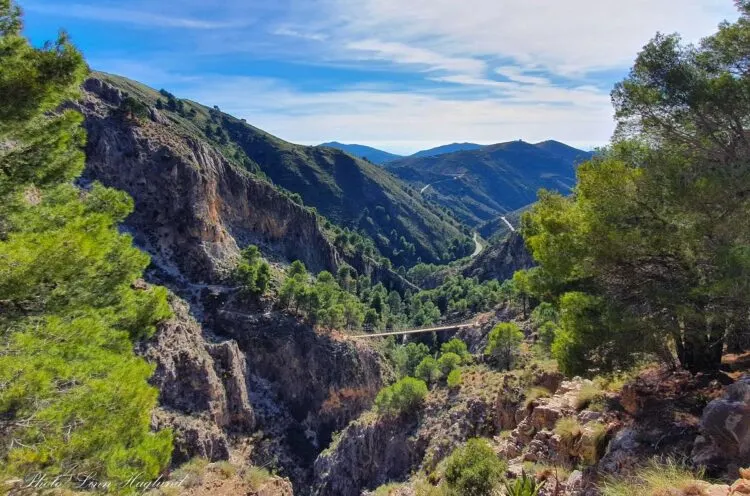 One of the most underrated activities in Malaga Province is hiking. The Costa del Sol is flanked by mountains that offer incredible coastal views, and there are long, difficult treks and easy day hikes to choose from.
La Maroma (2066 masl) is Malaga's highest peak, is, without a doubt, a bucket list hike. There are different routes to get there that all require a reasonable fitness level.
It can be hard if you have no hiking experience, and it's recommended to bring hiking poles and layers of clothes, especially windbreakers, as you might experience large changes in weather conditions from the bottom to the top of the peak.
Another completely underrated route is the El Saltillo trail. Featuring the 3rd longest hanging bridge in Spain and sections where the path is pinned onto the vertical cliff wall resembling the famous El Caminito del Rey, this is an incredible day hike!
But the whole coast is packed with memorable hiking trails like Pico del Cielo and Rio Chillar in Nerja, Pico de Mijas and Pico Castillejo in Sierra de Mijas, or La Concha and Cruz de Juanar in Marbella.
The coastal views are brutal, and on a clear day, you'll see all the way to Africa.
2. Rock climbing in El Chorro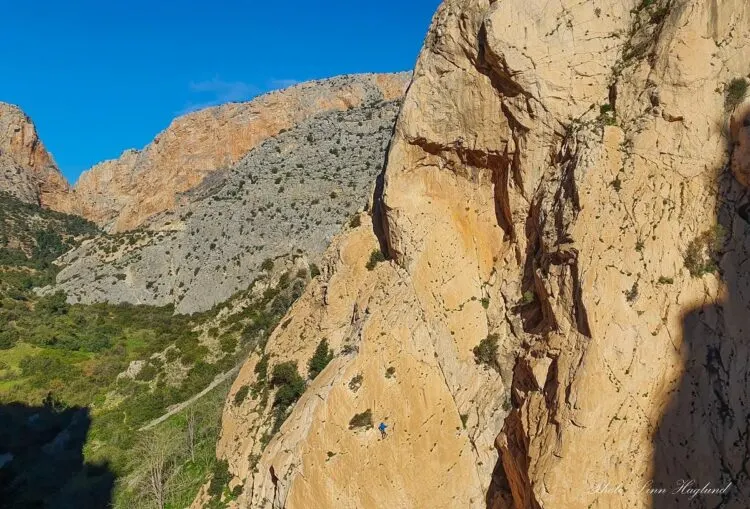 El Chorro is most famous for El Caminito del Rey and its mesmerizing turquoise lakes. But the truth is that this area of Malaga is a popular rock climbing spot.
Before you get to the ancient Arabic Staircase (which is a stunning family hike), you can enjoy exciting rock walls and meet other climbing enthusiasts.
It is even possible for the more seasoned climbers to climb in the famous Desfiladero de Los Gaitanes Gorge along El Caminito del Rey.
If you have ever walked this famous walk, you might have spotted a person or two hanging on the opposite wall from the path just before the bridge.
3. Explore Minas de la Trinidad caves in Benalmadena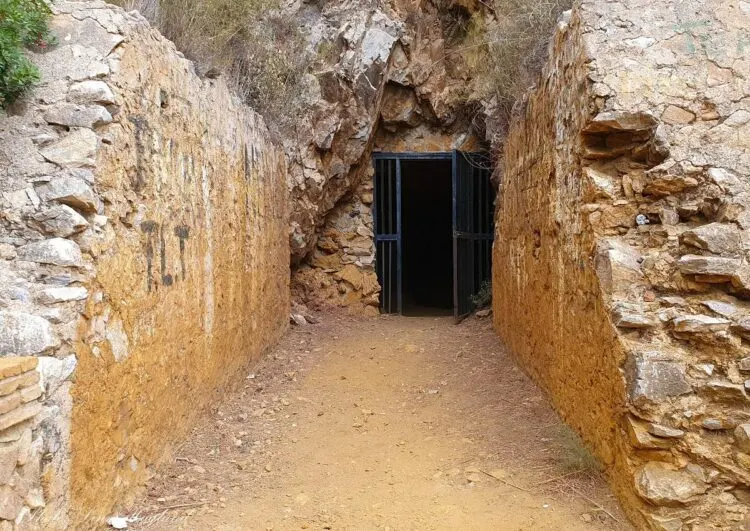 Only a 30-minute walk from the Stupa of Enlightenment in Benalmadena, you'll get to Minas de la Trinidad, a cave system that is easy to reach for the whole family and fun to explore.
Walking up from the stupa, turn left at the end of the road and continue up under the motorway. Keep walking up towards the left and follow the trail until you see the cave.
You need to bring a headlamp to explore it as the light from the outside only reaches so far. While it is not a guarded site, there have been painted indicators inside, so you won't get lost or enter places with steep drops if you follow the arrows.
Yet, keep in mind that you have to be careful of where you go. This is an exciting adventure in Malaga that not many tourists know about.
4. Trail running in Costa del Sol
Sierra de Tejada, Almijara y Alhama Natural Park is popular among trail runners with many trails. Popular routes go from Nerja Caves, where there are endless trails frequented by trail runners, hikers, and bikers.
If you are looking for a real challenge, head up Pico del Cielo. The last 400 meters are extremely steep and a lot of scrambling, but there are astounding views just below and wonderful trails for running.
Also, Sierra Blanca behind Marbella is great for trail runners if you stay away from the popular hiking trails. If you like to run steep trails, Sierra de Mijas has many stunning trails to run from different starting points.
You can also drive to the top of the peak, where the antennas overlook Fuengirola and Malaga, and start your run from there. There are different routes whereof some are extremely steep downhill (and back up), and there are others that are more moderate.
5. Cycling in Torremolinos
There are endless cycling tracks throughout the mountains behind Torremolinos. In the winter months, it is popular to head up the road towards Mirador del Lobo, stunning viewpoint renown for a statue of a wolf.
However, looking past this popular spot, there are tracks taking you to Benalmadena or even Alhaurín de la Torre that is awesome for cycling.
But be mindful between late December and May as processionary caterpillars are crossing the tracks, and as they spin up in your wheels and hit your legs, their hair might create allergic reactions when in contact with the skin.
Make sure you look up for them and avoid cycling on them, and you'll be fine. Hint: They usually walk in processions, so you see them in long lines on the ground.
6. Beach volley in Fuengirola
One of the most fun summer activities in Malaga is beach volley. You can get beach volley net and ball for a reasonable price at Decathlon, or you can ask to join any of the players you see on the beach.
It is a popular sport for friends to enjoy on the beach during the summer months and an effective way to make new friends. After a good ball game, it is only a short run to cool down in the sea at sunset.
7. Kite surfing in Estepona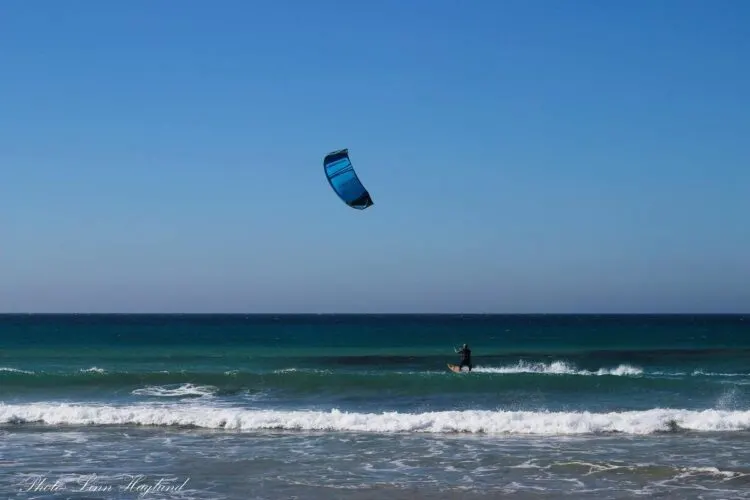 One of the most exciting outdoor activities in Malaga that you can enjoy all year round is kite surfing. In the shadows of the more popular Cadiz beaches, especially Tarifa, Guadalmansa beach in Estepona is a great place for kite surfing, even for beginners.
It is wonderfully windy for this sport all year round. You will need a long wetsuit in the winter months, but in the summer, you will be fine with shorts as the water is warm.
There are kitesurfing schools in Estepona, so you can start learning if you are new to this fun sport.
8. Stand up paddle boarding and snorkeling in Nerja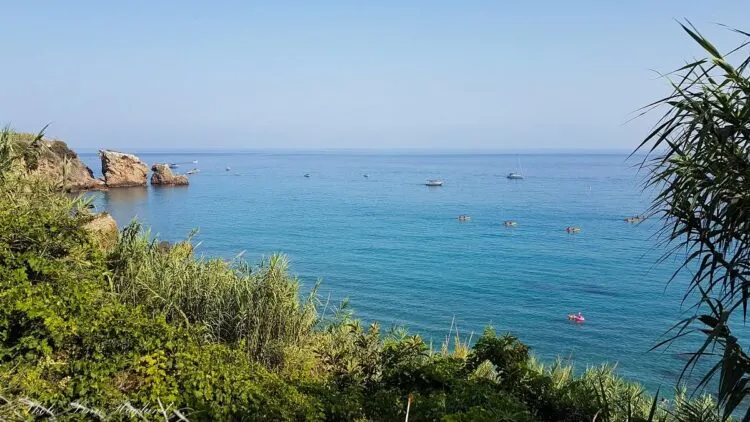 Nerja is renowned for the mesmerizing coast along Maro with crystalline water, underwater caves, glittering waterfalls, and unspoiled beaches.
The best way to explore this coastline is by stand-up paddleboard and snorkeling. You can rent a paddleboard in Burriana beach and head out either on a guided tour or by yourself to explore.
This is one of the most impressive waters in Malaga, with hidden beaches you can only reach by sea or by hiking. Under the surface, you can explore a variety of fish and caves.
Spending a day out with the paddleboard in Nerja is one of the best outdoor activities in Malaga during the hot summer months.
9. Kayaking in El Chorro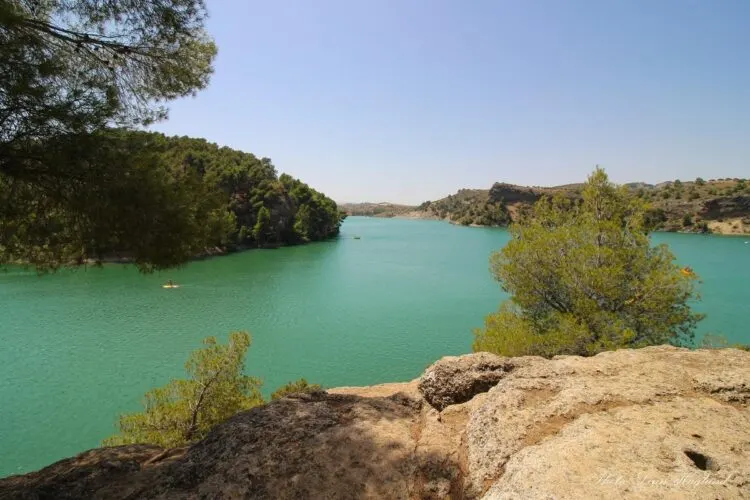 The refreshing lakes of El Chorro are becoming more and more popular each summer. Families and groups of friends spend the weekends by the astounding turquoise lakes camping, picnicking, swimming, walking, and kayaking.
Over the years, even more tourists have found this once hidden corner of Malaga. Kayaking is the best way to explore the grandeur of the lakes, the quieter areas, and the best spots for cliff jumping.
But don't forget your sunscreen as the scorching sun is unforgiving when on the water.
10. Scuba diving in Nerja
The coast of Nerja, including the breathtaking Acantilados de Maro-Cerro Gordo Natural Park, is jam-packed with unique diving spots for all levels.
There is a large variety of marine life, from octopus and scorpionfish to sward fish and dolphins. You can explore caves with deep-water creatures only a few meters below the surface or go deep diving to see yellow corals.
There are diving centers in Nerja offering PADI courses, too, so if you don't have your diving license yet, there is no excuse to wait any longer.
Reflections on Malaga outdoors experiences
There is no doubt there are plenty of outdoorsy things to do in Malaga Province.
Whether it is winter and you like to reach the best views or take advantage of windy days in the waves. For summer fanatics, there are still plenty of water and beach activities that keep you cooled down when the sun is at its strongest.