Muay Thai is the national sport of Thailand and was developed several hundred years ago.
Muay Thai is referred to as "The Art of Eight Limbs"; and using eight points of contact the body mimics weapons of war. The hands become the sword and dagger; the shins and forearms were hardened in training to act as armor against blows, and the elbow to fell opponents like a heavy mace or hammer; the legs and knees became the ax and staff. The body operated as one unit. The knees and elbows constantly searching and testing for an opening while grappling and trying to spin an enemy to the ground for the kill.
When I first tried out Muay Thai in Bangkok, I was so enthusiastic that I desperately wanted to go to a training camp.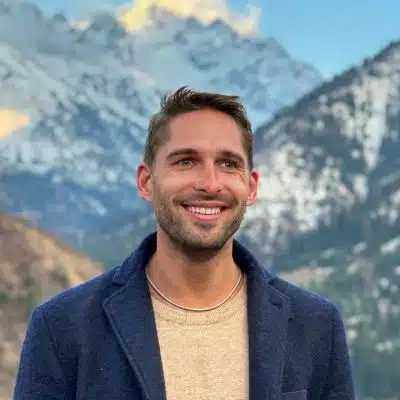 After some research, I decided to join Tiger Muay Thai Camp in Phuket for one week.
In this post, I am writing about my experiences and give you an insight into what to expect.
Day 1 at Tiger Muay Thai Camp Phuket
I arrive early in the morning at the Camp. It is huge and more modern than expected.
I am really impressed by the training area and looking forward to my one-week program. After an introduction to the camp, I receive the class schedule with the times of all offered courses.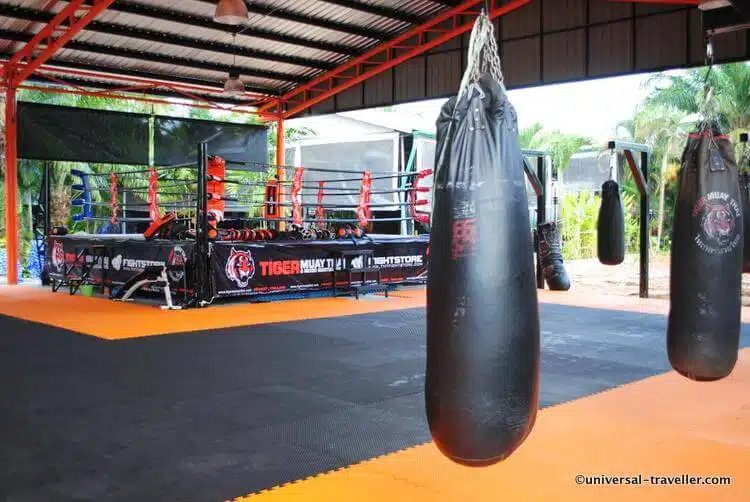 In the afternoon my first training takes place. 2 hours Muay Thai in Thailand's heat with 30 degrees celsius, not to mention the high humidity.
We warm up with running and stretch our muscles.
Afterward, we continue with technique training, first alone, then with a partner, and finally one-on-one with one of the trainers who are always walking around to correct mistakes.
At the latest now, everyone is warmed up and maybe already a bit tired.
Nonetheless, we continue the training with 5 rounds of sparring, in between again and again push-ups. The first session ends with 10 minutes of punch bag training and strength exercises.
Day 2 at Tiger Muay Thai Camp Phuket
I am feeling surprisingly good this morning, and I am ready for the next day of Muay Thai. After a long breakfast, I take the scooter and drive from my hotel to the nearby camp.
We start again by warming up and strengthening our technique with one-on-one training with the trainers who really take their time to correct the mistakes of every student.
After a small break and some healthy Thai food, I decided to join the evening yoga class. However, instead of relaxation, the course turns out to be an intense workout.
I was almost sweating more than during the Muay Thai class and can feel every muscle, including the ones I didn't even know exist.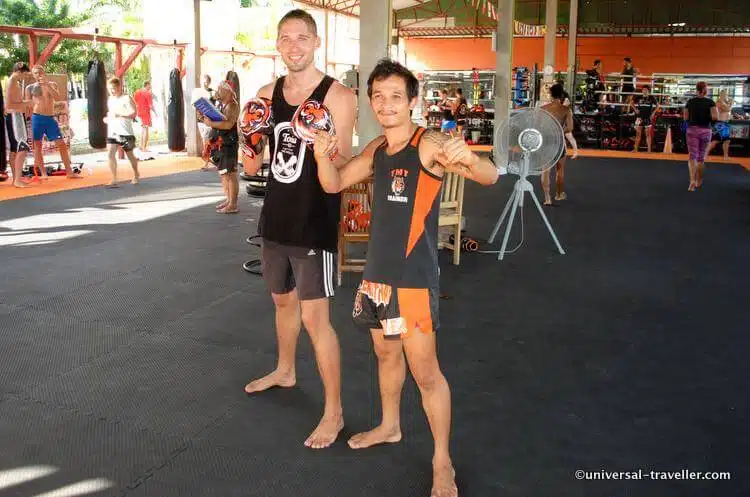 Day 3 at Tiger Muay Thai Camp Phuket
The third day is known to be the hardest, and I agree. When I wake up early in the morning, I barely can move and ask myself how the hell to survive today's training.
The trainers, however, are so motivating and push me again to top performances.
With every minute, my muscle hangover gets better, and at the end of the session, I am so proud that I made it. It is a good feeling and motivates me to continue.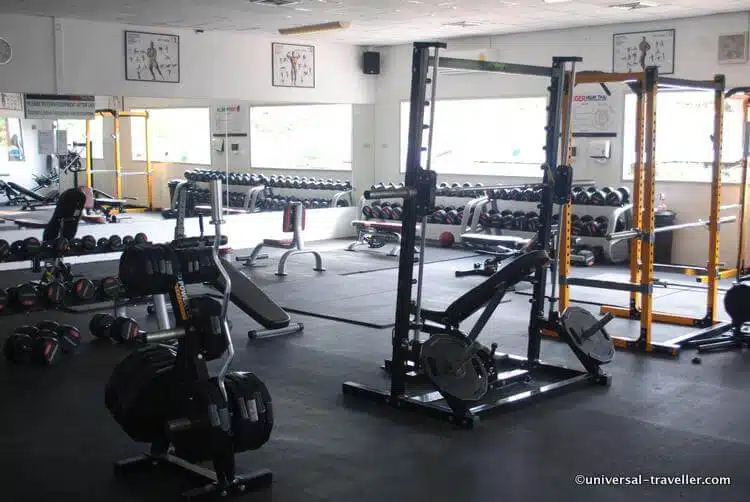 Day 4 at Tiger Muay Thai Camp Phuket
Today the training takes place at the beautiful Nai Harn Beach in the south of Phuket. We meet with our training group and the trainers at the camp and board the free shuttle bus.
Arrived at the beach, we start the training with 15 minutes of jogging. Afterward, we work on our technique, first alone and later with a partner.
The trainers explain everything very well and demonstrate all movements several times. The training ends with a small running competition in the form of a game.
Before driving back to the camp, we altogether jump into the sea…. well deserved!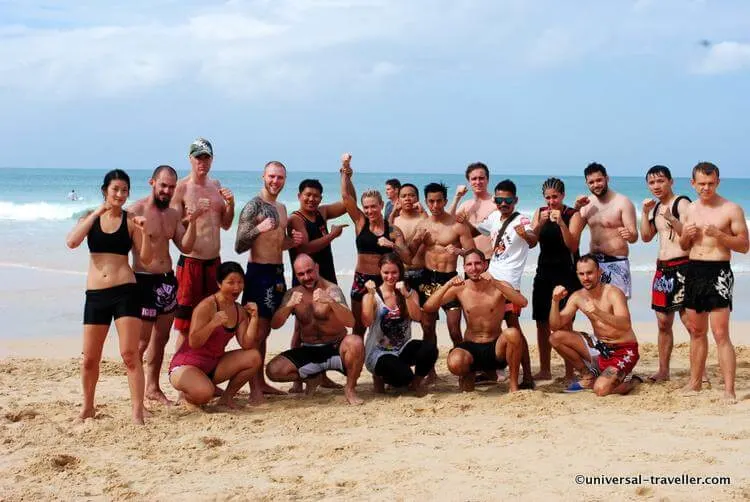 Day 5 at Tiger Muay Thai Camp Phuket
Today is my day off as there are no courses taking place on Sundays at Tiger Muay Thai Camp. I sleep in and enjoy a long breakfast at my hotel.
However, after 4 days of hard training, I cannot just chill out the whole day. I need some action and decide to do an ATV tour in the north of Phuket.
It makes so much fun and is a welcome change before the training continues tomorrow.
Read also: BEST THINGS TO DO IN PHUKET.
Day 6 at Tiger Muay Thai Camp Phuket
Recovered and highly motivated, I decided to try out Krabi Krabong today. It is a weapon-based martial art from Thailand used by warriors on the battlefield, often alongside Muay Boran.
It can easily be applied to self-defense situations, using everyday objects as weapons.
It is challenging initially, especially when the left arm is doing something different from the right one, and you also have to pay attention to your legs.
As they say, practice makes perfect, and after the 90 minutes session, I have got the knack.
It is a good exercise to improve your coordination and looks amazing, at least when our trainer Kru Oh is doing it. I will definitely continue practicing!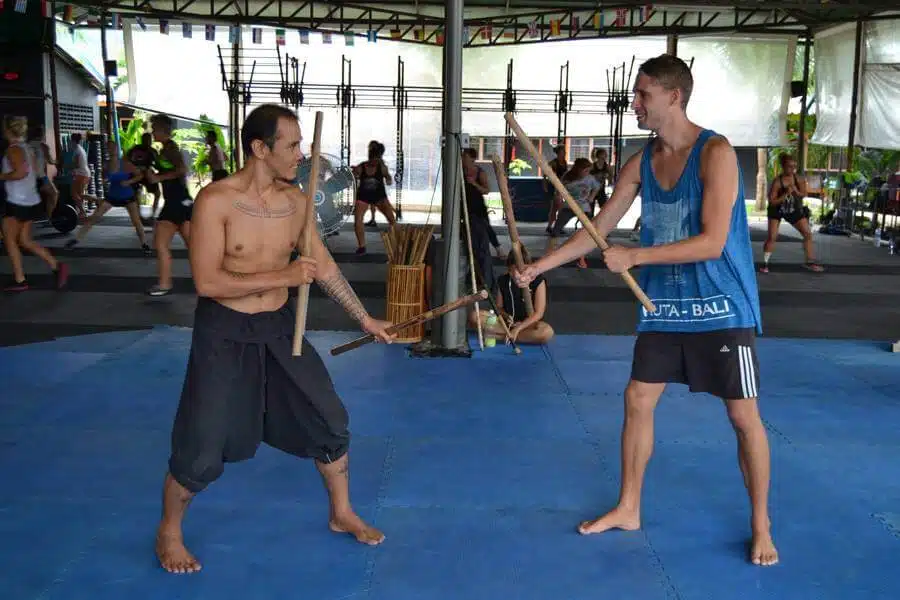 Day 7 at Tiger Muay Thai Camp Phuket
Today is already the last day of my one-week training at Tiger Muay Thai Camp. Time flies! I decide to attend the Muay Boran course.
Muay Boran is the traditional Muay Thai, translated into English as "ancient boxing." It was originally developed for self-defense and was also applied by the Thai military.
Soon people started to organize matches, and Muay Boran became part of the Thai culture. Regular flights were held at festivals, and fighters from whole Thailand were competing with each other.
During the 1920′s-30′s, King Rama VII modernized the competitions and introduced referees, boxing gloves, rounds, and western boxing rings. The modern Muay Thai was born.
The classes are held by Kru Oh, who is one of the few who still teaches the ancient art of Muay Boran.
The focus of the course is on the technique, which makes it a good combination with the Muay Thai classes, where you practice with more power and high intensity.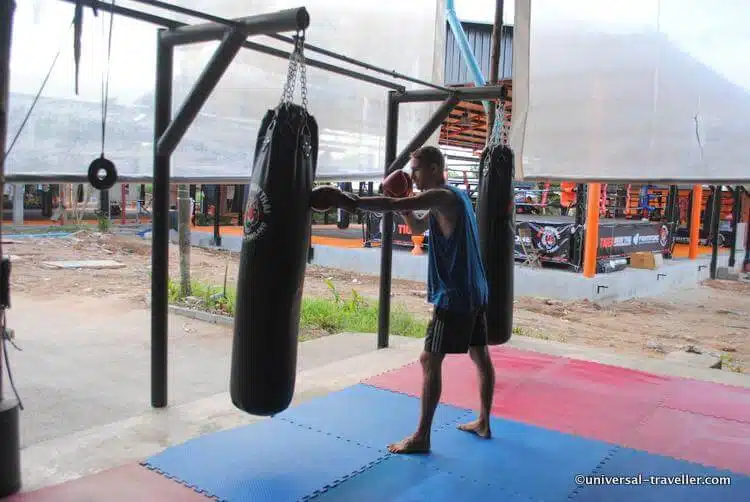 One week at Tiger Muay Thai Camp Phuket – My résumé
I had so much fun at the camp, and at the same time, I cursed it. I was laughing a lot, and at the next moment, I was dying of muscle pain.
Being tired wasn't an excuse at any time, and the trainers always pushed and motivated everyone to continue.
Although it was sometimes challenging, I enjoyed my time at Tiger Muay Thai Camp, and I am so proud that I made it.
The camp is very modern, and the whole team works professionally. The trainers are really motivated and willing to support you at best.
I especially liked that the camp also teaches the traditional Muay Thai. It gives you an interesting insight into Thailand's culture. Besides Muay Thai, you can also attend a wide range of fitness classes.
I highly recommend Tiger Muay Thai, and I am already planning on going there again next year.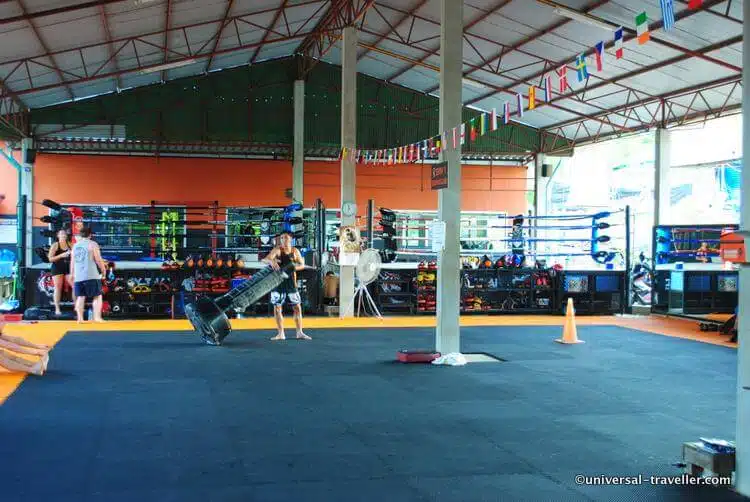 My Hotel Recommendation – Aochalong Villa and Spa
Aochalong Villa and Spa is located near Chalong Pier in Phuket, Thailand. It is a great place to stay when you are practicing at Tiger Muay Thai Camp. With the scooter, it takes less than 10 minutes to get to the training camp.
Guests can choose between 5 different types of rooms and villas. I stayed in the Sea View Villa, which has 45 square meters and a nice view of the sea.
The room is equipped with everything you might need, including coffee and tea making facilities, a refrigerator, and a TV. The private terrace with a view of the nicely illuminated Chalong Pier is a great place to relax after a long day of training.
Between my morning and afternoon training sessions at Tiger Muay Thai, I really enjoyed jumping into the pool at Aochalong Villa.
The food at the restaurant is also very good at reasonable prices. A large plate of fried rice, for example, costs 100THB.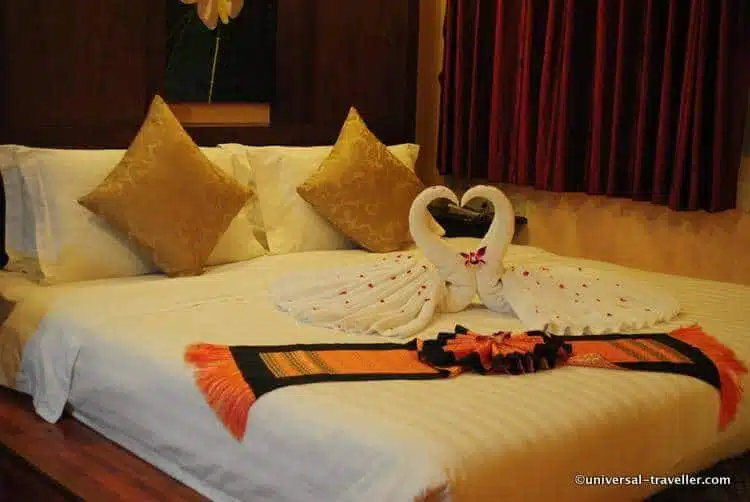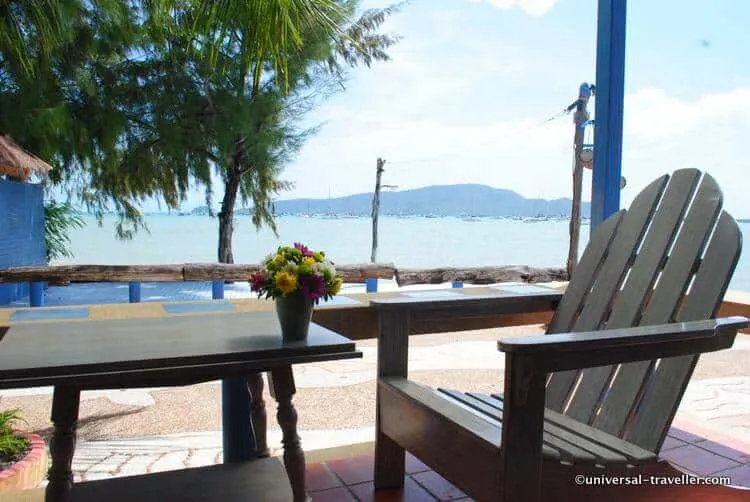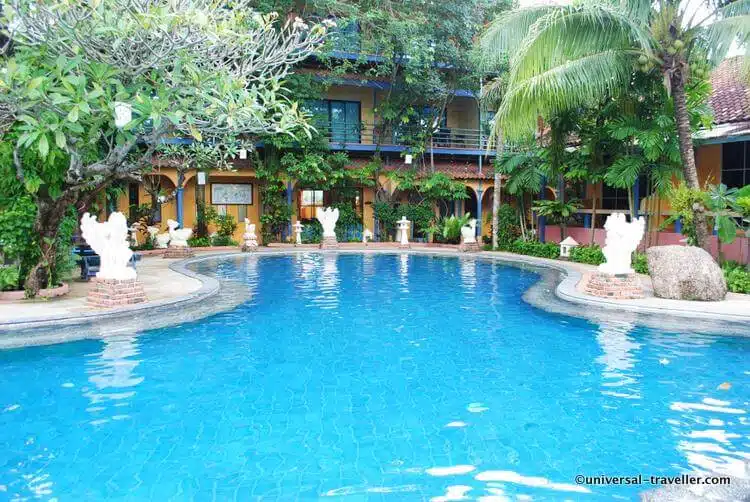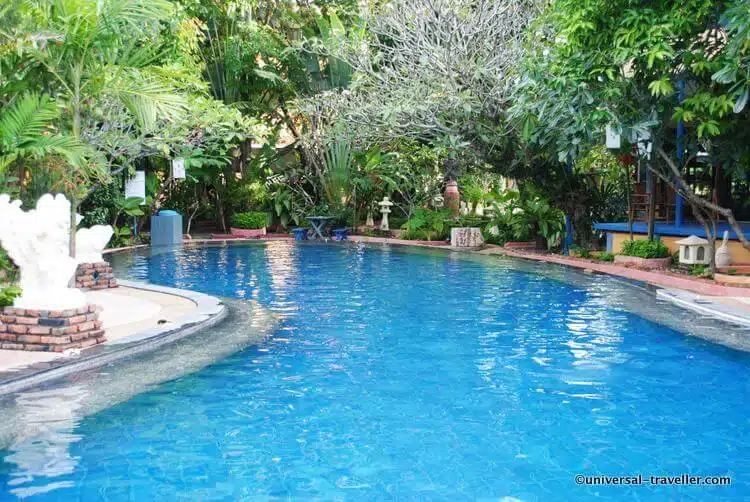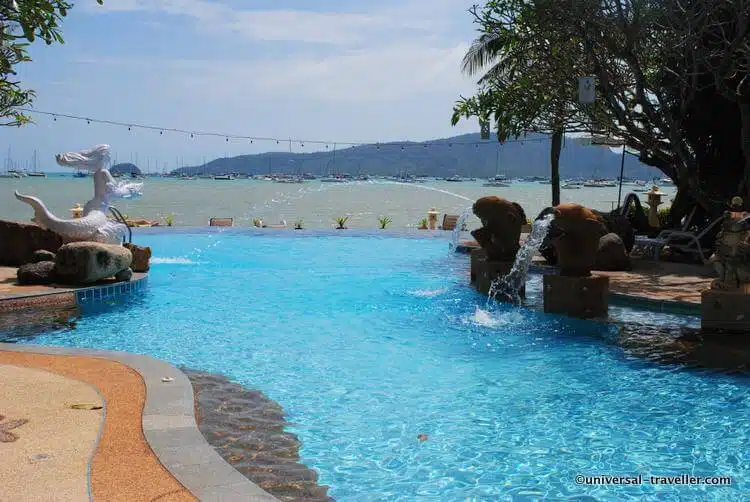 Book your room now at discounted rates with agoda.com
Disclaimer: I was a guest at Aochalong Resort Villa & Spa Phuket and Tiger Muay Thai. My opinions, as always, are solely my own.
Phuket has amazing beaches and adventurous activities to offer. Click here for more BEST THINGS TO DO IN PHUKET.
Do you want to spend your Phuket vacation in a luxury hotel? Then check out these BEST LUXURY HOTELS IN PHUKET.
If you start your trip in Bangkok, then this article will help you – HOW TO TRAVEL FROM BANGKOK TO PHUKET.
By the way, Bangkok has way more to offer than just the International Airport. Stay a few days in Thailand's capital city and do some of these BEST THINGS TO DO IN BANGKOK.
Best VPN for Travel: ExpressVPN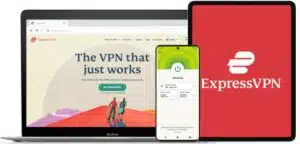 Heading abroad? Use ExpressVPN to access your social media accounts, unblock your favorite entertainment sites, and stay connected with friends and family. And get cheaper flights, of course.
Pros
✅ Next-gen, high-speed servers in 94 countries
✅ Works on iOS, Android, Windows, Mac, Linux, browsers, and more
✅ 256-bit AES encryption protects your data, even on hotel Wi-Fi
✅ Unblocks Netflix and other streaming sites
Cons
❎ No dedicated IPs
Get 3 extra months free of ExpressVPN when signing up for a 1-year plan. That's a 49% saving and a monthly cost of just $6.67! You also get a 30-day money-back guarantee.