Munduk Moding Plantation hotel review: Restaurants, spa, location, and facilities.
This article may be sponsored or include a provided product or affiliate link. See the footer and Affiliate Disclaimer for full details.
Munduk Moding Plantation Nature Resort & Spa is an eco-luxury hotel set within a coffee plantation in Northern Bali.
The resort's beauty is awe-inspiring, from its stunning infinity pool with views of North Bali's dense rainforest to its expansive villas offering spectacular mountain vistas, all designed to make you feel comfortably at home.
I've recently enjoyed spending several nights at Munduk Moding Plantation in Bali and would like to share my experience with you.
Munduk Moding Plantation Location
The hotel is near the Munduk village and sprawls across a 12-acre organic coffee plantation.
I drove by scooter from Ubud to Munduk Moding Plantations and boy, it was an adventurous journey that took about 1.5 hours.
As I approached the hotel, the traffic got less, and the roads became narrower, winding through stunning landscapes of lush greenery.
The hotel is approximately 1,000 meters (3,280 feet) above sea level, so the nights can be a bit cool.
The drive from Denpasar's airport to the plantation is roughly two and a half hours.
Once you arrive, you don't want to leave! I didn't mind at all that there is a limited tourist infrastructure in the surrounding area.
Munduk Moding Plantation Villas & Suites
Munduk Moding Plantations offers a variety of pool villas and suites, each boasting its distinct characteristics.
Watch my detailed review:
1. Munduk Moding Plantation Villas
During my stay at Munduk Moding Plantations, I stayed in a one-bedroom pool villa with a Jacuzzi.
When I saw my private villa, I knew it would be hard to say goodbye!
Just look at that pool!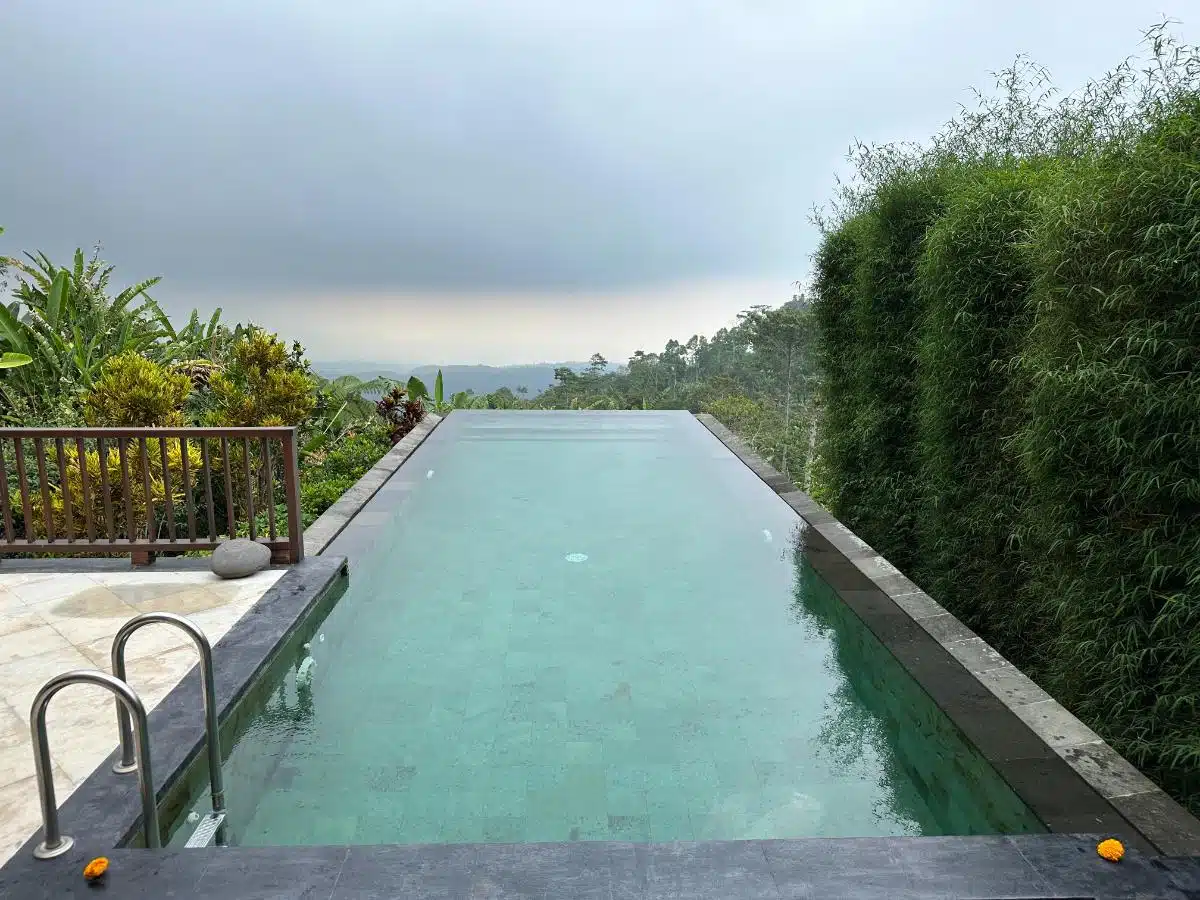 The king-size bed, positioned perfectly to offer views of the private heated pool and jacuzzi, was like sleeping on a cloud.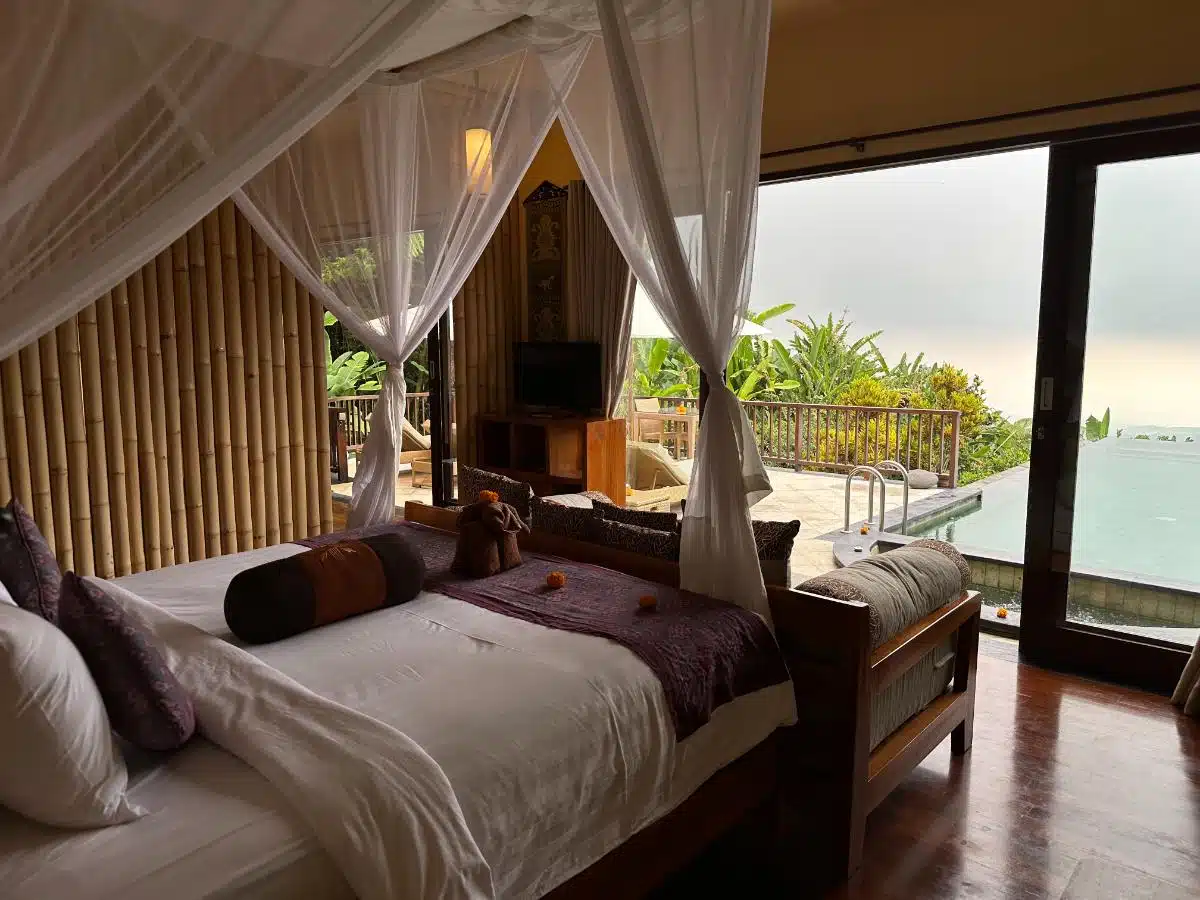 The en-suite bathroom stood out with its transparent ceiling, highlighting the stand-alone bathtub.
It is complete with a spacious wardrobe and both indoor and outdoor showers.
The hotel offers complimentary amenities such as slippers, candles, and bath salts.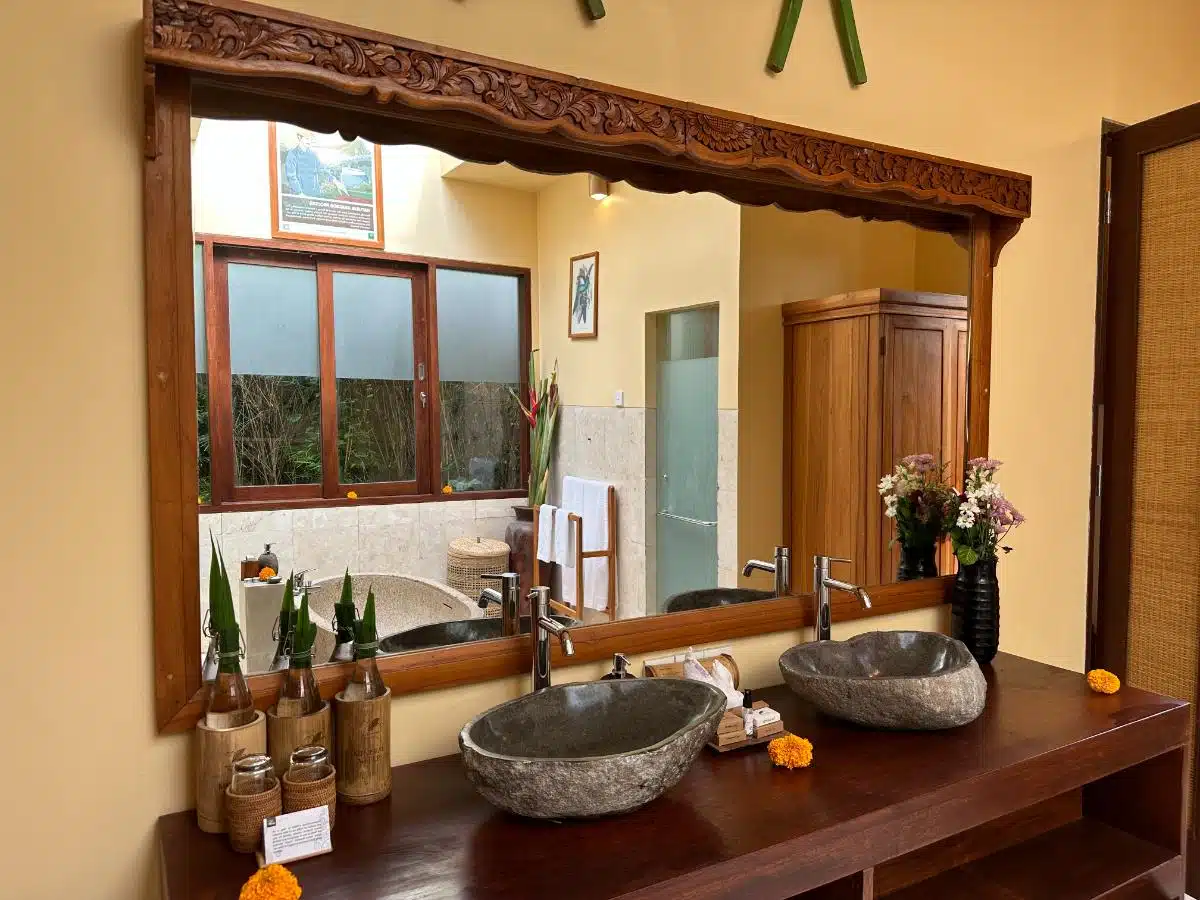 The living room, with its comfortable sofa and inviting fireplace, became my evening retreat.
One call to my private butler – a service that exemplifies the villa's luxury – and the fireplace was lit, adding a cozy warmth to the room.
The tiny in-room library offered a selection of books, perfect for a quiet night in.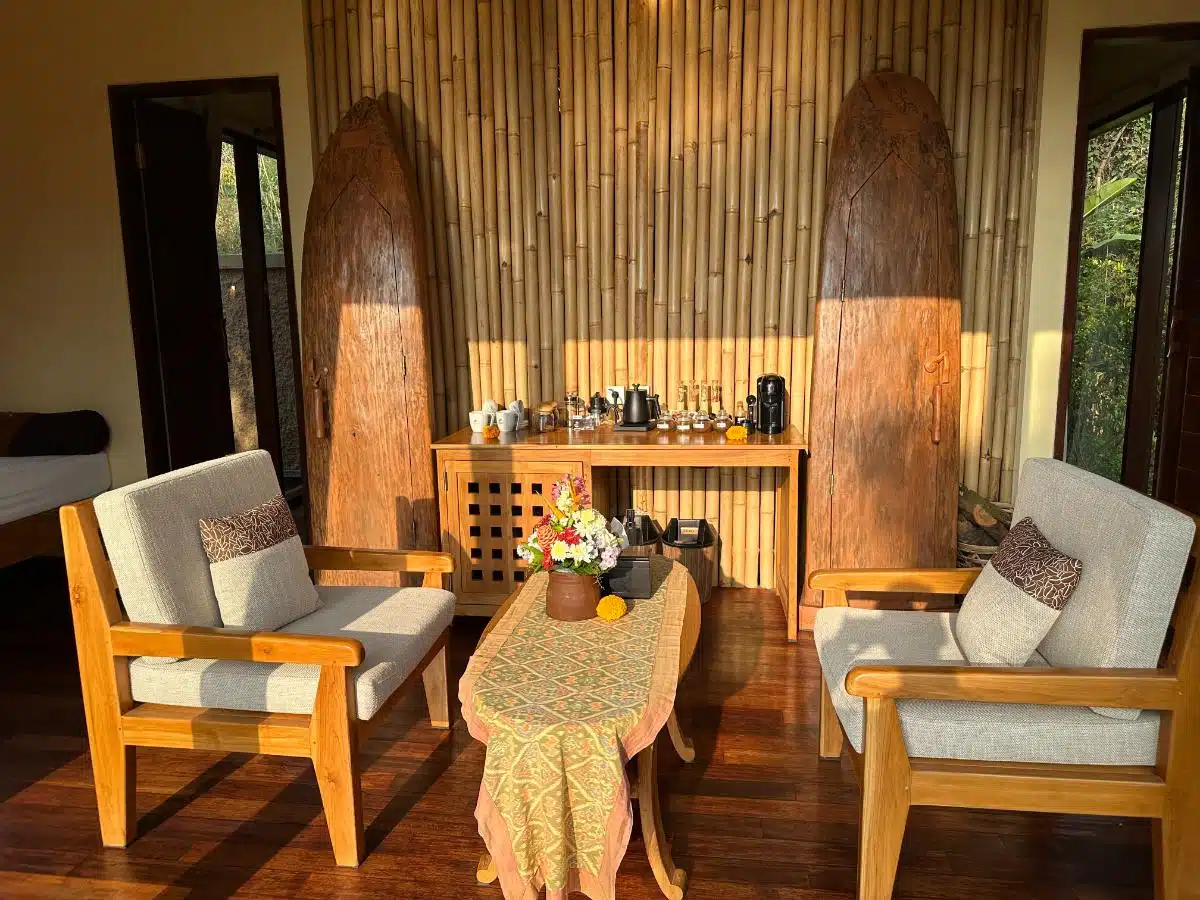 Stepping outside, the sun deck with sun loungers and an outdoor table was ideal for basking in Bali's tropical climate.
The outdoor shower added a touch of exotic charm to my villa experience.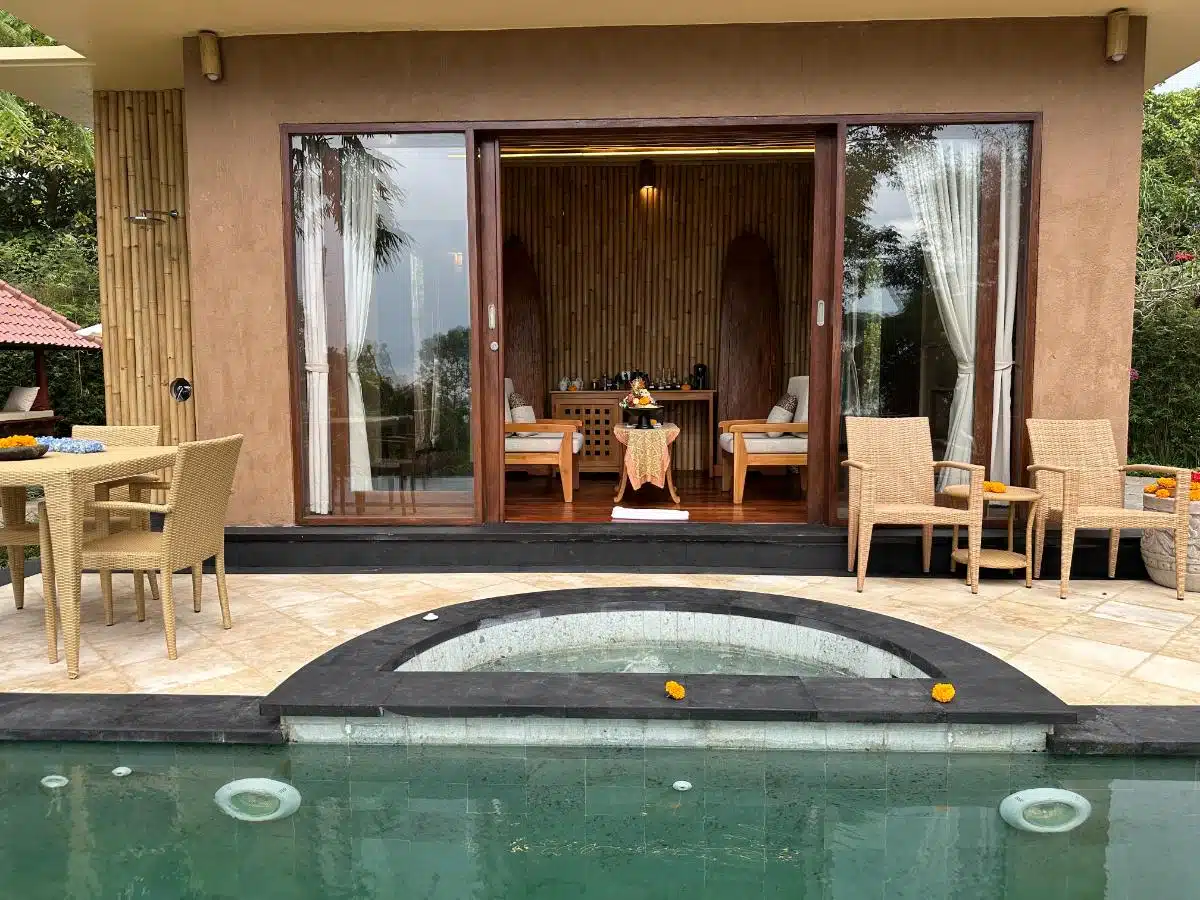 But the real highlight was the sunset I witnessed from my private pool – a spectacle of colors that painted the sky, reflecting beautifully on the water's surface.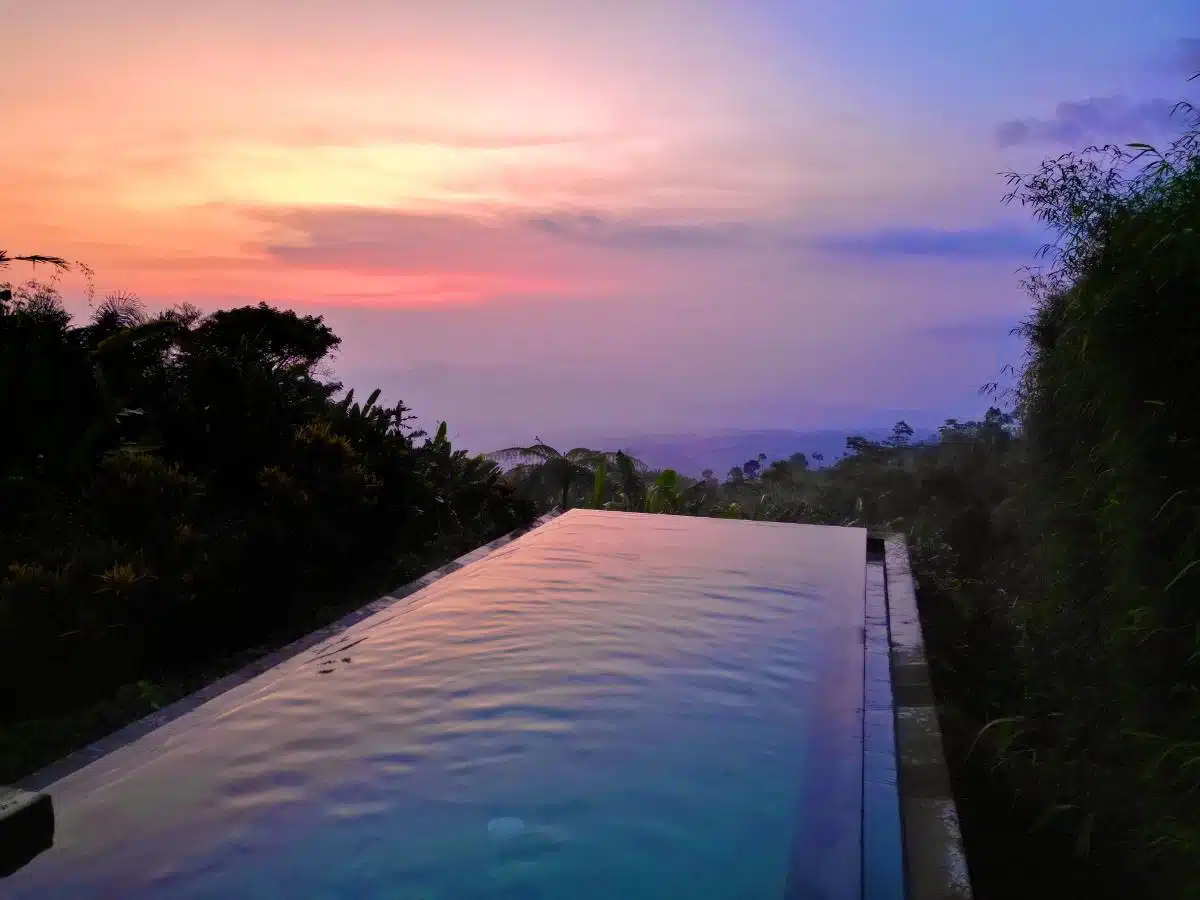 The next morning, a floating breakfast awaited me, making me feel like an absolute celebrity.
My private butler, always just a WhatsApp message away, was the personification of attentive service.
Every request was met with a smile, from organizing tours to picking me up in a golf cart.
In every aspect, my pool villa at Munduk Moding Plantation was a dream come true – a serene, luxurious escape that I'll cherish forever.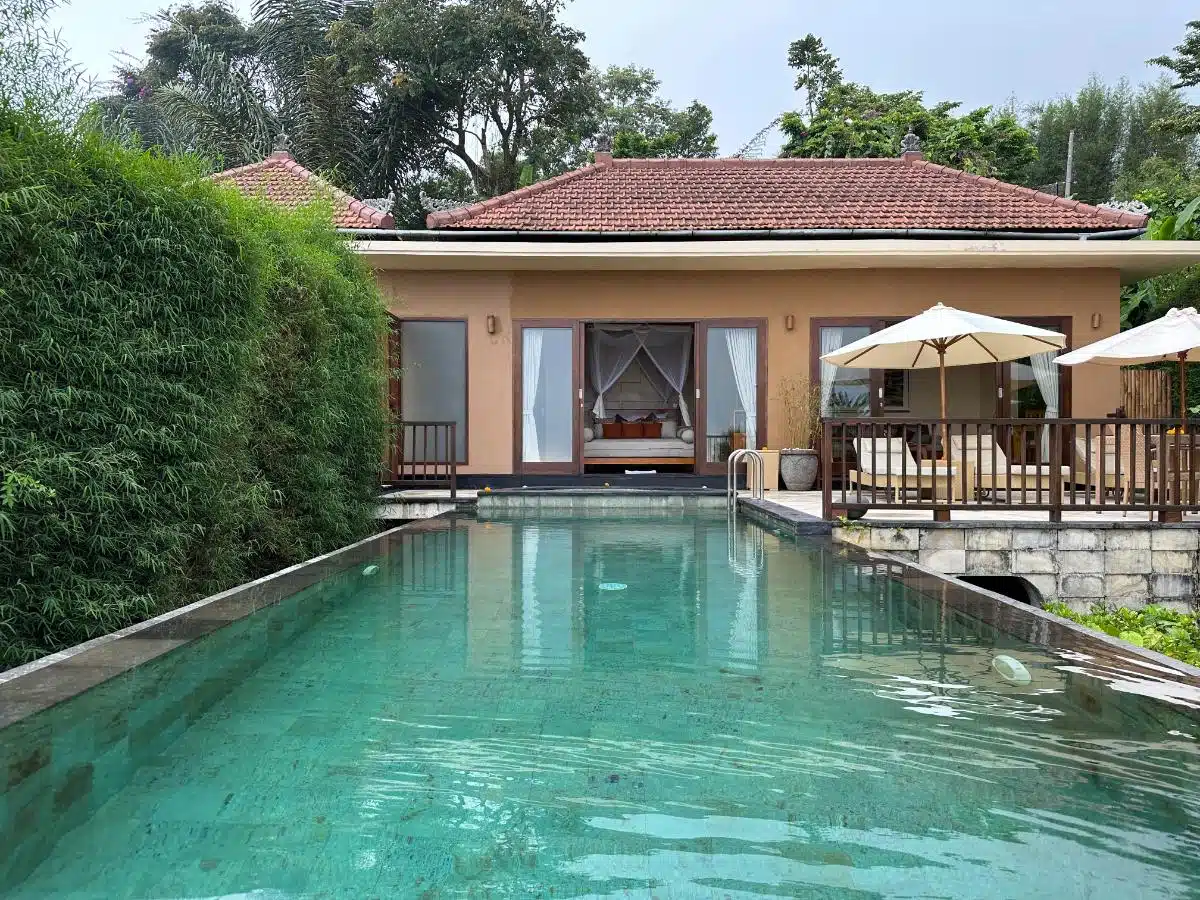 In total, Munduk Moding Plantations has five different villa types:
Istana Negara Presidential Suite (200 m²): The Presidential Suite offers the utmost in luxury and privacy, featuring extensive amenities, a large master bedroom, a 12-meter heated pool, a jacuzzi, and a private butler team, ideal for couples or groups seeking an exceptional experience.
One Bedroom Pool Villa With Jacuzzi (110 m²): The One Bedroom Pool Villas at Munduk Moding Plantation offer a luxurious and private retreat for couples, featuring a living and dining room, a separate bedroom, a heated pool and jacuzzi, and personalized services.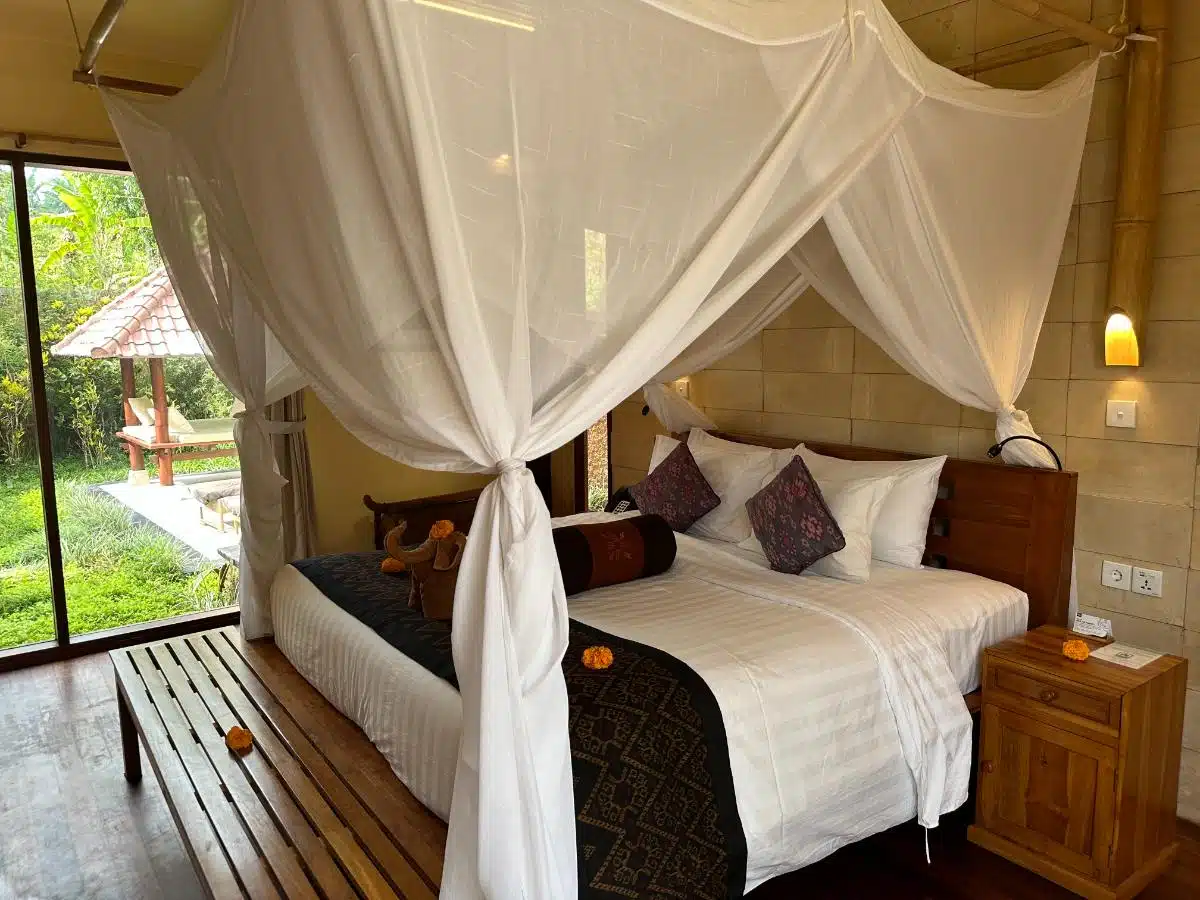 Two Bedroom Pool Villa With Jacuzzi (130 m²): The Two Bedroom Pool Villas at Munduk Moding Plantation feature two spacious bedrooms, bathrooms, a living and dining room, and a heated pool with a jacuzzi, all within a private compound serviced by a butler.
Five Bedroom Pool Villa With Jacuzzi (260 m²): The Five Bedroom Pool Villa at MMP offers an ideal retreat for larger groups or families, providing privacy, luxury, and a range of facilities.
Villa (55 m²): The villas offer breathtaking views of rolling hills leading to the sea, enhanced by stunning sunsets over the Java sea, and feature spacious interiors with tropical hardwood floors, king-size beds, and large glass doors for panoramic views.
2. Suites
Munduk Moding Plantation also features two types of suites.
Luxury Suite (60 m²): The Luxury Suites at MMP feature personal terraces, spacious ensuite bathrooms with double sinks, parquet flooring, and Sulawesi cream marble.
Garden Suite (40 m²): The Garden Suites feature private terraces, en-suite bathrooms with minimalist natural design, and unique elements like an ancient coffee tree.
Munduk Moding Plantation Infinity Pools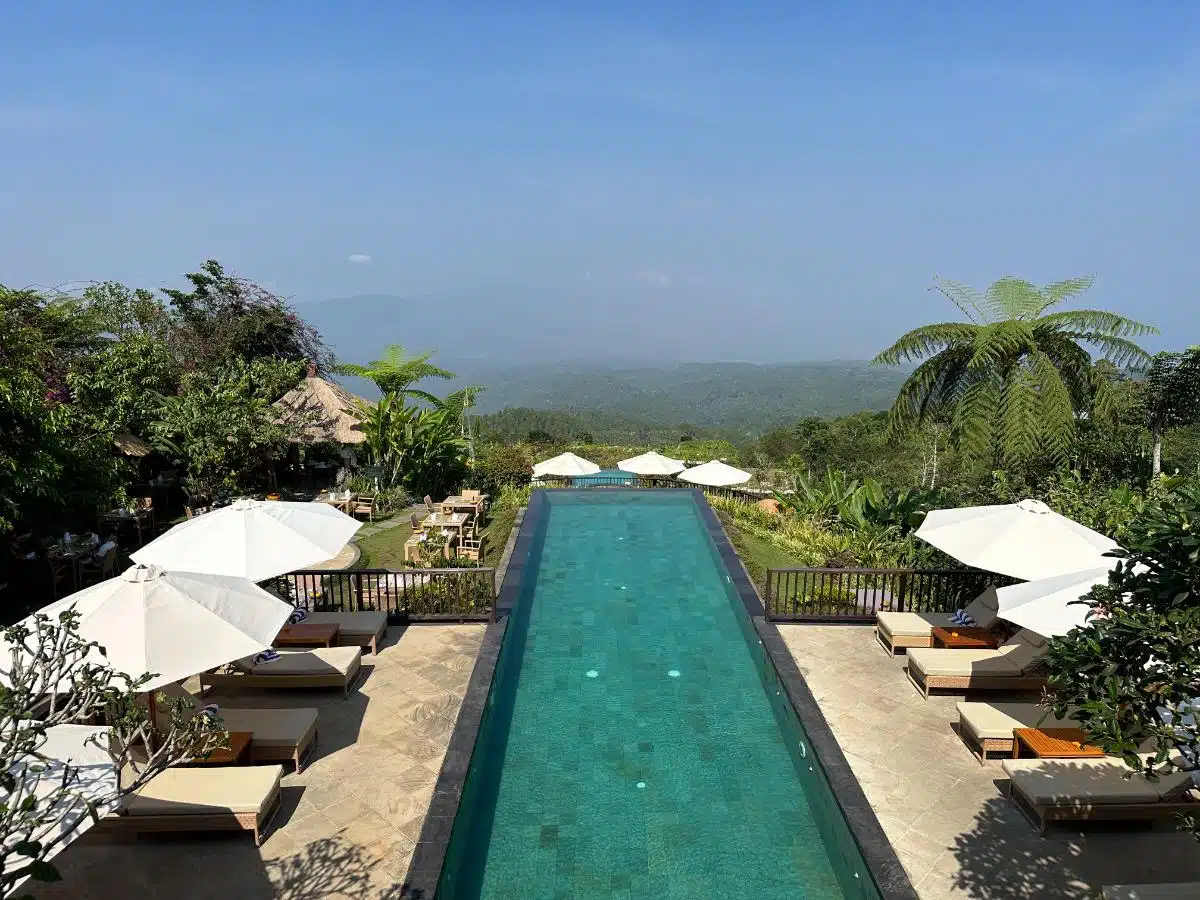 The hotel's two breathtaking infinity pools are undoubtedly among its highlights!
You can enjoy stunning landscape views from the Instagram-worthy pools or relax on sun loungers with your favorite cocktail in hand.
Wellness & Spa at Munduk Moding Plantation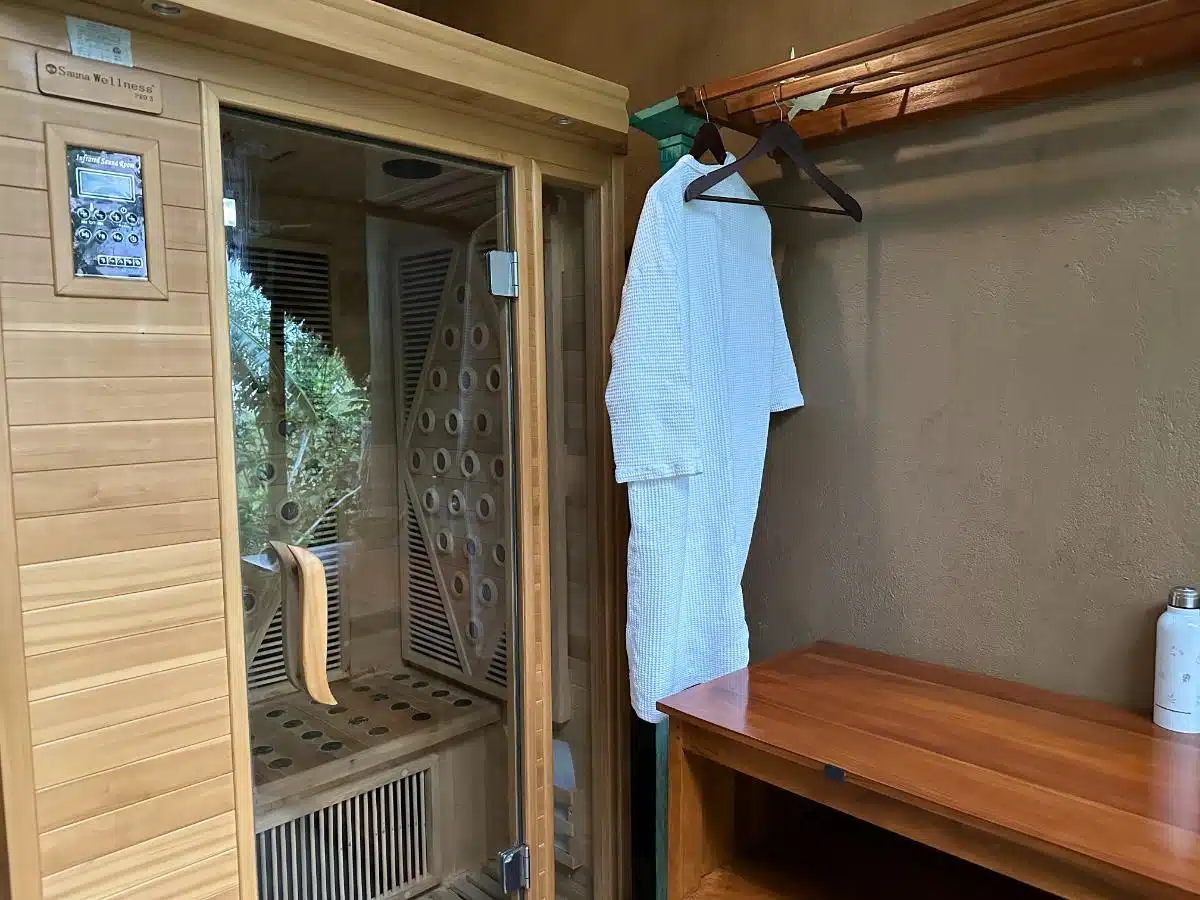 Nestled amidst the serene landscapes of Munduk Moding Plantation, the spa is a tranquil oasis surrounded by vibrant greenery.
Guests can indulge in traditional Balinese massages enhanced with essential oils and experience unique signature treatments like Chocolate and Coffee scrubs, all inspired by the plantation's natural surroundings.
Additionally, the spa boasts a sauna equipped with infrared heat, complemented by a picturesque view of the lush garden.
Munduk Moding Plantation Gym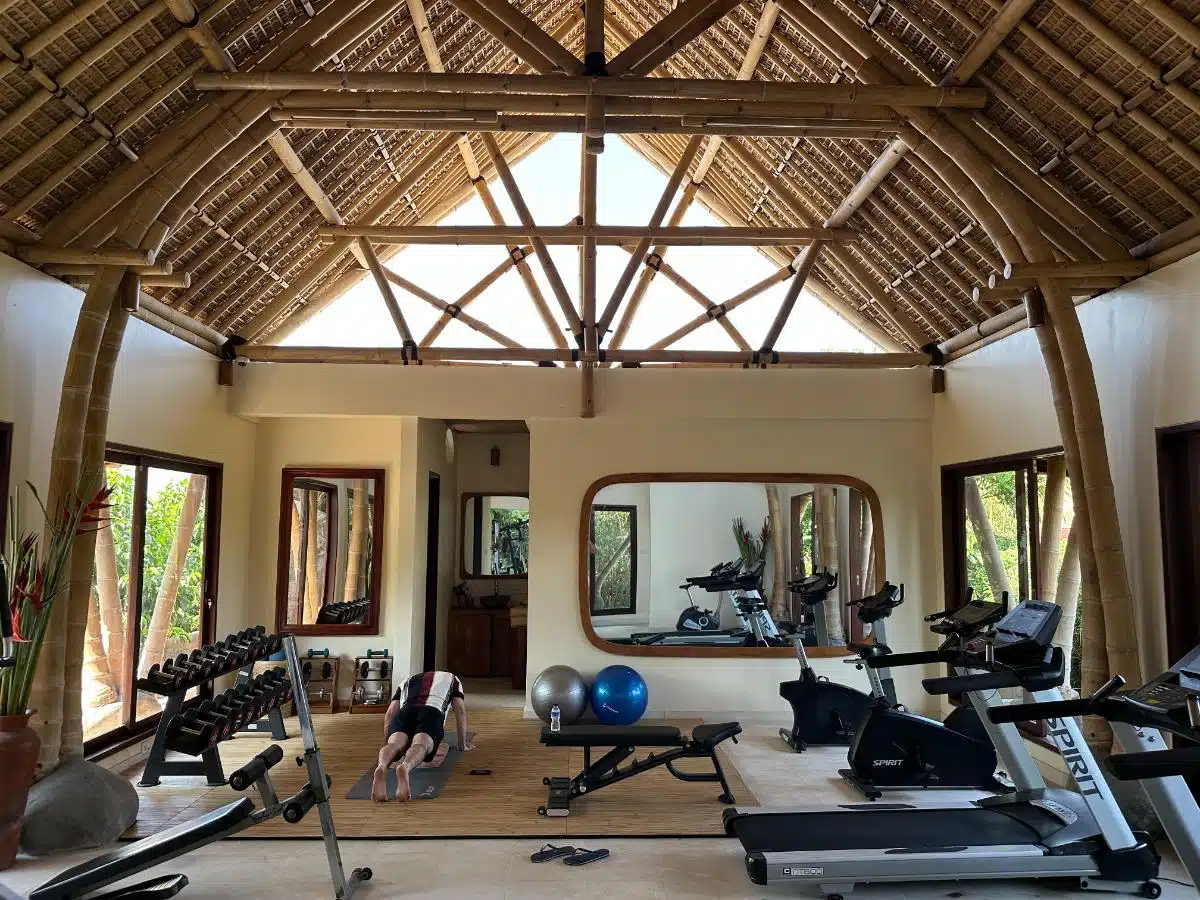 At Munduk Moding Plantation, staying fit and active during your vacation is effortlessly enjoyable with their charming, small gym.
Housed in a bamboo structure with expansive windows, this gym is bathed in natural sunlight and offers inspiring views of the surrounding lush greenery.
This setting creates a motivating atmosphere, perfect for those who wish to maintain their fitness routine amidst the tranquil beauty of the plantation.
Munduk Moding Plantation Restaurants & Bars
The hotel features two restaurants and one sunset bar.
MiMPi Restaurant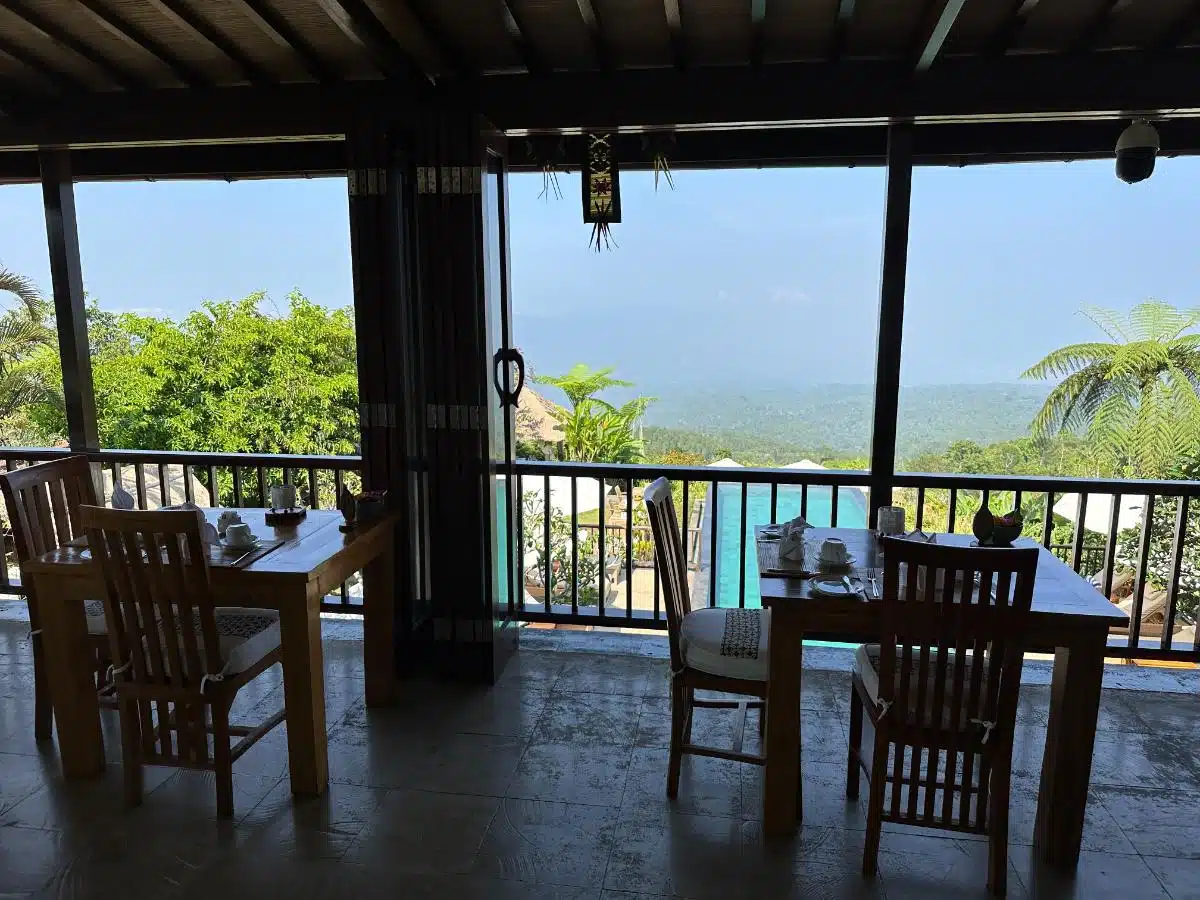 The two-story MiMPi restaurant serves international cuisine infused with local flavors, using fresh, locally sourced ingredients.
Its top floor boasts fantastic views of the two infinity pools!
While MiMPi is the resort's primary breakfast restaurant, offering a mix of Balinese and Western options, I opted for a floating breakfast delivered right to my pool villa!
Opening times:
Breakfast: 07.15 a.m to 11.00 a.m
Lunch: 11.45 a.m to 04.30 p.m
Dinner: 06.30 p.m to 11.00 p.m
Sunset Bar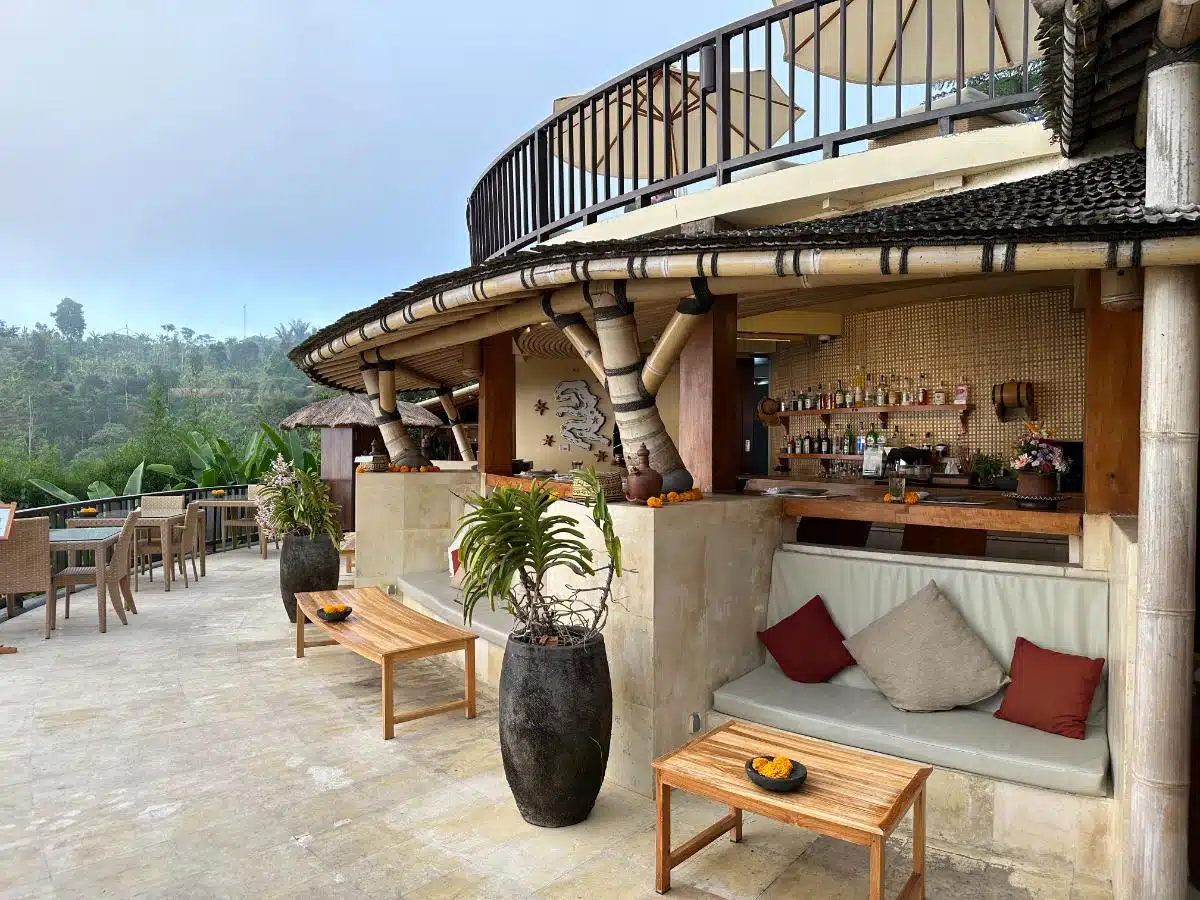 Sunset Bar was my favorite spot at Munduk Moding Plantation for enjoying afternoon tea.
It offers breathtaking views overlooking the lower infinity pool.
This cozy bar offers a delightful selection of drinks and snacks.
It's not just the refreshments that make it special, but also the opportunity it provides to mingle with other guests or have a friendly chat with the barkeeper.
The atmosphere here is truly inviting and makes every visit a memorable experience.
Opening times: 01.00 p.m to 11.00 p.m
Warung Bongkot
Warung Bongkot celebrates Balinese cuisine, focusing on North Bali dishes using mostly ingredients from the hotel's garden.
You can order a North Bali sampler to try different favorite dishes.
Opening times:
Lunch: 1.00 p.m to 4.30 p.m
Dinner: 6.30 p.m to 11.00 p.m
Activities at Munduk Moding Plantation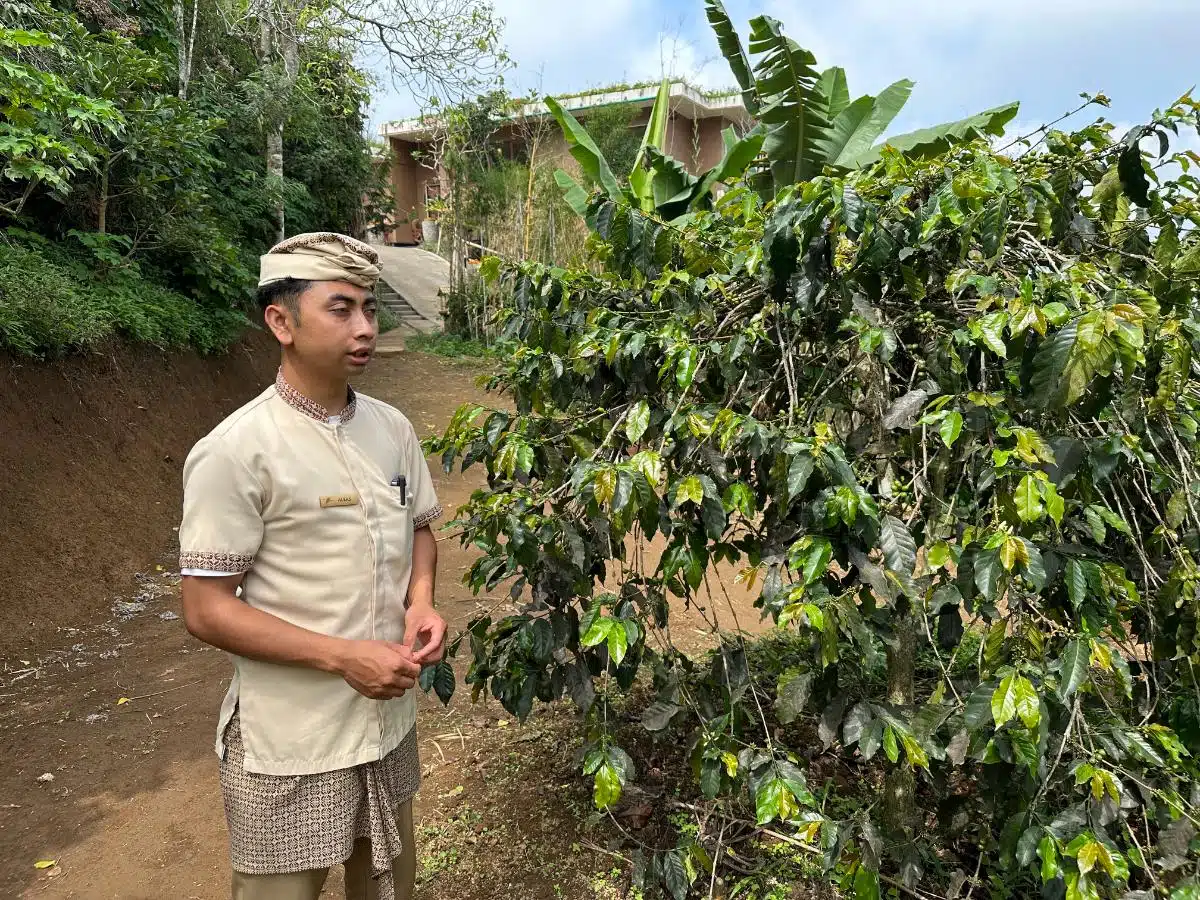 Munduk Moding Plantations offers various complementary activities, such as yoga classes, a coffee plantation tour, bird watching, kite making, a Balinese cooking class, or an introductory class to Bahasa Indonesia.
I highly recommend joining a horseback riding tour ( IDR 435,000 per person). During the loop ride, you'll gain a glimpse into the village life and enjoy stunning views of the hotel's surroundings.
Sustainability
Munduk Moding Plantation implements several sustainability practices.
They compost all organic waste at their composting center, which is used to enrich their land.
The hotel also recycles and purifies wastewater from the hotel rooms and pools to water the plantation.
Another great initiative of the hotel is the provision of weekly English classes for children from the local village of Munduk.
In a unique twist, children can attend these classes by trading in a bag of plastic trash they've collected around the village.
The hotel then recycles this plastic to create keychains, which are presented as gifts to guests at checkout.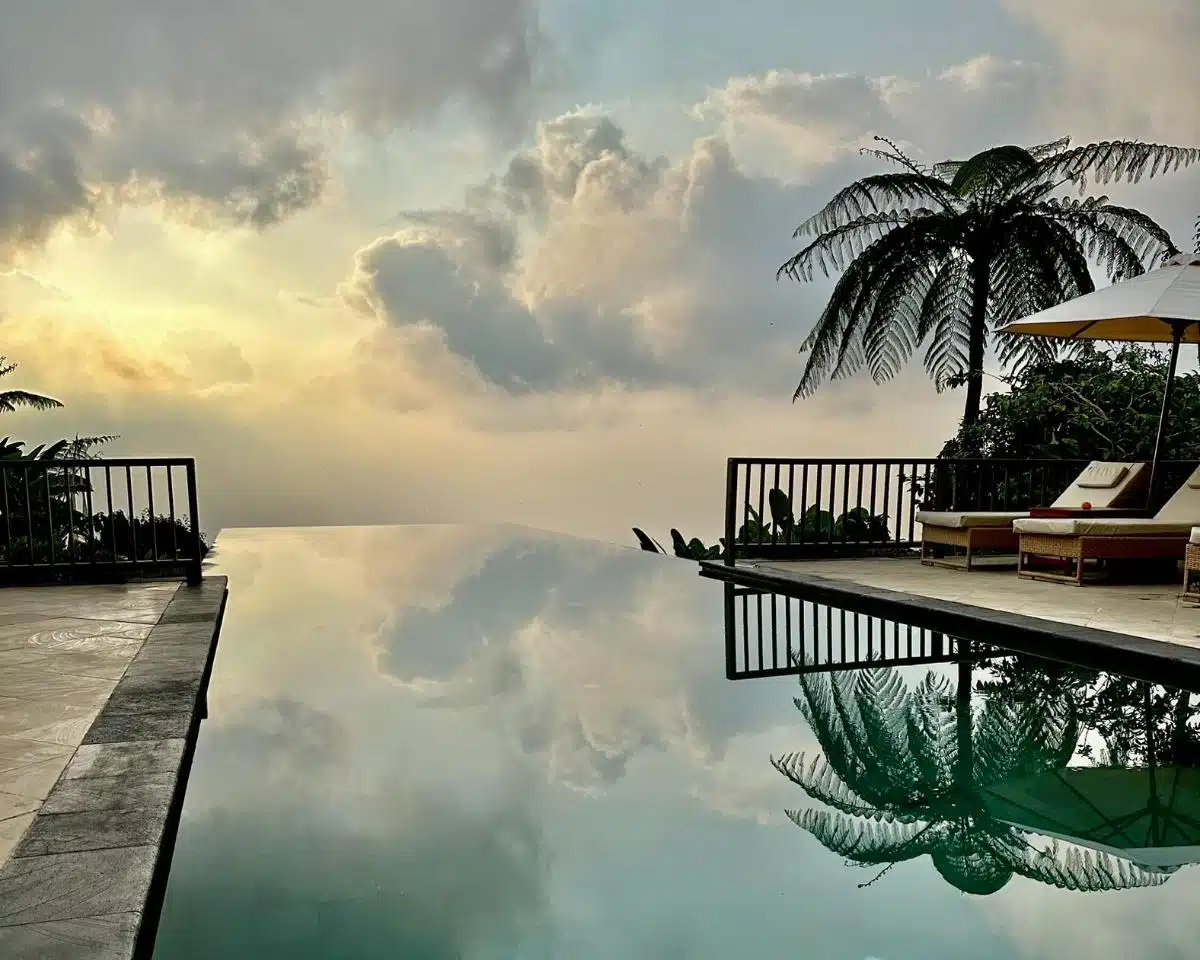 What I loved about Munduk Moding Plantation
I had a wonderful experience at Munduk Moding Plantation
My stay was extremely good overall, but I'd still like to point out some highlights for you.
The staff is very friendly and welcoming.
Daily complimentary activities.
My favorite place was my private heated pool and jacuzzi, with breathtaking views of the coffee plantation and its surroundings.
The two main infinity pools are one of the hotel's absolute highlights! Definitely instagram-worthy!
Tranquil and picturesque natural surroundings.
My private butler and floating breakfast at my private pool made me feel like a celebrity.
I will never forget the sunsets at the infinity pools and my private pool!
Book your room at Munduk Moding Plantation
To make your Munduk Moding Plantation booking and for more photos, information, and prices, check Booking.com
Disclaimer: I was a guest at Munduk Moding Plantation. My opinions, as always, are solely my own.
About the Author
More info
Best VPN for Travel: ExpressVPN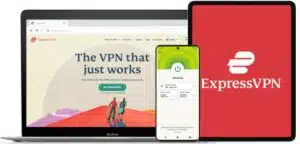 Heading abroad? Use ExpressVPN to access your social media accounts, unblock your favorite entertainment sites, and stay connected with friends and family. And get cheaper flights, of course.
Pros
✅ Next-gen, high-speed servers in 94 countries
✅ Works on iOS, Android, Windows, Mac, Linux, browsers, and more
✅ 256-bit AES encryption protects your data, even on hotel Wi-Fi
✅ Unblocks Netflix and other streaming sites
Cons
❎ No dedicated IPs
Get 3 extra months free of ExpressVPN when signing up for a 1-year plan. That's a 49% saving and a monthly cost of just $6.67! You also get a 30-day money-back guarantee.