Las Grutas de Tolantongo Hot Springs near Mexico City contains mineral springs, caves, and pools. Learn how to get to Grutas de Tolantongo and what to do there.
Las Grutas de Tolantongo is one of Mexico's most impressive hot spring resorts. Located at 2,700 meters above sea level, these natural pools are scattered down a mountain slope, with several cascading hot waterfalls and two caves with hot springs.
It's undoubtedly a breathtaking sight.
La Grutas de Tolantongo is a series of mineral springs, caves, and pools that flow down a mountain into the valley below.
But what makes it so unique is the natural thermally heated river that runs underground through the mountains, emerging at 90°F/ 70°C on one side.
And, at the recently opened Grutas Tolantongo Hotel, you can enjoy these healing benefits.
This is a must-see attraction in Tolantongo. You can photograph and enjoy the hot springs in their idyllic setting, surrounded by lush greenery, and relax in hot water.
What is Las Grutas de Tolantongo, Mexico?
In the first place, you may wonder what Grutas de Tolantongo means. A "gruta" is a cave in Spanish, and in English, this would translate to Tolantongo Caves.
However, the most popular attraction at Grutas Tolantongo Mexico isn't just the caves but rather the healing hot spring pools! It is the result of the integration of two types of spring waters: one siliceous and the other sulfuric.
Although the hot springs have existed for centuries, the actual location was only developed for tourism in the 1970s.
Currently, it is San Cristobal's primary source of income and a destination popular with tourists from Mexico City and its neighboring states.
Where is Tolantongo Grutas Mexico located?
Grutas Tolantongo is located in the central region of Mexico, in San Cristobal, in the state of Hidalgo. Most tourists who visit the hot springs start in Mexico City, located three hours south of Tolantongo.
The hot springs at this resort are like a magical paradise. It is ideally situated in the mountains at 4,500 feet elevation, and you can enjoy magnificent views when you follow any of the trails above!
Things to to at Las Grutas de Tolantongo
If you're looking for a vacation or just a day trip away from the city, nature calls you to come to Las Grutas de Tolantogo- the perfect place to relax and enjoy all the spectacular views!
Follow this guide about the best activities and places to visit in Las Grutas de Tolantongo to have an unforgettable time!
1. Enter The Tolantongo Caves
Opening Time – 08:00 AM to 5:00 PM
Within 30 minutes of walking across the hills, you will reach a small cave below a spectacular waterfall that gurgles into the Tolantongo river at the far end of the resort. There is a tunnel above the cave that is filled with hot steam coming from the rocks.
You cannot bring food or bags into the cave, but you can leave your personal belongings in the lockers at the entrance for 80 MXN, or approximately USD 4.
The bottom of the cave may be slippery and rocky, so you might want to wear water shoes.
2. Visit the Tolantongo Hot Springs
Opening Time – 08:00 am to 09:00 pm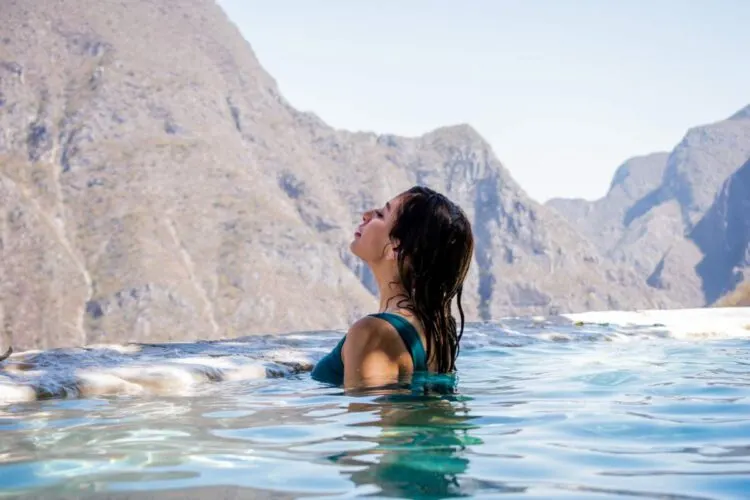 The Tolantongo Hot Springs is, without doubt, the most popular and renowned attraction in the resort. Due to the enormous demand, it is becoming less and less of a natural place and more or less artificial as they build more and more pools. It is usually packed when it is open.
Besides enjoying the hot springs while you relax, you can also marvel at the fantastic views of the canyon from the pools.
I think the best option for staying is at the Hotel Paraiso Escondido, where the pools are located.
3. Swim In The River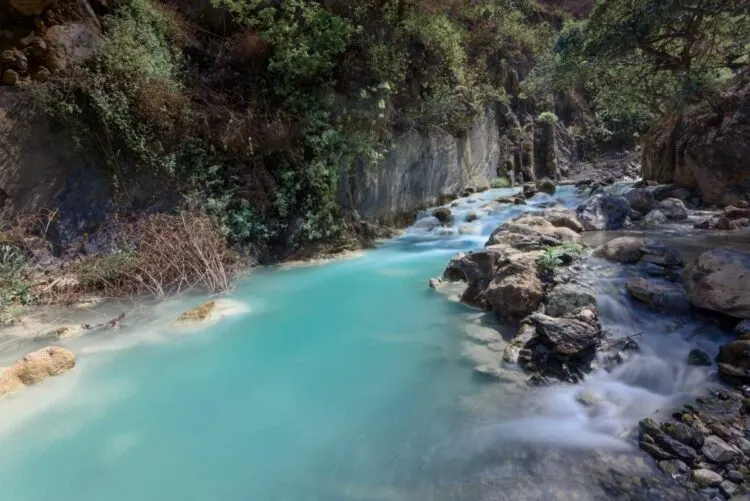 There is nothing like watching the river from a viewpoint while going to the waterfall. The natural pools formed by rock formations along the river can be enjoyed swimming or bathing.
Warm and shallow water surrounds the area. Because you can't see the bottom of the water and you never know what could hurt your feet, wear your water shoes when you're in the water.
On the property, you can walk along the banks of the Tolantongo river, which runs the length of the canyon, and you can also camp by the river.
4. Visit La Gloria Tolatongo
Located just below the entrance to the Tolatongo waterfall, La Gloria is another property on the opposite side of the Tolantongo river. It is connected via a swinging bridge.
Once you cross the bridge, you'll have to pay 100 MXN, approximately USD 5, to enter La Gloria, but it's worth it. It's less crowded and more secluded.
After a pleasant 20-minute hike through lush vegetation and artificial pools, you will reach the waterfall and natural pools. The famous mosquitoes will keep you company along the way, but the place is well worth the hassle!
This side is much more natural and secluded than the other side of the site.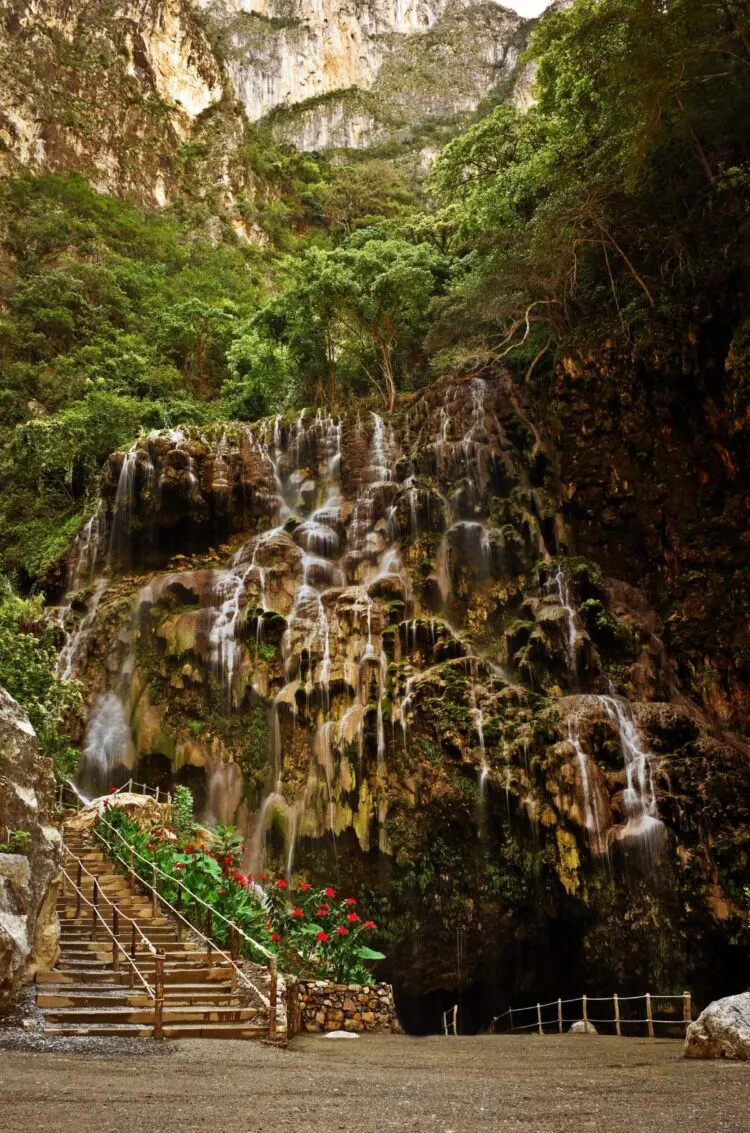 5. Zipline
There is an additional fee for the zipline. The Zipline is accessible from the Hotel Paraiso Escondido. The entire Tolantongo Canyon will be visible as you soar above it.
Before beginning the activity, you will have to sign a waiver.
It consists of four lines:
First-line – 320 m
Second-line – 280 m
Third-line – 690 m
Fourth-line – 600 m
Cost of the Tolantongo Caves Zip Line:
Complete tour – 200.00 MXN (approximately USD 10)
The first two lines only – 150.00 MXN (about USD 7.50)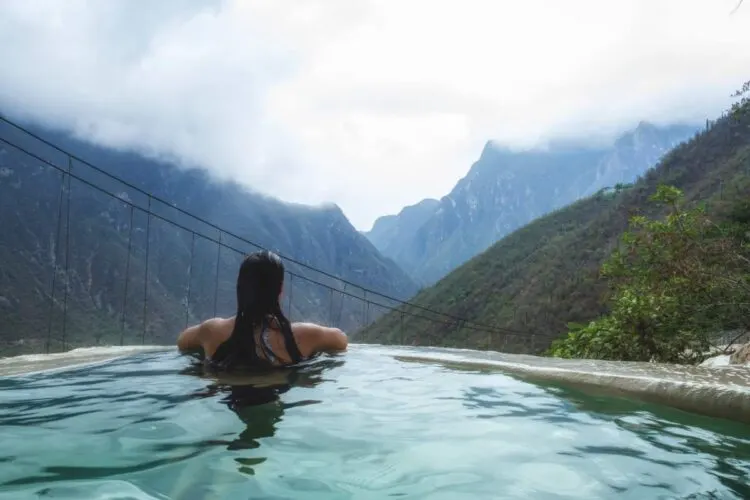 Las Grutas de Tolantongo Entrance fee
Entrance Fee – 150.00 MXN (about USD 7.50)
Parking (per day) – 20.00 MXN (about USD 1)
There is no credit card option at Grutas Tolantongo. Your card won't work here, and finding an ATM won't be easy. Therefore, you'll have to bring enough cash with you.
The price for a private tour starts at USD 56 and includes everything.
A group tour usually starts at USD 30 – just make sure you check what's included, because often the cheaper ones don't include meals.
How to get to Las Grutas de Tolantongo
Journey Duration: 5 hours
The most common way for people to travel to this destination is by taking a shared shuttle!
It's a bit of a longer ride but very affordable. You must go to the North bus station in Mexico City and take a bus on platform 7 or 8 of either the Ovnibus or Flecha Roja lines with directions to Ixmiquilpan Hidalgo City.
Upon arrival at Ixmiquilpan Hidalgo City, you must take the colectivo from the bus station towards Ixmiquilpan's center, passing the municipal gardens and the municipal presidency before arriving at the "Morelos Market."
Then, walk to the north of the Ixmiquilpan city, passing by the "Morelos Market."
And lastly, you will need to find the microbus station located in the parking lot called "San Antonio." There is a microbus stopping directly at Grutas Tolantongo!
Check out the daily departure schedules to ensure you catch a shuttle on time!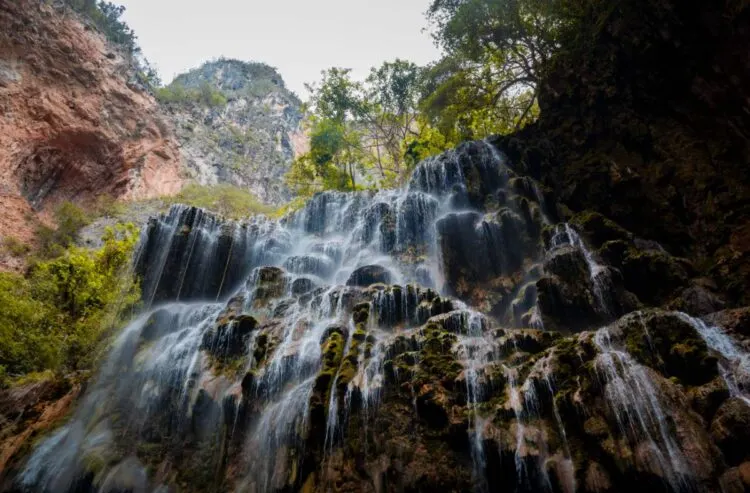 2. Tour to the Tolantongo Caves from Mexico City
Journey Duration: 14 hours
Another popular way to reach the Tolantongo Caves among tourists is to book a guided tour from Mexico City!
It's a fun way to experience the area and get the most from your trip!
3. Drive from Mexico City to the Tolantongo Caves
Journey Duration: 3 hours 30 minutes
The drive from Mexico City to Tolantongo is straightforward if you decide to drive in a car. You just need to grab a map and follow the simple directions!
And if you don't have your car, getting a rental car in Mexico City is also really convenient. However, we recommend booking your car online on rentalcars.com.
First, you must travel along Mexico-Pachuca's main road, with directions to Pachuca. You will next need to take the main road from Actopan, Hidalgo, to Ixmiquilpan before entering the city of Pachuca.
Upon arriving in Ixmiquilpan, you will see two semaphores in front of the Bodega Soriana store. After driving to the second semaphore, turn right just before the OXXO, and follow the main road to Cardonal Hidalgo.
Then, drive directly to Grutas Tolantongo, following the road signs!
Upon arrival, you have to pay your entrance fee (150 MXN) for one day and then go to your hotel or camping site.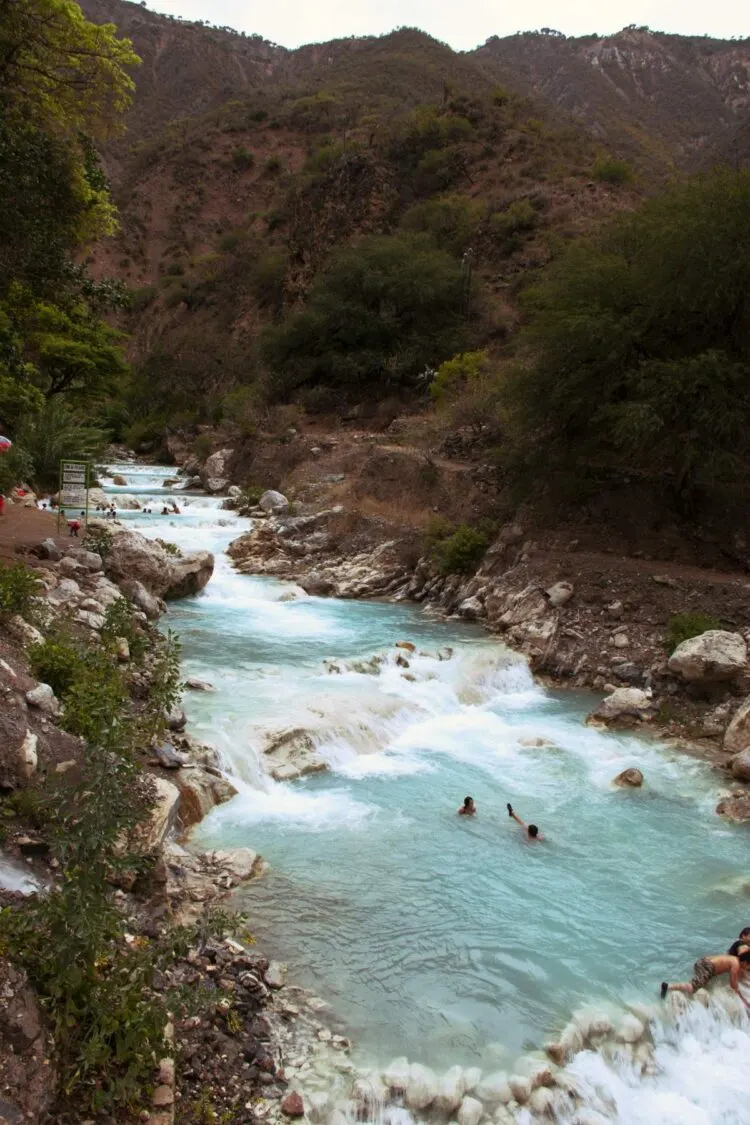 Journey Duration: 3 hours 40 minutes
If you are traveling from Querétaro City, you must first go to the bus station and board a bus on Sale B of the CONEXION line, which will take you to Huichapan-Ixmiquilpan-Pachuca.
When you arrive in Ixmiquilpan Hidalgo City, take a collectivo from the bus station in the direction of Ixmiquilpan center city, passing through the municipal garden and the municipal presidency until you arrive in front of the "Morelos Market."
Afterward, proceed to the north of Ixmiquilpan, passing the "Morelos Market."
Finally, you must find the microbus station in the "San Antonio" parking lot. There is a microbus stop directly in front of Grutas Tolantongo, where the bus will drop you off.
5. Drive From Queretaro City to Las Grutas de Tolantongo
Journey Duration: 3 hours 10 minutes
Another way to travel to Las Grutas de Tolantongo from the nearby city of Querétaro is by car!
If you choose to travel this way, you must first take the main road Querétaro – México in the direction of México City.
You will pass through the towns of San Juan del Rio and Palmillas and later turn to the left with directions to Hichapan, Hidalgo, where you will take the main road to Ixmiquilpan.
When you arrive in Ixmiquilpan, look for two semaphores in front of the Comercial Mexicana store. Drive to the second semaphore, then turn right just in front of the OXXO onto the main road to Cardonal Hidalgo.
Finally, drive straight to Las Grutas de Tolantongo by following all road signs!
Journey Duration: 3 hours
Many tourists travel from Tepotzolian to Grutas Tolantongo.
If this is the route you intend to take, you must first take a bus from Tepotzotlan's bus central in Mexico state. Choose the Lusa or Ovnibus lines to Tula de Allende's Hidalgo state bus central.
You can take the Lusa bus from Tula de Allende Hidalgo to Ixmiquilpan Hidalgo. The bus will stop at Mixquiahuala, Progreso de Obregón, and Chilcuautla.
When you arrive in Ixmiquilpan Hidalgo, take a local bus to Morelos Market in Ixmiquilpan City Center, Mercado Morelos, passing through the garden and the Municipality Presidency.
After that, walk to the north of Ixmiquilpan, passing through the "Morelos Market." Then, find the San Antonio Parking, the central hub for microbuses running directly to Las Grutas de Tolantongo!
Journey Duration: 4 hours
If you're a first-time traveler to Mexico City, don't worry, we've got you covered! Here's how to get to Las Grutas de Tolantogo by shared shuttle from Mexico City International Airport:
When you arrive, head to Terminal 1 or 2, you will take a bus from the Conexion, Futura, or Estrella Blanca lines to the Pachuca City station.
You can buy your Airport Mexico to Pachuca tickets online here!
Next, when you arrive at the Pachuca City bus station, take a bus to Ixmiquilpan City.
When you arrive at the bus station in Ixmiquilpan, take a local minibus near the Morelos Market, passing by the Garden and the Municipality Presidency.
Later, walk to Ixmiquilpan's north city, passing through the "Morelos Market."
Next, look for the "San Antonio" parking lot, which is the starting point for direct microbuses to Grutas Tolantongo.
Best time to visit Las Grutas de Tolantongo
Tolantongo is open all year round! As it is in Central Mexico, it has an "eternal spring" climate, which means its temperatures are spring-like for most of the year.
As a result of this climate, Tolantongo can be visited most of the year. It is, however, recommended that you avoid staying in the rainy season.
The rainy season in Tolantongo is heaviest in July and August, so you might prefer renting a hotel over camping during this period.
Visiting During The Summer Months
When visiting during the summer, getting in and out of the warm water will refresh your body, mitigate the heat, and keep you cool.
Many of the hot pools at Las Grutas de Tolantongo aren't too hot to be uncomfortable during the summer months.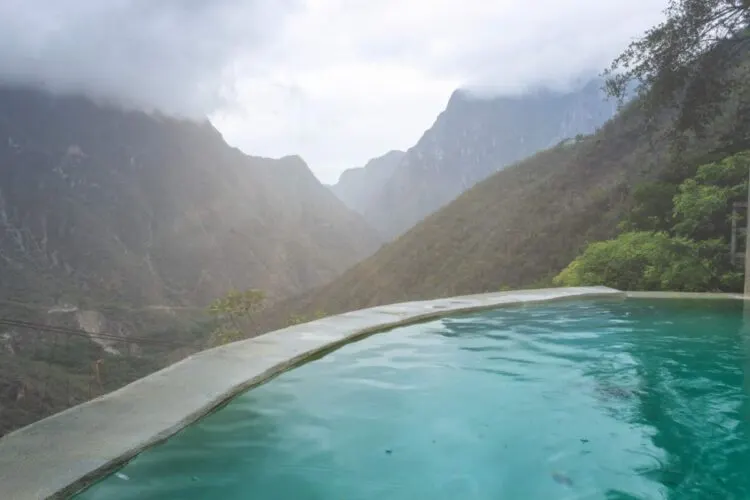 Visiting During The Winter Months
When you are there during the winter, soaking in the thermal hot pools will be a welcome respite from the cold. Fortunately, the temperatures don't dip that low, even during winter.
In addition, if you're camping in the winter, you'll want to pack warm clothes as temperatures can drop to 50F/10C at night.
However, if you rent a room, these Tolantongo temperatures shouldn't be an issue!
When To AVOID Visiting
Whenever possible, I recommend avoiding visiting during the weekend.
The thermal pools are usually flooded by literally thousands of local tourists looking to escape the city and the heat every weekend.
There is no quiet space within the park, services are crowded, and long lines form to enter the best spots.
Visit Las Grutas de Tolantongo between Monday and Thursday for the best experience!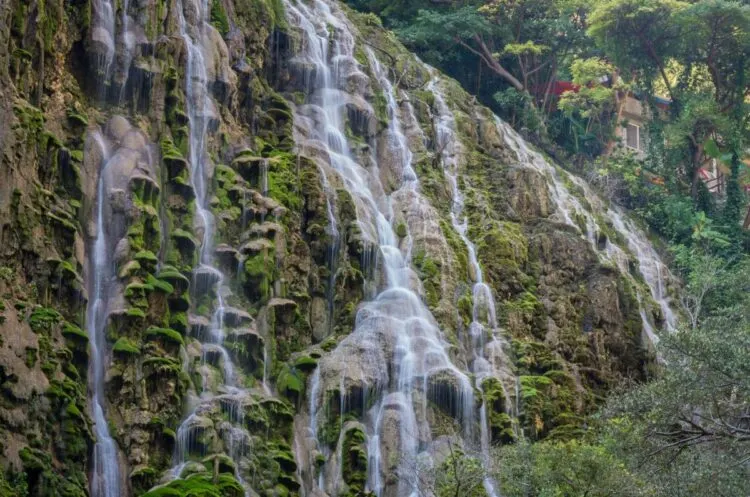 Las Grutas de Tolantongo Packing List
Water shoes, a waterproof phone holder to carry your phone, and some cash around all day.
When staying overnight, keep in mind the WiFi at Tolantongo is extremely limited, if it even works. You'll want to have a book, journal, and podcasts pre-downloaded onto your laptop or phone. Don't forget to bring chargers for your devices.
Listed below are a few other essentials you might need:
Clothing, Bathing suit
Sunglasses
Sun hat
Sandals or sneakers
Toiletries
Waterproof dry bag
Reef safe sunscreen
Eco-friendly bug spray
Body wash & lotion, Shampoo, Conditioner
Budget for Grutas Tolantongo
Be sure to bring enough cash to pay for a hotel or campground (if you are booking one), food and drinks, entry fees, and any other hidden expenses that might come along the way. You will need cash as they do not accept cards, and the closest ATM is an hour away.
You may wish to consider bringing at least 1,500-3,000 MXN (USD 75-USD 150).
The cost can quickly increase if you stay for several days at Las Grutas de Tolantongo.
TIP: Stay for at least two or three days to get the most value for your money. The fantastic amenities and services Las Grutas de Tolantongo offers will make your stay enjoyable and worth it.
Grutas De Tolantongo Resorts
Among the facilities at Tolantongo are five hotels, the La Gloria Tolantongo resort, and campgrounds.
Although it is a resort, expect modest accommodations – not Grutas de Tolantongo's all-inclusive resort.
From the outside, resorts in this rural part of Mexico may appear excellent, but they tend to have few amenities beyond hot water and cable TV. There aren't many hotels with WiFi availability either, due to the rural setting.
Although we're not talking luxury, resorts are a good, inexpensive option for overnight stays.
Grutas De Tolantongo Hotels
Hotel La Gruta – from 750 MXN (approximately USD 37) per night
Hotel Paraiso Escondido – from 800 MXN (about USD 39.50) per night
Hotel La Huerta – from 800 MXN (about USD 39.50) per night
There is no booking in advance available at Tolantongo's Mexico resort; only onsite, in-person rentals are available. However, there are 350 cabana-style hotel rooms, meaning plenty of rooms will be available. In such cases, you do not want to risk them running out of rooms if you are not accustomed to camping.
Therefore, consider arriving there early to get yourself a lovely room with a stunning view!
Grutas de Tolantongo Map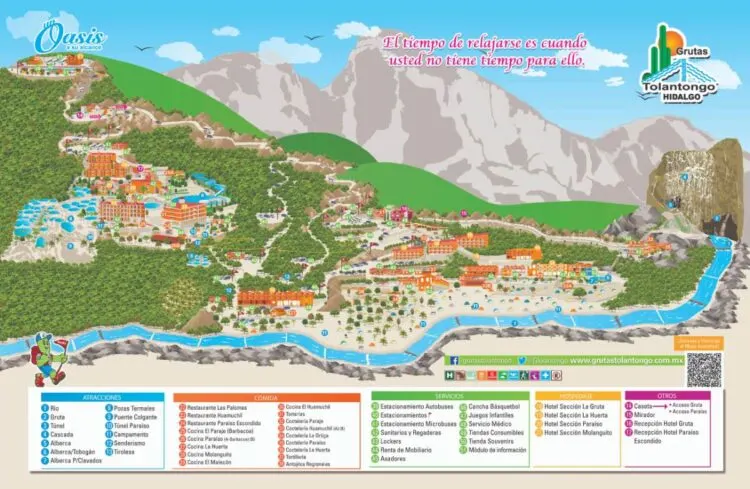 Frequently Asked Questions
When is Grutas Tolantongo open?
Las Grutas Tolantongo is open daily from 7 Am to 8 PM.
What city is Grutas de Tolantongo in?
Grutas de Tolantongo is located in the Hidalgo state of Mexico. The next bigger city is Pachuca.