Chiang Mai is a cultural hub and a beautiful town in Northern Thailand. As the town is a tourist attraction, there are multiple ways to travel from Bangkok to Chiang Mai.
One can travel by bus, train, or flight according to the allocated budget or required comfort level.
How far is Chiang Mai from Bangkok
The distance from Bangkok to Chiang Mai is about 428 miles or 689 km.
1. Flight from Bangkok to Chiang Mai
The fastest and most comfortable way to travel to Chiang Mai from Bangkok is by flight. There are more than 50 daily flights. The estimated traveling time is one hour and ten minutes.
The cost of a flight varies from $30 to $100, depending on how early you book your ticket. You are more likely to get pretty good rates if you book ahead of time.
Flights depart from both airports of Bangkok and arrive at Chiang Mai International Airport that is located just a 10-minute drive away from the city center.
Thai AirAsia, Nok Air, and Thai Lion Air are more affordable, taken from Don Mueang Airport. Occasionally, there are great deals with Thai Smile, Bangkok Airways, Thai Airways, and Thai Vietjet Air at Suvarnabhumi Airport.
Most of the budget carriers have luggage restrictions, so it is recommended to double-check baggage allowance.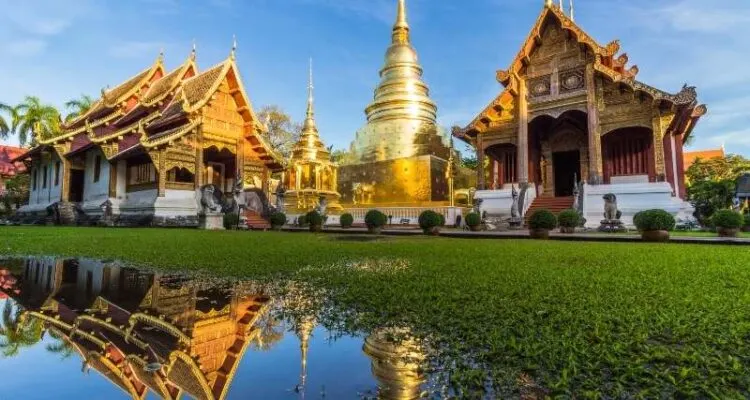 2. Sleeper Train Bangkok to Chiang Mai
Multiple trains travel between Bangkok's Hua Lamphong Station and Chiang Mai Station daily. The journey takes around twelve to 15 hours, although delays are pretty common.
Second-class tickets cost around $15. These seats have a carriage with fans. The third-class compartments have wooden benches, not really a good idea for a 15-hour journey, given that the seats are not always allocated. Air-conditioned carriages are a little more expensive.
If you prefer to travel at night, there are bunks in the sleeping carriage. The second-class bunks can be booked for $25-$30. There are also beds available in the air-conditioned carriages at a higher price.
Train tickets are available on all major train stations, or you can buy them from agents or online. I highly recommend getting your ticket a day before your trip or several days if your trip coincides with any major holiday.
3. Bus from Bangkok to Chiang Mai
The most affordable means of transportation from Bangkok to Chiang Mai is the bus. Buses depart from Bangkok's Mo Chit Bus Station and arrive at Arcade Bus Station in Chiang Mai. The trip takes around twelve hours.
Multiple services are available, both during the day and at night. There are two major levels of services: regular and VIP.
In the regular services, first-class tickets of government buses are available for approximately $16.50, which offers a high level of comfort with air-conditioning and toilets on board.
The regular or second-class government bus costs $13.50.
Private operators run VIP buses, and their fare reaches up to $27. The reclining seats, onboard toilets, a pillow, a blanket, a light snack, and bottled water are the comforts of this service.
More Routes from Bangkok, Thailand