Peace Resort Koh Samui is located at Bophut Beach and has 122 guest accommodations. It was first opened in 1977 and won different awards.
Read here my Luxury Hotel Review of the Peace Resort Koh Samui.
The resort really lives up to its name. From the moment I checked-in in felt very relaxed and comfortable. The check-in area is quite appealing, and the receptionist is friendly and attentive.
The resort is actually a huge garden with trees and flowers. On the way to my bungalow, I could watch squirrels climbing up palm trees. It is an amazing place so close to nature.
Related Posts:
Location
Peace Resort Koh Samui is located at Bophut Beach on the beautiful island of Koh Samui in the south of Thailand. It is only a 20-minute drive from the airport by shuttle bus or taxi. Nevertheless, you won't hear any aircraft noise. It is indeed located in a calm area of Samui, ideal when you want to relax on the beach or zone out.
Room Experience
I stayed at one of the four beachfront villas at Peace Resort Samui. Each villa has a size of 64 square meters and its own terrace with sunbeds. The room is equipped with everything you might need, including a TV flat screen, fridge, coffee & tea making facilities, working desk, safety box, DVD player and a day bed. The bathroom is huge, with a separate shower and bathtub.
The room's highlight is, however, its location right at the beach. You can actually relax in bed and watch the ocean. Imagine waking up in the morning with the sound of the waves crashing on the beach. I felt like in paradise!
The breakfast buffet is next to the beach and caters to all tastes. It offers, amongst others, freshly prepared eggs, bread, ham & cheese, fresh fruits, yogurt, and thai style breakfast.
Bars and Restaurants
At Peace Resort Koh Samui, there is one bar next to the pool with a view of the ocean. If you want to have dinner, you can go to the restaurant where also breakfast is served.
I strongly recommend dinner by the sea when you want to surprise your girlfriend/ wife or eat in a romantic atmosphere.
The menu started with Pomelo salad with shrimps and crab spring roll with sweet chili sauce.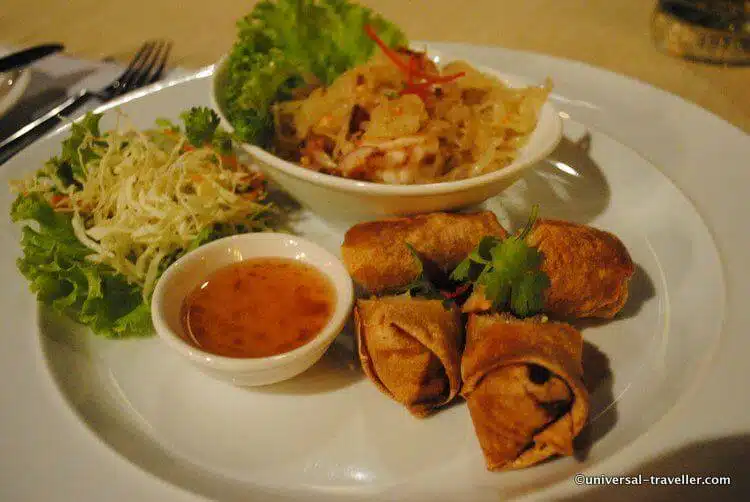 Afterward, they serve a delicious chicken soup with mushrooms and young coconut meat in coconut milk.
For the main course, you get a choice of red curry of roasted duck breast with kaffir lime leaves and sweet basil, deep-fried prawns glazed with tamarind sauce, steamed fillet sea bass topped with lime, garlic, and chili dressing, assorted stir-fried vegetables with oyster sauce and steamed jasmine rice.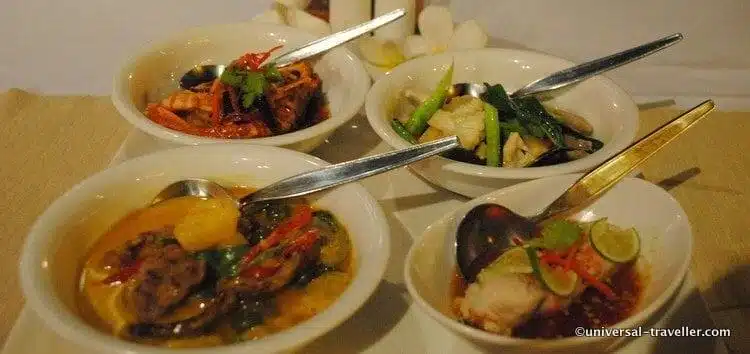 For dessert, you can choose between sticky rice with mango or tropical seasonal fresh fruits.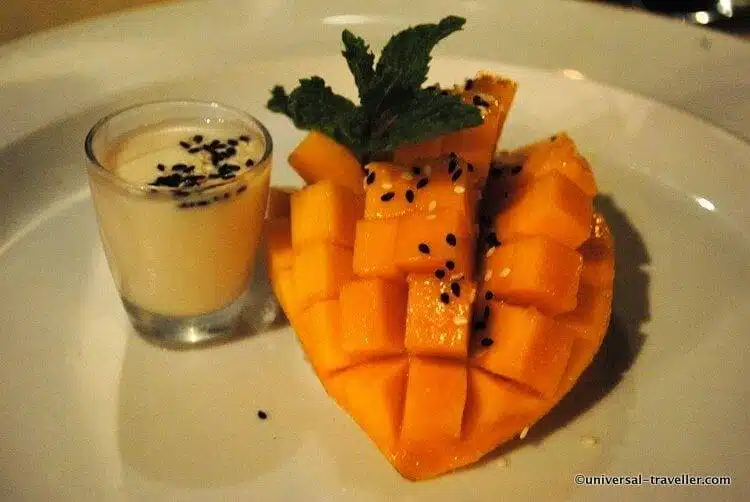 Peace Culinary and Cooking School
The Resort has its own cooking school for guests. Here you can learn how to cook Thai food and learn something about the culture of Thailand. But, lookout … once you are done cooking, you can taste your self-made food. So make sure to listen well to the chef ;)
I prepared Coconut Soup with Chicken, Mushrooms, and Galangal, Phaneng Beef Curry with Peanuts, and Lime Leave & Phad Thai with Prawns and Bean curd.
What I loved about Peace Resort Koh Samui
My Beachfront Villa was superior. I could relax in bed and still see the ocean through the window.
The Dinner by the sea was a special experience. So romantic!
The pool is among the best ones I swam in so far.
The staff was, without exception, super friendly and cheerful.
The relaxed and calm atmosphere.
The on-the-site Thai Cooking Class.
There is so much green in the hotel area. You live very close to nature and can see, amongst others, squirrels climbing up the trees.
The whole ground is neat and tidy.
I loved to have breakfast right next to the beach. A good start to a new day!
The resort has a room with a computer and printer in case you want to organize a trip or need to print out your flight tickets.
Luxury Hotel Review Peace Resort Koh Samui – Conclusion
I highly recommend The Peace Resort Koh Samui when looking for a calm and relaxed place to spend your vacation.
Trees and flowers surround all bungalows, and you can even watch squirrels climbing up the trees. The resort is right next to the beach and a night in the beachfront villa makes your stay without doubt unforgettable.
The staff is friendly and helpful. The breakfast buffet caters to all tastes, and the dinner by the sea is really unsurpassable. I had a great time and would always stay there again!
Book your room now at discounted rates with agoda, Expedia or booking.com
Are you on Pinterest? Pin this!
Disclaimer: I was a guest at Peace Resort Koh Samui. My opinions, as always, are solely my own.