If you are ever in Guatemala or consider going, don't miss out on the chance to hike the amazing Volcano Acatenango.
Antigua used to be the country's capital back in the colonial days and is filled with beautiful colonial architecture with Volcano Acantenango and quite a few other impressive volcanos surrounding it.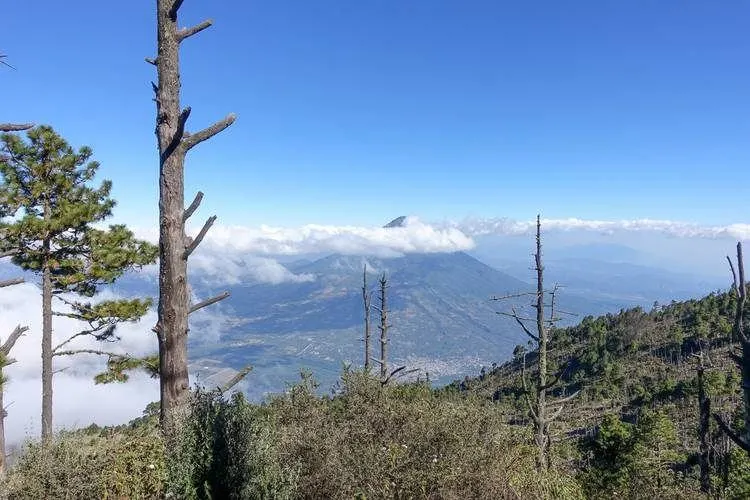 Acatenango measures 3976 meters above the ocean. It had its last eruption over 2000 years ago, but what's special about it is the views from the volcano itself.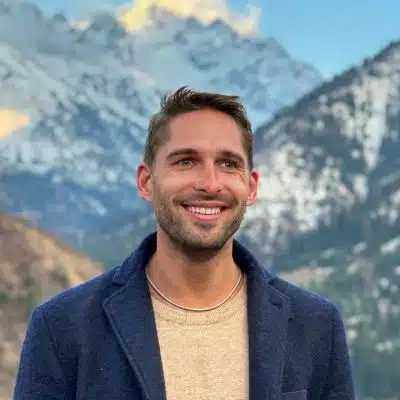 Read also: How to get from Guatemala City to Antigua
From Acantenango, you have a view across to the active neighbor volcano Fuego. Volcano Fuego is known to spew ash and lava from the crater, though there are periods when the eruptions are stronger or more frequent and even dangerous.
There are many tour companies in Antigua that offer to take you to climb it. You can climb it all in a day, but it's recommend that you do the hike that includes spending a night on the volcano.
It's hard for the body to adjust to the altitude, especially if you rush it. Therefore, to avoid getting symptoms of altitude sickness, you should definitely hike it slow.
Also, remembers to acclimatize for a day or two in Antigua to prepare your body before doing the hike.
However, the other reason it's recommended to take the 2-day hike of Acantenango is that it is unforgettable to sit around the bonfire at about 3500 meters altitude and watch Fuego erupt glowing lava.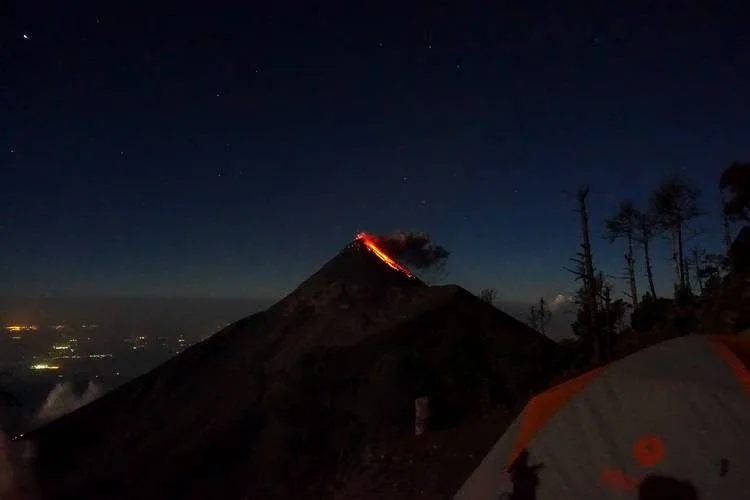 The tour companies get you in Antigua in the morning before they take you to the hike's starting point. You'll most likely be a group of 10-15 people with 2 guides.
The hike on the first day takes about 5-6 hours with brief water and snack stops. The company will provide you with your camping gear, and the quality depends on the company you choose.
You'll still have to carry the tent up yourself as well as all your food and plenty of water and warm clothes.
You arrive at your campsite for the night in time for sunset. Watching volcano Fuego and the surroundings, consisting of cities in the far and quite a few other volcanos, get colored by the setting sun is unforgettable.
Even though you'll be able to hear the eruptions when you reach the campsite, as it gets dark, you'll start to see the glowing lava. At night you eat and get some sleep before you get woken up about 4 in the morning for the final hike to the top of Acatenango for sunrise.
The hike is about 1,5-2 hours and consists of narrow gravel paths, if any paths at all. This last part is definitely the hardest part of the hike.
Keep in mind that you'll be hiking with the light of the moon and a headlamp if you have one. The view on the top will be worth every second of it.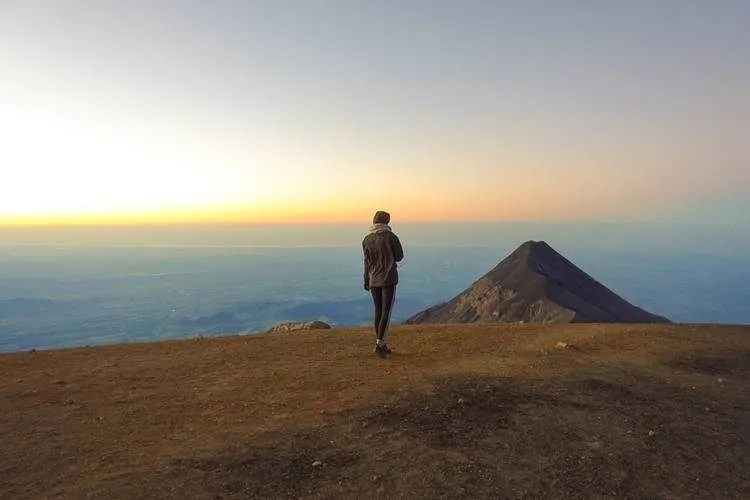 Getting to the top, you'll still be able to see the top of Volcano Fuego, and you will be even closer to it than at the campsite. If you're lucky, you'll see it erupt right when the sun rises.
After watching the sunrise on top of the volcano, you'll go back down to the campsite, eat breakfast and pack up your things before you start the hike back down.
The hike down will take about 2 hours because it's downwards and because, when hiking at altitude, the air is so thin that you will climb at a slower pace than you usually do closer to sea level.
Prepare yourself for a physically and mentally challenging hike, especially if you've never hiked in altitude before. This is, however, the price to pay for an unforgettable adventure!
Written by Julie from Why not Ju
Best VPN for Travel: ExpressVPN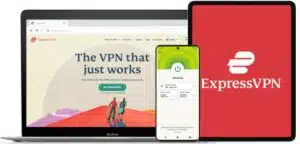 Heading abroad? Use ExpressVPN to access your social media accounts, unblock your favorite entertainment sites, and stay connected with friends and family. And get cheaper flights, of course.
Pros
✅ Next-gen, high-speed servers in 94 countries
✅ Works on iOS, Android, Windows, Mac, Linux, browsers, and more
✅ 256-bit AES encryption protects your data, even on hotel Wi-Fi
✅ Unblocks Netflix and other streaming sites
Cons
❎ No dedicated IPs
Get 3 extra months free of ExpressVPN when signing up for a 1-year plan. That's a 49% saving and a monthly cost of just $6.67! You also get a 30-day money-back guarantee.