If you're headed to Mexico, Hierve el Agua Oaxaca is one of the spots that you'll want to check out. Experience this beauty of nature for yourself because photos do not do them justice!
Hierve el Agua is among Mexico's most beautiful natural structures – and I don't just mean the place itself.
But, because from a distance, it is easily mistaken for a waterfall, it's even more remarkable when you understand that it's actually a stalactite!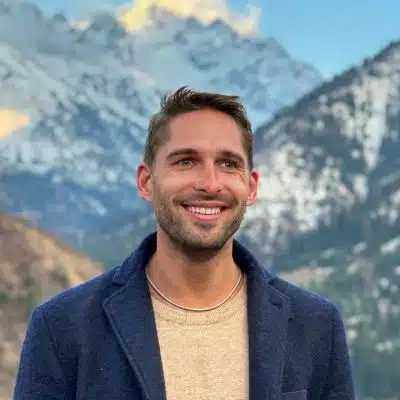 It formed thousands of years ago thanks to the runoff of carbonated water from natural springs full of calcium. As the water trickled over the cliff, it became 'frozen' by thick mineral deposits.
In Spanish, the name means "boiling water," which is very apt given its freezing cold temperatures. The water takes its color from the chalk-like soil on which it flows, giving it a breathtaking glow!
The Hierve el Agua rock formation is breathtaking; when you see it from above, this natural phenomenon is quite dramatic!
It is extremely popular with tourists due to its proximity to Oaxaca City and easy access because of the excellent Mexican transportation system!
History of Hierve el Agua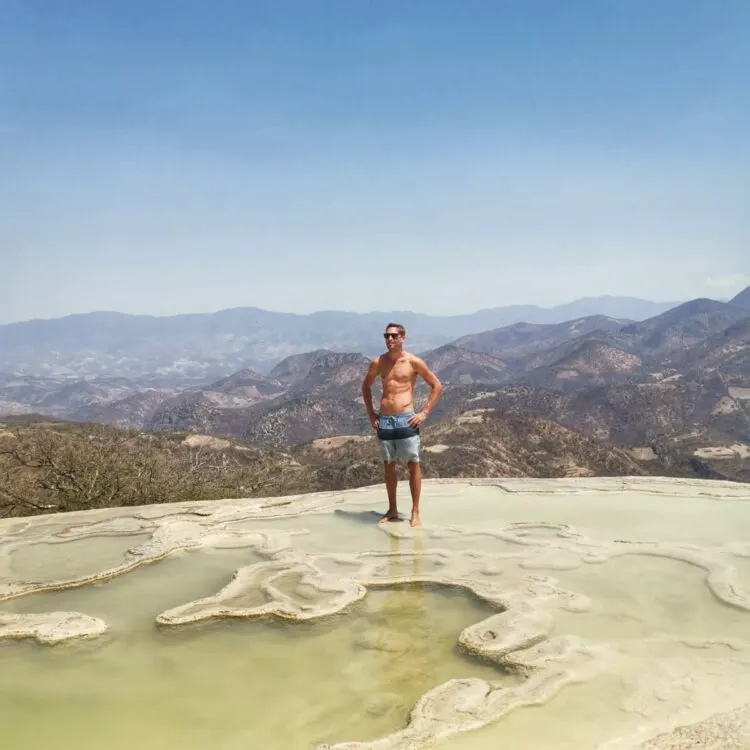 The history and beauty of Hierve el Agua have captivated people for thousands of years! The natural wonder has been in the making for thousands of years, and it is believed that it might once have been home to an ancient irrigation system.
The spectacular petrified Hierve el Agua waterfall dates back to the time of the Zapotec people, who lived in the area 2,500 years ago. Experts believe Hierve el Agua was likely a sacred site for these ancient people.
It is thought that a complex irrigation system built by the indigenous people helped channel water from these carbonated springs into canals that ran through tunnels dug out underneath Hierve el Agua.
The unique petrified waterfall Oaxaca effect was produced by the carbonated spring water that cascaded from the rock and progressively calcified.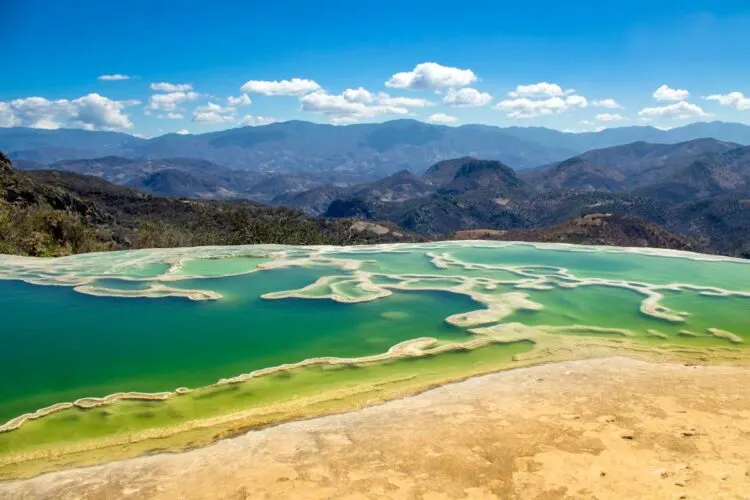 How to get to Hierve el Agua
1. Bus + Colectivo from Oaxaca to Hierve el Agua via Mitla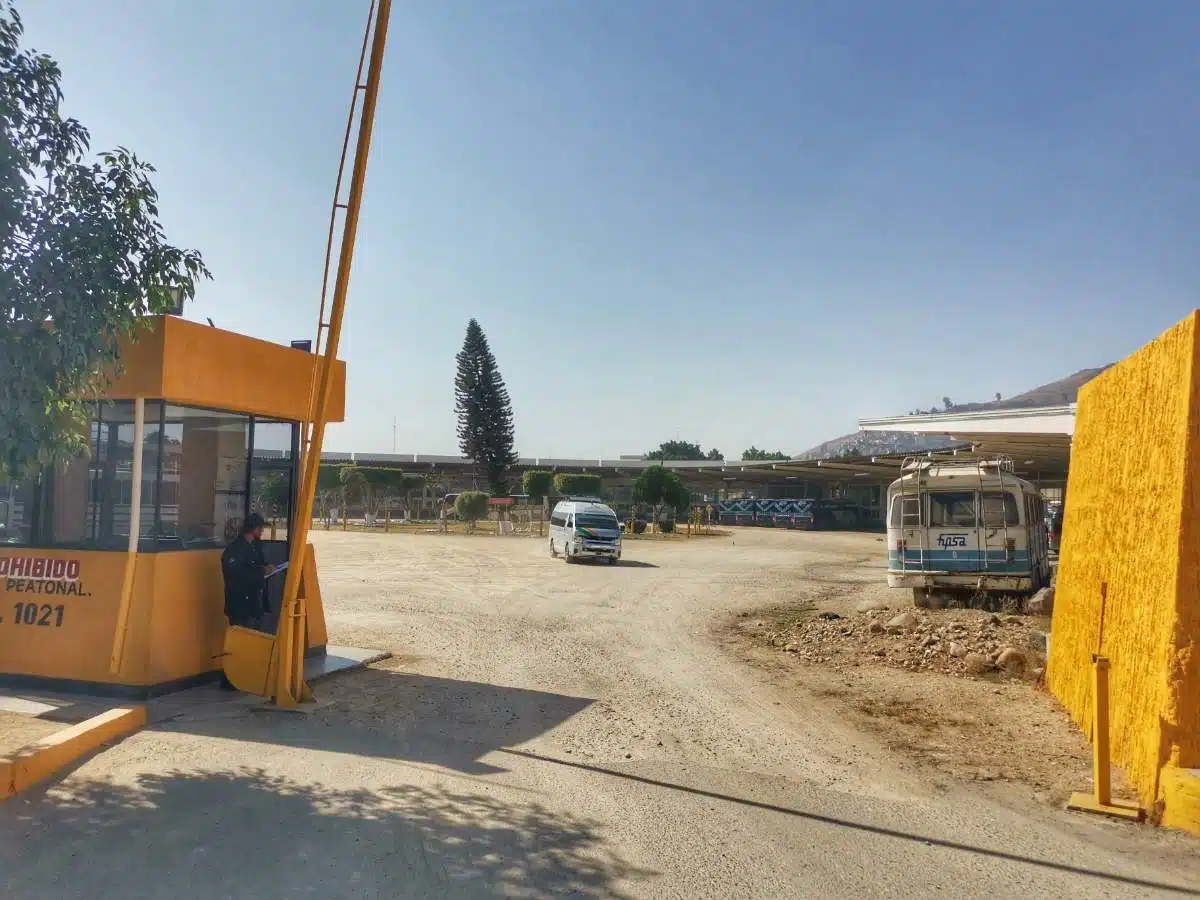 Hierve el Agua is easily accessible from Oaxaca City thanks to the excellent transportation system.
Public transport to the site is always available, and it's quite easy and inexpensive to get there!
To reach Hierve el Agua, you first need to take a bus from the terminal in Oaxaca to Mitla. The bus ticket costs only 20 MXN or USD 1.
Make sure you have Mexican pesos on you, as dollars are usually not accepted.
It takes only 1 hour and 15 minutes to reach Mitla from Oaxaca City. Once you get off the bus, you must get on a colectivo from Mitla to reach Hierve el Agua. The colectivo costs 75 MXN.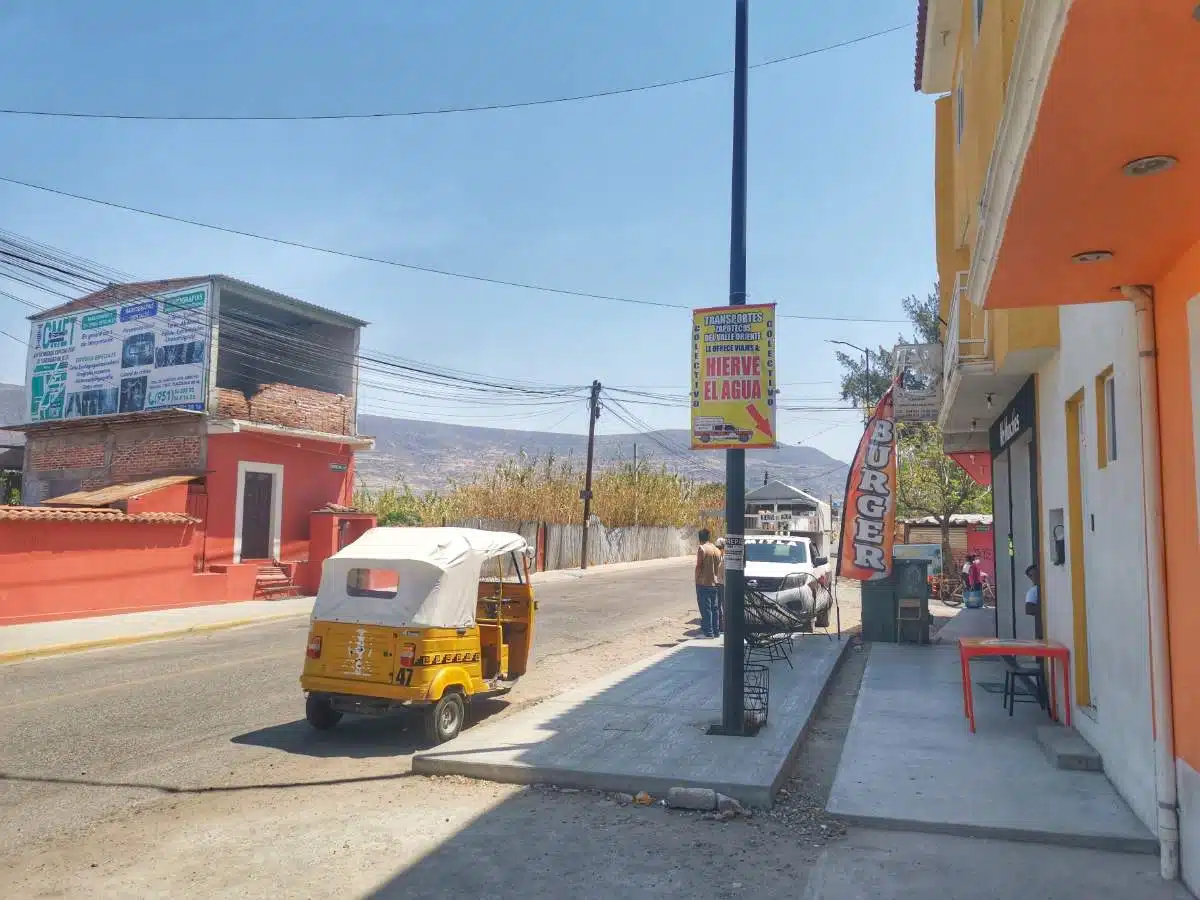 Alternatively, you can take a taxi for 400 MXN, but only if you're traveling with a maximum of 4 people.
Tip: The colectivo only leaves with 12 people, so you might consider taking a taxi. We saw people waiting for more than two hours to take the colectivo.
Also, remember that there is a road fee to Hierve el Agua which costs 15 MXN per person.
On the return trip, we took a colectivo taxi from Mitla to Oaxaca for 40 MXN per person.
Tip: While it is simple to obtain a taxi from Mitla to Hierve el Agua, there was no taxi available on the way back; thus, we had to wait until there were enough passengers for the colectivo to depart.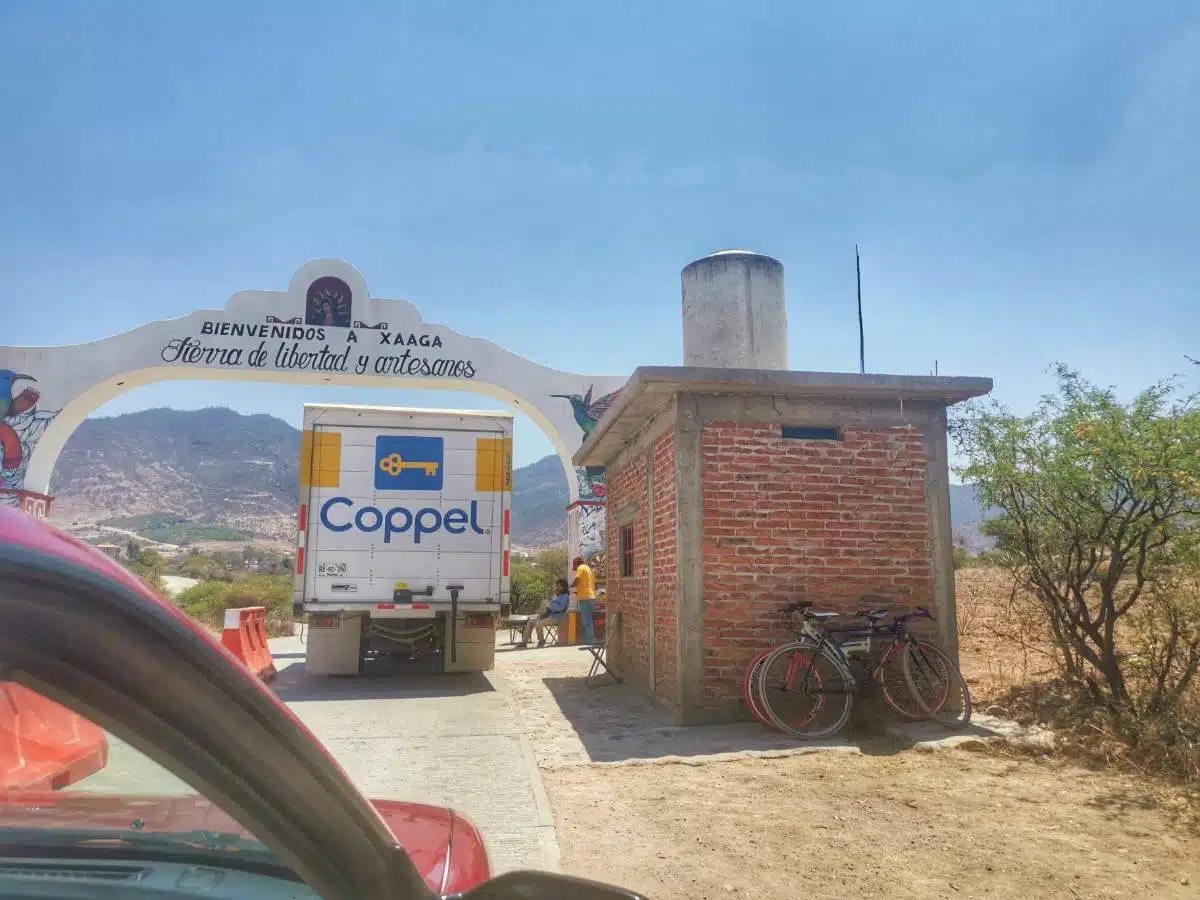 In fact, we paid a bit more per person, so the colectivo left with fewer people.
We advise paying a taxi driver for the return trip to save time. But be cautious and do not pay for the return trip until you have arrived back in Mitla to prevent the taxi driver from leaving with your money and without you.
2. Tours from Oaxaca to Hierve el Agua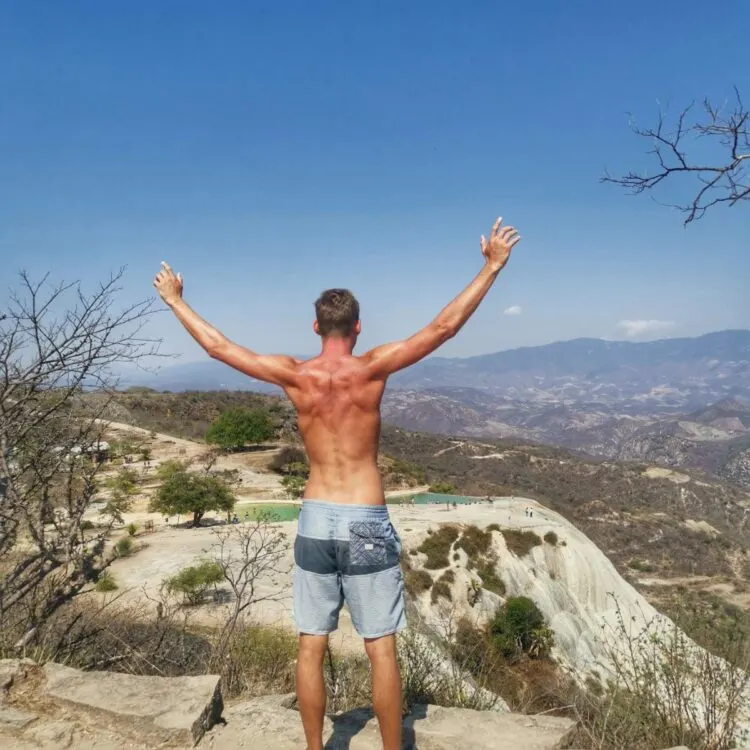 There are many ways to go to Hierve el Agua from Oaxaca City, and booking a tour of Hierve el Agua Oaxaca is another excellent way to visit the site!
Guided tours provide transportation from your pickup point in Oaxaca to Hierve el Agua and a guide once you arrive at the site!
There are many tours to choose from, starting at USD 45! So, take let's take a look at what's on offer:
The first option is to combine your visit to Hierve el Agua with a visit to a mezcal factory!
Teotitlán del Valle is the first of three stunning locations to see in Oaxaca. Take in the traditional dyes made from natural materials in Teotitlán del Valle town.
Then you'll visit Hierve el Agua Waterfalls, where you can go swimming. And after that, you'll take a trip to a mezcal factory to sample some of the delectable liquor's various flavors.
You also have the option to combine your visit to Hierve el Agua with a detour to El Tule and Mitla! You can experience a cultural tour of Oaxaca that includes a hotel pickup.
Take a closer look at all of the day tours from Oaxaca City and experience Hierve el Agua and the region to the fullest!
3. Rental Car from Oaxaca to Hierve el Agua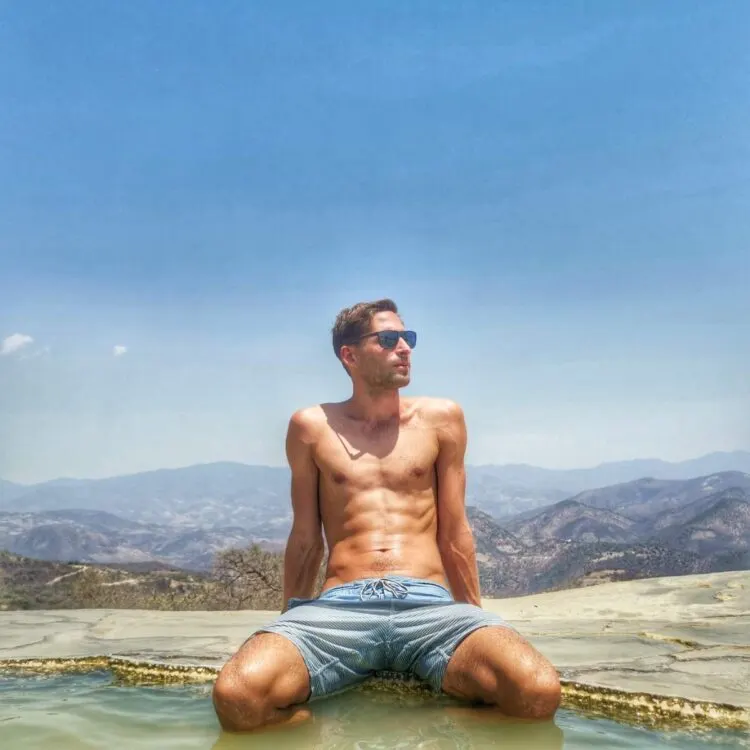 Unquestionably, renting a car is among the greatest ways to travel around Mexico!
And therefore, it's also an excellent option to consider when going from Oaxaca (or any other place in Mexico) to Hierve el Agua!
Without having to bother about tours or public transport, you can explore the area fully!
You have complete freedom and great flexibility while making travel arrangements!
The average cost of renting a car in Oaxaca City is about USD 25 per day, which is very reasonable.
So, consider this option if you want to venture on your own!
Rentalcars compares 900 companies at over 53,000 locations. Click here to guarantee you the best car rental price.
What to know before visiting Hierve el Agua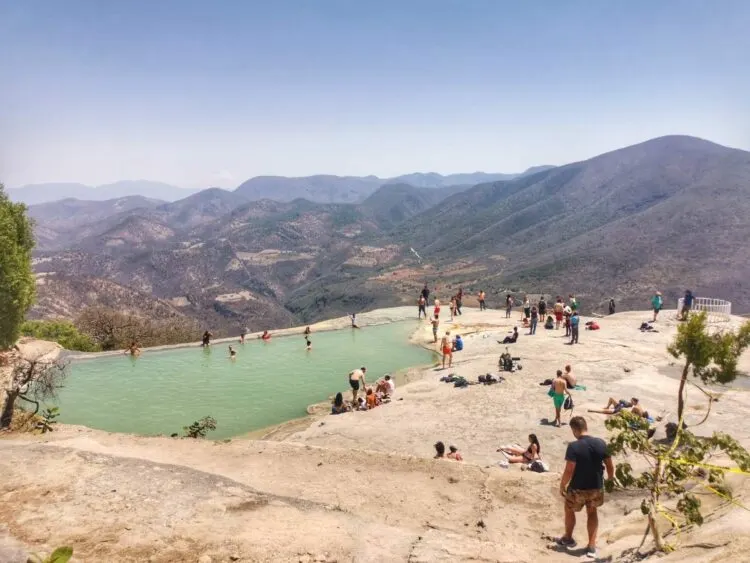 Opening Times
Every day from 07:00 AM to 05:00 PM, Hierve el Agua is open to the public. You are welcome to visit the attraction and remain as long as you wish during these times.
Entrance Fee
Currently, it costs about 50 pesos, or about USD 2.50, to enter Hierve el Agua.
The admission price must be paid in cash, and you must have pesos on hand because they don't take other forms of payment.
The cost of nearby parking is an additional 80 pesos, or about USD 4. If you decide to visit Hierve el Agua on a tour, the cost of entrance is typically included in the price, though they can vary.
Direction + Map
If you're headed to Hierve el Agua, you'll probably stop in Oaxaca City first and continue the journey from that point!
The distance from Oaxaca City to Hierve el Agua is 42.2 miles or 67.9 kilometers, and it takes only about 1 hour and 30 minutes to reach the site. This is a popular departure point since it provides easy and convenient transportation access to Hierve el Agua!
However, if you're departing from other Mexican hot spots, you must reach Oaxaca City first. To find out how to reach your final destination, read everything you need to know about Mexican Transportation here!
Nearby Attractions
The most excellent option if you have limited time and want to explore as many locations as possible is to book a tour to Hierve el Agua which also offers a visit to the other nearby attractions!
As previously mentioned, most tours also include extra stops at places like Tule's widest tree in the world, a weaving workshop in Teotitlan, the ruins of Mitla, and a mezcal distillery.
These are the top attractions near Hierve el Agua and are worth visiting!
We recommend visiting Hierve al Agua, and the Mitla ruins together, stopping for lunch at the Mitla market in between (Mercado de Abastos Mitla)! In comparison to Oaxaca's marketplaces, it is less touristy. Walking to the market takes only a few minutes from the bus stop.
Book one guided day trip to Hierve el Agua and experience all the nearby attractions!
Hierve el Agua Local Climate
As Hierve el Agua can be extremely hot in the summer, November through January is the best time to visit.
Oaxaca's dry season is during that time. Because of this, there is very little rain, but the temperatures are better, even when it is sunny!
A typical daytime temperature hovers around 80 degrees F or 30 degrees C, while a typical nighttime temperature can be as low as 50 degrees F or 10 degrees C.
Swimmers may find the spring-fed pools most enjoyable at midday or in the afternoon when the water has had a chance to warm up in the sun. Unfortunately, nighttime is chilly, and the morning water is icy cold.
Basically, Hierve el Agua has a desert climate.
More Hierve el Agua Oaxaca Fotos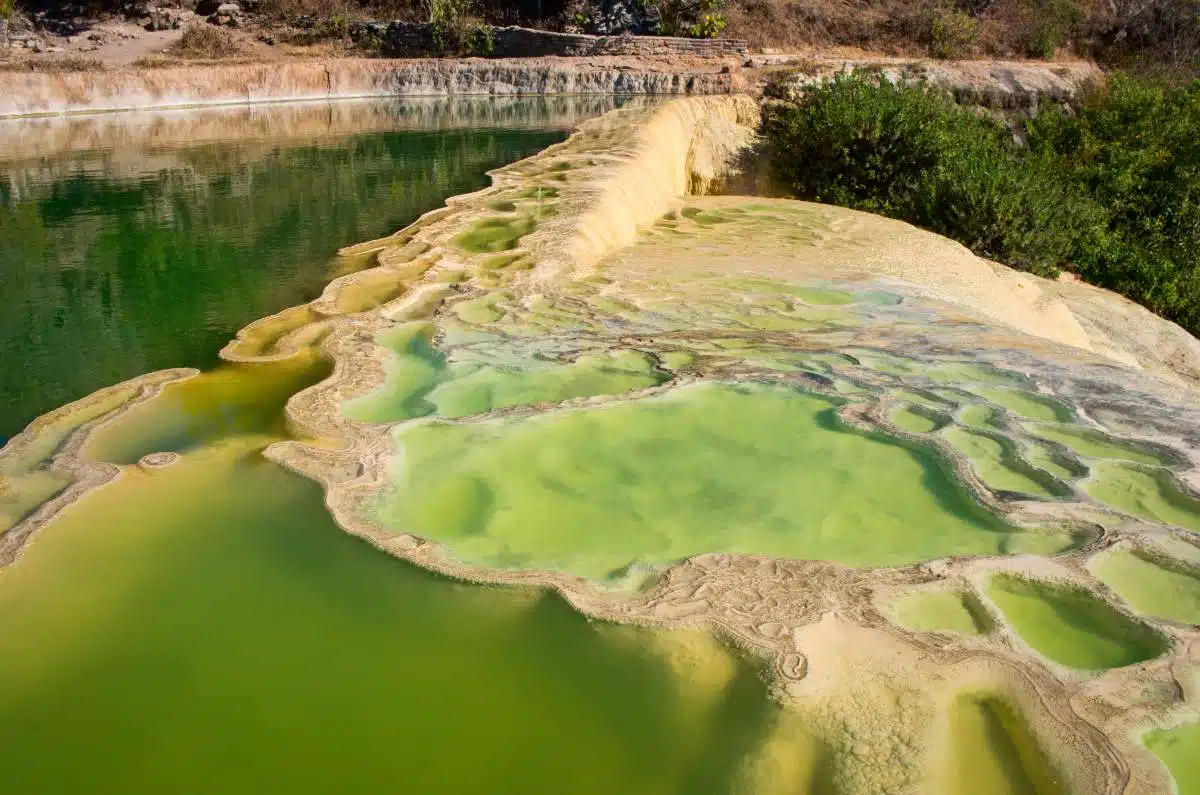 Frequently Asked Questions
Best VPN for Travel: ExpressVPN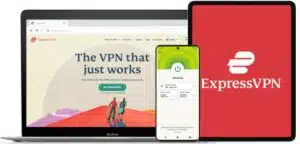 Heading abroad? Use ExpressVPN to access your social media accounts, unblock your favorite entertainment sites, and stay connected with friends and family. And get cheaper flights, of course.
Pros
✅ Next-gen, high-speed servers in 94 countries
✅ Works on iOS, Android, Windows, Mac, Linux, browsers, and more
✅ 256-bit AES encryption protects your data, even on hotel Wi-Fi
✅ Unblocks Netflix and other streaming sites
Cons
❎ No dedicated IPs
Get 3 extra months free of ExpressVPN when signing up for a 1-year plan. That's a 49% saving and a monthly cost of just $6.67! You also get a 30-day money-back guarantee.
Can you swim at Hierve el Agua?
Yes, you are welcome to enter the hot springs pools at Hierve el Agua and relax while soaking. Locals in this region of Mexico claim that Hierve el Agua's water has a high level of minerals and therapeutic benefits.
What is the water temperature at Hierve el Agua?
Although Hierve el Agua translates as "boil the water," the water is warm rather than hot in this instance. All year long, the temperature ranges from roughly 72° to 81° F, or 22° to 27° C, which is ideal for most people.
How did Hierve el Agua get its name?
The water in Hierve el Agua, Mexico, pools comes from an underground natural spring that "boils up" from a very deep part of the Earth. Therefore, this is where "boiling water" comes from.
Is it safe to rent a car in Oaxaca?
Yes, one of the best ways to see the region and get to Hierve el Agua on your own is to rent a car in Oaxaca.
What should you bring to Hierve el Agua?
To make your day as enjoyable as possible, be sure to prepare a day bag with the goods listed below.
Swimwear
Towels
Pesos for lunch and admission costs
A camera is a must—the photo opportunities are incredible!
Enough water
Sunscreen
Sunglasses
Good hiking shoes for the terrain surrounding Hierve el Agua.
Best things to do in Mexico