Hi there, my name is Marco, and I'm a travel blogger over at Bottom Line Cents; today, I'll be sharing an Epic Evening in Halong Bay Itinerary that you could do on your next visit to Vietnam.
Vietnam is an amazing country and is a must for every traveler out there.
You will be wowed with stunning views, delightful cuisine, and wonderful local people to meet.
Best VPN for Travel: ExpressVPN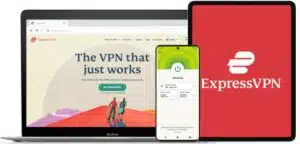 Heading abroad? Use ExpressVPN to access your social media accounts, unblock your favorite entertainment sites, and stay connected with friends and family. And get cheaper flights, of course.
Pros
✅ Next-gen, high-speed servers in 94 countries
✅ Works on iOS, Android, Windows, Mac, Linux, browsers, and more
✅ 256-bit AES encryption protects your data, even on hotel Wi-Fi
✅ Unblocks Netflix and other streaming sites
Cons
❎ No dedicated IPs
Get 3 extra months free of ExpressVPN when signing up for a 1-year plan. That's a 49% saving and a monthly cost of just $6.67! You also get a 30-day money-back guarantee.
While in Vietnam, my partner and I stayed in Hanoi for about a week, and there is so much to do in Hanoi that you wished you could stay longer.
During our stay in Hanoi, I decided that it would be an awesome idea to go on a breathtaking cruise in Halong Bay.
After all, this was highly recommended by other travel bloggers and considered a "must-do" activity.
So today, I will be sharing my Halong Bay Itinerary with those who wish to do this awesome cruise! I'll be discussing;
Where is Halong Bay?
Halong bay is in the Quang Ninh Province of Vietnam and is considered an absolute marvel for anyone who loves to travel.
Located to the east of Hanoi, Halong bay consists of thousands of limestone isles in various shapes, sizes, and formations.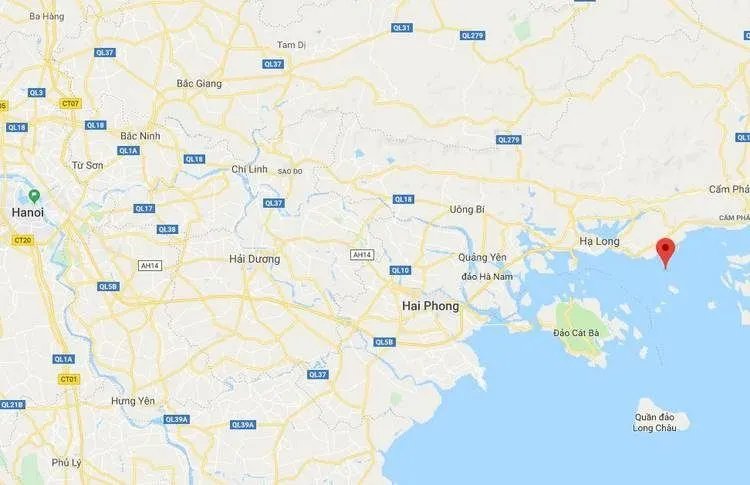 The area is considered one of the most beautiful, breathtaking, and spectacular sites you will see in your lifetime.
Halong Bay is an activity that should definitely be on your Vietnam Itinerary.
Who is the Halong Bay Cruise For?
When I arrived at the cruise depot center, I noticed travelers from far and wide. I mean, travelers from all over the world put aside time to include this in their itinerary.
So it was definitely something that couldn't be missed out on. The types of people you can expect to go on this cruise are connected families with kids or teenagers, budgeting solo travelers, young couples, or even older retirees.
If you have taken your kids to Vietnam and you feel like this is more for party goers or boozers, then guess again.
I was actually expecting a very wild party culture; however, it was quite the opposite. The experience was quite well controlled, and there were no rowdy people who partied all night.
How to Book a Halong Bay Cruise!
You could book the Halong Bay cruise online, through a local tourism vendor, or even through your hotel.
My suggestion is not to book the cruise in advance as things can come up and alter your itinerary. As I mentioned, my stay in Hanoi was for about a week, and when I arrived, I knew I wanted to do this tour.
On arrival, the hotel staff were quite welcoming and informed my partner and me about the Halong Bay cruise and included it in our itinerary.
If you do end up booking the cruise through your hotel, a good thing to do on arrival is to mull it over for a bit.
Decide on when the perfect time to do the cruise is, which cruise package you would like to experience, and for how long you wish to stay.
Reasons to Visit Halong Bay!
So you may be umming and erring about whether this is for you or your family?
That's ok, I was also having the same feelings about doing the cruise, but once I put these issues aside, it was full steam ahead.
Let me give you a few reasons why you should be visiting Halong Bay at least on one occasion (I wish I could go there once a month).
1. It's a Heritage Site!
Since 1994, UNESCO has labeled Halong bay as a heritage site. This was done to preserve the natural beauty the site radiates to newcomers.
What is even more interesting is that in 2011 it was coined one of the new 7 wonders of nature by the wonders foundation.
2. Amazing Limestone Mountains and Scenery
When you're on the cruise for the first hour, you will be blown away by the spectacular views of the limestone mountains.
You would literally sit on the top deck for hours just watching the stunning scenery and think what an incredible investment you made.
3. Awesome Activities for Everyone
Did I mention, besides the amazing scenery, you have activities to do. After all, you didn't just come along to watch mountains.
The activities include:
Kayaking and Snorkeling;
Swimming;
Exploring Caves; and
Visiting the Floating Villages.
4. Delicious Vietnamese Food
All the cruises have a full-fledged restaurant that comes with amazing cuisine. You can expect to eat Vietnamese dishes mixed with general western cuisine.
The cruise that I was on had a buffet-style arrangement. It meant the chef prepared different cuisines, and the cruise guests could take what they wanted.
This included dessert, and the only thing we had to pay for was our drinks! I know of all things; however, this could have just been the cruise I went on.
How Much are Halong Bay Tours?
There are so many companies offering all sorts of tour bundles which can include the tour on its own or a tour and hotel combo.
As I mentioned, we had already paid for the hotel and were getting the hotel to book our tour.
Our tour cost was about $240 (USD) per person and was for a two-day, one-night cruise. I honestly enjoyed every bit of it, although it made me short of the pocket.
Which Halong Bay Cruise to Take?
What company you go on the cruise with can be entirely up to you if you don't use your hotel to make your booking.
If the hotel was to make the booking for you, you only have a selected company that the hotel works with.
There are plenty of reviews on booking.com for particular companies, so if you're in a pickle, do your research, and you will come to a reasonable choice.
The cruise company we used was called Perla Dawn Sails, and the staff and food were nothing short of amazing.
Having welcoming staff who are attentive to your needs and make your stay so much more comfortable can make a huge difference to how you perceive the experience.
Luckily for us, the staff were great, on top of things, and made it a five-star experience.
Click here for more information, photos, and/ or to book your Halong Bay Cruise with Perla Dawn Sails online.
How to Get to Halong Bay from Hanoi?
There are a few ways you could get there, one is by taxi, but I can only imagine that this might cost an arm and a leg considering that Halong Bay is 160 km from Hanoi.
An alternative to a private taxi is to take the bus, which leaves from Hanoi city and takes about 3 hours or so to get there.
The booking we made for the cruise through the hotel came with a private luxury taxi, including pick up and drop off service.
This taxi was ultimate; it had an aircon, drink holders, leather seats, and plug outlets for laptops or charging your phones.
When is the Best Time to go to Halong Bay?
Temperatures in Hanoi can be as high as 100 degrees Fahrenheit during the summer, which might be ok for some, but add a high humidity level in the mix, and it could feel like torture.
The best time to visit Halong Bay is in the fall (September, October) or spring (March, April). This was when I was in Halong Bay, and although it was mild temperatures, it got quite hot on certain days.
My Halong Bay Itinerary Revealed!
Now it's time to reveal my Itinerary for the perfect trip to Halong Bay cruise!
I mentioned earlier that we took the Perla Dawn Sails cruise experiencewhich was organised through the hotel. The cruise that was recommended to us was the 2 Days 1 Night cruise which came with a luxury limousine van.
1. What to Take to Halong Bay?
We were told to pack lightly, but when we arrived at the waiting lounge at Cat Hai Port, there were people with huge travel bags.
I thought packing a suitcase was slightly overkill for a one-night stay. If you want to pack lightly, then take your necessary travel accessories with you.
Be sure to include a toothbrush, washcloth, and at least two spare t-shirts, underwear, socks, shorts, and whatever else makes you comfortable.
I've added a list of must brings below:
Day 1: Hanoi to Lan Hay Bay
Day one started with being ready by 7:30 am, yeh, I know, right!
For some, this is really early but hang in there, get an early night's sleep the night before, and you will be fine. The limousine van will come to pick you up directly at your hotel, so be there ready to go.
Usually, the hotel will have complimentary coffee or breakfast in the foyer, so be sure to top up yourself before leaving. It could mean waking up at 6:30 am, having breakfast, then getting ready to leave.
Trust me; you want to do this because the drive is about three hours long; although it is three hours long, you stop at a cafe to fuel up and take a bathroom break.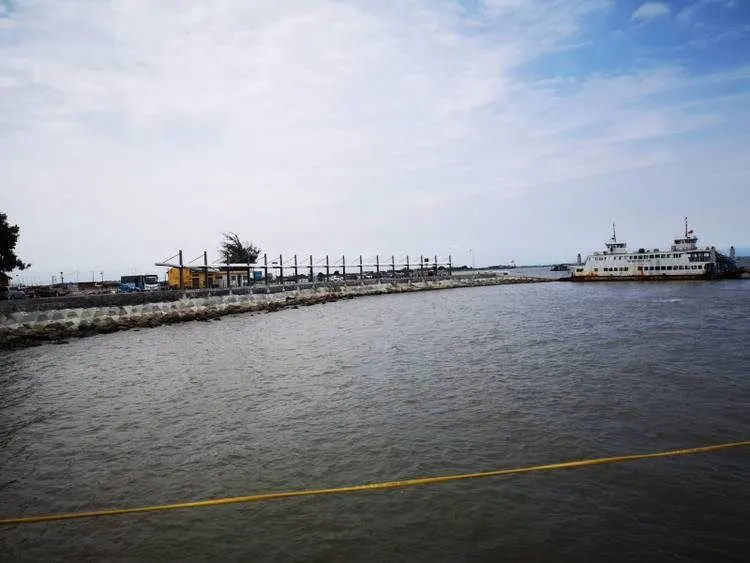 Once you've left the cafe, you have about one hour of the journey left before you arrive at Cat Hai Bay waiting for the lounge.
This is where you will check-in and get ready to depart on the harbor boat that will take you out to your cruise ship about 20 minutes from the harbor.
You will board the cruise ship at about 1:00 pm and be requested to head to the main lounge for a safety induction.
They will explain what to do in the event of an emergency, which is standard procedure in case anything unlikely occurs.
Day 1: Cruise Around Lan Ha Bay
After the safety induction, the cruise ship will continue on its path through Lan Ha Bay while enjoying a splendid lunch served by a top-quality chef.
The only exclusion for lunch is that the drinks must be paid for. I'm not sure if this is with all the Halong Bay cruises or just the Perla Dawn Sails company.
Even though you have to pay for drinks, it doesn't cost that much, given the fact that your own currency might make you live like a king while in Vietnam.
If you enjoyed lunch and squeezed in a few cocktails (or beers), then it's time to go to the room that you've paid for.
My partner and I got the deluxe suite, and I can tell you what an experience it was; it came equipped with its own private balcony.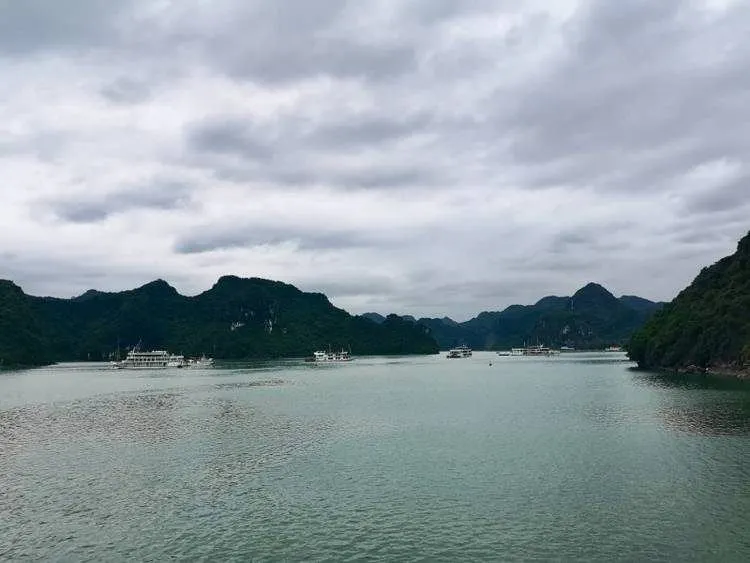 Not only did it look stunning, but it also added a very nice romantic feel while cruising through Lan Ha Bay and seeing so many breathtaking views.
A Visit to Bright Cave
Day one is still not over!
You will have an hour or so to yourself after lunch to freshen up in your room.
If you don't need to freshen up, then head on up to the main deck or the front of the ship (bow) or the back (stern) to capture some amazing selfies of you and your bestie.
Alternatively, you could capture the stunning views with your own two eyes. At around 3 pm, the captain will announce the guests who would like to visit a bamboo boat to visit the bright cave.
The boat comes with your own local sailor skilled enough to drive about 8 people through the caves.
P.s ask your bamboo boat sailer if you could have a turn trying to maneuver and drive the boat; trust me, it is fun and much harder than it looks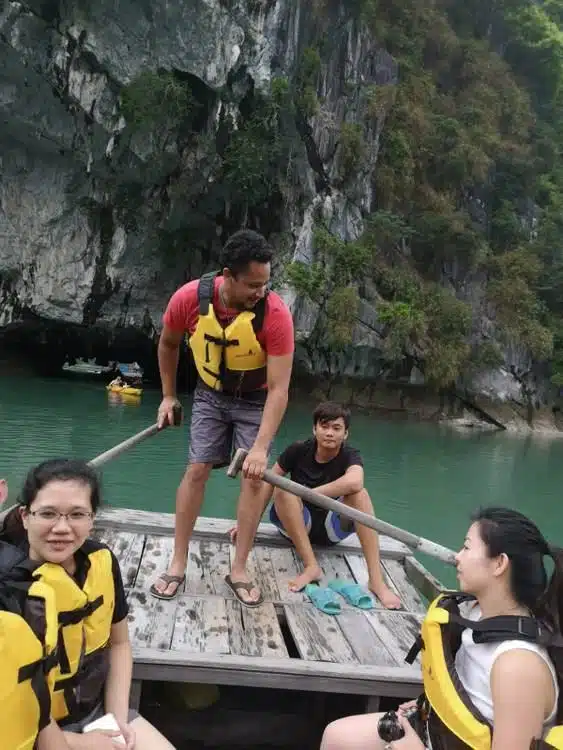 End of Day 1 in Halong Bay
The bamboo boat will take you back to the dock, where a smaller boat will take you back to the cruise ship.
Depending on the time of the year you go to Halong Bay, you may need to freshen up once again, but it's alright you're on vacation.
Perla Dawn Sails is a great experience, and there is even a massage parlor on board, so if you feel like you need a good back massage to put you in a good mood, go and have one.
Dinner will be served about a couple of hours after the bright cave experience. The cruise will put on entertainment during your evening dinner while you enjoy an evening sail on the top deck.
The entertainment includes a traditional Vietnamese performance at dinner time, and it is unique to watch. I quite enjoyed this part of the evening as it was something different I wasn't quite used to.
Once dinner is complete, it is time to enjoy some fishing off the rear of the boat. You don't have to partake, but if you do and catch something, you could get a free drink on the house.
If you don't enjoy fishing, sit back and relax on the upper deck and stargaze for hours.
Day one in Halong bay is over, so head to your room and enjoy a peaceful night's sleep.
Day 2: Tra Bau Region to Cat Hai Port
I was ready for the next day's activities, although the first activity was a bit out of my reach, it may not be for some.
Start the day as early as 6:30 am with some Thai Chi, which takes place on the upper deck.
From memory, the sun rises quite early around October, so when you are doing your Thai Chi lesson, you will be surrounded by light shimmering through the numerous limestone islands.
An amazing sight that I wish I could have seen! Before you do your last activity, you will be called to breakfast at around 7:30 am.
Breakfast includes various essential foods that cover a broad range of pallets, so I'm sure there'll be something you will like.
After breakfast, you will be asked if you would like to attend the final activity for the day, which is Kayaking through the Trau Bau region.
You and a friend will set out on a kayak and enjoy the lovely scenery and views up close and in person.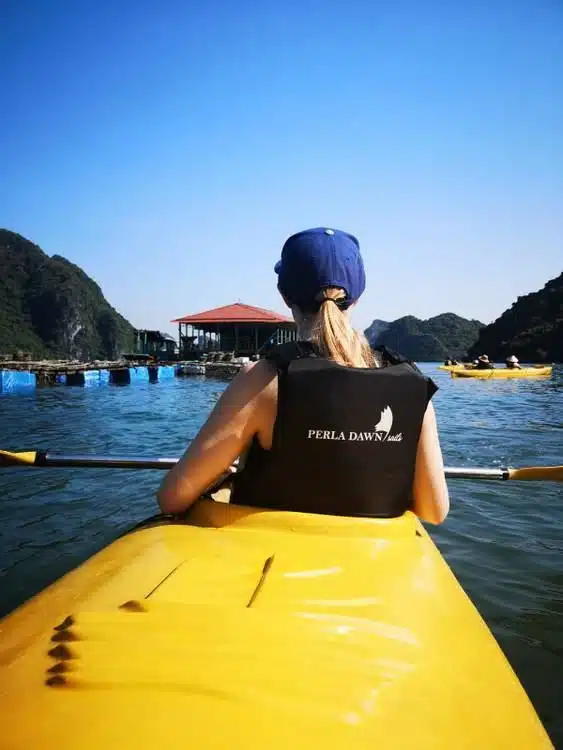 Race with people you've met on the cruise and make it a friendly competition or enjoy it with your wife/partner.
Just relax and take in all the scenery by camera or your own eyes, as this will be the last activity.
Halong Bay Comes to An End :(
All this fun and excitement eventually comes to an end, and for some you wish you purchased the 3 Days 2 Nights cruise with Perla Dawn Sails.
Not to worry, though, because the last few hours through Trau Bau Area to Cat Hai Port is nothing short of spectacular!
When you get back to the cruise ship after kayaking, my suggestion is to freshen up quickly and tidy your room.
They give you about an hour to check out. Then the last hour is spent sitting in the lounge area having your last lunch and watching the chef doing a cooking presentation.
Conclusion
My Halong Bay Itinerary was absolutely amazing, and if I could do it again, I would. That is how much I loved this experience.
The Halong Bay experience is a must do for anyone who is spending at least more than four days in Hanoi.
It has opened my eyes and painted a new vision of how I perceive the world around me, which has really shaped my character.
If you're a regular traveler to Vietnam and have been to Hanoi a few times, I suggest you look at doing this the next time you're there.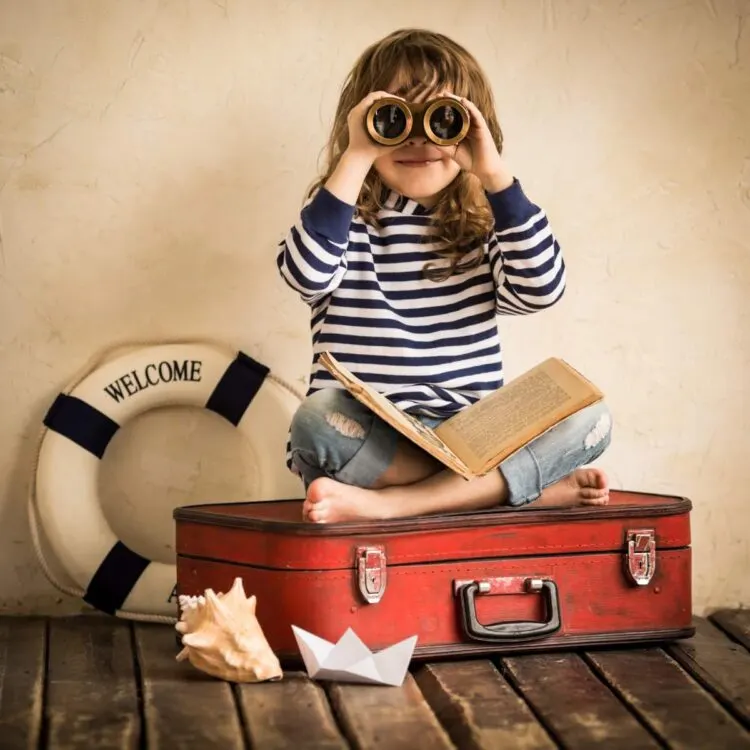 Protect your trip: With all our travel experience, we highly recommend you hit the road with travel insurance. SafetyWing offers flexible & reliable Digital Nomads Travel Medical Insurance at just a third of the price of similar competitor plans.