You can get from Flores to Palenque by public bus, shared shuttle, or private transfer.
The cheapest option to travel from Flores to Palenque is by public bus, which costs about USD 17. The journey takes about 12 hours.
The most popular option is the shared shuttle, offering the easiest and most convenient alternative.
The fastest way to travel from Flores to Palenque is by private transfer, which takes about 9 hours.
Having crisscrossed Guatemala's colorful landscape countless times, I've become a local expert on getting around.
This article is your shortcut to understanding the country's transport system and traveling options so you can travel from Flores to Palenque with the ease of a seasoned explorer!
Check our guide for the best options to travel from Flores to Palenque.
Transportation Options from Flores to Palenque
The following table outlines all transportation options from Flores to Palenque:
| Method | Time | Price |
| --- | --- | --- |
| Shuttle from Flores to Palenque | 9 hrs | $60 |
| Public Bus from Flores to Palenque | +12 hrs | ~$17 |
| Flores to Palenque Private Transfer | 9 hrs | |
How far is Palenque from Flores?
The distance from Flores to Palenque is 194 miles or 312.3 kilometers. It's a long trip, and it can take more than 12 hours to get there, depending on how you choose to travel.
Getting to Palenque from Flores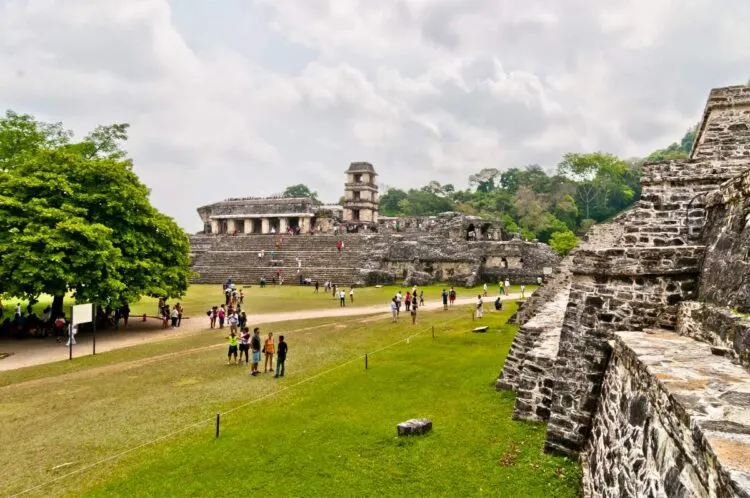 1. Shared Shuttle from Flores to Palenque
Journey Duration: 9 hours
The most common way for tourists to travel from Flores to Palenque and cross between borders is via a shared van shuttle.
Although some choose to take different vehicles to save a few bucks, a direct shuttle departing from Flores and arriving at Palenque saves time and is well worth the fee.
You can use this transfer service to avoid the hassle of finding different rides from and to the border! It includes the ride to the border and Palenque inside Mexico – and it is all arranged for you!
Despite the length of the journey, this is one of the fastest and safest ways to reach your destination, although the length of the trip depends on how quickly you cross the border.
All services operate every day, and there is only one departure daily, so make sure you book your ticket in advance!
Flores to Palenque Shared Shuttle Schedule:
The table below displays the shared shuttle timetable for trips from Flores to Palenque, detailing departure times, journey lengths, and fares.
2. Public Bus from Flores to Palenque
Journey Duration: 12+ hours
Another option is traveling to the border with a local bus, crossing the border on foot, and finding a vehicle on the other side that can take you to Palenque.
Almost every border in the world has a transportation hub, so finding a taxi or bus to take you where you're going is not a problem, but it isn't always guaranteed.
So, unless you are trying to save as much money as possible or are an adventurous solo traveler who doesn't mind a bit of discomfort, this route remains an option!
3. Private Transfer from Flores to Palenque
Journey Duration: Custom Time
The fastest way to get from Flores to Palenque is to drive. Still, since it is almost impossible to get a car rental that you can take across borders, the only option is to arrange a private transfer with a private car and driver through an agency in Flores.
Despite all its benefits, this option is not very convenient and can be very expensive.
You should check with multiple agencies to determine if they offer this service and if the price fits your budget.
Do you need help arranging your transportation?

Complete this form and one of our transportation specialists will be in touch!
We specialize in arranging transportation across Guatemala, Costa Rica, Mexico, Peru, Panama, Brazil, Thailand, and Colombia!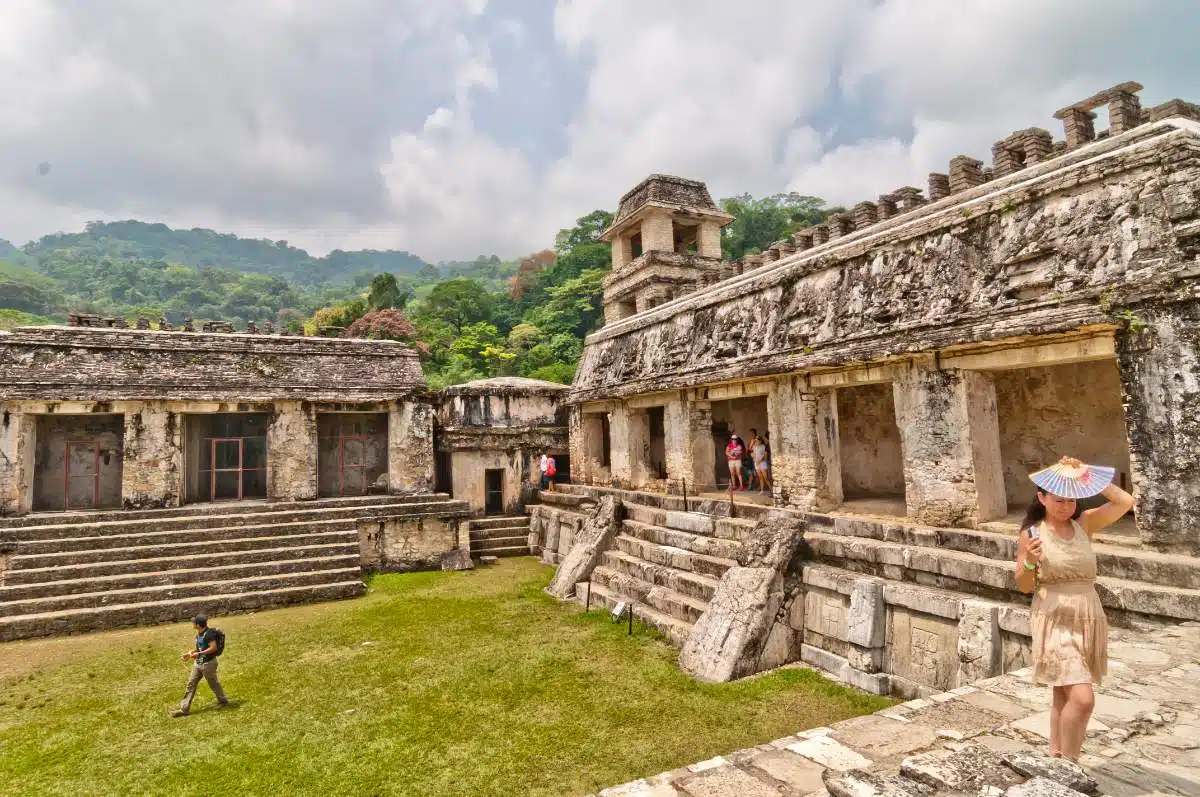 Best day tours in Palenque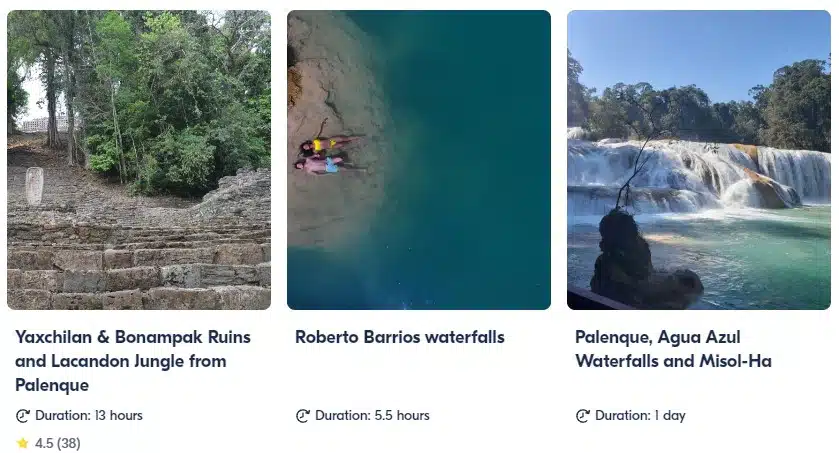 Get Your Guide helps you find the best tours wherever you are heading. It's usually the first website I check when I plan a trip to a new place.
Here, you can find some of the best tours in Palenque.
Frequently Asked Questions
What is Palenque known for?
Some of the most naturalistic portraits in Maya art can be found in Palenque's stucco sculptures and low-relief carvings. In addition to the palaces dotted throughout the city, there are many ornamental fountains, artificial pools, and expansive courtyards.
What is the cheapest way to get from Flores to Palenque?
The cheapest way to get from Flores to Palenque is by public bus. The journey takes, however, more than 12 hours. The total costs are about USD 12.
Where do I catch the Flores to Palenque bus from?
Flores Station is the departure point for the Travel Mundo Maya bus service from Flores to Palenque.
What documents do you need to travel to Guatemala?
You need a passport with at least six months remaining validity beyond your entry date to enter Guatemala.
Can Guatemalan citizens travel to Mexico?
Guatemalan citizens must obtain a Mexico Tourist Card and a Mexican visa and carry their passports to fly to Mexico. A Mexico visa provides legal permission to enter the country, while a Tourist Card in Mexico confirms the length of time you will be staying there.
What is the distance between Flores and the Guatemala–Mexico border?
There are 127 kilometers or 78.9 miles between Flores and the Guatemala-Mexico border. It can take around 4 hours to reach the border.
Can you cross the border with a car rental?
Most rental car agencies in Guatemala do not allow you to drive their vehicles across the Guatemalan border.
Is Flores Guatemala safe?
Flores's not dangerous, and it's probably one of the safest places in sometimes wild northern areas. You might require more caution in Santa Elena and San Benito, but you will get a more authentic impression of a Guatemalan town.
Is there Uber in Mexico?
There is an Uber service in several Mexican cities, including Aguascalientes, Chihuahua, Cuernavaca, Guadalajara, Merida, Mexicali, Mexico City, Monterrey, Puebla, San Miguel de Allende and Tijuana. Uber and Cabify use similar platforms and automatic billing systems.
Do they speak English in Mexico?
Only about 10% of the population speaks English in Mexico, and only a tiny percentage can speak it fluently. However, most English-speaking people live near the northern border with the United States and in the major tourist destinations.
Can I enter Mexico from Guatemala?
Presently, Guatemala allows foreigners to exit through the land border crossing into Mexico, and Mexico allows foreigners to enter. A few private tour companies operate buses at these border crossings.
Is Palenque touristy?
Despite not being as popular as other Mexican cities, Palenque is nothing to belittle. There are many reasons to visit Palenque, a relatively unknown but beautiful upcoming tourist destination. There are many unique things to do and places to explore at this remote destination that will surprise you.
How do I get to the Palenque ruins from Palenque?
Getting to the Ruins of Palenque is very simple. Minivans with the sign Ruinas or Palenque Ruins frequently stop at the ADO bus terminal near the roundabout in the town center. You have to wait a few minutes for a van to stop. This ride costs 1.85 USD and takes about 20 minutes.