Singapore is one of the easiest cities to get around in the world. With an incredibly efficient public transport system, tiny land area, and affordable taxis, it's a great destination for all travelers.
Despite how easy it is to get around, it does help to know a few of the basics! This guide will run you through everything you need to know to make getting around Singapore a breeze.
Table of Contents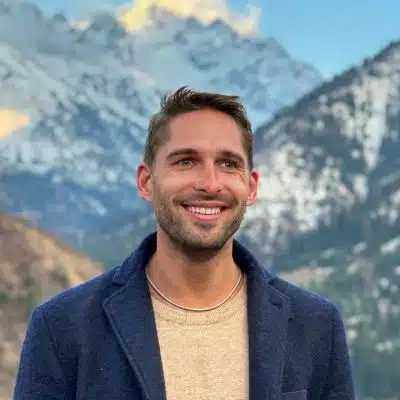 Getting to and from Changi International Airport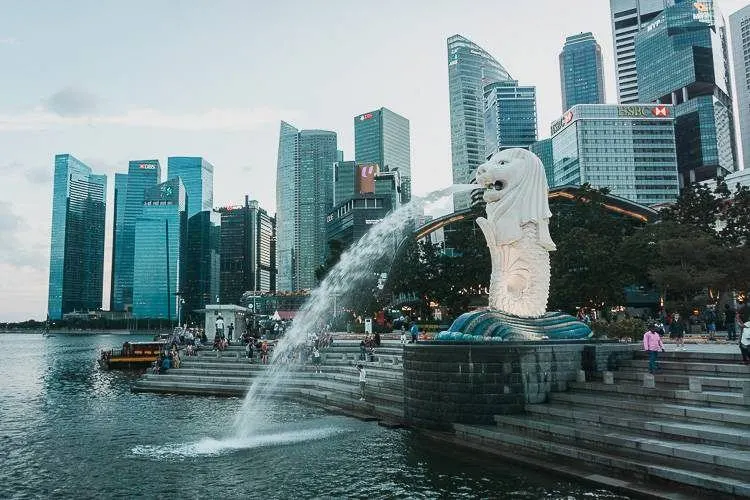 The first thing you'll probably need to know is how to get from the airport to your accommodation (and ultimately back again).
MRT
This is the cheapest option. To do this, you'll first want to get your hands on either an EZ-Link card or a Singapore Tourist Pass.
You'll need one of these to board the MRT, and it can be found at MRT stations, or Changi Recommends stores at the airport.
Once you've acquired this, you'll need to follow the signs that say "Train to the City." The train from the airport will connect with the Greenline, which means you will need to transfer to Tanah Merah MRT station.
This will then take you through to the city, and you can get off at the correct stop for your accommodation.
In total, this will take you around 30-40 minutes and will cost you SGD 1.74.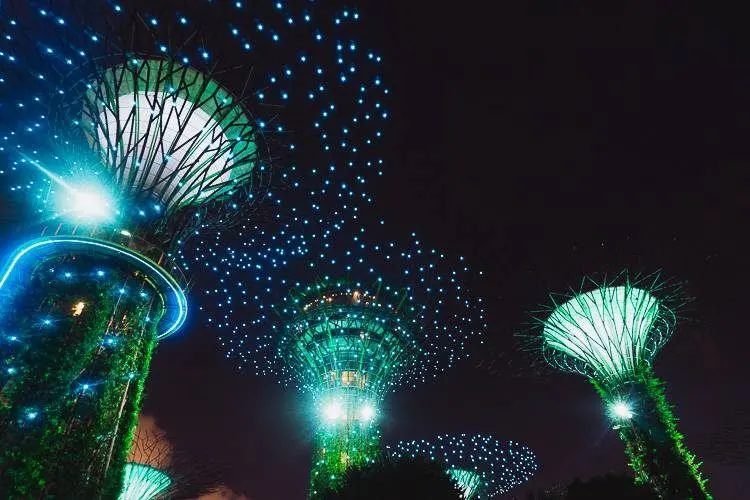 Taxi or GRAB
The easiest option is to take a taxi or a GRAB. You can make your way to the arrival levels at any terminal. Once there, you will find taxis who will collect your luggage and drop you at your destination.
They run by the meter, so you do not need to worry about getting ripped off or needing to barter.
Alternatively, from the taxi stand, you can book a GRAB through the app. This is the main ridesharing platform in Singapore; it works the same as UBER.
This will take about 20 minutes to get to the city and will cost around SGD 20. Bear in mind; there are a host of surcharges for different times:
Midnight to 6 am – 50% added to the metered fare.
6 am to 9.30 am Monday to Friday – 25% added to the metered fare.
6 pm to Midnight – 25% added to the metered fare.
These are also applicable to GRAB.
Getting Around Singapore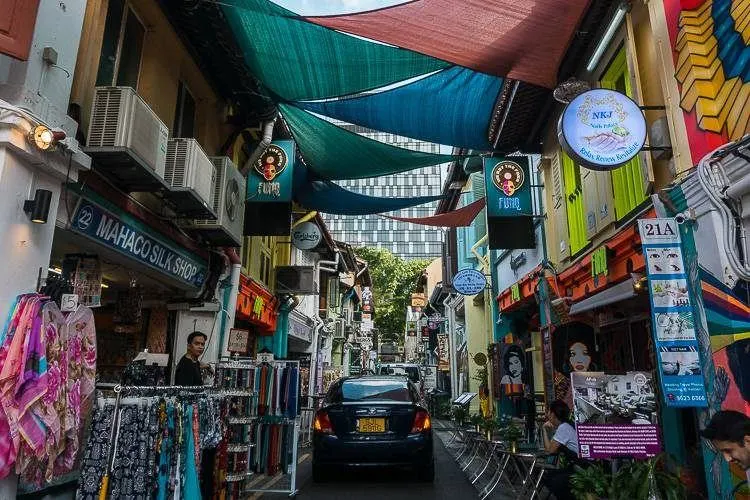 GRAB
GRAB is Singapore's leading ridesharing platform and is one of the best ways to get around the city quickly, safely, and relatively affordably.
It's particularly great when you are short on time and need to get somewhere quickly, or if you get caught in a sudden downpour, and you don't want to walk to the MRT station.
To use GRAB, download the app and create an account. When you need a ride somewhere, book a GRAB in the app, and you'll be quoted a price. It's super quick and easy.
Taxi
Taxis work great as well and are the more 'traditional' approach to getting around. You'll generally need to book in advance by calling, though you can also wave them down on the street.
In Singapore, they are well legislated – at least compared to other southeast Asian countries. This means they are safe to use, and they run off a meter every time – there's no need to haggle or worry about getting ripped off.
The cost is typically around $10 – 20 SGD for a moderate length trip, but it depends on how far you are going. I've listed the surcharges above, which apply to trips during peak times and the middle of the night.
Car Rental
If you are visiting Singapore for a while and bringing along the family or a group of friends, renting a car is a great option. It gives you a lot of freedom to get around, especially if you are interested in making some trips outside of Singapore – yes, you can drive to Malaysia!
It is costly to own a car in Singapore, thanks to high import taxes, petrol taxes, and ownership fees. If you choose to rent a car, expect to pay a premium – it isn't the cheapest way to get around the city.
MRT
Singapore's MRT (mass rapid transit) system interconnects a network of MRT stations all around Singapore. The network is extensive and means most of Singapore's main attractions are within walking distance of an MRT station.
It's one of the fastest ways to get anywhere; it costs very little (typically around SGD 1 per trip) and goes almost anywhere you would wish to go. On top of this, the trains are always on time and depart frequently.
If you are a budget or time-constrained traveler who doesn't wish to splurge on taxis, then consider staying close to an MRT station. This will become your gateway to the entire city.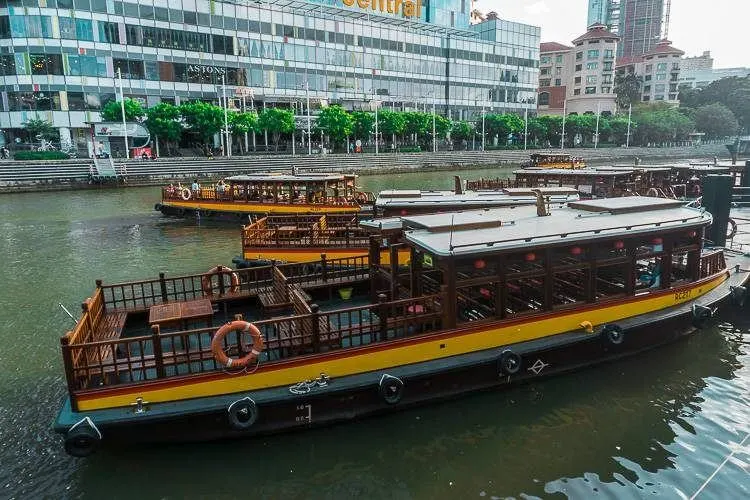 EZ-Link Card or Singapore Tourist Pass
Although you can buy single-trip tickets at MRT Stations, by far the best way to go is to purchase either a Singapore Tourist Pass (STP) or an EZ-Link stored-value card.
The Singapore Tourist Pass is a special card for tourists which gives you unlimited travel for one, two, or three days at SGD 10, SGD 16, and SGD 20, respectively. This is the best option for anyone visiting Singapore for under three days and who intends to use the train frequently.
You can pick a Singapore Tourist Pass up at either the airport or select MRT Stations around Singapore.
An EZ-Link card is how the locals typically access the MRT. It is the best option for travelers visiting for more than 3 days or considering returning to Singapore soon.
The EZ-Link card is a simple stored-value card you can purchase at most MRT Stations or any 7-Eleven Store in Singapore. The card itself will cost you SGD 5, but it will come loaded with either SGD 5 or SGD 7, so the total cost is SGD 10 or SGD 12. It depends on where you purchase it.
To top it up, you visit a kiosk at any MRT Station – it is quick and easy. To use the card, swipe your card to get onto the boarding platform, then swipe it again to get out at your destination.
Fares
Fares vary depending on how far you travel but sit between SGD 0.83 and SGD 2.08 per trip. I've found that most trips are around SGD 1, which makes using the MRT in Singapore an incredibly cheap and efficient way to get around.
MRT Lines
There are 5 main MRT lines in Singapore spanning 199km throughout the city. It will be impossible to learn which line goes where when you're visiting for a short stay, so the best way to get around is to use Google Maps.
Google Maps will tell you the route you need to take, which line to use, and how to get to the MRT station. When you arrive at an MRT station, you will visualize the lines with the stops marked out. Double-check your destination is on one of these lines and ensure you get on the correct train.
Roughly, all lines go through the inner city of Singapore, whether it's stopping in Clarke Quay or near City Hall. Choosing the right lines can save you a lot of time, but in the end, you'll generally find your way to your destination fairly easily.
Bus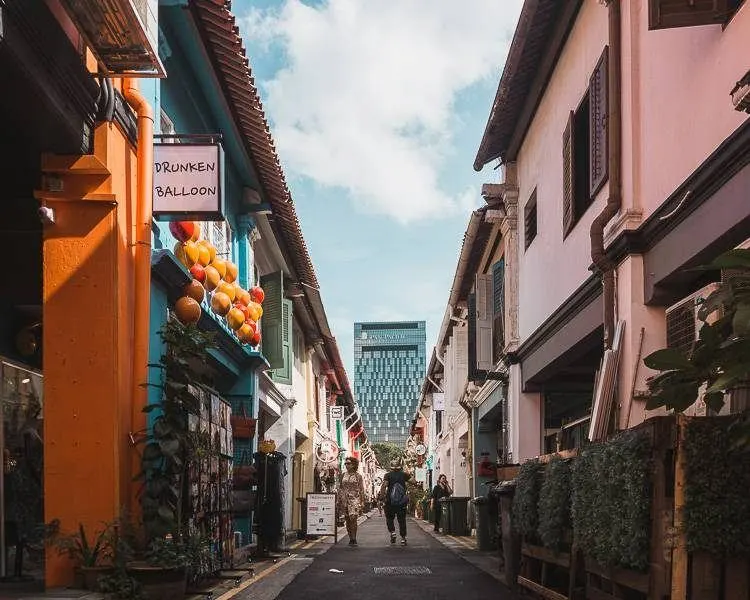 The bus system exists in Singapore to fill in the gaps in the MRT lines. Trains can't go everywhere, so the buses help people travel to areas not connected to MRT lines or help transport people to the MRT stations.
The buses in Singapore are comfortable with good seats and air-con, which is essential in Singapore's heat.
Fares are similar to the MRT, at around SGD 1, depending on how far you travel. You get on with your EZ-Link card or Singapore Tourist Pass. Alternatively, you can pay by cash with the exact change or a foreign-issued contactless Mastercard or Visa.
Walking
With a tiny total land area, many of the main attractions, shopping centers, and things to do in Singapore are concentrated within the city center. This makes Singapore incredibly walkable, especially if you stay in the city.
Most places are within a short walk of a Hawker Centre, where you can find super cheap and delicious street-style food.
Walking is one of my favorite ways to see the central city. If you're reasonably fit, you can easily spend a day walking around Little India, China Town, Orchard, and Clarke Quay.
Just keep in mind the weather and temperature in Singapore. A 2km walk can quickly become very uncomfortable in the midday heat.
About the Author
More info
Best VPN for Travel: ExpressVPN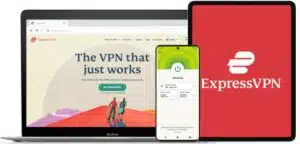 Heading abroad? Use ExpressVPN to access your social media accounts, unblock your favorite entertainment sites, and stay connected with friends and family. And get cheaper flights, of course.
Pros
✅ Next-gen, high-speed servers in 94 countries
✅ Works on iOS, Android, Windows, Mac, Linux, browsers, and more
✅ 256-bit AES encryption protects your data, even on hotel Wi-Fi
✅ Unblocks Netflix and other streaming sites
Cons
❎ No dedicated IPs
Get 3 extra months free of ExpressVPN when signing up for a 1-year plan. That's a 49% saving and a monthly cost of just $6.67! You also get a 30-day money-back guarantee.