Sri Lanka is an island nation south of India. Although the island is relatively small, it offers a wide range of landscapes; rainforest, beautiful beaches, tea plantations, and arid plains.
Sri Lanka is a great destination for an adventurous round trip with breathtaking natural sites and interesting cultural places.
The beaches in the eastern and southern parts are ideal for relaxation and offer some good surf spots. Throughout the island, many luxury hotels will make your Sri Lanka vacation unforgettable.
Best VPN for Travel: ExpressVPN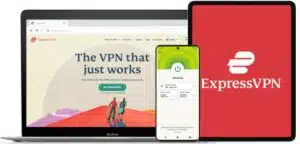 Heading abroad? Use ExpressVPN to access your social media accounts, unblock your favorite entertainment sites, and stay connected with friends and family. And get cheaper flights, of course.
Pros
✅ Next-gen, high-speed servers in 94 countries
✅ Works on iOS, Android, Windows, Mac, Linux, browsers, and more
✅ 256-bit AES encryption protects your data, even on hotel Wi-Fi
✅ Unblocks Netflix and other streaming sites
Cons
❎ No dedicated IPs
Get 3 extra months free of ExpressVPN when signing up for a 1-year plan. That's a 49% saving and a monthly cost of just $6.67! You also get a 30-day money-back guarantee.
Find here the ultimate list of the best luxury hotels in Sri Lanka.
Heritance Ahungalla
Bentota, Sri Lanka, houses all the luxury hotels in the country. One of them is Heritance Ahungalla, a splendor hotel facing the Indian Ocean. Like many 5-star hotels, this hotel offers a wide variety of amenities – the ultimate requirement for a lovely staycation. The pool (again, overlooking the sea) seems to be the hotel's best feature even if it can get very crowded during the holidays. Food choices are also very diverse: Sri Lankan, Western, Asian are the most common, and they are housed in different areas of the hotel.
On top of all these, what matters most to me is service. We know that Asia is a very hospitable continent, but the Sri Lankans have put their best foot forward to make my stay hassle-free. I even left my favorite watch in one area of the hotel, and it was immediately returned to me. This, I think, is one of the most important when choosing a luxury hotel in Sri Lanka because great service (even if mandatory) is not offered everywhere anymore.
Heritance Ahungulla is just one of the branches of the Heritance Hotel Groups that operate in the Maldives and Sri Lanka.
For more photos, information, and prices about Luxury Sri Lanka Hotels check Agoda.com, Expedia or Booking.com
Recommended by Trisha from P.S. I'm On My Way
Shangri-La Hambantota Resort and Spa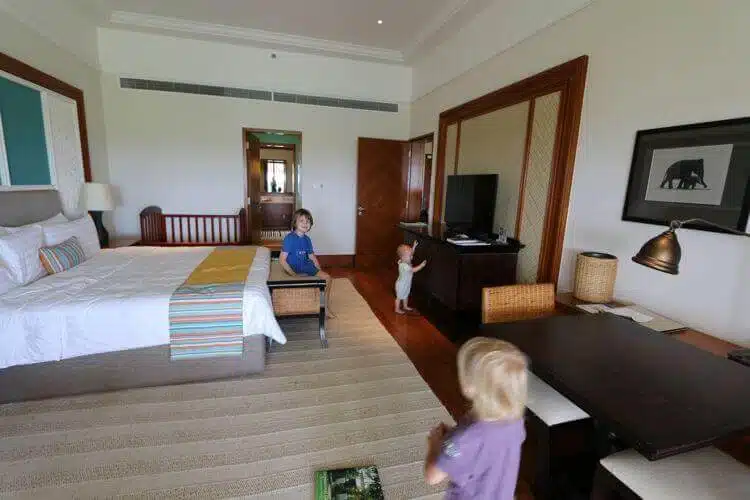 The Shangri-La Resort and Hotel chain is synonymous with luxury. My family recently stayed in their newest resort Shangri-La Hambantota. On arrival, the check-in was like a well-oiled machine – it was swift. Whilst we waited, albeit briefly, we got a cool welcome drink and towel.
We stayed in an ocean suite that was beautifully appointed and spacious. The suite was split into 2 main areas. Firstly, the dining and lounge area had a large comfortable couch and television, a coffee machine and tea facilities, a mini-bar, and a welcome fruit bowl. The other area had a king-sized bed with the most comfortable mattress I have ever slept on. They also offer a pillow menu. This led to a smaller luggage storage room complete with a dressing table. The bathroom was massive, had a full-size bath, twin sinks, and rainfall showerhead. All the bathroom necessities included toothpaste, but you even got a loofah and ball salts.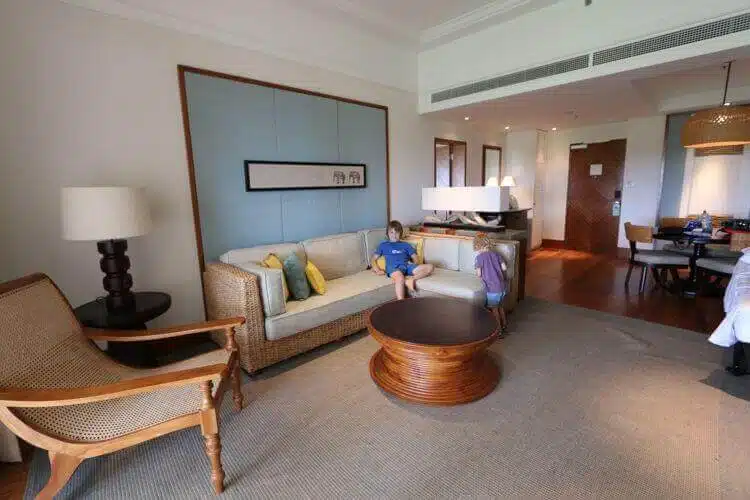 The resort has a world-class Chi Spa with several beauty treatments on offer. It is so exclusive they gave you cotton disposable underwear! The grounds have an 18-hole golf course and a mini-golf course for the kids. Speaking of kids, the kids club called Cool Zone is sensational. My kids loved every minute. They went swimming, watched movies, got cooking lessons with a chef and even went on a flying trapeze!
There are several restaurants and boutique shops on offer. Coconut trees beautifully surround the grounds. Everywhere you look, there are swings. On the coconut trees are giant tear-shaped swings that are fun for all ages! There are 4 pools; one is adults-only, two are specifically for children.
Our entire stay at The Shangri-La's Hambantota Resort and Spa was brilliant. The staff went the extra mile to ensure you were having a great time.
For more photos, information, and prices about Luxury Sri Lanka Hotels, check Agoda.com or Booking.com
Recommended by Alana from Family Bites Travel
Hilton Colombo – One of the best Luxury Hotels in Colombo Sri Lanka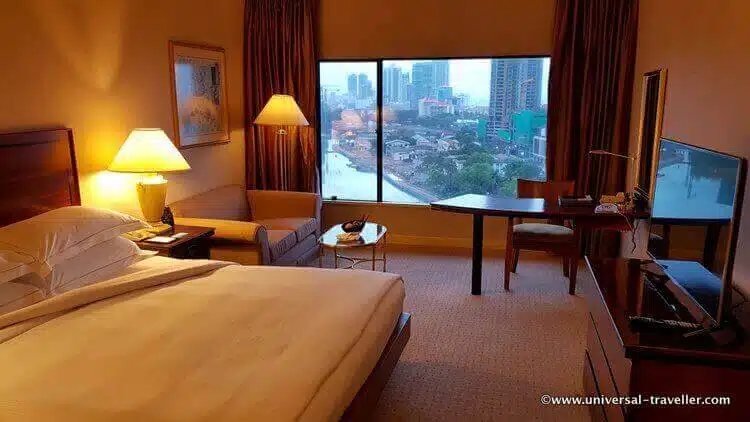 Hilton Colombo is the ideal accommodation for your vacation as well as a business trip. The hotel offers a wide range of rooms and suites and is conveniently located in the heart of Sri Lanka's capital city, Colombo.
I liked the huge breakfast buffet with fresh fruits and juices, bread, authentic Sri Lankan food, and various hot dishes. In total, Hilton Colombo has 6 bars & restaurants that all serve delicious food.
The rooms are spacious with a seating area, a desk to get work done, and huge windows; some even offer spectacular views of the Indian Ocean.
For more photos, information, and prices of Luxury Hotels in Colombo Sri Lanka, check Agoda.com, Expedia or Booking.com
Recommended by Tim from Universal Traveller
Cinnamon Wild Yala National Park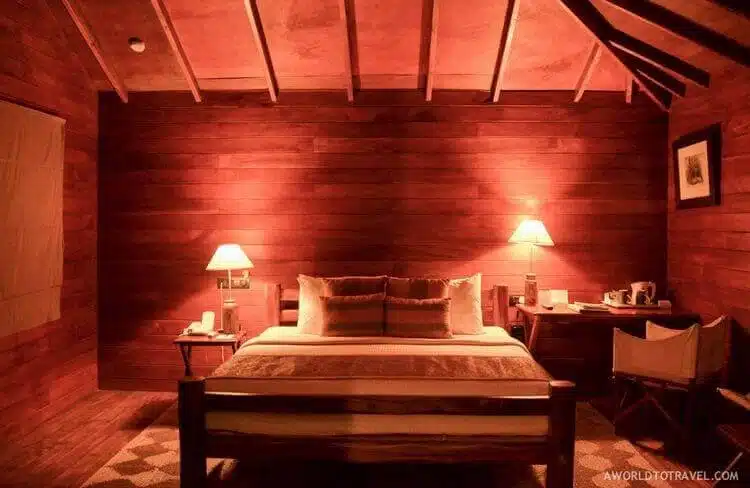 Cinnamon Wild Yala is an excellent hotel just 2 km away from Yala National Park premises and one of your best bets in terms of accommodation.
With a great choice of rooms, restaurants, and facilities – try the shoulders massage at the spa and the pool at sunset! – as well as all the amenities you can expect from a property of its kind, its stunning jungle location between a lake and the beach make it a destination itself.
It is not rare to be woken up at sunrise by the monkeys playing nearby your room, finding deer that come to the poolside for water during the daytime, or witnessing how elephants have dinner meters away from your cabin at dusk.
And that is one of the reasons you will always be escorted at night to your room, so there is nothing to fear!
For more photos, information, and prices about Luxury Sri Lanka Hotels check Agoda.com, Expedia or Booking.com
Recommended by Inma from A World To Travel
Leopard Trails Yala National Park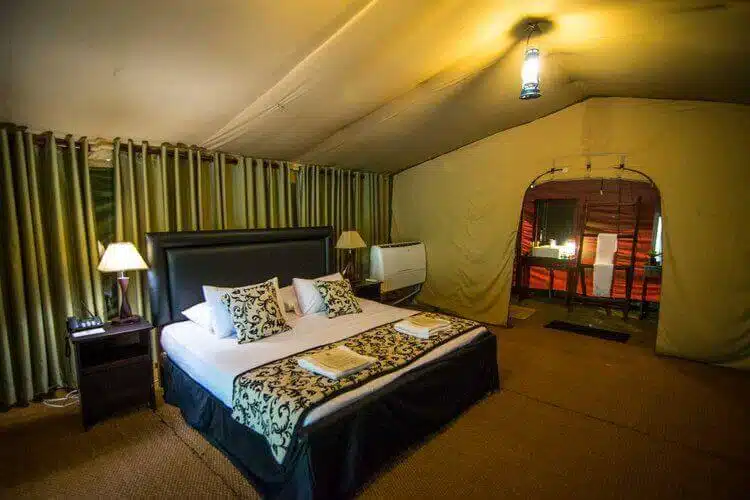 We spent 3 weeks in Sri Lanka and stayed at some amazing luxury hotels, but our favorite was Leopard Trails. When we heard about safari Yala National Park, and you can go on a safari there looking for leopards, we knew we had to go.
We have spent over 100 nights on African safaris and are always up for game drives. We stayed in a gorgeous tent at Leopard Trail, which glamping to the nines.
Our tent had a king-size bed, air conditioning, a private bath with a hot shower & toilet, and more. After a day out in the park on a game drive, the camp set up a bonfire with cocktails and dinner under the stars.
There is no better place to stay in Yala National Park. Oh, and you will most definitely see leopards in the park; Yala has the highest leopard population density in the world. So Leopard trails live up to its name.
For more photos, information, and prices about Luxury Sri Lanka Hotels, check Agoda.com
Recommended by Hannah & Adam from Getting Stamped
Luxury Hotels Galle Sri Lanka – Fort Bazaar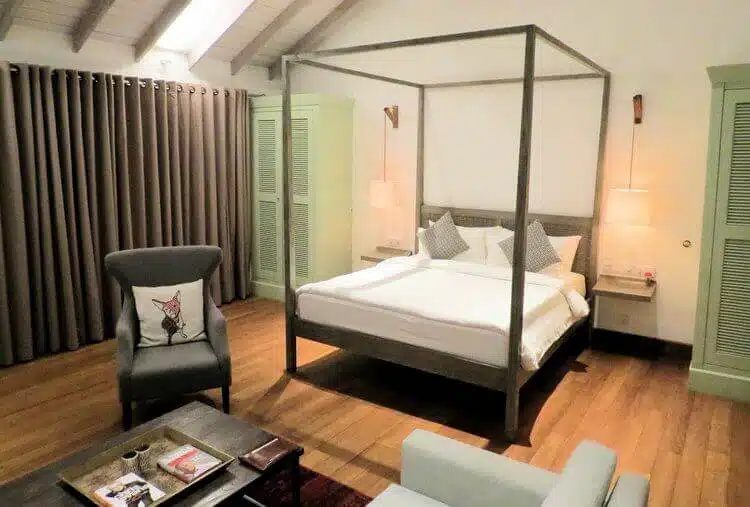 We didn't arrive until after midnight, thanks to a bit of bad weather and missed flights. Yet as we stumbled wearily into the tranquil courtyard of the Fort Bazaar in the coastal city of Galle, the staff were waiting for us with cool face towels, refreshing watermelon drinks, and cheerful smiles. Just what we needed. This renovated 17th Century townhouse was once a trading post for spices, tea, and gems, but today it is a stylish luxury boutique hotel in the heart of the colonial Dutch city. We loved that the modern decor was blended sensitively with traditional themes and that the interiors wouldn't be out of place on the cover of Condé Nast Traveller.
Looks aren't everything, and we were pleased to discover it was super comfortable too, with sumptuously soft beds, indulgent showers, and air conditioning that actually worked (a must if you're in Galle, it's such a hot city). It's quite rare to find a hotel that is good-looking and comfortable, so top marks to the folks behind Fort Bazaar. However, perhaps our favorite aspect was that although the hotel was full, it remained quiet, and we hardly ever saw any of the other guests. It felt almost like our own private palace, which is just as it should be.
For more photos, information, and prices of Sri Lanka Luxury Hotels check Agoda.com, Expedia or Booking.com
Recommended by Heather from Conversant Traveller
Madulkelle Tea and Eco Lodge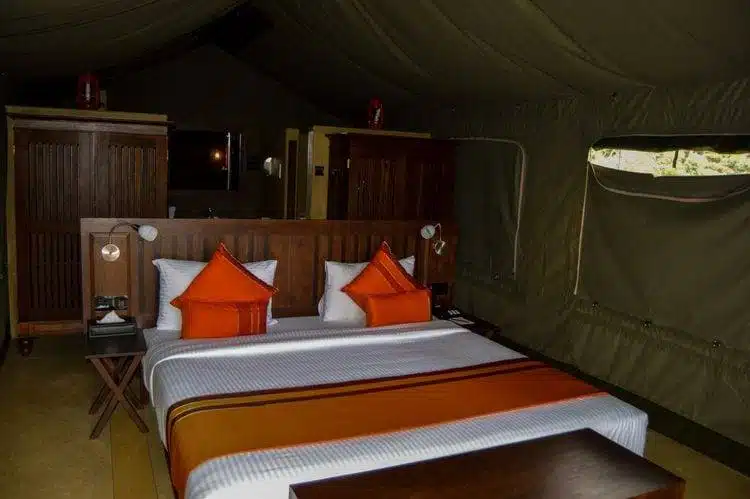 Drive through Sri Lankan hill country, up the mountains, and into tea plantations, and you'll find Madulkelle Tea and Eco Lodge. If the concept of luxury combined with simplicity is something you are looking for, Madulkelle is the right choice. The new fancy word "glamping" describes the experience in this remote hotel best.
The hotel offers 18 secluded lodges made of tarpaulin canvas, the material widely used by safari camps in campsites all over Africa. Although from the outside, the lodges look like simple tents, inside, you'll find a comfortable bed, a full bathroom with a walk-in shower, and a small desk. But the most luxurious part is the view of the Knuckles Mountain range from every room.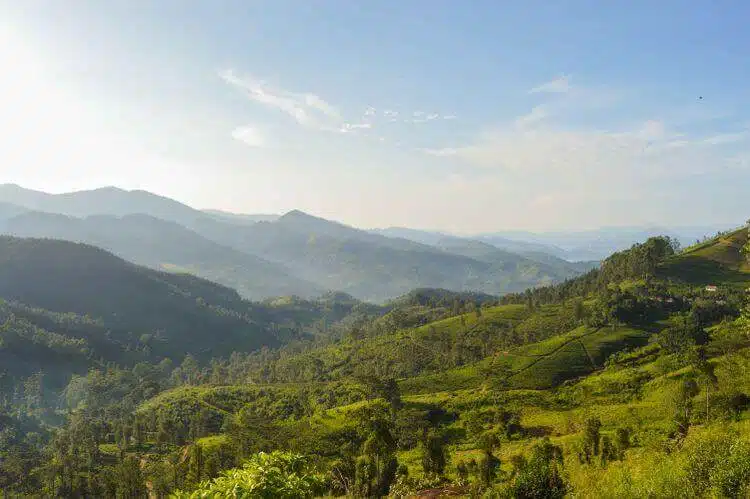 You can use the infinity pool overlooking the mountains for ultimate relaxation or get a spa treatment. The hotel also boasts a vegetable and herbs garden located on-premises. It is grown organically without synthesized pesticides and fertilizers. Around 60% of the vegetables used in the hotel kitchen are harvested from the garden.
The hotel staff can help you organize a visit to the tea factory, a day of hiking in the mountains, or a Sri Lankan cooking session with the chef.
For more photos, information, and prices about Sri Lanka Luxury Hotels check Agoda.com, Expedia or Booking.com
Recommended by Yulia from The Foodie Miles
Was this post helpful? If so, be sure to pin it to refer to later!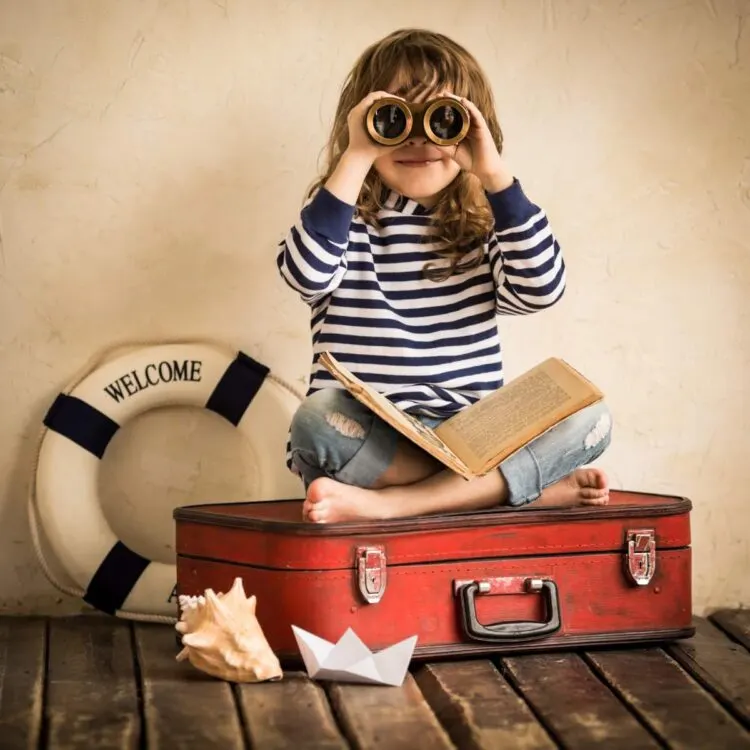 Protect your trip: With all our travel experience, we highly recommend you hit the road with travel insurance. SafetyWing offers flexible & reliable Digital Nomads Travel Medical Insurance at just a third of the price of similar competitor plans.