Wanting to experience some extreme kayaking adventures? Wanting to kayak amongst some epic wildlife? Not sure where to start? How about kayaking in Antarctic waters?
Not only will you get to share your location with porpoising penguins, but the experience of breaking a thin layer of ice across the ocean as you are kayaking is something you will never forget.
Read also: Best Adventure Tours & Trips.
Getting to Antarctica: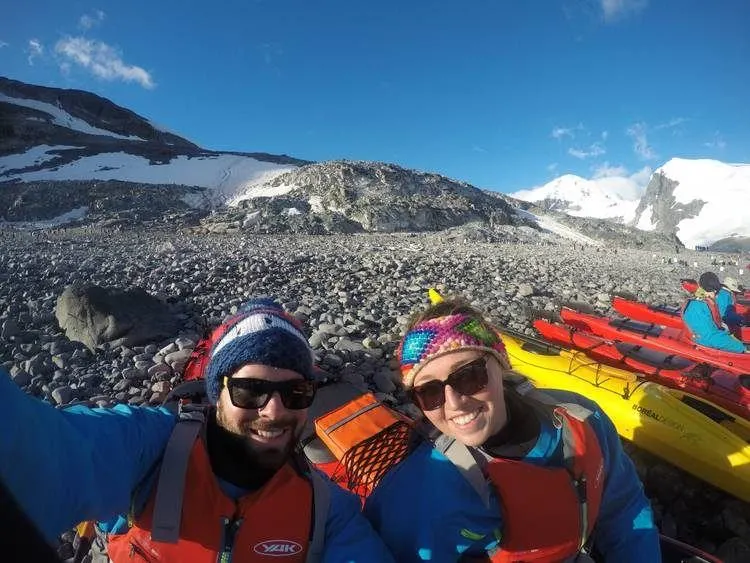 How does kayaking in Antarctica come about?
Well, firstly, you need to get there. This is becoming easier and easier with more availability on expedition ships visiting the 7th continent. Commonly ships do a 10 to a 12-day return trip from Ushuaia, Argentina, to the Antarctic Peninsula.
However, other options include an expedition route from Punta Arenas, Chile to Antarctica, to the Falkland Islands, and finishing in Montevideo, Uruguay.
Depending on the cruise, it must be mentioned that not every journey heading down to the Antarctic Peninsula offers kayaking. So, this is certainly something to consider if kayaking is on your bucket list.
Also, different types of kayaking options can be provided, too, depending on the company—more on this below.
The Kayaking Options: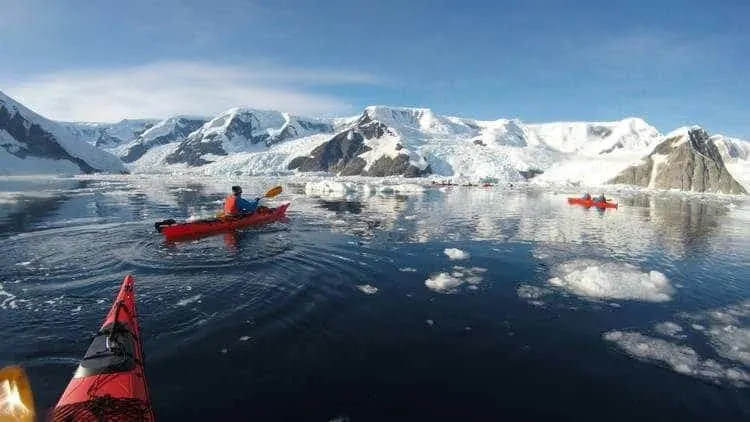 Hurtigruten, a Norwegian company, was fantastic for transport to Antarctica and also had multiple kayaking options. These consisted of the following:
Scenic Kayaking – this is a once off kayak for a few hours in Antarctic waters. No experience is required as you will kayak in a very stable double kayak. This is an excellent option for someone just wanting to try kayaking in Antarctic waters.
Kayaking Course – this is a much more in-depth course that also comes with Norwegian kayaking certification as well. Kayaking in a single kayak this course gave the opportunity of kayaking in Antarctic waters every day. In fact, on the first day in Antarctica, the kayaking course students were the first out on the water before all other guests, winning! After some learning, on the first day, we were invited to join the scenic kayaking at least once a day to help guide the other kayakers.
However, it must be noted while doing the kayaking course; you will be asked to attempt a capsize in the frigid waters. What an experience!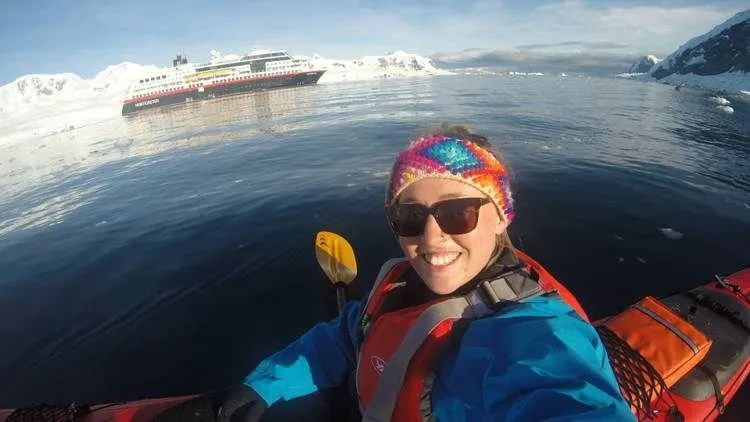 Kayaking in Antarctica is quite the process. It isn't simply jumping into a kayak and taking off. It actually involves a teddy bear suit, a very tight drysuit, and being horribly uncomfortably hot on the ship before heading out into the icy climate on a zodiac.
Being uncomfortably warm makes heading out into the Antarctic weather surprisingly refreshing. Once on the shore of Antarctica, there is then the process of organizing the kayak, getting it onto the water, and making sure the splash skirt is attached to the kayak, which is not as easy as it sounds.
From there, the magic of kayaking in Antarctica begins. Whether it is circumnavigating incredible icebergs, racing very quick penguins, the environment and nature will have you in awe.
Without a doubt, kayaking on the surprisingly calm waters of Antarctica is something that will never be forgotten. Check out the photos. Could anything be more AMAZING?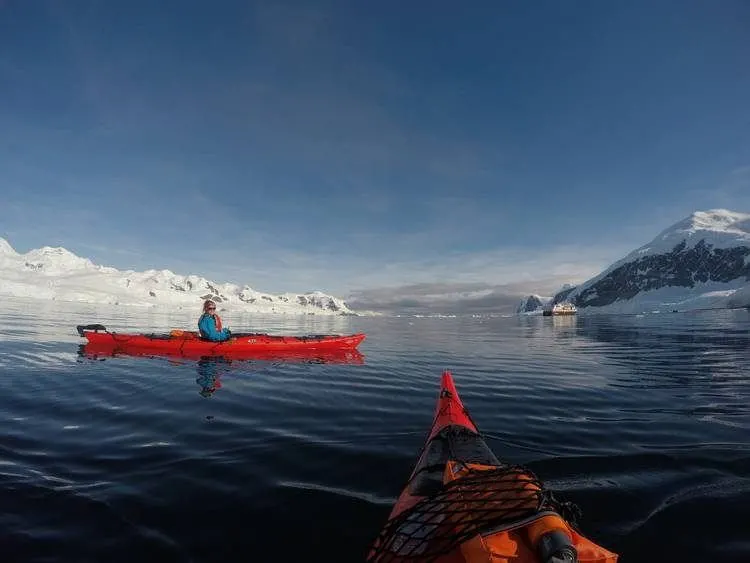 Unfortunately, the whales didn't get up close and personal to the kayaks on this trip. However, witnessing a fantastic array of penguins, quite a few seals, and thousands of icebergs certainly made up for this.
Kayaking in Antarctica is a unique and adventurous activity. If the opportunity ever arises to experience this beauty, you will not regret it.
Also, it must be known it never got uncomfortably cold while kayaking either. The physical exercise and the beauty around you keep you warm and distracted.
Written by Lauren from Luxury Travel Hacks

Best VPN for Travel: ExpressVPN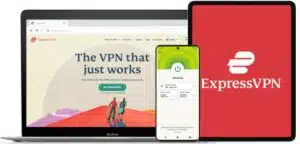 Heading abroad? Use ExpressVPN to access your social media accounts, unblock your favorite entertainment sites, and stay connected with friends and family. And get cheaper flights, of course.
Pros
✅ Next-gen, high-speed servers in 94 countries
✅ Works on iOS, Android, Windows, Mac, Linux, browsers, and more
✅ 256-bit AES encryption protects your data, even on hotel Wi-Fi
✅ Unblocks Netflix and other streaming sites
Cons
❎ No dedicated IPs
Get 3 extra months free of ExpressVPN when signing up for a 1-year plan. That's a 49% saving and a monthly cost of just $6.67! You also get a 30-day money-back guarantee.