La Fortuna and the Arenal Volcano are some of the most visited destinations in Costa Rica and therefore it is really easy to get from San Jose to La Fortuna. You can choose between different means of transportation.
La Fortuna is one of the highlights of every vacation to Costa Rica and especially well-known for the Arenal volcano and some of Costa Rica's best hot springs.
It is easy to get from San Jose, Costa Rica to La Fortuna and you can choose between different travel options depending on your budget and time.
If you are not in a hurry and do not mind traveling along with other travelers, you can take the bus or a shared van shuttle from San Jose to La Fortuna.
Should you prefer a more relaxed drive, opt for a private transfer or rent a car. Lastly, if you just can't wait to see the majestic Arenal Volcano, continue your flight from San Jose Airport and book a domestic connecting flight to La Fortuna.
However, when you arrive at La Fortuna, one thing is for sure: you are about to have the most extreme adventures of your lifetime!
Read also: The Best Way to Travel Around Costa Rica
How far is La Fortuna from San Jose?
La Fortuna is around 68 miles or 110 kilometres northwest of San Jose. The flight distance from San Jose to the Arenal Airport betrays 71 kilometres ( about 44 miles).
The main transportation options to get from San Jose to La Fortuna are:
Bus
Flight
Shuttle
Private Transfer
Uber/ Taxi
Rental Car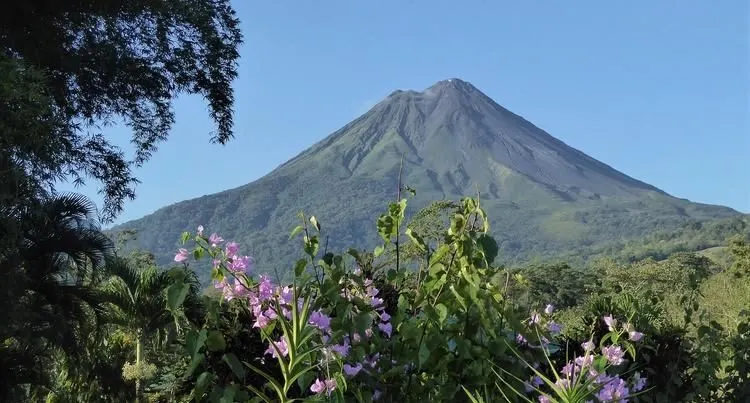 How to get from San Jose, Costa Rica to La Fortuna
1. Public Bus from San Jose to La Fortuna
Public transportation in Costa Rica is both, convenient and reliable.
So if you are traveling on a shoestring or don't mind if the trips take a little longer, the public bus from San José to La Fortuna will be the best choice for you.
The tour takes around five hours, depending on the traffic, and costs about five USD. You don't have to pre-book your ticket, you can simply show up at the terminal and get your ticket there.
Should you miss the direct buses traveling from San Jose to La Fortuna, you can also take any public transport going to Ciudad Quesada and continue your journey from there. Public buses will take you from Ciudad Quesada to La Fortuna.
Within just around five hours – if you don't miss the direct trip – you'll get to the adventure heaven that is La Fortuna.
Sure, it takes far more time than the other options we'll suggest, but if you are conscious of your budget during your Costa Rica trip, go for the bus.
If you would like to have a rented car's similar comfort plus the advantage of not driving the vehicle yourself, opt to go to La Fortuna from San Jose with a shared van shuttle.
Head to the pickup points at the San Jose Airport or in downtown San Jose to catch the shuttle going to La Fortuna.
Reservations are encouraged in order for you to reserve a guaranteed seat onward to your final travel destination.
Share a ride and make new friends along the way.
This is not only a great way to save some of your pocket money but also a fun time to discover like-minded people traveling in the same tropical paradise as you are.
A shared van shuttle from San Jose to La Fortuna costs around 54 USD.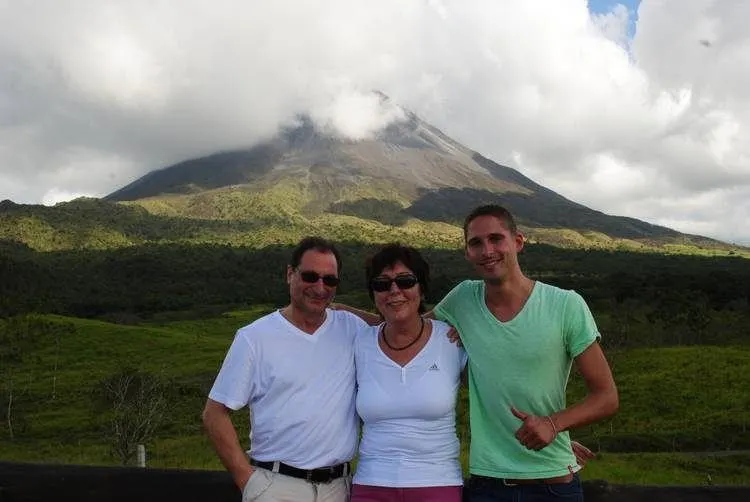 3. Private Transfer
Arrive in comfort and style as you book a private transfer from San Jose to La Fortuna. These cars are equipped with just about everything to make your trip convenient and fun.
Enjoy your 4-hour journey with your trusty bilingual driver bringing you to good stopover choices where you can eat Costa Rican delicacies.
Pay for the comfort and privacy of having the car drop you door to door at the most efficient time possible.
A private transfer for up to six people costs around 155 USD.
4. Flights to La Fortuna Costa Rica
If you have limited time in Costa Rica or want to continue straight to La Fortuna after arriving at Juan Santamaria International Airport, consider taking a flight from San Jose to La Fortuna.
This flight drops you off directly to the Arenal area, checking both convenience and efficiency on your checklist.
The flight time from San Jose to La Fortuna is only twenty minutes.
This may not be the most money-saving option there is, but it sure gives you more time to explore La Fortuna.
Flights start at around 90 USD.
5. Driving with Rental Car
Renting a car is one of the most efficient ways to go from San Jose to La Fortuna.
It not only allows you to drive at your own pace, but it also gives you the convenience to go from one Arenal tourist destination to another should you choose not to book tours to roam around Costa Rica.
San Jose to La Fortuna by a rental car is definitely a more expensive option if we're talking only about transportation, but the saved time, convenience, and money from going DIY with your tours are good points to consider.
Once you book a rented car, take the Inter-Americana highway and Route 702, passing through San Ramon and La Tigra, and you will reach La Fortuna from San Jose in a little over three hours.
Alternatively, you can also take the Naranjo and Ciudad Quesada route. It is going to take a little longer than usual.
Car rental prices start at around 30 USD per day.
Here are some things to consider when deciding how to get from San Jose, Costa Rica to La Fortuna:
– Your budget. Check how far you can go money-wise in order for you to know which options to stay away from and which ones to consider.
– Your willingness to share. A shared ride is always a cheaper ride!
– Your time. Maybe you are on a rush for a booked tour or are moving forward to other destinations after La Fortuna.
You might just have a weekend to spend altogether. With this in mind, it may be wise to go for the more expensive alternative which cuts your travel time.
– Your comfort. You come to Costa Rica to enjoy yourself. Don't let any hassles from getting there ruin your holiday mood. Listen to yourself when you know this option is where you'll feel most at peace. A sound mind is priceless!
More Costa Rica Articles
Here is my take on the BEST ADVENTURE TOURS IN LA FORTUNA. Let's finish that adventure planning in no time!
Arrived and nowhere to go? Let's have a look at the BEST HOTELS IN LA FORTUNA and the BEST THINGS TO DO IN LA FORTUNA.
This activity is so popular and worthwhile that it deserves its own spot! Not to mention, I am all for nature and relaxation. I have searched far and wide to give you THE BEST HOT SPRINGS IN LA FORTUNA.