It is easy to get to Montezuma and Santa Teresa from Jacó. With the limited yet convenient ways to get from Jacó to Montezuma and Santa Teresa, you have the decision-making cut out.
Montezuma and Santa Teresa are popular tourist destinations for those who are coming from Jacó.
While these areas are all in the province of Puntarenas, they are separated by the Gulf of Nicoya. Therefore, water transport is essential if you wish to travel efficiently among these three destinations.
How far is Jacó to Montezuma and Santa Teresa?
The distance between Jacó and Montezuma is 30 miles or 48 kilometers. The distance between Jacó and Santa Teresa is 37 miles or 59 kilometers.
Read also: Transportation in Costa Rica
The main transportation options to get from Jacó to Montezuma & Santa Teresa are:
Taxi Boat
Ferry
Bus
Shuttle
Private Transfer
Uber/ Taxi
Rental Car
How to get from Jacó to Montezuma and Santa Teresa
1. Taxi Boat from Jacó to Montezuma and Santa Teresa
Getting to Montezuma and Santa Teresa from Jacó does not need to be just another travel between great destinations.
Riding a boat to get to each place is a great way to enjoy a scenic ride and an opportunity to spot different marine animals along the way.
A quick look at Jacó on a map will show you that the best way to travel from there to Montezuma and Santa Teresa is by crossing the waters.
The most efficient way to do so is by taking the water taxi, more often called the taxi boat.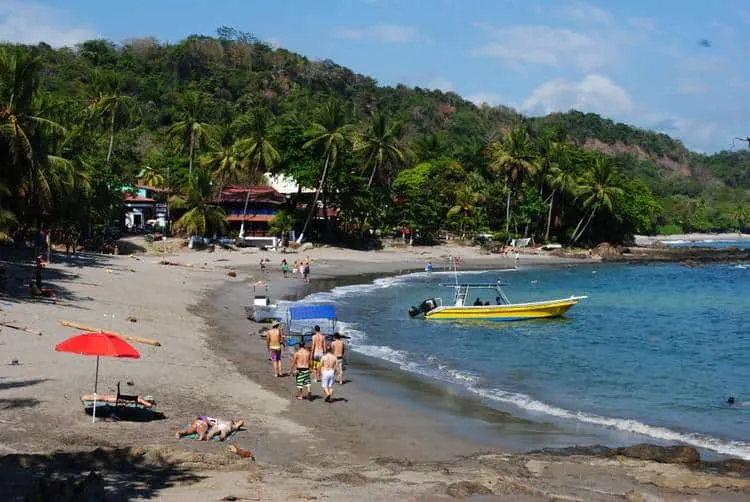 To go from Jacó to Montezuma and Santa Teresa, head to Playa Herradura and board a standard taxi boat that fits up to 18 passengers. There are also transport companies that offer to pick you up from your hotel in Jacó.
There is a private taxi boat option which you can avail of at the same dock. This boat can take up to five passengers and can leave anytime before 3:30 PM, whenever you wish. This option costs $850.
GuateGo
On GuateGo, you can check all available transportation options from Jaco to Santa Teresa & Montezuma. It is a reliable and easy-to-use platform to compare prices & schedules and make a booking online.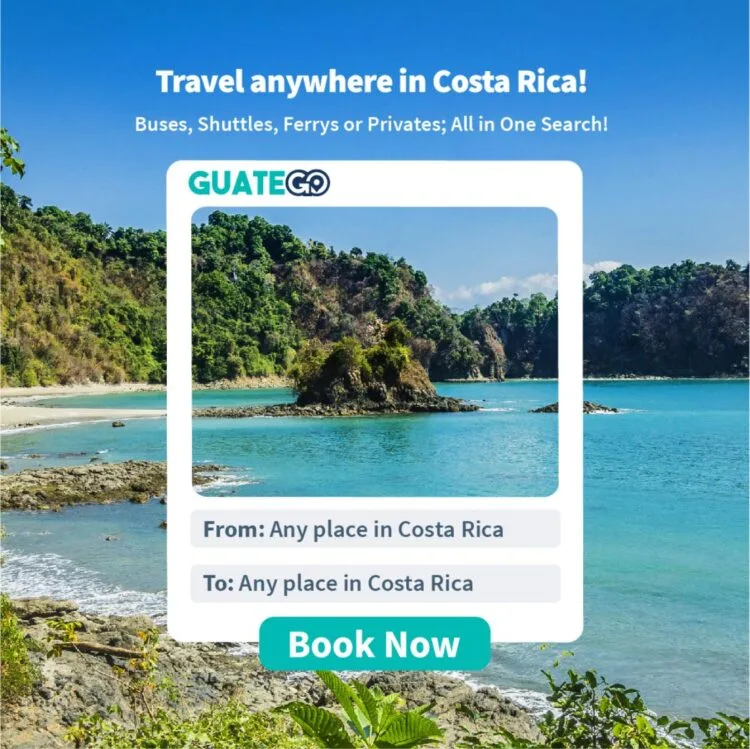 When the weather does not permit boats to leave from Playa Herradura, there may be a shift in your departure location. It is also the boatmen's prerogative to change trip timings when necessary.
The trip from Jacó to Montezuma via taxi boat runs for two hours. Price starts at $45 per passenger.
Children from four to ten years of age get a discounted price of $35, while kids ages three and below ride for free.
If you are going down in Santa Teresa from Jacó, add $10 to the aforementioned rates. It takes two hours to travel by taxi boat from Jacó to Santa Teresa.
A one-way taxi boat ticket gives you up to 22 kilograms of baggage allowance. Surfboards are charged extra. Any land transport you may need to and from the docks can be prearranged with the transport companies.
2. Ferry from Jacó to Montezuma and Santa Teresa
If you plan to bring your own vehicle or a rented vehicle to Montezuma and Santa Teresa, you can take the ferry departing from Puntarenas.
It arrives at Naranjo or Paquera, but if you are traveling to Montezuma and Santa Teresa, Paquera is your better option.
From Jacó, you will have to drive your vehicle to the Puntarenas ferry terminal.
Look for the Naviera Tambor ferry located about 74 kilometers away from Jacó. It is about an hour's drive in total. Line up at the car loading area and wait to be served.
If you are traveling by bus and taking the ferry from Puntarenas to Paquera, you must get down from the bus and let it go through embarkation procedures before you follow inside the ferry.
Once the ride commences, you can relax and use the amenities available inside the ferry.
There are flat-screen TVs, food stalls, air-conditioned areas, and open decks, which will keep you occupied throughout the trip.
Once the ferry docks, you will have to continue your trip by land. The travel time by ferry from Puntarenas to Paquera takes one hour and ten minutes.
A ticket for you and your car will cost about $25. If you are coming by bus, the ferry fare is already included in your ticket.
Without any vehicle involved, the ferry ride costs only $1.50 per person.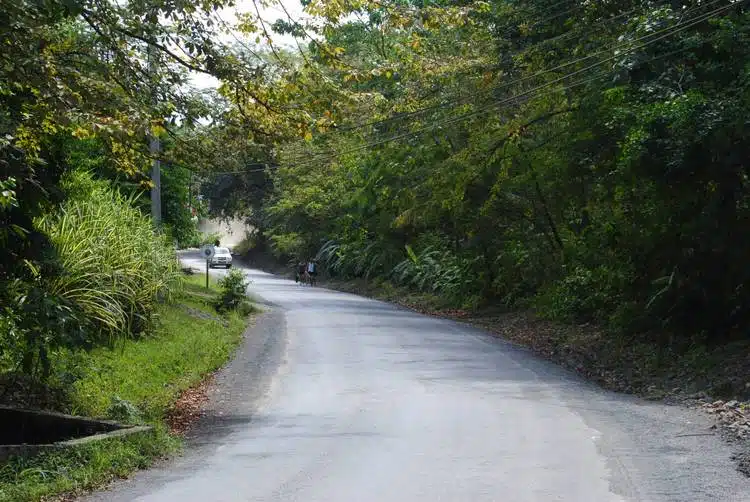 3. Drive from Jacó to Montezuma and Santa Teresa
Driving to Montezuma and Santa Teresa from Jacó might look inconvenient and unnecessary in general. Still, for those who are unwilling to take water transport for specific, personal, and/or valid reasons, ground transport is an option that is highly possible.
Thanks to Puente La Amistad, you can cross the bodies of water separating the province by taking this bridge. This vehicle and pedestrian bridge run above the Tempisque River in the province of Guanacaste.
From Jacó, take Route 34, passing through Costanera Sur. Pass by the Carara National Park all the way to the Alajuela-Puntarenas provincial border until the road meets Route 27.
Take the ramp going to that route until it connects you to Route 23. Merge onto the Inter American Highway until you reach Paso del Tempisque.
Turn left and take Route 18, crossing Puente La Amistad to get to the other side. Turn left once you reach Route 21 and continue until Calle Pura Vida.
From here, Route 624 will take you to Montezuma.
It takes five hours to drive from Jacó to Montezuma without crossing by ferry. The total driving distance is 280 kilometers.
Should you wish to continue your trip all the way to Santa Teresa, find your way to Montezuma-Delicias Road and follow the route until the Cobano-Delicias Road.
Turn left at the Doghouse Shortcut Road and continue straight. You will arrive in Santa Teresa in a matter of 45 minutes.
If you plan on renting a car and take this journey, there are cars for rent with daily costs ranging from $60 to $219.
Cars come with unlimited mileage and are required to be dropped off at the same pickup location, as there are no options to leave the car either in Montezuma or Santa Teresa.
More Routes from San Jose, Costa Rica