If you are planning a trip to Switzerland but wondering how to squeeze in a little luxury on your journey, then this is the post for you.
As a long-time resident and frequent traveler here, I have nearly two decades of experience to share. From epic views from first-class train windows to mountain spas that will have you more relaxed than a month of Sundays.
So, get ready for some great luxury options in Switzerland…
First Class Train Rides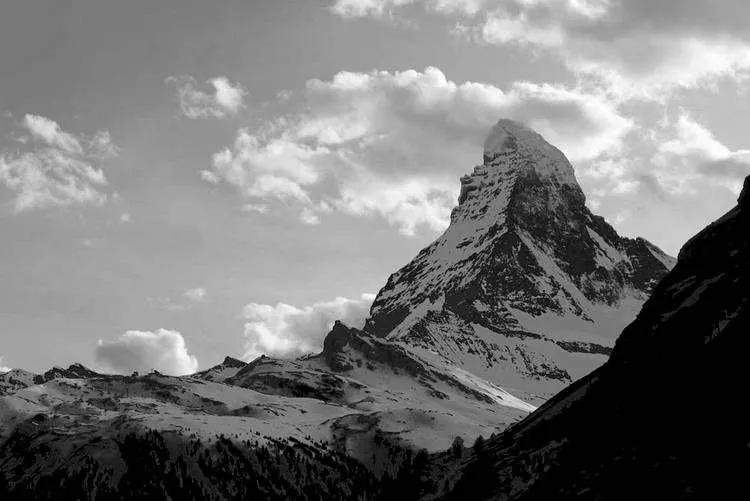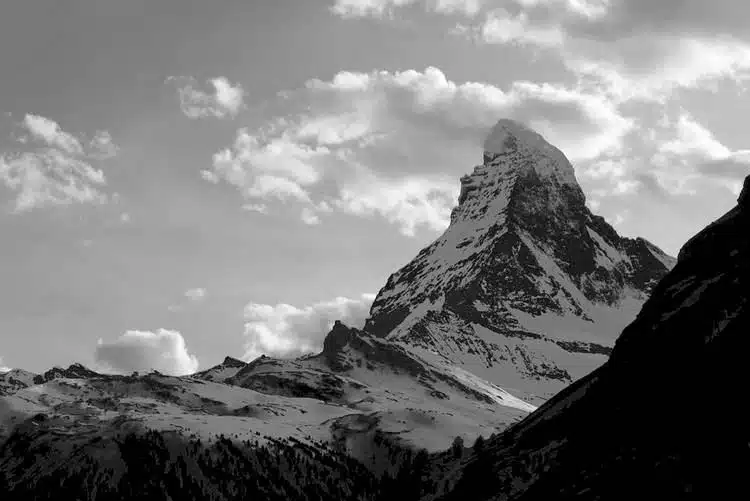 After chocolate and cheese, Switzerland is perhaps famous worldwide for its precise and well-run train system. You can get almost anywhere on a Swiss train, even including multiple changes, and still never miss a connection.
So, why not take advantage of this world-class train system and the jaw-dropping views that their carriages have to pass through. There are dozens of routes to choose from, but some of them are more "epic" than others.
And as a luxury seeker, it's good to know that you always have the option of first-class on any of these trips, which includes more comfortable seats, sometimes a restaurant car, and even panoramic windows.
The Golden Pass route takes you all the way from the ever-popular Lucerne straight through the heart of the Alps to Interlaken. You pass by many crystal clear and almost unbelievably blue lakes, as well as mountains that are higher than you can imagine.
The train over the Bernina Pass to Italy is another route that you have to see to believe.
It slowly winds its way from the Romansch-speaking part of Switzerland into the more Mediterranean Italy, all within only a few hours. Who can pass up the chance to do two countries in one day?
Last but certainly not least is Switzerland's most popular train route: the Glacier Express. It runs from Zermatt to St. Moritz, both popular destinations in and of themselves.
But it is the scenery that you pass along the way that this journey is all about. Slowly winding your way through scenic valleys, over mountain passes, and through the ever-present Swiss tunnels, you will be spoiled by view after view.
And if you upgrade on some of the routes, you can get the floor to the middle of the ceiling panoramic windows!
Alpine Spas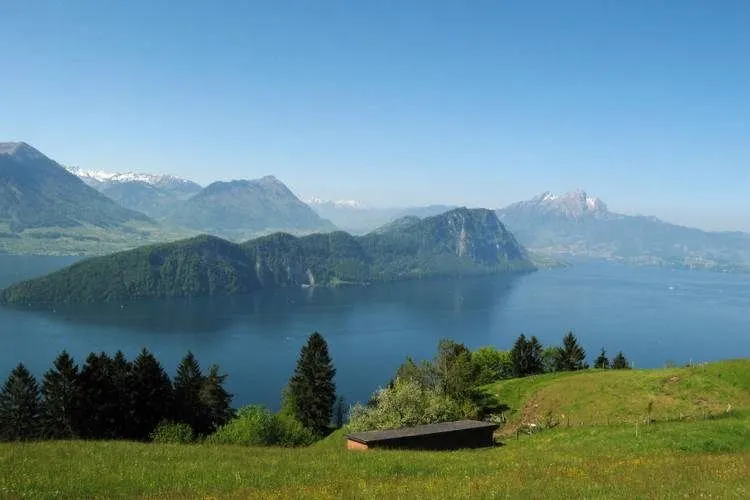 A mountainous country like Switzerland has an abundance of hot springs, which is great news for spa lovers. Almost everywhere you go, there is a day spa, resort, or other wellness option to be had. Even in the cities.
If you are overnighting in Zurich, one of the best spas to spend the day at is the Thermalbad and Spa Zurich, located in a former brewery.
Not only does it have an impressive modern design, but the rooftop spa also gives you amazing views over the low roves of Zurich.
As you head further afield to popular places like Lucerne, you have even more options. You can take a boat to the local mountain of Rigi and then a cable car up to the Rigi Kaltbad spa.
It was designed by one of Switzerland's premier spa designers and gives you panoramic views of the lake and the alps beyond. Not only that, but it does not require you to be rich or famous to get it!
The town of Leukerbad in southern Switzerland is famous for its day spas and also a great place to combine a little alpine exploration with a day in a spa.
I was there a few years ago overnighting in a local hotel. And you can pop into the spa, head outside, and soak up the cirque of alps that surrounds you. Jaw-dropping!
Another famous location to get away from it all is the Grand Resort in Bad Ragaz. In fact, just a few years ago, Justin Bieber came here to get away from the screaming hordes, something he has huge trouble achieving.
And even here, deep in the Swiss alps, he was discovered within hours! But for us lesser mortals, this is a place of pure wellness and relaxation if you can afford the price tag.
Top End Hotels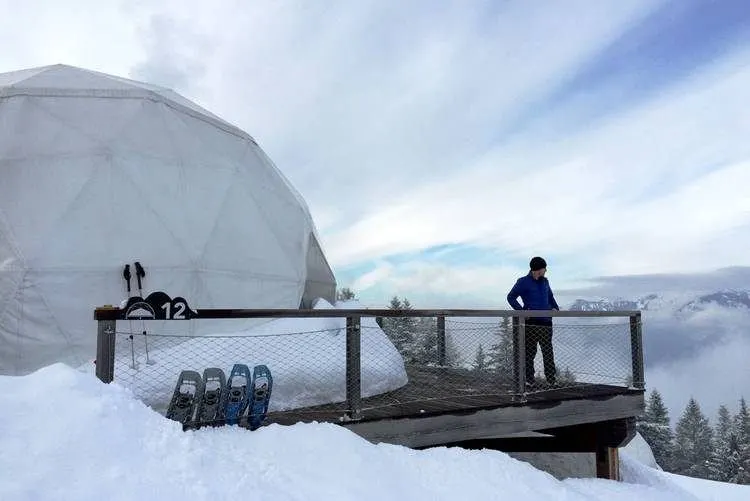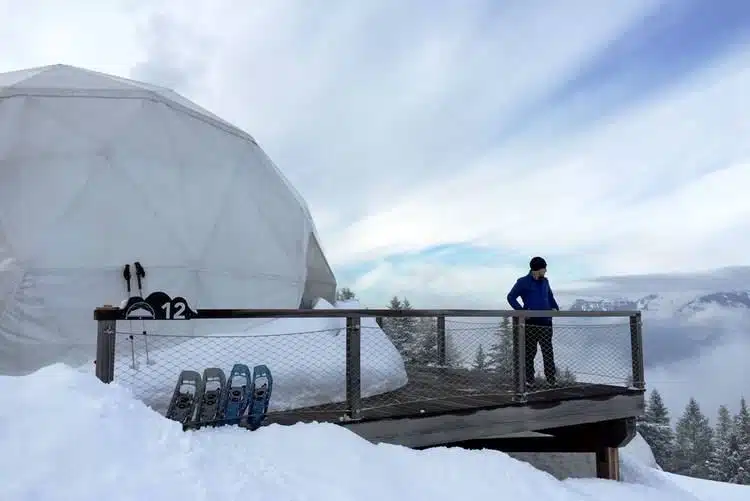 Being one of the richest and most expensive countries in Europe and perhaps the world, Switzerland also has rich clients to serve. And that also means that you can find some very high-end hotels in this country.
One of the more recent additions to the surroundings of Lucerne is the hotels on top of Bergenstock. Not only are they all 5 stars, but they also command a stunning view of Lake Lucerne and the alps around.
On top of that, they have high-end restaurants and day spas which you can enjoy while spending the night in these stunning surroundings.
And the great thing about this location is that you can take a boat to get there, and a glass elevator once featured in a James Bond movie!
Now that is a memorable way to get to the door of your hotel room.
Another more down-to-earth option is the White Pods just south of Lake Geneva. They are essentially "glamping" but at a very high level.
The tents are actually permanent domes with all the facilities you would expect in a hotel, and often even more. I spent a winter weekend there a few years ago for a 40th birthday and they exceeded my expectations.
The tents are actually permanent domes with all the facilities you would expect in a hotel, and often even more. I spent a winter weekend there a few years ago for my 40th birthday, and they exceeded my expectations.
Another renowned hotel located in the alpine town of Zermatt is the Riffelalp Resort.
Not only is it five stars with amazing facilities, but located high above the town at 2222m (7290ft), it also has commanding views.
You can relax in their spa and soak up the views of the iconic Matterhorn as the sunsets and make all your friends jealous.
World Class Food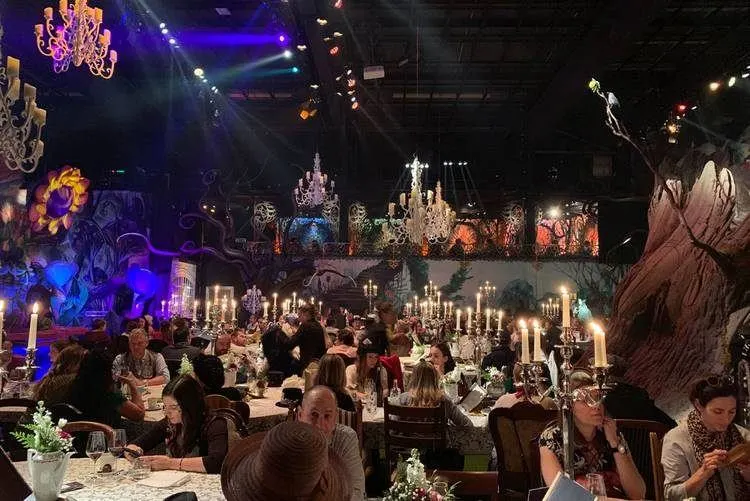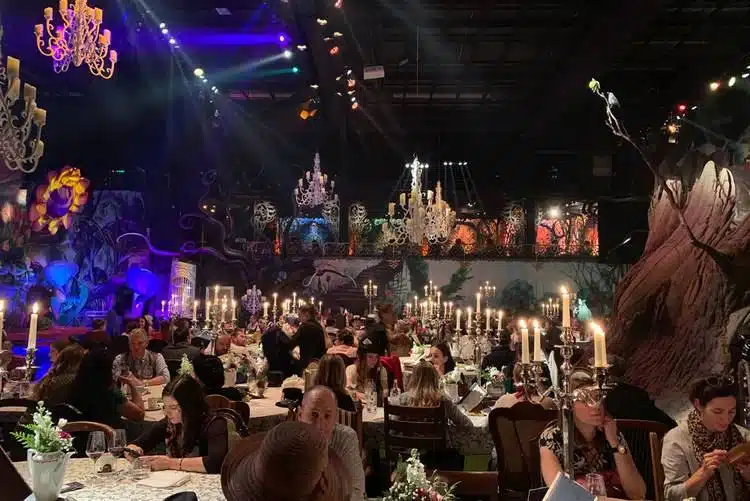 Switzerland has some of the best restaurants in the world, so there is no better place than here to delight your taste buds.
Most people searching for epic food experiences will gravitate towards Michelin-star restaurants, so let's start there.
One of the three best listed in Switzerland is in the small Swiss-French town of Vevey.
Les Saisons is in the Grand Hotel du Lac and right on the shores of Lake Geneva, and within viewing distance of the nearby alps and Vevey's infamous fork in the water. A sign of the amazing food to come perhaps?
A Swiss town famous for its pointy mountain, the Matterhorn, Zermatt is also a stunning and historic Swiss village.
It is also an amazing place to ski, hike, climb 4000m peaks or just eat perfectly crafted meals.
One such restaurant in the Cervo hotel is their now famous restaurant – Cervo Puro, with 14 Gault-Millau points and food to match. Soak up the mouth-watering views and flavors all at the same time.
Switzerland's financial capital Zurich is also home to some unusual pop-up-style restaurants serving world-class cuisine with a twist.
One that I regularly take part in is called the Secret Dinner. Their concept involves serving high-end food in surprising locations.
So much so that you have no idea where you are going before you get there. The last one I went to was Alice In Wonderland, and boy did they deliver!
Chocolate Experiences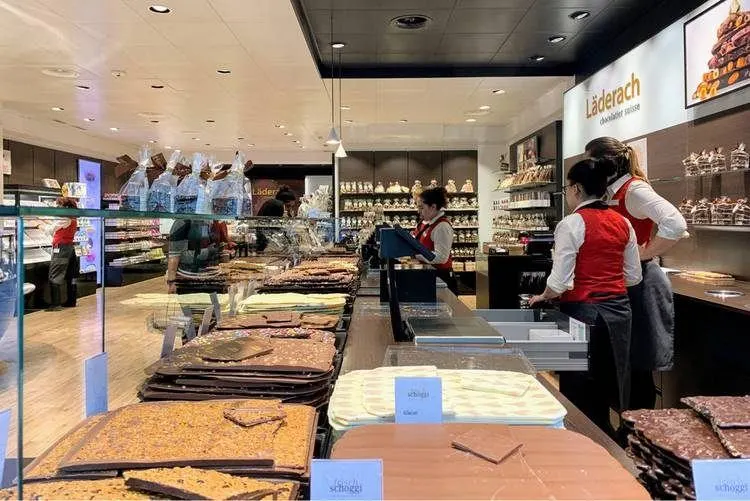 Once you have had your fill of Michelin-level food, it might be time for some dessert. But not just any dessert; we are talking Swiss chocolate here.
Sure, you have probably had Swiss chocolate from the supermarket or Duty-Free store before. A little Toblerone or Lindt, perhaps?
But these are still run-of-the-mill chocolate brands when you are in Switzerland. Instead, you really need to dive a little deeper and go for the niche brands and shops while in the cities.
The first port of call in any of the big metropolises is a Laderach store. In recent years they have opened stores in all sorts of locations around the country, so finding one should not be hard.
They offer top-notch pralines, often in a box or my favorite, huge chunks that break off even bigger slabs of delectable and unique chocolate. You can have as little or as much as you want and as many different flavors.
Just be sure to get an estimate before paying, as it won't be cheap! Laderach also runs one-of-a-kind chocolate workshops and other experiences in some cities, so be sure to head to their website before getting on the plan. You will need to book ahead.
Another great option in any city is the one-of-a-kind local chocolate stores. They also have mouth-watering chocolates on display and often a specific specialty too.
Take Du Rhone in Geneva, they have chocolate pralines to die for and 4 flavors of hot chocolate you can sit down and try too.
Or, if hot chocolate is your poison, and you are in Zurich, Schober's is the place to go. It might be expensive, but it will leave you wanting another one.
And last but not least is Max Chocolatier in Lucerne. I will leave it up to you to try their all-natural treats and tell me what you think.