Costa Rica Travel Guide - All you need to know to plan your vacation
Check out our Costa Rica travel guide with information on the best places to visit in Costa Rica, the best things to do in Costa Rica, Costa Rica hotel recommendations, best day tours, and Costa Rica travel & safety tips.
Costa Rica is perfectly located between the Caribbean and the Pacific Ocean, with volcanoes and rainforests completing the whole tropical package. It is the happiest place on earth and contains 5 percent of the world's biodiversity!
Ecotourism is the shared passion of every community in Costa Rica.
With 29 national parks and 27 other reserves, both the government and private entities strive not only to bring tourists in for economic gains but also to educate the masses regarding the essentiality of rainforest and wildlife conservation.
Visiting Costa Rica is not complete without seeing at least one national park!
Quick facts Costa Rica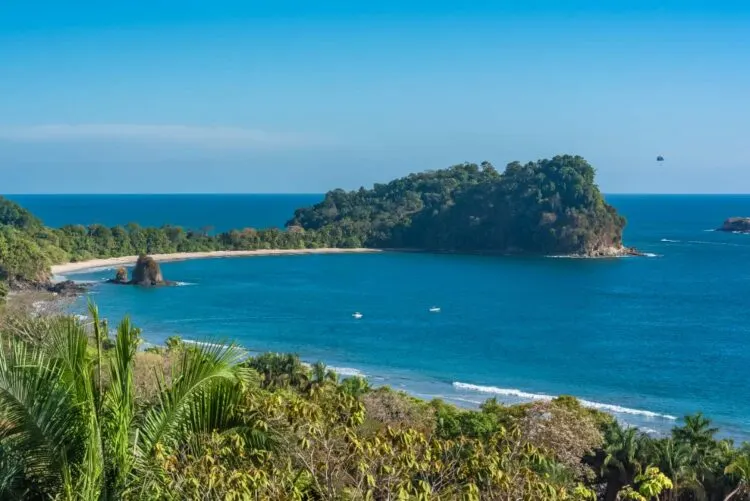 Capital City: San José
Currency: Costa Rican Colón
Official languages: Spanish
Neighboring countries: Panama and Nicaragua
Interesting places to visit when you travel to Costa Rica: Tortuguero National Park, Poás Volcano, Corcovado National Park, Arenal Volcano, Puerto Viejo, Manuel Antonio National Park
Time Zone: Central Standard Time (UTC -6)
Largest City: San José
Some interesting and fun facts about Costa Ricans: Locals call themselves Ticos (for male) and Ticas (for female). As a foreigner, you are called Gringo (male) and Gringa (female).
What to pack for a trip to Costa Rica: While on tours, bring a dry bag, high SPF sunscreen, insect repellent, sun visor, closed hiking shoes, and an underwater camera.
We help you plan and book your Costa Rica Vacation

With our local tourism agency partner onboard, organizing a customized Costa Rica vacation has never been this hassle-free!
Share your travel dates, places of interest, and other details that would make your travel to Costa Rica simply memorable.
After filling out this form, one of our Costa Rica experts will contact you. Tours, transport, other travel services – you name it, we'll arrange it!
Best places to visit in Costa Rica
1. Monteverde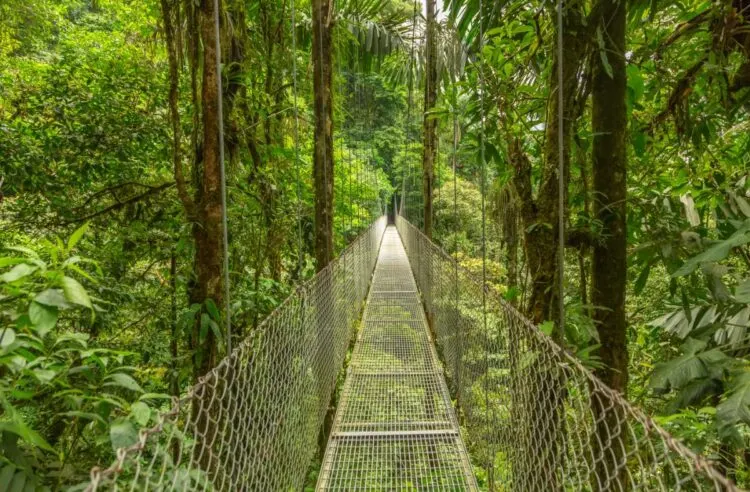 Monteverde is situated in the Tilaran Mountain Range and is one of the most popular sites for nature when you travel to Costa Rica. Monteverde, which means 'green mountain' in Spanish, is a magnificent plethora of rolling hills and lush vegetation.
One of the best places to visit in Costa Rica, the Monteverde Cloud Forest Reserve, is located next to this rural village. The red-eyed tree frog, Costa Rica's symbol, can be found in this protected jungle.
The constant cloud envelopes the Monteverde reserve due to the high humidity in the place. The forest does become quite packed with visitors at times, with everyone wanting to explore the diverse flora and fauna in the area.
Alternatively, the Santa Elena Cloud Forest Reserve is located nearby.
Two of the best luxury hotels to stay at in Monteverde are Monteverde Lodge and Gardens and the Trapp Family Hotel. Both offer exceptional amenities that bring comfort and pleasure to the rawness of the cloud forest's surroundings.
Be sure to check out each hotel's professionally curated nature tours. Having a nature guide when exploring Monteverde is the key to understanding why Costa Rica and its towns are highly regarded for biodiversity.
Read the full article: Best things to do in Monteverde
2. Puerto Viejo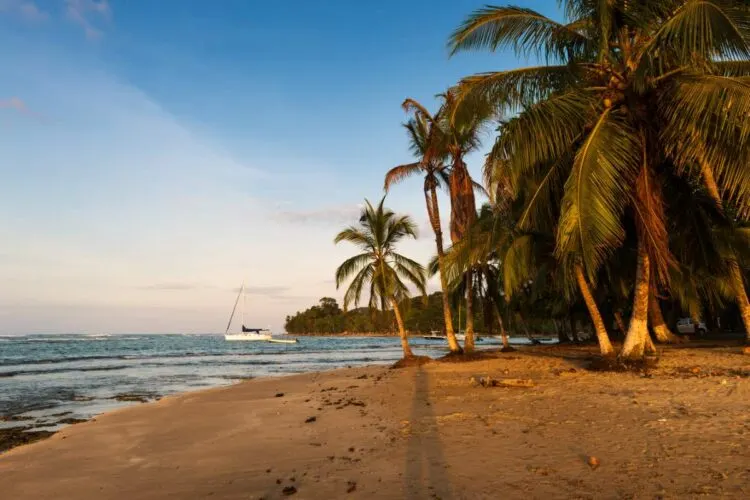 One of the most famous places to visit in Costa Rica for surfing is the coastal village of Puerto Viejo. Surfers travel from far away to try and conquer the elusive Salsa Brava break.
Often regarded as the best surf spot in Costa Rica, the Salsa Brava may be calling the adventurer in you, but its waves are fit for masters in the art of riding waves. With love for surfing comes the Rasta lifestyle that naturally goes with it.
Puerto Viejo's nightlife is painted with Jamaican influence all over – from music to food and everything else in between.
Aside from surfing, Puerto Viejo is also known for its unique beaches with white and black sands. These beaches lie along the Caribbean Sea, making them perfect venues for snorkeling, scuba diving, and dolphin watching.
Alternatively, you can also join cultural tours where locals take you on chocolate-making and birdwatching explorations.
Compared to other Costa Rica tourist spots, accommodations in Puerto Viejo are limited to rooms with necessities and local offerings. For luxury travelers, Hotel Le Cameleon is the only option for a high-range hotel in the village.
Resorts like those in Fortuna or Manuel Antonio are out of the question. This, though, does not make Puerto Viejo any less of an attraction. Its provincial charm and laidback atmosphere win the heart of every visitor.
Read the full article: Best things to do in Puerto Viejo
3. La Fortuna & Arenal Volcano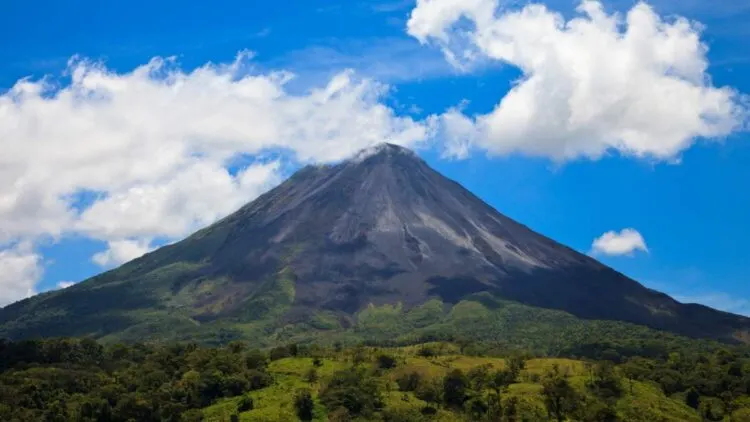 Fancy sipping on your cocktail while bathing in natural hot springs and enjoying the view of an active volcano when visiting Costa Rica?
As you approach La Fortuna, you will be welcomed by the Arenal Volcano, standing tall amidst Fortuna and the nearby areas.
Thanks to the Volcano, you can enjoy nature-heated thermal pools, cascading waterfalls, thick jungles, and a whole lot of fun!
Make sure to visit the Mistico Arenal Hanging Bridges Park and allot time to explore Lake Arenal. Within these places, you have several adventures to conquer. That includes rappelling, horseback riding, and extreme white water rafting.
Accommodations such as the Tabacon Grand Thermal Resort take pride in their strategic locations at the foot of the Arenal Volcano and entice guests not only to purchase day passes for their thermal pools, but also to book a room and stay in one of their lodges that promote serenity at its purest.
Read the full article: Best things to do in La Fortuna, Costa Rica
4. Tamarindo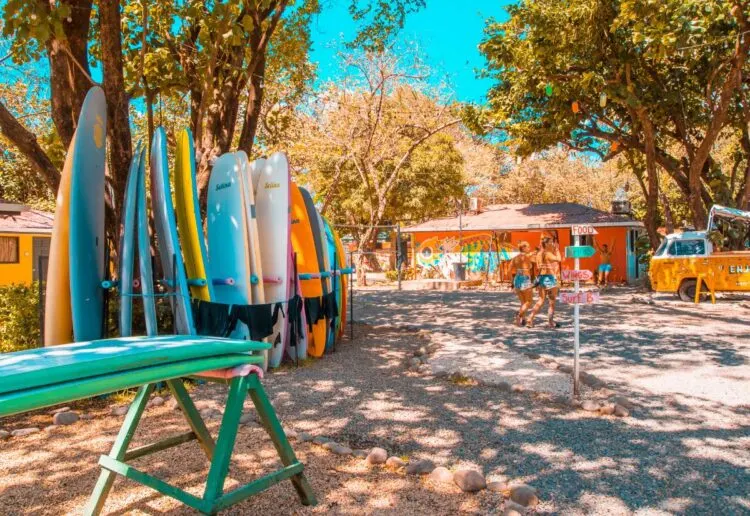 77 kilometers from the Liberia Airport is one of the top destinations when visiting Costa Rica: Tamarindo.
It is popular with travelers who want to explore nature without necessarily leaving the comfort of modern amenities, familiar food, and other daily conveniences.
Surfing the waves in Tamarindo must definitely be on your list of things to do in Costa Rica. Many beaches in the area can satisfy beginners and experts alike.
Playa Grande, located inside the Las Baulas National Park, is home to many surf schools that offer surfing lessons and surfboard rentals. Experienced surfers flock to this surf spot, hoping to play with some of Costa Rica's biggest waves.
Playa Tamarindo and Playa Langosta are friendlier to the inexperienced. The latter beaches do not tend to get crowded, making them good venues for those wanting to try the sport for the first time.
As Tamarindo is a famous Costa Rican vacation spot, businesses geared towards tourists are plentiful. There is no shortage of hotels in the area, with even luxurious options dominating the scene.
Read the full article: Best things to do in Tamarindo
5. San Jose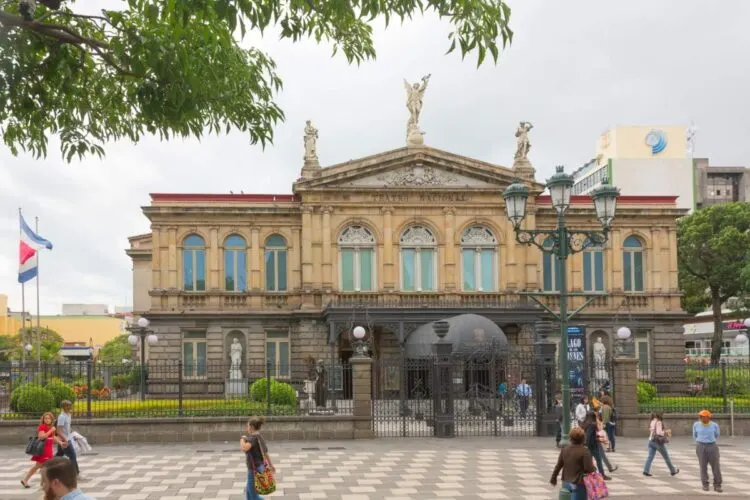 San José is the capital city of Costa Rica. There are many places to see in Costa Rica that are in this metropolis, but travelers tend to skip this city altogether while in a rush to move forward to their adventure destination.
I'd say stay for two days, no less, and see all the historical sights and inviting delicacies that await you in San Jose. The weather is almost always temperate, and public transport is efficient, enabling this historic city to be far more than just a pitstop.
Feast your curious eyes on the stylistic buildings and green parks that are conveniently a stroll away from each other. Head towards La Sabana Park and start your cultural exploration within its bounds.
You'll find the Costa Rica Art Museum and National Stadium here alone. The Central Market is also unmissable, with eateries serving authentic Costa Rican cuisine and stalls selling cheap travel souvenirs.
There are plenty of accommodations to choose from in San Jose. One of the best luxury hotels in Costa Rica is the iconic Gran Hotel, which is only three to five minutes away from the National Theatre and the Museum of Precolumbian Gold.
Read the full article: Best things to do in San Jose
6. Manuel Antonio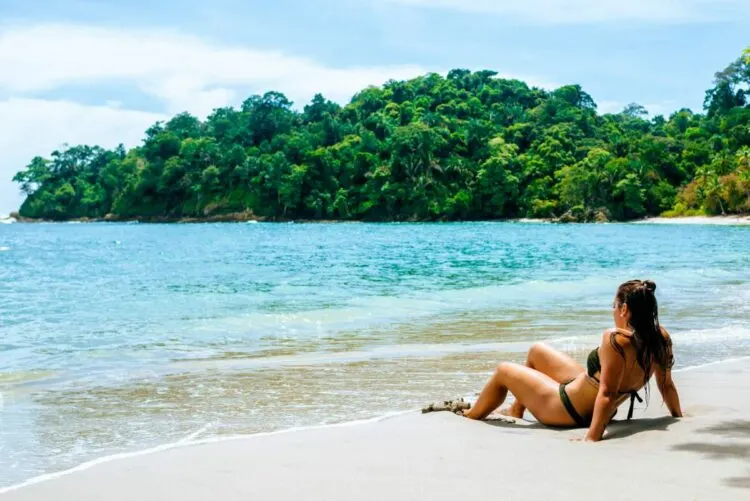 Manuel Antonio is a short 3-hour drive from San José and, without a doubt, one of the best places to visit in Costa Rica.
The most famous attraction is the Manuel Antonio National Park, a vast forest reserve home to numerous animal species and thick green vegetation.
You can access two of Manuel Antonio's stunning beaches from the park – the Playa Espadilla Sur and the Playa Manuel Antonio. These waters are perfect venues for swimming, snorkeling, and paddling.
Hotels in Manuel Antonio are some of the best in the country. A perfect example of luxury combined with care for nature is the Gaia Hotel and Reserve. Scarlet macaws consider the bounds of this hotel their secured habitat.
Villas with roof terraces and an ocean view offer a VIP seat to Costa Rica's magnificent sunset. Expect many guests here at Gaia and in Manuel Antonio from December to April.
Read the full article: Best things to do in Manuel Antonio
7. Corcovado National Park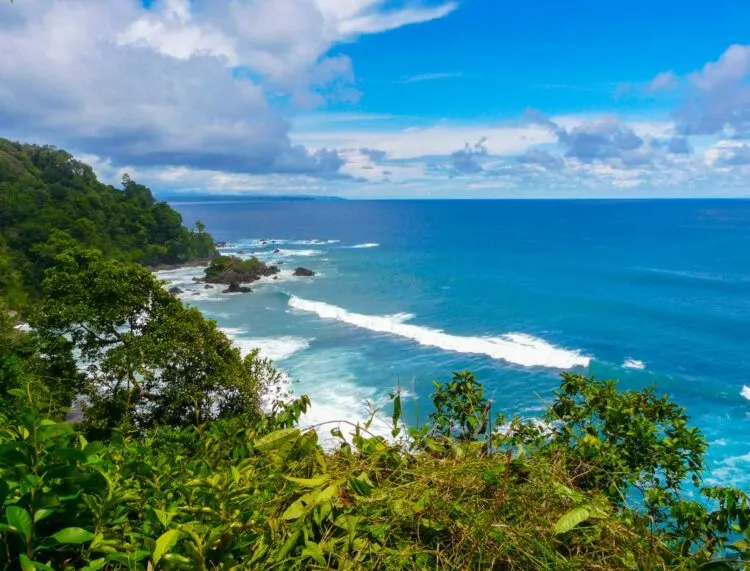 The Osa Peninsula, where Corcovado is located, is part of the province of Puntarenas. This region is known for being remote and biodiverse.
Many species that live in Corcovado are unique to the area, prompting National Geographic to declare the Osa Peninsula as 'the most biologically intense place on earth.
Among the famous places in Costa Rica that can be found in this region is the Corcovado National Park. This remote sanctuary has been a thriving home to many endangered species since 1975.
Go diving in this area, and you will have the chance to see bull sharks, moray eels, and sea turtles in their natural habitats. Alternatively, you can relax on the white beaches along Corcovado. Beware, though, as this place is infamously known to have really powerful riptides.
If you plan to go camping in Corcovado, it is best to do so between January and April. If you opt for a luxury hotel, there is the dreamy Casa Corcovado Jungle Lodge.
Its suites offer incomparable views of the rainforest. They even have a honeymoon Suite that promises only the most intimate stay amidst the green environment. Activities within the lodge include horseback riding and scuba diving.
Read the full article: Best things to do in Corcovado
8. Santa Teresa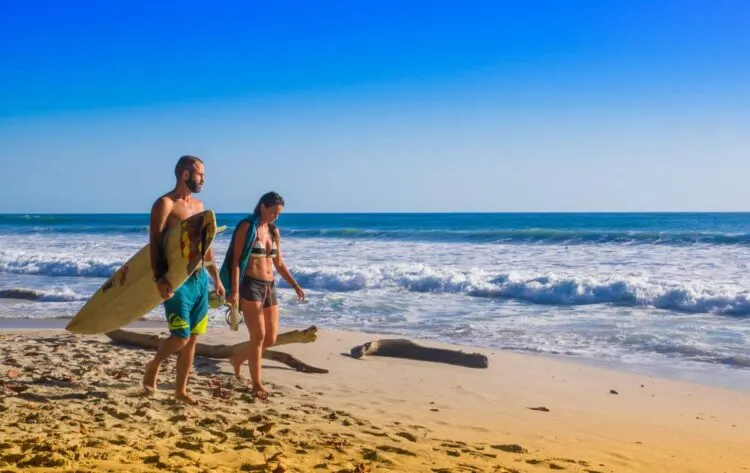 Santa Teresa is home to some of the most beautiful beaches in Costa Rica and is one of the best surf spots in Costa Rica. Another great surf spot, Mal Pais, is just three kilometers away.
Other adventure activities that you can do in Santa Teresa are, amongst others, Canopy tours, horseback riding, and hiking. The Curu Wildlife Reserve is one of the most popular destinations in Costa Rica and is situated in Santa Teresa. It was actually the country's first private wildlife refuge.
The Pranamar Villas and Yoga Retreat is a luxury resort right next to Santa Teresa beach. The villas are built with bamboo and wood and are surrounded by a green garden.
If you want to try yoga for the first time, there is no better place. It's a perfect way to relax your tense muscles after a full day of adventures in Costa Rica. While looking for luxurious places to stay in Santa Teresa when visiting Costa Rica, consider the Canaima Chill House as well.
Read the full article: Best things to do in Santa Teresa
9. Jaco Beach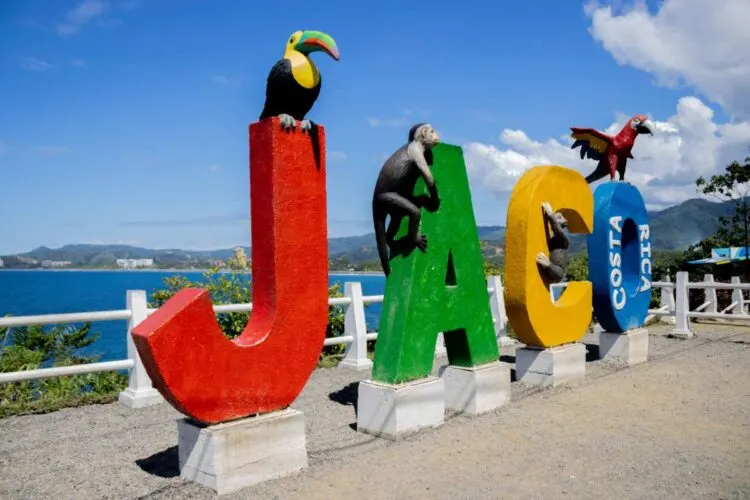 To outsiders, Jaco is known for three things: surfing, sport fishing, and nightlife. To Ticos, it is their own piece of paradise. Located on the Central Pacific coast of the Puntarenas province of Costa Rica, Jaco is blessed with warm temperatures, diverse wildlife, and calming ocean waters.
It is just two hours away from bustling San Jose, so Jaco is a favored getaway for tourists and locals alike. Despite its busyness, this beach town has successfully preserved its rustic appeal. Jaco is home to numerous waterfalls, national parks, and nice local food.
When in Jaco, make sure to visit Jaco Beach. Grab a surfboard and finally check surfing off your bucket list. Watch as the sun sets and colors the Jaco skyline orange. Then, find yourself on the main street partying like there's no tomorrow!
Read the full article: Best things to do in Jaco
10. Tortuguero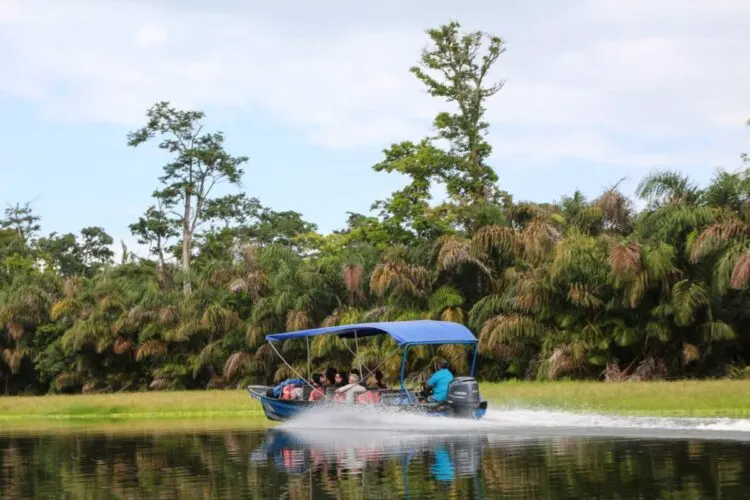 Tortuguero is called the Central American Amazon, and you will know why once you arrive.
Most places are only accessible by boat. This makes the place difficult to reach, but it also makes every visit to this destination intentional.
I am sure you won't mind going around by boat. Monkeys, birds, sloths, and other wild creatures are always around to make your cruise interesting and fun.
Most people visit Tortuguero to explore the Tortuguero National Park. Established in 1980 to create a protected habitat for nesting sea turtles in Costa Rica, the park continues to be one of the wildest and most important of all the massive national parks in the country.
Nowadays, you can see not only green sea turtles here but also leatherbacks and hawksbills. This 19,000-hectare property is run by the government and enjoys high visitor turnover from July to October. Within this time frame, there is a high chance of seeing the beloved nesting turtles.
Most lodges are only accessible by boat. This includes the Manatus Hotel. With its beautiful ecolodges and exceptional amenities, the Manatus Hotel is a luxurious relief within the jungle of Tortuguero.
Read the full article: Best things to do in Tortuguero
11. Central Valley Costa Rica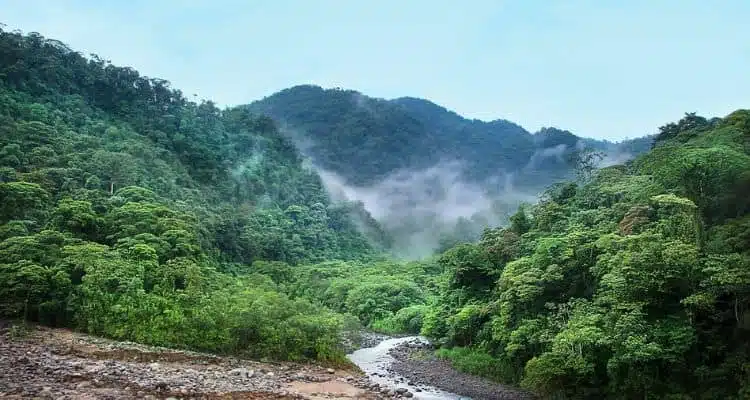 The Central Valley, or "Meseta Central," is where many Costa Ricans reside. With its naturally stunning backdrop and bountiful lands, no wonder people choose to build their lives here.
It is home to the Irazu and Poas Volcanoes, both of which are active, thus providing richness to the soils around the area. This makes farming thrive in the plateau – and yes, strictly speaking, it is not a valley.
The Braulio Carillo National Park is one of the main attractions in the Central Valley. Just by driving along the roads, your eyes and lungs are definitely in for a nature retreat.
Into the jungle, there are hiking trails that lead you to breathtaking waterfalls and diverse flora and fauna. An aerial tram takes you through treetops and sloth habitats into the forest.
The Central Valley offers a wide range of luxury accommodations like the Best Western Irazu Hotel and Casino, the Grano de Oro, and the Bougainvillea Hotels.
Read the full article: Best things to do in Central Valley
12. Tortuga Island, Costa Rica
Tortuga Island is among the best places to visit in Costa Rica when what you're looking for is a respite from everyday life.
This island in the southeastern part of the Nicoya Peninsula is most known for its superb diving and snorkeling sites. It may be small in size, but Tortuga Island is a true marine lovers' playground.
The name Tortuga translates to "turtle." The place is part of the Negritos Islands Biological Reserve. It is only accessible by boat and is usually treated as a day tour destination.
When in Tortuga, be ready to swim your heart out as you explore shipwrecks such as the Franklin Chang and the Caroline Star Wrecks.
Feeling nervous about diving? Snorkel your way to a fun adventure and spot marine animals such as parrotfish and angelfish.
Read the full article: Best things to do on Tortuga Island
13. Rincon de la Vieja Volcano National Park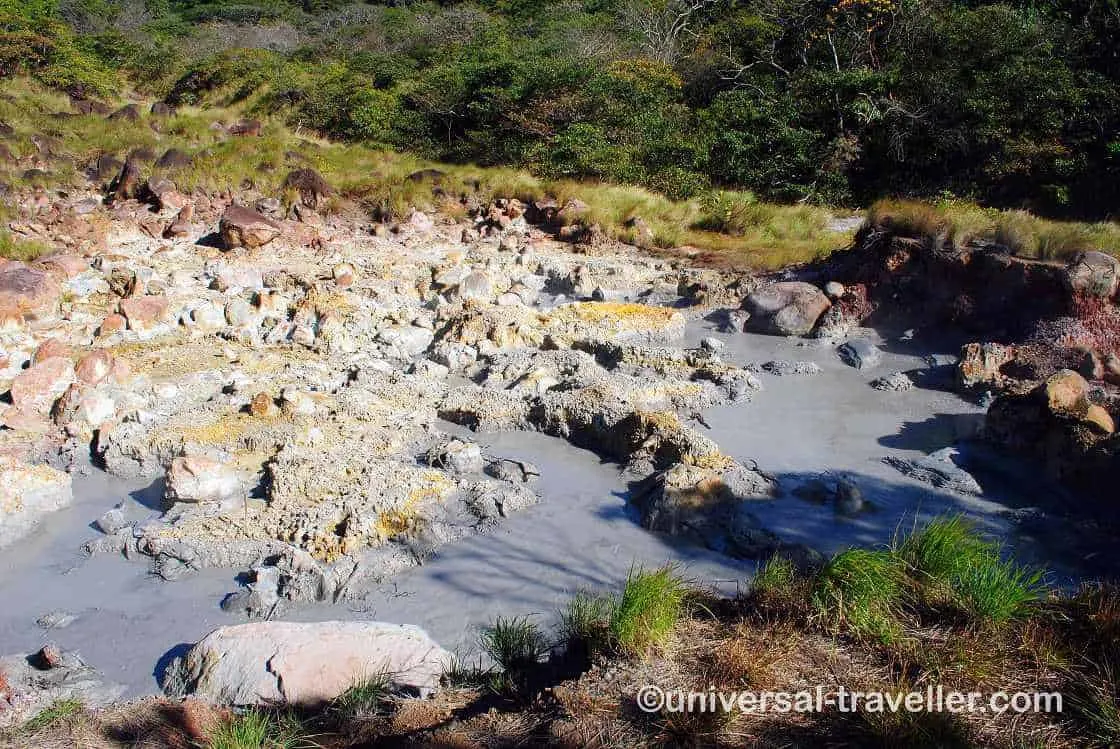 Rincon de la Vieja belongs to the province of Guanacaste and has a 34,000-acre conservation area.
The Rincon de la Vieja Volcano is an active volcano. In a lush rainforest, you can explore natural hot springs, bubbling mud pools, explorable volcanic craters, and cascading waterfalls.
You will be spoiled with choices regarding accommodations in the region. One of the many recommended places to stay in Rincon de la Vieja is the Borinquen Mountain Resort and Spa.
Not only do its rooms give you a scenic view of Mother Nature, but it also provides you with a strategic and convenient location to jump-off points of adventure tours in the area.
While in Rincon de la Vieja, you can join horseback riding, canopy, and 4×4 jeep tours. Hiking, biking, and rafting are also popular activities to do in Rincon.
From February to April, visitors travel to this Costa Rica vacation destination to enjoy the place amidst favorable weather.
Read the full article: Rincon de la Vieja Volcano National Park
14. Puerto Limón Costa Rica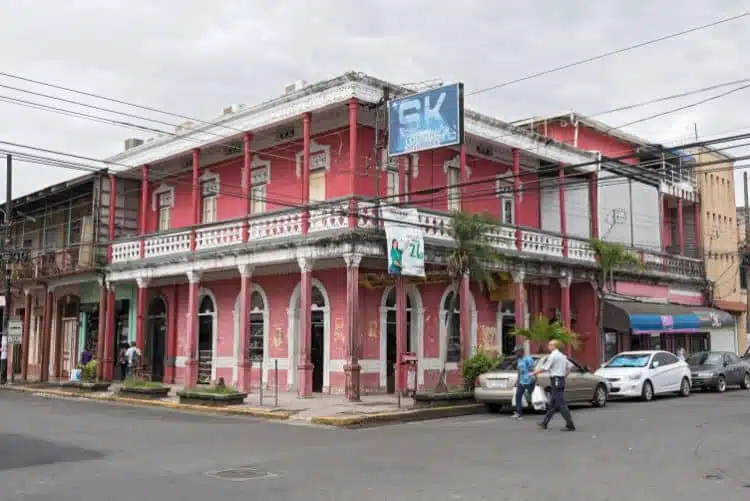 Puerto Limón is a traveler's welcoming break from crowded beaches and lively nightlife. The city is the capital of the province of Limón and is located on the Caribbean side of Costa Rica.
People come to Puerto Limón for its cultural stories to tell, not to mention the famous cashew wine, which is a must-try!
Regarded as Limón for short, this port city is one of the most important ports in Costa Rica. It is said that Christopher Columbus landed at this port while he was exploring the New World.
When in Limón, be sure to add a quick visit to Parque Vargas to your itinerary. This unassuming place teems with bits and pieces of the city's history.
For a more profound tour, drop by the Museo Etnohistórico de Limón and see snippets of the locals' daily lives through well-preserved documentation.
Read the full article: Best things to do in Puerto Limón
15. Cerro Chirripó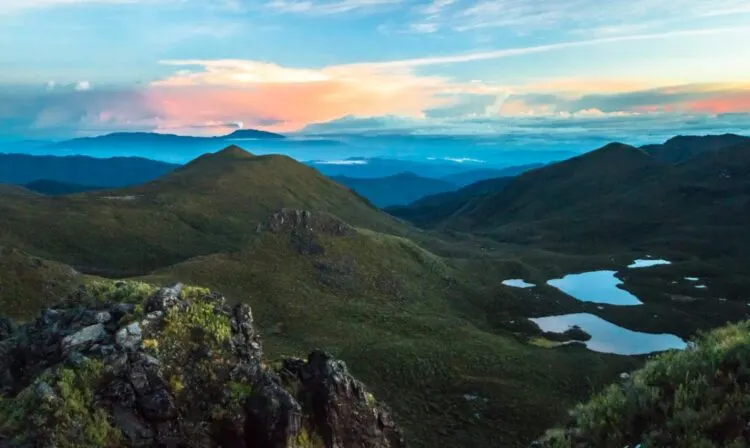 The highest mountain in Costa Rica is the Cerro Chirripo, making the place an ideal hiking destination for people excited with the idea of reaching the topmost part of the country.
Several provinces serve as an entrance to this Costa Rican tourist spot, and these include Cartago and San Jose. The 25-kilometer hike to the summit may be physically daunting, but the views of the Pacific Ocean and the Caribbean from the top are mesmerizing.
Only 60 visitors are allowed per day to explore the park. Here you will find trails that have hardly been modified so that even hiking enthusiasts find it exhilaratingly challenging to traverse.
While you are there, pay a visit to the San Gerardo de Rivas village and let the locals take you on a unique coffee exploration. Before you leave, relax in the natural hot spring in Rio Chirripo.
Crestones Base Lodge is the only accommodation inside the Chirripo National Park. It offers basic amenities to hikers and a resting place for the ones wanting to see the captivating sunrise from the mountains the next day.
16. Playa Sámara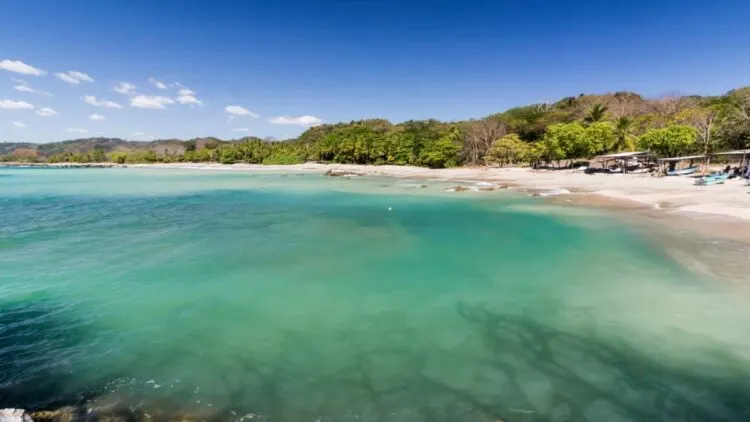 Playa Samara in Guanacaste, Costa Rica is one of the best places to visit in Costa Rica. Samara's good reputation as a small, safe town makes it a popular choice. The beach itself is a 5-kilometer haven for ocean lovers.
Aside from the beach, Samara hosts yoga practices, horseback riding, and stand-up paddle boarding. As a form of livelihood, locals go for farming and fishing.
Sámara has an airstrip for small planes, and Liberia International Airport & the Nosara Domestic Airport are close to the town.
Hotel Punta Islita is hard to miss when in Samara. This luxury hotel allows guests to do popular Costa Rican adventures all in the comfort and splendor of its 3,000-acre property.
Another town gem is the Villas Playa Samara Beach Front Resort. 116 rooms and villas make up this wedding-ready tropical destination.
17. Montezuma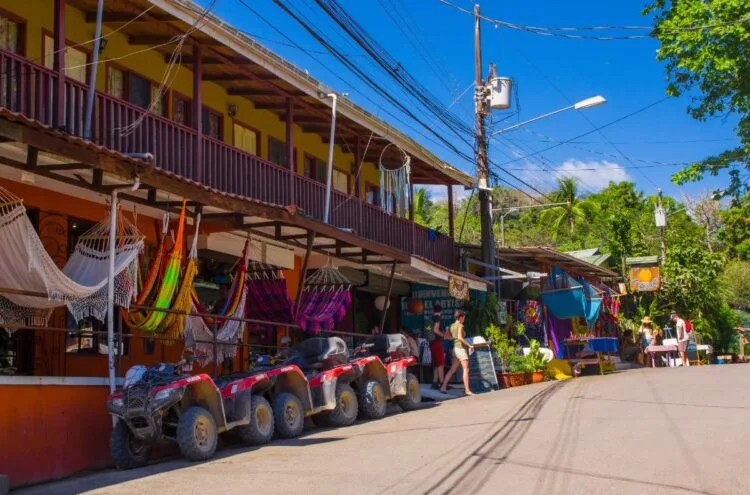 Here is yet another beach destination in Costa Rica – good thing they're all too beautiful to get tired of.
Montezuma is proud of its white sand beaches, majestic waterfalls, and snorkeling sites that attract adventurers wanting to experience the natural wonders that Costa Rica is widely known for. Montezuma's temperate weather is best enjoyed anytime between December to August.
Going to Montezuma means paying a visit to one of the top destinations in Costa Rica, the Cabo Blanco Absolute Natural Reserve. It is located in the south of the Nicoya Peninsula and can be reached through Mal Pais.
Inside the reserve, you can go on a hiking expedition and spot different animals such as armadillos, howler monkeys, and raccoons.
There are also beautiful beaches where you can enjoy the diverse marine ecosystem. These beaches are the Playa Cabo Blanco and Playa Balsitas.
Best things to do in Costa Rica
There are so many best things to do in Costa Rica that it is sometimes difficult to pick just a few. That's why we came up with this ultimate list of what to do in Costa Rica.
1. Costa Rica Hiking
A fun-filled Costa Rica itinerary is never complete without a hiking tour.
Because of the rich biodiversity that thrives in the region, hiking is one of the best things to do in Costa Rica.
There are many amazing hiking routes around Arenal Volcano, Monteverde, and the highlands of Costa Rica.
Read the full article: Best Costa Rica hiking tours
2. Costa Rica Waterfalls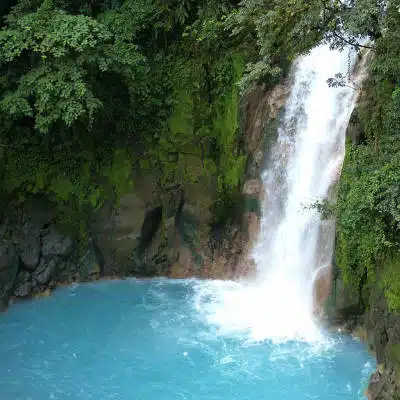 How about checking out some amazing waterfalls?
The Rio Celeste Waterfall is probably the most popular waterfall in the country. It has a height of 60 feet and sky blue water.
However, Costa Rica has many more waterfalls to offer, and although they belong to the best Costa Rica attractions, there are still some waterfalls without big crowds.
Read the full article: Costa Rica waterfalls that you have to visit
3. Costa Rica Volcanoes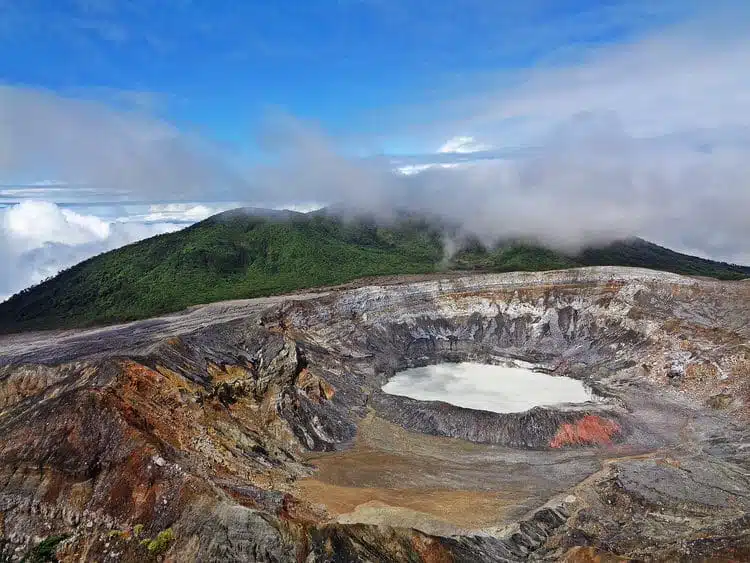 Costa Rica has over 60 volcanoes under its belt, many of which are a must-visit when you come to the country.
You have the stunning Arenal, counted among the most active volcanoes in the world, and the beautiful Irazu – the highest and largest in the country.
These two and many other Costa Rica volcanoes are the perfect venues for a nature-filled itinerary.
Read the full article: Volcanoes in Costa Rica that you have to visit
4. Surfing in Costa Rica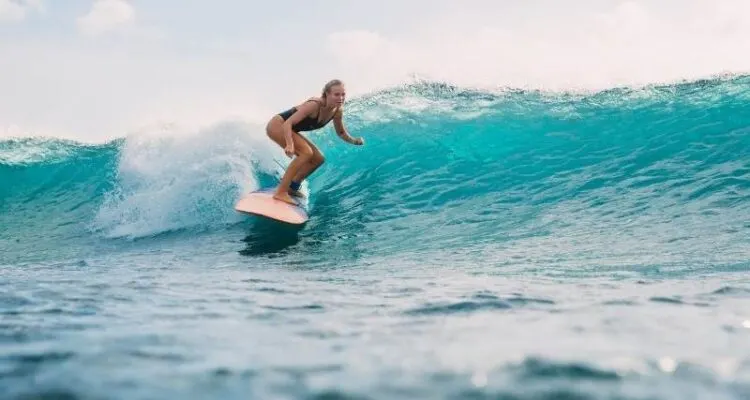 If you are traveling to Costa Rica to surf, you are in for a surf trip of a lifetime.
All the best Costa Rica surf spots promise consistent waves, friendly locals, and pure fun.
Tamarindo and Puerto Viejo are probably the most famous surf spots in Costa Rica; however, more surf places are worth visiting.
Read the full article: Best Costa Rica surf spots
5. Costa Rica Rainforests
A visit to Costa Rica is arguably incomplete without a visit to at least one of its many lush rainforests.
Each natural environment is full of tree species to discover and wild animals to see up close.
Whether you are a simple curious child or an adventure-seeking adult, Costa Rica's rainforests are sure to amaze.
Read the full article: Best Costa Rica rainforests
6. Nationalparks in Costa Rica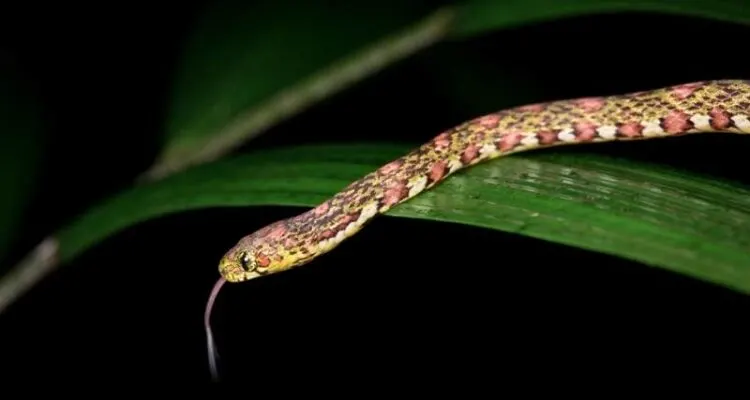 All the best, Costa Rica National Parks will have you booking that next flight to the country.
Think hanging bridges, towering trees, and diverse wildlife!
No matter which part of Costa Rica you explore, a national park will be just a ride away – and it's surely worth the journey.
Read the full article: Best Costa Rica Nationalparks
7. Costa Rica Mountainbiking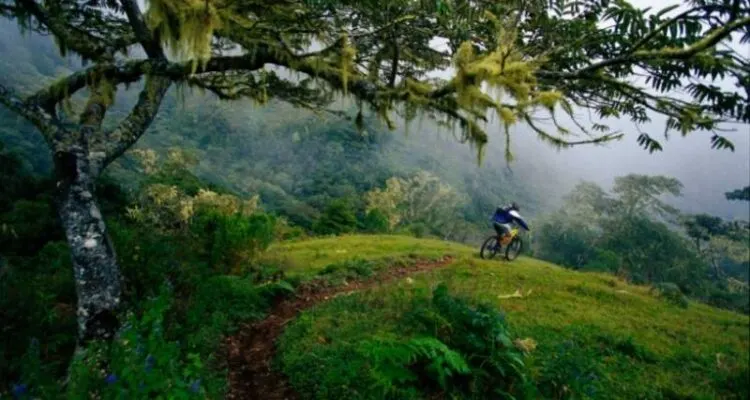 Picture yourself biking through lush landscapes, with active volcanoes and rolling hills blessing your every turn.
Costa Rica's mountain biking scene is alive and in demand, with various mountain biking tours happening across different parts of the country.
It sure is an extreme yet enjoyable way of sightseeing!
Read the full article: Best Costa Rica Mountainbiking Tours
8. Kayaking in Costa Rica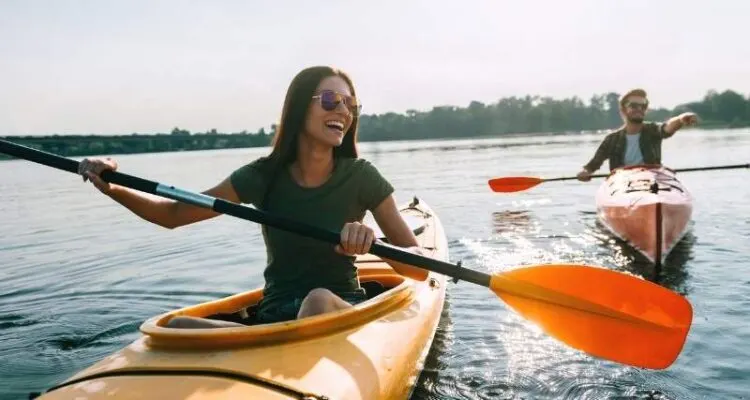 The beauty of Costa Rica, when seen by boat, takes you to a whole new level of appreciation.
Kayaking tours offer a relaxing enjoyment, with the fresh breeze blowing and birds humming.
It is also an activity that welcomes beginners and enthusiasts alike.
Read the full article: Best Costa Rica Kayaking Tours
9. Costa Rica Hot Springs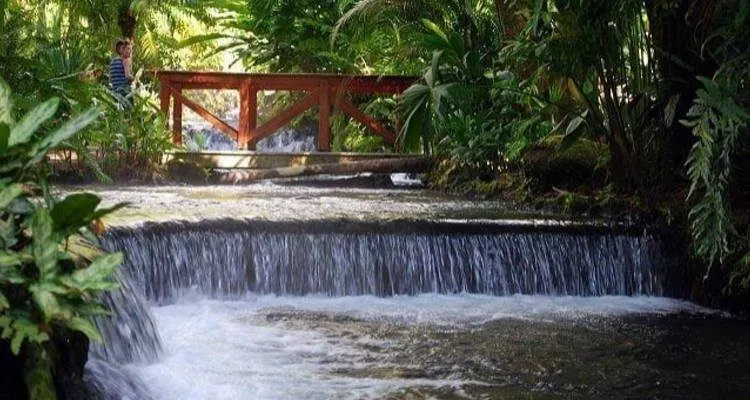 Costa Rica has some of the best hot springs in the world. Thermal resorts and hot springs spas maintain many of these natural wonders.
I highly recommend the Tabacon Hot Springs near Arenal Volcano. You can book a day tour from San Jose to the Tabacon Hot Springs and the Arenal Volcano if you are short on time.
Read the full article: Best Hot Springs in Costa Rica
10. Horseback Riding in Costa Rica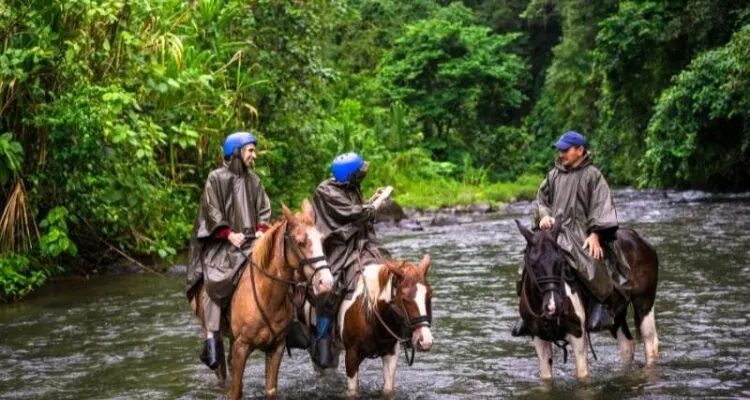 Horseback riding is a popular activity at the beach or in the mountains.
I definitely recommend it as one of the best things to do in Costa Rica, even if you are usually not that interested in horses. Trust me!
Read the full article: Best Costa Rica Horseback Riding Tours
11. Costa Rica Zip Lining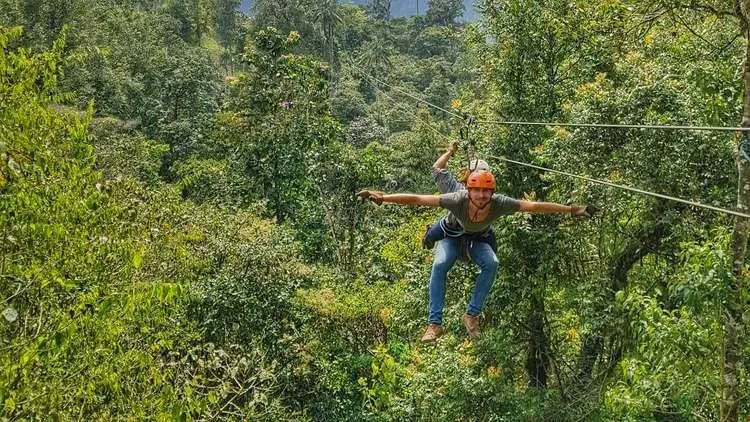 While Costa Rica is beautiful from the ground, there is a different kind of beauty that you can find if you see its majesty from the top of its green trees, way above its flowing rivers, and right across all wildlife in action.
Ziplining is a must-do and one of the most adventurous things to do in Costa Rica.
Great places for ziplining are Arenal and Monteverde.
Read the full article: Best Costa Rica Hiking Tours
12. Fishing in Costa Rica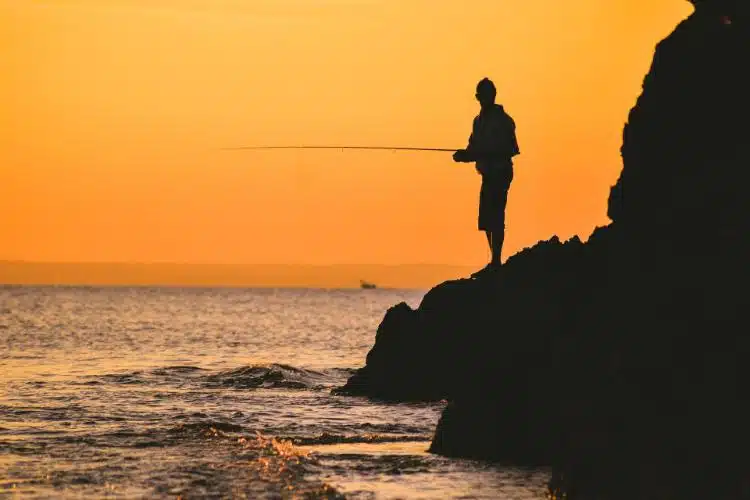 Costa Rica has some of the best fishing spots in the region. Its waters are home to sailfishes, mahi-mahis, and yellowfin tunas, to name a few.
Knowing where and when to fish in Costa Rica is beneficial for those touring the country, primarily for this activity.
Read the full article: Best Costa Rica Fishing Places
13. Costa Rica Canyoning and Waterfall Rappelling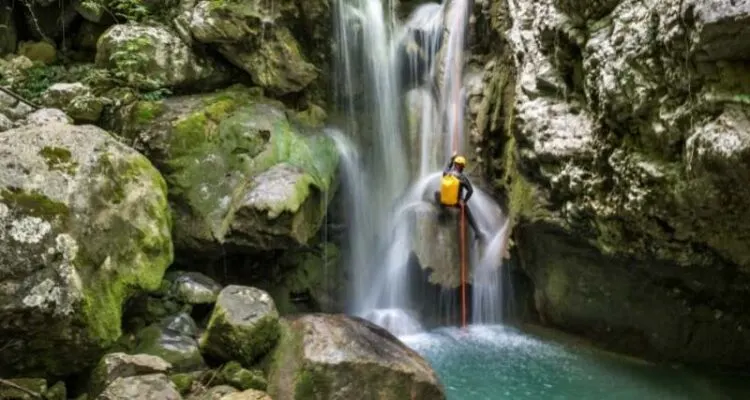 Are you ready to leave your comfort zone and take on an adventure?
Canyoning and Waterfall Rappelling are other Costa Rica activities that cannot be missed on any best things to do in the Costa Rica list.
Read the full article: Best Costa Rica Canyoning and Waterfall Rappelling Tours
14. Beaches in Costa Rica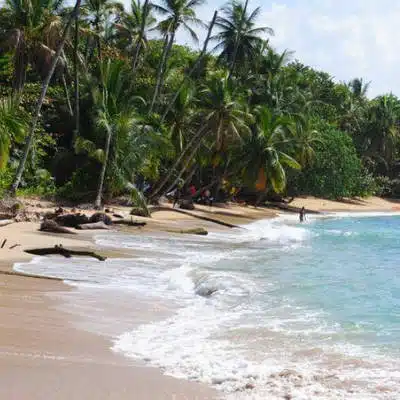 Costa Rica is well-known for its beautiful beaches that welcome sunbathers and surfers alike.
The best part about Costa Rica's beaches is that they are not as crowded as many other tourist destinations worldwide.
Some of my favorite beaches are near Puerto Viejo, Manuel Antonio, and Guanacaste.
Read the full article: Best Beaches in Costa Rica
15. Snorkeling and Diving in Costa Rica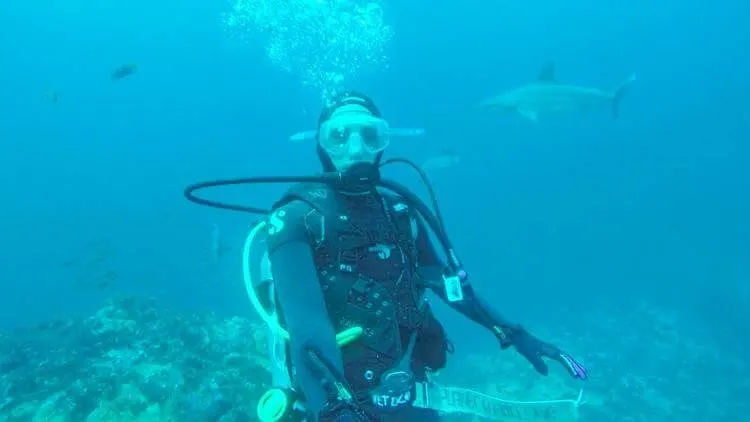 Isla del Caño, Cahuita and the Gulf of Papagayo are some of the best snorkeling places in Costa Rica.
One of the best things to do in Costa Rica for experienced divers is a multi-day boat trip to Cocos Island.
This World Heritage Site is by far the best diving spot in Costa Rica, with a great population of giant mantas, yellowfin tuna, hammerhead sharks, and many more.
The island is quite far from the mainland, so it takes a couple of days to get there by boat.
16. Whale Watching in Costa Rica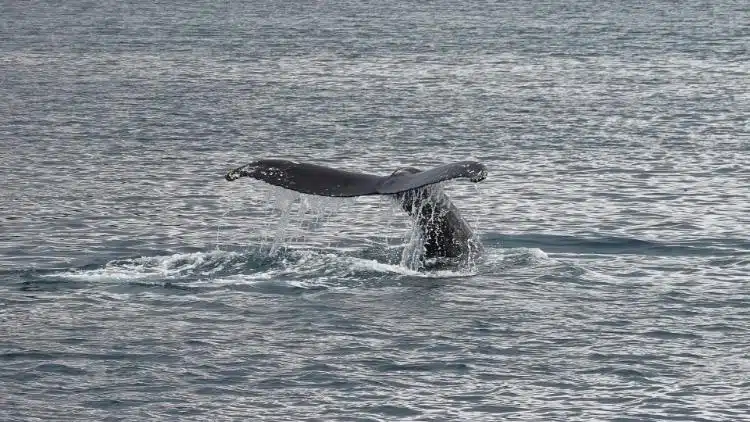 Did you know that Costa Rica has the world's longest whale watching season?
The best places for this unique Costa Rica activity are the Gulf of Papagayo, Drake Bay in Corcovado, and Uvita.
17. Visit the Hanging Bridges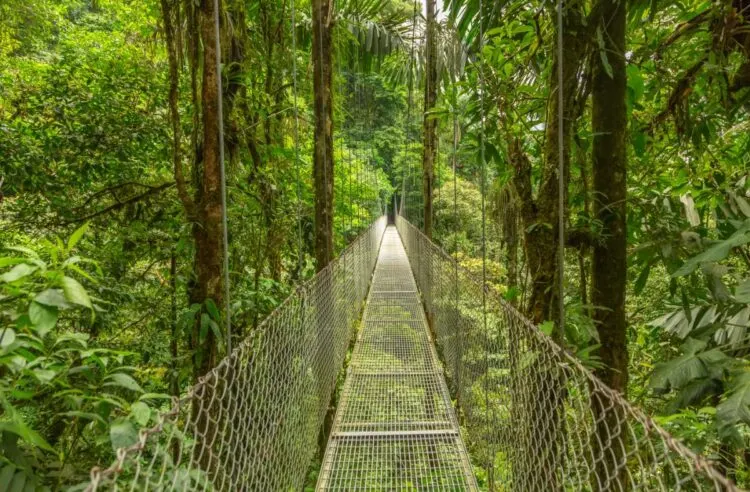 Do you want to experience the Monteverde Cloud Forest from a bird's eye view?
Then you should check out the Hanging Bridges, one of the best things to do in Costa Rica.
The trail in the cloud forest has six suspension bridges that offer a different perspective of the national park. The trail has a distance of 2.5 kilometers and is mostly flat.
18. White Water Rafting in Costa Rica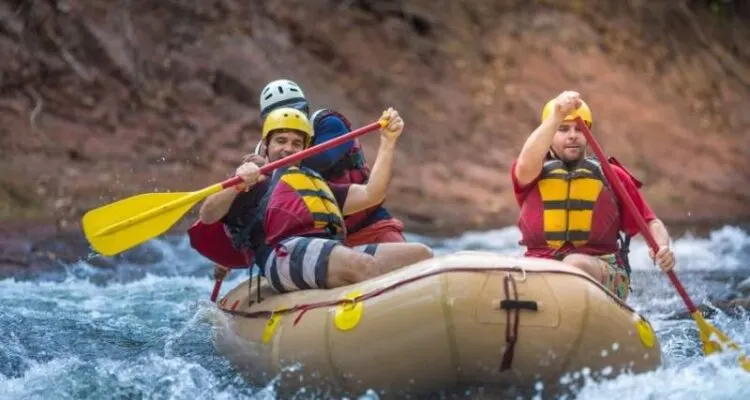 Are you looking for the ultimate Costa Rica activity for adventure lovers?
Well, don't miss White Water Rafting at Pacuare River!
Raft through class 3 and 4 rapids and bathe in the freshwater of Pacuare River.
A once-in-a-lifetime experience!
19. Crocodile Bridge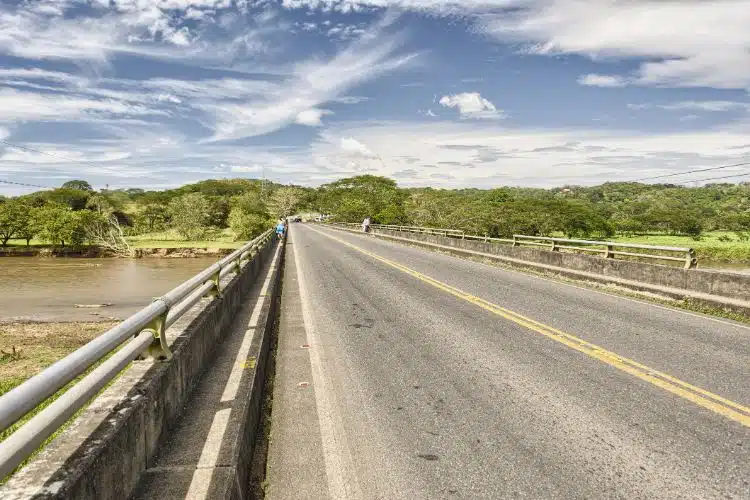 Another best thing to do in Costa Rica is to check out the crocodile bridge at Rio Tarcoles.
The Rio Tarcoles crocodiles belong to the species of American crocodiles that can reach up to four meters or 13 feet in length and hundred pounds in weight.
The Crocodile Bridge is your best bet for location if you would like to see a huge group of American crocodiles basking under the sun.
Read full article: Crocodile bridge Costa Rica
20. Eat traditional Costa Rican Food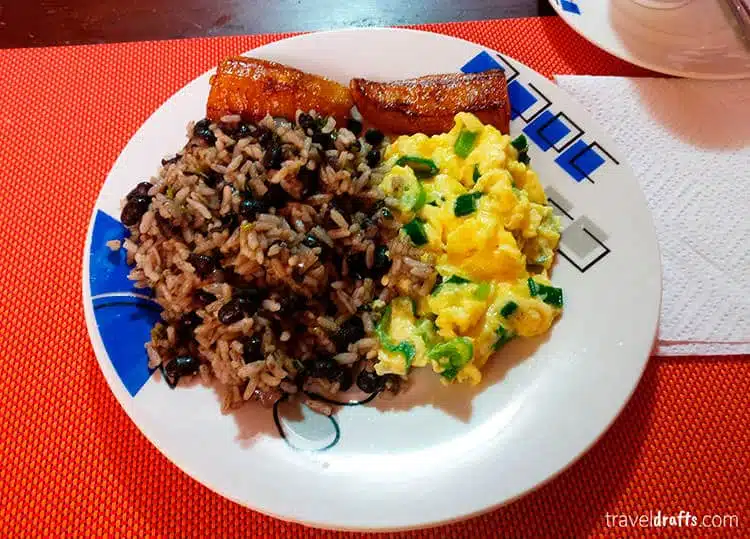 Traditional Costa Rican food comprises rice, seasonal vegetables, fresh fruits, choice meats, and various beans.
The most popular dish is Gallo Pinto, a rice mix with beans.
Read full article: Traditional Costa Rican food
Why visit Costa Rica?
1. Costa Rica has amazing beaches – Costa Rica has some of the most beautiful beaches I have been to, and the best part is that the beaches are not as crowded as at many other tourist destinations.
2. Costa Rica is a tropical paradise – Costa Rica is dramatic in every corner. It is where pristine beaches collide with green rainforests, forming a travel destination like no other.
If you desire to be surrounded by wildlife and nature, visiting Costa Rica will not disappoint you. Many animals and plants call its forests their home, delivering a sense of pure charm and unassuming beauty.
One minute you're casually greeting a sloth as you pass by; the next thing you know, you're conquering class IV rapids, riding majestic waves, and crossing hanging bridges.
3. Rainforests and cloud forests – Specifically, six types of forests can be found in Costa Rica.
Its numerous rainforests and cloud forests stand out, though, and the local government widely protects all.
Some of the greenest rainforests in the country are found inside the Manuel Antonio National Park, the Corcovado National Park, and the Rincon de la Vieja National Park.
Cloud forests, on the other hand, are situated in high-altitude areas such as Monteverde and the Cerro Chirripo National Park.
4. Costa Rica offers excellent adventures – Costa Rica is heaven for all adventure travelers.
You can do White Water Rafting, Canopy Tours, Mountain Bike Tours, hike at volcanoes, visit rain- and cloud forests, go surfing, kayaking, and much more.
5. Costa Rica is a sustainable tourism destination – Costa Rica is all about green tourism.
You can see it in the way it protects its national parks, its beaches that are Blue Flag holders, and the tour operators that practice responsible tourism.
The government of Costa Rica ensures that policies and procedures are met and understood by locals and, most importantly, by visitors.
As a tourist, to take part in Costa Rica's sustainable tourism initiatives, be sure to take every briefing by heart and behave in the country's well-protected environment accordingly.
What is Costa Rica known for?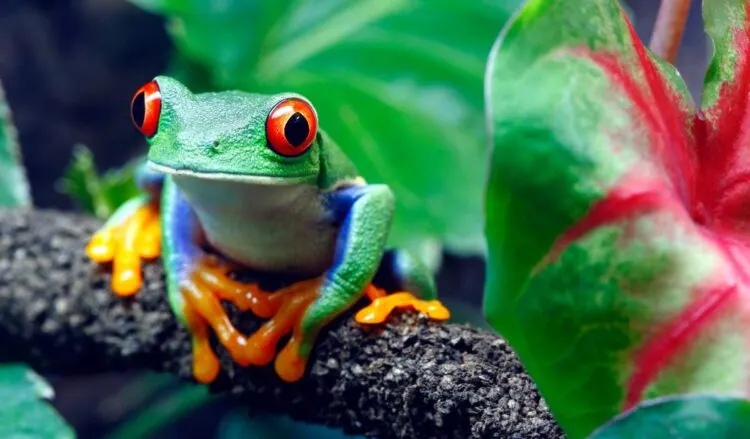 Costa Rica is well known for its "Pura Vida" lifestyle.
Its people and how they live indicate how relaxed this country is.
Go people-watching and witness the locals happily going about their days, mingling with newcomers, and greeting acquaintances.
Once you set foot in Costa Rica, it will be hard not to fall in love with its natural beauty and laid-back charm.
Adventures call in every corner, unearthing the explorer that you never knew you were. Be mesmerized by its amazing beaches and biodiversity that is unparalleled.
It is hard not to talk about food when you discuss what Costa Rica is known for.
When is the best time to travel to Costa Rica?
There are only two seasons in Costa Rica: Dry Season (December to April) and Green Season (May to November).
It is fascinating to know that when one side of Costa Rica is drenched in the rain, the other is basking in the sunshine.
This leaves you with choices of activities to book and provinces to discover whichever month you decide to go on your Costa Rica vacation.
Read the full blog post: Best time to visit Costa Rica.
How to get around in Costa Rica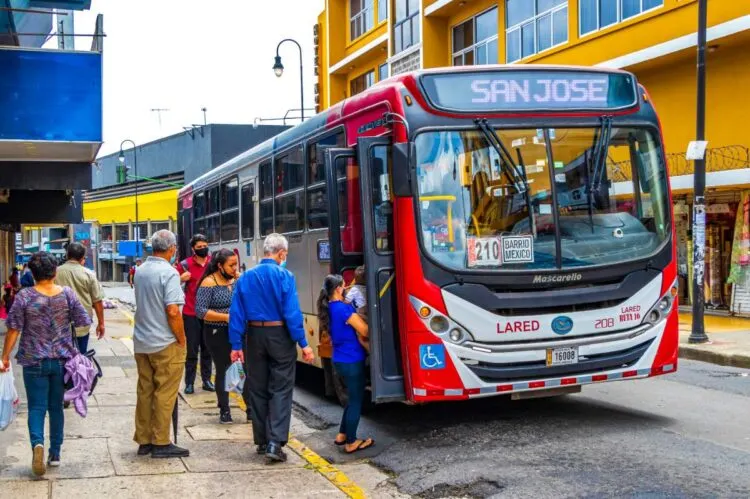 Costa Rica is a relatively small country. You can reach almost every place within a few hours from the capital city San José.
Public transportation is reliable and safe. If you want to see more of the country quickly, you can also take domestic flights.
If your time and budget allow it, I highly recommend getting around Costa Rica by car.
This way, you can stop wherever you want, be independent of bus or flight schedules, and get to places off the usual touristic routes.
Read the full article: All you need to know about transportation in Costa Rica.
Best travel insurance Costa Rica
Healthcare was one of my major concerns when I decided to live the digital nomad life. Many of the insurances I have encountered either cost too much or simply cannot give me the coverage that fits my lifestyle.
My search for the most flexible & reliable plan ended when I heard about Safety Wings.
It's travel insurance made for and by members of the digital nomad community. I recommend reading more about Safety Wings – it might just be what you're looking for!
How to stay safe – Costa Rica Travel Tips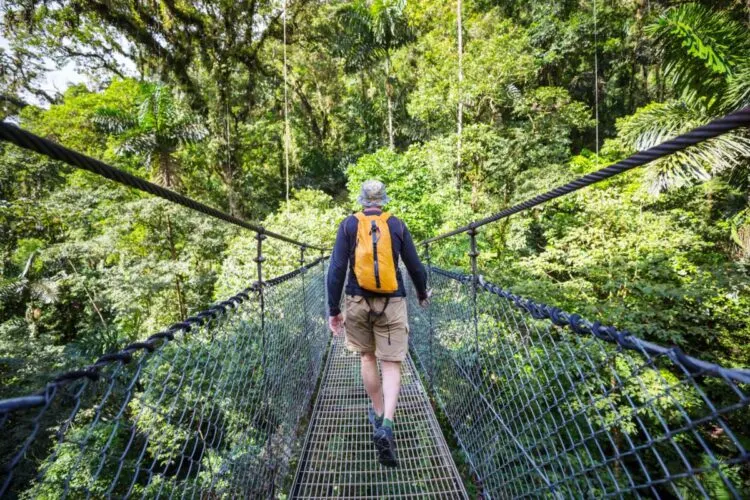 1. Ask your hotel/ locals about the area
In almost every city in the world, there are neighborhoods that you should better avoid as a tourist. Whenever I go to a new place, I ask my hotel or locals which places are safe to go to and which areas I should better not visit.
2. Take a taxi or Uber home at night
It is never a bad idea to take a taxi back to your hotel at night, especially in cities like San Jose. Places safe during the day might become more dangerous at night when the streets are empty. Please don't risk it to save a few bucks.
3. Costa Rica travel tips – Avoid walking alone at night
While getting a taxi or Uber in cities like San Jose is easy, it might be more difficult or impossible in small villages. In this case, avoid walking around alone. The chances of getting robbed are significantly smaller if you are in a group.
4. Ask at hotels/ restaurants to call a taxi for you and only take official red taxis in San Jose
You might have heard stories of tourists being robbed in fake taxis. Be safe and only take the official red taxis in San Jose and ask at the reception of hotels or restaurants if they can call a cab for you.
5. Don't carry large sums of money (and hide it in different locations)
I guess this one is also pretty self-explaining. Only take the amount of money that you need.
When you have to move with all your luggage from one place to another, hide your money in different locations, for example, in your big bags, day pack, and pockets.
I hide some emergency dollars in my shoes depending on where I travel.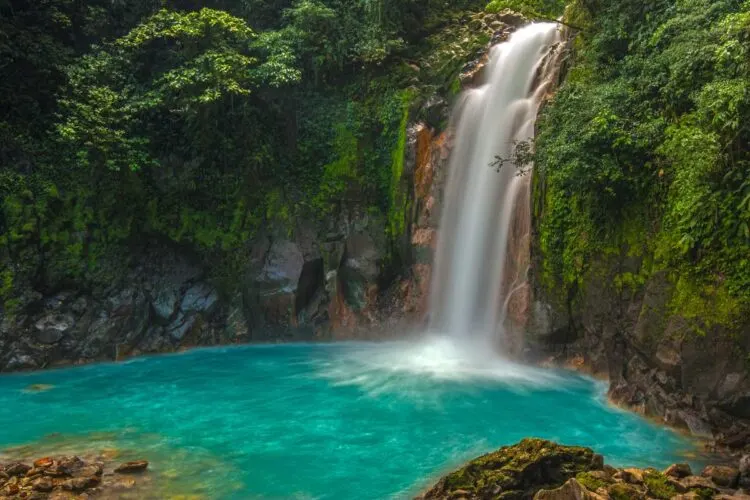 6. Leave your passport at the hotel (and carry only a photocopy)
Never walk around with your passport! Leave it in the safe in your hotel or hide it in your room.
If someone steals your phone, you can easily buy a new one; however, losing your passport is something you want to avoid!
7. Take a flashlight at night in rural areas
Always take a flashlight with you in rural areas. You want to avoid stepping on something that might want to bite you!
8. Keep an eye on your bags in busses
Always keep an eye on your bags on buses. Put your passport, money, and other valuables in a daypack and always have them next to you. Avoid putting this bag in the overhead bins or on the floor.
9. Trust your instincts
This one is the most crucial Costa Rica safety tip: Trust Your Instincts!
If you have a bad feeling about a person, a place, or a situation, get out of it as soon as possible.