Are you planning a bike trip? Then this post is for you! I have asked a couple of fellow bloggers for their tips for traveling by bicycle.
Traveling by bicycle is a great way to explore a new place from a different perspective while you are absolutely free.
You don't have to worry about bus schedules or figure out how to get to outlying sites.
It is the ultimate adventure!
However, it also requires some preparation and planning.
If it's your first bike trip, it definitely helps a lot to learn from the experiences of other bike travelers.
For this reason, I have asked many bloggers about their best tips for traveling by bicycle.
1. Check your routes before you go, and make sure you know the road conditions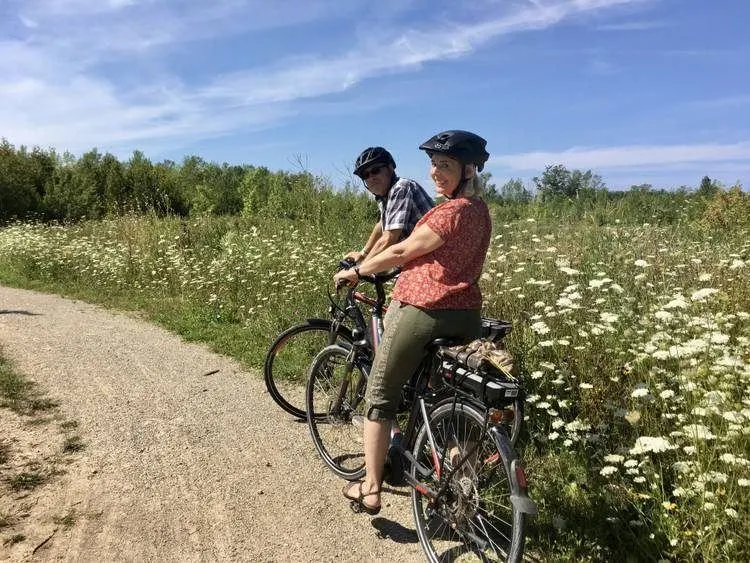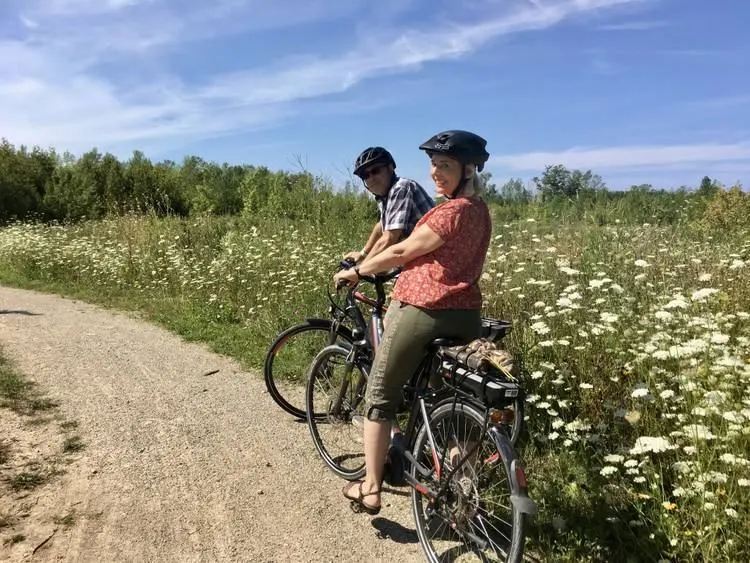 It helps to know where you are going in this world, and traveling by bicycle is no different.
If you're tackling a circular route – around a large lake, for example – don't assume your route has the same type of trail or road the entire way or that it even goes around all the way.
Lake Annecy in France is a good example of this, and online directions can be misleading. A quality map, GPS, and some preplanning will help your cycling trip stay free from unexpected detours and backtracking.
Knowing road conditions is vitally important when cycling, as you may not have the proper bicycle for the road or trail you'll be encountering.
It can be tough to navigate rough trails if your tires are too narrow or your suspension isn't good enough, such as on the Bruce Trail in Canada, and you may not be able to continue if the trail is too rocky or has steps and is designed for hikers rather than cyclers.
When steep climbs are involved, electric bikes are an option. If you're traveling on a busy road, you want to make sure it has a shoulder, but watch out – soft or sand shoulders can cause you to lose control.
For dirt roads, be aware it will take longer to reach your destination than on a paved road, as your bike won't move as fast on a rough surface. For this type of terrain, you'll want a deeper tread and wider tires.
If you're going to be encountering a mix of road and trail types, a hybrid bike, which is a mix between a standard road bike and a mountain bike, might be your best bet.
Recommended by Carol from WanderingCarol
2. Travel as light as possible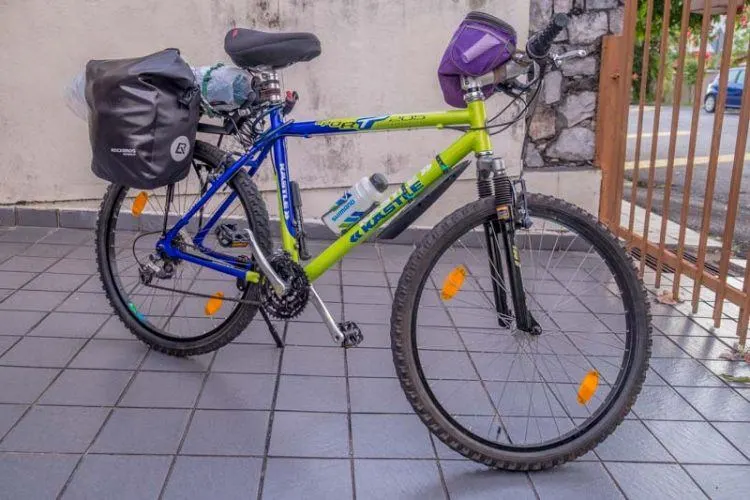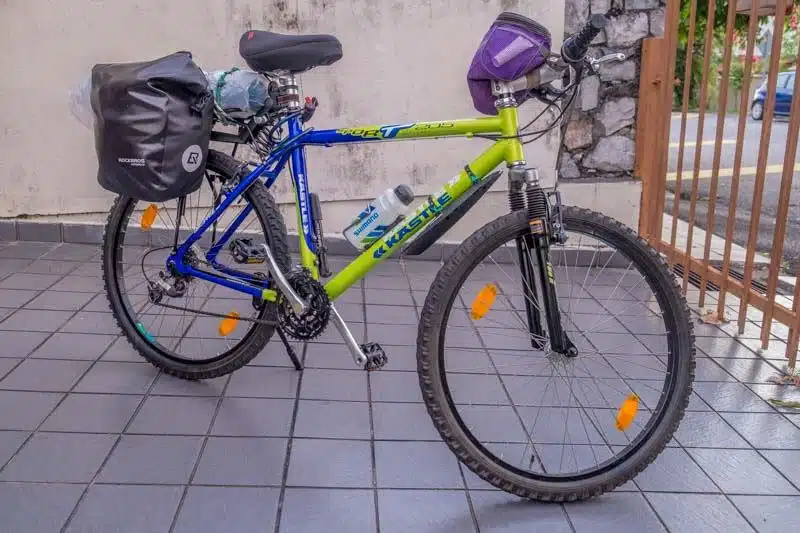 The best tip for cycle tourism is definitely bringing the minimum amount of gear possible.
Think of it: on a trip to Southeast Asia, where food is extremely delicious and cheap, and street carts sell it everywhere, do you really need to weigh yourself down carrying a stove and food provision?
The answer is not really.
Also, understand that when on a long-distance cycling tour, the amount of time you spend on the saddle is the best part of the day.
It's really enough only to carry a couple of extra sets of clothes to change into clean stuff after a shower in the evening.
But for the rest, you'll save space and weight in your panniers by sticking to wearing the same set of cycling clothes during the day: nobody cares if you smell once you are out on the road.
Being frugal also boils down to the second rule of smart bicycle packing: does a long-distance cyclist really needs a set of four panniers all the time?
Not necessarily: on a recent 5-day-long, 400km bicycle trip from Kuala Lumpur to Penang in Malaysia, I carried a minimal setup with only one back pannier and a front pouch that included one extra pair of clothing, a pair of flip-flops, oral hygiene stuff, my personal items (wallet, passport, sunscreen, and a tire puncture repair kit) and sleeping pad.
I packed a tent on the top of the luggage rack but ended up never using it.
You know what?
I am still alive and had a great time, speeding as fast as possible without any excessive weight.
Recommended by Marco from Monkeyrockworld
3. Size your bike correctly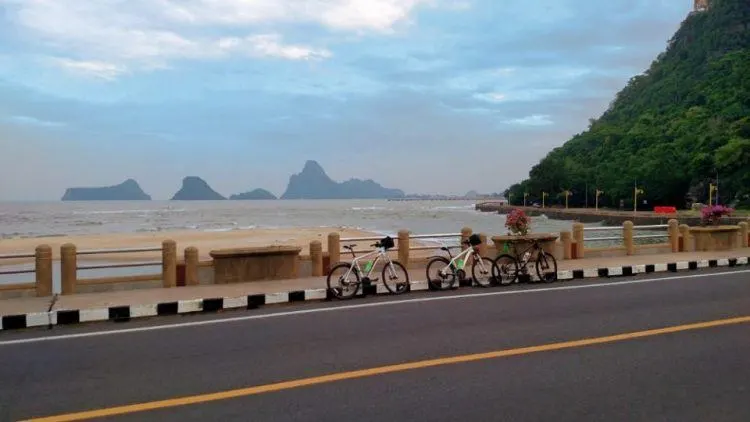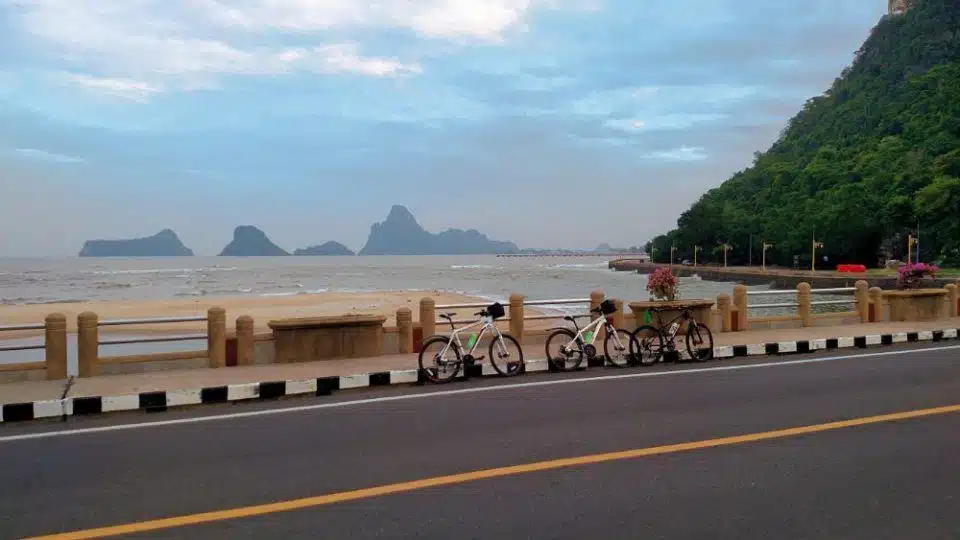 Perhaps the most important tip for traveling by bicycle is to size your bike correctly.
Time and time again, people are cruising down the trail on the wrong size bike, or it's egregiously misadjusted. It only takes a few minutes to size a bike, and you can avoid knee injury and back pain while increasing your power and safety.
Whether you're taking a short bike trip to Montmorency Falls or peddling all the way across Thailand, your body will thank you for spending this time upfront.

The first step is to get the right frame size. A good quick test is to straddle the crossbar and check your clearance.
You should have about an inch or so between your crotch and the bar when you're standing flat-footed. You will be able to lift the bike by holding onto the handlebars and back of the saddle.

Next, you adjust the seat so you're almost at full extension on the downstroke and your knees track over the top of the pedals. You want the seat flat and roughly on the same level as the handlebars.

Finally, look into the reach of the bike (the length between the bike seat and handlebars). Touring bikes typically have a longer reach than racing bikes, and women generally have a shorter torso for their height than men.
Ensure you check the reach, even if you're renting the bike because the shop can adjust the headset to modify the reach. For all the women riders out there, check into a bike with female-specific geometry. You'll be glad you did.

Taking a little bit of time to size your bike upfront will help you for every mile you travel. Your local bike shop will be glad to help you with this, and they can even write down the measurements to send to your tour company if you're traveling.
Recommended by Jenn and Ed from Coleman Concierge
4. Choose a tour that is suitable for you and your ability
When choosing a bike tour, choose a tour that's suitable for you and your ability.
If you're in Ok shape, then you'll likely enjoy a route that's flat like the Danube.
On the other hand, if you're in great shape, that may not be challenging enough for you, and you may want a route with more hills like those found in Mallorca, Spain.
In addition, you want to consider your experience level. Saddle soreness is a common complaint among cyclists, so if you're in good shape but haven't done a ton of biking, consider a 3-day tour instead of a 7-day one.
Then you can build up to longer routes as your muscles get more accustomed to sitting on a saddle for hours each day.
Another consideration is, do you want to cycle along with a dedicated cyclist-only route (like the Danube), or are you OK with cycling on back roads with cars?
If you get nervous every time a car whizzes past you while you're biking, then search for tours that offer cyclist-only paths. Fortunately, there are lots of these in Europe.
By choosing a bike tour that's suitable for you and your ability, you're much more likely to have an incredible biking vacation.
Recommended by Laurel from Monkeys and Mountains Adventure Travel