Travelling is not only about going to the nice, beautiful places and having fun. I think when you are travelling you should also learn something about the history of the country, about the people. I think this is especially important when you travel to countries like Cambodia to understand the past and present.
On April 17th, 1975 the Communist Party of Kampuchea (CPK) also known as Khmer Rouge took control of Cambodia. Under the leader Pol Pot they tried to take Cambodia back to the Middle Ages and to create an agrarian utopia. They foreced millions of people to leave the cities and to undertake agricultural work in the countryside. The capital city Phnom Penh was remained a ghost town.
Pol Pot created the Cambodian Genocide, which lasted from 1975 to 1979 and caused the deaths of at least 1.5 million Cambodians.
Pol Pots wanted to start at year zero again and isloated the nation from the rest of the world. Educated people, intellectuals, artists, politicians etcetera were systematically executed and tortured in special centers. The most notorious one was the S21 prison in Phnom Penh where more than 17,000 men, women and children were imprisoned. Ony seven of them survived! The others ended up in the mass graves of the killing fields.
Roughly 1/3 of the whole country´s population was removed.
In 1978 Vietnam trups invaded to Cambodia after Pol Pot´s regime started raids and massacres in Vietnamese territory. In 1979 the Vietnamese defeated the Khmer Rouge and ended both the Khmer Rouge's rule in Cambodia and the genocidal policies of Pol Pot. Entirely stripped of an intellectual class and adult population in the late 70s the people of Cambodia are still feeling the effects of the Khmer Rouge today.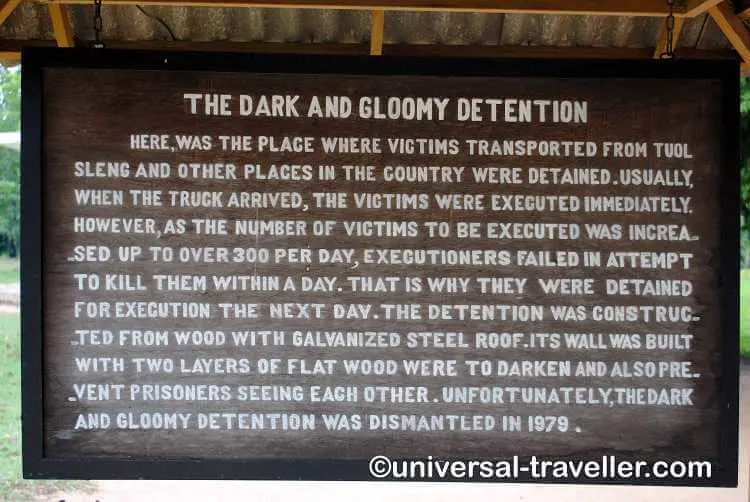 The Tuol Sleng Genocide Museum – S21
In the past "Tuol Sleng" museum was one of the secondary schools in the capital, called "Tuol Svay Prey" high-school.
After the 17th, April 1975 Pol Pot clique had transformed it into a prison called "S.21" (Security office 21) which was the biggest in Kampuchea Democratic. It was surrounded with the double wall of corrugated iron, surmounted by dense barbed wires.
The classrooms on the first floor were pierced and divided into individual cells, whereas on the second floor used for mass detention.
Several thousands of victims (peasants, workers, technicians, engineers, doctors, teachers, students, Buddhist monks, ministers, Pol Pot's Cadres, soldiers of all ranks, the Cambodian Diplomatic Corps, foreigners, etc…) were imprisoned and exterminated with their wives and children.
There are a lot of evidence here proving the atrocities of the Pol Pot clique: Cells, instruments of torture, dossiers and documents, list of prisoners' names, mug shots of victims, their clothes and their belongings.
We founded the mass graves surrounding, in particular the most one situated 15km in the south-west of Phnom Penh, in the village of Chhoeung Ek, District Dangkor, Kandal Province.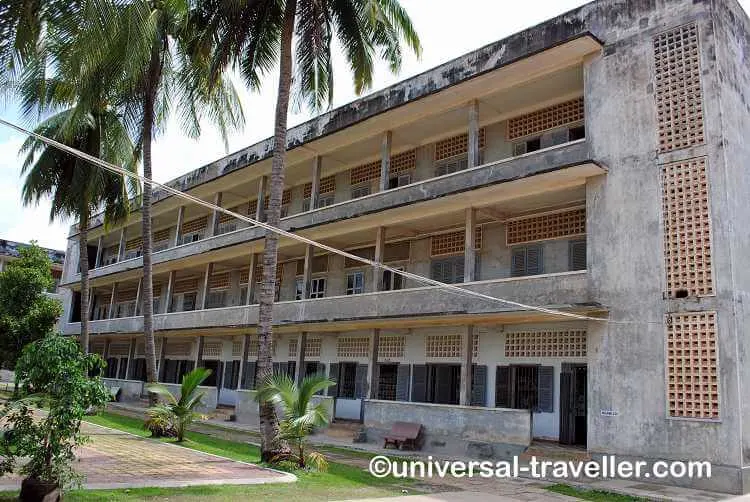 THE SECURITY OF REGULATION
1. You must answer according to my questions. Don't turn them away.
2. Don't try to hide the facts by making pretexts this and that. You are strictly prohibited to contest me.
3. Don't be a fool for you are a chap who dares to thwart the revolution.
4. You must immediately answer my questions without wasting time to reflect.
5. Don't tell me about your immoralities or the essence of the revolution.
6. While getting lashes or electrification you must not cry at all.
7. Do nothing, sit still and wait for my orders. If there is no order, keep quiet. When I ask you to do something you must do it right away without protesting.
8. Don't make pretext about Kampuchea Krom in order to hide your secret or traitor.
9. If you do not follow the above rules, you shall get many lashes of electric wire.
10. If you disobey any point of my regulations you shall get either ten lashes or five shocks of electric discharge.
I have visited the S21 prison and the Killing Fields during my first Asia trip three years ago in 2011. I was long time not sure if and how I should write about it. In the end I decided to tell the story with the photos that I have taken. I still cannot put into words what I was feeling. Altough it is painful, it is in my opinion very important to visit places like this to generate awareness and to prevent similar things from happening again. All information are carefully and respectfully displayed and only like this you can fully understand why Cambodia is where it is now.