Conchi – Aruba´s Natural Pool ligt aan een verlaten stuk kustlijn. De reis door het ruigste terrein van Aruba is al een avontuur op zich. Eenmaal daar kun je genieten van een van Aruba's mooiste plekken.
Aruba's Natural Pool, ook wel ¨Conchi¨ of ¨Cura di Tortuga" genoemd, ligt in het noorden van het Caribische eiland in het Arikok National Park, een zeer afgelegen gebied.
Het zwembad is omgeven door ruig terrein, en de reis vanaf de ingang van het park is al een avontuur op zich. Het is alleen toegankelijk per 4-wheel drive of ATV.
Als alternatief is er een wandelpad vanaf de ingang, of je kunt te paard gaan. De rit is echter erg leuk met adembenemende uitzichten.
Eenmaal bij het natuurlijke zwembad kun je genieten van het kalme en kristalheldere water, een prachtig uitzicht op de oceaan, en het geluid van de golven die tegen de rotsformaties slaan.
Je kunt zwemmen, snorkelen, van rotsen springen of gewoon ontspannen na de spannende rit.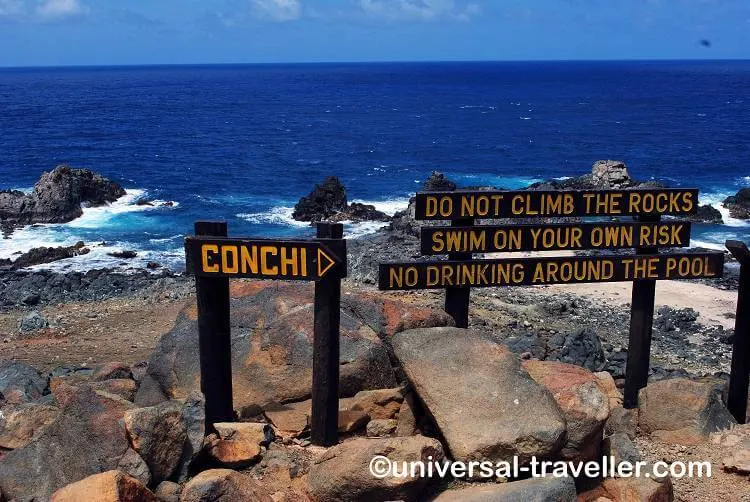 Hoe is Aruba's Natuurbad ontstaan?
Volgens F. Van Den Oever bestaat Aruba uit drie verschillende soorten gesteenten; Igneuze gesteenten, Metamorfe gesteenten en Sedimentaire gesteenten. Igneuze gesteenten zijn vulkanische materialen.
Op Aruba zijn er echter geen vulkanen; de vulkanische activiteit die Aruba heeft doen ontstaan vond onder water plaats. Bijna 100 miljoen jaar geleden stroomde magma uit het binnenste van de aarde naar de oppervlakte vanuit scheuren in de aardkorst.
Omdat het hele proces onder water plaatsvond, zijn de rotsen rond van vorm, kussenlava genoemd. Het is dat soort lava dat de structuur vormde van de populaire Natural Pool op Aruba.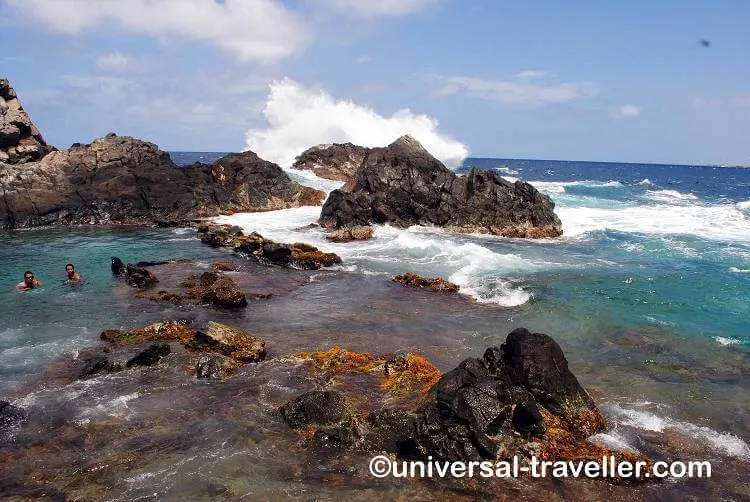 Heb je meer middelen nodig om je vakantie op Aruba te plannen? Bekijk dan de posts van mijn vriendin Michele over 10 dingen om gratis te doen op Aruba en een lijst met traditioneel Arubaans eten dat je moet proberen.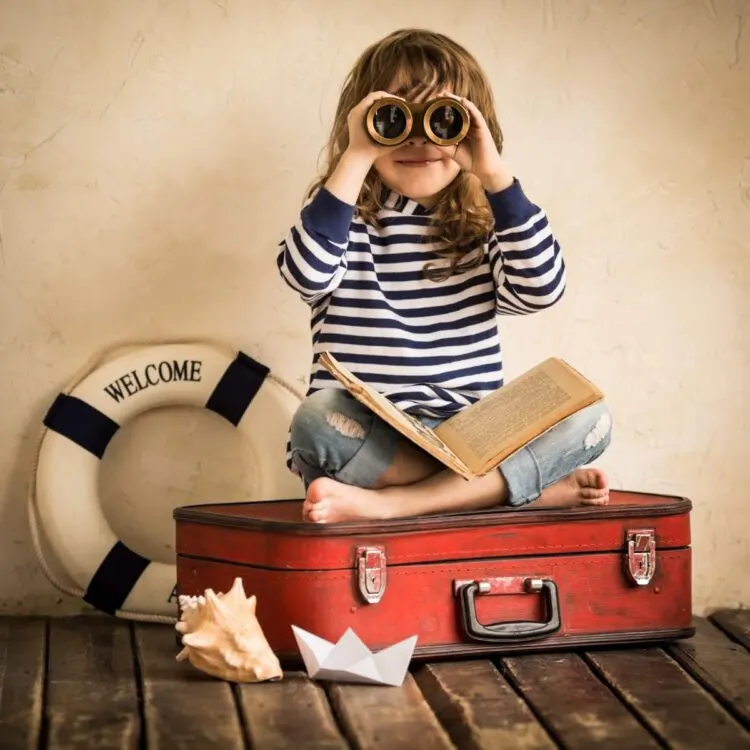 Protect your trip: With all our travel experience, we highly recommend you hit the road with travel insurance. SafetyWing offers flexible & reliable Digital Nomads Travel Medical Insurance at just a third of the price of similar competitor plans.