How to Explore Willemstad, Curacao like a Local: Locals introduce their city.
In today's MYCITY interview Art from "Poppy Hostel Curacao" introduces Willemstad, Curacao.
NAME, Profession
ART KLEP, Owner Poppy Hostel Curacao and Freelance Tour Guide.
Please introduce yourself:
I'm a cosmopolitan guy. Basically that means I don't really know where I'm from. My destination is also unknown, because I'm all about the journey.
Travel has been a part of my life since I was born, literally. For the last 5 years I've been living on the Caribbean island of Curacao.
Besides restoring and renovating a UNESCO World Heritage listed property into a boutique hostel, I am also a registered multilingual tour guide. I build and play Cajon, a popular percussion instrument.
My city:
Willemstad, Curacao
My favorite place to eat in Willemstad:
FiveFingers Bar/Restaurant
Related Posts:
A typical dish of Curacao:
Kabritu Stoba (Goat Stew).
My favorite bar in Willemstad:
Netto Bar
What about the Nightlife in Willemstad?
Nightlife is off the chain on Curacao. My favorite place is Wet & Wild Beach Club on the Seaquarium Beach.
Things to do for free in Willemstad:
Explore the colonial history and architecture of Willemstad.
Keep away of:
The small side streets (steegjes) after dark.
Best way to get around in Willemstad:
Rental Car
Best place for first date in Willemstad:
Anywhere in Pietermaai.
Best place to meet locals in Willemstad:
Downtown Willemstad
Best place to relax in Willemstad:
The Beaches on the west side of Curacao.
Best spot to watch people in Willemstad:
The Queen Emma pontoon bridge.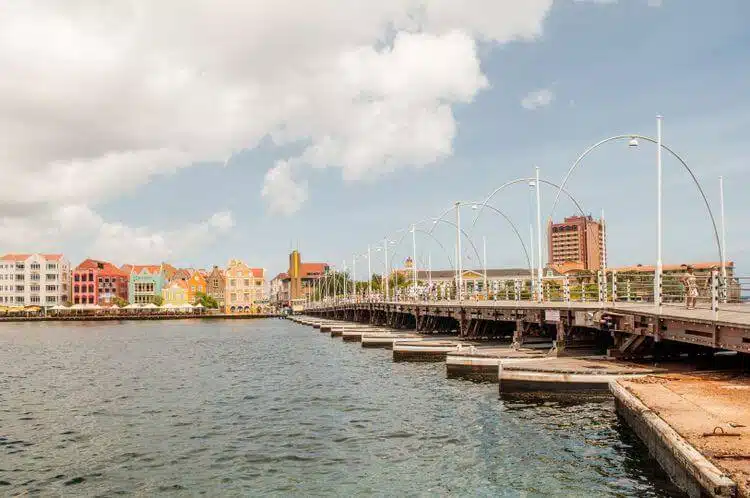 Five hot tips for enjoying Curacao:
Greet people with Bon- (Dia, Tardi or Nochi). That means Good- (morning, afternoon or evening/ night).
WALK around Willemstad, slowly.
Visit Schete Boca National Park. Untamed nature in abundance.
Take it easy, you're on Curacao.
One thing you would like to change about Curacao?
I would like to obliterate the ISLA refinery and return it back to nature.
Travelling has always been a great part of Art's life. He is living on the Caribbean island of Curacao since 5 years where he opened the Poppy Hostel Curacao. Follow him on twitter and instagram.
Are you on Pinterest? Pin this!