Una guida completa alle migliori cose da fare a New York City, inclusi musei, attrazioni, ristoranti, shopping e altro ancora.
New York, is the city that never sleeps.
Non importa cosa ti piace, molto probabilmente lo troverai a New York City.
Scopri le migliori cose da fare a New York City tra cui l'Empire State Building, Central Park, il Ponte di Brooklyn e molte altre.
Suggerimento: prendi il New York Pass e risparmia fino al 70% sui normali prezzi d'ingresso visitando solo 3 attrazioni al giorno. Scegli da 1 a 10 pass giornalieri e goditi l'ingresso a più di 80 dei migliori tour e attrazioni di New York, molti dei quali con il privilegio di saltare la fila.
Le migliori cose da fare a New York City
1. Giro in elicottero
Recommended by Colin from Our Tiny Corner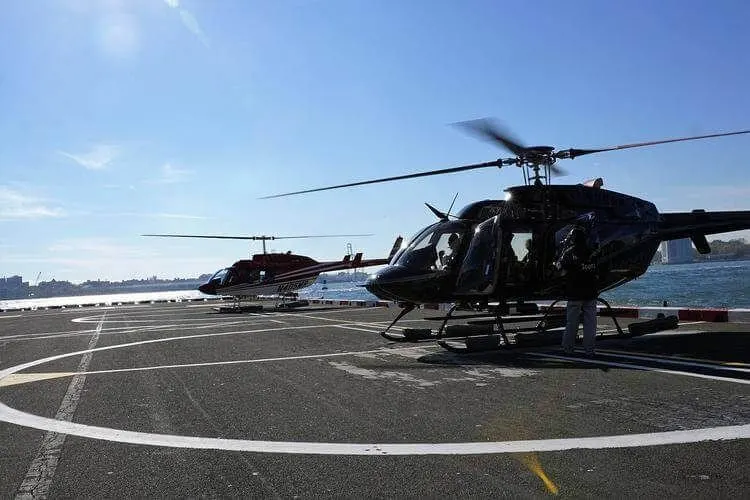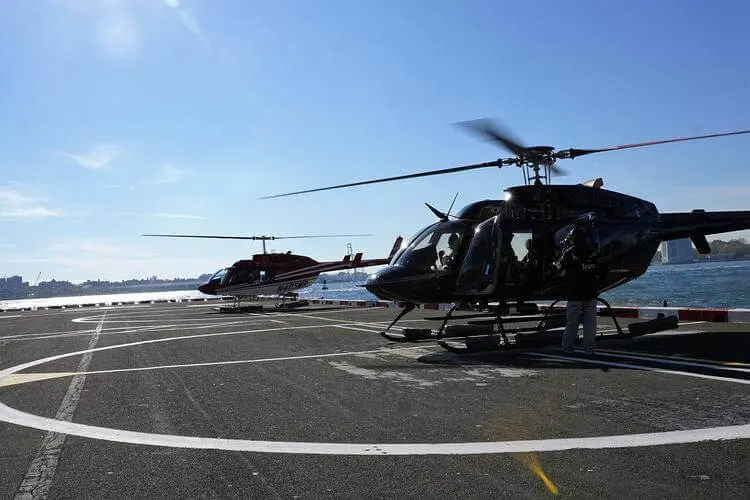 From Times Square to the Empire State Building to Wall Street, any visit to New York City will contain a lot of time looking up.
Cerchi una prospettiva nuova e unica?
Che ne dite di guardare giù da un elicottero?
These short flights depart from the Downtown Manhattan Heliport at the tip of Lower Manhattan and will thrill you as you gain a birds-eye view of iconic sights such as the Statue of Liberty, Staten Island, the Hudson River, Central Park, and the dramatic New York City skyline.
In all the traveling we've done, this really stands out in the memory. The view of NYC as you fly back towards Manhattan is unforgettable; this really is a bucket list activity you'll remember forever.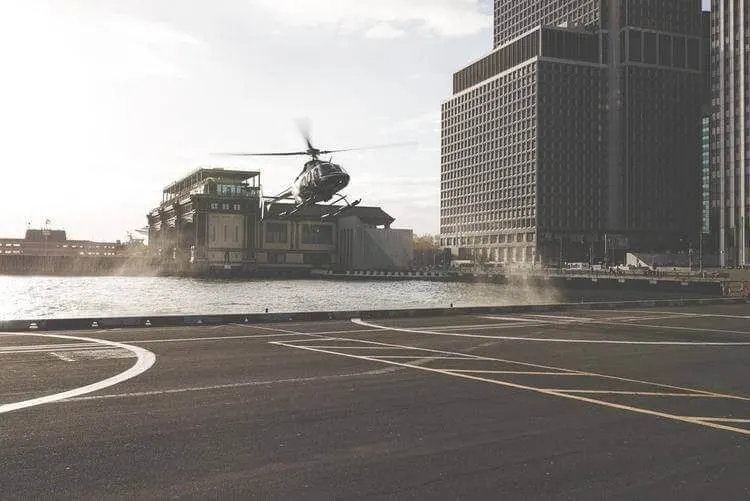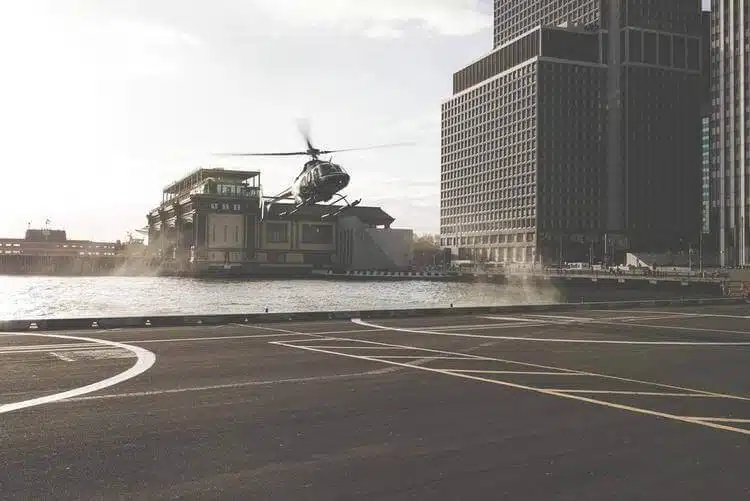 Non è economico però; i tour partono da circa 200 dollari a persona, e i voli più economici durano solo 10-15 minuti, quindi non aspettatevi un lungo volo.
L'eliporto è facilmente accessibile ed è a pochi passi da molte linee della metropolitana. I voli dipendono dal tempo, ma le compagnie generalmente ti rimborsano se non possono riprogrammarti.
2. Visitare l'Empire State Building
Raccomandato da Sally di our3kidsvtheworld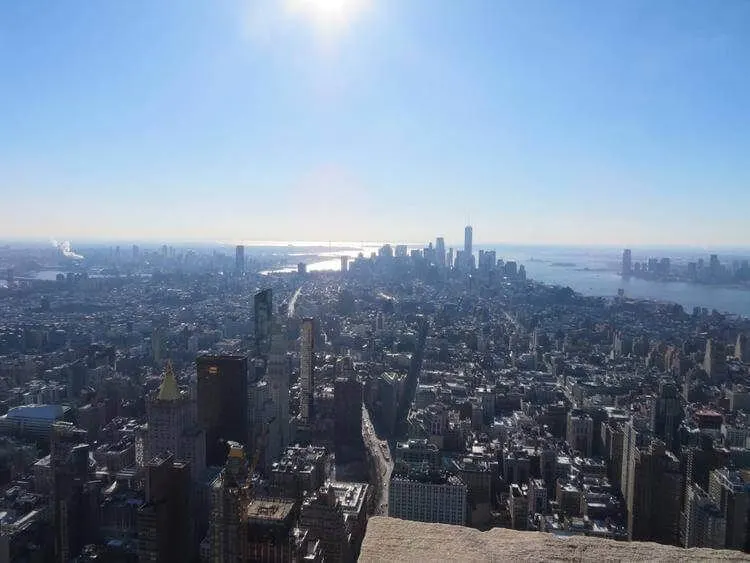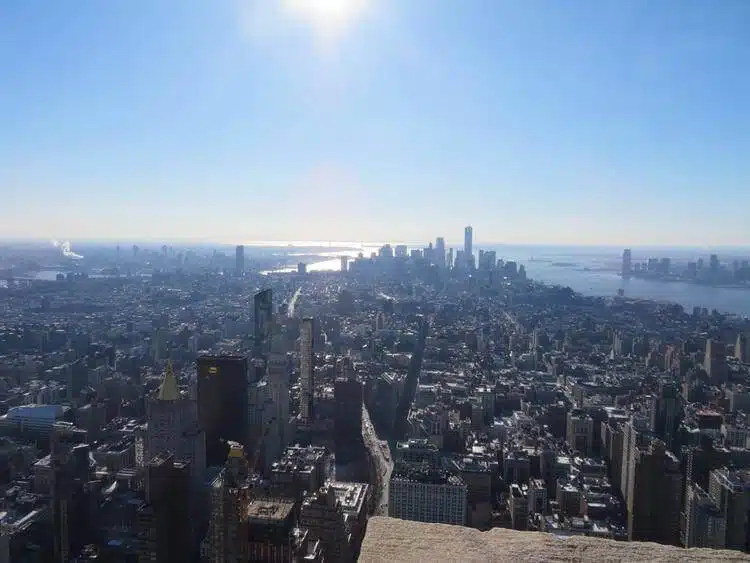 Abbiamo lasciato la visita all'Empire State Building fino al nostro ultimo giorno a New York City. Avevamo già sperimentato Top of the Rock e pensavamo che sarebbe stato uno spreco di soldi visitarli entrambi.
We decided we would just walk past and take a photo. As we walked closer I started to tell recite the words in my head that I tell everyone else 'no regrets, see it all.
Mi sono fermata sull'altro lato della strada e ho scattato una foto, mio marito ha detto "sei sicura?
Sì, sapevo che me ne sarei pentito una volta tornato a Melbourne, così siamo andati in fila.
The queue was huge and it took a good 1 hr 40 mins to get up there. It was 2 January and freezing cold.
We would walk outside slip off our gloves and take a couple of photos and then run back inside. It was too cold to stay outside for long.
Mentre si cammina intorno al ponte di osservazione, si possono ammirare diverse viste di New York City. Ci sono 2 ponti di osservazione situati all'86° e al 102° piano.
Vale sicuramente la pena di visitarli entrambi. Ora sono a casa e sono così felice di non essere passato quel giorno, me ne sarei totalmente pentito.
Suggerimento: Acquista il tuo biglietto online e salta la Ticket Line. Il biglietto è flessibile in modo da poter decidere spontaneamente quando si desidera utilizzarlo.
3. Ponte di Brooklyn
Raccomandato da Lizzie & Dave di Wanderlust & Life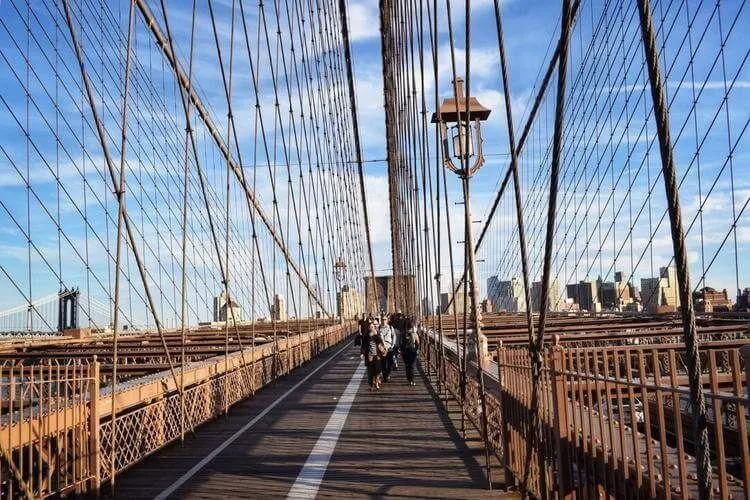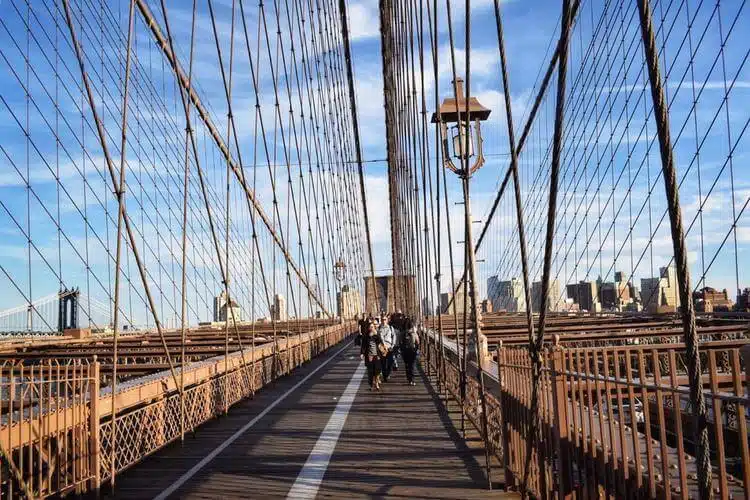 One of the most iconic structures in New York has to be the Brooklyn Bridge. This is why in our opinion no trip to New York is complete without walking the bridge.
La costruzione iniziò nel 1869 e fu completata 14 anni dopo, nel 1883. Il ponte fu costruito per collegare Manhattan e Brooklyn e fu originariamente chiamato New York and Brooklyn Bridge.
In questi giorni, nonostante l'ovvia necessità di spostarsi da un quartiere all'altro, è anche un'attrazione turistica di primo piano. Il ponte è lungo poco meno di un miglio e può richiedere da 30 minuti a 1 ora di cammino.
Questo dipende ovviamente dal vostro ritmo e da quanti selfies avete intenzione di scattare. Se siete come noi, probabilmente lo attraverserete in un'ora.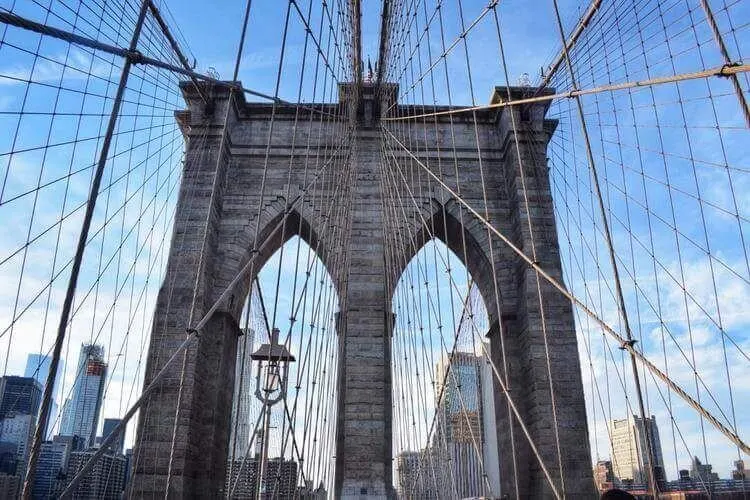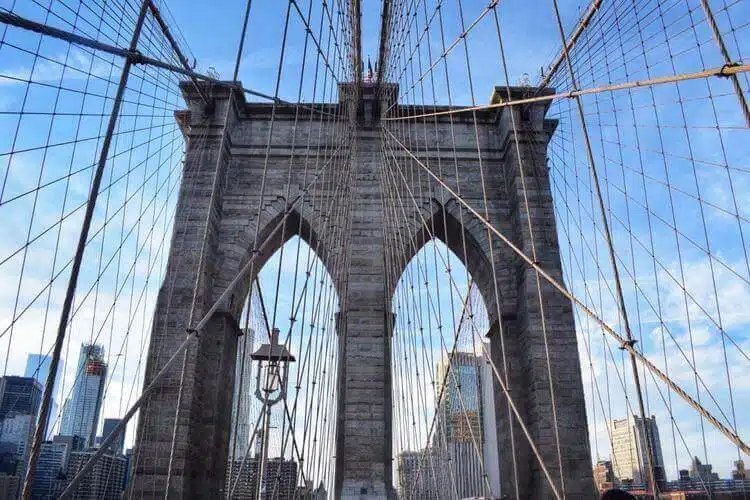 Soprattutto perché ci sono così tante opportunità di foto incredibili, in particolare dello skyline di Manhattan.
Anche se probabilmente non è l'ideale se si ha paura delle altezze perché ci sono parti, in particolare nel mezzo del ponte, dove si può guardare attraverso le doghe di legno e vedere direttamente giù.
Still, for us, it was definitely worth doing and a great New York City experience.
4. Intrepid Sea, Air & Space Museum
Recommended by Amanda from The Travelling Blizzards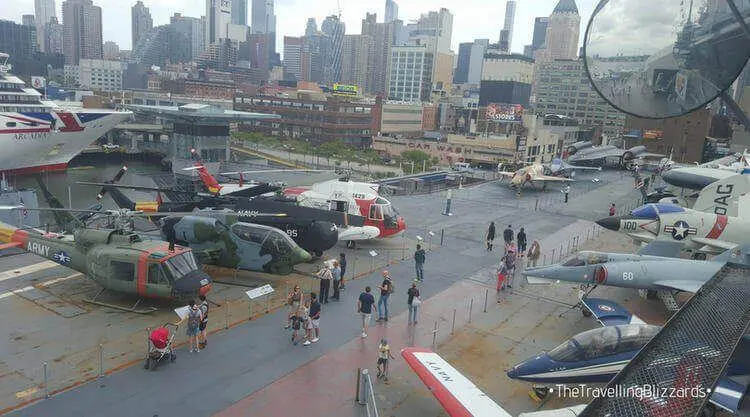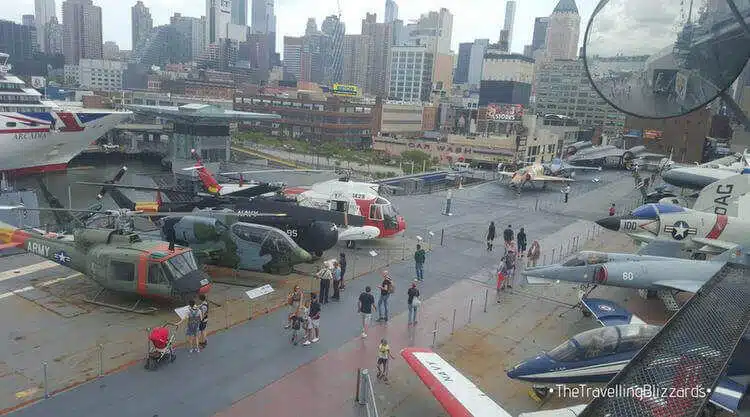 Quando si visita New York, salire su una portaerei potrebbe non essere in cima alla lista delle cose da fare a New York… Ma dovrebbe esserlo!
Stepping back in time to experience how Navy men lived and fought during WW2, the Cold War, and the Vietnam War is an unforgettable experience.
The USS Intrepid was decommissioned in 1974, and now invites people on board to tour 4 of its decks and get a closer look at life aboard a warship.
It's home to the space shuttle Enterprise, the submarine Growler, and a Concorde jet that broke records by crossing the Atlantic in under 3 hours! These and more than 2 dozen restored aircraft are on display for you to get up close and personal with.
Abbiamo trascorso circa 4 ore vagando per la nave e le sue esposizioni, ma noi siamo appassionati, quindi potreste passarci meno tempo. Ci è piaciuto esplorare ogni ponte per avere un assaggio della vita militare attraverso gli anni, e la collezione di aerei è impressionante. C'è persino un modello in scala della nave fatto di Lego!
Attraccata al Pier 86 a Hells Kitchen, è una rapida passeggiata dall'Intrepid Museum all'inizio della High Line, quindi un ottimo posto per iniziare una giornata di esplorazione!
5. In cima alla roccia
Raccomandato da Pari di Traveling Pari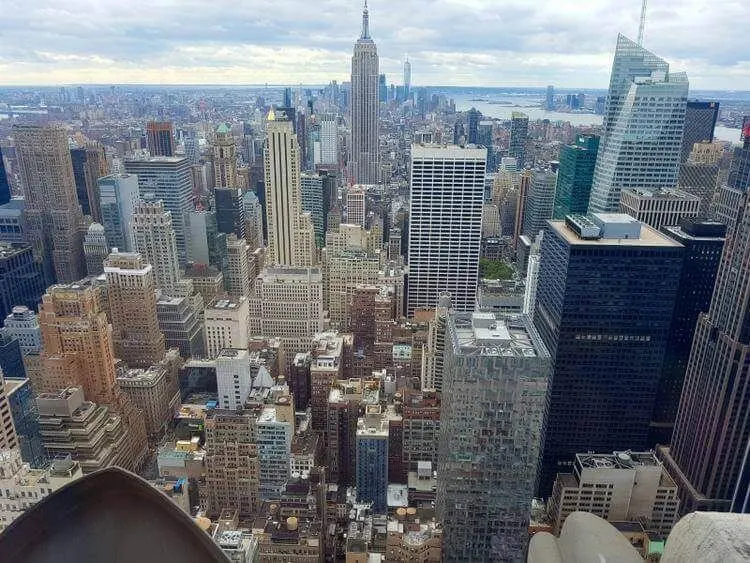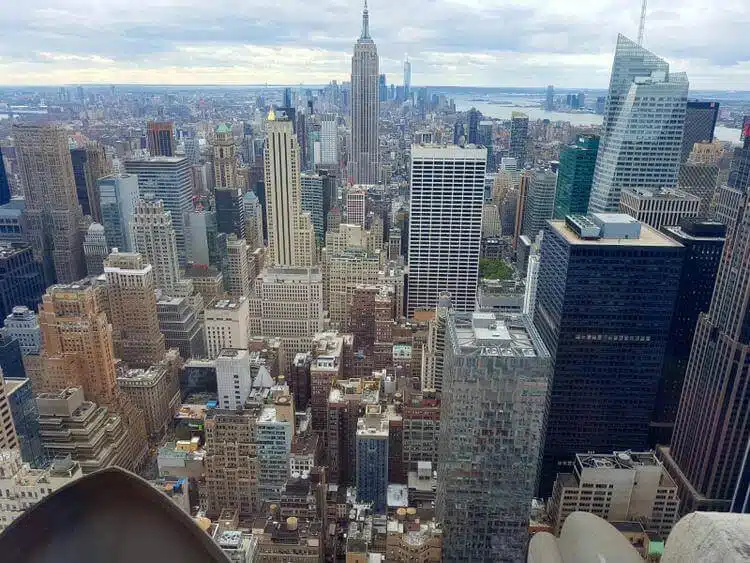 Una delle cose imperdibili da fare a New York è salire in cima al Rockefeller Centre.
Questo è uno dei pochi momenti a New York in cui non vi sentirete minuscoli rispetto agli alti edifici che vi circondano.
Up there, you will see unobstructed panoramic views of the city and Central Park. On a clear day, you can also see the Statue Of Liberty in the distance.
Un consiglio per i viaggiatori che visitano in autunno/inverno: Assicuratevi di indossare vestiti caldi nel caso in cui andiate lassù in una giornata fredda. Io e mio marito siamo andati in cima a novembre e i venti erano brutali.
Potevamo a malapena rimanere lì per qualche minuto. Fortunatamente, c'era un recinto di vetro coperto dove potevamo ancora ottenere alcuni grandi scatti della città attraverso le finestre e riscaldarci prima di uscire di nuovo.
Clicca qui per acquistare il tuo biglietto a data flessibile per il Top of the Rock Observation Deck e goderti un panorama a 360 gradi.
6. Cimitero del Calvario nel Queens
Raccomandato da Gábor di Surfing the Planet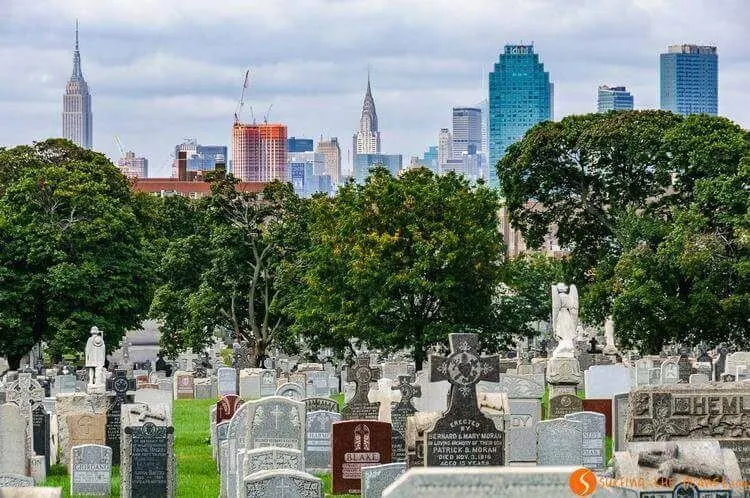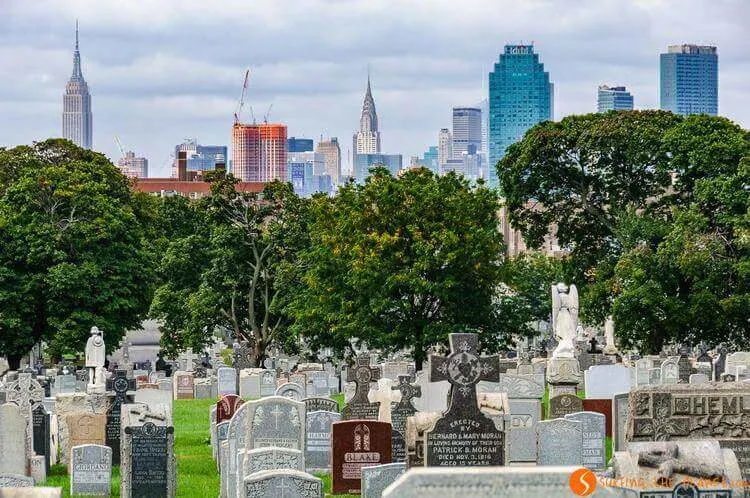 Visiting New York for most people means staying in Manhattan and Brooklyn, but the other districts also have hidden gems that are worth being checked out.
In Queens, you will find for instance the oldest cemetery of New York, where many important characters of New York are buried.
Nel cimitero del Calvario troverete, per esempio, le cripte dei capi della mafia italiana da Joe Masseria a Thomas Lucchese.
Many claims that Lucchese's funeral inspired Vito Corleone's burial service in the Godfather movie, a scene that was filmed here. You would not expect it, but Calvary Cemetery is also a great place to see one of the best views of the NYC skyline.
Tombe in primo piano e grattacieli sullo sfondo, è un'immagine piuttosto sorprendente da catturare.
The entrance to the cemetery is free of charge and Calvary Cemetery is easily accessible since you can use the direct subway connection (Line 7) from Times Square to 52 St-Lincoln Av Station and walk a few minutes from there.
7. Il Museo Frick
Raccomandato da Talek di Travels with Talek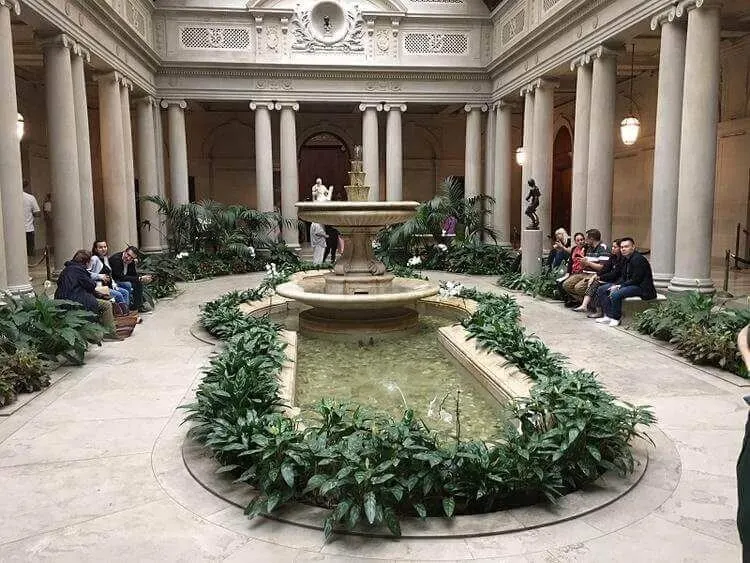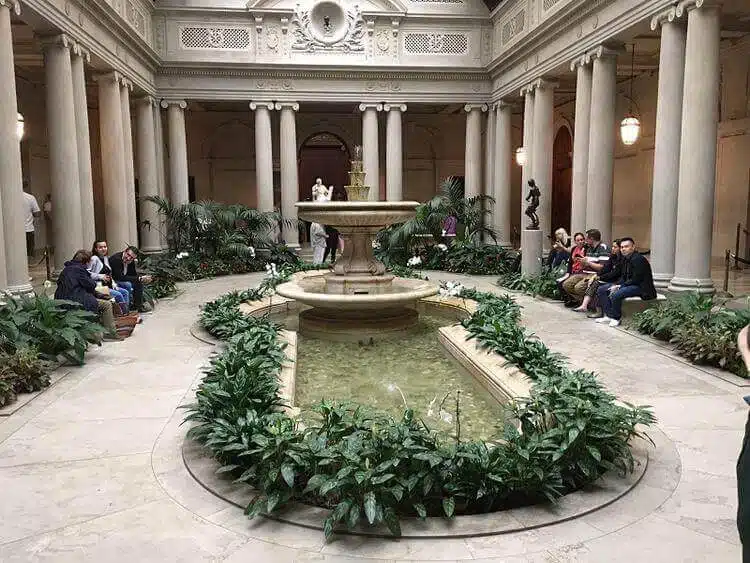 Il Frick Museum si trova tra la 70a strada e la 5a Avenue. È l'ex casa di Henry Clay Frick, un industriale milionario che era anche un personaggio molto interessante della Gilded Age.
Of course, people visit museums mostly to see beautiful art. The Frick has an abundance of these including paintings by Gainsborough, Rembrandt, Manet, Renoir, and El Greco.
Come se non bastasse, hanno in mostra tre dei più bei dipinti di Vermeer, quelli che riconoscerete dalle lezioni di arte del liceo.
Il mio quadro preferito in assoluto è il ritratto di Sir Thomas Moore di Hans Holbein al Frick. È sorprendente guardare il volto del soggetto e vedere gli inizi di una barba.
O guardare le sue maniche e vedere il velluto rosso che si può quasi toccare. Sai che stai vedendo esattamente quello che l'artista ha visto circa 500 anni fa.
The fact that The Frick was an actual home also always impressed me. It's incredible to imagine people actually living in this New York City palace among the interior fountains, marble staircases, vaulted ceilings, and rose gardens.
E tutto questo di fronte a Central Park, trattando questo gioiello paesaggistico come se fosse il loro prato anteriore!
8. Distretto storico di Wall Street
Raccomandato da Samah di God & Wanderlust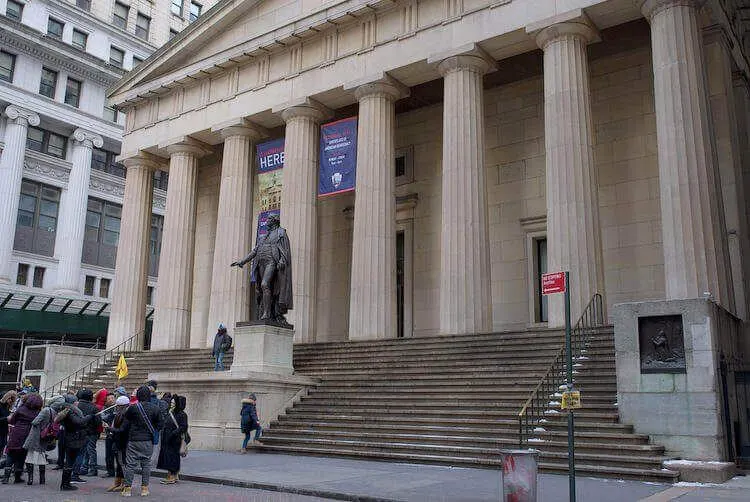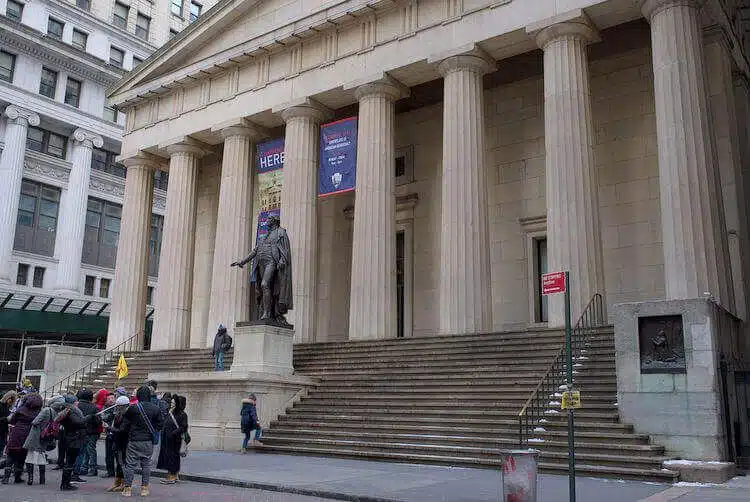 Developed in the colonial era, Wall Street Historic District is a must-visit to see the dominating architecture that reflects medieval European towns.
The history embedded in this (no so) little part of Manhattan is interesting. It's the site of a 1920's terrorist bombing that occurred using a horse cart, where Italian Anarchists are assumed to have played a role.
30 persone sono state uccise e altre 300 sono rimaste ferite. L'edificio J.P. Morgan ne porta le cicatrici ancora oggi.
To its left, the towering New York Stock Exchange exemplifies everything American – long, slim columns, the small people statues on the roof, the greyish white building color, and the three American flags swaying upfront. There's also the Federal Hall National Memorial across from it, which held George Washington's inauguration.
Giustamente, troverete la sua statua di fronte. Il Trump Building è difficile da mancare – un edificio alto e largo, con "The Trump Building" in grassetto, lettere a caratteri cubitali che brillano lungo la facciata. Per quanto il nome sia controverso, vale la pena dare un'occhiata.
9. Esplorare il Parco Centrale
Raccomandato da Maria & Rui di Two Find a Way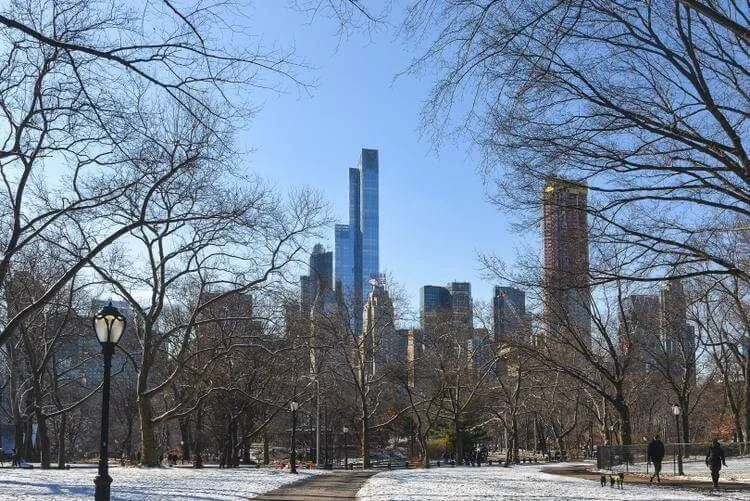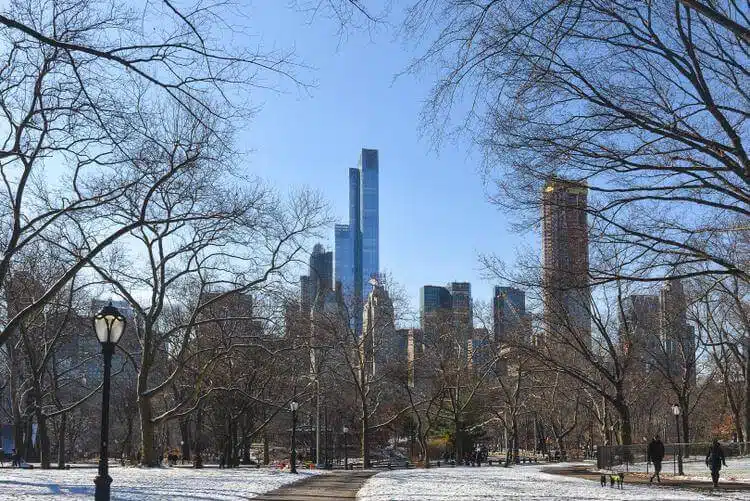 With more than 800 acres, Central Park is considered the lung of New York City, and the perfect oasis for locals to escape the skyscrapers and bustling streets of the city.
Visitare il bellissimo parco è anche una delle migliori cose da fare a New York: c'è molto da esplorare, a seconda delle proprie preferenze e del periodo dell'anno in cui si visita.
Inside Central Park, you can find several different attractions, from lakes to bridges, statues, monuments, and beautiful gardens.
On the public park's website, you can find several tours that will help you explore this beautiful area.
Whether you prefer to take part in a guided tour or to make your own way on a self-guided tour, there is plenty of information online and at the park itself to help you!
Se il tempo non è adatto per un picnic sul prato, ci sono anche molti posti per mangiare, sia caffè che ristoranti, così come alcune bancarelle di cibo intorno al parco.
Si possono anche trovare molti autentici ristoranti etnici a New York City.
Se ti piace essere circondato dalla natura, potresti facilmente passare una giornata intera a passeggiare e conoscere questa parte della città, ma anche se il tuo tempo in città è breve, assicurati di risparmiare almeno qualche ora per il Central Park.
10. Ascoltare il jazz nel parco di Washington Square
Recommended by Stuart from Go Eat Do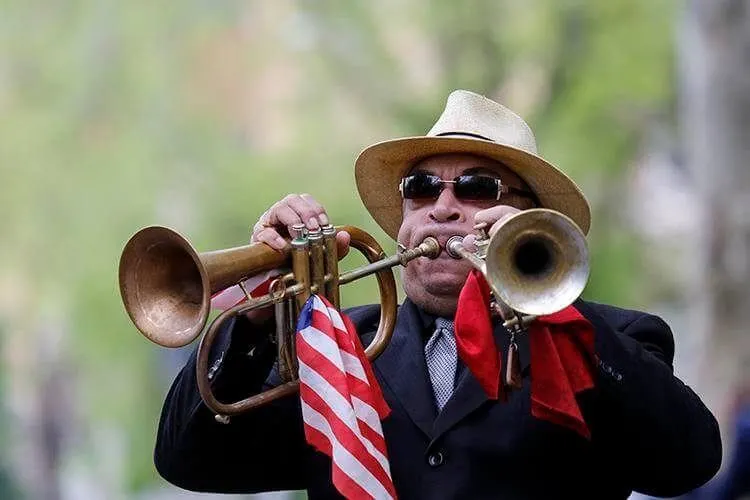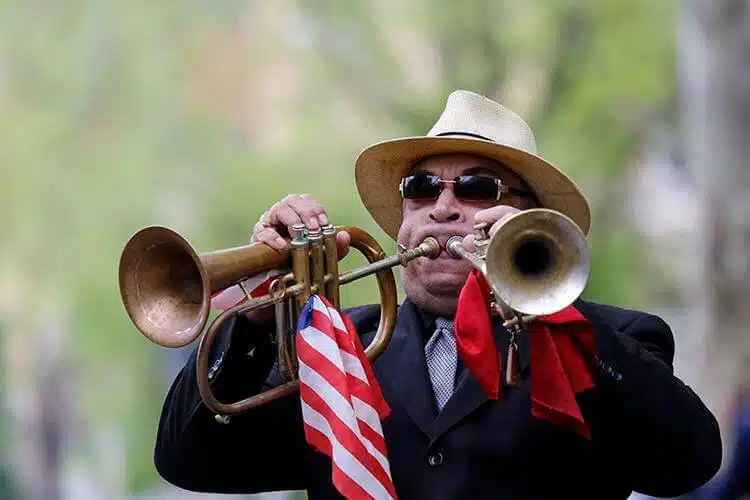 Washington Square Park si trova nel Greenwich Village di New York ed è un bel posto per sedersi e ascoltare musica jazz.
Talented musicians perform regularly in the park, which draws a throng of visitors at weekends. Sit down on one of the park's benches and enjoy a performance.
Naturalmente, i membri della band accolgono una donazione di un dollaro o due in cambio dello spettacolo. È facile passare un'ora ascoltando mentre si guarda la gente che passa.
The park is well worth a visit and lies at the lower end of Fifth Avenue. The Washington Park Arch marks the entrance to the park, which has a fountain at its center and draws an array of talented street performers.
Acrobats, jugglers, and poets count among the acts you're likely to see in Washington Square Park along with jazz musicians.
Preferisci essere attivo che spettatore?
Nelle mattine dei giorni feriali è possibile partecipare a lezioni gratuite di tai chi e yoga tenute al Washington Square Park.
11. La cantina della commedia
Raccomandato da Mikkel da Sometimes Home
È sempre divertente riscoprire una città che ti è familiare. La cosa bella di New York è che anche se pensi di conoscerla, è una scena urbana espansiva e in continuo cambiamento.
I grew up near "the city," (as locals call it) and have adored discovering something about it in each phase of life. The Comedy Cellar on MacDougal Street was one of my discoveries during my college years.
L'ho scoperto durante le notti estive in cui andavo a Manhattan da Long Island, cercando cose da fare oltre alla solita serata al bar o al club. È un meraviglioso locale per le commedie e un ottimo posto per rilassarsi e ridere.
Mischiano grandi nomi con comici emergenti; molte persone hanno avuto qui il loro inizio o la loro grande occasione, da Ray Romano a Jon Lovitz. Vale sempre la pena di prenotare in anticipo.
For a cover charge (which varies from $5 to $24 per person, depending on the show) and a two-item minimum (food and soft drinks included), it's a great way for 21-and-over visitors to spend an evening in The Village. It's simply an extra perk it's in a very cool neighborhood in NYC!
12. Traghetto di Staten Island
Raccomandato da Lee e Stacey di One Trip at a Time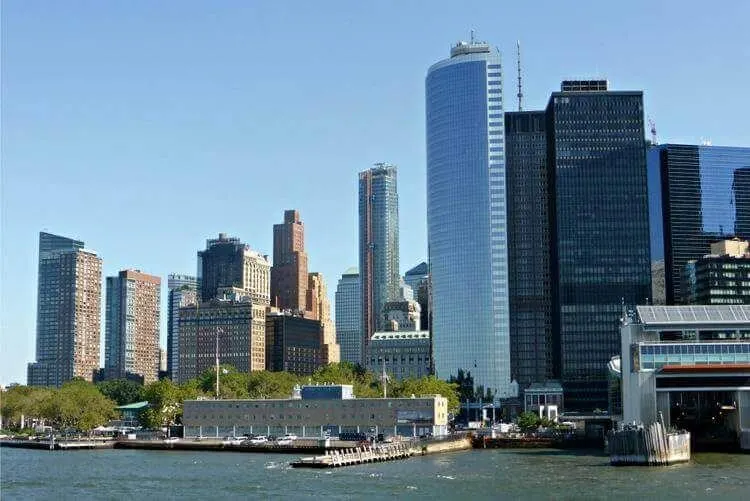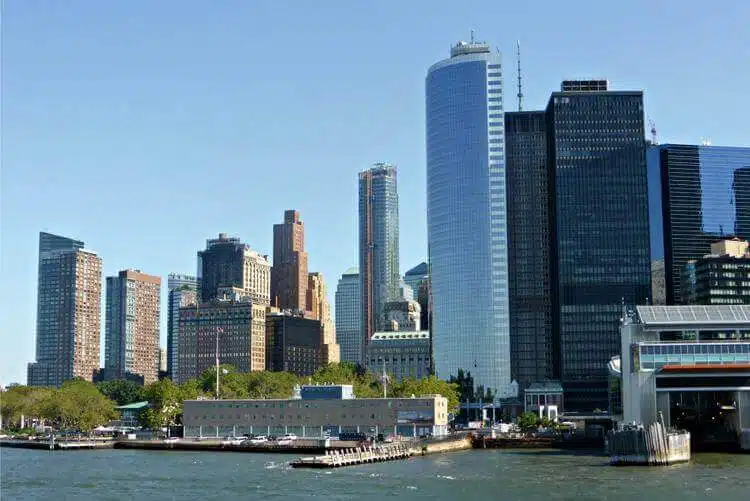 Dal nostro punto di vista, non c'è modo migliore per arrivare a New York City – certamente non c'è modo più pittoresco e rilassante che salire sull'iconico traghetto arancione di Staten Island.
Anche se siete a New York, vale comunque la pena fare il viaggio di andata e ritorno a Staten Island per goderselo.
Sailing much closer to the Statue of Liberty than we expected and skirting Governors Island with views back to Brooklyn Bridge, you'll have the ever-present New York skyline as a backdrop on your ride.
Certamente è meglio che arrivare in metropolitana su un treno, o cercare di affrontare il traffico di New York!
Poiché il traghetto è un servizio completamente gratuito, basta presentarsi in uno dei due terminal e aspettare nella sala delle partenze il traghetto successivo.
I traghetti passano ogni 15 minuti nell'ora di punta e 30 minuti in altri momenti e il viaggio dura 25 minuti a tratta. Questo dà il tempo sufficiente per uscire e risalire sullo stesso traghetto se si vuole fare un viaggio di andata e ritorno da New York.
13. La porta di Gulliver a Times Square
Raccomandato da Justine di Wanderer of the world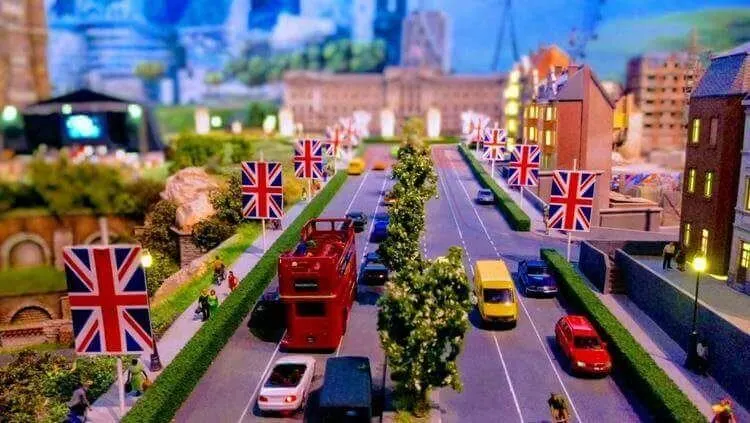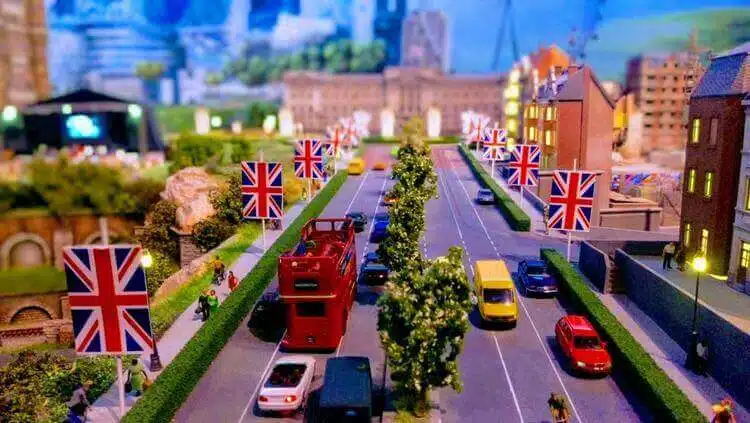 Ci sono così tante attrazioni e tour da fare a New York, ma una delle cose migliori da fare a New York City deve essere Gulliver's Gate a Times Square.
It's an exhibit that is based on Gulliver's Travels and is essentially lots of miniature models that cover nearly every continent. If you like traveling, then you'll definitely love seeing these models.
In just a few hours, you can walk between New York City, Russia, London, Thailand, Japan, and lots more top countries and cities.
Ogni modello è stato fatto a mano e sono incredibilmente dettagliati.
Gulliver's Gate is open every day from 10 am to 8 pm and tickets can either be bought at the door for $36 or online in advance for $31.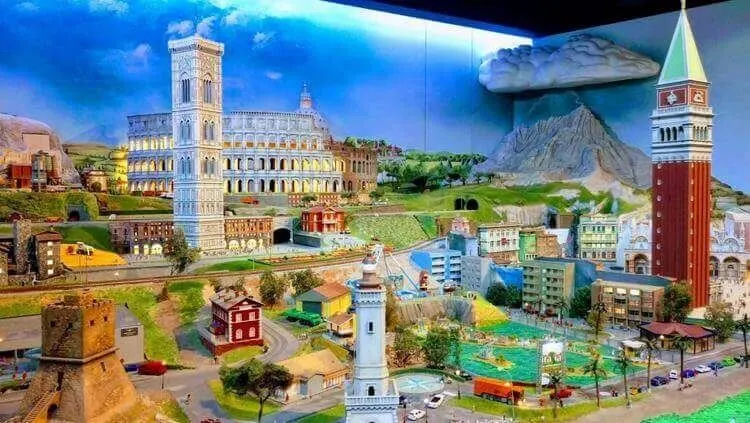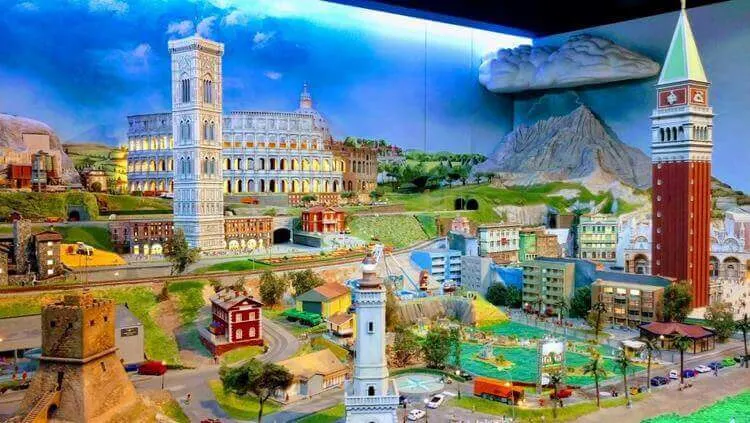 Come parte del prezzo del biglietto, ti verrà data anche una chiave ricordo che potrai tenere alla fine. Questa chiave può essere inserita in varie scatole intorno alla mostra e porta in vita parti dei modelli; vedrai una scavatrice entrare in azione, per esempio, o vedrai una barca sfrecciare.
Top tip: Make sure you look at the leaflet that they give you upon entry. This gives you a checklist of extra things you can look for throughout your visits, such as Yoda from Star Wars or the Beatles walking across Abbey Road.
14. Camminare sulla High Line
Raccomandato da Elaine & David di Show Them The Globe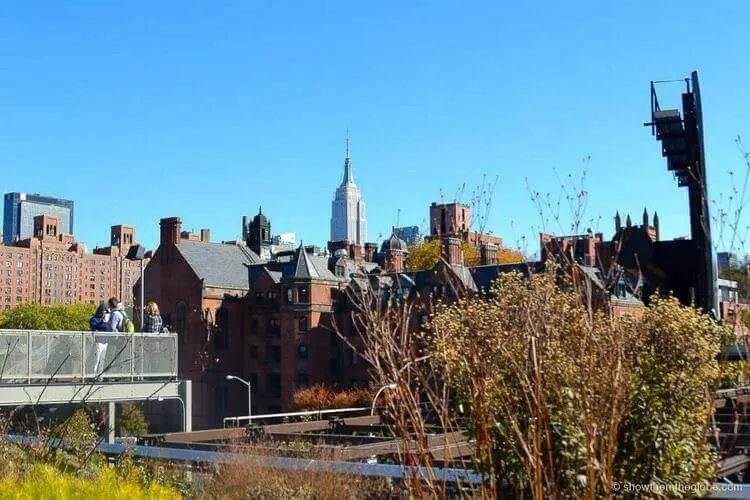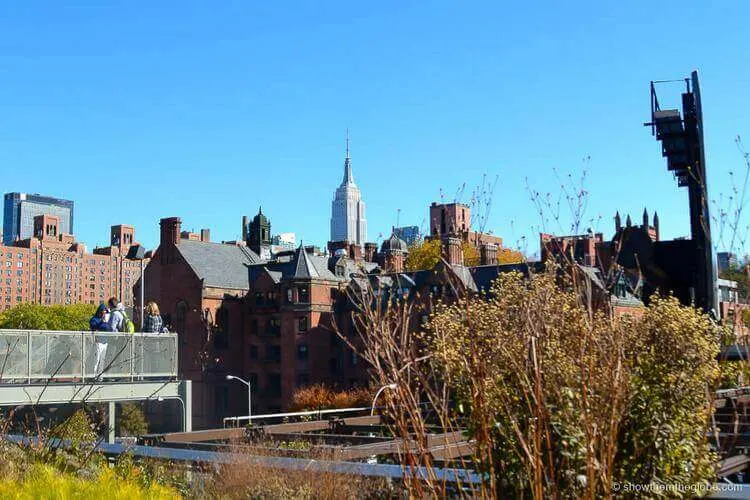 Una delle nostre cose preferite da fare a New York City è fare una passeggiata sulla High Line, un parco pubblico sopraelevato e una passerella che serpeggia sul lato ovest di Manhattan.
Originariamente una linea ferroviaria, questo parco pubblico splendidamente paesaggistico offre alcune delle migliori viste di New York grazie alla sua prospettiva unica da sopra le strade trafficate della città.
Una passeggiata sulla High Line è la fuga perfetta dal ritmo frenetico delle strade di Manhattan.
Some of the best views of the New York skyline can be seen from along the walkway: our favorite view of the Empire State Building is from the High Line as it peeks out above the downtown rooftops.
Ci sono spesso sculture eccentriche e arte di strada lungo il percorso.
The park runs from Gansevoort Street in the Meatpacking District to West 34th Street between 10th and 12th Avenue and is open from 7 am to 10 pm every day. Entry is free.
15. Crociera sul fiume di New York
Raccomandato da Suzanne di The Travel Bunny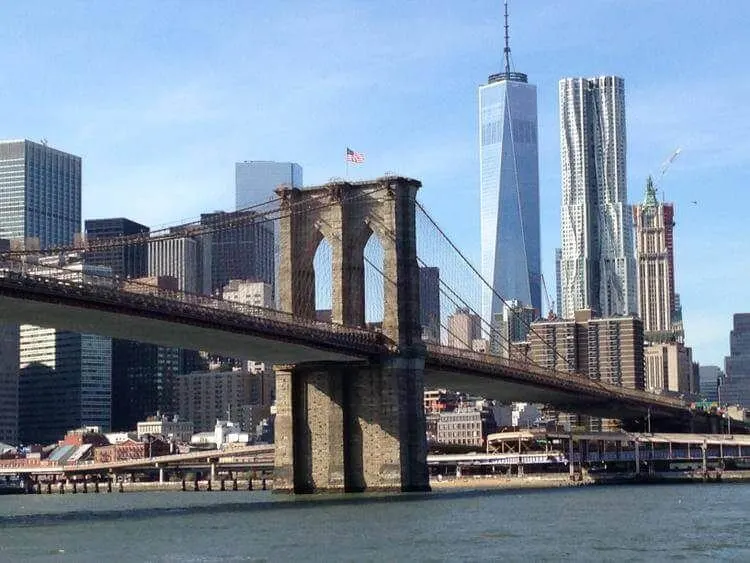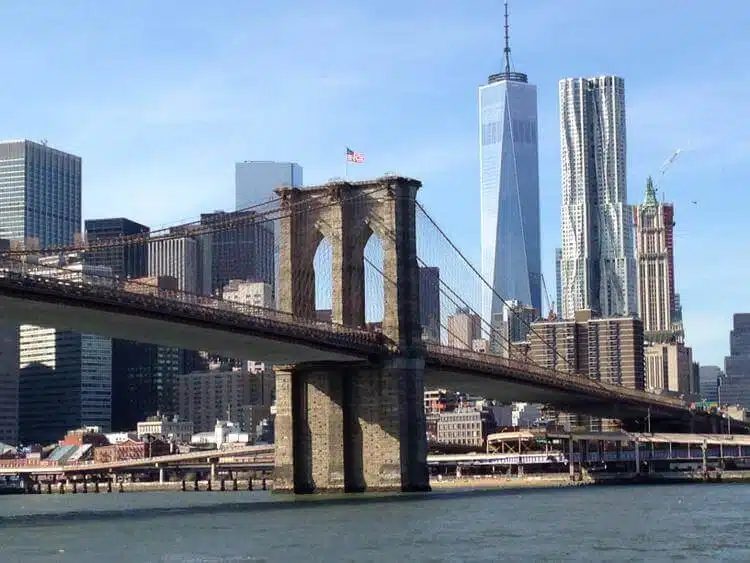 Esplora New York da una prospettiva diversa e lasciati alle spalle il brusio della città facendo una rilassante crociera sul fiume intorno al centro di Manhattan.
Una crociera sul fiume a New York è un ottimo modo per rilassarsi un po' mentre si passa vicino ad alcuni dei punti di riferimento più iconici di New York. Vedere la Statua della Libertà dall'acqua e controllare l'Empire State Building in tutta la sua gloria.
Avvicinati a Ellis Island in barca proprio come fecero i primi immigrati quando arrivarono. Siediti sul ponte e guarda il ponte di Brooklyn da sotto, mentre incombe con il One World Trade Centre sullo sfondo.
The narrated cruise will fill you in on the city's history and culture and give an added insight to the tour. A day cruise will give you loads of photo opportunities but maybe think about taking a night cruise as well with dinner on board.
Prendere la vista dello skyline di New York mentre si illumina e la città scintilla contro il cielo notturno è un modo magico di passare una serata a New York.
16. Kayak da mare
Raccomandato da Maya di Travel with the Smile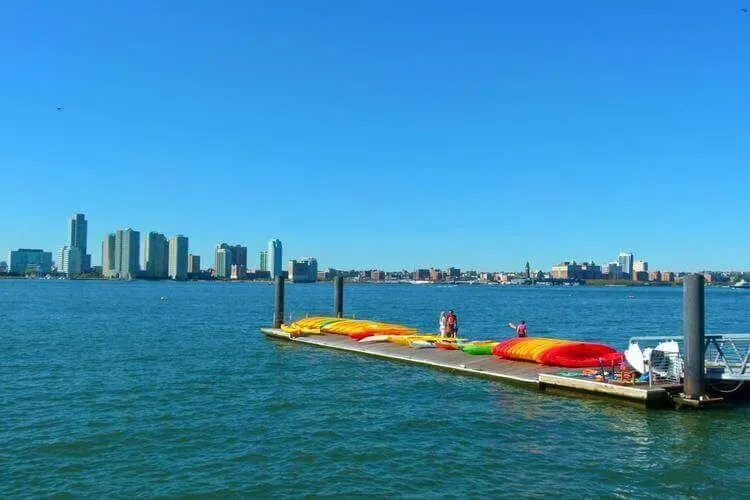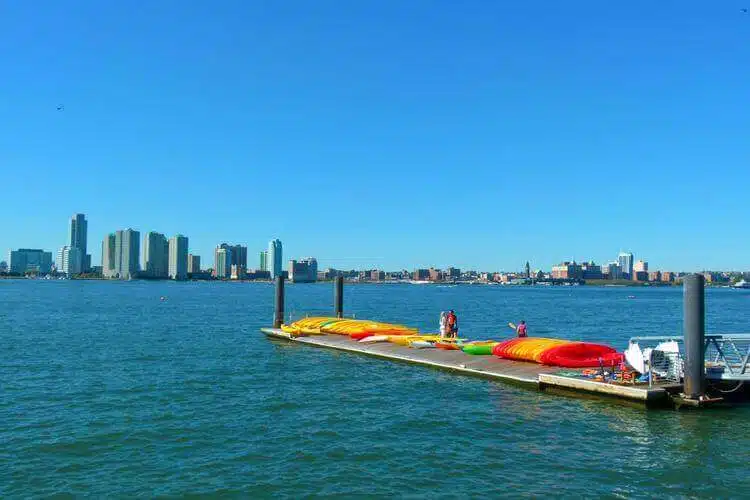 Aria fresca e attività gratuita è una combinazione che non si vede molto spesso, specialmente a New York City.
Anche se è una città incredibile piena di vita e attrazioni infinite, alcune persone abituate a stare all'aperto potrebbero iniziare a desiderare un po' di aria fresca dopo un po'. Un'opzione è Central Park e l'altra opzione durante l'estate è il kayak di mare sull'Hudson.
Ci sono diverse località ora che offrono il kayak gratuitamente, scegliete quella più vicina a voi. E venite il più presto possibile per evitare una lunga attesa.
Locations: Manhattan Community Boathouse (Pier 96 at 72nd Street), The Downtown Boathouse (Pier 26), Brooklyn Bridge Park Boathouse (Pier 1&2), North Brooklyn Boat Club (at Greenpoint), and Long Island City Community Boathouse.
Le sessioni di solito durano 20 minuti e alcune località offrono anche il kayak al tramonto. Quindi portate un cambio di vestiti e divertitevi!
17. Knish ar Yonah Schimmel
Recommended by Colin from Our Tiny Corner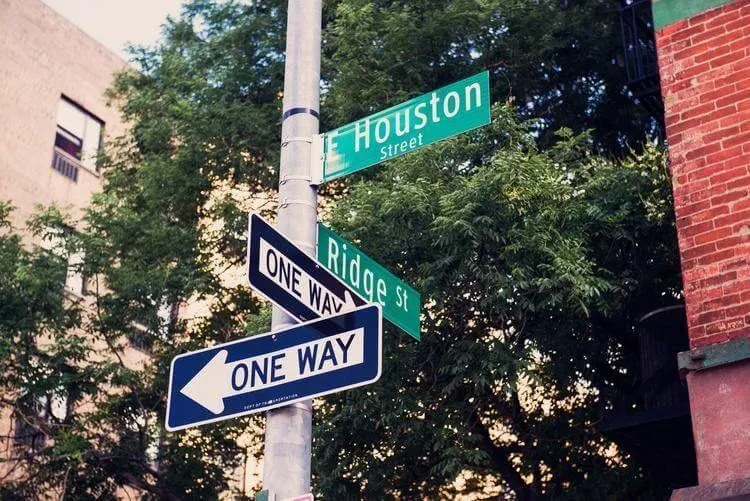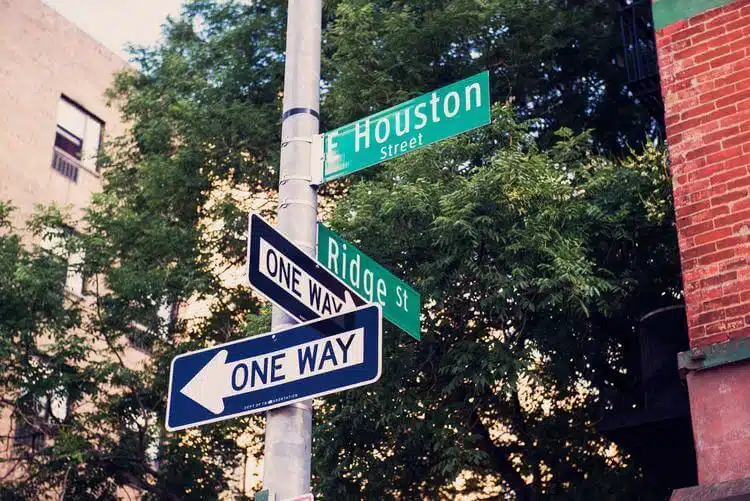 Se stai cercando un'esperienza autentica di New York, non puoi trascurare il cibo.
Pastrami sandwiches at Jewish delis, coffee and a bagel, the New York Slice, Shake Shack burger, and a milkshake…they're all part of the food culture in this amazing city.
Ma ti fai un cattivo servizio se salti una visita a una Knishery, e quella di Yonah Schimmel è quella da visitare.
A knish is a Jewish Central and European tradition, and consists of a filling (historically it's potato) covered in dough and baked, grilled, or deep-fried. Flavors range from the traditional to the more modern and experimental.
Yonah Schimmel's (137 East Houston st) is the oldest knishery in the city and has become an integral part of Lower East Side culture. It was once said that "No New York politician in the last fifty years has been elected to public office without having at least one photograph taken showing him on the Lower East Side with a knish in his face.".
Foodies: perdetevelo a vostro rischio e pericolo.
18. Statua della Libertà
Raccomandato da Karen di Wanderlustingk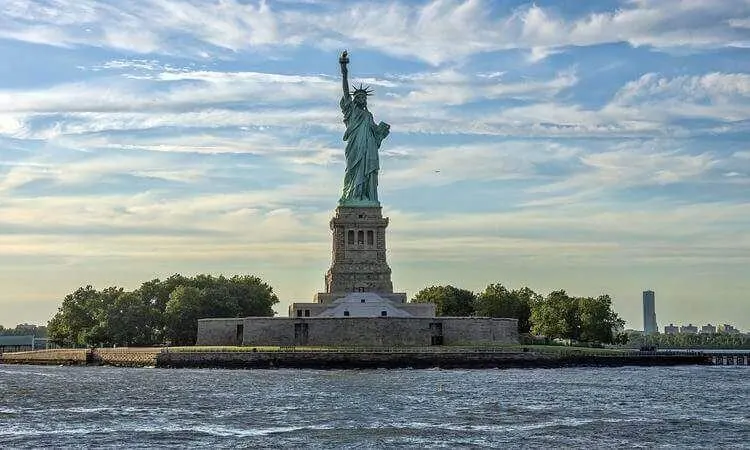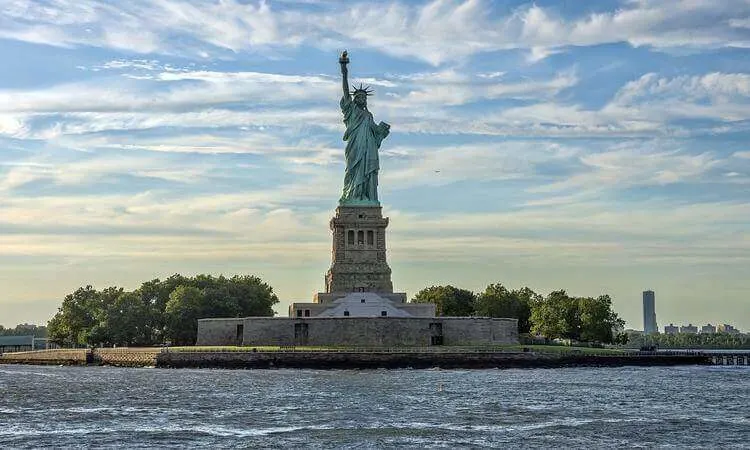 C'è una ragione per cui la Statua della Libertà è un'attività classica di New York. Per chiunque abbia una famiglia immigrata, è necessario visitare la Statua della Libertà.
Originally gifted to the United States in 1886 by France, the Statue of Liberty is meant to symbolize Liberty. She was intended to welcome immigrants arriving from abroad to the shores of New York City.
Anche la mia famiglia è passata per la vicina Ellis Island, il principale punto d'ingresso per gli immigrati che permetteva ai visitatori di intravedere questa famosa icona.
Many people only visit the grounds as this ticket is the easiest to get, however, it's worth planning in advance to climb the crown, which provides stunning views of New York.
I especially enjoyed the museum, however, I'd encourage people who are only visiting the grounds to also include the nearby Ellis Island in their visit to understand more about America's immigrant history.
Suggerimento: Fai un tour guidato di 30 minuti di Battery Park e poi ottieni l'accesso garantito al piedistallo della Statua della Libertà e a Ellis Island con questa esclusiva di GetYourGuide.
19. Dumbo
Raccomandato da Alex di Swedish Nomad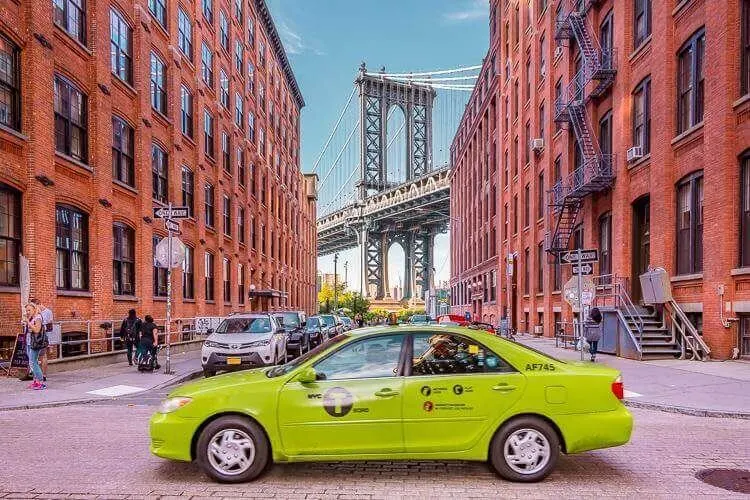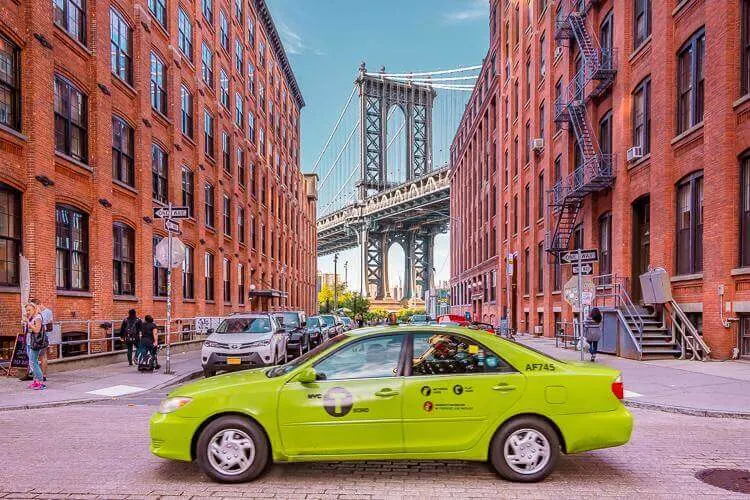 Suggerisco di visitare Dumbo quando si va a New York, semplicemente perché offre alcune viste mozzafiato e grandi opportunità di foto. Il punto più classico è probabilmente quello in cui si può vedere il ponte di Manhattan tra due edifici.
Dumbo is actually short for Down Under the Manhattan Bridge Overpass, and it's a neighborhood in NYC. Here you can find the Brooklyn Ice Cream Factory and Grimaldi's.
From Dumbo, you also get a pretty amazing view of Manhattan, and I suggest coming here shortly before sunset to take in the beautiful views.
To get here you either walk over Brooklyn Bridge or take the subway to York Street or High Street. Or the buses B25, B67, and B69.
I recommend getting here by walking over the Brooklyn Bridge since you then can visit two major attractions in the city at the same time.
20. Terra di sepoltura africana
Raccomandato da Shobha di Years of Therapy Ahead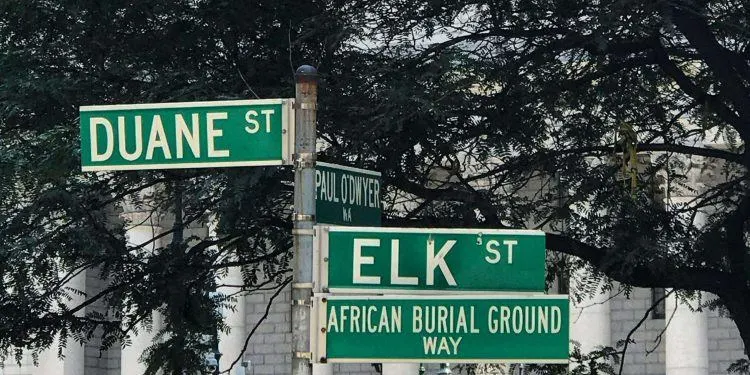 L'African Burial Ground nella bassa Manhattan è gestito dal National Park Service e offre l'ingresso gratuito. È stato scoperto solo accidentalmente nel 1991, quando si stavano scavando le fondamenta per un edificio di uffici federali sul sito.
The site was estimated to have been the final resting place of both free and enslaved Africans in the 17th and 18th centuries. Africans were not allowed to be buried within the then city limits and so an estimated 15,000-20,000 people were buried here.
Il memoriale si trova in un piccolo parco e il museo è in un edificio per uffici dietro l'angolo. Il museo entra in dettaglio su come gli africani hanno contribuito alla costruzione e alla prosperità di New York.
African slaves were an essential part of the labor force and their importation was encouraged by both the Dutch and English settlers. In fact, 20% of the population of New York City were of African descent.
Contrary to what many people think that slavery was just a Southern USA issue, New York City was an important center of the slave trade (second only to Charleston, South Carolina).
Dove alloggiare a New York City
1. Il Knickerbocker
Raccomandato da Priya di Outside Suburbia
New York City is not a place that you can easily scratch off your bucket list, no matter how many times you have visited. Like London, Paris, and Milan – Manhattan forever remains on our list to be explored and experienced in bite-sized portions.
On one of the trips to NYC, we wanted to visit Times Square and we picked our Hotel – The Knickerbocker, a legendary New York landmark reborn as the first luxury hotel in Times Square as our base.
Il Knickerbocker si trova proprio tra il luci di Broadway e la calma di Bryant Park, è un paradiso di raffinata eleganza, creato da John Jacob Astor nel 1906 e ora reinventato in un sofisticato santuario urbano a pochi isolati da Fifth Avenue, MoMA, Rockefeller Center e Central Park era perfettamente situato.
Tutti i posti che volevamo vedere durante questo viaggio, erano a una rapida corsa in taxi!
Clicca qui per altre foto, informazioni e prezzi.
2.

Archer Hotel a Midtown Manhattan
Raccomandato da Jackie di Get Lost with Jackie
When visiting New York you're definitely going to want to stay at a centrally located, luxury hotel, and Archer Hotel in Midtown Manhattan is the perfect place to base yourself to see the entire city.
The property has a cool, modern design with black, white, and tan adorning the rooms, subway tiles in the bathrooms, and heaps of cool in-room amenities – think local sweets on your bed for turndown service or a few of "Archer's Favorites" books placed on the headboard to lull you into sweet dreams.
Dal check-in al servizio in camera e quando si chiedono suggerimenti al concierge ci si può aspettare di ricevere solo un servizio a cinque stelle e sorrisi dal personale.
L'unica cosa che è meglio del personale?
Le incredibili viste dal bar sul tetto dell'Archer Hotel!
Affacciato sull'Empire State Building con una vista incredibile dello skyline, la vista dell'Empire State Building è una ragione sufficiente per prenotare con Archer!
Clicca qui per altre foto, informazioni e prezzi.
Questo post è stato utile? Se è così, assicurati di appuntarlo per consultarlo in seguito!