Jaco is a beach destination in the province of Puntarenas. Getting from San Jose to Jaco Costa Rica is made easy by different means of transportation.
Surfing is a huge part of the Jaco community, and surfers from around the globe travel to experience the swells that it became known for.
You will see cars, buses, and shuttles carrying surfboards on their roofs – a great indication that the waves have arrived on the coast.
In a few hours' time, you will find yourself surrounded by locals, enjoying the nightlife, and having the best time of your vacation in Costa Rica.
How far is Jaco from San Jose?
Jaco is a three-hour road journey from Juan Santa Maria International Airport in San Jose. Its distance from each other is a little less than 100 kilometers.
You can travel from San Jose to Jaco by bus, via shuttle, by renting a car, or by flying to any nearby airport.
The main transportation options to get from San Jose to Jaco are:
Bus
Shuttle
Private Transfer
Uber/ Taxi
Rental Car
How to Get from San Jose, Costa Rica to Jaco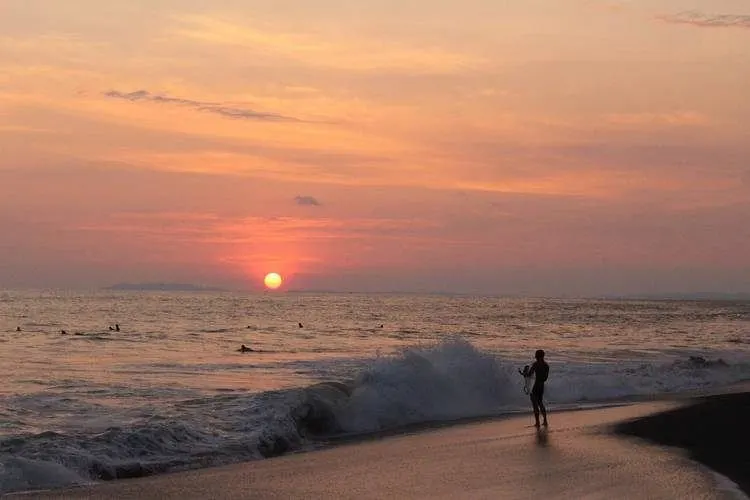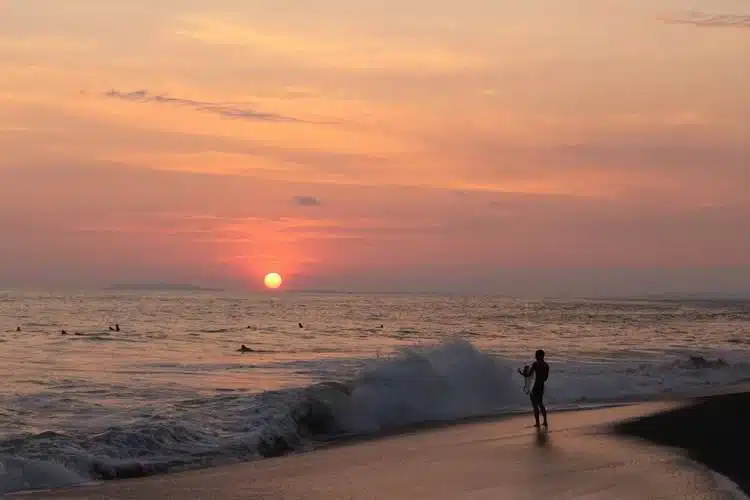 1. Flights to Jaco, Costa Rica
There is no airport in Jaco, Costa Rica. However, there are two airports that are near this place.
The first one is the Juan Santa Maria International Airport in Alajuela, the more popular aerial gateway to Jaco.
The second one is Quepos Airport which is an hour's drive away. From any of these airports, you can take your preferred mode of transportation.
2. Public Bus from San Jose to Jaco, Costa Rica
Terminal 7-10 has buses going to many parts of Costa Rica including Jaco. Buses operate daily from 7:00 AM to 7:00 PM.
On Saturdays, Sundays, and Mondays, the earliest bus departs from San Jose at 6:00 AM.
All schedules have two-hour intervals. Coming back, you can catch a bus daily from Jaco to San Jose from 5:00 AM to 5:00 PM. Buses depart every two hours as well.
The bus from San Jose to Jaco and vice versa costs about five US dollars. The elderly is offered a discounted rate of about three dollars.
If you are traveling during the peak season like December, allot at least one hour for purchasing a ticket at Terminal 7-10.
The hub tends to get jam-packed so it is best to come early. There is a waiting area on the second floor for travelers waiting for their bus to depart.
Alternatively, you can purchase your bus ticket online.
Should you choose this option, be at the station 15 minutes before your departure time because the buses leave on time.
3. Shuttle from San Jose to Jaco, Costa Rica
Shuttle buses from San Jose to Jaco offer a more convenient way to get to your destination. Transport companies like Interbus pick you up from your hotel lobby at your preferred time of departure.
They have two schedules throughout the day: one in the morning at 8:00 and another in the afternoon at 2:30.
It is essential to book a seat if you want to travel by shuttle. The company will contact you regarding your exact pickup time, depending on your hotel's location in San Jose.
One trip costs 47 dollars for adults and half-price for children. Shuttles from Jaco to San Jose operate the same way and with the same price.
4. Driving with Rental Car
If you wish to travel at your own pace, rent a car and drive yourself from San Jose to Jaco. This option will cost you around 30 dollars a day.
There are two routes you can take to get to Jaco. The first one is Aguacate Road and is a two-hour drive.
This road takes you to the popular Tarcoles River Bridge, a place where alligators swim below.
The second route available is the "new" highway. You get to cut your travel time to about one hour for a toll fee of five dollars.
When choosing to rent a car from San Jose to Jaco, be aware that it is best to choose a car with a GPS system or be ready with your GPS mobile phone application.
Driving here tends to be tricky, as road signs and street names are almost nonexistent.
A note for the surfers: Transport modes may charge you extra should you choose to bring your surfboards on your ride to Jaco Beach.
More Costa Rica Articles
While working for a local tour company in the capital city of San José, I did many of the best things to do in Costa Rica and visited the best places in Costa Rica.
To help you plan your trip to Costa Rica, I detailed a Costa Rica guide, including information about Costa Rica transportation and the best luxury hotels in Costa Rica.
Costa Rica is well-known for its beautiful beaches and hot springs. Find here the most beautiful beaches in Costa Rica and the best hot springs in Costa Rica.