This article may be sponsored or include a provided product or affiliate link. See the footer and Affiliate Disclaimer for full details.
Travelling from San Jose Costa Rica to Monteverde Cloud Forest by bus is the most economic way. However, you can also book a shared van, a private transfer or just drive with your own rental car.
The Cloud Forest of Monteverde is one of the absolute highlights that the Central American country Costa Rica has to offer.
It is voted one of the Seven Natural Wonders of Costa Rica and offers numerous adventure activities.
Read also: BEST THINGS TO DO IN MONTEVERDE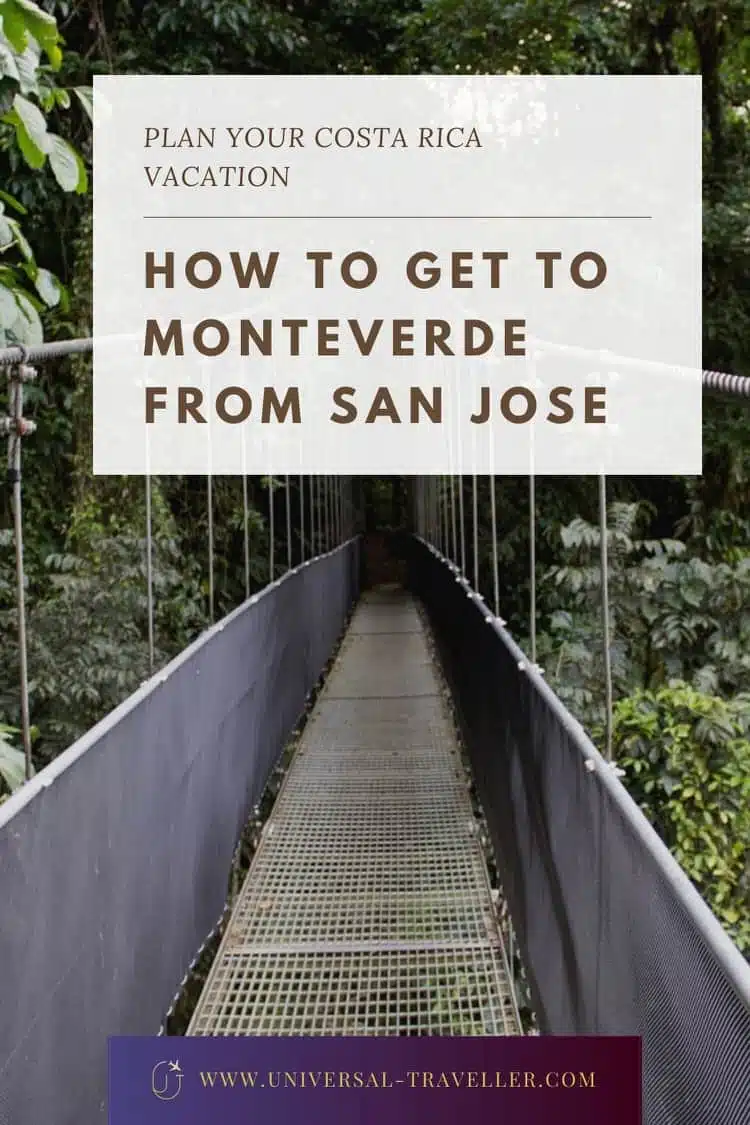 How far is Monteverde from San Jose?
The distance from San Jose to Monteverde Costa Rica is about 140 kilometres or 87 miles.
How to get to Monteverde, Costa Rica from San Jose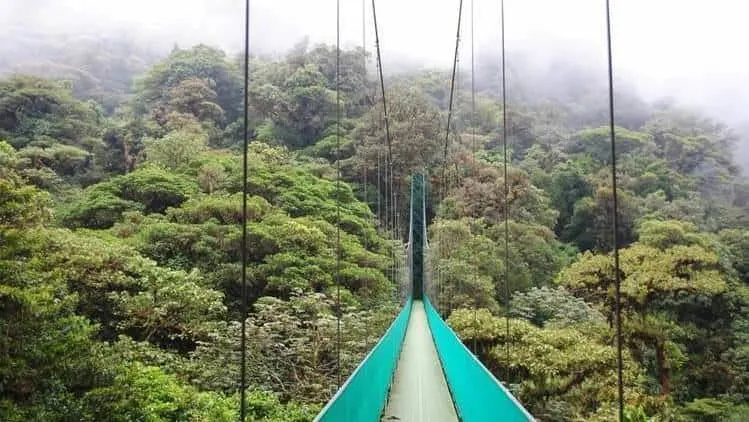 1. Public Bus from San Jose to Monteverde
If you want to travel from San Jose to Monteverde the public bus is the most economic option.
There are two daily, direct buses and the journey takes around 4.5 hours.
The route from San Jose to Monteverde is offered by Transmonteverde from the bus station in San Jose Downtown at Terminal 7 – 10. A one-way ticket costs about 6USD.
San Jose to Monteverde Bus Schedule
Buses depart every day at 06:30AM and 02:30PM from the bus terminal in San Jose.
2. Shared Van Shuttle
If you want a bit more comfort you may want to book a shared shuttle. The driver will pick you up at your hotel or the airport in San Jose.
Shuttles depart every days at 8AM and 02:30PM from San Jose and at 08:30AM and 3PM from San Jose Airport.
The trip takes about 3.5 hours depending on your pick-up location and costs a bit more then 50USD per person.
Tip: On GuateGo you can check all available transportation options from San Jose to Monteverde. It is a reliable and easy to use platform where you can compare prices & schedules and make a booking online.
3. Private Transfer
If you are travelling in a big group or just want to be more flexible a private transfer from San Jose to Monteverde might be the best option for you.
You can decide at what time you want to depart and the driving time is only three hours. The price for one car that fits up to six people is 175USD one-way.
Click here to book a private transfer from San Jose Airport to Monteverde.
4. Flight from San Jose to Monteverde
Unfortunately, there is no airport in Monteverde. The closest airport is actually in San Jose.
5. Driving with Rental Car
If you don't want to depend on bus schedules or a transfer you can also get to Monteverde by rental car.
The driving time from San Jose to Monteverde is approximately three hours and the distance is around 140 kilometers.
Please be aware that the last 20 kilometers are not paved.
Search for Car Hire