Tamarindo is a bustling beach town and gathering place for surfers from around the world. Want to join in on the fun in this magical paradise? Check out our guide for the best options to travel from Montezuma to Tamarindo.
Tamarindo, Costa Rica is often called "Little California." It has a small-town feel with its low-key surf atmosphere and friendly locals. The town is located on the Pacific Ocean in the Guanacaste province and is bordered by lush tropical forests.
This town is experiencing a boom in its popularity due to its scenic location and beautiful surroundings, and it's easy to see why!
A series of rugged bays, black-and-white sand beaches, and well-guarded coral reefs make this a popular resort destination for divers and water sports fans. Because there are no large cities nearby, it is common to see flamingos and iguanas wading along the shoreline.
Local waterfalls offer hiking opportunities and though the town can be large on weekends, during the week you'll mostly find surfers, kite surfers, and those looking to be left alone by the crowd.
Book an excursion and cruise along the Costa Rican coast to see the sunset from Playa Tamarindo on a custom-built 66-foot catamaran. You can also enjoy snacks and a light meal, as well as an open bar with your favorite drinks!
Besides all its natural wonders, Tamarindo even has a large art community featuring galleries, restaurants, stores, and local events serving as the main attraction for this location.
During your stay, indulge in delicious seafood at one of the many local restaurants or celebrate at one of its well-known nightspots. Tamarindo is a place where "party and play" go hand-in-hand, so if you are ready for some fun then this town is just right for you.
Come have a great time!
Check our guide for the best options to travel from Montezuma to Tamarindo.
Read also:
How far is Montezuma from Tamarindo?
There are 182.9 kilometers or 113.6 miles between Montezuma and Tamarindo. The journey to Tamardino takes about 4 hours, depending on your mode of transportation.
The main transportation options to get from Montezuma to Tamarindo are:
Shared Shuttle
Private Transfer
Rental Car
Taxi or Uber
GuateGo
On GuateGo you can check all available transportation options from Montezuma to Tamarindo. It is a reliable and easy-to-use platform to compare prices & schedules and to make a booking online.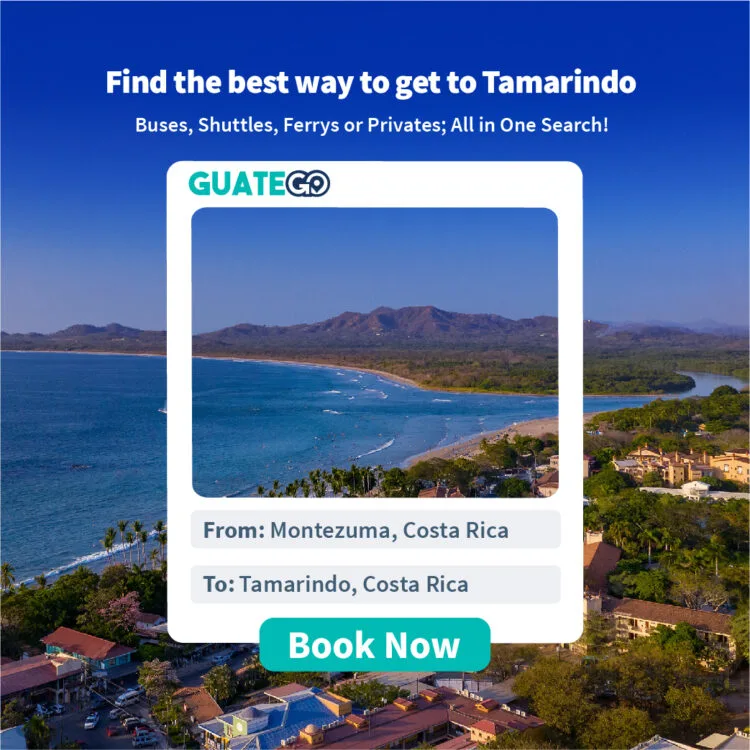 Getting to Tamarindo from Montezuma
Journey Duration: 4 hours 30 minutes
Shared van shuttles are the most common way of traveling between these two destinations.
It is a fast and convenient way to get anywhere, picking you up and dropping you off at your hotel. As an affordable, safe, comfortable, and convenient mode of transportation, it is usually preferred by many travelers.
Interbus offers shuttle services from Montezuma to Tamardino every day. It's important to note that there is only one departure per day, so book your tickets in advance to ensure you don't miss your trip!
06:45 AM to 11:15 AM: Interbus Shared Shuttle to Tamarindo from Montezuma
Total price: USD 65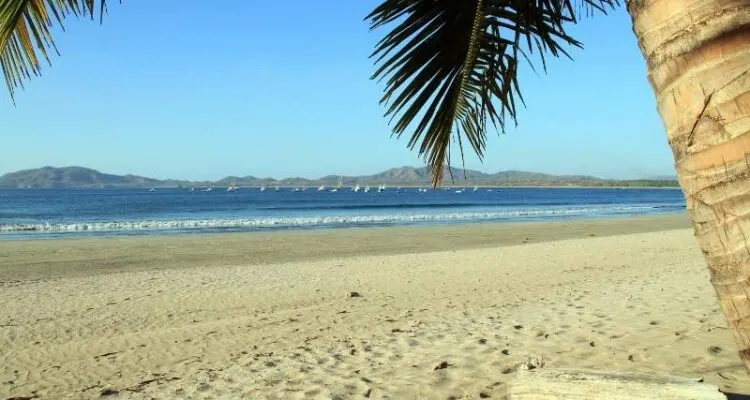 2. Private Transfer from Montezuma to Tamarindo
Journey Duration: Custom Time
If you're not a fan of big crowds, there is also the option to arrange your own private transfer!
Depart at any time of the day, and be fully in charge of your trip!
Get to see all that Costa Rica has to offer and travel in the most comfortable manner. You can even make stops along the way at your own request. The price per person is USD 47 for a private transfer, and the vehicle fits up to five passengers.
Hence, this option would be ideal for a family or smaller group traveling together!
GuateGo
On GuateGo you can check all available transportation options from Montezuma to Tamarindo. It is a reliable and easy-to-use platform to compare prices & schedules and to make a booking online.

3. Driving with Rental Car
Journey Duration: 3 hours 30 minutes
If you're a bit more adventurous and would like to explore along the way, renting a car in Montezuma to reach Tamardino is a great choice!
With a car rental, you have complete flexibility to travel to Tamarindo, or any other place in Costa Rica, and the best part is that these destinations offer really affordable prices for any type of vehicle you choose.
If you like having complete freedom, and don't like being tied to schedules, this option is recommended!
4. Uber or Taxi
Journey Duration: 3 hours 30 minutes
Last but not least, there is always the option of taking a taxi or an Uber if you have no other choice.
But, since it is a longer distance, expect a higher price. Ensure you don't get ripped off by negotiating the price with the driver before you leave.
Taking this mode of transportation isn't recommended if you plan to drive for a long time, but if everything else has been missed, this might be the option you'll have to take. Having someone to split the cost with might be a good idea so you don't break the bank.
If you want to make sure you don't miss your trip to Tamarindo and only be left with this option, make sure you book your tickets in advance and enjoy your trip!
Frequently Asked Questions
How much is a taxi from Liberia airport to Tamarindo?
Taxis take 1h 19m and cost USD 75 – USD 90 to get from Liberia Airport (LIR) to Tamarindo.
Do I need a car in Tamarindo?
Tamarindo is accessible without a car, so unless you intend to visit another area later, I wouldn't recommend taking a car during your stay. A 4×4 vehicle is not necessary if you only intend to go to Tamarindo and you take the correct route.
Is there Uber in Tamarindo Costa Rica?
There is an Uber in Tamarindo, but it is not as common as in the capital, San Jose.
What city in Costa Rica has the best beaches?
Located on the coast of Costa Rica, Manuel Antonio is one of the top tourist destinations. White sand beaches and one of the country's most popular national parks adorn the coastline of this village in the Central Pacific.
More Routes in Costa Rica