Monteverde is the perfect destination for anyone looking for an unplugged Costa Rica adventure. Escape the crowds and discover some of Costa Rica's hidden gems! Check out our guide for the best options to travel from Liberia to Monteverde.
Located in the heart of the Cordillera de Tilaran mountain range, Monteverde is a small town surrounded by a dense forest. The forest covers several thousand acres and extends into at least seven different sub-units on the slopes of three different mountain ranges.
Monteverde is a nature lover's paradise, brimming with rare and unique flora and fauna. We're talking about some of the most incredible and breathtaking views you could ever see!
The famous Monteverde Cloud Forest is one of Costa Rica's biggest attractions, and once you visit, you can see why for yourself!
For years, this destination was just a tiny hamlet catering to international visitors who visited its majestic cloud forests filled with tropically lush vegetation teeming with wildlife that cannot be found anywhere else in the world.
Today, it boasts a population of around 18,000 people plus countless foreign residents.
From the Cloud forest that borders the town and even down to the coffee shops and people who live there, you will have plenty of things to do and experience.
There are many restaurants, coffee shops, and tours within the communities of Monteverde and Santa Elena where you can explore the area. I would recommend stopping in for a fresh cup of coffee or a scrumptious meal to take a break after the adventures you'll be going on in the area!
Although this magical place is one of Costa Rica's top ecotourism destinations, its mountainous location has some serious road challenges for those traveling to and from the country's central region. However, the drive-in is well worth the trek!
Ready to take the trip?
Check our guide for the best options to travel from Liberia to Monteverde.
Read also:
How far is Monteverde from Liberia?
The distance from Liberia to Monteverde is 72 miles or 115.7 kilometers. Depending on the mode of transportation you take, you will reach this beautiful destination in approximately 3 hours.
The main transportation options to get from Liberia to Monteverde are:
Shared Shuttle
Standard Bus
Private Transfer
Rental Car
Taxi or Uber
GuateGo
On GuateGo you can check all available transportation options from Liberia to Monteverde. It is a reliable and easy-to-use platform to compare prices & schedules and to make a booking online.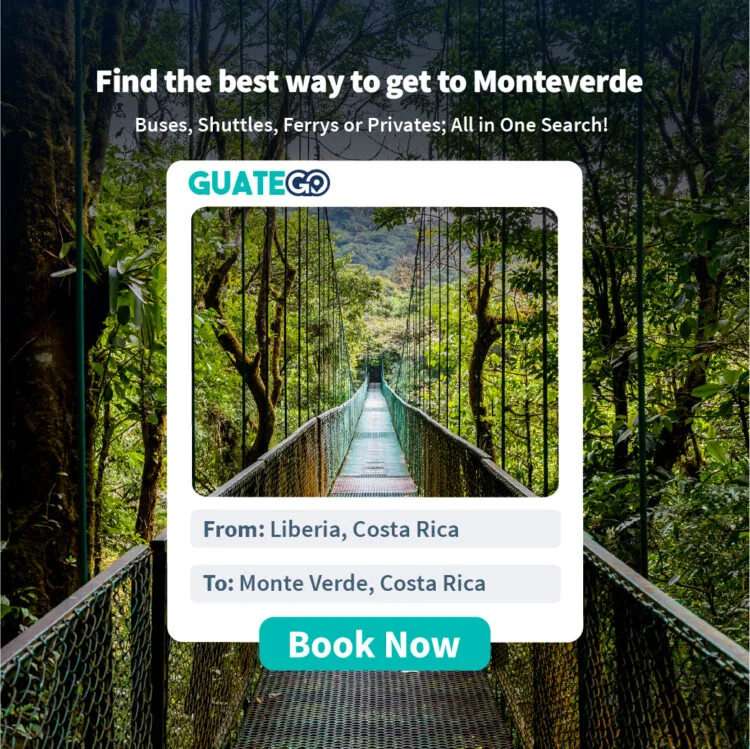 Getting to Monteverde from Liberia
Journey Duration: 3 hours
A shared shuttle service is one of the best ways to reach Monteverde from Liberia Costa Rica. There is a daily transportation service that picks up and drops off people at their doors in Monteverde. It is affordable, fast, and convenient if you're traveling alone or with a small group of people.
The journey takes approximately 3 hours and there is one rest stop along the way where travelers can stretch their legs and use the restroom.
By using this mode of transportation, you can easily travel from your hotel in Liberia to your hotel, hostel, or rental house in Monteverde safely and comfortably.
There are multiple companies that provide daily shuttle van and minibus transportation services, so check their schedules before buying your tickets!
09:15 AM to 12:15 PM: Caribe Shared Shuttle to Monteverde from Liberia
Total price: USD 42
03:15 PM to 16:45 PM: Interbus Shared Shuttle to Monteverde from Liberia
Total price: USD 55
2. Bus from Liberia to Monteverde
Journey Duration: 2-3 hours
Buses are the most inexpensive way to get from Liberia to Monteverde. Just be sure to check if tickets are available since there are only a few buses that run daily.
If you plan to travel this way, make sure you purchase your tickets in advance, to ensure your seats!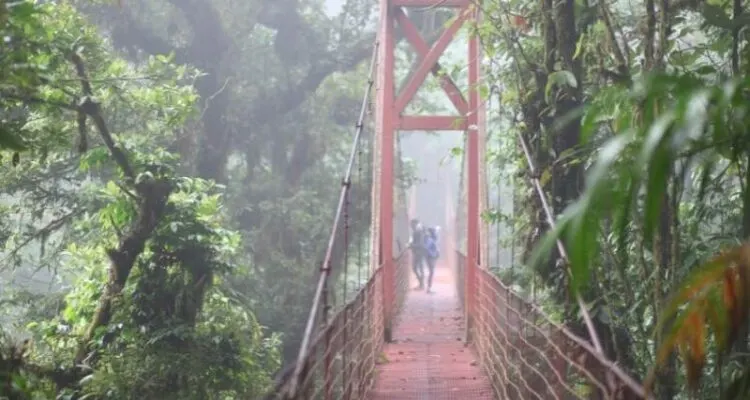 3. Private Transfer from Liberia to Monteverde
Journey Duration: Custom Time
For large groups or families, private transportation that takes you directly to your vacation spot is the best choice!
Your private transfer from Liberia to Monteverde departs whenever you choose, and you are able to plan your journey and make requests along the way.
The trip takes approximately two hours and 45 minutes. You will be dropped directly at your hotel, Airbnb, vacation rental, or any other place you choose in Monteverde.
If you would like to take a break, get something to eat, or take pictures of the scenery on your journey up the Monteverde mountains, you can make stops along the way. It will not be a problem for your driver to stop for you.
There are many ways to get to Monteverde, Costa Rica, but choosing this method will provide you with the best travel experience and a high level of comfort.
Different companies offer different deals and prices, so choose the one that fits your budget.
Prices for a private transfer to Monteverde:
1-13 passengers: USD 233
7-9 passengers: USD 249
GuateGo
On GuateGo you can check all available transportation options from Liberia to Monteverde. It is a reliable and easy-to-use platform to compare prices & schedules and to make a booking online.

4. Driving with Rental Car
Journey Duration: 2 hours
Taking a rental car is also a great option for exploring this beautiful place at your own pace while enjoying the scenery along the way.
Take off on an adventure from Liberia by taking the Pan-American Highway south towards San José. After passing through Bagaces, you will arrive at Cañas. Approximately 25 minutes later, you will reach the entrance to "Las Juntas." Take a left here and proceed for an hour and a half until you reach Monteverde.
As an alternative, you can continue on further south to Sardinal's entrance and turn left instead of taking Las Juntas. This will take a little longer, but the roads are in much better shape.
Remember that you will not find paved or well-maintained roads in all parts of Costa Rica – not even in popular tourist destinations. Rugged terrains often lead to challenging adventures. Nevertheless, arriving in Monteverde at the end of the journey will make it all worth it!
So if you're up for some adventure, this is the way to go!
5. Uber or Taxi
Journey Duration: 2 hours
Lastly, if all else fails, there is always the option to take a taxi. This is not the most convenient method of transportation, but it is a feasible alternative. You will pay more than you would for an arranged private transfer in Liberia, and you need to find a reliable taxi service.
If you have no other choice but to take a cab, expect to pay about USD 150. In any case, always negotiate a price with the driver before you set off!
Make sure you're cautious to avoid getting ripped off.
Frequently Asked Questions
How far is Monteverde cloud forest from Liberia?
Liberia and Monteverde Cloud Forest Reserve are located 79 kilometers apart. Their driving distance is 111.8 kilometers.
How safe is Monteverde Costa Rica?
Monteverde, like the rest of the country, is a safe area that is worth a visit when exploring Costa Rica.
Is it difficult to drive in Costa Rica?
Driving in Costa Rica during the day can be challenging. At night, it becomes more difficult. There is a high probability you will pass by the road or hotel you were looking for several times as road signs (which are already shoddy in some places) can be difficult to see in the dark.
Does Monteverde have hot springs?
Yes, it does! There is a beautiful cloud forest in Monteverde, where you can go hiking with a local guide and then relax in the famous hot springs, which originate naturally from the Arenal volcano.
More Routes in Costa Rica