Puerto Viejo is a world apart from the rest of Costa Rica. This Caribbean village is a countercultural breath of fresh air for those looking to get away from corporate sorting and package tours. Check out our guide for the best options to travel from La Fortuna to Puerto Viejo.
Puerto Viejo, Costa Rica is a magical place. Not only is it filled with hippies and dreadlocks, but it's also a place where yoga teachers outnumber office workers. In fact, pretty much everyone in the area is a yoga teacher or surfer who grew up on the beach!
Puerto Viejo is a coastal village in the southeast region of Costa Rica. Tropical, laid-back, and beautiful. In other words, Puerto Viejo is a paradise!
It might not be for everyone, there are no fancy hotels or Michelin star chefs. Although it has a storied history, it is not a traditional tourist town like Jaco or Manuel Antonio. But that doesn't mean there aren't tons of beautiful sights to see, things to do, or places to discover.
Tourists usually come here for peace of mind, and we guarantee you'll find it here too!
You can't help but smile as you take in the scent of coffee and ocean breezes as you're walking around in this unique village. The sounds of morning birds, pet monkeys, and neighbors chatting are a symphony in balance.
If you happen to be in the Caribbean, this little village has plenty of natural beauty and adventure to offer. Where does one start with a place like this?
The beaches are one of the most important aspects to touch on. They're pristinely white sanded and right off-shore are coral reef complexes that are great for snorkeling. It attracts plenty of backpackers, surfers, and people looking for adventures!
The locals here have done a magnificent job at preserving their lifestyle, culture, and traditions.
No matter where your adventures take you, make sure to explore each destination fully and check out some of the magnificent tours Costa Rica has to offer!
So, ready to enter paradise?
Check our guide for the best options to travel from La Fortuna to Puerto Viejo.
Read also:
How far is Puerto Viejo from La Fortuna?
La Fortuna is located 167 miles or 269 kilometers from Puerto Viejo. You can reach Puerto Viejo in 4 to 5 hours, depending on your mode of transportation.
I recommend the following websites to plan & book your trip to Costa Rica
The main transportation options to get from La Fortuna to Puerto Viejo are:
Shared Shuttle
Indirect Public Bus
Private Transfer
Rental Car
GuateGo
On GuateGo you can check all available transportation options from La Fortuna to Puerto Viejo. It is a reliable and easy-to-use platform to compare prices & schedules and to make a booking online.
Getting to Puerto Viejo from La Fortuna
Journey Duration: 6 hours
When you need to travel long distances such as this one, you should consider taking a shared van shuttle. Since Puerto Viejo is a smaller village, there are fewer transportation options available, and this could be one of the best!
If you are traveling alone or with only one partner, then this is an economical, safe and comfortable way to get to your next vacation spot.
Book your tickets as soon as possible since only one shuttle departs each day from La Fortuna at 01:00 PM and arrives in Puerto Viejo at 07:00 PM, so you don't miss your trip!
Caribe offers door-to-door service, so you don't have to worry about bringing your luggage everywhere, and the tickets cost only USD 74.
2. Indirect Public Bus from La Fortuna to Puerto Viejo
Journey Duration: 8 hours
If you are looking for the cheapest way to travel to Puerto Viejo, the public bus is your best option. Costa Rica has excellent bus transportation, but if you are trying to get from La Fortuna to Puerto Viejo, you must first stop in San Jose.
Although this option is not the easiest, it might be appealing to those who are willing to detour and explore!
So, if you enjoy adventure and want to save some money while exploring Costa Rica, this trip is for you. Although the journey takes a bit longer than usual due to the bus transfer, you can also explore San Jose on the way!
After you have taken a bus from La Fortuna to San Jose, you will need to catch the next bus at Terminal de Autobus Atlantico Norte which is located on Calle 12 in Barrio Mexico, between Avenidas 7 and 9.
Be sure to get the bus to Puerto Viejo de Talamanca or Puerto Viejo de Limon since there is another town in Costa Rica called Puerto Viejo.
The bus costs only 10 USD, and there are seven daily express buses that leave from San Jose to Puerto Viejo!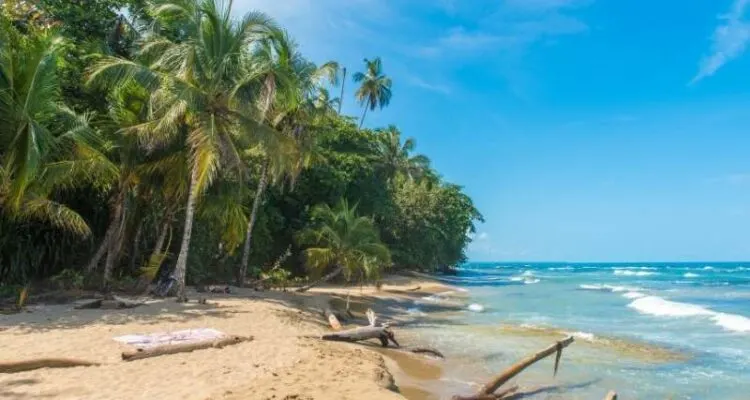 GuateGo
On GuateGo you can check all available transportation options from La Fortuna to Puerto Viejo. It is a reliable and easy-to-use platform to compare prices & schedules and to make a booking online.

3. Private Transfer from La Fortuna to Puerto Viejo
Journey Duration: Custom Time
Booking a private transfer in advance for your Costa Rica vacation is one of the best things you can do. Especially if you are traveling longer distances such as this one.
The benefit of booking a private transfer is that you are able to schedule your own trip, which gives you much more flexibility.
This option will also allow you to see some interesting sights and places that you would not otherwise have a chance to see. Stop along the way, have a lunch break, and enjoy the beauty of Costa Rica's nature!
Besides, this is a great deal if you're traveling with a larger group since you can split the cost and enjoy an incredible experience at a great price!
Prices for a private transfer to Puerto Viejo:
4. Driving with Rental Car
Journey Duration: 5 hours
Finally, the best and fastest way to reach Puerto Viejo is by renting a car in La Fortuna.
If you're up for a long drive and wish to explore while driving at your own pace this is a great solution. Renting a car in Costa Rica isn't very expensive, and it certainly provides you with loads of flexibility and freedom!
However, as soon as you arrive in this small Costa Rican village, you won't need a car, and you'll find out why for yourself!
Frequently Asked Questions
Do they speak English in Puerto Viejo?
Because Puerto Viejo is home to many Jamaican descendants and American and Canadian ex-pats, English is widely spoken there.
Are there crocodiles in Puerto Viejo?
They have only ever been seen on rare occasions. Several years ago one was spotted walking along the shoreline in front of a house. The ministry of environment comes to take care of such situations, even though they very rarely happen.
Can you drink the water in Puerto Viejo?
Despite the fact that the water is safe to drink, bottled water is available for a reasonable price if you prefer. Or, you can just bring or purchase a refillable bottle, and refill water anywhere.
How do you get around Puerto Viejo?
Bikes are the most popular mode of transportation in Puerto Viejo. Rental prices range from USD 3-12 a day for bikes, to USD 35-40 for scooters. However, a taxi is the best option if you plan on leaving after dark or early in the morning.
More Routes from La Fortuna, Costa Rica