How to Explore São Paulo, Brazil like a Local: Locals introduce their city.
In today's MYCITY interview, Gaía introduces São Paulo, Brazil. Send me an email when you'd like to present your city.
NAME, Profession
GAÍA PASSARELLI, freelance writer
Please introduce yourself:
I don't collect passport stamps, but like most travelers, I can sometimes be a bore and start sentences with "when I was in Kanyakumari…" and such.
My city:
São Paulo, Brazil, is the cultural capital of South America and one of the largest cities in the world. This urban jungle is a city built by hundreds of different cultures and heritages. I love it.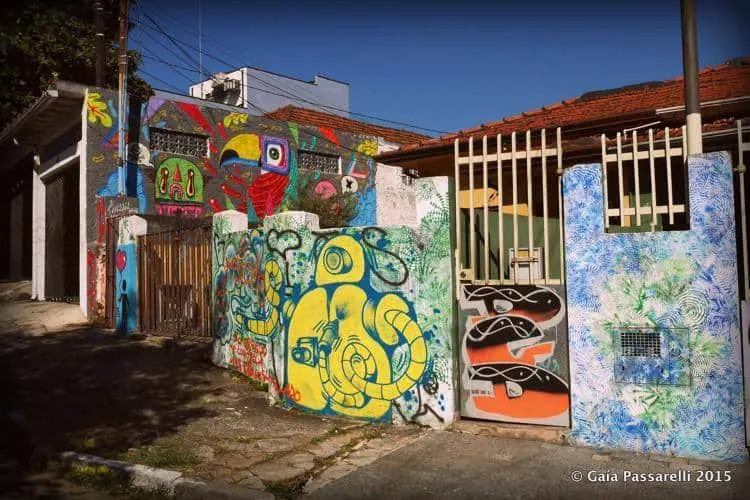 My favorite place to eat:
I tend to go to small and familiar ethnic restaurants in São Paulo. The city has large ex-pat communities of Italian, Japanese, Syrian, Portuguese, Armenian, Colombian, and many more nationalities, including Brazilians from the North coast, the Amazon, or the South. My currently favorite restaurant is a small, traditional Japanese izakaya called Matsu on Pedroso de Moraes avenue.
A typical dish of São Paulo:
Virado à Paulista: Beans with manioc flour, white rice, pork bites, fried banana, egg, and kale. It's very Paulistano and served on Mondays in almost every boteco and popular restaurant.
My favorite bar:
Sagarana, a beer joint in Vila Madalena (São Paulo's bohemian area, where I live). They serve dozens of local brews and make delicious pancetta sandwiches.
What about the Nightlife?
We have one of the best nightclubs in the world for electronic music; it's called D-Edge. The Pan Am club on the terrace of Maksoud Hotel is a great place for dancing and drinks with kick-ass views of the city. And if you're visiting around carnival season, there will be endless blocos (free parties on the streets) and samba rehearsals.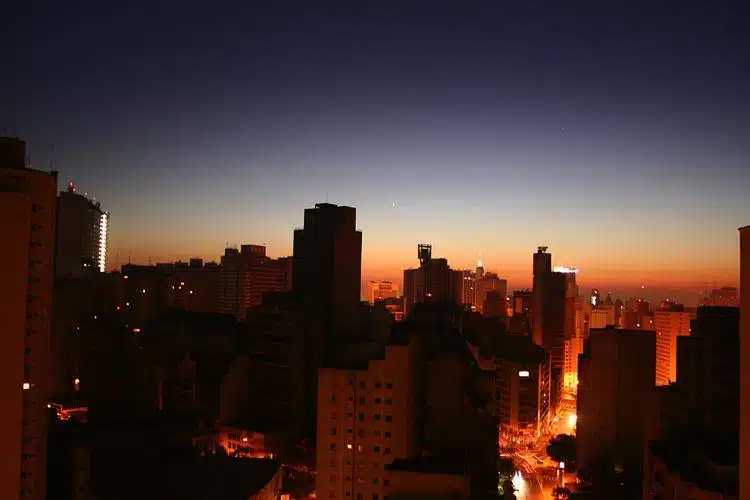 Things to do for free:
Paulista Avenue is our postcard, and when it's closed for cars on Sundays, it becomes an open-air urban park with music, food, people, bikes, and skates. The same happens every weekend at Minhocão, an elevated highway in the downtown area. During the week make use of our parks, they're all free and very green. I like Villa-Lobos and Ibirapuera.
Keep away of:
Shopping. Even though the real (out currency) is currently cheap for those with dollars or euros, everything tends to be quite expensive because of the country's abusive taxes.
Best way to move around:
The subway system. Uber and several taxi applications are available but don't expect drivers to understand English or Spanish – that's a reason to learn a few phrases in Portuguese.
Best place for the first date:
Madalene, a romantic and discreet bar in Vila Madalena. And La Tartine, an old French Bistrot in Consolação area. And going for a stroll in a park during the day can be quite nice.
Best place to meet locals:
The streets! There is all sort of events happening in São Paulo all year round. Vinyl bazaars, open-air concerts and films, weekend cycle lanes, street markets, and barbecues. The best way to know about all this is Facebook: follow SP24hrs and Catraca Livre.
Best place to relax:
Bookstores. There's this saying that Brazilians don't read, but it's packed with people every time I enter a bookstore. Livraria Cultura (inside Conjunto Nacional, on Paulista Avenue) and Livraria da Vila (on Alameda Lorena) will amaze architecture fans, and you're welcome to grab a book, sit down and enjoy a coffee or talk.
Best spot to watch people:
Avenida Paulista on a Sunday afternoon. But if you're in for fancy dinner and gorgeous people, go to Spot Restaurant any night of the week. You're never short on fine options when dining in São Paulo, but I like Spot because it's been there for more than two decades. Hypes come and go, but their food and ambiance stay great.
Where to stay?
Guest Urban Hotel. It is a new boutique place in a restored 60s house in the heart of Pinheiros neighborhood. The place is very comfortable and has a cool vibe. If you're more a hostel person, there are some in Vila Madalena. And if you have money to spent, book no other than Fasano Hotel, a lesson in Italian elegance.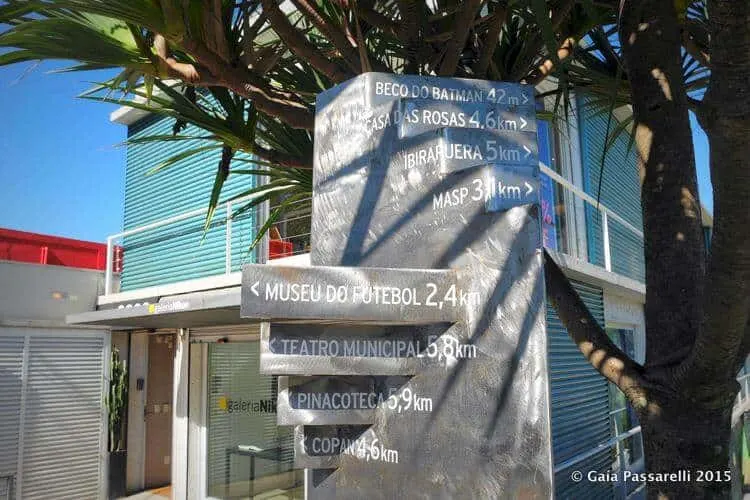 Five hot tips for enjoying São Paulo:
Walk downtown.
You'll hear Paulistanos complain that the old center is dangerous, decadent and dirty. It is. But it's also the most interesting part of the city, and mandatory if you want to understand São Paulo. Here's an itinerary I recently wrote.
Enjoy Praça do Pôr do Sol
When Paulistanos say "the views are great", they often mean a vast sea of grey buildings. But not here. This street park in a residential area faces the University City and Parque Villa-Lobos: a lot of green! You can come here anytime and sunsets can be gorgeous. PS: avoid if you're not comfortable with people smoking marijuana (baseado, in Portuguese).
Go to a street cinema.
Most people go to theaters inside shopping malls which is a shame since we have a tradition of cool street cinemas. Some are still open and offer great programming of independent, foreign films. Try Belas Artes and then cross the street for a drink or coffee at Riviera Bar on the corner of Paulista and Consolação Avenue.
Take a tour with Bem São Paulo
This group is new on the scene but they offer some original tours in all parts of the city. The crew consists of two Brazilians and one North-American guide, ready to show and tell São Paulo's history and culture.
Mercado de Pinheiros
Cantareira, the traditional downtown "Mercadão", is the supplier of most restaurants and hotels of the city and is an interesting visit. The Pinheiros market is more of the local market kind, the one people in the area use to buy fresh products. On the top floor there is Checho's restaurant, serving grilled chicken and fresh ceviches with Colombian flavour. Avoid the 1-3PM crowds, because Checho is open until 6 PM, every day.
One thing you would like to change about São Paulo?
I'd like Paulistanos to appreciate theirs as a very cool city. It's expensive and can be difficult to navigate and understand, that's true. But every single day, there's something to see, to do, to taste. More than everything, I'd like people to stop throwing garbage on the streets, from candy wraps to cigarette burns. That's a terrible, nasty, dirty habit many of us still have, even after decades of educational campaigns. It's not uncommon to see garbage bins empty, with trash on the sidewalk. That drives me mad.
Gaía Passarelli is a freelance writer from São Paulo, Brazil. With a background in music, she worked as a TV host and reporter at MTV Brasil for several years and, back in 2013, started a slow transition into travel writing. Gaía loves city life, all kinds of food (but especially Italian!), and long train travels and shares a lot about it on her website. She is part of the #3TravelBloggers project from Avianca company and portrays her São Paulo life on Instagram and Snapchat (gaiapassarelli).
ARE YOU KEEPING UP WITH MY SOUTH AMERICA SERIES
One of the BEST PLACES TO VISIT IN SOUTH AMERICA is the SALAR DE UYUNI, THE SALT FLATS IN BOLIVIA. Another great adventure is CYCLING ON THE DEATH ROAD IN BOLIVIA.
The Galapagos Islands are one of the most famous island archipelagos in the world. Check out my 10-DAY LAND-BASED ITINERARY GALAPAGOS ISLANDS and my COMPREHENSIVE GUIDE ABOUT THE GALAPAGOS ISLANDS.
Are you on Pinterest? Pin this!