How to Explore London, the United Kingdom like a Local: Locals introduce their city.
In today's MYCITY interview Bianca from "ITS ALL BEE" introduces London, UK. Send me an email when you'd like to present your city.
NAME, Profession
BIANCA MALATA, IT Consultant by day and Travel Blogger by night.
Please introduce yourself:
My name is Bianca, but most people call me Bee.
Coming from a family that has always traveled, you could say that I was born with a serious case of incurable wanderlust.
If I am not dreaming about my next destination, I am probably writing about a previous trip.
I love adventures just as much as I love relaxed and chilled holidays, so my blog is a mix of mountaineering adventures, city breaks with a little lifestyle thrown in.
My city:
London, UK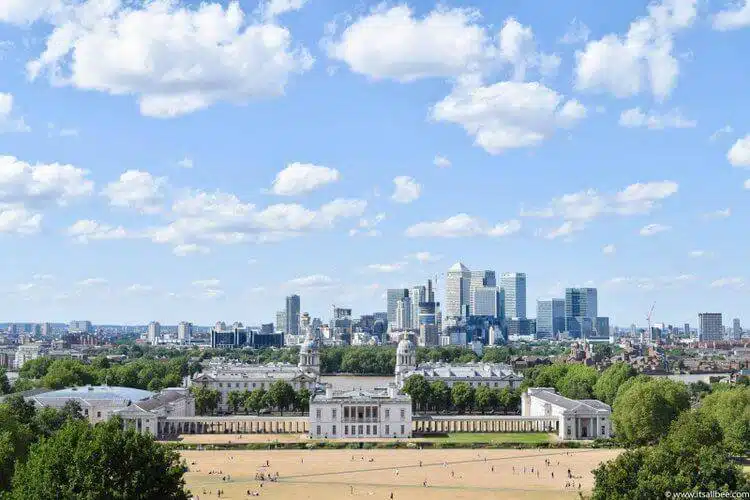 My favorite place to eat in London:
Wagamama. English meets Japanese. I have eaten in many of their branches around London and the UK.
The next on the favorite list of where to eat in London is this little Ethiopian place on Old Kent Road called Enat Guada.
It's a small place with simple décor and a simple menu, but the food speaks volumes as it is finger-licking good!
A typical dish of London:
In a typical cosmopolitan city such as London, there really is no typical dish (unless we are talking fish 'n' chips).
You will find all kinds of restaurants that you can think of. I am fortunate to be living fairly centrally.
If I indulge in Argentinian, Moroccan, Ethiopian, Polish, Nigerian, Japanese, Indian, French, Italian, and British food, they are all within a stone's throw without getting on a bus.
So whatever you are up for, you will most likely find it.
My favorite bar in London:
If you are after views, bars like Vista bar (overlooking Trafalgar Square) or Madison bar (overlooking St Pauls Cathedral and the city) are perfect.
My all-time favorites are hidden behind alleyways in Bermondsey Street. Some are quirky, artsy, and some traditional.
I love that I have quite a selection depending on my mood.
What about the Nightlife in London?
Head to Convent Garden.
If you want theatres, there are plenty. If you want modern, quirky, and classy, hidden, private bars, then you will find them here.
Together with restaurants and street entertainers while you eat out in many of the restaurants with outdoor sitting. This area also has a few night clubs so you can hoop around until you find one that takes your fancy.
Check out this post to find out more about the best London nightlife areas.
Tip: Explore one of London's most famous nightlife neighborhoods on a 6-hour pub crawl of Camden Town.
Things to do for free in London:
If you are into art, then check out Satcchi gallery in Sloane Square as well as Tate Modern is a great place for modern art and offers great views of St Paul Cathedral.
There are plenty of Museums.
There are alternative street tours where you only pay what you can afford.
I love architecture and the detail that goes into these, even if it's not pretty on the eyes, so if you are like me, you will have more to see than perhaps the time you have time for.
Check out sites like the Londonist, Southbank org for free things happening in London. They are also dated, which helps plan your activities.
Tip: Best things to do in London
Keep away of:
Oxford Street and maybe even Knightsbridge. It's crowded with tourists who seem to move in slow motion.
Instead, tour the city by boat and head over to Greenwich. Check out the Greenwich museum, take in the views across London from the observatory, and taste local foods at the Greenwich market.
Check out the Greenwich museum, the painted hall in Naval College.
Best way to get around in London:
The underground is easy to navigate and quickest to get around, but it also means you miss out on the sights in between.
My advice is to bring comfortable shoes and walk as much as possible and use the bus when tired. That way, you will see more of the city and discover something "off the beaten track."
You can actually see a lot of London by just walking along the River Thames and disappear into the back streets to explore deeper and then back onto the river.
Tip: Get the Gatwick Express: 1-Way or Return London Train Ticket to get from London Gatwick Airport to central London.
Best place for first date in London:
This one is tough as it really depends on your style.
I have had really great dining experiences on boats in London. There is the Bateaux Dinning experience which cruises the Thames, or The Sunborn, which is stationary but nevertheless luxuriously romantic with great views of the Canary Wharf and Greenwich skyline.
Other than that, any place that allows you easy access back to the river for an evening stroll.
What's more romantic than having a breezy stroll with London's perfectly lit skyline as a backdrop for your first date?
Best place to meet locals in London:
Check out Brixton Village. Not many tourists venture out to this part of London, but it had a lot of work done and has great markets, independent shops, and exotic food stops.
Best place to relax in London:
I love being near water and if there is a park nearby then even better!
My little hideout lately is Battersea Park.
It's big enough to have moments of peace for yourself. There is a beautiful Pagoda that makes it feel as if you have momentarily escaped the hustle and bustle of the city and into an Asia city of calm.
It's also right by the river, so plenty of people-watching opportunities as the boats whizz up and down the Thames. Later in the day, you have a perfectly lit Albert bridge which adds an element of romance in the ambiance it creates with its lights.
I have a series on the blog covering London's beautiful parks.
Best spot to watch people in London:
Trafalgar Square or London Bridge, as tourists march up and down the sights with their selfie sticks, makes for a rather entertainment-filled day as they make faces into their phones. At the same time, you sit with a coffee cup in hand, wondering how many selfies are being uploaded to Instagram in the time you have been sat there.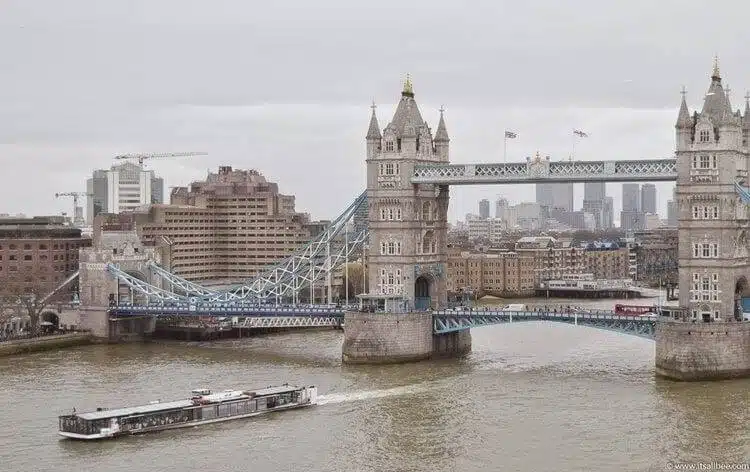 Where to stay in London?
I am a big fan of Marriot hotels in that they are usually well located plus the fact that I earn a lot of points on their reward scheme as I travel for work sometimes.
If you are coming to London, there is a Marriot right next to London Eye. If you want luxury and can afford it, then Shangri-La at the Shard has sickeningly awesome views.
If you are conscious of your budget or love to be well located without paying eye-watering high prices, here are some options.
There are a couple of hostels greatly located Borough High Street; Dover Castle hostel or check out St Christopher's Inn, which has 3 hostels right near London Bridge. Another hostel in the city's heart is the YHA in Cater Lane, which site one street away from St Pauls Cathedral.
For a budget somewhere in the middle, check out Travel Lodge, Premier Inn, which has many branches around London, and check out some of the more independent spots dotted around London.
When it comes to accommodation in London, we are not as accommodating on the wallet (see what I did there..), but there are some bargains to be found if you only take the time to do a little research.
Click here for the Top 10 luxury hotels in central London.
Five hot tips for enjoying London:
1. Check out the museums and galleries as they are not only great for the art, but the buildings are as worthy as the contents and worth seeing in their own right.
Places like the V&A, Science Museum, Tate Modern, and Greenwich Museum, and if you have time, you can also add palaces if you are into the monarchy.
2. Check out East London for a colorful splash with street art-infused walls, independent boutiques, and pop-up bars and restaurants.
3. Check out the Sky Garden within the Walkie Talkie building, which offers amazing views across London's skyline. It's also free, unlike the £25 you have to pay at the Shard.
Tip: book breakfast in the café or any of the two restaurants to bit the queues for the free tickets, which can sometimes have a month-long wait.
4. Check out London's Markets. Borough Market sits right in the city, and here you will find food stalls serving up pallets from around the world. Head to Colombia Market if you are a lover of floral things.
Portobello market for vintage, beautiful Instagram-worth houses, clothes, jewelry, and all things wild and youthful.
5. I could add another place to visit, but my best advice is for you to put the map down and get wonderfully lost in this beautifully crazy city.
One thing you would like to change about London?
Other than adding a proper summer season to the city's calendar, I wouldn't change anything.
Bianca, a Zambian-born Londoner that spends her days wanderlusting about faraway destinations whilst slaving away as an application developer. When not glued to a laptop, she spends her weekends exploring the beautiful cities around the UK, with longer vacation days left for exploring the rich and exotic lands with reliable and promising sunshine sources. Find her tales of adventure on her blog at itsallbee.com and follow her on facebook, Instagram, and twitter
More London Internet Resources:
1. Day tour to Windsor Castle, Stonehenge, Lacock, and Bath.
2. Are you looking for a more active sightseeing tour? Then explore London by Kayak.
3. Things to do in London with kids.
Are you on Pinterest? Pin this!