How to Explore Bielefeld, Germany like a Local: Locals introduce their city.
In today's MYCITY interview, Robert introduces Bielefeld, Germany, where he moved a long time ago for study. Send me an email when you'd like to present your city.
NAME, Profession
ROBERT B. FISHMAN, freelance journalist, author, and photographer.
Please introduce yourself:
I am a freelance journalist, author, and photographer. I am traveling a lot.
My city:
Bielefeld, Germany
Related Posts: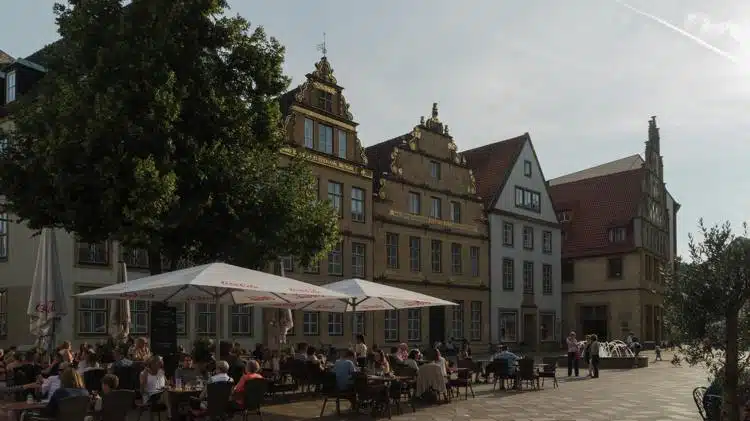 My favorite place to eat in Bielefeld:
"Queers" on Neumarkt right in front of America House with the city's public library serving good vegan food and La Strada in the Western Part of the city.
A typical dish of Bielefeld:
Pickert, a kind of potato mash fried in a pan served with Rübenkraut, is a sweet kind of jam made from sugar beet. Also famous: Wurstebrei: different kinds of sausages mashed together. Frankly, I don't like this kind of stuff, but you have to try it yourself.
My favorite bar in Bielefeld:
Cult Chamber: An old dancing hall built in the early 1900s on top of an old refurbished pub. The owner is living there and loves to organize concerts and other cultural events in his kind of living room, where he has installed a stage and a bar serving drinks.
Gegenüber: A small trashy modern little bar on the southern side of newly rebuilt Kesselbrink square. mainly young people and skaters meet there because they have their huge skating and BMX-bike ground just in front, Friedrich Verleger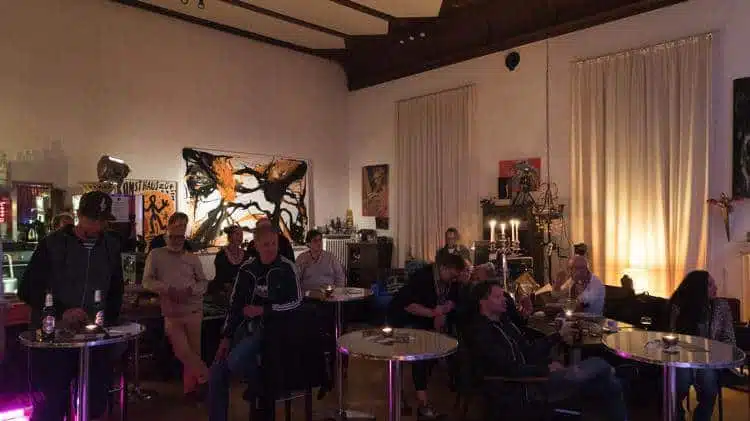 What about the Nightlife in Bielefeld?
There are several clubs such as Forum in an old factory hall ("Boge Fabrik"), Scala (an old cinema) and Sam's, a bar and discotheque Sam's in an old house in the city center.
We have some free stages such as Theaterlabor and Alarm Theater with outstanding productions if you like theatre. Best cinemas are Lichtwerk and Kamera.
Things to do for free in Bielefeld:
Bielefeld is very green. You can spend hours walking, hiking, cycling, or running in parks and the Teutoburger Wald, a huge forest crossing the entire city.
Visiting the main landmark of the city, the 13th-century castle Sparrenburg is for free too. On Siegfriedplatz, people love to sit outside. In the summer, they provide an open-air cinema, and on the last weekend of June, there is a nice neighborhood festival.
There is a very nice open-air market on Wednesdays and Fridays with the Bürgerwache community center serving good homemade food at 12 a.m.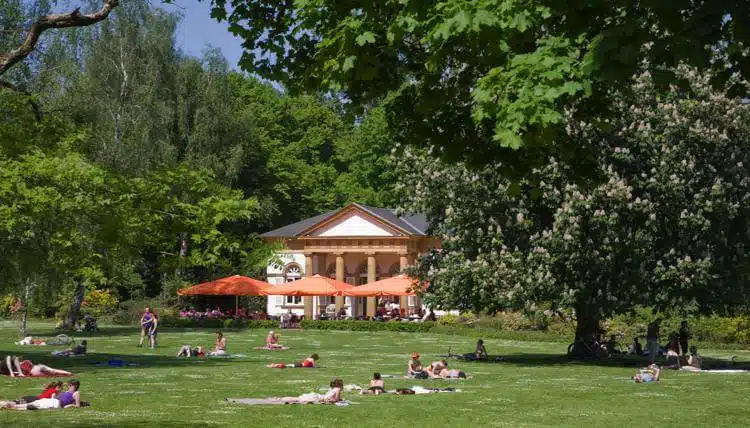 Keep away of:
Nothing special.
Best way to move around in Bielefeld:
You can easily walk around the city center. Public transport with 4 tramway lines and buses is not bad either. Find them on www.mobiel.de
Best place for first date in Bielefeld:
Do you want to go for dinner or a romantic walk in nature? You have the choice.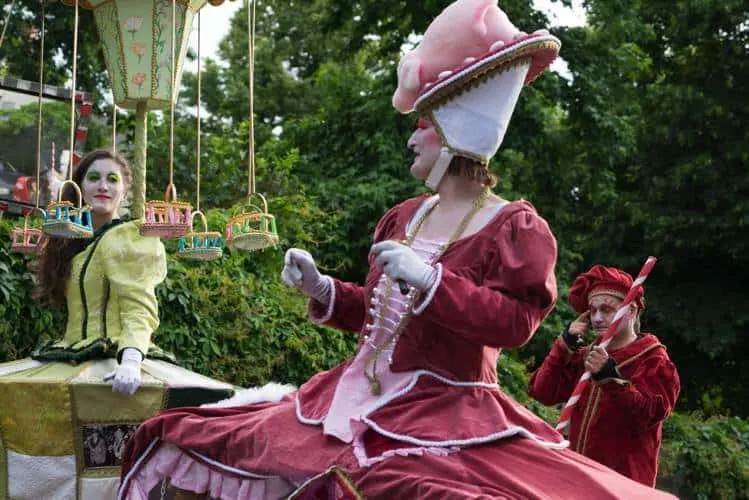 Best place to meet locals in Bielefeld:
They are all around. We do have very few tourists.
Locals love their Weihnachtsmarkt (Christmas market): the best place is Alter Markt at the Lions stall where they serve Glühwein (hot wine), but it tends to be very crowded there. Sigfriedplatz (called "Siggi" by the locals) is a trendy spot too.
Best place to relax in Bielefeld:
In the summer, it is the Santa Maria Bar (May till Sept. if the weather is warm and dry): A beach bar with deck chairs in the sand on top of a parking deck in the city. Duene 13 is nice too, a beach on the shores of the only lake in the city ("Obersee" in the North of the city, unfortunately, it is not for swimming) with a beach volley field.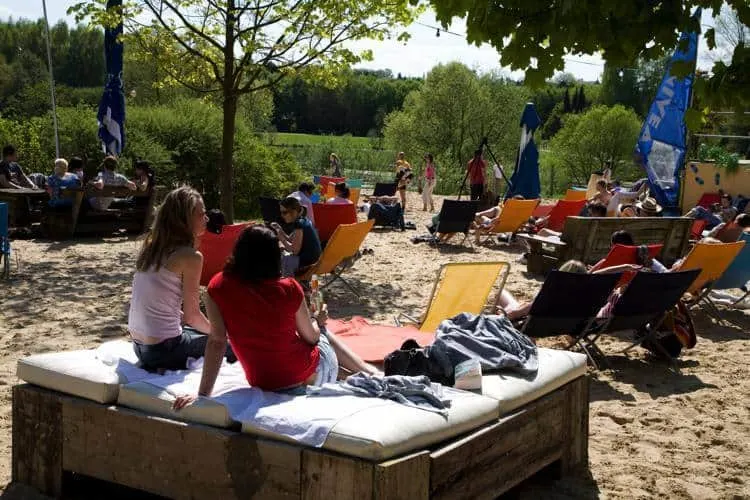 Best spot to watch people in Bielefeld:
It depends on what kind of people you want to see. Alter Markt and Gehrenberg Street, south of it with many cafes and restaurants, is a hot spot for watching people, also "Altstädter Kirchplatz" with a little park and Kunsthallen-Park.
Where to stay in Bielefeld?
Hard to say; I never stayed in a hotel or hostel in the city I live. Jugendgästehaus is not bad for reasonable prices (August Bebel Straße, Dürkop Tor 6). The new building was part of the Expo 2000 world exhibition.
Then you have a new B&B Hotel on Boulevard right beside the major indoor swimming pool and saunas Ishara on the "Boulevard"the year 2000 built new area with lots of bars, restaurants, a night club, and the Cinemaxx cinema right behind the main train station.
Now they are building a new 4 Star Hotel on Neumarkt in the city center. In the Altstadt (old town, which has been built mainly in the 1950s because most ancient buildings there were bombed away in WW II), Ravensberger Hof is a nice and cozy little hotel.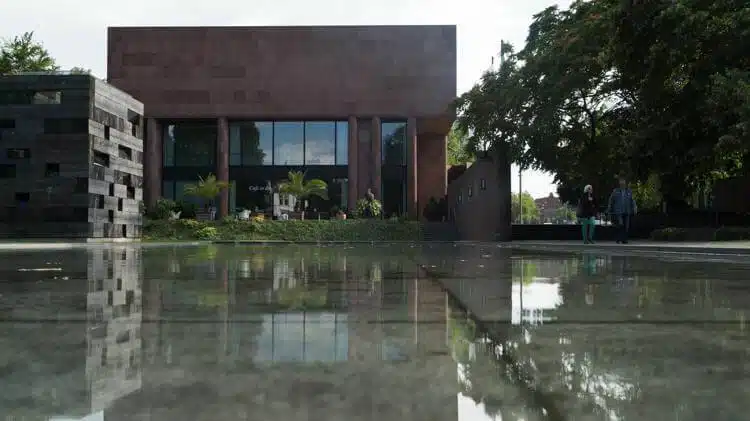 Five hot tips for enjoying Bielefeld:
Take a walk around arts park Kunsthallenpark.
Enjoy the view over the city from Sparrenburg Castle and it's old tower.
Spend a wonderful concert evening in Cult Chamber.
Visit Alter Markt square especially when the weather is nice and many people are sitting outside in bars and restaurants.
Just follow the other advices here ;-)
One thing you would like to change about Bielefeld?
People could be more proud of their city and more open-minded welcoming visitors. Cars should be banned from the city center like everywhere.
I am Robert. I grew up in Munich, Germany, where I still live a part of my life. My city and main home town are Bielefeld, where I moved a long time ago to study. Most people think it's a boring provincial place which in some ways is true. On the other hand, it is very green. Ways are short, and you find everything you need on your doorstep. We have an organic farm just a mile away from home where we buy excellent fresh food. The tramway takes us to the city center within 10 minutes. There you find theatre, cinema, bars, and restaurants. The two universities bring in a lot of young people, who make the city move a lot. The long-distance train station provides fast connections to Berlin, Hamburg (2 1/2 hrs. each), Cologne (2 hrs), and other major cities. I am working and traveling a lot as a freelance journalist-author and photographer. Find more about me on: about.me, and twitter.
Are you on Pinterest? Pin this!