How to Explore Amsterdam, The Netherlands like a Local: Locals introduce their city.
In today's MYCITY interview Grietje from "TravelGretl" introduces Amsterdam, The Netherlands, where she is living since 2010. Send an email to info[at]universal-traveller.com when you'd like to present your city.
NAME, Profession
GRIETJE from TravelGretl, videographer by heart and freelance voice actor by profession.
Please introduce yourself:
Hi there, Grietje here! A 20 something Dutchie with a big love for exploring the world. My favorite countries include Myanmar and the Philippines, and high on the list are Alaska, Bhutan, and Tibet.
But I love my own city too! I am originally from the south of the Netherlands and became an 'Amsterdammer' since moving in 2010. Because you can be an Amsterdammer by birth, but this city is open for adopting citizens too.
My city:
Well, you guessed it: Amsterdam!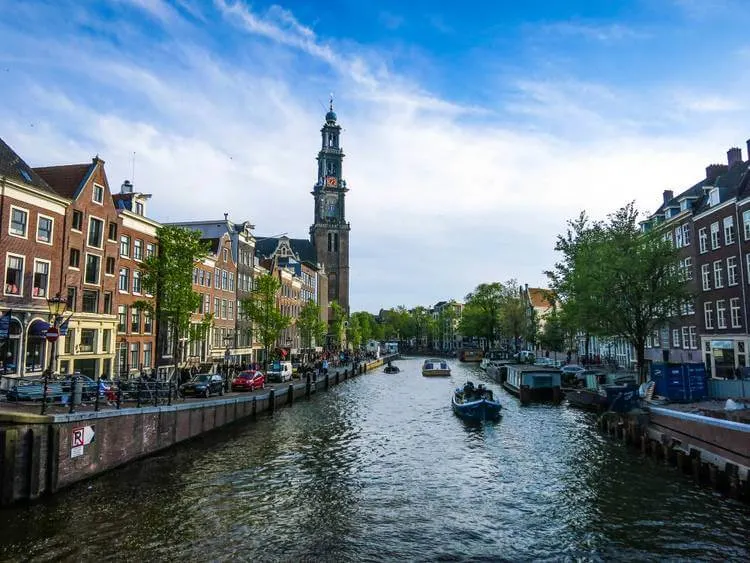 My favorite place to eat in Amsterdam:
There are many great places to eat in Amsterdam! One great place is A-Fusion, near the "nieuwmarkt". We always go there when there's something to celebrate, like a birthday, or the simple fact that it's Sunday.
But SIAM, a thai place just around the corner, is also a place I love to hang around.
BAK is cool, a bit out of the center, and visited by mainly locals. They got not much on the menu, but what they make tastes great!
A typical dish of Amsterdam:
Includes many mashed potatoes and vegetables!
Especially in winter, we eat many 'stamppot' where potatoes are combined with mashed carrots and onions, or some typical green veggies.
Some balls of mashed beef in red sauce accompany them. And when you make it as I do, you put a bit of old Dutch cheese in there too.
That makes it really yummy! In winter it's great, cause these dishes are pretty filling.
My favorite bar in Amsterdam:
Cafe Langendijk. Right next to the famous 'Brouwerij 't IJ'. Well, actually, both places are amongst my favorites.
In summer, you find yourself under the windmill drinking Brouwerij 't IJ's famous beers or going for a homemade lemonade at Langendijk.
They also make their own sangria! And ginger ale and iced tea…..
Check out this Amsterdam beer guide with more bar and pub recommendations.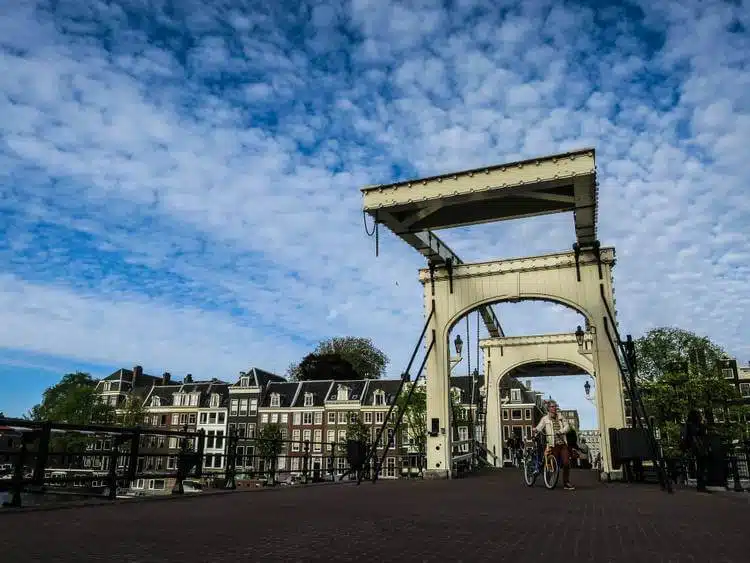 What about the Nightlife in Amsterdam?
Sorry guys, I have to disappoint you! I got my ears damaged, so no clubs and music places for me.
Things to do for free in Amsterdam:
Stroll around the canals and bridges to find yourself amazed by the beautiful architecture. Don't get run over by a bike, though.
In summer you can go to the Vondelpark, where people will picnic and barbeque. There are also open-air concerts, things like that.
Or go swimming in the canals! I love to do that in summer!
You can also walk around the Jordaan district that offers charming cafes and beautiful cobblestone streets.
Keep away of:
Taxi drivers. Well, it would be bad to say they're all bad. But just grab the train from Schiphol and go by public transport after.
It's cheaper and less of a hassle in the end! In my humble opinion. Or…
Best way to get around Amsterdam:
Drive a bike! After all: It's Amsterdam! If you did not drive a bike, you've not really been here. Lekker fietsen!
Read also: Best Amsterdam Cycling Routes.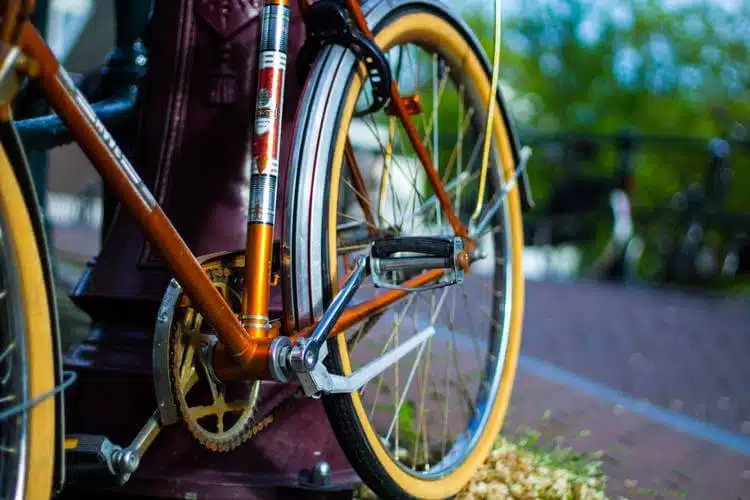 Best place for first date in Amsterdam:
Just pick any bridge and stare over the water together. Or, if you want to be more active, visit the NEMO science museum. To have a lot of laughs on your first date.
Best place to meet locals in Amsterdam:
Vondelbunker. A place run by people from the squatting scene. It's hidden under the bridge in Vondelpark and has a really cool underground scene at night.
They're not always open, so check out their website first!
Best place to relax in Amsterdam:
Any park you can find. Vondelpark, but also Oosterpark – when it's finished, they're renovating at the moment.
Best spot to watch people in Amsterdam:
At the Dappermarket. I believe strongly if you'd be there every day, one month, you'd be able to meet people from every single country in the world.
It's incredibly mixed! Just a normal fruit and food market – but go here for the people!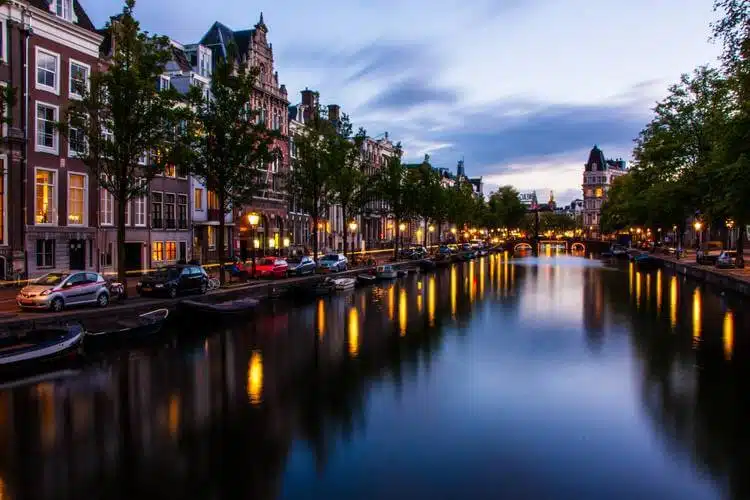 Where to stay in Amsterdam?
You ask a local that? No idea, really!
Maybe the Hans Brinker budget hotel? It seems to be the worst in town, and they're proud of it. It must be an experience!
Five hot tips for enjoying Amsterdam:
Go to the NDSM werf – the IJHALLEN – and enjoy one of the biggest fleemarkets of Amsterdam. Amazing! My favorite place!
Swim in the canals in summer. Two great spot is the Borneokade. Mainly locals there!
Visit the Vondelbunker or the OT301 – see a different side of Amsterdam.
Take your camera and wake up early morning, when the sun is right (in autumn for example) you'll make some amazing shots of the canals and the city waking up! All colored leaves, amazing!
Visit the Gay Parade or any other big event in summer. Or kingsday? Everyone is on the streets, celebrating. It's just amazing! Really great vibes!
If you want to explore more places in The Netherlands, then look at these Day Trips from Amsterdam. Also, check out the best time to visit Amsterdam and learn more about the fascinating history of Amsterdam.
One thing you would like to change about Amsterdam?
The image a lot of people have about this city. The center, around Zeedijk and the famous Wallen, doesn't feel like Amsterdam anymore to me. It feels like some kind of Disneyworld, where many grown-ups get really drunk and stoned and don't give a shit about where they are anymore.
Ok, maybe that's too harsh – but still, I feel many people come over for the drugs and nightlife, which starts to become problematic like things get problematic in Barcelona too. If you come, please, take your time to get to know the city, go out of the center, and talk to the people.
Go to bed early at least one night so you can see the sunrise over the canals with a clear head – it's so worth it! It's such a beautiful city, let's try not to ruin that.
Are you on Pinterest? Pin this!