Only few walking minutes from the well-known historic center of Cartagena in Colombia, you find the Getsemani barrio, which turns out to be the new hip and urban place to be in Cartagena. Getsemani served as the slave's barrio, buildings have hardly been renovated, there are not many fancy hotels but Getsemani counts to the liveliest and colorful streelive in Cartagena.
At the very south of Getsemani you find the Hotel Armeria Real Luxury and Hotel and Spa, only 4 years old, a huge building at the corner, recognized by its red color. At the entrance you see the nice courtyard with a small water fountain, creating a nice ambience.
Related Posts: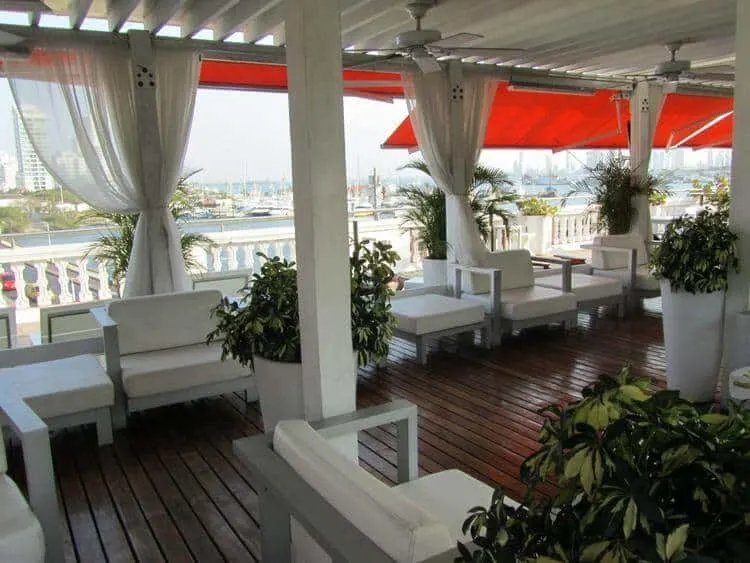 Rooms
Around the courtyard there are placed 40 rooms on ground, first and second floor, which can be reached by stairs or elevator. You can choose between 6 different room categories: Armeria Suite, Junior Suite, Superior Duplex, Classic Duplex, Superior and Classic Room.
All rooms are equipped with comfortable beds, private bathroom with shower, L'Occitane amenities, WiFi, mini-bar, safe-deposit box, iPod base and alarm clock.
Different colours, decorations and keeping the modern style in mind, each room is individually designed. Each room has a kind of living room, which makes the room very spacious, ideal for people who need more space to accommodate themselves or for business people using this space for working.
The core of the hotel is the courtyard decorated with flowers, plants and a small water fountain, creating a relaxed atmosphere and possibility to get the dinner served at on the of tables.
The lounge area at the third floor is definitely the highlight of the hotel. With an exceptional view to the new city, San Felipe Castle, La Popa you can enjoy a cocktail, the swimming pool and recap the days you spent in Cartagena.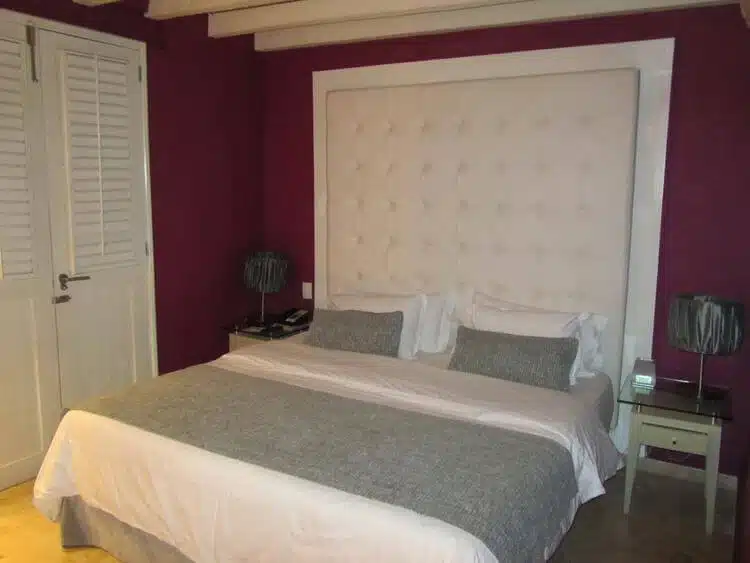 Amenities
During the days I spent there, the courtyard was mainly used for guests waiting to be picked up or working with the laptop. If you want to relax with a cold drink, go to the rooftop terrace, go in the early afternoon to catch some sun, it is getting cold in the late afternoon, evening.
Breakfast, lunch and dinner is served in the restaurant "El Reducto", or if wished in the courtyard or rooftop terrace (breakfast). Breakfast is complete, the buffet offers bread, rolls, fruits, eggs, cheese, jam, juice, coffee. The cuisines focuses on Mediterranean and Caribbean Fusion Cuisine. The restaurant and rooftop terrace is also open for the public. Sometimes they do host VIP shootings.
Spa service is offered as well, with hydromassage bath and massage shower cabin.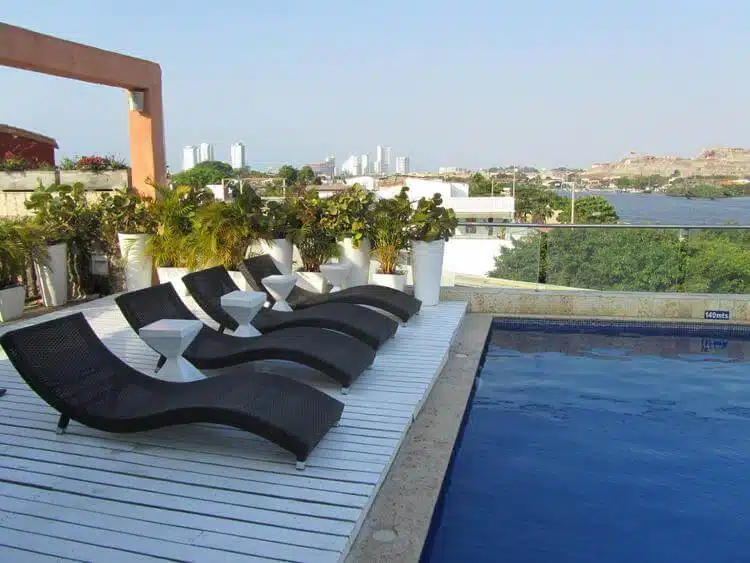 Conclusion/recommendations
The rooms are colorful but yet a little bit too dark. Some more natural light would be nice and would create a warmer atmosphere.
At a first glance the hotel and hotel amenities (rooms, rooftop terrace, lounge area, courtyard) give a luxury impression, but having a closer look the quality of furniture material (desk, lamp, couch, chairs, table) could be better. It feels like as if I am sitting on plastic, which does not coincide to "luxury" or 4 Stars. The design is a mix of different styles: modern, colorful, black-white, 80's in my opinion too much mixture which makes it difficult to identify the real design of the hotel.
The rooftop terrace and lounge area with its spectacular view is the place to be and often used as scenery for photography sessions. But the hotel should not rely on this plus, there is much more potential in this hotel to convert it to a better quality hotel. The deck chairs do not have any pillows, they are made out of wood, just a towel is not sufficient to make it comfortable lying on the chair.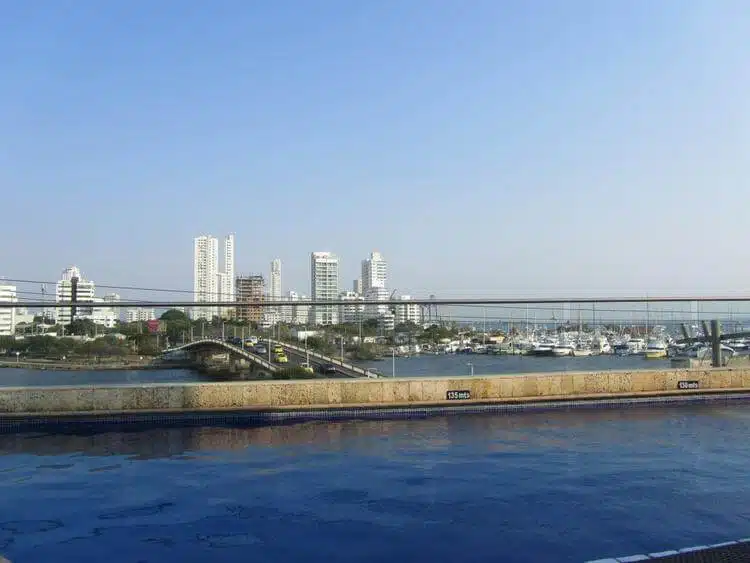 The floor of the restaurant was not clean, I was one of the first guests having breakfast at 07.00am and without looking for it I saw dust and some food crumbs from the day before, I assume.
My room however was clean, but during breakfast I was talking to an elderly couple (about 60 years), they told me they have small "sugar ants" in the room and interestingly they had the same opinion about the hotel: first view "Wow" but second view disappointment about quality and cleanliness.
However, the service was good, nice and helpful staff and breakfast buffet complete.
I would not give it more than 3*, as for a Luxury Hotel with internationally recognized 4*, I would expect better quality in regards to design, interior and comfort. It is a pity, as the location and view from rooftop terrace is perfect. The hotel could do much better!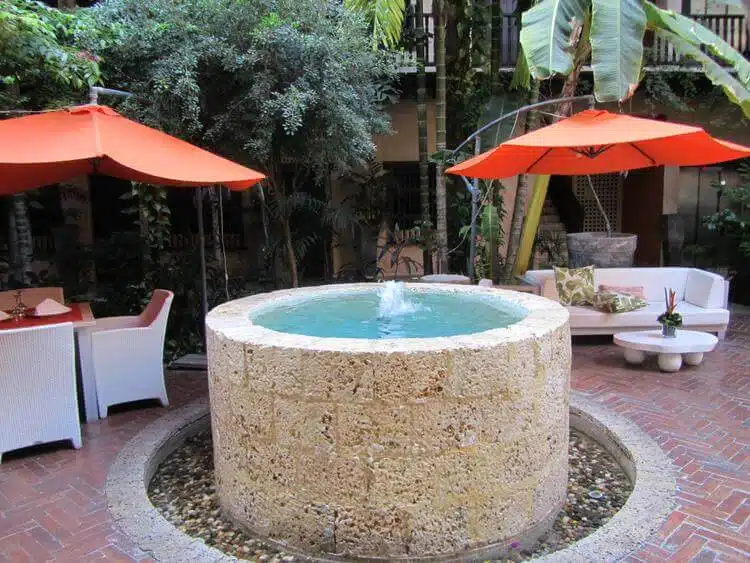 For more photos, information and prices check Agoda.com* or Booking.com*
Ever since Mareike did her first 2months of stay abroad in Fort Lauderdale, 12 years ago, she got passionate about traveling and living abroad. For her, it is a feeling of freedom to discover new landscapes and experience different cultures, as it makes her happy! She lost her heart to the countries of Latin America (till now) and since October 2013 she has been living in Costa Rica, designing happiness for people wishing to discover Costa Rica, Panama, Nicaragua. She is working on her social media presence and currently creating her blog MyGoAway focusing on hotels, regions, and individual vacations for Costa Rica, Panama, Nicaragua. Follow her on Facebook, twitter and instagram.
Disclaimer: Mareike was a guest at Armeria Real Luxury Hotel and Spa Cartagena, Colombia. Her opinions, as always, are solely her own.
ARE YOU KEEPING UP WITH MY COLOMBIA SERIES
Read here WHY COLOMBIA SHOULD BE YOUR NEXT TRAVEL DESTINATION.
To help you plan your trip to Colombia I put together a list of THE BEST THINGS TO DO IN MEDELLÍN and BEST THINGS TO DO IN BOGOTÁ.
If you want to extend your stay in South America don't forget to check out my ultimate list of BEST PLACES TO VISIT IN SOUTH AMERICA.