Sponsored Post
Cost is often what decides when and how we travel.
Barring a lucky few, almost all of us have to think in terms of dollars and cents when planning our travels.
For almost every trip, the two biggest travel expenses you'll encounter are (a) how much it will cost to get there and (b) how much it will cost to stay there.
That second expense, how much it will cost to stay where I want to stay, is often rife with misinformation and fluctuating prices.
For both the casual traveler and the seasoned nomad alike, all the travel sites, hacks, and workarounds can be hard to navigate.
But here at Universal Traveller, we've discovered one company that takes the guesswork out of booking accommodations worldwide, all while guaranteeing that you'll never find a cheaper room at the same property on the same day.
That's the promise Club1 Hotels makes, and they deliver.
What is Club1 Hotels?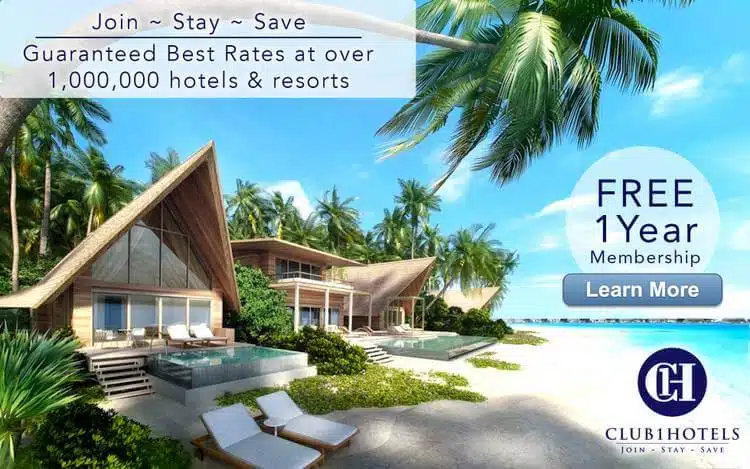 Club1 is essentially a reseller of hotel rooms.
But wait, you say, isn't cutting out the middleman the secret to saving money on travel?
It can be, but Club1 is one exception where that's definitely not the case.
They buy rooms from some of the world's top properties and chains in over 200 countries at bulk rates that would never see the light of day on public-facing non-membership sites like Expedia or Booking.com.
Then, they pass those savings onto their members.
Hotels and properties allow Club1 to buy rooms in bulk at these insane rates (and we'll get into just how insane they can get below with some side-by-side comparisons) because they know that Club1 is a membership site that won't offer their deals to the general public.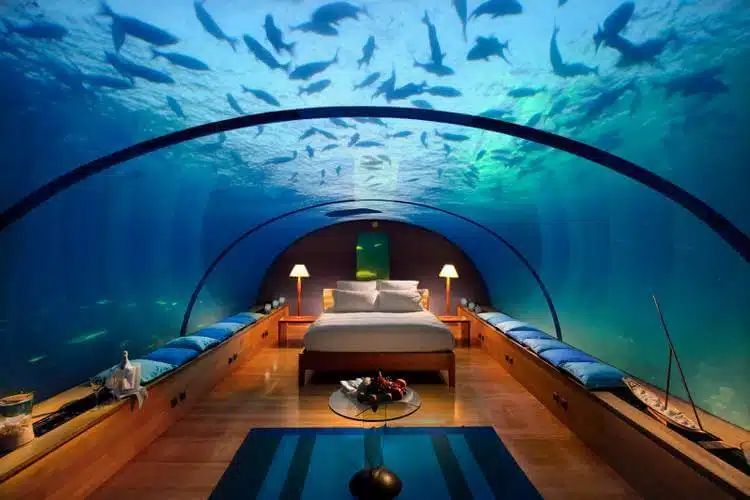 But luckily, I've managed to convince Club1 to offer a full year of membership to Universal Traveller readers for free.
And I mean actually free.
You don't have to agree to auto-renew.
You don't even have to give Club1 your credit card information.
On top of the one-year free membership, Club1Hotels is offering new members up to $500 in booking credits instantly at checkout!
[fusion_button link="https://www.universal-traveller.com/club1hotels" text_transform="" title="" target="_self" link_attributes="" alignment="" modal="" hide_on_mobile="small-visibility,medium-visibility,large-visibility" class="" id="" color="default" button_gradient_top_color="" button_gradient_bottom_color="" button_gradient_top_color_hover="" button_gradient_bottom_color_hover="" accent_color="" accent_hover_color="" type="" bevel_color="" border_width="" size="" stretch="default" shape="" icon="" icon_position="center" icon_divider="no" animation_type="" animation_direction="left" animation_speed="0.3″ animation_offset=""]Click here to bo0k the world's most exclusive hotels with up to 70% off[/fusion_button]
But before we get into the details, let's take a look at how much money Club1 can actually save you.
I spent a few hours comparing Club1 with the other major hotel aggregate sites, and the results I found surprised even me.
Comparison 1: The All Inclusive and Adults Only Hyatt Zilara Cancun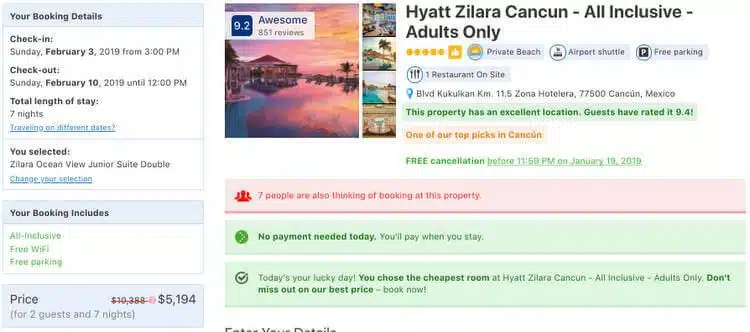 The seasoned resort travelers among us might recognize this as the Booking.com site. They promise you a 7-night stay for two for just over $5000. That's a great deal! 50% off the sticker price.
Let's see what Club1 Hotels can do: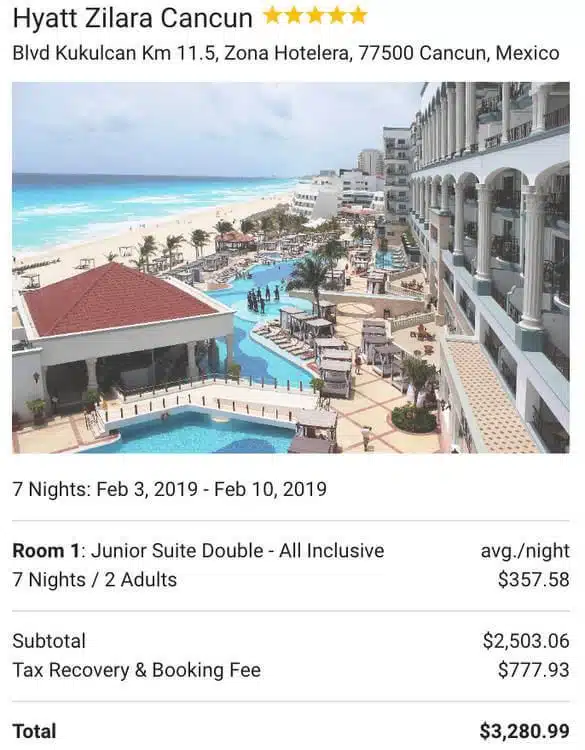 The same hotel. The same room type. The same stunning beach. The same all-inclusive accommodations. But there's one difference: $1900 in savings.
Comparison 2: The All Inclusive Hyatt Ziva Los Cabos
Now, let's see how Club1 stands up to Expedia.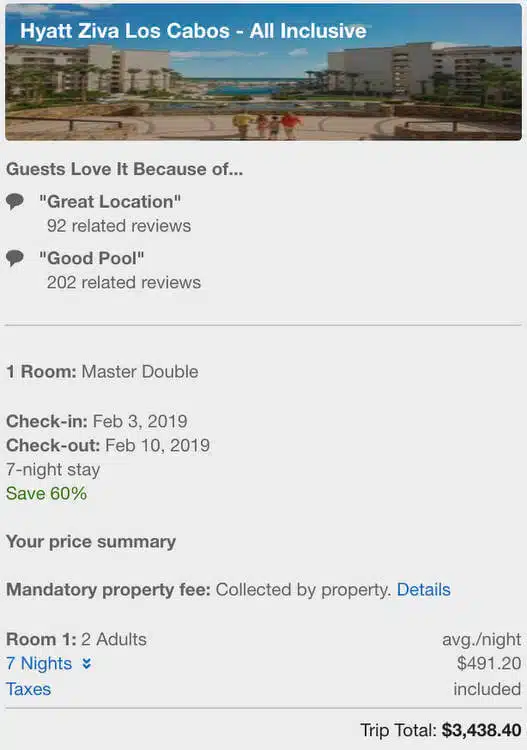 Located on the very tip of Mexico's Baja California Peninsula, Los Cabos is another stellar all-inclusive Mexican resort. And Expedia's delivered with a great deal: just under $500/night for a 7-night stay for two people.
But Club1 can beat it: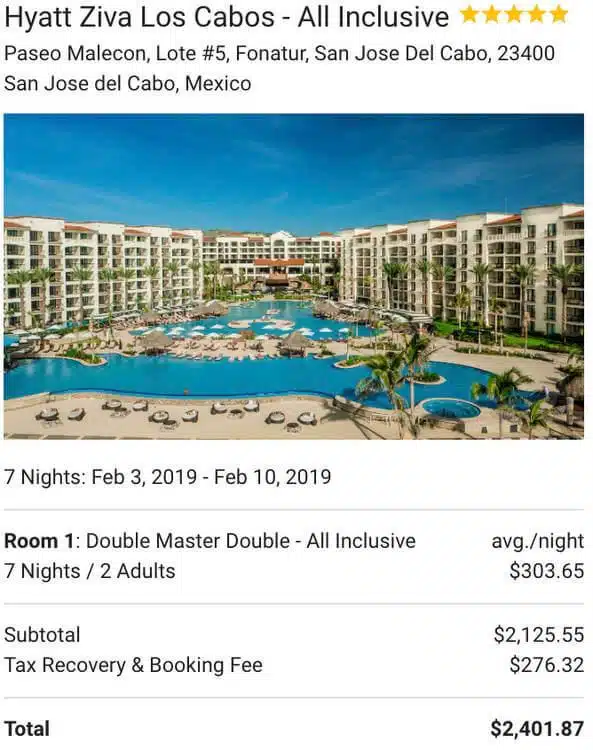 Again, Club1 gives you the same room and the same great accommodations, but at a startling $150 less per night (including taxes). That adds up to over 1000 dollars saved over 7 days.
Comparison 3: The Marmara in New York City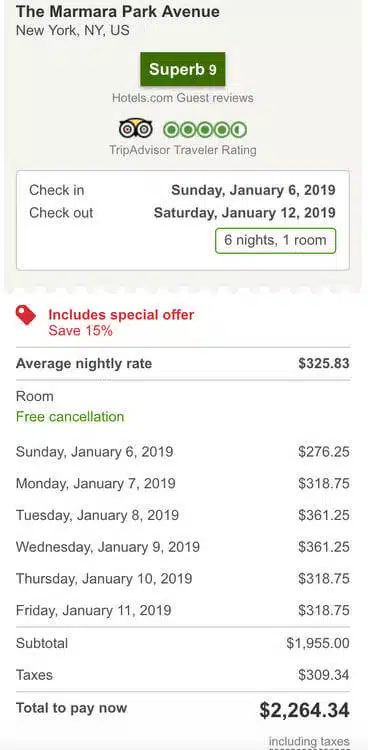 This listing from Hotels.com can get you a room for six nights in the heart of New York for just under 00 (with taxes). That's a deal a lot of us might jump on.
But let's see how Club1 compares.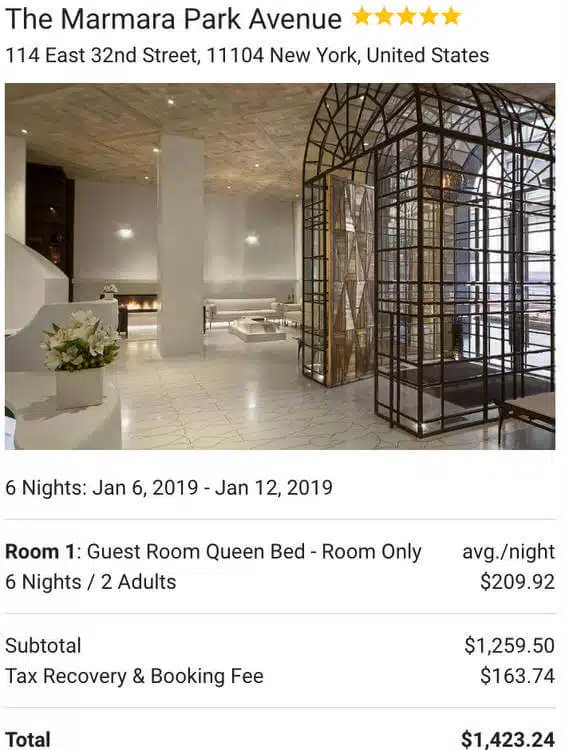 With Club1, you can get the same room for the same dates for $750 less, a savings of over $100 a night!
Comparison 4: The InterContinental Hong Kong
Club1 doesn't just offer great deals in the Western Hemisphere.
If you're planning a trip to Asia, it's definitely worth consulting their platform.
A search in Expedia yielded 6 nights at the Hong Kong Intercontinental for just under 2500 dollars.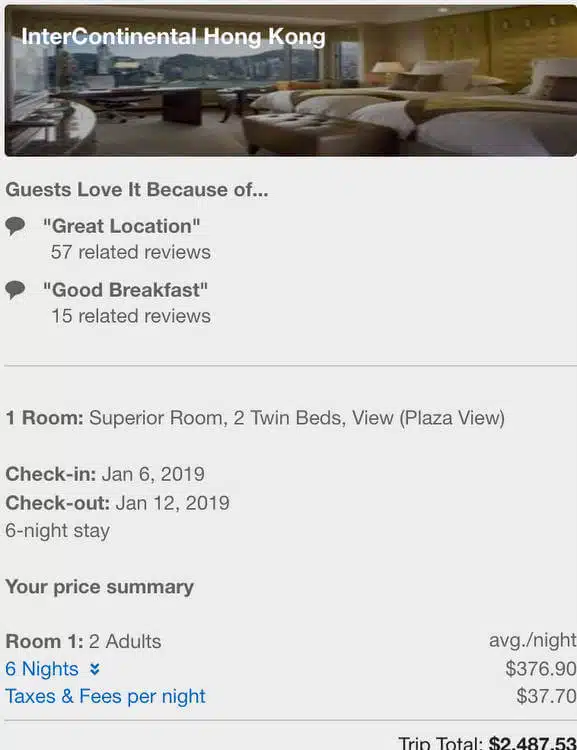 But Club1 wins out again.
By booking the same room through their site, you'll save close to $600, almost $100 a night.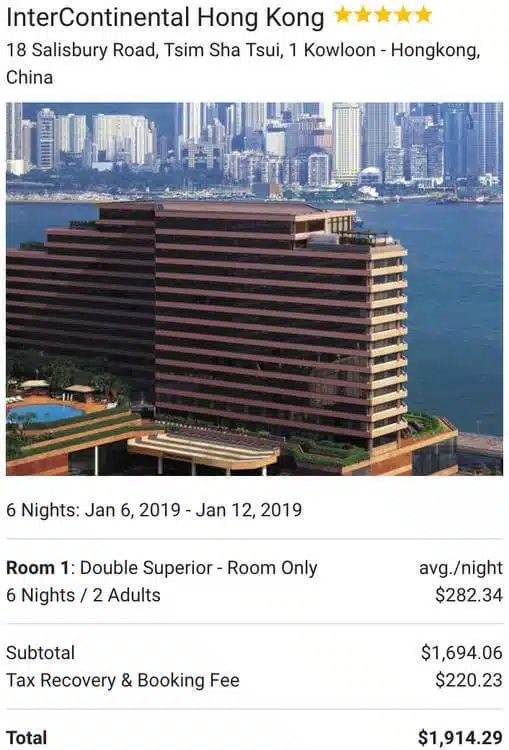 Comparison 5: The Viceroy in Chicago
Booking.com promises a stay at this luxury Chicago hotel for under $200 a night (before taxes).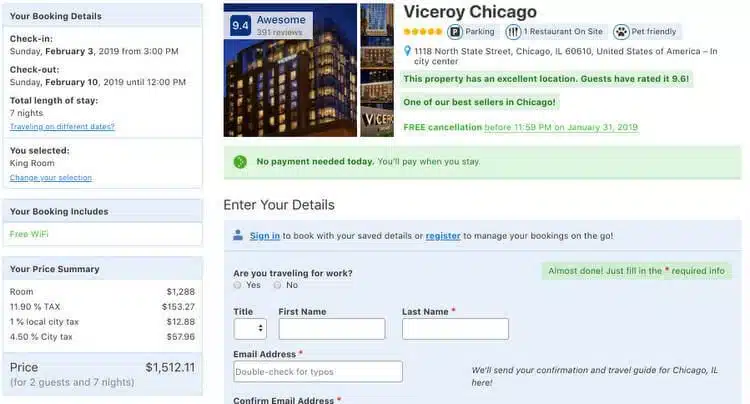 Can Club1 really beat that?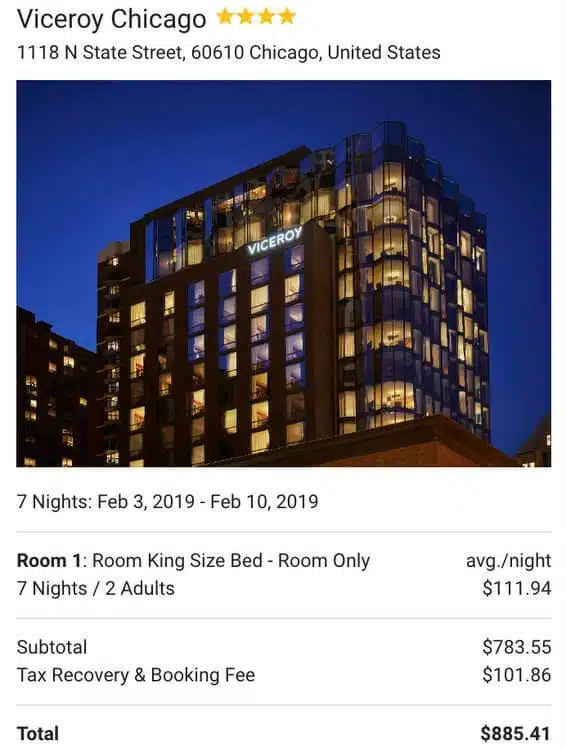 Incredibly, yes.
With Club1, you'll pay just over $100 a night before taxes (about what you'd pay at a typical Holiday Inn!), saving you over $600.
So what's the catch?
Part of being a great traveler is cultivating a certain shrewdness. You need to know when you're getting ripped off or being had.
All these great deals might come off as a little suspicious.
What's that old saying?
If it sounds too good to be true, it probably is?
Perhaps you think we've cherry-picking these examples.
Sure, Club1 might provide a few great deals, but can one company really guarantee the best price for every room they offer?
The answer is yes.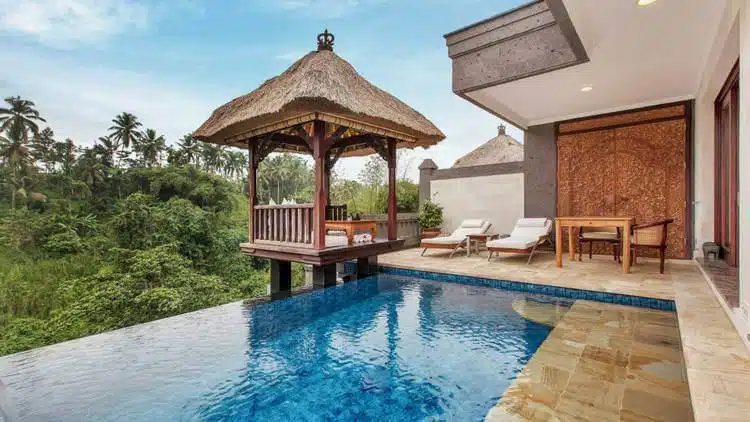 Club1 doesn't just offer great deals like those mentioned above. They also offer one of the best guarantees I've seen in the business.
If you book a property through them and then find a lower price somewhere else, they'll not only match that price; they'll offer a lower one.
Now, I'm not sure how often this happens, as Club1's prices are so stellar, to begin with.
Still, it's good to know that when you book through Club1, you're guaranteed to save money.
But you don't have to take our word for it.
You can book a trip through Club1 at the lowest rate around and then enjoy your stay just as much as the schmucks paying full price beside you, all with nothing upfront paid to Club1.
Because that's the best part– for Universal Traveller readers, your first year of membership with the company is free.
And I'm not talking 14-day free trial after you input your credit card information "free."
When you use the Universal Traveller link, you'll get a full year to book awesome hotels at unheard-of discounts, all without ever giving the company your payment info or agreeing to auto-renew.
That's how confident Club1 is that you'll love their platform and go out of your way to renew your membership after booking with them for a year.
Club1 Hotels Cashback
I honestly didn't think Club1Hotels could get much better. That's the problem with offering so much value upfront—it's hard to go above and beyond again and again.
But somehow, Club1Hotels has managed to do just that.
Now, in addition to killer luxury hotel deals, a no holds barred price guarantee, and a year of free membership for all my readers, they're offering a new Rewards Package that existing members can join at a discounted price of $79 annually. With this package, you will get 5% back on all bookings.
That's right, that means for every $20 you spend on a hotel, car, cruise, or flight through Club1Hotels, you'll get $1 (in the form of points) to put toward your next Club1Hotels booking.
And the best part is, your points are awarded automatically.
This isn't the type of promotion where you have to wait a month or two for the points to show up after some obscure redemption process.
Nope, just like everything else at Club1Hotels, their rewards are 100% transparent. The points will appear immediately for non-refundable bookings and 48 hours after check-out for refundable bookings.
This post is sponsored by Club1Hotels. All opinions are 100% my own.
Was this post helpful? If so, be sure to pin it to refer to later!