While many people know that Emirates Business Class boasts a certain level of luxury, let's consider Emirates First Class for a moment.
It doesn't take much imagination to think about an Emirates A380 First Class Cabin as a luxury hotel in the sky.
Think about it.
Written by Jennifer P. (aka Dr. J) from Sidewalk Safari
A flight from Auckland, New Zealand to Dubai is more than 17 hours long. How long does one get when booking a hotel for a night (checking in at 3 pm and out at 11 am)?
20 hours.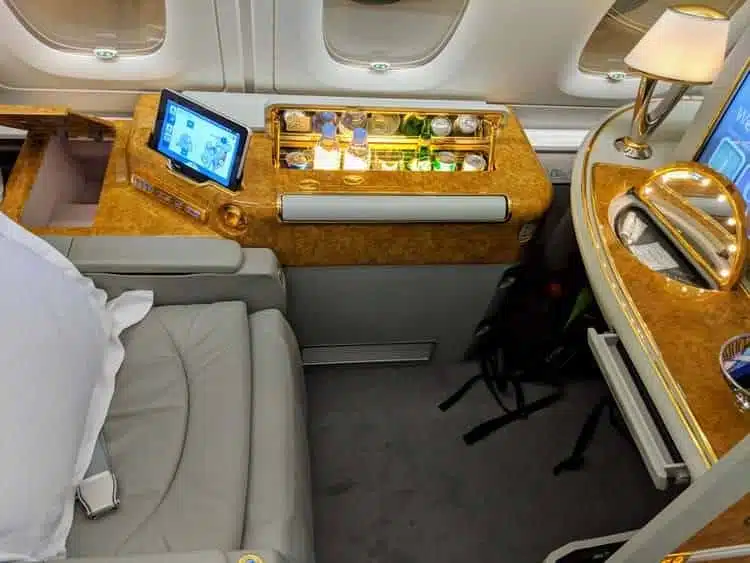 The time in the air just about equates to the amount of time included with a hotel room reservation!
Emirates First Class even includes some amenities not included in a typical luxury hotel reservation like free chauffeur service with white glove service to and from the airport making an Emirates First Class ticket even more luxurious than a hotel on the ground.
What is an Emirates First Class "hotel room" like?
While the door doesn't lock like it would in a luxury hotel room, there is a sliding door to the private suite that can be closed to ensure a degree of privacy at any point during the flight.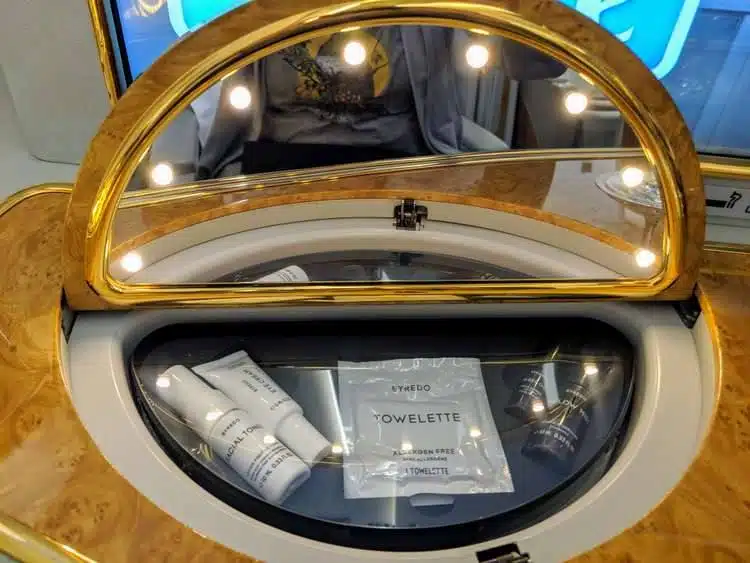 Just like in a luxury hotel on the ground, expect to discover first class amenities. Find a Bulgari amenities kit including a small bottle of Bulgari perfume.
The suite has diva lighting around a small mirror that can be folded away. Nestled below the mirror, find small containers of ultra-luxury Byredo beauty products.
In a luxury hotel on the ground, items in the mini-bar are likely prohibitively expensive. In Emirates First Class, each seat has its own mini-bar and the premium snacks and soft drinks are all included in the price of a ticket.
There is no need to worry about getting nickeled and dimed aboard Emirates First Class.
Luxury hotels on the ground usually provide some nice paper and a pen to write with. Open a small compartment in the Emirates First Class suite to find a pen and leather notebook to jot down thoughts about the experience.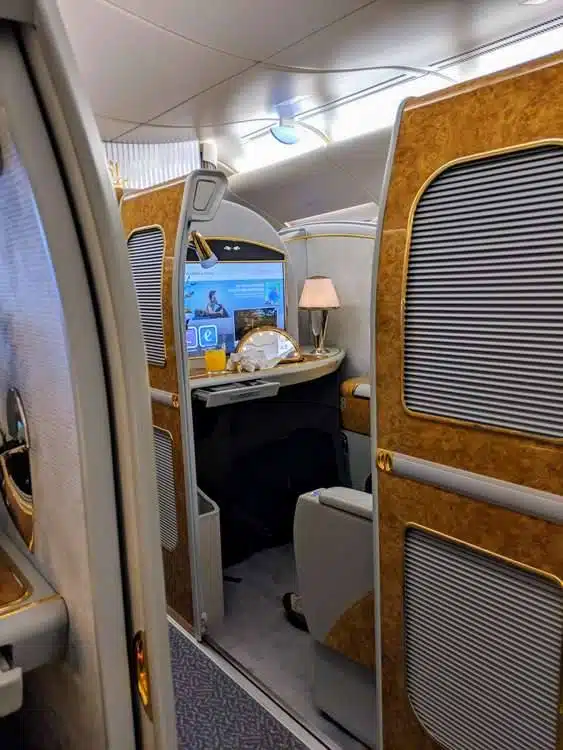 Go to the bar on board (shared with Emirates Business Class passengers) for a cocktail or order "room service" and have one delivered to the suite.
Unlike luxury hotels on the ground, the meals on board this Emirates First Class flying hotel are included. Opt to start with a glass of Dom Perignon and a plate of caviar before tucking in to a gourmet main and then dessert.
Have dinner paired with wines served from Emirates exclusive first class wine cellar.
After dinner, experience Emirates turn-down services as they make up the first class suite complete with pillow, a comfy mattress, and a soft duvet. Even pajamas are included with the reservation. These are not run of the mill pajamas but rather luxury hydrating sea kelp pajamas along with plush slippers.
What else is expected in a luxury hotel? A private bathroom and shower of course.
Emirates First Class doesn't quite have a private bathroom for each passenger. However, each time someone uses the toilet, the flight attendants clean and reset the facilities so it feels like a private bathroom.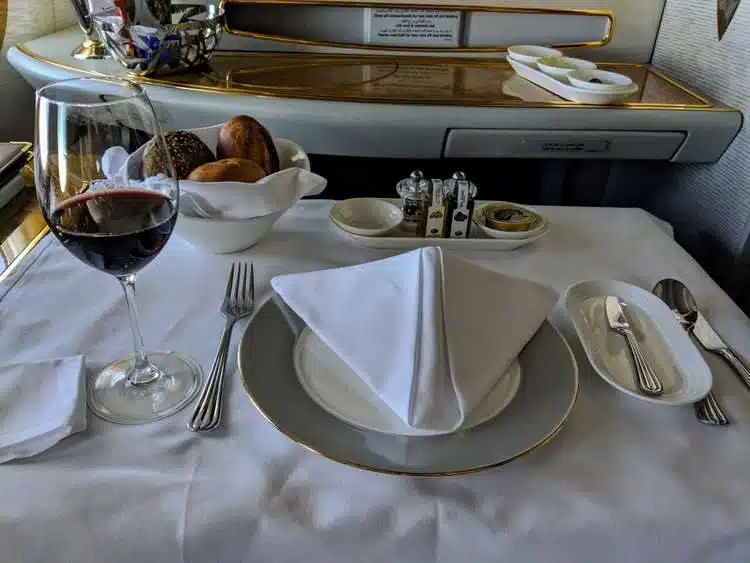 Schedule a shower in the air a few hours before landing. While water is limited to five minutes of continuous flow per first class passenger, luxury is not spared at all between the fluffy towels, premium cosmetics and a powerful hairdryer.
After the shower, enjoy a cup of tea and a snack back in the Emirates First Class Suite.
Just like hotels on the ground, enjoy lounge access with an Emirates First Class booking. Order a meal with table service or get a 15 minute massage free in Dubai.
Clearly, Emirates First Class rivals any luxury hotel in the world giving it the honor of being the ultimate luxury hotel in the sky.
Emirates First Class doesn't have to be prohibitively expensive either. Book business class and then keep an eye out for upgrade offers to first class for as little as 500 EUR.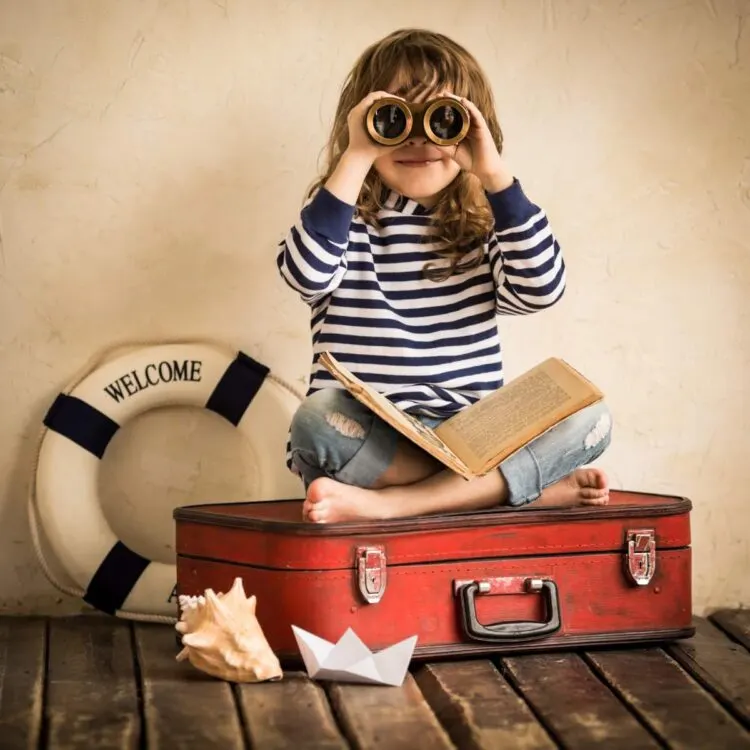 Protect your trip: With all our travel experience, we highly recommend you hit the road with travel insurance. SafetyWing offers flexible & reliable Digital Nomads Travel Medical Insurance at just a third of the price of similar competitor plans.