This article may be sponsored or include a provided product or affiliate link. See the footer and Affiliate Disclaimer for full details.
There is no other place on earth like the Galapagos Islands.
In fact, that's one of the reasons why the Galapagos are one of the most famous island archipelagos in the world.
The isolated islands are home to uncounted endemic animal and plant species that exist nowhere else on earth.
These include the massive Galapagos tortoise, the only species of penguin to live north of the equator, and the seven species of "Darwin finches."
Read also: 10 DAY LAND BASED ITINERARY GALAPAGOS ISLANDS
Darwin himself observed these birds on the islands and later used his notes on Galapagos wildlife to develop his groundbreaking theory of evolution via natural selection.
Look:
The archipelago holds 18 major islands, but none had permanent human settlements until the 1800s, when the first permanent resident, a marooned Irish sailor, arrived.
Today, however, some 25,000 people live on the islands and nearly a quarter of a million visit every year.
The islands offer plenty of opportunities to witness one-of-a-kind wildlife while snorkeling, hiking, biking, and more.
I recently travelled to the area so I could share the best things to do on the Galapagos.
The Ultimate Guide to The Galapagos Islands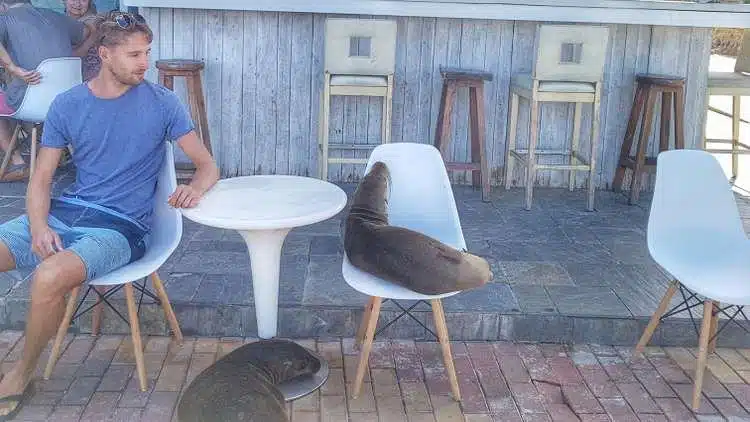 Isla Santa Cruz
Santa Cruz is the second largest island in the Galapagos and holds the islands' largest village, Puerto Ayora.
The island was formed by a now dormant volcano that left behind a stunning lava tunnel, which stretches a full two kilometers beneath the island's surface.
I spent my time on Santa Cruz enjoying great beaches, food, snorkeling, and other adventures.
Because the island holds about half of the Galapagos' permanent population, Santa Cruz also has some of the area's best accommodations.
For this reason, I think the island can act as a great home base to start your Galapagos journey.
Top things to do and see on Santa Cruz Island
1. Las Grietas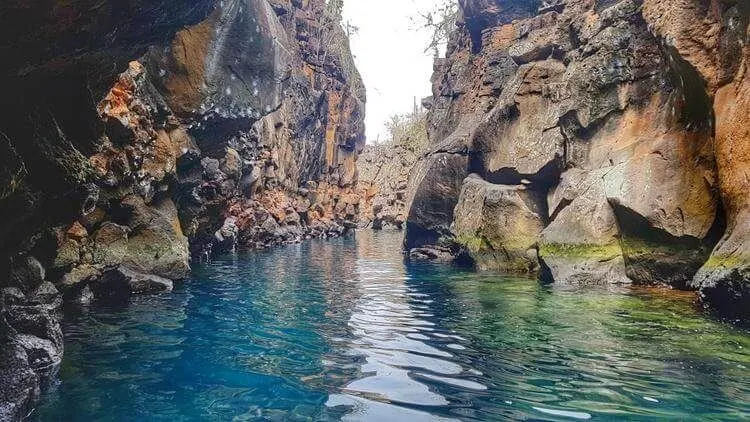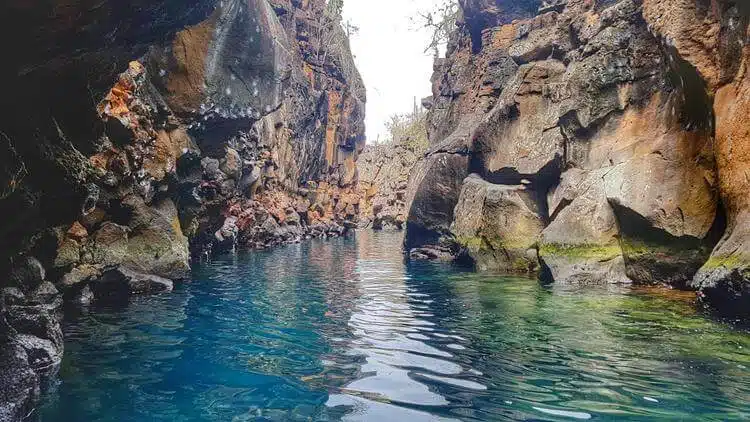 Las Grietas is a crack in the rocks where you can swim in freshwater between two massive cliffs. Though you won't see a wide variety of animals, this is a spectacular place to snorkel.
Tip: If you swim to the end of the first pool and climb over the rocks, you'll find a second pool.
The water in this one is much clearer (you might even be able to see bigger fish).
Las Grietas, as a whole, is also less crowded, as many people don't know about it or don't have enough time to visit with a tour.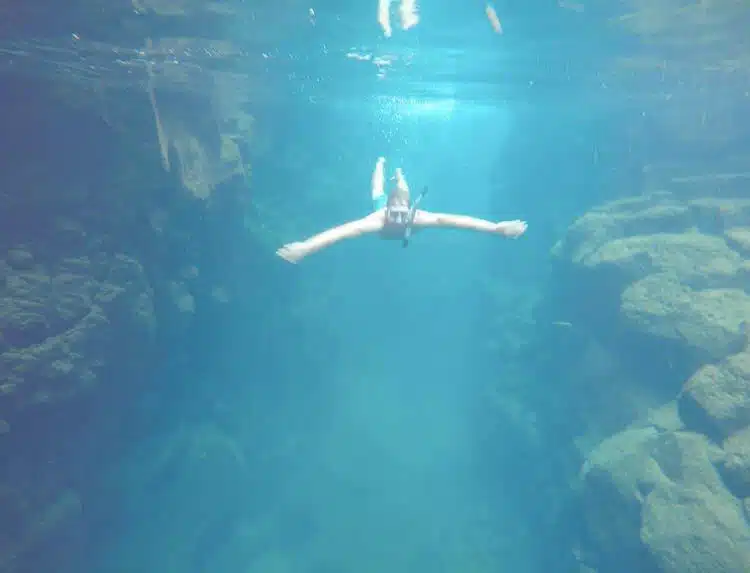 How to get to Las Grietas without a guide?
From Puerto Ayora, take a water taxi from the main pier to the other side of the water. The ride will only take a few minutes and costs 0.60 USD.
From there, pass Finch Bay Hotel and simply follow the signs to Las Grietas. It's a 20-minute walk.
I recommend you wear closed shoes, as you have to cross a lava field. The stones can be quite hot and sharp.
2. Visit Santa Cruz Fish Market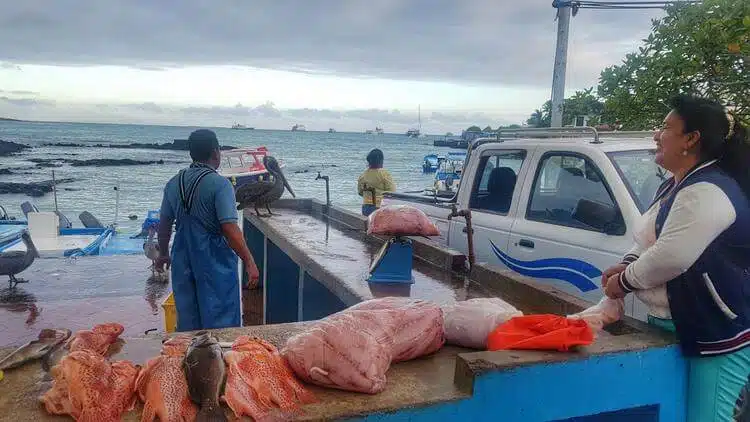 If you want to watch local fishermen cut and sell fresh fish, check out the Santa Cruz fish market.
It is also a great place to spot pelicans, who constantly circle waiting for the opportunity to snag a piece for themselves.
3. Walk through Lava Tunnels
Have you ever walked through a tunnel created by a flood of hot lava?
It's spectacular and another must-do activity while on Santa Cruz.
How were the lava tunnels formed?
The outside layers of lava cooled and created a crust, but the lava within stayed hot and liquid. It bore out a sort of lava pipe, and when the lava stopped flowing, the tunnel remained.
4. Visit Rancho Primicias to see Giant Tortoises.
Recommended by Jackie from Life Of Doing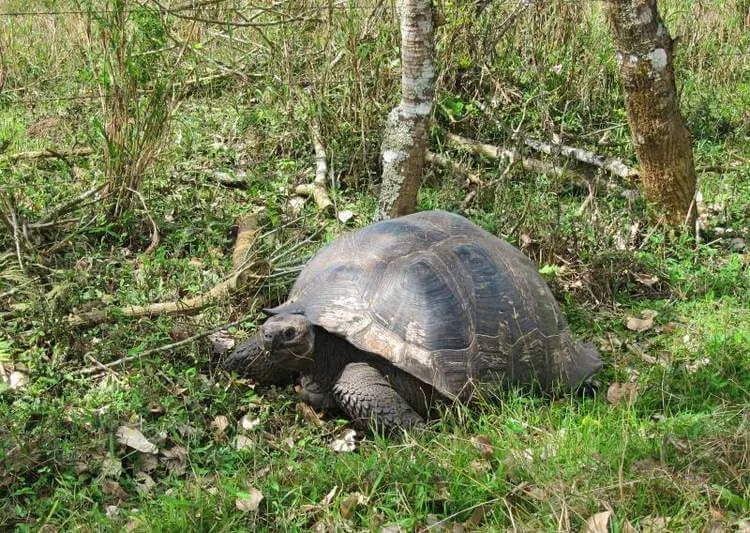 If you're visiting Galapagos Islands, stop by Santa Cruz Island to see the giant tortoises in action.
One of the best places to see the tortoises in their natural habitat is at Rancho Primicias. It isn't far from the main area, Puerto Ayora, and takes 20-30 minutes to get here by taxi.
Rancho Primicias is a peaceful area as it's quiet and not too crowded with visitors. During our visit, our taxi driver served as our tour guide and took us around the area.
It was amazing to see the them everywhere and up close. Most of the tortoises enjoyed their lunch munching on luscious grass and plants as we walked by. They didn't seem to notice us standing near to them for photos.
We saw a few of them lounging in the pond, while others walked a snail-like pace to their next destination. It's a stress-free lifestyle for them.
Your guide may also take you to see the lava tunnels which is on the same premise. Watch out for your head as the ceiling is low.
Consider bringing a flashlight since the tunnel is dark. We loved the experience at Rancho Primicias and is a worthwhile trip to visit here.
5. Enjoy a Spa Treatment at Zenia Spa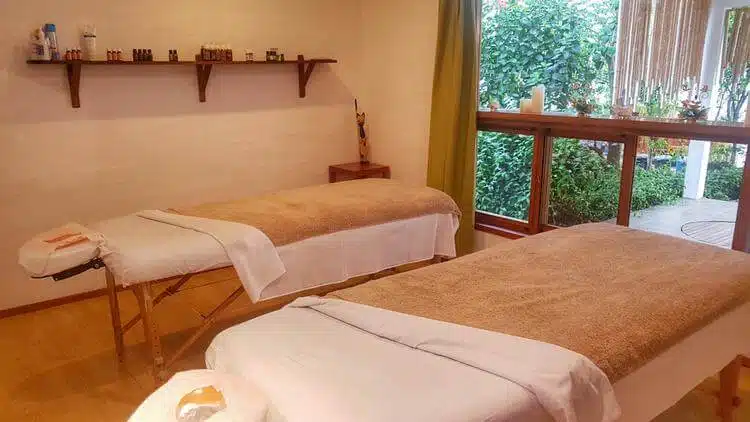 If you're on the Isle of Santa Cruz and need a day indoors after snorkeling or ocean swimming, I recommend a visit to Zenia Spa.
Zenia offers some of the best massage on the island. Their facilities and atmosphere are clean and calming, and my masseuse was quite professional.
She asked not only what kind of massage I would like (after explaining the different options), but also wanted to know where I was having pain or issues so she could better focus on making me comfortable.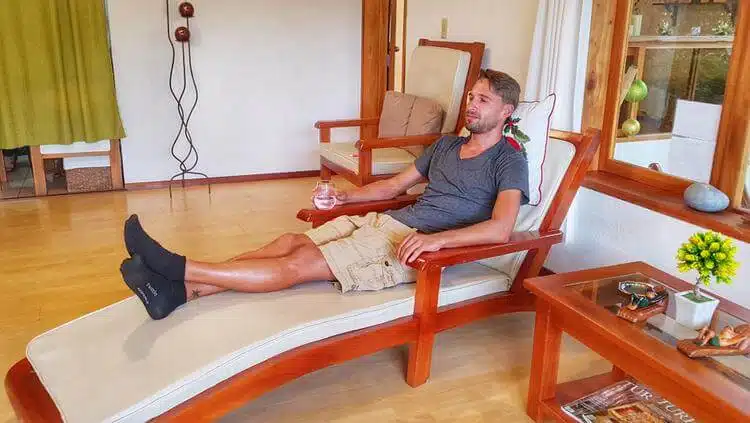 Their services include not only massage therapy, but also custom facials, peeling, body wraps, body exfoliation, zen pedicure, manicures, and an after sun soothing wrap (this is especially popular among those who forgot to apply sunscreen at the beach the day before!).
The spa is near the Darwin Research Center. Massages start at $45 USD.
6. Get a drink at Bongo Bar
If you want to drink with locals and tourist alike, Bongo Bar is the place to go. I've been told they offer the best sushi in the Galapagos Islands.
Let me know how you liked it. Unfortunately, I couldn't try it myself.
7. Join a Half-Day Bay Tour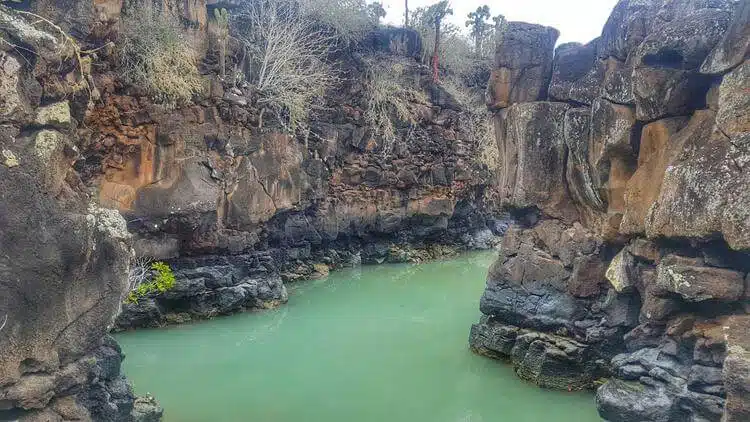 While on Santa Cruz, I decided to take a tour with the local company, Galapagos Dreams Adventures. The tour I chose was a half day excursion around Bahia.
It ended up including one of my most memorable experiences on the Galapagos: snorkeling with sharks.
It wasn't as crazy at it sounds. The sharks weren't that big, and they mostly ignored us, but it was still quite an adrenaline rush.
Those who'd rather avoid sharks can opt to swim and snorkel at Las Grietas, which is also phenomenal.
Snorkel gear is included with the tour price, and guides provide information and instructions in both English and Spanish.
The tour was both over water (by boat) and over land (via some excellent hiking).
8. Visit the Charles Darwin Research Station
At the Charles Darwin Research Station, you'll get the chance to learn a bit about the local species that live on the Galapagos Islands.
You'll catch glimpses of giant tortoises, baby tortoises, and marine iguanas. The center also provides a wealth of interesting information about their tortoise breeding program.
9. Walk to Tortuga Bay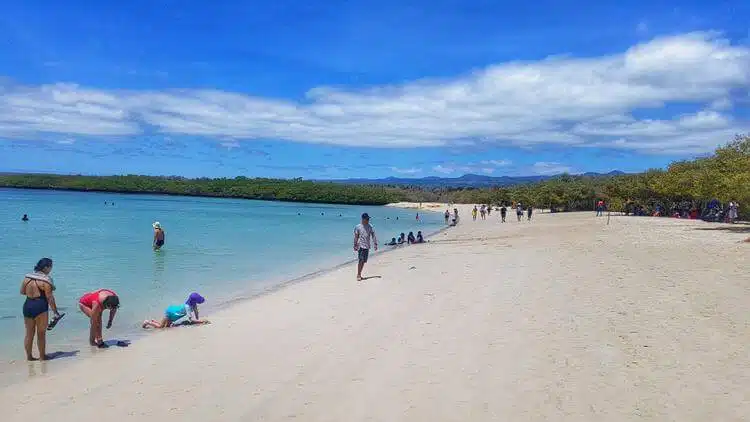 If you're on Isla Santa Cruz and looking for a lazy and laid back beach day, I recommend Tortuga Bay.
Located about two and a half kilometers from Santa Cruz's main village, Puerto Ayora, the bay offers some beautiful beach and a more protected stretch of sand that's great for swimming.
Though the bay isn't regularly serviced by tour groups, there is a clearly defined trail that marks the route from Ayora.
The hike usually takes about 45 minutes (and there aren't any facilities on the beach, so bring plenty of water), but it's well worth it.
When you arrive, you'll have the ocean more or less to yourself.
10. Visit El Chato Reserve
The El Chato Reserve, located in the highlands of Santa Cruz, is one of the best places to observe giant tortoises in their natural habitat.
11. Check out Las Linfas Lagoon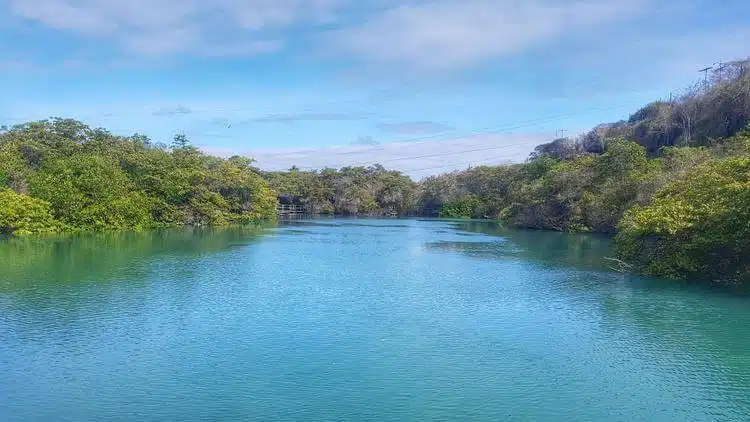 Las Linfas Lagoon is a quite and calming spot located just blocks from downtown Puerto Ayora.
It's a great place to unwind or relax after a morning or afternoon tour around the island.
A boardwalk winds its way above the water, offering some excellent chances to spot marine tortoises and other endemic Galapagos wildlife in the shade of the lagoon's mangrove trees.
12. Take a taxi to Garrapatero Beach
From Puerto Ayora, you can take a taxi to Garrapatero Beach for about 30 USD. The 30 minutes drive takes you through the beautiful highlands of Santa Cruz.
If you are lucky, you might spot a few tortoises. The beach itself is breathtaking and super quiet. You'll see lots of marine iguanas and maybe a few flamingos in the small lake next to the beach.
Check out the Galapagos Islands from a birds-eye of view:
Where to stay in Santa Cruz
1. Cucuve Suites Santa Cruz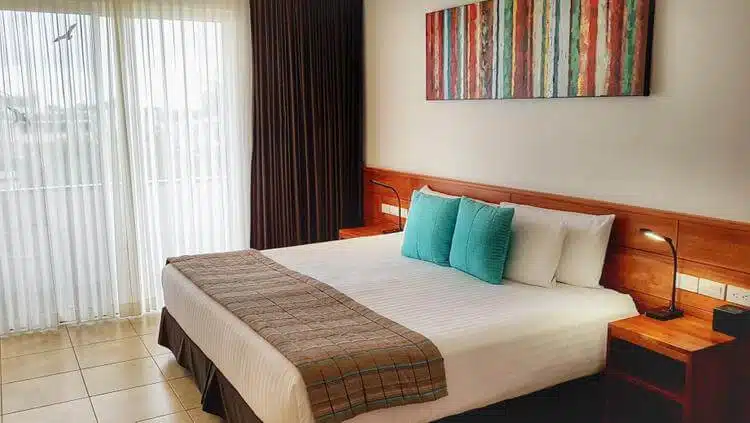 Cucuve Suites is a small boutique hotel owned by a Swiss couple.
The two started by offering a single room for friends and family visiting the islands, but as the Galapagos Islands grew into the popular tourist destination they are today, the two expanded the hotel.
You can now stay in one of their seven beautiful rooms. The hotel is located just a few meters away from Puerto Ayora's main street, which has shops, travel agencies, restaurants and more.
The hotel got its name from the species of mockingbirds that call the Galapagos Archipelago home. Though the Darwin finches get most of the attention, the different mockingbirds and their adaptations were also vital to Darwin's research on the island.
The second floor rooms have spacious balconies with hammocks for lounging and a great view over the village and out across the ocean.
The number of beds in each room varies, but all were well decorated, impeccably designed, and quite clean. They even had laptop friendly desks and workspaces (just in case you need to get a little work done during your stay).
Each morning, the hotel offers a good breakfast. The buffet includes ham and cheese, fresh eggs, fruit juice, bread, cereals & nuts, pancakes, and coffee and tea.
One note, the hotel offers free coffee, tea, water and snacks to guests throughout the day. This was an unexpected treat, because the hotel's good location made it easy to slip in halfway through the day for a pick me up.
Most of the Galapagos tours that feature snorkeling opportunities include snorkeling equipment.
But, if you'd like to strike out and do some snorkeling on your own while on Isla Santa Cruz, Cucuve Suites will make a great home base. Guests can rent snorkelling equipment for just $5 USD per day.
Click here for more information, photos and/ or to make a booking.
Where to eat in Santa Cruz

Los Kioskos
Every night, all the restaurants put tables and chairs out on the street and prepare delicious seafood. It reminded me a bit of the street food in Thailand.
You can actually choose the fish you want grilled for you.
Tip: Try the local Brujo fish (Pescado Brujo).
Isla Isabela
Isla Isabela is the biggest island in the Galapagos. It actually accounts for over half of the entire archipelago's land mass.
But even so, the island is one of the least trafficked by travelers, and its home to just over 2000 of the 25,000 locals that call the island home.
Still, if you know where to look, there are some phenomenal sites to see on the island.
I enjoyed some great snorkeling, a breathtaking hike along an active volcano, and even some delicious local cuisine.
Top things to do and see on Isla Isabela
1. Stand Up Paddle and Snorkeling Tour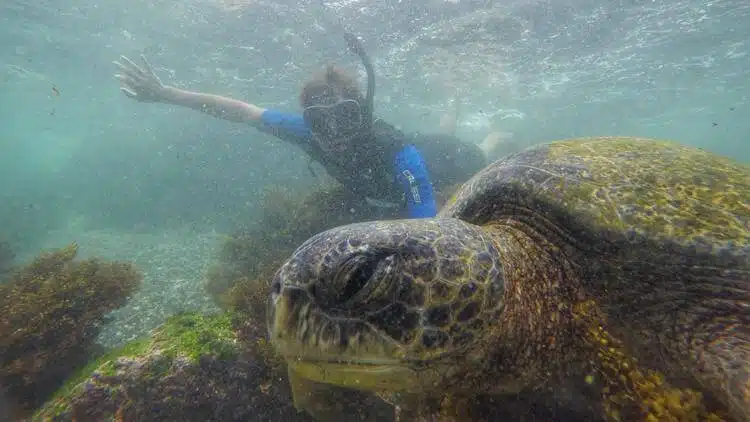 When I heard there was a tour on Isla Isabela called "Paddle to the Penguins", I knew I couldn't miss out. The Galapagos penguins are something of an oddity.
While there are other species of penguins that live off of Antarctica, those on the Galapagos are the only ones to live north of the equator (and in a tropical climate, no less!).
I really enjoyed the opportunity to see these majestic birds for myself up close. The tour group was small. There were just four of us and the very experienced local guide.
We kayaked to a known penguin hot spot, where we saw not only penguins, but also two manta rays and sharks dosing in underwater caves.
By the end of the day, I was really impressed with Paddle to the Penguins. All the equipment was included in the tour, and it was very high end: wet suits, snorkeling gear and fins.
The guide even took photos and some great go pro footage that was offered to everyone for free at the end of the day.
If SUP isn't your thing, I'd highly recommend one of this company's other hiking, kayaking or biking tours.
2. Wall of Tears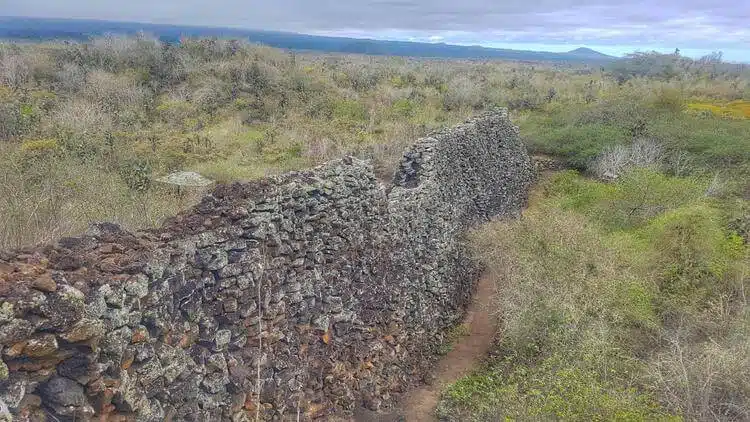 Did you know that Isla Isabela was once a prison?
The facilities were shut down in 1960 after the public found out about the island's hard living conditions. The Wall of Tears, or "Muro de las Lágrimas" is a memorial of that time.
Prisoners built this huge wall out of volcanic stone with their bare hands.
From the Wall of Tears, you can follow a small path uphill to a nice viewpoint. There, you'll also find the remnants of an old US military satellite station.
3. Cycle or Hike to the Wall of Tears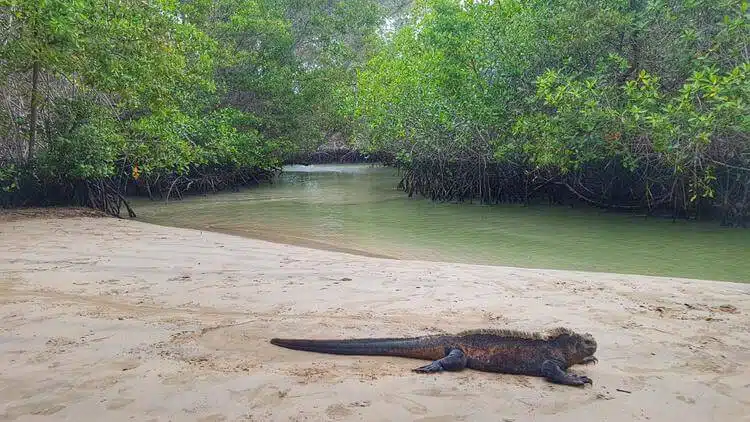 On its own, the Wall of Tears isn't actually too fascinating (at least not beyond its historical significance).
On your trip to the wall, however, you can stop by several beautiful lagoons, beaches and viewpoints. All interesting points are well marked.
If you are lucky, you might even see a giant tortoise or two along the road.
4. Las Tintoreras
Las Tintoreras, Spanish for "the chasms", are a well known spot for eco-tourists hoping to observe several famous Galapagos species in their natural habitat.
The small island is located about a half kilometer off the southern coast of Isla Isabela, directly opposite of Puerto Villamil.
If you get the chance to join a tour or hop on a boat heading out to the island, take it.
The "chasms," which are more like underwater channels, were created by volcanic activity, and the nooks and crannies in the stark landscape are home to many species.
You'll likely see penguins nesting nearby, marine iguanas (be careful where you step, they blend in well with the volcanic rock), blue-footed boobies, and even napping sharks.
18 Amazing creatures on Galapagos Islands
5. Los Tuneles, Isabela Island
Recommended by Nicky from Go Live Young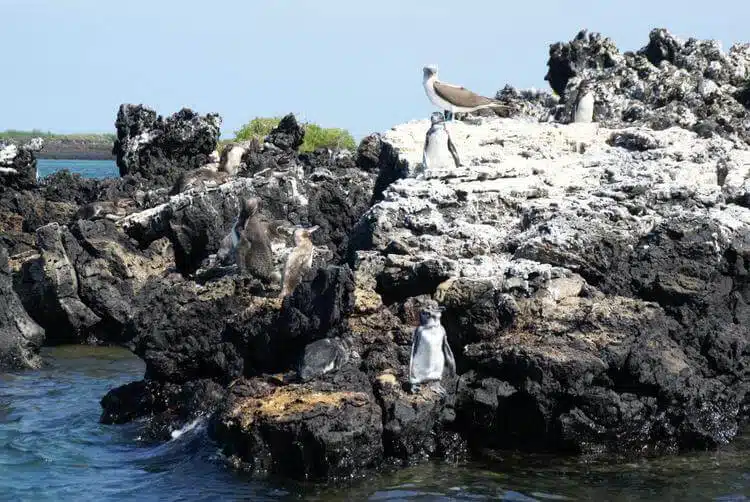 A trip to Los Tuneles on Isabela Island will undoubtedly be one of the highlights of any visit to the Galapagos Islands.
A Galapagos in miniature at Los Tuneles, you will see almost all of the archipelago's iconic wildlife: white and black tipped reef sharks, rays, sea lions, turtles, rays, penguins, and of course pelicans and blue footed boobies.
A series of lava flows has produced unique geological formations, a series of arches and tunnels above and below the water, between mangroves and the open sea.
Around a 30-40 minute boat ride from Puerto Villamil, this area is a snorkelers paradise! We were lucky enough to see reef sharks, manta rays, sea lions, turtles and even sea horses in the shallows.
The highlight for us was the white tipped reef sharks which were hiding in the lava tunnels. Initially my boys were terrified but soon calmed down – their first shark experience!
Pelicans and blue footed boobies can be seen above the water on the arches formed by the lava flows.
This area can be explored even if you don't snorkel or dive, as so much can be seen from the boat, in crystal clear water.
6. Snorkel at Concha de Perla
Concha de Perla is a small cove with crystal clear water. It offers perfect conditions for snorkelling. I saw lots of small fishes and sea lions.
How do you get there?
Right before the pier where you probably arrived on Isla Isabela by ferry, you'll find a small path on the left that leads to Concha de Perla.
Be careful not to step on one of the dozens marine iguanas, and watch out for sea lions. Most will let you pass, but they can occasionally be a bit aggressive (especially the young male ones).
7. Sierra Negra and Volcano Chico Hike with Isatourex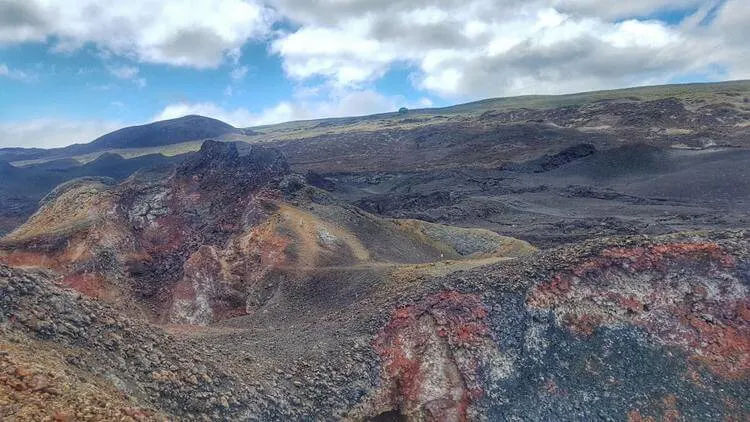 While on Isla Isabela, I chose to partner with a local tour company, Isatourex, to check out one of the best hikes on the island.
Sierra Negra is a volcano that stretches up over 1100 meters above sea level. The tour took us right up along the edge of the volcano's caldera (which stretches something like 10 km wide).
After Sierra Negra, we hiked down across an old lava field and pressed on to Volcano Chico, another of Isabela's volcanoes.
The last couple kilometers of this trail gave us glimpses of some incredible volcanic features, including several lava tubes.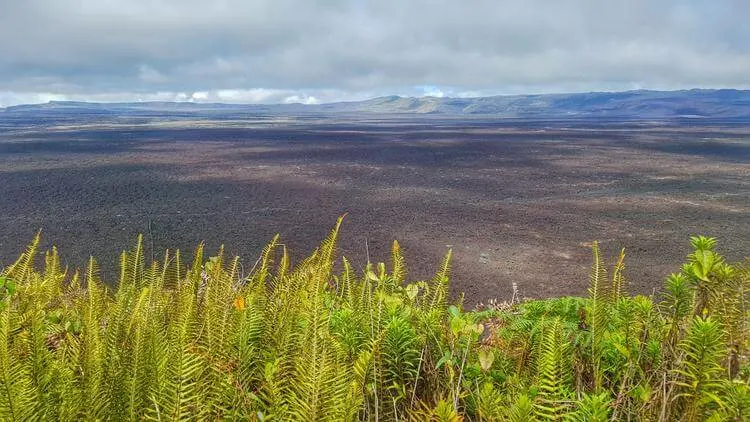 This is a great hike to pick for a tour that arranges transportation, as it's a bit of a drive from town. I'd also recommend that you stay flexible when you pick a day for this hike.
While my tour went well, I've heard that inclement weather and volcanic activity can interfere.
8. Tortoise Breeding Center
About 1.5 kilometers away from Puerto Villamil, the largest town on Isla Isabela, you'll find the tortoise breeding center "Centro de Crianza Arnaldo Tupiza".
This facility spearheads efforts to defend and repopulate the endangered species of tortoise that live on the islands.
We saw hundreds of turtles at many different ages: from eggs and new hatchlings to ones that were almost as old as us! The center also has a small museum (with text in both Spanish and English).
If you choose to walk to the center from Villamil, I'd also recommend checking out the nearby lagoons.
They're not only a soothing walk, but you can also spot flamingos and other exotic island birds.
Where to stay in Isla Isabela
1. Hotel Albemarle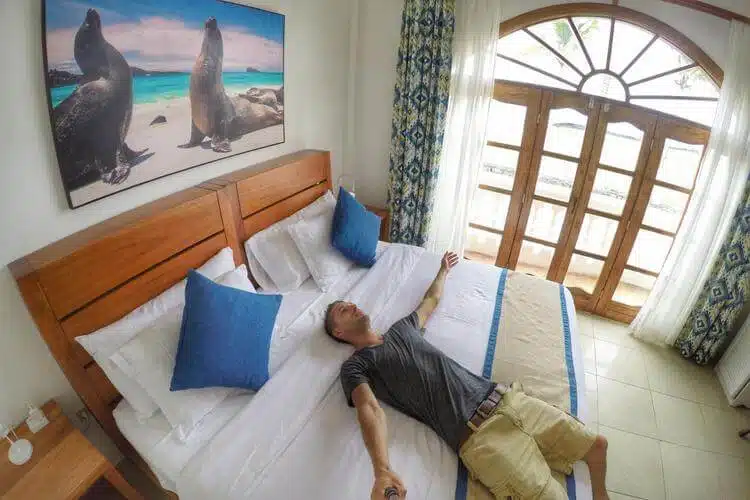 Hotel Albemarle is a small boutique hotel that's just steps away from the beach.
They were awarded best small hotel on the island this year, and after my stay, I can see why.
I was able to book an ocean view room. It was spectacular to wake up and look out across the ocean. At night, the waves lulled me to sleep.
If you can't book an ocean facing room, don't worry. The hotel also has several immaculate sun decks with great views.
The hotel's accomodations were all quite good. Breakfast was available every morning.
The buffet spread included ham, cheese, fresh eggs cooked to preference, two types of fruit juice, coffee and tea, bread, cereal and yogurt. If you're planning to stay for a few days or are running low on clean clothes, they also offer a laundry service.
My room was clean and had a safe. Free coffee, tea, hot chocolate, and unlimited purified water were available 24 hours a day.
Apparently, they even sell craft beer made right in there in Galapagos Islands.
Overall, I had a great time at Hotel Albemarle. When I wasn't off exploring Isla Isabela, I lounged around in their fresh-water pool, bathed in the sun, and took advantage of their free wifi to see what life was like for everyone not on the islands.
If you plan to spend a few days on Isla Isabela and would like a more intimate hotel setting with gracious and helpful hosts, check them out!
Click here for more information, photos and/ or to make a booking.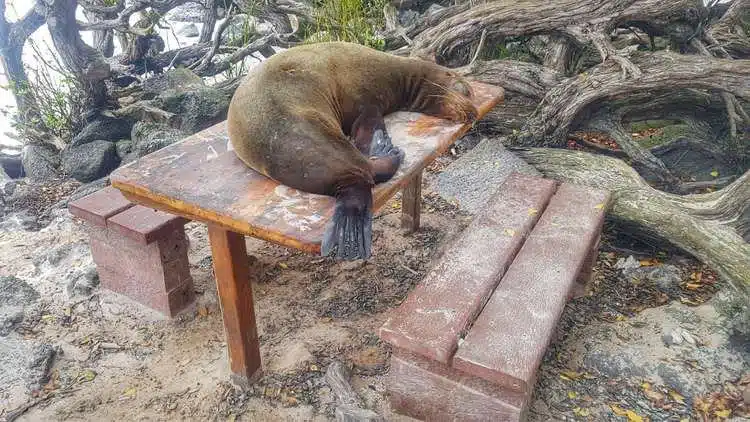 Where to eat in Isla Isabela
My favourite restaurant on Isla Isabela is "Palmeras". This small, local place offers popular lunch and dinner menus with some great food.
For just 6 USD, I enjoyed a delicious soup, a main course, dessert and some fresh fruit juice.
You can choose what you'd like for your main course: chicken, beef and fish. If you like seafood, I highly recommend the fish!
I enjoyed the food here so much, I returned three times.
Directions: Cactuy y 16 de Marzo
San Cristobal
San Cristobal Island rises from the water some 50 kilometers east of the other Galapagos islands.
Though not as large as Isla Isabela or as populated as Isla Santa Cruz, San Cristobal is definitely worth a stop. This island is actually one of the oldest of all those in the archipelago.
It also has both the most fertile land and the only source of permanent fresh water in the Galapagos: El Junco lake.
On a visit to San Cristobal, you'll get the chance to experience some fantastic beaches, the Galapagos's fascinating highlands ecology, and more.
Top things to do and see on San Cristobal
1. Diving at Kickers Rock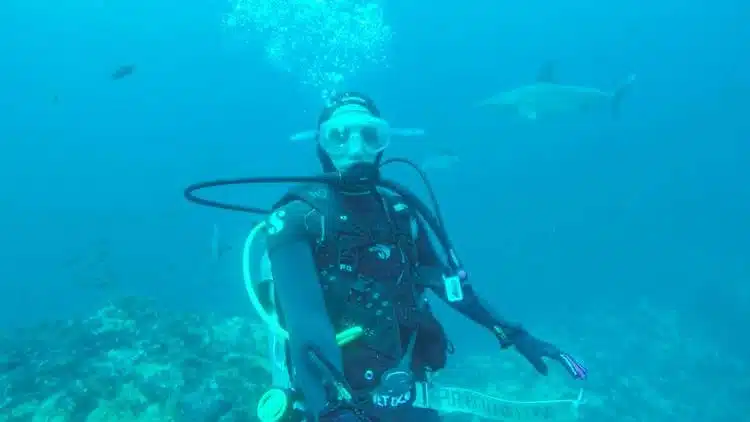 My scuba dive at Kicker's Point was the absolute highlight of my entire trip to the Galapagos Islands. I partnered with the scuba diving tour company Planet Ocean for the experience, and it was an absolute blast.
The process actually began the day before the tour, when we all met up with the divemaster and company owner, Alex, to go over the tour and get fitted with all the proper equipment.
The tour itself was well planned and flawless. Although there were twelve other divers, the company kept everyone well organized, safe, and comfortable.
The boat we dove from was quite high-end, and all the crew members were professional and happy to explain or go over things multiple times for anyone that had questions.
Between dives, the tour company offered snacks and a lunch with salad, fish, chicken, and brownies.
On my first dive into the water, I saw a school of 40 hammerhead sharks. I was awestruck.
The tour company crew got some phenomenal shots, and all that material was available to us for free at the end of the day.
2. Day Tour to Loba Island
Recommended by Lora from Explore with Lora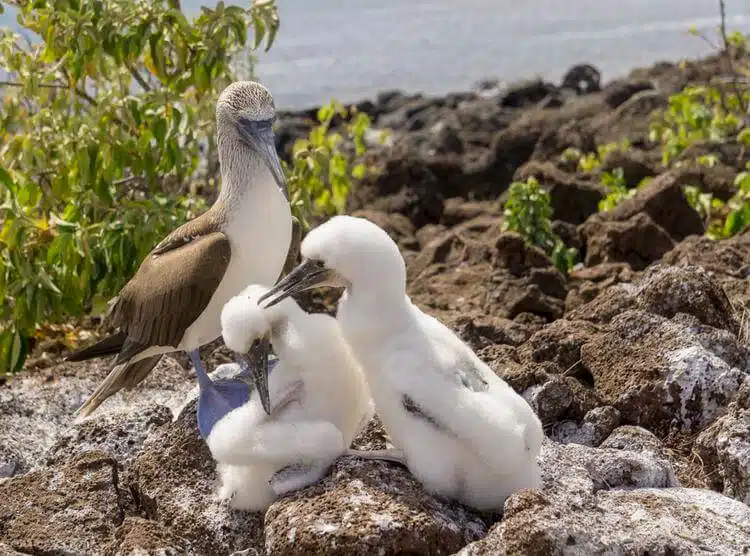 Isla Loba is a smaller island near San Cristobal that is easily accessible by day tours. The tour starts off with a boat ride to the island where you will see many birds along the way.
Once you arrive on the island, the naturalist guide will take you on a hike to spot wildlife up close. On arrival we immediately saw many frigate birds flying around, and at the time it was mating season (June) so the male frigate birds had their red necks fully inflated in an attempt to court a mate.
We kept walking and shortly came across the famous blue-footed Boobies. We saw these birds doing courtship dances, nesting their eggs, and a mother with her new young.
As we continued walking towards the ocean we saw many marine iguanas bathing in the sun from their swim.
After the guided hike, we returned to the boat for a quick ride to a nearby snorkelling site. The water was absolutely gorgeous and we could see sea lions waiting or us to jump in.
Our guide led us on a snorkelling trip where we were able to swim with the playful sea lion cubs and explore some beautiful coral reefs filled with large schools of colourful fish. After the snorkel, we returned to the boat where they fed us a nice warm lunch.
The last part of the tour was a quick boat ride over to a stunning beach where there was almost no one else (except of course the resident sea lions).
Here we were able to sun bathe, swim, and hang out with the sea lions. This was one of my favourite day tours that I did in the Galapagos and an excellent choice if you want to see the diversity of wildlife the islands have to offer.
3. Rent a bike and drive to the highlands and Playa Chino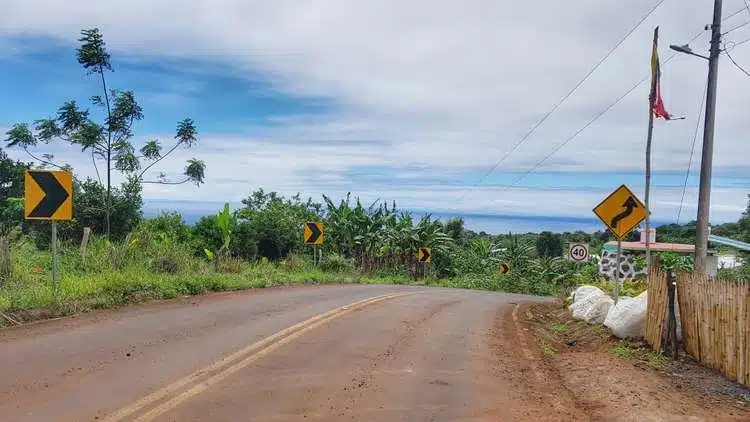 If you'd rather not take a tour of San Cristobal's highlands or take a taxi to Playa Chino, you can take a bike ride through the highlands on your way to the beach.
You can rent a bike from a shop in Puerto Baquerizo Moreno. Most shops on this island charge about 20 USD per day.
Before you jump in, though, you should know that this ride isn't for the faint of heart or the out of shape.
The climb from Puerto Baquerizo Moreno up into the highlands is almost 600 meters (and the descent down to Playa Chino was also more than a little exhilarating).
My advice is to take both parts slow and bring more water than you think you'll need. Also, depending on the season, you may want a raincoat.
Luckily, there are a few places along the way where you can stop and spend some time off your bike. I recommend a visit to the lagoon, and there's also a turtle center and a nice look out along the road.
It's also worth noting that you won't be able to ride all the way up to the beach. There's a carpark where you can leave your bike. From there, it's a five minutes walk.
4. Lagoon El Junco
If you do spend some time exploring San Cristobal's highlands, I recommend you check out Lagoon El Junco.
Though it's called a lagoon, El Junco doesn't have much in common with many of the other lagoons in the Galapagos. It's actually a lake made from an ancient caldera that's since flooded.
The lake is a great place to spot some local wildlife, including the Galapagos frigate birds, who come to El Junto to wash the sea salt off their feathers.
I recommend visiting on a clear day, as the thick rains that hug the lake and Highlands will detract a bit of the view away. It's about a 10-minute hike up to the lake from the car park.
The Galapagos Islands Are a Pristine Paradise
5. Take a Highlands Tour
If you aren't adventurous enough to strike out on your own by bicycle across San Cristobal's highlands on your way to Playa Chinco (or if you did, but you want a closer look), I recommend a dedicated visit or tour.
The island's highlands really are unlike anything else in the Galapagos. The landscape varies widely as you climb in elevation, from forest to grassland and rolling volcanic hills.
While you can explore on your own by hiring a taxi, I chose to go with a nature tour. My guide was very knowledgeable and passionate about the island's ecology. I learned and observed much more with him than I would have on my own.
6. Join a 360 Degree Tour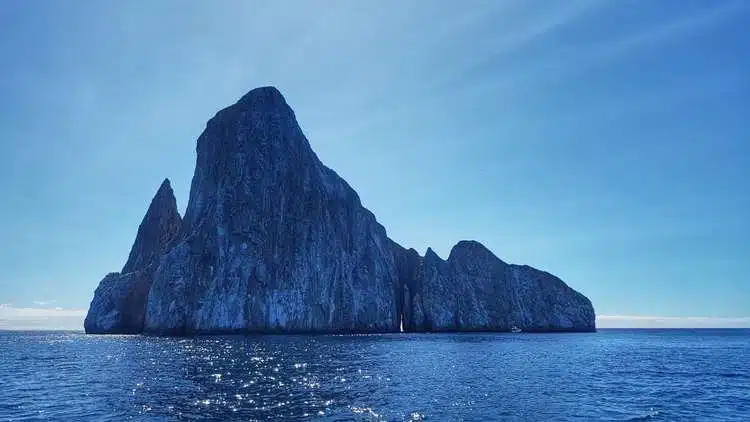 A 360 Degree tour is a great way to visit the most interesting places on San Cristobal.
The tour begins between 7 and 8 am and returns around 4 pm. As part of the tour, you'll circumnavigate the whole island by boat.
Stops include snorkelling, beautiful beaches and bird-watching opportunities. You'll witness Rosa Blanca, Punta Pitt, Sardine Bay, Punta Pucana, Cerro Bunjo, and Kicker Rock.
7. Hike Up To Cerro Tijeretas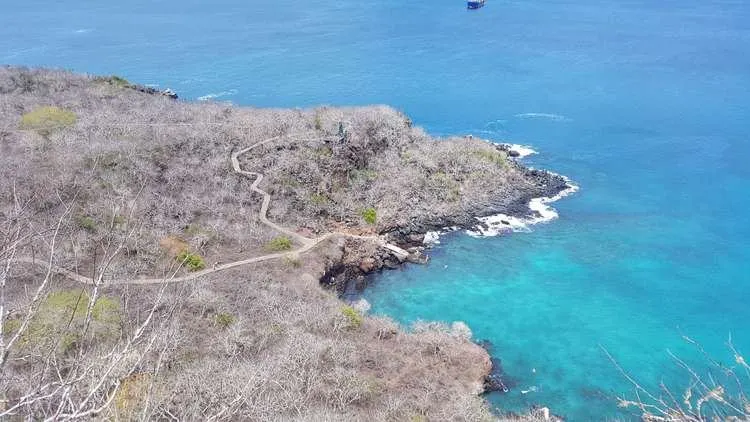 Next to San Cristobal's Intepretation Center, you'll find a quiet trail that leads to some of the best views on the island. The hike takes about 45 minutes to walk (though it's well marked and maintained).
You'll begin by walking along the beach. There's some great snorkeling in this area near the Charles Darwin statue, so make sure to bring or borrow some equipment if you want to take a look beneath the waves.
If you'd rather get a birds eye view, you can follow the trail up to several lookout spots along the ridge overlooking the ocean and Kicker Rock.
From there, you can either turn back or, if you're feeling ambitious, continue on to Baquerizo Beach.
8. Wander around Puerto Baquerizo Moreno
If you've had your fill of paradise beaches and ecological adventures (or if you find yourself wanting a more laid back afternoon, you can always spend a few hours wandering around Puerto Baquerizo Moreno.
The town is actually the province capital of the Galapagos Islands and was founded way back in the mid 1800s.
Nestled against one of the island's mountains, the island port is home to about 7000 people and full of quiet streets and quaint views.
If you walk closer to the sea, you may even find sea lions, completely comfortable with the locals, lounging about on park benches or boat decks.
9. Walk all the way to Baquerizo Beach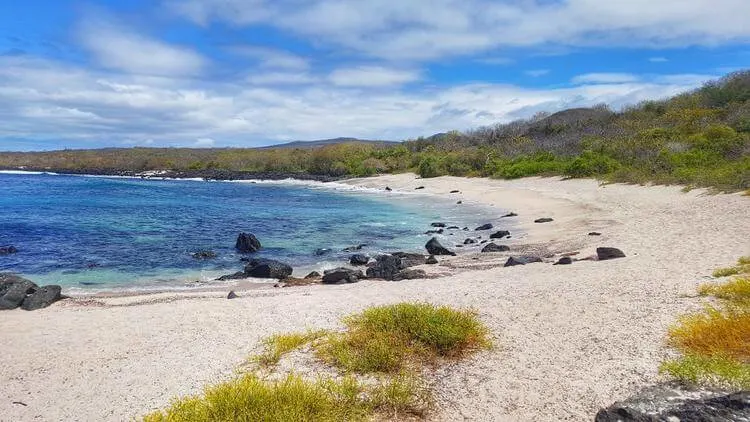 A little further up the same trail that takes you to Cerro Tijeretas from the Interpretation Center, you'll find Baquerizo Beach. Though this a bit secluded, (it takes about two hours to get there on foot), Baquerizo's privacy more than makes up for the trip.
You won't have the whole beach to yourself though—hopefully there will be some sea turtles, sea lions, and manta rays in the water to keep you company.
Make sure to bring your snorkeling equipment hiking shoes, and plenty of fresh water. Even without the beach, the hike was quite engaging and fun.
10. Visit the Interpretation Center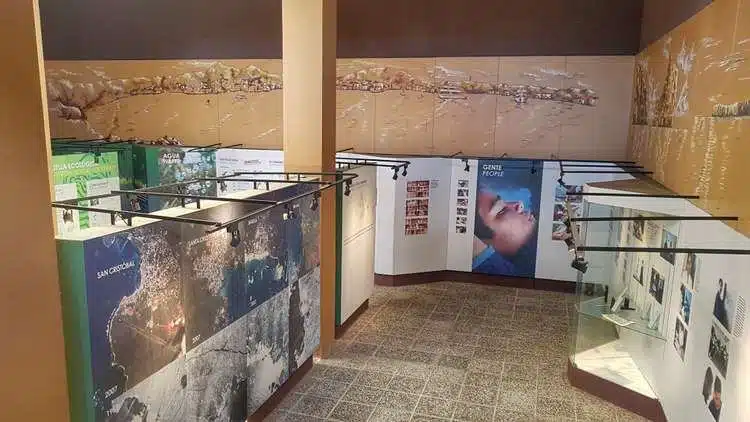 An afternoon at the San Cristobal Interpretation Center may be worth your time if you're interested in learning more about the history of the Galapagos Islands (or if you're looking for an activity to fill a rainy day).
The center doesn't just focus on the islands' natural history, but also their human history and current efforts at conservation.
The exhibits here are thoughtful, engaging and full of pictures and stories. All text is written in both English and Spanish. Once you've finished learning, there's a great trail system to explore right next to the center.
11. Swim with Sea Lions at La Loberia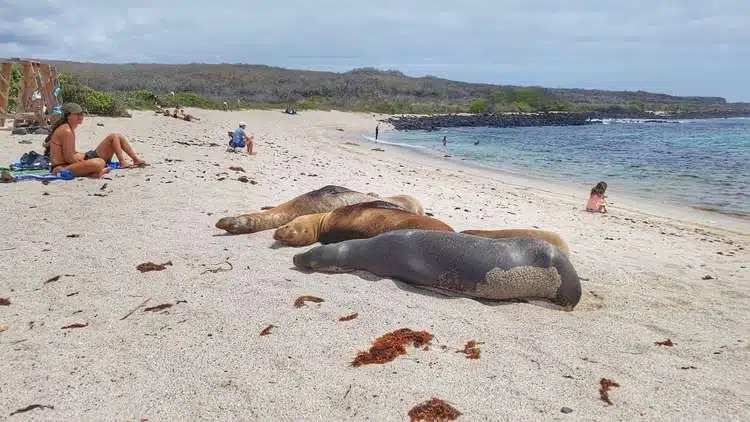 La Loberia is a stunning white sand beach that's quite close to San Cristobal's largest town, Puerto Baquerizo Moreno. The beach itself, which is shaped like a half-moon, is home to a colony of sea lions who are pretty friendly with humans.
Though its always best to keep your distance (especially from the younger looking males, who can occasionally get aggressive) I enjoyed sharing the waves with these creatures.
They're so surprisingly graceful in the water. You can get to the beach on foot in about 20 minutes, or you can flag down a taxi for a ride that usually costs about 3 USD.
12. Trip to Punta Pitt
Punta Pitt is a beautiful cove located on the north side of San Cristobal Island. The area is only accessible by tour boat, but there are several companies on the island that can give you a lift.
There's a small beach flanked by rising volcanic cliff faces, and the water there is a great place for snorkeling. But the hike is what makes the journey worth a day.
Punta Pitt's trail, which is about two kilometers long, ascends a nearby hill and offers some incredible views.
As a bonus, this is also one of the only places in the Galapagos where you can see every species of boobie: red-footed, blue-footed, and masked.
13. La Galapaguera Tortoise Habitat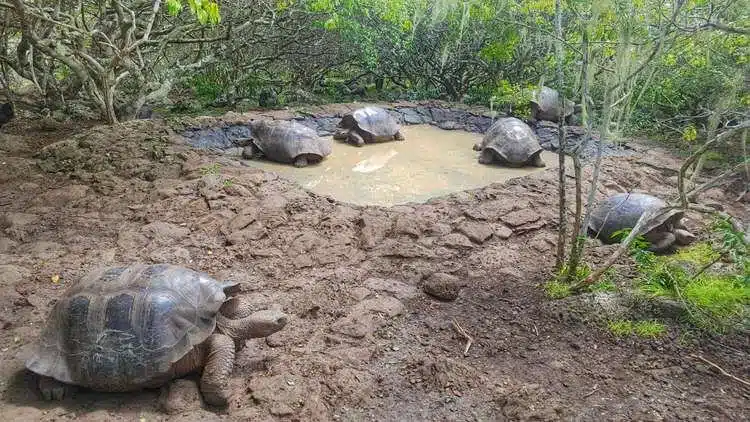 Like the tortoise conservation facilities on the other Galapagos islands, San Cristobal's La Galapaguera Tortoise Habitat raises Galapagos tortoises from the time the hatch until they're old enough to be released into their natural environment.
If you haven't yet had the chance to see these creatures for yourself (or if you want to see a few more before departing), La Galapaguera is a great place to do so.
They offer guided tours from knowledgeable staff members, and there's also no entrance fee (though donations are appreciated).
14. Make a day trip to Española Island
Española Island is the furthest south of all the Islas in the Galapagos. Though it's a bit of a trip, it is possible to visit the island in a day.
The island itself is very flat and only rises a couple hundred meters above sea level at its highest point. I recommend visiting Gardner Bay (or Bahia Gardner), which has some great beach (and a large colony of sea lions).
If you enjoy bird watching or cataloging the many species of the Galapagos yourself, Española's Punta Suaraz won't disappoint.
In addition to a huge population of blue-footed boobies, almost every waved albatross in the world descends on the small island to breed between March and January.
One other note, the boat ride from San Cristobal is about two hours each way, though it can be quite eventful. I've heard some people spot whale breaches along the route.
Where to stay in San Cristobal?
1. Casa Playa Mann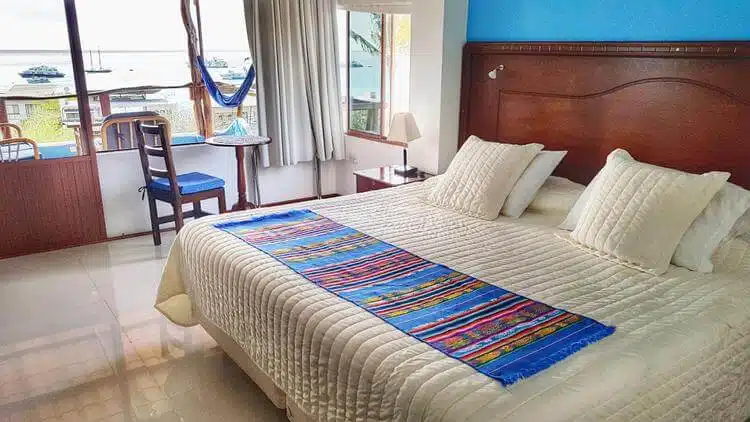 Casa Playa Mann is my favorite place to stay on San Cristobal. They had everything I look for in a local hotel.
My room was well decorated and designed, spacious, and had a comfortable mattress.
The bathroom was clean and well kept. My suite also had a personal fridge, large TV, and coffee maker.
But the location is really what makes Casa Playa Mann a place worth staying. It's less than ten minutes by foot from both the town's main pier and the interpretation center. And, the hotel is just a two minute walk from it's namesake beach, Playa Mann.
Here, you can try your hand at snorkeling (you can rent equipment from the hotel for $5 per day). But you don't have to leave the hotel to enjoy the ocean.
The property had a rooftop terrace and balcony (complete with hammock) where I could watch the sunset and listen to the ocean. Most of the hotel's six rooms are ocean facing.
The breakfast was American style with a few local flavors. It included an omelet made to order (I had mine with bacon, tomatoes, and cheese), fresh organic juice, a fruit salad and pineapple and orange jam.
Tea and coffee are also available. Apparently the coffee they brew is grown and roasted right there on San Cristobal island.
This hotel has also earned a reputation as one of the most eco-friendly on the island. It was built so as not to disturb existing ecological features (including a 120 year old cactus on the premises that they were careful to keep intact).
The rooms and layout were designed to minimize the need for electric lighting and air conditioning.
Click here for more information, photos and/ or to make a booking.
2. Katarma Hotel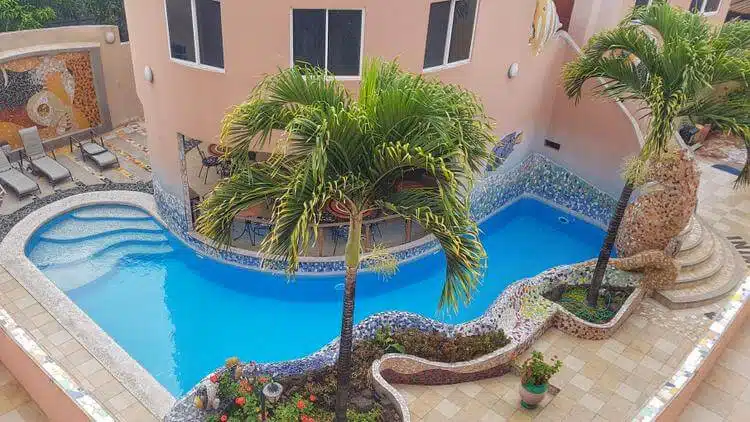 If you're looking for a truly memorable and unique place to stay while on San Cristobal island, Hotel Katarma will be a great fit for you.
The hotel is managed by two artists, a father and son team, and their passion for the visual shines through in this place's colorful and eclectic design and decoration.
At this hotel, art is everywhere.
And I mean, everywhere.
I don't think I found a single wall in the entire building that wasn't displaying some sort of masterpiece. To be honest, I actually found this a bit inspiring.
Many visit the Galapagos Islands for the unparalleled ecological diversity, but the archipelago also has a rich human culture.
These two sides of the islands, the natural side and the human side, mix with and enhance each other. This hotel is a great representation of that.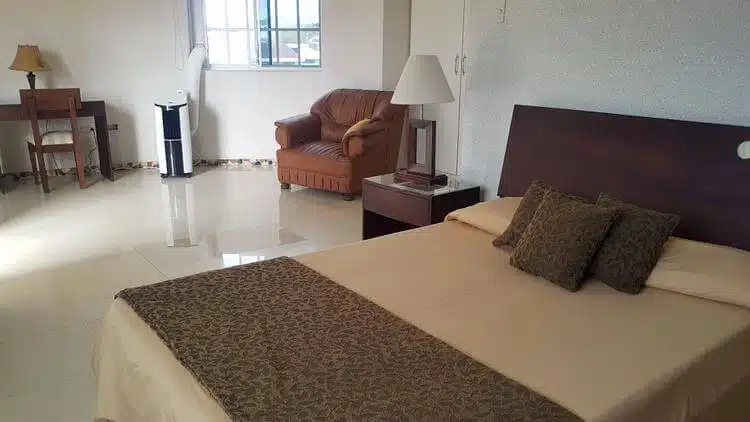 Aside from all the art, the hotel also had a very welcoming outdoor pool and sauna. The rooftop terraces each had great views of the ocean. There was also a business center, free wifi and a couple areas for social gatherings.
Like several other hotels on the island, Katarma partners with local businesses and can help you plan your day trips and excursions.
The managers of the hotel also take strides to limit the environmental footprint of their business. Many of the paintings and works of art on the property were created with local recycled and reused materials.
The building itself is completely powered by wind turbines. All food served is organic and locally acquired (as importing goods to the island is quite resource intensive), and all organic waste is donated to a composting program for agricultural use.
Click here for more information, photos and/ or to make a booking.
3. Galapagos Eco Friendly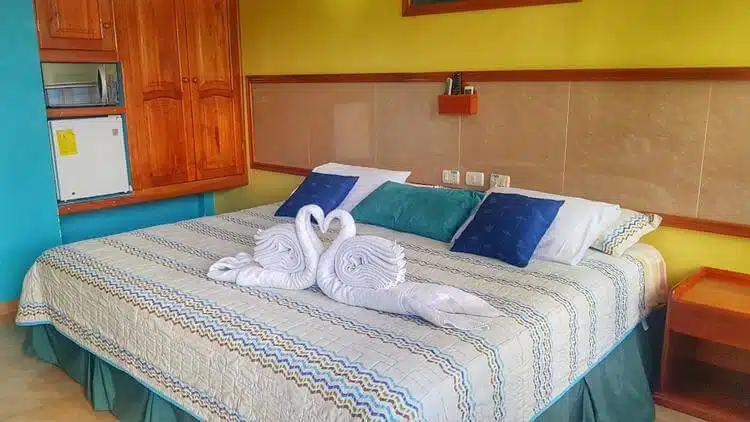 Galapagos Eco Friendly is a family-owned 3-star hotel located at the end of Puerto Baquerizo Moreno at around 75 meters above sea level.
From the terrace where breakfast is served, you'll enjoy an amazing view of the small town and the sea. On my first day, I even witnessed a beautiful rainbow.
The main street's restaurants, travel agencies and shops are only a 10 minutes away by foot.
Each room has comfortable beds, air conditioning, a small TV, a fridge and even a microwave so you can warm-up leftovers.
Because the hotel is a little ways from the city center, the nights here are quiet. I slept very well after an adventurous day on San Cristobal.
A small breakfast is served from 07:00 to 08:30 AM. You can expect coffee & tea, fresh fruit juice, an omelette, cereal with yoghurt, bread and cheese.
On the first day, I enjoyed an ham and cheese sandwich and on the second day an Empanada with cheese.
The staff are quite friendly and helpful. You can borrow mountain bikes from the hotel free of charge and enjoy an outdoor hot tub.
Click here for more information, photos and/ or to make a booking.
Where to eat in San Cristobal
1. Delicious grilled fish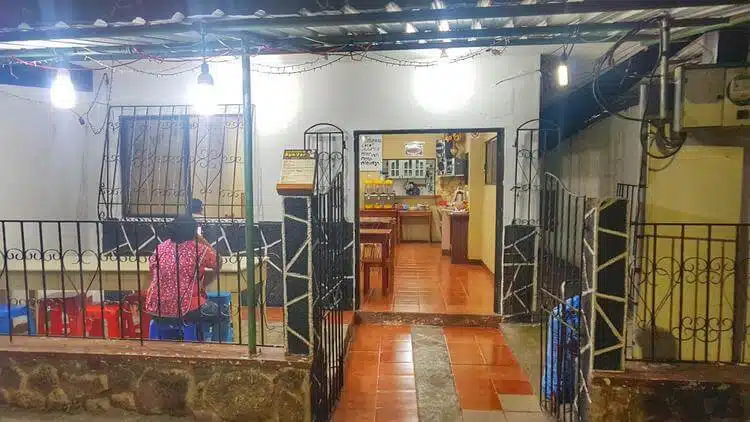 On the opposite side of the church in the center of the city there is a small, family-owned restaurant where you can order really good, grilled fish. I recommend the local Brujo fish.
2. Best Empanadas in town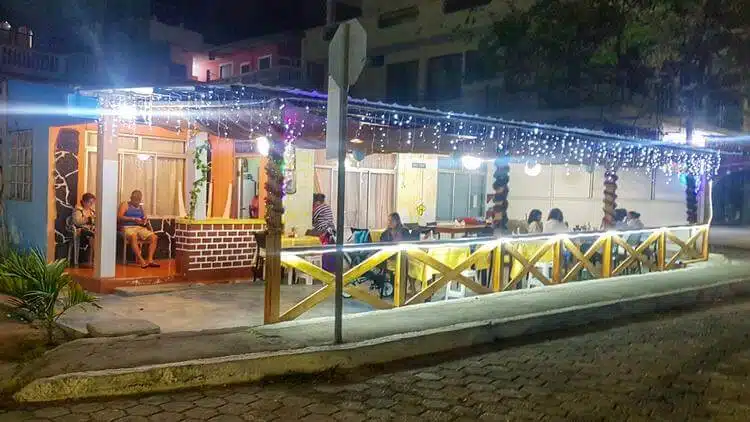 Next to the park and the table tennis hall there is a small, local restaurant where you can get the best Empanadas on Galapagos Islands. I highly recommend the Seafood Empanada. Delicious!
3. Cri's Burgers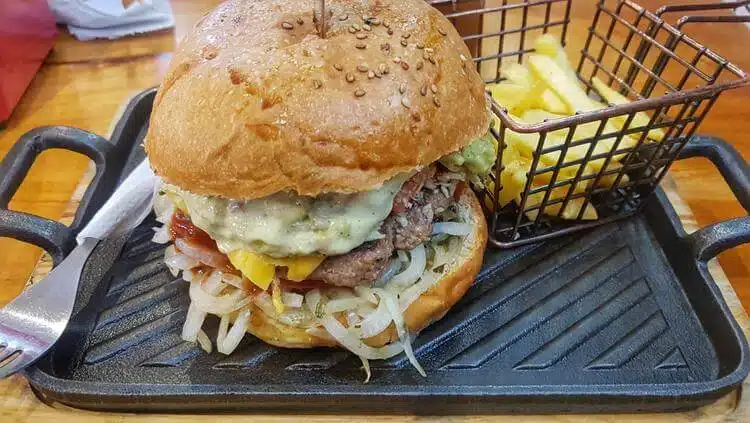 Cri's Burgers offers delicious Burgers with French Fries. The portions are really big and you can choose between a huge variety of Burgers and other dishes.
FAQ Galapagos Islands
1. What kinds of things can I do in the Galapagos Islands without a Naturalist Guide?
Santa Cruz, Isla Isabela and San Cristobal offer a wide range of activities that you can do without a naturalist guide.
On Isla Isabela, you can enjoy a trip to the Wall of Tears, visit the tortoise breeding center, and spot flamingos in the lagoons.
On Santa Cruz you can join snorkelers at Las Grietas, walk to Tortuga Bay, visit the Darwin Research Center, go to the highlands, enjoy several stunning beaches and snorkel at Concha de Perla.
San Cristobal offers the most opportunities for self-directed activity. You can cycle through the highlands and to Playa Chino, snorkel and swim with sea lions, surf, hike to beautiful beaches and viewpoints, and even learn more about the Galapagos Islands and its animals at the Interpretation Center.
2. When is the best time to visit the Galapagos Islands?
If you're planning a trip to the Galapagos, we recommend you shoot for trip dates that fall between December and May. This is the islands' warm and wet season, so there will be some precipitation you may have to plan around.
But, overall, these warmer months mean gentler ocean waves and clearer water for snorkeling.
If you're thinking of going from July to November, perhaps because you want to beat the heat, just remember that the Galapagos are on the equator and are pretty much the same temperature (25 to 30 degrees celsius) year round.
ARE YOU KEEPING UP WITH MY SOUTH AMERICA SERIES
One of the BEST PLACES TO VISIT IN SOUTH AMERICA is the SALAR DE UYUNI, THE SALT FLATS IN BOLIVIA. Another great adventure is CYCLING ON THE DEATH ROAD IN BOLIVIA.
The Galapagos Islands are one of the most famous island archipelagos in the world. Check out my 10-DAY LAND BASED ITINERARY GALAPAGOS ISLANDS and my COMPREHENSIVE GUIDE ABOUT THE GALAPAGOS ISLANDS.
One of my favorite cities in South America is RIO DE JANEIRO and one of the best countries for adventure tours is ECUADOR.
Was this post helpful? If so, be sure to pin it to refer to later!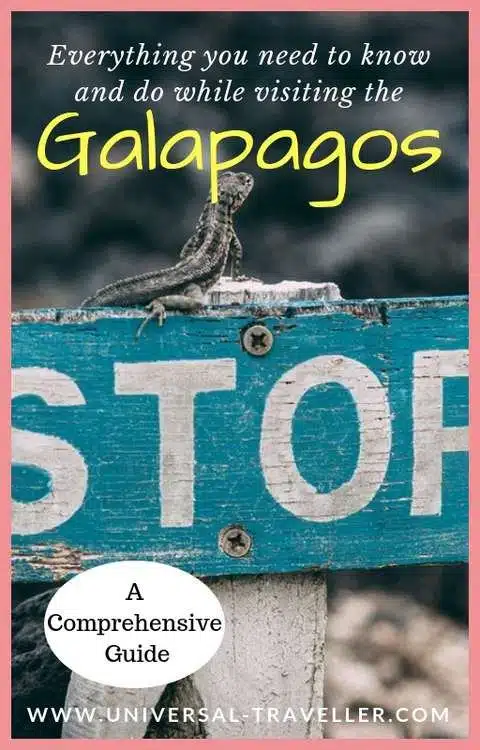 Disclaimer: I was invited by Cucuve Suites, Galapagos Eco Friendly, Hotel Albemarle, Paddle to the Penguins, Casa Playa Mann, Zenia Spa, Hotel Katarma, Galapagos Dreams, Isatourex and Planet Ocean. My opinions, as always, are solely my own.