Aruba is a caribbean island that belongs to the Kingdom of the Netherlands.
Capital City: Oranjestad
Currency: Aruban Florin (AWG)
Official languages: Dutch, Papiamento
Neighbouring countries: Curacao and Barbados
Interesting places to visit include: Arikok National Park, Eagle Beach, California Lighthouse, Conchi – Aruba's Natural Pool
Time Zone: Aruba Time (GMT/UTC – 4h)
Largest City: Oranjestad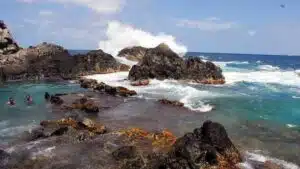 Conchi - Aruba´s Natural Pool is situated on a deserted stretch of coastline. Already the ...