The city of Tainan lies along the southeastern coast of the island nation of Taiwan. The city stands as one of Taiwan's historical centers.
The oldest urban center in the country, it was here where the island's first Confucian school was founded in 1665 and where the Dutch East India Trading Company set up one of Europe's first colonial trading posts in the 1620s.
Tainan isn't subject to as much travel blog attention as other more popular Taiwanese cities like Taipei or Shifen, but there is still plenty to see and do in the country's southern city.
Travelers can take advantage of the city's more rustic allure by trying local specialties that date back to the Ming Dynasty.
Or, if you time your visit right, you can witness the Tainan Lantern Festival, which releases thousands of paper lanterns of all shapes, sizes, and figures into a night sky you will never forget.
To help you decide what to do during your visit, we've put together this list of the ultimate things to do in Tainan.
From Anping Fort to million-kilogram mountains of salt, here's what we recommend.
1. Sicao Green Tunnel – Tainan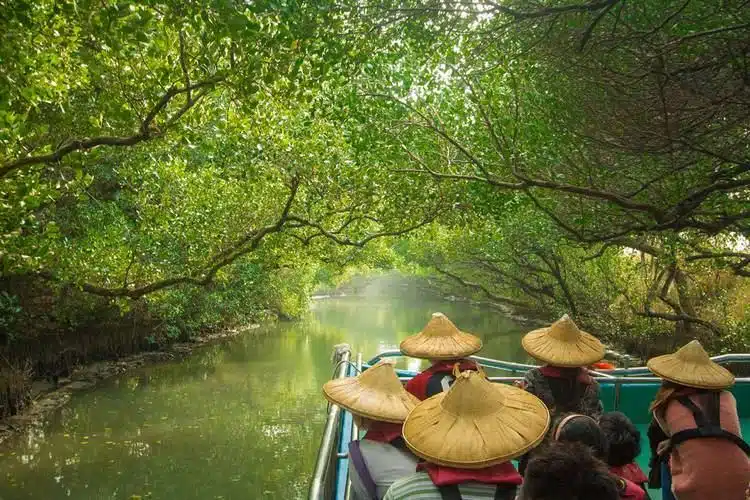 One of the most beautiful places to visit in Tainan is the Sicao Green Tunnel. The tunnel is actually a 750-meter long section of canal that passes through densely grown mangroves.
As you travel down along the canal, it feels as though you are moving through a thick green tunnel of vegetation. The boat ride through the canal runs for about 30 minutes which, in my opinion, is long enough to see the area.
The Sicao Green tunnel was once used for transporting salt from the drying fields to the storage areas, way back when salt production was a major industry in Tainan. Although there is still some salt production in the area, the canal is just a nice tourist attraction these days.
The tunnel is about 15 west of the city of Tainan, just beyond the ancient Anping Fort. It is actually located in the Taijiang National Park along the west coast of Taiwan. Entry to the Sicao Green tunnel is 200 NT (approx. USD 6).
The best way to get out to this part of town is by taking route 99 from Tainan city to Taijang district.
Read also: 10 Day Taiwan Travel Itinerary
Recommended by Josh from The Lost Passport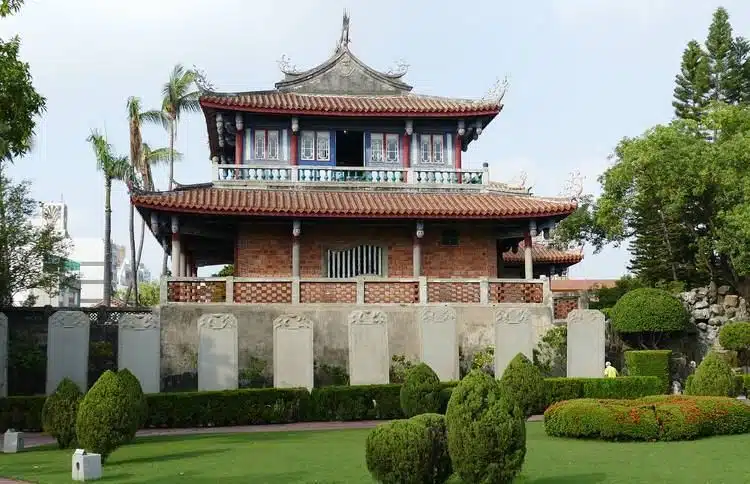 2. Salt Mountain at Cigu
The Cigu Salt Mountain in Tainan is one of the city's most famous tourist sights. This area of Taiwan has long been in the salt mining business.
The island's native Siraya people first collected salt by boiling saltwater and trading salt for fish and meat brought from the Asian mainland by Chinese fishermen. But the island really got into the salt trade in 1665, when it began mining rich deposits present beneath the ground.
Overseen by Japanese companies and later the nationalist government, the Cigu salt mine grew to one of the most important regional salt suppliers in the 20th century.
Since then, the industry has declined. And now, the mine sits all but abandoned except for daily visitors, who can tour the salt museum, climb two gargantuan salt mountains, and explore the peculiar park.
After climbing the salt towers, check out the park's strange, now defunct Christmas display complete with Santa and reindeer. Then, try your hand at the go-carts or admire the one-of-a-kind salt sculptures on display.
3.

Anping Tree House
The Anping Tree House might be one of the most quirky sites to see in Tainan City. The building was erected as a factory where islanders could produce salt to trade with fishers and merchants from the mainland.
It was abandoned over 60 years ago, but since then, a single banyan tree, a species native to the Anping area, has made the structure a popular attraction for both locals and foreign tourists alike.
The tree's remarkable roots have permeated every wall and floor in the building. But, instead of tearing the structure down brick by brick, the tree has encased it. Today, plenty of people dedicate a morning to exploring the building.
Though it might not be exactly what you expect when you hear the word "treehouse," the grounds are well kept, and the site does make for some intriguing photos. You can even explore the indoors and enjoy a peaceful escape from the city buzz.
4. Anping Fort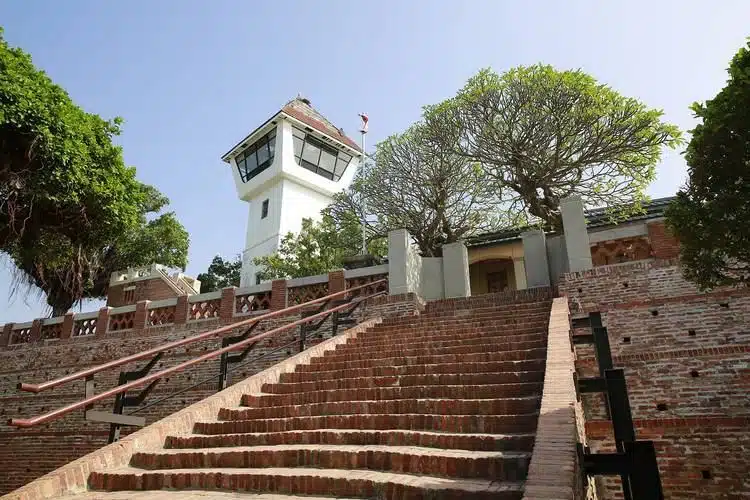 Most tourists visiting Tainan pay a visit to Anping Fort. This historic fort is one of the most popular landmarks the city offers, partly because of its long documented history and imposing architecture.
The fort's original name, Fort Zeelandia, pays homage to the homeland of its Dutch builders (and that's, incidentally, also where New Zealand got its name).
The Dutch built the fort after they were expelled from mainland China for attempting (and failing) to force the Ming dynasty to trade with them.
In 1653, the Dutch established Chikan Tower, which was and originally named Orlande. The compound's original name, Fort Zeelandia, stuck until Zheng Chenggong, an ally of the Ming dynasty, overthrew the colonists and expelled them from the island. He renamed the fortress, Anping Fort.
Today, aspects of the original construction mingle with more modern buildings and amenities. The old architecture will capture your attention. I recommend an afternoon visit complete with snacks purchased from the nearby street vendors.
5.

Tainan Confucian Temple
Not long after the Dutch fled from Taiwan, the island's first Confucian temple was constructed in Tainan. Like Anping Fort, this temple still stands today, just a block away from the city's Literature Museum.
Completed in 1665, this 17th-century temple is absolutely picturesque. The structure's quintessential Chinese architecture, complete metallic rooftop dragons, and clay shingles glisten in the sunlight. Inside, you'll witness equally wonderful sights and craftsmanship.
The temple was initially accompanied by a school dedicated to Confucian thought, and the soothing, well-maintained grounds pay respect to this history. Many visitors and locals come to enjoy these natural surroundings.
But, I recommend you spend some time inside as well. The inner temple offers a perfect background for taking pictures or enjoying lunch with friends.
This relaxing attraction is an ideal getaway spot, especially if you visit Tainan on a summer day. If you decide to visit, be sure to note the entrance fee before entering the temple.
6.

Garden Night Market
The Garden Night Market is another lovely sight to experience on your next visit to Tainan. Located along Hai An Road, vendors gather here to sell flowers, delicacies, and a little bit of everything else.
This is the largest night market in Tainan, and tourists and locals alike flock here for the flowers and the food and festivities.
If you'd like to visit the market while you're in Tainan, make sure to check the schedule online. Unlike in several of Taiwan's other larger cities, the night markets of Tainan are only open two or three nights a week (and unfortunately, they don't share a common schedule). Take note of if you want to visit the area.
In addition to food stalls and vendors selling local crafts and wares, this market frequently hosts carnival-like game stalls, including pinball, basketball, and darts.
If you like the Garden Night Market, you might consider an evening at one of Tainan's other night markets. These include Yonghua Night Market, Wusheng Night Market, Lovers' Night Market, and Da Dong Night Market.
Sampling local Food in Tainan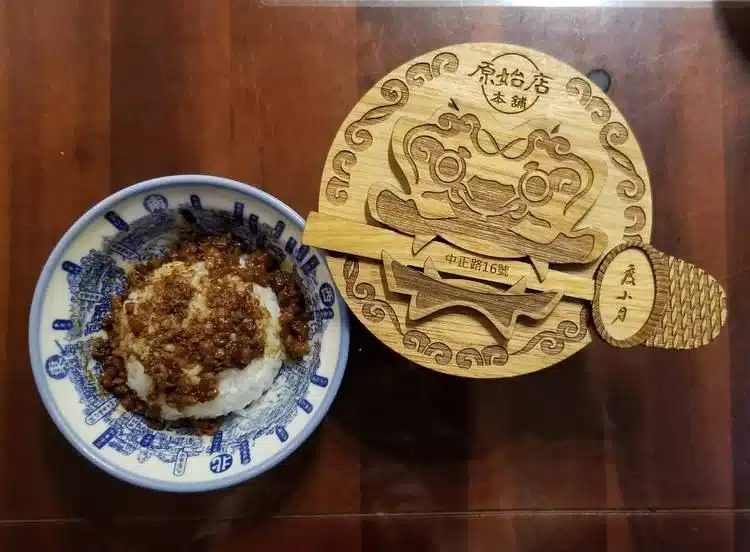 While you can find most typical Taiwanese dishes like stinky tofu, xiao long bao (soup dumpling), and bubble tea (tea with tapioca) almost anywhere in Taiwan, there are a few items you can only find in Tainan.
Known as the "city of snacks," Tainan truly lives up to its name! You will need a few days or weeks to try everything in Tainan.
But if you can only try a few things, here are my suggestions, including all my favorite food in Tainan.
First, make your way to Jin de Spring Rolls (金得春捲) and order a Taiwanese spring roll. The spring roll has meat, egg, lettuce, and sugar wrapped with a thin crepe! Definitely one of the most unique and delicious spring rolls I've ever had!
When you are done eating your spring roll, your next snack is just across the street! At A Song Steamed Sandwich Shop (阿松割包), one portion of the steamed bun with pork called gua bao comes with two steamed buns with pork, pickled vegetables, and peanut sauce. And it comes with a small bowl of pork broth as well.
Then make your way to Du Xiao Yue (度小月擔仔麵) and try some of Tainan's specialties including danzai mian, yellow noodles served with minced meat and shrimp and rouzao fan, minced pork over rice (pictured). Both dishes are stellar! And so flavourful. The portions are quite small, so feel free to order other items or more of the same!
Before you leave Tainan, also try ba wan (Taiwanese meatball with sauce), guan cai ban (Taiwanese bread bowl aka coffin toast), shan yu yi mian (eel noodles), and the trendy ingredient in Tainan, milkfish, which is served in soup or porridge.
Read also: A solo traveler's guide to Tainan
Recommended by Queenie from ms travel solo
Where to stay in Tainan
1. Silks Place Tainan
If you're planning to stay in Tainan for a few days (and I definitely recommend you do), you should consider booking accommodations with Silks Place Tainan.
This five-star hotel is situated in the Ximen area of Tainan. You'll marvel at the property's design and architecture, which are inspired by the nearby Tainan Confucian Temple (the same one I mention in entry number 5 of this article).
Silks Place Tainan has taken steps to cater to several different types of travelers. The hotel isn't just child-friendly; it's child-encouraged.
They even have a kid's club on the fourth floor where exhausted parents can send their young ones when they want a little peace and quiet. There, youngsters can enjoy many games, including the Chinese favorite, "six arts."
Year-round, Silks Place Tainan is also a great place to stay if you're looking to get some work done during your visit to Tainan. The hotel even offers private meeting rooms.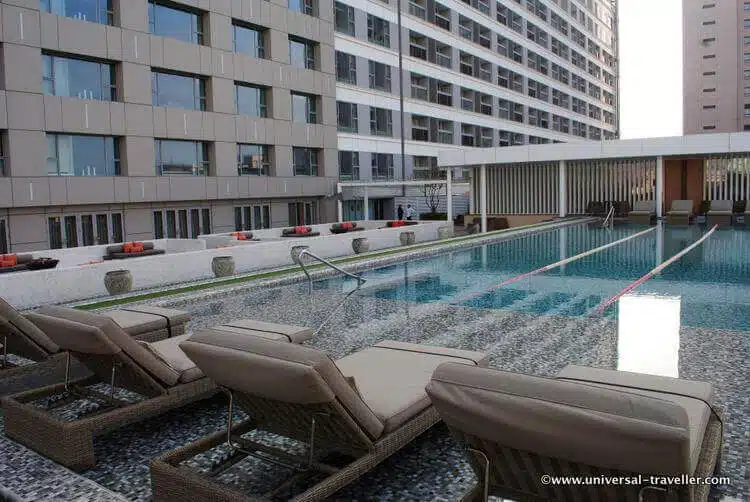 Silks Place Tainan's central location places it at the heart of Taiwan's oldest capital city. Many of Tainan's main tourist attractions, including Food Street and the Tainan Confucian Temple, can be reached from the hotel on foot.
The Tainan airport is just 6 kilometers away (about 15 minutes by car), and the Tainan High-Speed Rail Station is just a 30-minute drive.
The hotel also features six restaurants and bars, including a bakery, a stylish tea lounge, and the fine-dining Silks House, serving traditional Cantonese and Taiwanese cuisine.
For breakfast, guests can choose between two restaurants, one serving Asian food and another specializing in European fare.
The property's diverse dining options are just one reason why I think Silks Place Tainan is a great place to stay for visitors who aren't yet acquainted with Asian cuisine.
Click here for more information, photos, and/ or to make a booking.
Was this post helpful? If so, be sure to pin it to refer to later!