The ultimate list of best things to do in Kaohsiung, Taiwan, so you don't miss anything when visiting Asia's hidden gem.
If you are thinking about visiting Taiwan this year, your trip would not be complete if you would not experience Asia's hidden gem, Kaohsiung City.
This city is located south of Taiwan and is popularly known for its ancient and contemporary culture, evident in its breathtaking sceneries and landmarks.
Here are the best things you can do when you visit Kaohsiung.
1. Kaohsiung places to go – Love River
If you are looking for a romantic getaway or just needing "alone time," the Love River (Ai He) is the perfect spot for you.
With its beautiful and colorful lights enveloping the semi-heart-shaped bridge and buildings, this place is both romantic and peaceful, especially at night.
You can try their solar-powered boats, walk around by the waterside, or sit back, relax, and enjoy delicious meals by the waterside or in restaurants around the place.
With these plus love symbols everywhere, you will definitely feel that love is in the air.
2. Liuhe Night Market
If you are thinking about shopping or craving exotic and sumptuous delicacies, you can go and check out the Liouhe Night Market.
Located in downtown Kaohsiung, it offers shopping items and freshly-cooked local street foods and seafood dishes that cannot be found elsewhere.
They also have unique menus, including noodles with eels, fried and braised frogs, frog soup, chicken kidneys fried in sesame oil, sesame biscuits, and many more.
3. Dragon and Tiger Pagodas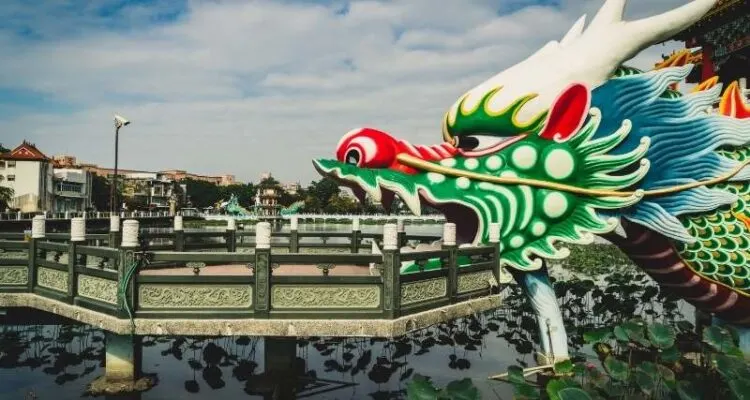 Another best thing to do in Kaohsiung is to visit the Dragon and Tiger pagodas found on the southern edge of the Lotus Lake, 700 meters to the south of the Spring and Autumn Pavilions.
The dragon's throat is the entrance to the pagoda, and the lion's mouth is the exit. This setup is a symbol of turning bad luck into good fortune, as locals say.
Inside the pagodas are paintings that show China's 24 most obedient sons and pictures of heaven and hell to remind people to do good and provide examples of wrongdoing consequences.
4. Fo Guang Shan Buddha Museum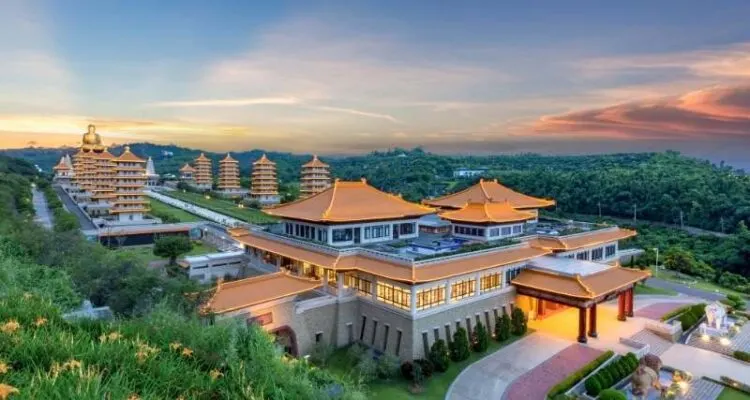 Buddhist or not, you will surely be amazed by the architecture of the Buddhist temple located at Foguangshan, just outside of Kaohsiung.
Considered the island's largest and wealthiest meditation center, the museum is home to Taiwan's tallest 36-m Buddha statue, shrines, art galleries, meditation halls, and libraries.
The main shrine is where the three 7.8-meter tall Buddha statues and 14 000 smaller Buddha images stand. If you want some more places to go, they also have gardens, pavilions, ponds, grottos, teahouses, and cafes that you can check out at the museum complex.
5. Where to visit in Kaohsiung Taiwan – Central Park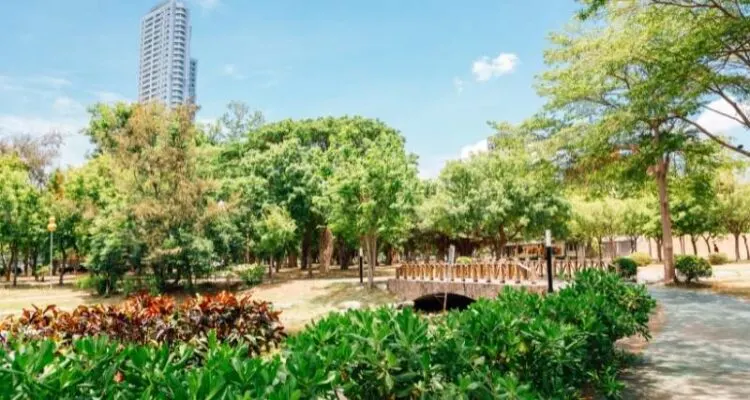 While in Kaohsiung, you can also witness the Kaohsiung Central Park situated at the intersection of Zhongshan Rd and Wufu Rd in the city.
This place makes you forget that you are in an industrialized metropolis for its beautiful greeneries and fun facilities like self-service bike rental machines that provide an escape for the city folks who want a taste of nature and a sense of leisure and relaxation.
There are many places to visit here such as the Literature Library, stroll by the Scenic Lake, Middle Island, Speech Square (where many elders are seen playing chess or having tea), Water Square (where tourists get to enjoy a 20-minute water dance every day), Hedgerow Labyrinth (Green Maze), and Outdoor Terrace.
6. What to see and do in Kaohsiung – Ruifeng Night Market
Another night market you can visit is the Ruifeng Night Market. But unlike the Liouhe Night Market, this one is more of a locals' market, but it surely is still fit for curious tourists.
It is large and crowded, and in here, you will find fish ball stands, broth pots in different flavors, foods-on-sticks, veggies are also available, grilled food, rice stuffed chicken, cookies, and a lot more.
You will see food stalls here and large fun fair sections where you can play "Fishing for bottles," where you make the bottles stand upright.
7. Kaohsiung Must Do – Kaohsiung Lighthouse
If you want to go more historical, the Kaohsiung lighthouse on the northern summit of the Cihou Mountain is perfect for you. Established by British Engineers in 1883, this nautical navigation facility has served merchant ships and other vessels for many years.
The lighthouse was constructed using Chinese-style red brick. The present-day lighthouse was completed in 1918. You will surely enjoy this well-preserved, baroque-style lighthouse long established in the renaissance period.
8. Where to go in Kaohsiung Taiwan – Old City of Zuoying
The walled city is located in Zuoying District in the Old City of Zuoying, also known as the Old City of Fongshan County. After taking over Taiwan, this was built by the Qing Government and was also Taiwan's first walled city.
The wall was built with coral stones filled with cement, while the arch was made with granite from China. The North Gate (Gongchen Gate), positioned on the intersection of Shengli Road, Yimin Lane, and Pizitou Street, is completely undamaged, and the wall extending to the left and right has a length of more than 100 meters.
The stone has been cut into hexagons, and the outer side of the gatehouse is ornamented with lively reliefs illustrating guardian spirits that display fine workmanship. An inclined horse track was also built here, which is divided into seven grades.