From Costa Rica´s capital city San José we have made a day tour to the impressive Arenal Volcano, visited the famous city of Sarchi, and relaxed in the natural Tabacon Hot Springs.
Located north of Costa Rica, the impressive Arenal Volcano is a natural phenomenon that attracts thousands of tourists for its beauty.
We get picked up early in the morning in San Jose and take the Pan-American Highway towards the north of Costa Rica. On our way, we pass Palmares, a small city which is well-known as the place to make friends.
After one hour, we stop in the town of Sarchi, which is famous for its hardworking craftsmen.
Our tour guide gives us 30 minutes to visit the ¨Cooperativa de Artesanias y muebles de Sarchi¨, a Souvenir shop where you can buy all kinds of Costa Rican souvenirs like animal figures, coffee, colorful oxcart wheels, wood boxes, and jewelry, and hand-painted ceramic plates.
We continue our way and leave the main highway.
The small roads lead us through coffee and sugar cane plantations and other agricultural products, ornamental plants, and cattle ranches until we arrive in La Fortuna.
La Fortuna is a small village on the west side of the Arenal volcano. It was originally called "El Bario¨ until the big eruption in 1968.
The Volcano erupted to the east side and destroyed everything in his path, including two villages.
El barrio, however, was spared from it and renamed La Fortuna, which means as much as ¨the fortunate¨.
Before we continue our way to the volcano, we stop in a nice restaurant to brace ourselves. From here, we already have an amazing view of the volcano and cannot wait to get closer.
After a typical Costa Rican lunch with rice and beans, we take the small road to the viewpoint. From here, we have an impressive view of the Arenal volcano on one side and the Arenal Lake on the other.
Tabacon Hot Springs
After enjoying the view, our tour guide drops us off at the Tabacon Hot Springs Resort. While most resorts depend on pumps to fill their pools, Tabacon is completely natural.
The Tabacon Hot Springs are 97% rain-based and 3% magma-based and have temperatures between 25 and 50 degrees Celsius.
It is laid out like a huge garden and one of the most beautiful places I have been to, but see for yourself ….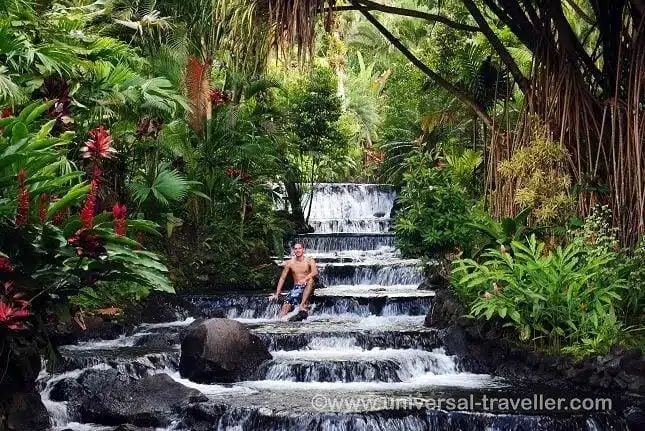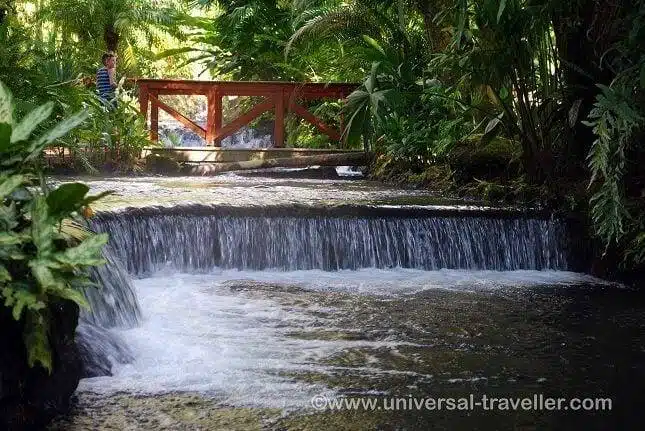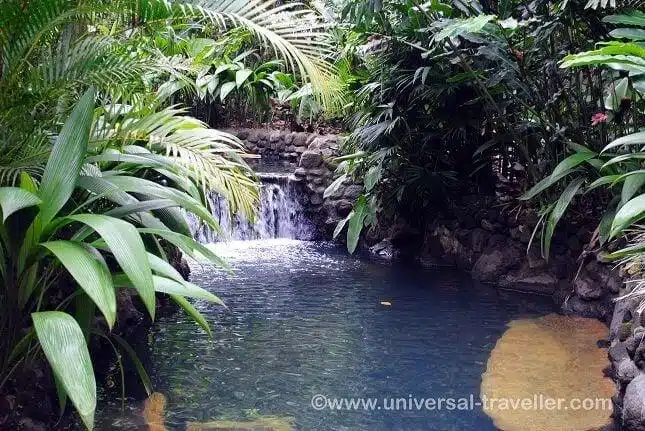 Here is my take on the BEST ADVENTURE TOURS IN LA FORTUNA. Let's finish that adventure planning in no time!
Once you arrive in San José, here is what you need to know regarding HOW TO GET TO LA FORTUNA FROM SAN JOSE.
Arrived and nowhere to go? Let's have a look at the BEST HOTELS IN LA FORTUNA and the BEST THINGS TO DO IN LA FORTUNA.
This activity is so popular and worthwhile that it deserves its own spot! Not to mention, I am all for nature and relaxation. I have searched far and wide to give you THE BEST HOT SPRINGS IN LA FORTUNA.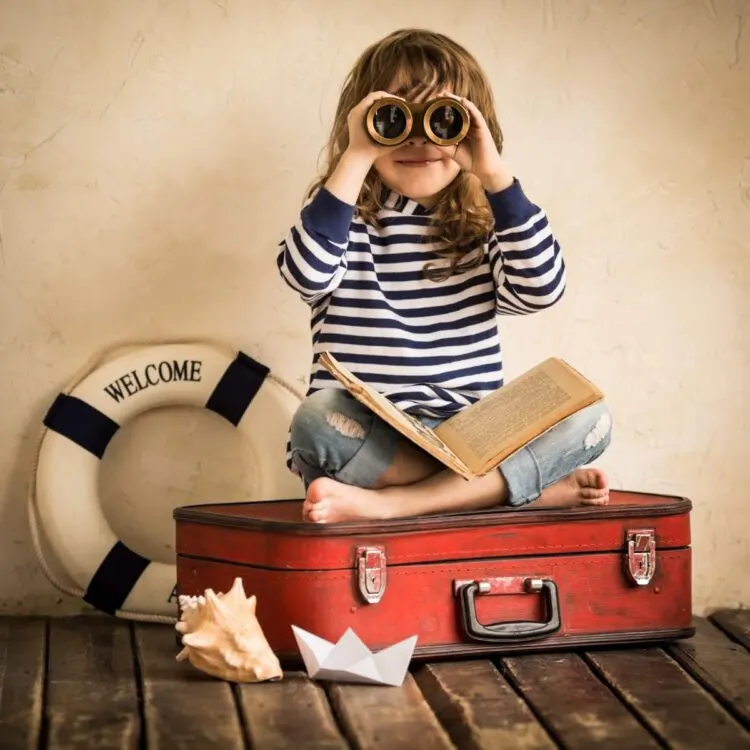 Protect your trip: With all our travel experience, we highly recommend you hit the road with travel insurance. SafetyWing offers flexible & reliable Digital Nomads Travel Medical Insurance at just a third of the price of similar competitor plans.