Unless you are an enthusiastic hiker or skier, then the Aosta Valley, nestled in the Italian Alps, is not always high on the list of 'must-see' places to add to your Italy itinerary.
This region, for me, is a hidden gem, and taking the time to stop off and take in the jaw-dropping mountain scenery is so worthwhile.
After touring Italy extensively, I love the area so much that I decided to make it my home, and I am now based in the town of Courmayeur, which boasts spectacular views of the Mont Blanc Massif.
There is so much to see and do; ideally, you would have a couple of weeks to spend here.
If you are stopping off on a road trip around Italy or coming across the Border through the Mont Blanc Tunnel from France, this article will give you some pointers for spending a day in and around the town.
Get Out Early and Enjoy a Walk in the Stunning Scenery
Option 1: Val Veny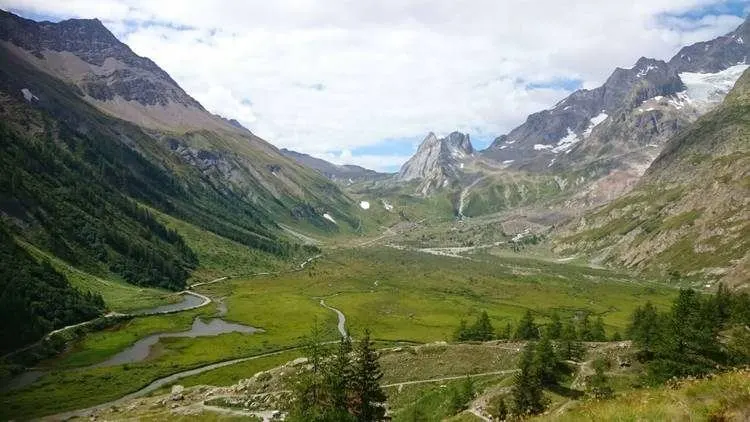 If you visit in the summer season, getting out early will mean you will beat the crowds and the midday heat. Make sure that you pack water, although there are plenty of water fountains around the area to top up with too.
If you want a more bracing hike with stunning views, I recommend heading into Val Veny. About 15 minutes drive from the town center, it is everything you imagine an alpine landscape should look like.
Head right down into the valley, pass the Hobo campsite, and then a little further down on the right, there is a large car parking area. The walk will take anywhere between two and a half to four hours, depending on your walking ability.
You are following the signs up to Lago Di Miage/ Lago Combal. The path is well signposted and mostly on paved surfaces, so it is ideal for visiting with children. While it is not a mega hike, there is still a steep climb, so it is best suited to fit walkers.
Once you get to Lago Combal, you are in for a treat. It is a feast for the eyes with all the beautiful colors and crystal clear glacial waters. It truly is picture postcard perfect and worth the climb up.
If you still have the energy, you can head up a further short but steep climb to look down into Lago Di Miage. Sadly, this glacial lake will not be around forever; it is shrinking every year, so taking the time to see it now is recommended.
Option 2: Val Ferret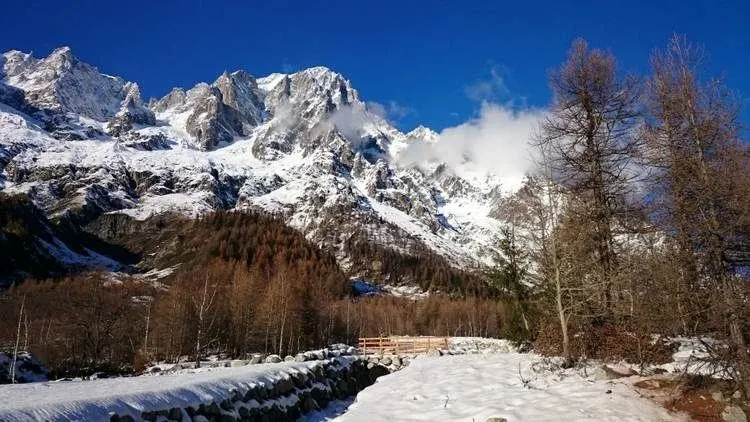 If you are not a fan of steep inclines, nearby Val Ferret still allows you to take in some dramatic landscapes without the exertion.
Again, about a ten-minute drive from the town center. The main car park can get busy in the summer (you can't miss it when you get up to the little village of Planpincieux), but if you are up early you shouldn't have any issues, and there are always other parking spots further into the valley if it is busy.
Val Ferret's path is flat, but being smack bang in the middle of such a breathtaking valley means you still get lots of photo opportunities.
There are a few restaurants in the valley too, so if you are feeling you need to stop to refuel, there are several choices. Restaurant Tronchey does a lovely walnut, beetroot, and pear salad which is a great choice for vegans, who are, perhaps unsurprisingly, woefully underserved in a region whose staples are cheese, bread, and meat stews!
If you want to come away from the road, there is a nice little walk into the right that takes you along to the tiny hamlet of Lavachey. Otherwise, the path follows the road through the valley, and you can decide how far you want to go before heading back.
Val Ferret is also a place that it is easy to go for a stroll during the winter season as the paths that run alongside the cross country skiing trails here are all well maintained and packed down.
Skyway Monte Bianco Cable Car
If you don't mind splashing out, it is worth taking a Skyway Monte Bianco Cable Car trip. If you are not a hiker, then it is a great way to experience being in an elevated alpine setting.
There are two platforms, the first is the Pavillon Du Mont-Frety, and the second, Punta Helbronner, is all the way up at 3,466 meters, and it offers views of Mont Blanc and beyond.
The cable car itself is rotating, so you get 360-degree panoramic views as you ascend.
It is not cheap at 52 euros for a return trip, but the views really are something.
Make sure to take the time to visit the Saussurea Alpine Botanical Garden, which can be accessed from the Pavillon platform. It is one of the highest botanical gardens globally and offers a chance to see the diversity of species of alpine flora and fauna.
Relax at the End of a Long Day in the QC Terme Spa in Pré-Saint-Didier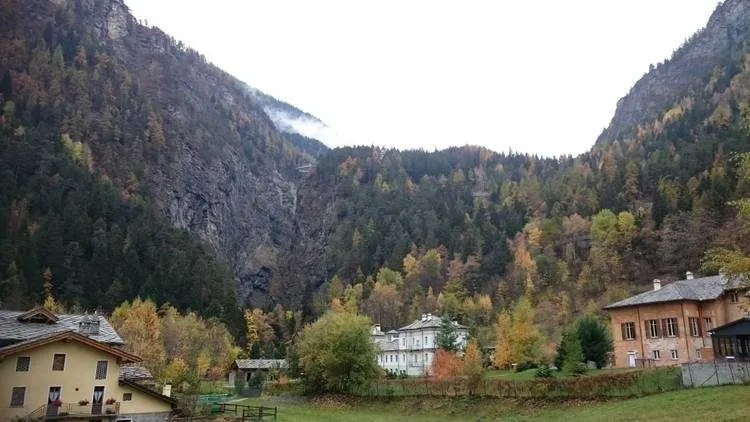 After a long day on your feet, what better way to end it than relaxing in a large outdoor thermal spa in a tranquil mountain setting.
The QC Terme Spa in the nearby village of Pré-Saint-Didier is famed in the area, and it is only a ten-minute drive from Courmayeur.
Don't forget to book if you are visiting during the high season, as this is a popular attraction for tourists and locals too. And quite rightly so.
With over 40 different spa activities, there is lots to enjoy. The outdoor space is impressive, with one large main pool and lots of smaller ones surrounding it. There are a host of saunas, steam rooms, and relaxation rooms.
Compared to other Spa facilities, at 45 euros per person, it offers excellent value for money, and there is also a free, healthy, and straightforward buffet included in the price.
You are not limited on the time you can spend in the facility either. The admission price allows you to stay the full day if you really wanted to kick back and relax.
Where to Eat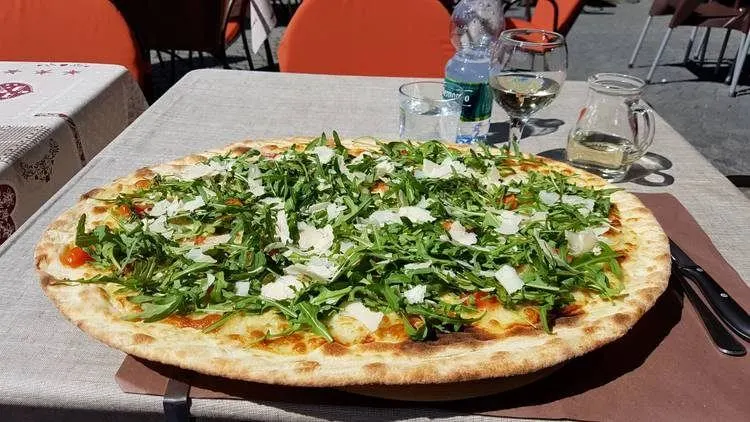 You are spoilt for choice when it comes to eating options in Courmayeur. It is known as a gastronomic hub.
It does, however, come with similarly gargantuan price tags a lot of the time too. There is no getting away from the fact that it is a pricey resort town.
If you want a cheap and cheerful snack, head to L'angolo di Mel on the way back from the town center to the bus station. Freshly cooked pizza is available daily, and a large slice is just 3 euros.
If you want a whopping big pizza at a reasonable price, then you could visit Pizzeria La Remisa. Okay, it is located next to the bus station, but you still get great mountain views from their outside tables, and it offers friendly family service. One pizza between two is more than enough!
If you are looking for something a bit more special, and you are happy to walk fifteen minutes up from the village to the suburb of Plan Gorret, then you will get a wonderful meal at Ristorante Chalet Plan Goret. It is a popular place with the locals too, so a reservation is usually required.
If you don't mind paying a premium, many restaurant options are available when you walk through the main pedestrianized street of the town, Via Roma. It is a great place to sit and enjoy an Aperol Spritz and people-watch. Caffe Della Posta is a popular choice.
When to Visit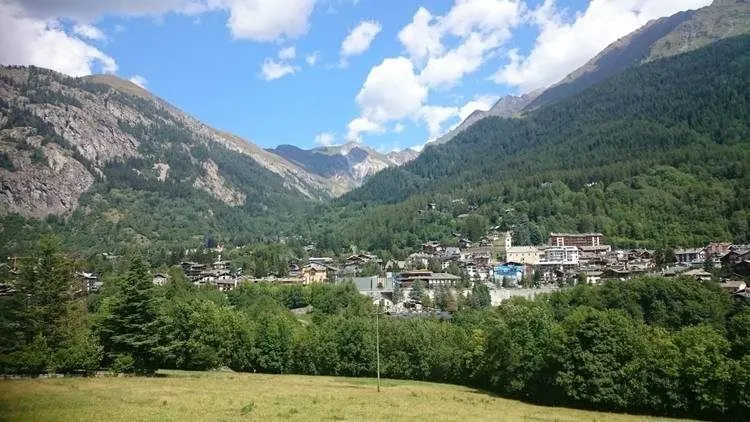 The summer season runs from Mid June to Mid September. July and August are the busiest times when the town hosts a plethora of multi-day trekkers here to enjoy the surrounding mountains.
The winter skiing season generally runs from around late November to Mid March (later if the snow allows).
Outside of these times, the town reverts to a sleepy, traditional alpine village vibe. If you want total tranquillity, then this is the time to visit.
Be aware, though, that many of the hotels and restaurants close down at these times, and so do a number of the local attractions. You should still be able to get an apartment, though (and at a much lower price than during high season). There are lots of Airbnb options too.
If you plan to hike but want a quieter time, visiting early June or late September/early October is probably your best bet. You may not be able to access all the routes because of snow, but the weather is usually good enough to allow you to get some walking in.
Getting to Courmayeur
While there is a good bus service from the region's capital city Aosta, and during the skiing season, shuttle buses are running from Chamonix in nearby France, visiting is easiest by car.
There is a reasonably priced underground car park right at the entrance to the town and, if you are happy to walk a little, there are plenty of free parking options a little further from the compact center. Don't forget that, for on-street parking, the blue lines signify it is metered, paid parking.
There are no trains to Courmayeur, and the nearest major airport is Geneva in Switzerland, which is about an hour and a half drive away.
Best VPN for Travel: ExpressVPN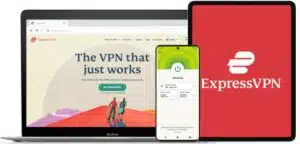 Heading abroad? Use ExpressVPN to access your social media accounts, unblock your favorite entertainment sites, and stay connected with friends and family. And get cheaper flights, of course.
Pros
✅ Next-gen, high-speed servers in 94 countries
✅ Works on iOS, Android, Windows, Mac, Linux, browsers, and more
✅ 256-bit AES encryption protects your data, even on hotel Wi-Fi
✅ Unblocks Netflix and other streaming sites
Cons
❎ No dedicated IPs
Get 3 extra months free of ExpressVPN when signing up for a 1-year plan. That's a 49% saving and a monthly cost of just $6.67! You also get a 30-day money-back guarantee.